More of us are looking for delicious recipes that are cheap to make nowadays. It's not as complicated as you might think. These cheap healthy recipes will help you stay on budget!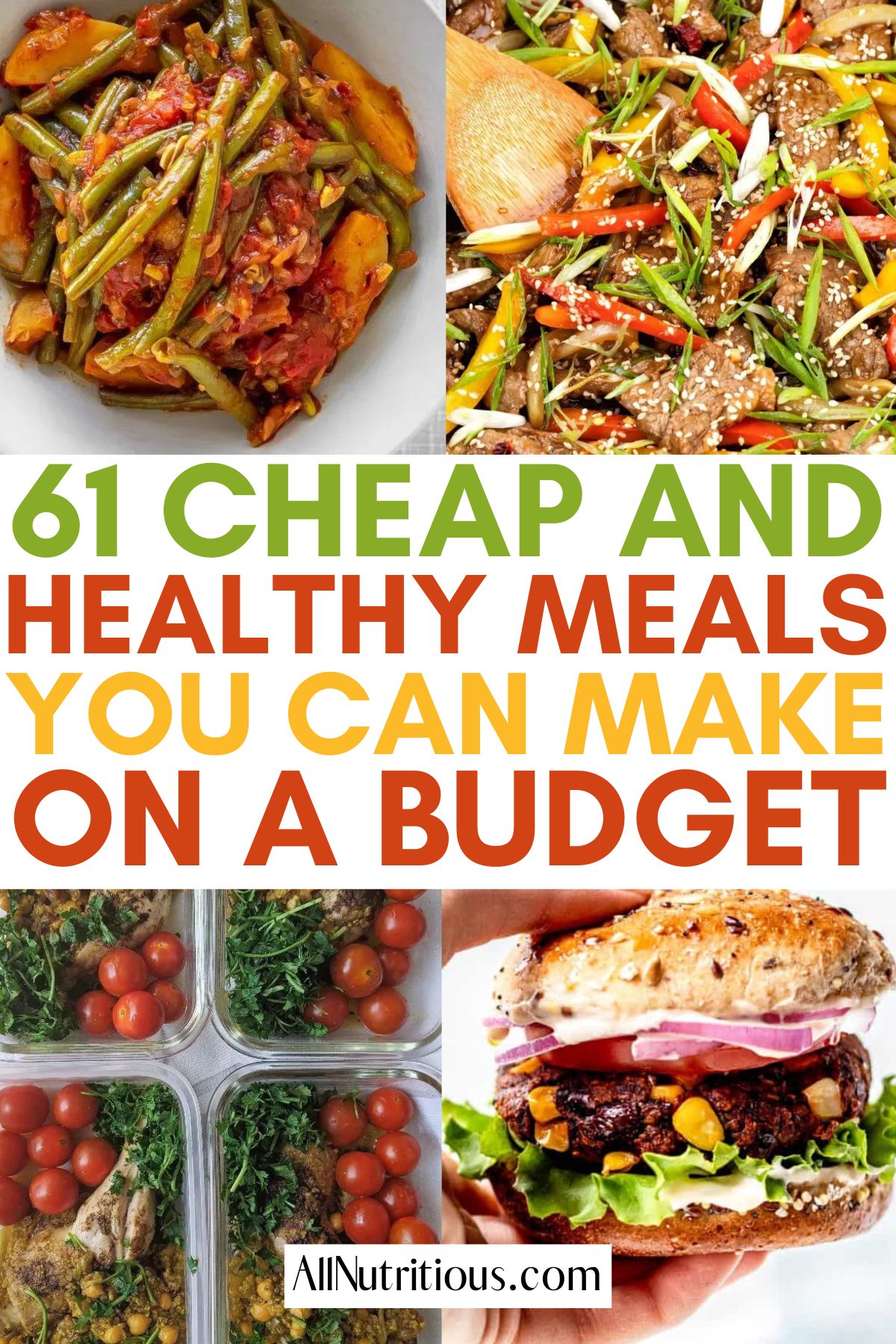 What is the Cheapest Healthiest Meal?
You can make a nutritious, flavorful meal the easy way with the cheapest of ingredients.
Many of these simple ingredients you probably already have in your pantry and fridge or add to your regular shopping list. You may have to spend only five or ten dollars on other ingredients.
It's a good idea to invest in common dried herbs and spices. These impart flavor into many dishes without the need for expensive ingredients.
You don't need much for one recipe so you can use them repeatedly. Examples of cheap healthy meals are protein and fiber-packed casseroles and rice bowls, soups, or stir-fries.
Cheap and Healthy Recipes
Browse below for a selection of cheap dinner ideas and healthy food recipes.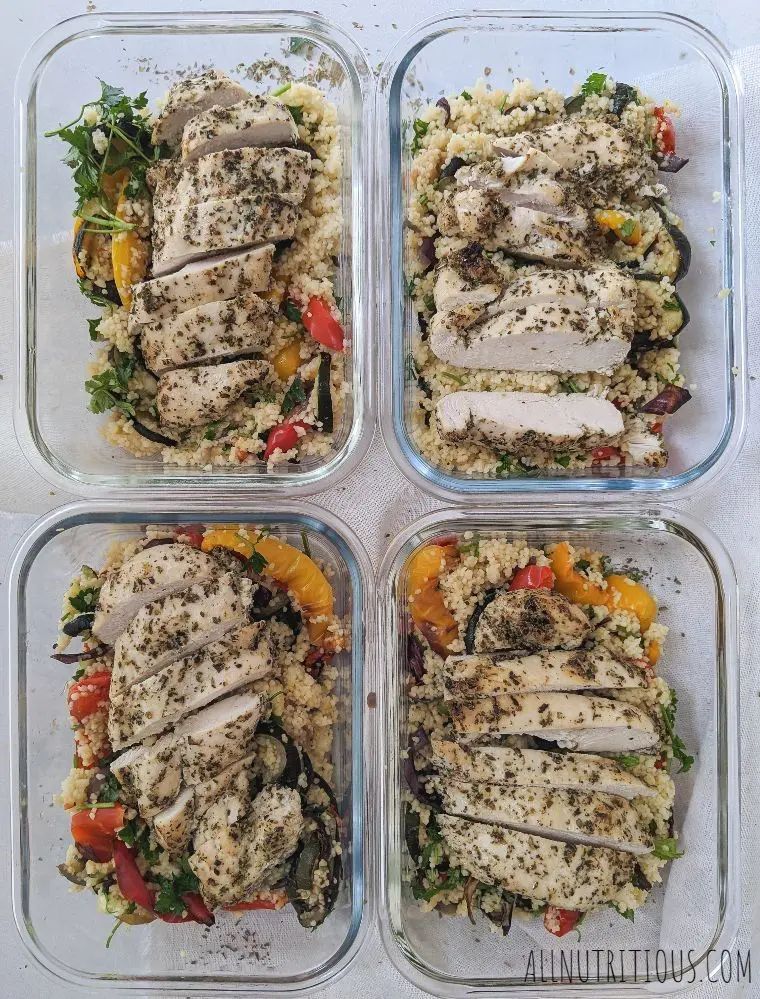 Source: allnutritious.com
This meal prep dish uses herbs and spices to flavor tender chicken breasts. Wholesome veggies and garlic couscous make a nutritious, filling meal.
Red onions, zucchini, and red & yellow bell pepper are ideal veggies. For your chicken marinade, use dried oregano, basil, garlic, salt, and pepper.
Source: flavourstreat.com
This easy recipe is super flavorful. Plus, it is full of veggies and melted cheddar cheese. Children will love it as a snack, lunch, or dinner!
This is ideal for using leftover veggies. However, bell peppers, onions, corn, and spinach are good options.
Ground cumin is the only spice in this recipe. This makes it kid-friendly. Add fresh chilies if you prefer your quesadilla to be spicier.
Source: allnutritious.com
This tasty skillet recipe is perfect when you're short on time but want a healthy, filling breakfast. All you need is quality ground beef, eggs, and salsa!
Once you've cooked your beef, add your salsa and let it thicken a little. Add your eggs and leave your skillet until they're cooked.
Garnish your spicy beef and eggs with green onion before serving. Make it even more healthy and filling by adding sliced avocado to your plate!
Try breakfast for dinner tonight with your family!
Source: saltandspoon.co
This recipe is an easy and delicious way to enjoy this vegan protein. Cooking it in your air-fryer makes it nice and crispy!
Once your tofu is cooked, coat it in a sweet and sticky sauce. Use maple syrup and brown sugar for sweetness. Mix these with soy sauce and rice vinegar.
Serve your sticky tofu with steamed rice and your favorite veggies.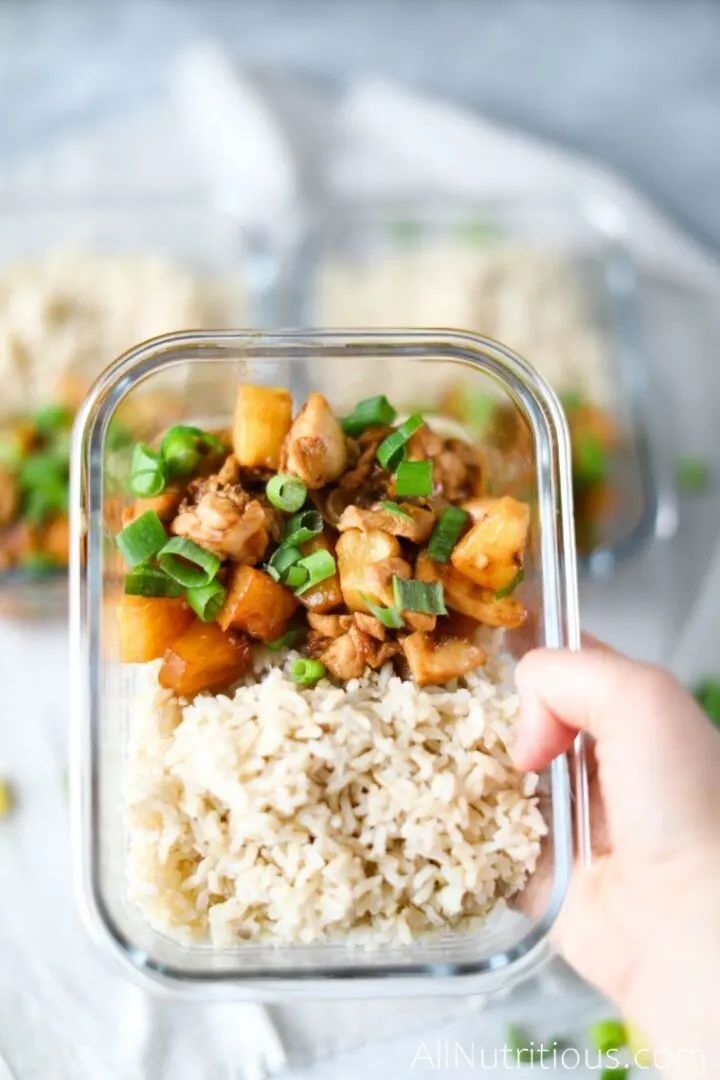 Source: allnutritious.com
This pineapple chicken stir-fry has sweet and umami flavors. It's also perfect if you like your food spicy!
Make a flavorsome marinade for your chicken. Mix pineapple juice, soy sauce, garlic, and ginger. Chili sauce and pepper flakes add the spicy kick.
Cook sliced onion and jalapenos in a skillet before adding your chicken. Add your juicy pineapple chunks towards the end of cooking.
Serve your spicy pineapple chicken with cooked rice. Garnish it with fresh green onion.
Source: strengthandsunshine.com
This vegan chana masala is quick, tasty, and easy to make. It's full of healthy beans, tomatoes, and spinach. Indian spices make it smell and taste delicious.
Mix ground spices to make a robust spice mix. Use garam masala, coriander, ginger, and turmeric. Also, add cumin, paprika, black pepper, and cinnamon.
Add coconut milk or yogurt before serving to make it creamy.
Source: allnutritious.com
This breakfast skillet provides an energy boost to start your day. Wholesome nutrition comes from canned tomatoes, sweet potatoes, and onions.
Smoked paprika creates a smoky taste in your rich tomatoey base. Onion and garlic add more delicious flavor to your skillet.
Soft sweet potatoes are one of the main elements of this dish. Add free-range eggs with a golden yolk for a beautiful pop of color!
Source: easychickpeasy.com
This vegan, baked spaghetti is full of classic Italian taste. Even if you're a meat eater, you will love this dish.
Add earthy mushrooms and nutritious kale to your marinara. Onion, garlic, salt, and pepper add flavor to your sauce. You can add Italian seasoning, too, if you like.
Use silken tofu to make the ricotta-like base and vegan mozzarella topping. Nutritional yeast adds a cheesy flavor to your baked spaghetti.
When it's cooked, broil it for a couple of minutes to achieve a golden, bubbling topping!
Source: strengthandsunshine.com
Falafel is an excellent food for appetizers, packed lunches, or snacking. This air-fryer version is crispy on the outside and light and fluffy on the inside.
Make your falafel with canned chickpeas and chickpea flour. Fresh parsley, cilantro, garlic, and onion add flavor.
Add ground cumin, coriander, and paprika to your falafel for a hint of spice. These are versatile for serving. Make a falafel salad bowl, add them to a wrap, or snack on them with a tahini dip!
Source: easychickpeasy.com
A bright, lemony sauce and tender, earthy broccoli are a perfect pair in this pasta dish. Chickpeas add a generous helping of protein and texture, too.
Use chickpeas in two ways in this recipe. Smashed chickpeas, pasta water, and fresh lemon juice create your thick, delicious sauce.
Add flavor with salt, black pepper, and red pepper flakes. Use chickpeas in a second way by topping your pasta with roasted ones!
Source: naturallieplantbased.com
This Mediterranean salad is quick and effortless to create! Add protein and texture to your meal with tender chickpeas.
Juicy tomatoes and crisp cucumber are bright, clean ingredients in your salad. Kalamata olives add a rich, salty taste. You can also add vegan feta for a "cheesy" element.
Mix in fresh parsley and freshly squeezed lemon juice for a delicious flavor.
Healthy Cheap Soup Recipes
Healthy soup is an excellent low-budget meal option. Find a variety of favorite recipes for tasty soups below.
Source: simplelivingrecipes.com
This Instant Pot cauliflower soup is ready in a quick time. It's creamy, delicious, and super easy to make.
Chicken broth, onion, and garlic add flavor to your cauliflower soup. Cream cheese provides a creamy texture when blended with your cooked cauliflower.
Garnish your delicious soup with crunchy pieces of bacon. Fry your bacon in the cooking pot before setting it aside. This adds a ton of flavor to the dish!
Source: nourishedkitchen.com
This kale and white bean soup is a wonderfully satisfying dinner. It combines flavorful broth, creamy beans, and nutritious veggies.
White cannellini beans are the best option for this soup. However, you can use whatever is available. You'll add fresh kale at the end of cooking as it only needs to wilt.
Use carrots, celery, and onions as aromatics for your soup. Bay leaf and fresh rosemary add a light herby flavor. Sprinkle your soup with grated parmesan after serving.
Source: thefastrecipe.com
This is one of the most simple potato soup recipes you'll find. Butter, chicken stock, and sweet leeks add flavor to your soup.
This recipe produces chunky potato soup. However, you can blend your soup if you prefer a smoother texture.
Your soup can be easily made vegetarian. Use vegetable stock instead of chicken.
Source: flavorthemoments.com
This spicy sweet potato soup brings a taste of Mexico to your dinner table. It's tasty and full of protein from tender black beans.
Sweet potatoes and red bell pepper add a lovely sweetness to your soup. These combine perfectly with cumin, smoked paprika, and chili powder.
Cilantro and fresh lime add a hint of freshness. Garnish your delicious soup with crispy tortilla strips!
This warming soup is one of the best dinner ideas for tonight!
Source: stemandspoon.com
This Tuscan-style soup is hearty, rich, and beefy. It's packed with flavorful Italian spices and aromatics that make a delicious broth.
Nutritious veggies include diced tomatoes, onion, chopped kale, and zucchini. Ground beef adds protein and a wonderful juicy flavor.
While this brothy soup is tasty, you can also make it creamy. Add a little coconut and heavy cream to the mix. Garnish with parmesan cheese when serving.
Source: theforkedspoon.com
This recipe is perfect if you like sweetness in your soup. Sweet roasted broccoli and carrots are the stars of this show.
Garlic, celery, and onion deliver fragrant tastes. Add Italian seasoning and cayenne pepper for an extra layer of flavor.
Milk adds a touch of creaminess to your soup. Garnish with roasted broccoli and crunchy parmesan strips!
Source: veganhuggs.com
Chickpea curry soup is hearty and packed with protein. It's filled with delicious savory flavors and has a mild heat.
Create a deep, rich base using vegetable broth, tomato paste, and curry powder. Red pepper flakes add a kick of heat. Agave nectar balances the acidity and spiciness of your curry soup.
Coconut milk adds a slightly creamy consistency. This is a lovely contrast to diced tomatoes and tender chickpeas.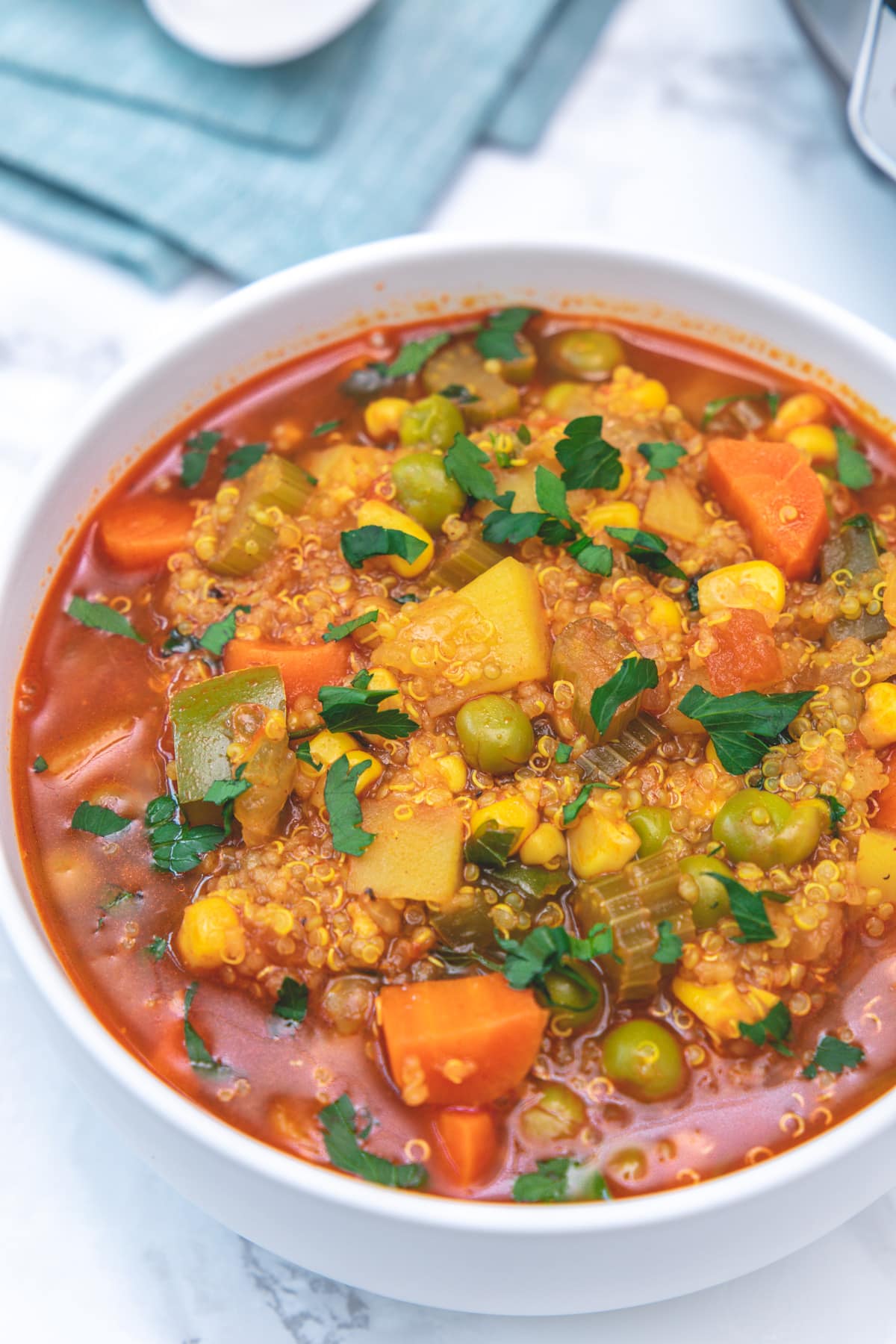 Source: spiceupthecurry.com
This spiced quinoa vegetable soup is full of bright, fresh tastes. Nutrition comes from many hearty veggies.
With onion, celery, and garlic, you can make a base for your soup that smells great.
Spices like turmeric, paprika, cumin, and coriander powder add flavor but are not hot. They're perfectly balanced.
Potatoes, juicy tomatoes, fresh carrots, and bell peppers are ideal veggies. Add frozen peas and corn for a sweet taste.
Source: wholefoodsoulfoodkitchen.com
This lentil soup is nourishing, hearty, and super flavorful. It's full of nutritious veggies and fragrant herbs. Lentils add bulk and protein.
Onions, garlic, and celery form the base of your soup. Cook your lentils, potatoes, and carrots in a flavorful broth. Thyme and marjoram add a delicious herby flavor.
Sour cream produces a creamier consistency for your soup. Stir in shredded cheddar for a light cheesy taste.
Source: throughthefibrofog.com
Turmeric and chicken pair well together. They're perfect in this nourishing soup. Turmeric also lends beautiful color.
Onion, garlic, and broth form the base flavor of your chicken soup. Tumeric is an essential spice! Ginger adds a touch of heat.
Celery, carrots, zucchini, and kale add nutrition. This is alongside the tender shredded chicken.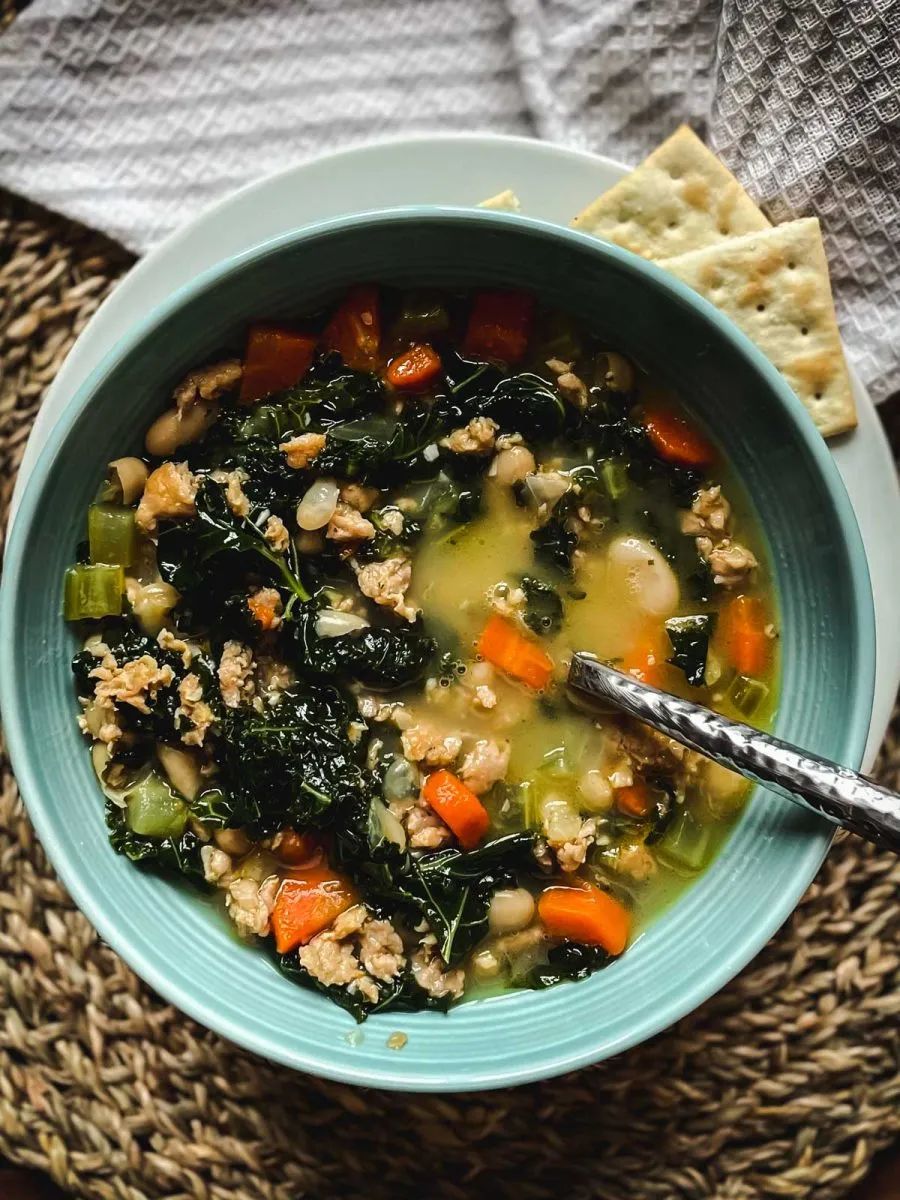 Source: sweetsimplemasala.com
This kale sausage white bean soup is effortless to make. This is thanks to pre-cooked Italian chicken sausage. The only prep you need to do is chop nutritious veggies!
Onion, fresh garlic, celery, and carrots add sweet and savory flavor to your soup. Tender white cannellini beans add texture and protein.
Add a squeeze of fresh lemon juice before serving. It helps bring the flavors of your soup together.
Source: throughthefibrofog.com
This recipe has all the flavor of a vegan stuffed pepper but in the form of soup! The sweetness comes from sweet potatoes rather than tomatoes.
Onion and garlic are the base of any soup. This one is no different. Sweet paprika and dried mixed herbs add additional tasty flavor.
Add cooked rice to your soup to make it hearty and filling. This makes it ideal for a light dinner as well as lunch.
Cheap Healthy Slow Cooker Recipes
Your slow cooker is excellent for making cheap healthy recipes that taste great.
Source: fluxingwell.com
This recipe is great for using leftover ham and nutritious veggies. Adding tender lentils will fill your tummy for longer.
Onions, garlic, celery, and beef broth form the base of this soup. Add fresh thyme, ground cumin, and bay leaves, too.
Worcestershire sauce adds a unique depth of flavor. This pairs excellently with the salty ham!
Source: drugstoredivas.net
Nothing like hearty chicken soup when you feel unwell in colder months. Even the smell of this soup slowly cooking will make you feel better!
Add nutritious veggies to your soup. Onions, carrots, and celery are perfect. Fresh parsley and dill add a delicious herb flavor.
Add egg noodles to your pot near the end of the cooking time. Shred your chicken before serving it hot.
Source: theroastedroot.net
Lentil soup with veggies is one of the most hearty soup recipes. It's one of the easiest too. Add your ingredients to your slow cooker, and let it work magic.
This recipe is ideal for onion, garlic, celery, bell pepper, Yukon gold potatoes, and diced tomatoes. Green, red, or brown lentils all work well.
Add a rustic flavor to your soup with paprika, Italian seasoning, salt, and pepper. You can add chili powder or Cajun seasoning if you like it spicy.
Source: joyousapron.com
This slow-cooker soup is a chicken taco in soup form! It combines the tastes and flavors of Mexico in a hearty, filling dish.
Canned Rotel is a shortcut for adding spice to your soup. Choose mild, medium, or hot for your preference! Canned tomato sauce, chili powder, cumin, and paprika add rich flavor.
Black beans, yellow corn, and shredded chicken are essential. Garnish your chicken taco soup with crispy tortilla strips, sour cream, and shredded cheese!
Source: healthyfoodiegirl.com
This salsa verde chicken is packed with incredible flavor from greens and spices. Your slow cooker produces the most delicious and juicy chicken.
You'll season chicken breast before adding it to your slow cooker. Use cumin and garlic powder for this. Add in tomatillo salsa, jalapenos, and green chilies, too.
Once your chicken is cooked, remove it and shred it before mixing it back in. Garnish your salsa verde chicken with sliced green onion, fresh lime juice, and crumbly feta!
Source: sweetandsavorymeals.com
This soup has the flavor of cabbage rolls but without the prep and effort! A deep, rich tomatoey sauce envelops tender cabbage and ground beef.
Onion, garlic, dried rosemary, and Italian seasoning flavor your soup. Worcestershire sauce delivers a unique taste.
Add nutritious carrot and red bell pepper for sweetness. Tender rice adds a distinctive cabbage roll taste!
Cheap Healthy Crock Pot Recipes
Your crock pot is great for making tasty, cheap healthy recipes.
Source: thedefaultcook.com
Potatoes and cheese are a classic comfort food combination. You can find both in this tasty chicken potato chowder!
Add sweet yellow corn and shredded carrot along with potatoes. Onion, garlic, and chicken broth flavor your soup.
Add rotisserie chicken towards the end of cooking. Stir in shredded cheese and sour cream before serving!
These other tasty cheap crockpot meals might also interest you!
Source: joyfoodsunshine.com
This Mexican shredded chicken takes minimal time to prepare. It's delicious and versatile for serving. Try it in soft tortillas, over tender rice, or on top of a fresh salad!
All you need to do is add your favorite salsa, fresh lime juice, and seasonings to your crock pot. Ground cumin, paprika, chili powder, and ground coriander produce a tasty flavor.
Add chicken breasts and cover with the salsa mixture before cooking slowly.
Shred your chicken when cooked before leaving it for an extra hour with the lid ajar. This lets moisture escape to produce a thick salsa consistency!
Source: thedefaultcook.com
This recipe involves some prep with chopping ingredients. However, you can dump and go after the initial prep until it's ready!
The highlight of this dish is melt-in-your-mouth steak. This is coated in a delicious herby tomatoey sauce. Use Italian seasoning and garlic powder to add flavor.
Serve your delicious pepper steak with tender noodles, rice, or creamy mashed potatoes.
Source: thefeatherednester.com
This 15-bean soup is at the height of protein and fiber-filled dishes! It's comforting, nutritious, and wholesome.
You don't need to hunt for various beans for your soup! You can find a 15-bean soup mix at the store.
Cook your beans in canned tomatoes and a broth of your choice. Chicken or beef adds a meaty flavor. Keep your soup vegetarian by using vegetable stock.
This is a great recipe to improvise if you have leftover holiday ham. Add this near the end of your cooking time!
Cheap Chicken Recipes
These chicken recipes are all cheap, tasty, and healthy!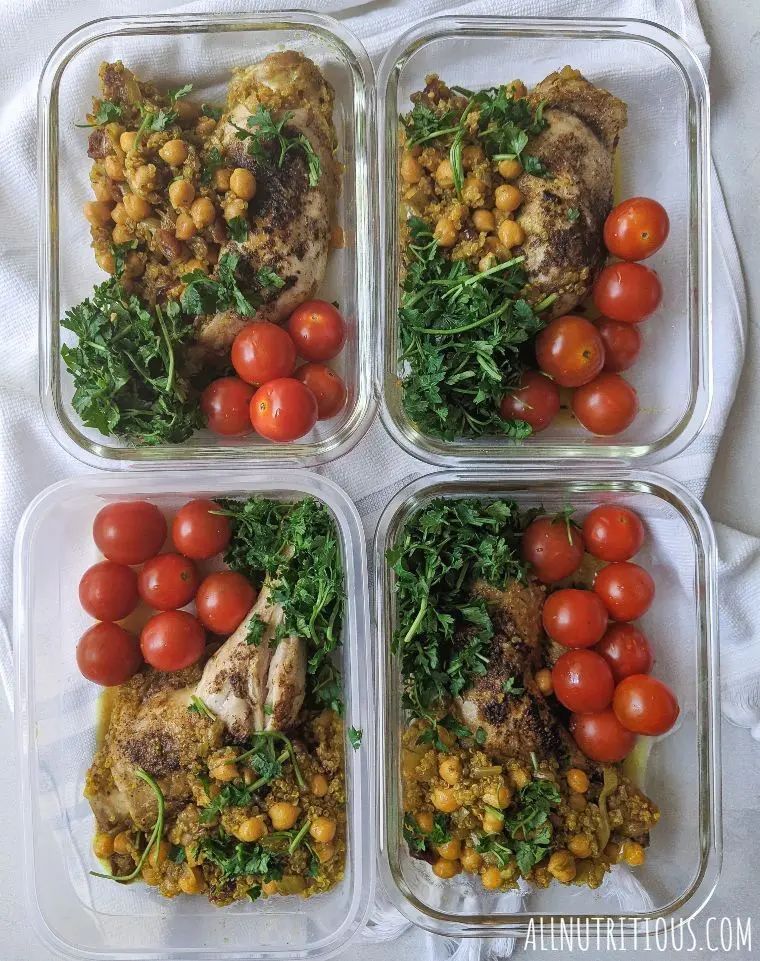 Source: allnutritious.com
This protein-filled recipe uses chicken legs as an alternative to thighs or breast meat. Protein comes from tender chickpeas and quinoa alongside your chicken.
The sweetness of dried cranberries balances the acidity of fresh tomatoes. Add a warm flavor to your meal with cinnamon, turmeric, and coriander.
The spices don't add heat. Use red pepper flakes or black pepper if you want a hotter taste. Season your chicken legs with salt and pepper as you'll cook your quinoa and chickpeas in the spices!
Source: thecookingduo.com
A sweet homemade teriyaki sauce coats tender chicken breast chunks in this easy recipe.
Create your sauce with rice vinegar, umami soy sauce, rice vinegar, sesame oil, ginger, and garlic. Sweet honey and light brown sugar add a rich sweetness and help to thicken it.
Garnish your tasty teriyaki chicken with green onion and toasted sesame seeds.
Source: allnutritious.com
This meal prep recipe produces delicious sweet, sour, sticky chicken thighs! They're easy to make and ready in less than half an hour.
Honey acts as a natural sugar to caramelize your chicken. Add this to the hot pan with chicken broth, soy sauce, butter, and garlic when your thighs are almost cooked.
Serve your sticky, juicy chicken with tender brown rice.
Source: pepperbowl.com
Make juicy, tender, flavorful chicken breasts with this recipe. Garlic, lime, and cilantro are three ingredients that go well together.
Chili powder adds mild heat and a golden color to your pan-fried chicken. White wine adds a rich flavor to your dish.
Add slices of lime to your skillet near the end of your cooking time. These will impart a fresh, zesty flavor to your chicken.
Source: allnutritious.com
Sheet pan chicken fajitas bring the spicy flavors of Mexico to your dinner table! Strips of tender chicken breast sit alongside red and green bell peppers.
Make a flavorful fajita seasoning to coat your chicken and veggies. Use chili powder, garlic powder, smoked paprika, ground cumin, and black pepper.
Fresh cilantro and lime juice balance the spice of your chicken fajitas. Serve in tortillas or taco shells with your favorite toppings. Shredded cheese, sour cream, and guacamole are ideal options!
Source: meaningfuleats.com
Southwestern chicken and rice is a dish that brings everyone to the table! Pop everything in your Instant Pot and let it do its thing.
Brown rice, canned kidney beans, frozen corn, and tender chicken breasts are your main ingredients. Add your favorite salsa, too.
Add flavor to your pot with chili, garlic & onion powder, cumin, and salt. Mix in shredded cheddar for a cheesy taste!
Source: allnutritious.com
Juicy chicken thighs are the star of this recipe. A deliciously sweet and savory honey garlic marinade caramelizes their skin.
Add oregano and chili powder to your chicken marinade. Chili powder won't add heat; it enhances the flavor of your other ingredients.
Bake your chicken thighs on one sheet pan with nutritious veggies. Carrots, red onion, bell pepper, and naturally sweet Brussels sprouts are ideal.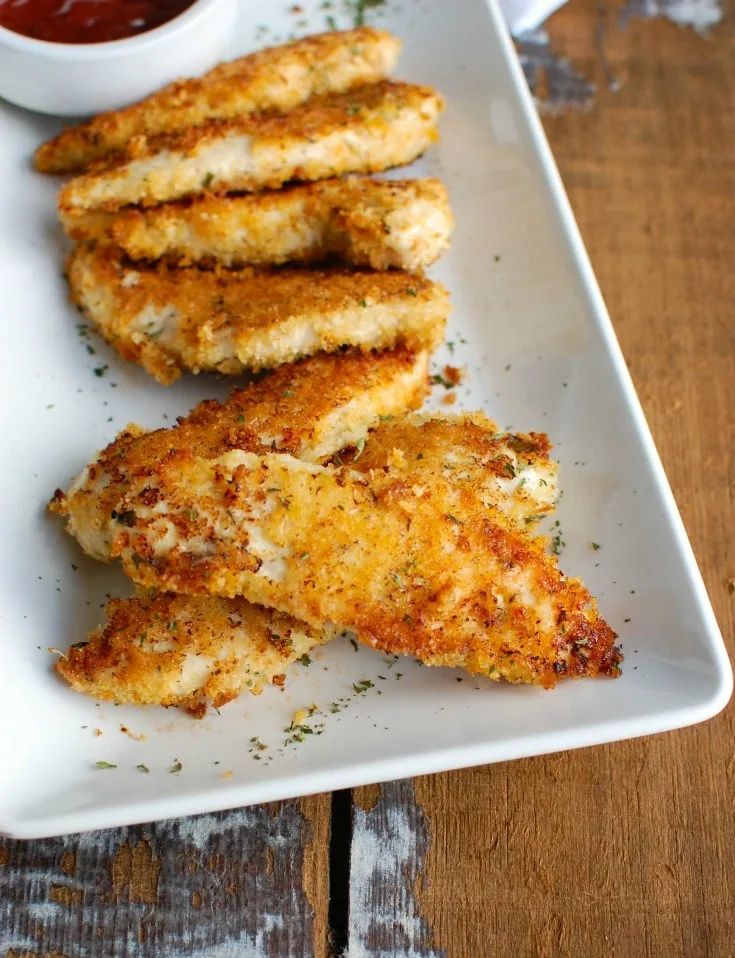 Source: acedarspoon.com
These healthy chicken fingers are crunchy on the outside and tender inside. Cruchiness comes from a spicy panko crust.
Add flavor to your panko crumb. Use garlic powder, paprika, parsley, thyme, salt, and pepper. Parmesan adds a deliciously cheesy taste too.
Serve your chicken tenders with your favorite dipping sauce. They also go well with a fresh salad or tasty rice bowl.
Source: theroastedroot.net
This lemon garlic rosemary chicken is a delicious healthy balanced meal. Chicken thighs impart a juicy taste to your other ingredients.
An onion and plenty of fresh garlic deliver a wonderful flavor to your chicken. Lemon zest adds a robust citrus flavor.
Rosemary goes excellently with chicken and enhances the flavor of this dish. Tender broccoli and nutty brown rice make this a complete one-pot meal.
Source: sugarandsnappeas.com
These baked buffalo chicken thighs are a tasty, healthy alternative when craving buffalo chicken wings! They have a delicious combination of sweet, savory, and spicy flavors.
Make a homemade rub to season your chicken thighs. Mix salt, pepper, onion & garlic powders, paprika, and dried oregano.
Use bottled buffalo sauce, butter, and naturally sweet honey to coat your chicken thighs. You'll add this twice during cooking to impart maximum flavor.
Broil at the end of cooking time to turn the tops crispy and golden brown!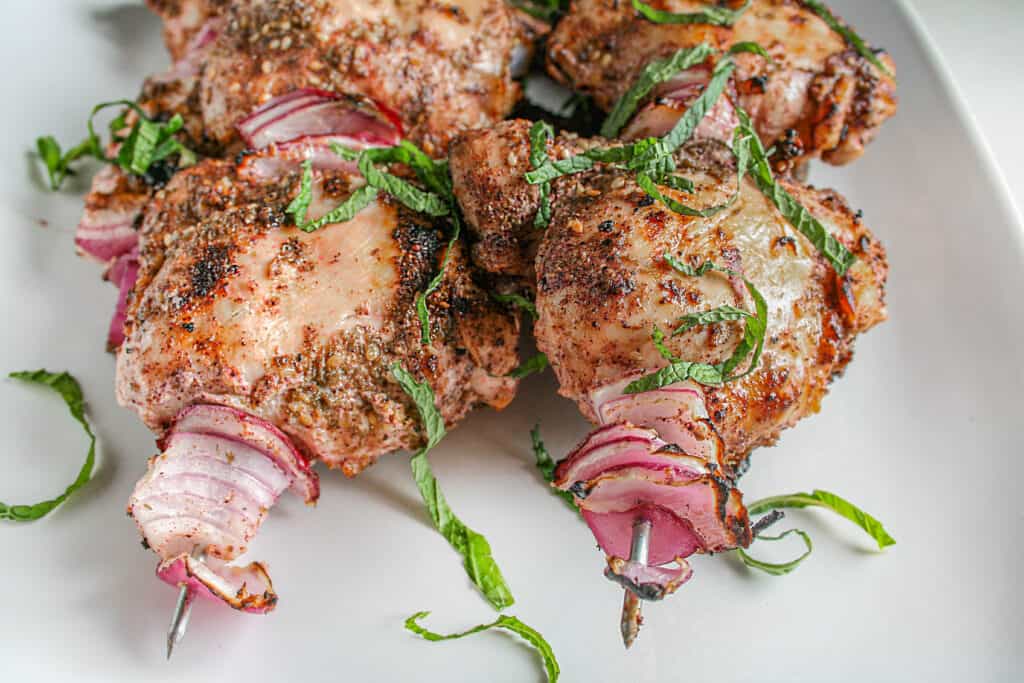 Source: thefeastlocal.com
These Mediterranean-style chicken thighs are delicious, juicy, and tender. This is thanks to the yogurt-based marinade that tenderizes the meat.
A blend of za'atar and sumac lends Mediterranean flavors to the dish. Cinnamon offers a warming taste and is incredibly fragrant. The lemon cuts through the spices and creaminess of the yogurt.
You'll grill your tender chicken thighs on skewers with chunks of red onion. These add a balance of sweetness.
Cheap Healthy Dinner Recipes
Have a browse below for a selection of varied cheap healthy dinner recipes.
Source: allnutritious.com
This veggie stir-fry is tasty, effortless, and super quick to make! You'll use a handful of pantry staples to make this dish. Zucchini is a delicious twist on common stir-fried veggies.
Fresh garlic, sesame oil, and soy sauce deliver Asian flavors. Sesame seeds provide protein and a nutty, crunchy texture.
Serve your stir-fry with steamed white rice. Keep your meal low-carb by using cauliflower rice.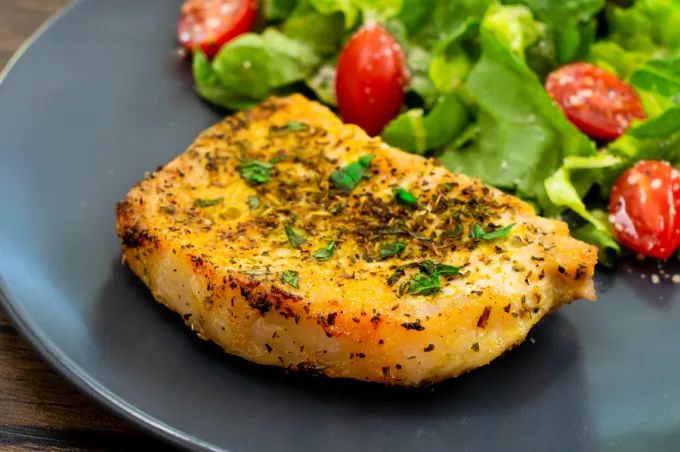 Source: homanathome.com
Oven-baked pork chops are savory, easy to cook, and versatile. They can be served with a variety of side dishes as the primary source of protein.
Use Italian seasoning and black pepper to flavor your pork chops. Butter is excellent for keeping your pork juicy while cooking.
The rich flavor and texture of butter melt into the meat to tenderize it. It helps to deepen the taste of the dried herbs too!
Source: summeryule.com
This Indian-style curry is packed with spicy flavor. It also delivers a ton of protein from the black beans.
Canned black beans and tomato sauce form the base of your curry. Add sliced white onion and green bell pepper for veggie nutrition.
The robust flavor of your curry comes from a homemade spice blend. Create this with turmeric, cumin, allspice, ground ginger, and cayenne.
Methi is the secret ingredient for the unique flavor of this curry!
Source: healthyrecipes101.com
This recipe is a healthier version of a Chinese pepper steak dish. The stars of the show are thinly sliced tender beef and bell peppers.
Marinate your beef using salt, pepper, soy sauce, and minced garlic. You'll cook it alongside peppers in a tasty sauce.
Make this using chicken broth, soy sauce, and honey. This adds natural sweetness to your dish.
Roasted sesame seeds provide a nutty flavor and crunchy texture. Add red pepper flakes if you want your meal a little spicier. Serve your delicious pepper steak with tender cooked rice.
Source: strengthandsunshine.com
This vegan casserole is healthy, hearty, and a much-loved dump-and-go recipe! It's creamy, zesty, and effortless to make.
Onion, garlic, and celery add the base flavor to your casserole. Lemon juice and zest deliver your main elements a bright, fresh taste.
Coconut milk combined with vegetable stock provides a creaminess to your casserole. This envelops tender white rice and protein-filled chickpeas.
Garnish with fresh parsley and lemon slices for a more citrusy flavor!
If you are on a tight budget, this would make a nice Sunday dinner idea for the family!
Source: thefeastlocal.com
Transform ground chicken into tasty, juicy meatballs. Lemongrass, ginger, cilantro, and green onion deliver a robust Thai flavor.
Your meatballs are effortless to make. Pop everything into your blender and blitz until thoroughly combined. Make equal-sized balls from your mixture, then bake in the oven.
Serve your meatballs with a flavorful Thai dipping sauce.
Source: thefeastlocal.com
Take pork chops to the next level with a tasty maple syrup-based marinade. The natural sugars in syrup produce a beautiful caramelization on your pan-seared pork.
Combine maple syrup with garlic, red pepper flakes, ground ginger, cinnamon, turmeric, and dried thyme. Dijon mustard balances the sweetness of maple syrup with a bit of heat.
Garnish your maple pork chops with fresh thyme before serving. Roasted Brussels sprouts and creamy mashed potatoes are ideal side dishes.
Source: hurrythefoodup.com
Mac and cheese is a classic comfort food and family favorite. Bring a healthier version to your dinner table with this delicious recipe.
Mixing milk, shredded cheddar, and cottage cheese creates your healthy creamy, cheesy sauce. Sharp cheddar adds depth and flavor.
Garlic powder, onion powder, and mustard add flavor to your sauce. Add veggie nutrition to your mac and cheese with broccoli and frozen peas. They also add a pop of color!
Source: lbhealthandlifestyle.com
This nourishing risotto takes half the time of regular risotto to cook. You can have a delicious, healthy meal in less than half an hour.
You'll use diced celeriac and parsnip in place of arborio rice. Pumpkin puree provides a creamy texture and fall flavor to your risotto.
Mushrooms and spinach add even more nutrients to this dish. Dried sage and thyme provide a herby flavor that pairs well with pumpkin and mushroom.
Source: thislittlehome.co.uk
This wholesome chili con carne is packed with filling protein from three types of beans. Turkey mince adds a twist to the traditional favorite beef.
A rich tomatoey sauce provides the base for your chili. This is flavored with cumin, hot smoked paprika, and ground coriander. Chipotle chili paste delivers the chili flavor.
Kidney beans, black beans, and black-eyed beans are used in this recipe. However, you can use whatever you have to hand.
Check out these other tasty ground turkey recipes for dinner!
Source: beetofthewild.com
This vegan pasta is refreshing, light, and full of zesty flavor. There's no heavy cream in this healthy dish.
You'll toss your pasta in a tasty dressing made from avocado oil, apple cider vinegar, lemon juice, and turmeric. Nutritional yeast adds a delicate cheesy flavor.
Add your veggies at the end and gently heat until the spinach has wilted. Serve your pasta warm for the best taste.
Source: ourlovelanguageisfood.com
These turkey and black bean tacos are quick and effortless to make. The combination of turkey and beans tastes similar to ground beef!
Use pre-packaged taco seasoning to flavor your cooked ground turkey and black beans. Serve your taco mix on crunchy taco shells or in soft tortillas.
Add your favorite toppings to your tacos. Shredded cheese, fresh salsa, and sour cream are perfect options!
Source: nonguiltypleasures.com
Mediterranean flavors take the lead in this barley pilaf. Think of rose harissa, sweet tomatoes, and salty olives.
Using barley for your pilaf adds a nutty, earthy flavor with a chewy texture. Onion and garlic add fragrant notes to your dish. Rose Harissa delivers a subtle floral taste and a hit of spice.
Stir in lemon juice, black pepper, and fresh parsley before serving.
Source: addsaltandserve.com
Pinto beans over cornbread is a filling, flavorful meal. You'll have leftovers to add to other meals too. It's effortless to make and ready in less than ten minutes!
This recipe is easier and quicker if you have pre-prepared pinto beans and cornbread. Top pieces of cornbread with warm pinto beans.
Season your beans with salt and pepper, and then add your toppings. Chopped onion, cheddar cheese, and chopped cilantro are perfect!
Source: plantbasedredhead.com
Fasolakia is the traditional name for this Greek stew. It's made with tender green beans, potatoes, tomatoes, and plenty of olive oil!
You'll cook onion, garlic, tomato paste, and fresh tomatoes in olive oil. Add potatoes and let them cook for a while before adding green beans.
Flavor your green bean stew with salt, pepper, thyme, oregano, and a bay leaf. Serve with white bread to soak up the Lathera.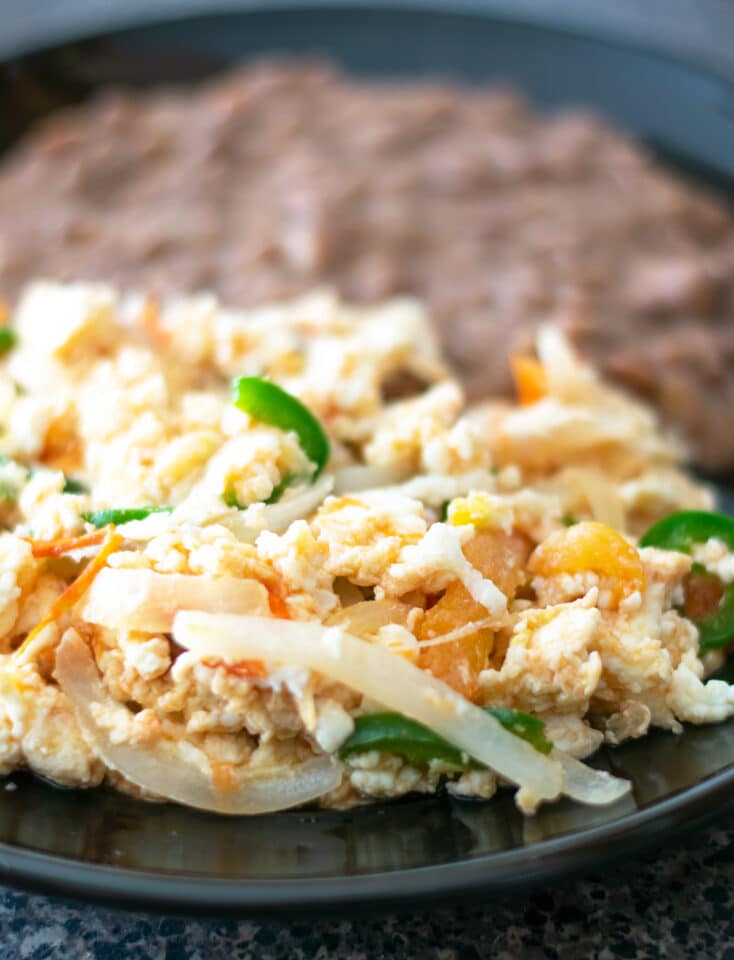 Source: thriftandspice.com
These Mexican-style scrambled egg whites are a nutritious way to start your day. They're fluffy, delicious, and satisfying to eat.
You only need a handful of ingredients to cook with your scrambled eggs. These are sliced white onion, a jalapeno, a juicy Roma tomato, and olive oil.
You can easily customize your scrambled eggs with whatever you have in your fridge. Fresh spinach and shredded cheese are ideal!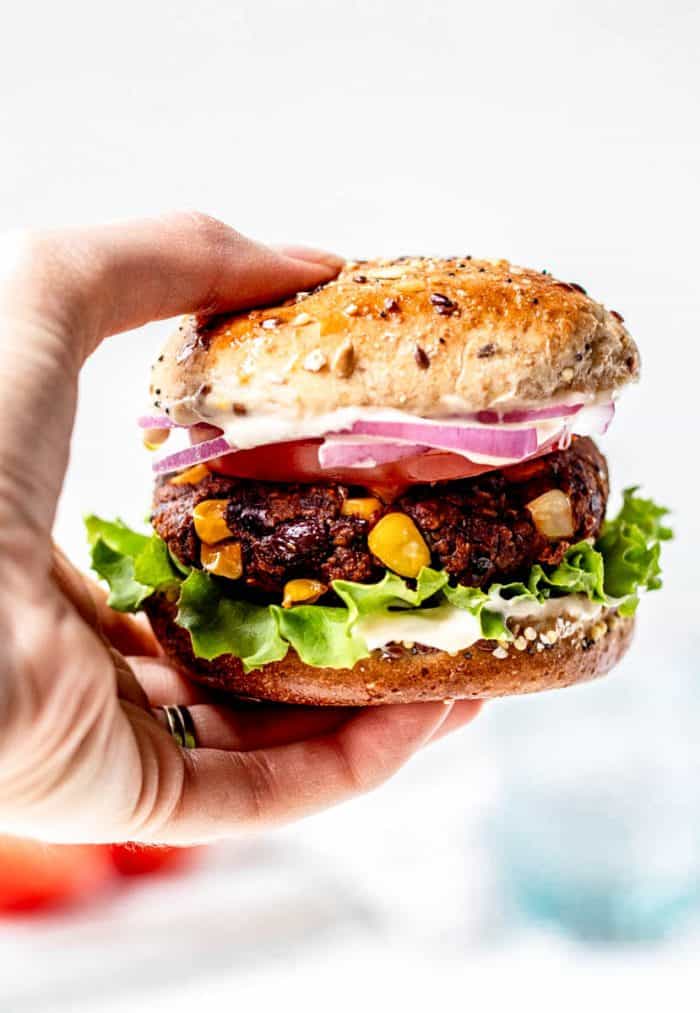 Source: hauteandhealthyliving.com
Spicy vegan black bean burgers are packed with a delicious Southwest flavor. You will love these healthy burgers even if you don't follow a wholly plant-based diet!
Oats act as a binding agent for your burgers. So you don't have to worry about them falling apart when cooking.
Minced garlic and soy sauce add a kick of flavor. Add ground cumin, chili powder, onion powder, smoked paprika, and cayenne for a Southwest flavor.
BBQ sauce acts as an egg replacement and provides a smoky flavor to your patties. Corn adds texture, sweetness, and a pop of bright color!
Save even more with these other easy cheap dinner ideas for families!
61 Cheap Healthy Recipes To Stay On Budget This Month
Healthy eating doesn't have to be costly. Here are some cheap healthy recipes that are sure to become family favorites.
Ingredients
1. Baked Herb Chicken Breasts with Couscous Meal Prep
2. Vegetable Quesadilla
3. 3-Ingredient Breakfast Skillet
1. Baked Herb Chicken Breasts with Couscous Meal Prep
5. Spicy Pineapple Chicken Meal Prep
6. Chana Masala
7. Breakfast Skillet with Sweet Potatoes
8. Vegan Baked Spaghetti
9. Air Fryer Falafel
10. Lemon Broccoli Chickpea Pasta
11. Mediterranean Salad with Cucumbers and Tomatoes
12. Instant Pot Cauliflower Soup
13. Kale and White Bean Soup
14. 4-Ingredient Potato Soup
15. Sweet Potato Black Bean Tortilla Soup
16. Keto Tuscan Soup with Beef and Vegetables
17. Roasted Broccoli and Carrot Soup
18. Chickpea Curry Soup
19. Instant Pot Quinoa Vegetable Soup
20. Vegetarian Lentil Soup
21. Turmeric Chicken Soup
22. Kale Sausage White Bean Soup
23. Vegan Stuffed Pepper Soup
24. Slow Cooker Lentil Ham Soup
25. Slow Cooker Chicken Soup
26. Slow Cooker Lentil Soup
27. Slow Cooker Chicken Taco Soup
28. Slow Cooker Salsa Verde Chicken
29. Slow Cooker Cabbage Roll Soup
30. Crockpot Chicken Potato Chowder
31. Crockpot Chicken Tacos
32. Italian Crock Pot Pepper Steak
33. 15 Bean Soup
34. One-Pan Chicken Legs with Chickpeas and Quinoa
35. Honey Teriyaki Chicken
36. Sweet Honey Garlic Chicken Meal Prep
37. Spicy Garlic Lime Chicken
38. Sheet Pan Chicken Fajitas
39. Instant Pot Southwestern Chicken and Rice
40. Sheet Pan Chicken Thighs with Garlic and Honey
41. Chicken Fingers
42. One-Pot Lemon Garlic Rosemary Chicken and Rice
43. Baked Buffalo Chicken Thighs
44. Za'atar Grilled Chicken Thighs
45. Zucchini Stir Fry with Garlic and Sesame Seeds
46. Oven Baked Pork Chops
47. Black Bean Curry
48. Pepper Steak
49. Lemon Chickpea and Rice Casserole
50. Thai Meatballs
51. Pan Seared Maple Pork Chops
52. Healthy Mac and Cheese
53. Pumpkin and Mushroom Risotto with Spinach
54. Three Bean Chili Con Carne with Turkey Mince
55. Vegan Spinach and Peas One-Pot Pasta
56. Turkey and Black Bean Tacos
57. Barley Pilaf with Rose Harissa, Tomatoes, and Olives
58. Old Fashioned Pinto Beans Over Cornbread
59. Greek Green Bean Stew
60. Scrambled Egg Whites (Mexican Style)
61. Spicy Black Bean Burgers with Oats
Instructions
Scroll up to get a bunch of easy, yummy, and delicious recipes. Don't be afraid to get creative with the ingredients, you might discover a flavor you didn't know you liked.
Get your shopping list going and make sure you've got all the ingredients.
Get cooking and make your next Cheap Healthy Recipe!
Notes
Which one of these recipes was your favorite? Let me know in the comment section or on Pinterest!