Looking for an easy recipe for Sunday evening? Find some of the best Sunday dinner ideas and find your next easy meal for the entire family.
Has there ever been a Sunday in history that wasn't made better by a delicious dinner? Sunday dinners are the best part of anyone's week.
They're the moment the whole family gathers around the dinner table to connect, enjoy one another's company, and eat delicious food.
This tradition has been around for centuries. That means hundreds – maybe even thousands – of Sunday dinner ideas are out there to try.
What to Serve with Dinner?
Sunday dinner is the main dish with some delicious sides to spice up the table like any good meal. The key lies in comfort!
The number one thing anyone wants from Sunday dinner is comfort. It's our reward for getting to the end of the week and preparing for the one to come!
So, your side dishes should be comforting and familiar, warm and satisfying. For example, a Yorkshire pudding would not go amiss if you're going with a classic British Sunday dinner.
Let's get into fifty-one delicious Sunday dinner recipes with which you'd be proud to adorn your dinner table.
Lazy Sunday Dinner Ideas
I can't be the only one who thinks Sunday dinner means a lot of work. A massive roast with many side dishes usually means a lot of time and effort in the kitchen, right?
Not with these ideas! You can enjoy a relaxing Sunday alongside your family if you adopt any of these recipes into your repertoire.
Source: sweetpealifestyle.com
French onion soup is a classic choice for a Sunday night dinner, but it's a little bit light. That's why this casserole version with chicken and rice is such a game-changer.
Enjoy all the delicate, sweet, earthy flavors a French Onion soup promises with a heftier bite. The chicken and rice are perfect for anchoring this soup into a main meal for your family's Sunday night.
Source: areinventedmom.com
Speaking of chicken and rice, this next recipe uses an Instant Pot to save you time. All that, without compromising on flavor or nutrition!
You combine classic flavors like chicken, carrots, stock, peas, and parmesan to create a delicious hearty chicken and rice bowl.
It's easy to make in bulk, perfect for Sunday night meal prep.
Source: thisolemom.com
Take a classic pasta dish and elevate it into something even more comforting and nutritious with this recipe. Cheese, broccoli, and sausage combine to create a perfectly tasty mouthful every time.
This recipe is the perfect choice for a quiet Sunday at home after a long week. After all, who wants to slave away in the kitchen when you could be relaxing?
With minimal effort and maximum payoff, you can make a tasty meal that will give you leftovers for lunch the next day.
Need more recipes? Check out these side dishes for pasta.
Source: maesmenu.com
Next on the docket is a stunningly easy dish that doesn't compromise on flavor. These Instant Pot meatballs only require ten minutes of active effort from you.
The rest of the time is all about deepening the flavor. Serve these meatballs atop a bowl of spaghetti for a classic Italian feast, or whip out some sandwich fixings for a make-it-yourself meatball sub.
The possibilities are endless so you can use the recipe again and again.
Source: sunglowkitchen.com
Speaking from experience, a quick and easy noodle dish is one of the best Sunday night dinners. It might not be what you immediately picture, but it's warm, hearty and full of intoxicating flavor.
These garlic chili oil noodles are sprinkled with vegetables soaked in a delicious sauce. So, these are great for convincing younger family members to eat their vegetables!
Source: themoodyblonde.com
Comforting, warm, and hearty: three adjectives describe Sunday dinner and chowder. They're a match made in heaven.
This is a quick and easy chowder that relies on classically delicious ingredients. Chicken, bacon, and corn blend together in a beautiful, creamy bowl of warmth.
This is the kind of dish you can easily make in advance, so all you need to do is heat it when the time comes to chow down!
Source: wholesomeyum.com
Speaking of chicken and bacon, this next recipe marries the two ingredients in a fifteen-minute casserole dish sure to blow your mind.
Covered in cheese and baked to a crisp, this is the last word in comfort food.
Plus, it's a low-carb, keto-friendly dish! Who said Sunday night dinner had to be unhealthy to be tasty? Whip this together in fifteen minutes and watch your family clean their plates.
Source: thezhush.com
Pasta arrabbiata is a well-known Italian dish known for its simplicity. Each mouthful features a delicious blend of tomato and pasta, the foundations of Italian cuisine.
While it might sound fancy, this is a super simple dish to make.
Make Italian grandmothers everywhere proud by serving this up for a Sunday night dinner with minimal hassle and barely any dishes to do.
Source: sugarandsnappeas.com
Rather than standing over a boiling pot for hours at a time, get the same comforting chicken noodle soup you love with a fraction of the effort. All you need is a Dutch oven dish and an oven to put it in.
This is one of those recipes that simply screams 'rainy day meal.' Imagine sitting down to dinner with the aroma of chicken noodles floating around you as it pours with rain outside. Simply perfect, right?
Easy Sunday Dinner Ideas
Continuing with our trend of ease and simplicity, these easy Sunday dinner ideas are an ideal choice for the end of the week. Each one is tastier than the last, and you don't need the whole day to cook!
Source: allnutritious.com
First up on the docket is one of my very own recipes: a Mexican bean salad. This is the perfect meal for vegans who want something lighter and delicious for their Sunday supper.
It's so simple to pull together, requiring only a few minutes of your time.
Thanks to the beans, this meal is packed with protein, so it should power you through the last part of the week with no trouble at all.
This recipe also makes for a great Mexican side dish!
Source: pressurecookingtoday.com
A traditional pot roast takes hours and hours to create, usually requiring you to stand over your oven or stove religiously checking a timer. But not with this recipe!
Thanks to the Instant Pot, you can have a sumptuous pot roast without extra hassle.
Plus, it captures all the meat juices as the beef cooks, allowing you to whip up an incredible gravy once you take the meat out.
Source: fromachefskitchen.com
Is there anything more perfect for a Sunday night dinner than a roast chicken with root vegetables? Thanks to its incredible flavor and aroma, families have chosen this dish for centuries.
All you have to do is coat your chicken in herbs, chop and salt your vegetables, and roast the whole thing to perfection.
Source: neighborfoodblog.com
Looking for something a little fancier to spice up a Sunday date night? This grilled Tilapia allows you to focus on your date, not cooking the meal.
It's the ideal intersection of sophisticated and straightforward. On top of that, the grilled fish and summer vegetables are a bright and nutritious addition to your dinner table.
Packed with good nutrients and bursting with fresh flavor, this is the perfect summer Sunday dinner.
Source: sunglowkitchen.com
Traditional macaroni and cheese recipes use macaroni to capture and hold the sauce. But what happens when we change that for a small, grain-like pasta such as orzo?
Each mouthful becomes rich, smooth, and just chewy enough to satisfy. If you can imagine a macaroni and cheese risotto, this is it!
It's as easy to make as regular mac and cheese but twice as creamy. This would also make an excellent side dish for many other family dinners on this list.
Source: peaceloveandlowcarb.com
The following recipe is crunchy and creamy, offering the perfect way to enjoy a juicy chicken breast. If you've never had anything parmesan-crusted before, you're about to have your life changed.
The chicken breast and lemon cream sauce are a beautiful centerpiece to your dish. It's up to you to decide what will accompany it.
Opt for something light like fresh green beans for a summer evening, or go hearty with garlic mashed potatoes for a wintry Sunday dinner.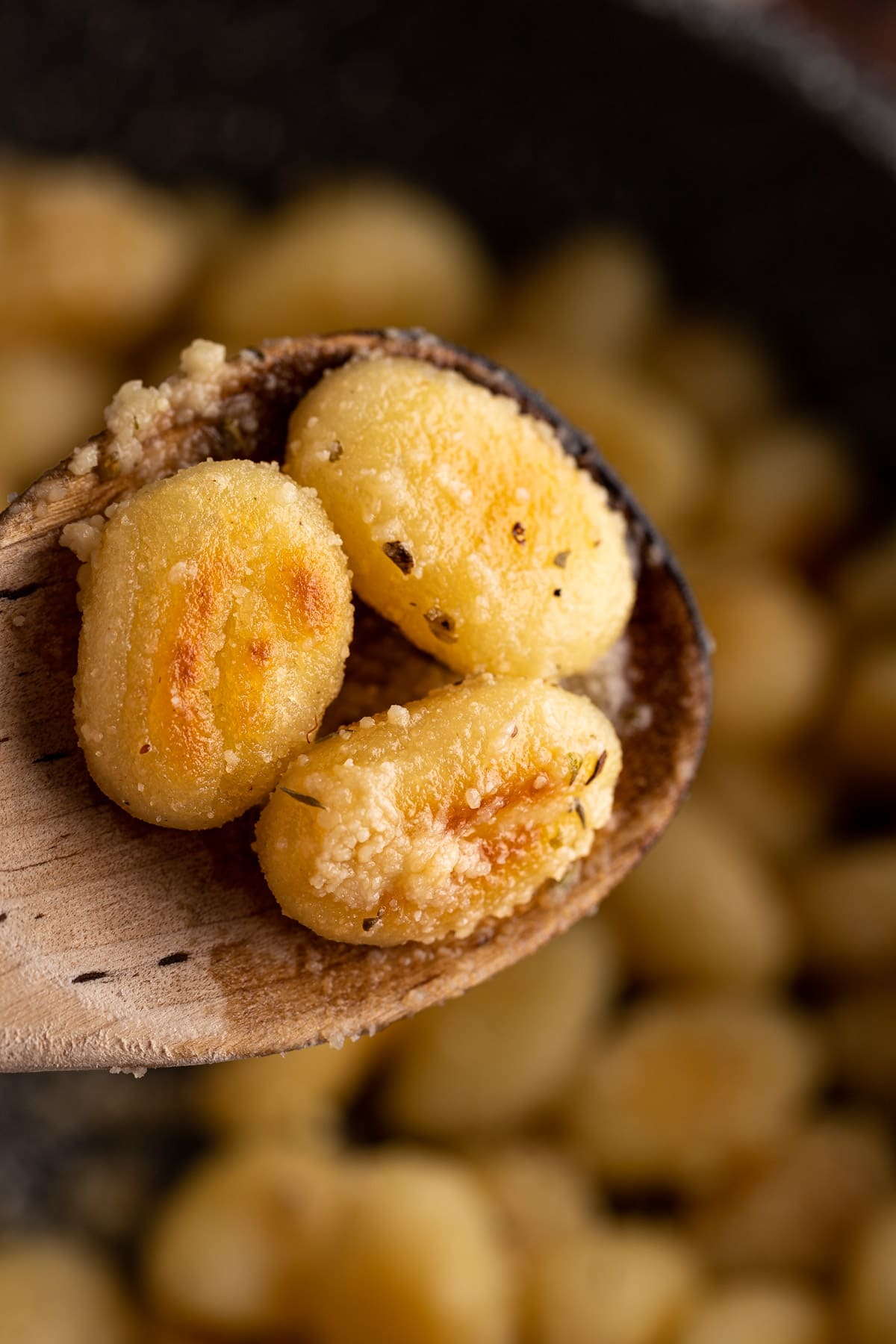 Source: thelittlestcrumb.com
Gnocchi are light and airy balls of perfection. They're an excellent vehicle for any creamy sauce, offering a delicious texture contrast that will have you going back for bite after bite.
These pan-friend gnocchi add another dimension: crunch. Crispy and full of flavor, these gnocchi make a great main or side dish that's sure to satisfy everyone at the table.
If you want to make these quickly, you can use store-bought gnocchi. However, if you're going to go full-hog and try something new, you can make this classic Italian dish from scratch!
Source: cuisineandtravel.com
I love roasts on a Sunday night. They're packed with unbeatable flavor, they're so easy to throw together, and you can bake your side dishes in the same dish as your main.
All of this is true for this incredible baked lamb chop. Dressed in herbs and a delicious chimichurri, each bite of lamb is bursting with a light and summery flavor.
Love lamb? You might want to try these easy ground lamb recipes.
Source: whereismyspoon.co
If lamb isn't your meat of choice, this pork roast might be the Sunday night roast meal you're looking for. This recipe puts a spin on a classic pork roast, coating the rump in a crunchy and spicy coating.
Each bite is a treat for the senses. You get the juiciness of the pork, the crunch from the coating, and a lovely hit of delicate spice that elevates the whole affair.
Despite its depth of flavor, this dish is so simple to make. Save the leftovers for sandwiches the next day. You can thank me later!
Source: savorthebest.com
Next up is another deceptively fancy meal. These fig and brie stuffed chicken breasts rely on classic flavor combinations to create a sophisticated dish. The secret? It's super easy to make.
Whether you're hosting a Sunday night dinner party or simply looking for something different to try, these chicken breasts will satisfy you.
Serve on a bed of grains or alongside some summer vegetables for a real treat.
Source: apaigeofpositivity.com
Turkey is the perfect halfway point between chicken and pork. It's light and juicy but with a hearty gaminess that helps this type of protein stand out amongst bold flavors.
That's why this turkey meatball dish is such a success. Each meatball is bursting with warm spices and garlic flavor, and lean and juicy turkey meat.
Cover that in a roast garlic sauce and some parmesan, and you've got a winner.
Source: entertainingwithbeth.com
I mentioned earlier that gnocchi could be a great side dish or main, and this is the perfect example. This chicken dish hails from the rolling Italian countryside, so it's layered with classic Italian flavors.
Not only is the dish super simple to make, but it's also a great way to introduce your family to another type of Sunday dinner. It's almost like an Italian take on roast chicken and potatoes.
Source: thespicetrain.com
Our last super easy dish is a lemon pepper panko chicken breast that promises to make your guests' mouths water the second they lay their eyes on it.
This crunchy delight is the perfect centerpiece for an Asian-style Sunday dinner.
Serve it alongside some Asian slaw, over a bed of rice, or with a bowl of noodles and warm broth to brighten the last evening of the week.
Southern Sunday Dinner Ideas
Southern soul food and Sunday night dinners are like family members. They come from the same place.
They have shared roots in comfort food and warm meals that feed your soul and make you feel at home. So, it makes sense to harvest your next Sunday dinner meal from a soul food recipe book!
Source: southernhomeexpress.com
First on our Southern Sunday dinner list is pork and sausage rice skillet dish that comes together in just half an hour. Packed with protein and flavor, this meal is also great for leftovers or meal prep.
I find this to be a good recipe for clearing out your fridge. Pack the rice with whatever vegetables you like; they'll all take on the delicious flavor of the pork and stock.
Great for getting kids to eat their vegetables!
Source: juliassimplysouthern.com
There is nothing more quintessentially Southern than good fried chicken. So, instead of roasting your chicken this Sunday, why not try frying it? This recipe will put your local KFC to shame.
Breaded in layers of delicious spices and fried to golden perfection, this fried chicken recipe would make any Southern grandmother proud.
Pro tip: let your chicken sit in stock or brine for a day before you fry it. This imbues the meat with even more flavor and keeps it light and juicy through the frying process.
Source: juliassimplysouthern.com
Next on our list is a classic Southern meatloaf. Meatloaf is another traditional Sunday dinner meal, so this recipe is ideally suited to our list. This particular meatloaf is topped in a wildly delicious glaze.
You can opt for some classic sides like mashed potatoes or buttered carrots, or try serving it with slaw and grilled corn for a BBQ-style take on a traditional meal.
Source: southerncravings.com
The inventor of the Dutch oven deserves a Nobel Prize; they've saved so many people hours and hours of slaving away over a hot stove. This Southern pot roast honors that inventor.
Packed with incredible flavor sealed into the meat, this roast will be flaking apart by the time you pull it out of the oven. Save the leftovers for a great sandwich the next day.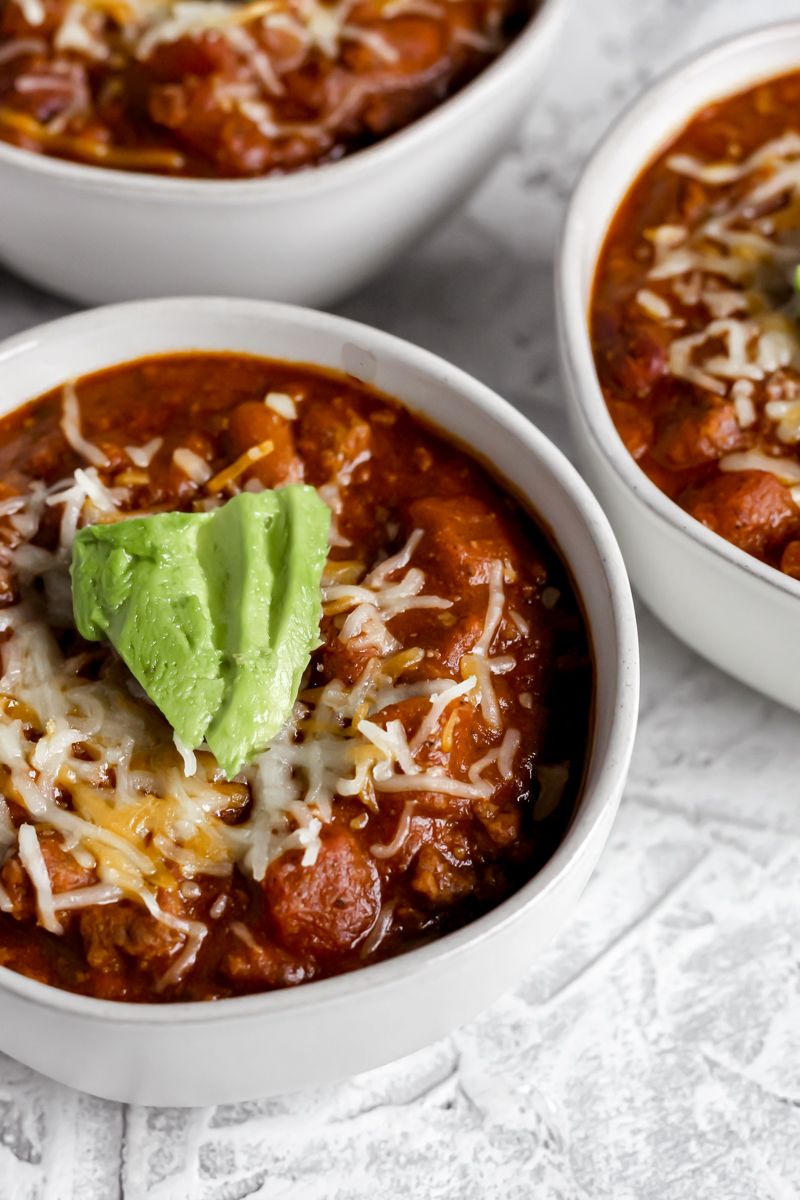 Source: kaleenaskitchen.com
A good chili is its own reward. It's warm, comforting, and humming with a rich flavor that's nigh-on impossible to beat.
If you're not too comfortable with bison meat, beef is an excellent substitute for this recipe.
You can cook this in a Dutch oven for anywhere between ten minutes and a few hours. The longer you cook it, the more flavor you'll pack into each mouthful.
Here are the side dishes for chili to make your dinner even better.
Healthy Sunday Dinner Ideas for Family
Opting for comfort and taste on a Sunday night doesn't mean we have to disregard our health. In fact, it can make it much easier to enjoy a Sunday night dinner if we know it's a healthy one.
Source: allnutritious.com
As any salmon fanatic will tell you, subtlety is the key to a good salmon dinner. You want to highlight the salmon's flesh without overpowering it with sheer flavor. Enter this recipe!
Crusted with delicate and refreshing herbs, this salmon fillet pairs beautifully with roasted tomatoes and a pile of tasty couscous. This is a wonderful family meal you can make with simple ingredients and even eat on a special occasion.
Source: feastytravels.com
This ancient grain bowl takes your gut back to its roots, delivering a sucker punch of fiber and nutrients that should have your body thanking you. Not to mention, it's delicious!
I love this recipe because it's so easy to play around with what you put into it. Substitute in different seeds, use pearl couscous rather than barley, or switch out the dressing to keep it interesting.
Source: saporitokitchen.com
Many people think that chicken parmesan was the original Italian classic and eggplant was the spinoff. But really, the eggplant version was the one that started it all.
This no-fry version preserves the health and freshness of the eggplant without compromising on taste. Enjoy rich, comforting Italian flavors healthily for dinner this coming Sunday.
Source: allnutritious.com
Teriyaki sauce is sweet and sticky, chicken is light and juicy, and lettuce is fresh and crunchy. What happens when you combine all these elements? Utter perfection in every bite, that's what!
This is a great meal to get the kids on board with vegetables. Lay out a spread of delicious vegetable options like a make-your-own-wrap bar and let your guests make the meal that suits them best.
Source: sunglowkitchen.com
This vegetarian take on chili doesn't need you to watch it on the stove. Whack all the ingredients in a Dutch Oven and let it do its thing in the oven. It's so simple!
This is also a fantastic option if you're after a recipe for your next meal prepping session. It comes together quickly, and you can easily triple the quantity to make your week's meals.
Source: allnutritious.com
The next time you feel the call of fried chicken for Sunday night dinner, don't let your wallet take the hit! Instead, take a little time to whip up these honey chicken wings. You won't regret the choice.
Simultaneously crispy and tender, these chicken wings are just smoky enough to add a little kick to each bite. Serve on their own or with your favorite chicken side dishes for a tasty Sunday treat.
Feel free to also make these side dishes for chicken wings.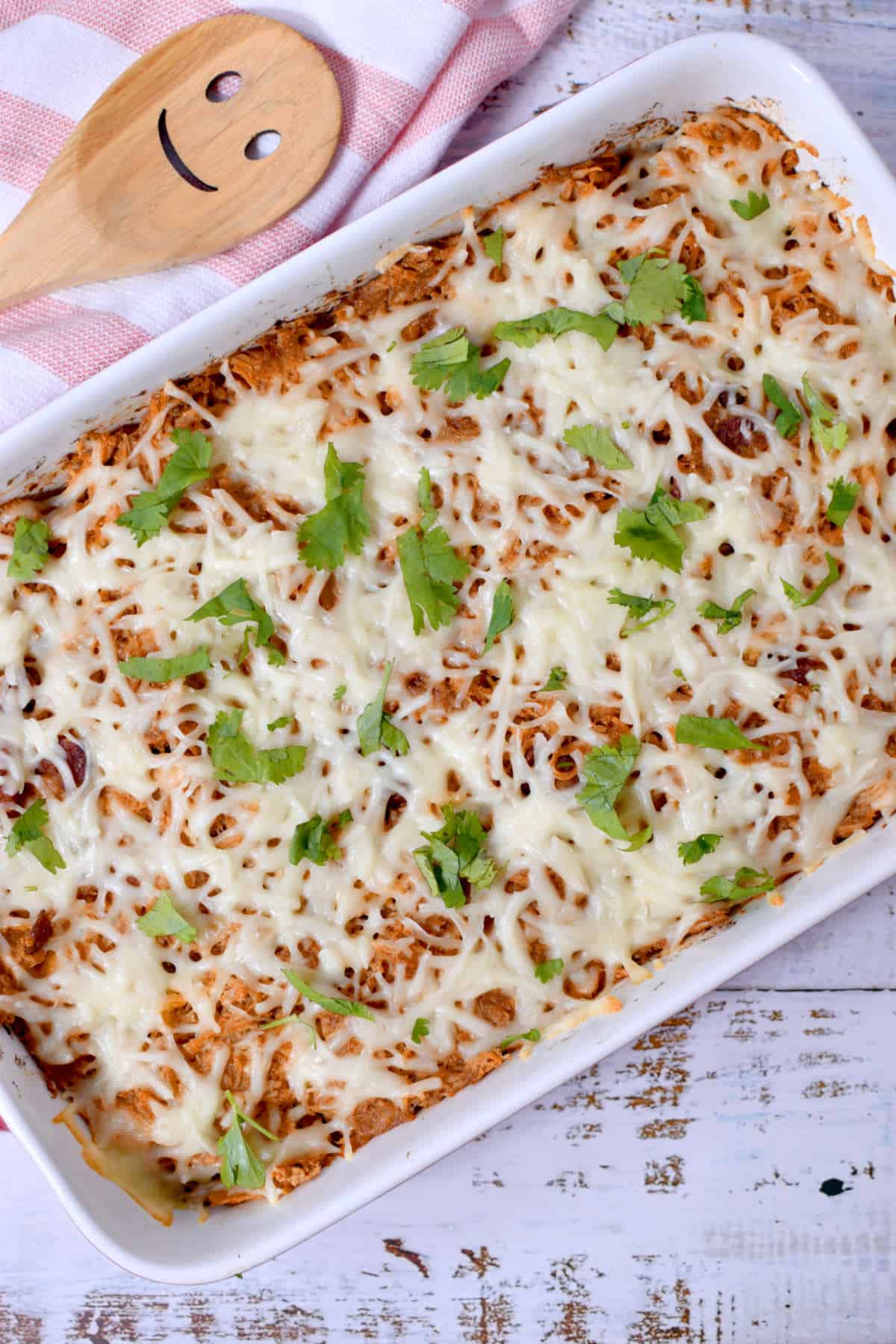 Source: simplelivingrecipes.com
Casseroles are a fantastic choice for a Sunday night dinner. They're so quick and easy to make. In particular, this sweet potato and chicken casserole are hearty, warm, and full of goodness.
The earthy sweet potatoes pair with juicy chicken to form the perfect texture. Each bite is bursting with flavor and nutrients, so you don't have to compromise on either one.
This cheesy casserole is a great easy chicken recipe for Sunday nights that will become one of your favorite meals.
Source: mychefsapron.com
This next recipe is one of the best sheet pan dinners. You only need a single sheet pan to get it done, but the result is restaurant-quality!
Everything is ready for the oven in under fifteen minutes so that you can spend your precious Sunday on other more important things.
Switch up the chicken glaze or serve with different sides to change it up!
Source: thecleaneatingcouple.com
Rather than settling for traditional beef stew that takes hours and hours to make, try this hamburger meat version. This recipe uses lean hamburger meat to create a hearty, comforting dish.
There's minimal fat and maximum flavor in this dish, so it's both heart-healthy and full of great taste. Toss through your favorite root vegetables, and serve solo or on a bed of mashed potato.
This is one of the best comforting dinners you can make in less time and make with any tender meat.
Source: dinneratthezoo.com
To me, stuffed bell peppers are the ultimate way to impress your guests without too much effort. The colorful peppers look stunning on the plate and taste fantastic. But they're so simple!
These peppers are stuffed with ground beef, tomato, and a cheese combo that's to die for. Each bite is juicy, moist, and – best of all – healthy.
Source: plantbasedonabudget.com
Next up, we have a classic pasta dish that honors Italy's favorite flavors. This is a simple recipe that yields mouth-watering goodness. It's also packed with vegetables.
Whether your Sunday night dinner is a family affair or a date night, this recipe is sure to satisfy.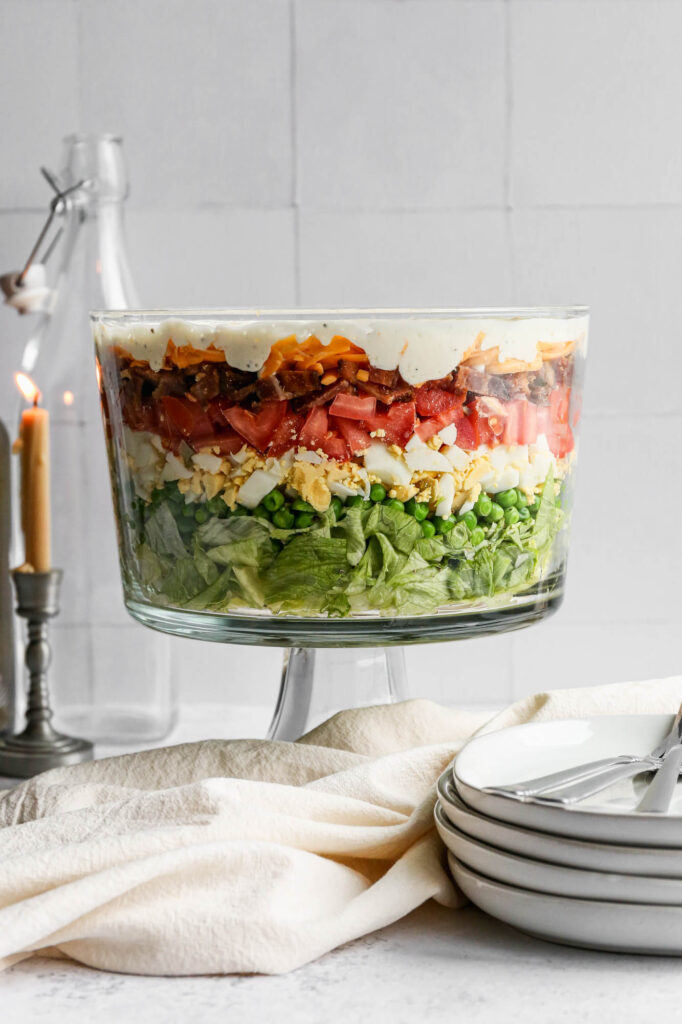 Source: smallfarmbiglife.com
Whip out this visually striking seven-layer salad at your next party or gathering to leave your guests in awe! Each of the seven beautiful layers contrasts with the next, but the flavors blend effortlessly.
While you can serve this on its own, I like sprinkling smaller protein dishes around it. This lets your guests create their ideal dinner experience while centering the stunning salad.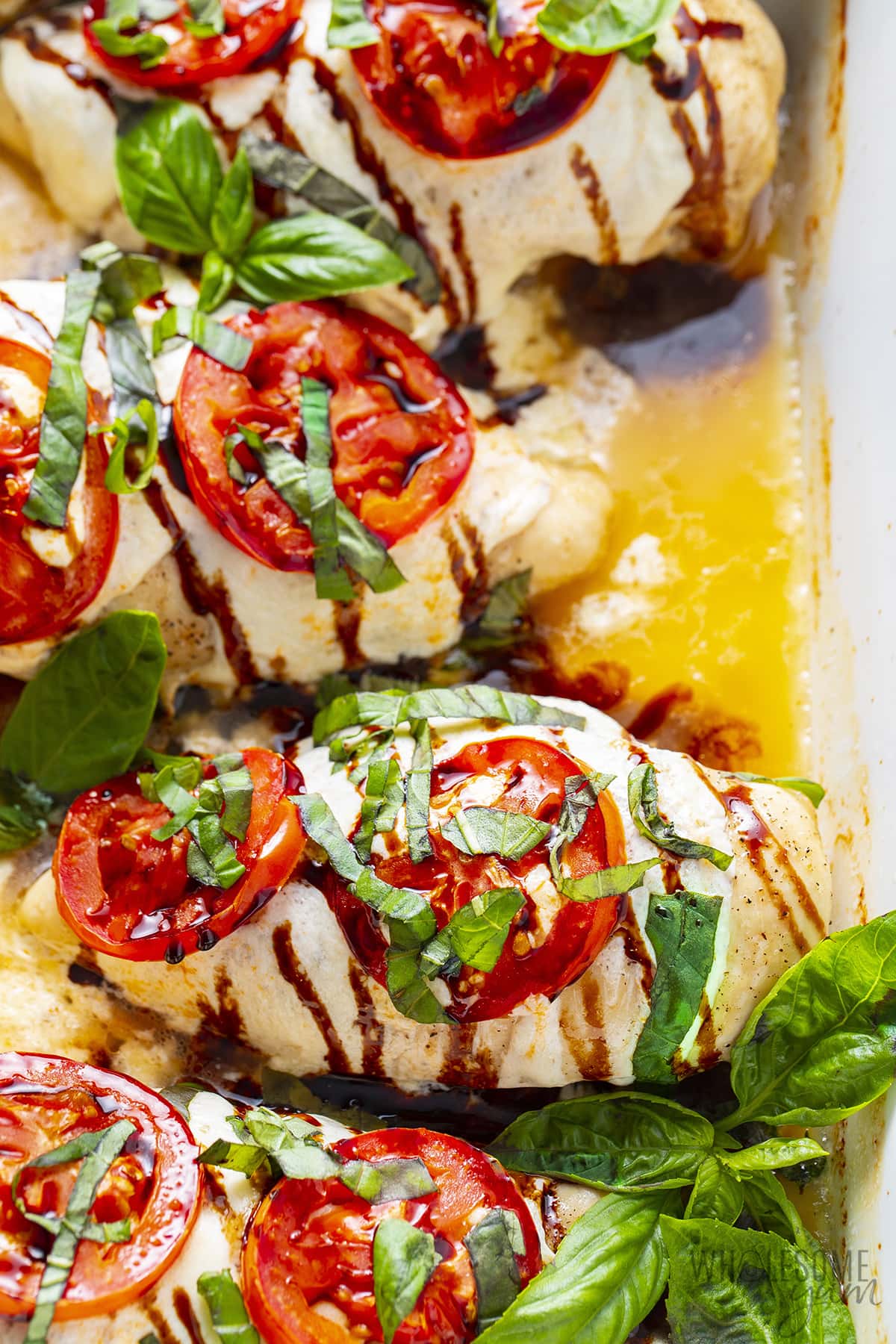 Source: wholesomeyum.com
The final dish on our healthy section of the list is a baked chicken Caprese. This is another Italian classic that's both healthy and simple. You only need a sheet pan to get it ready to eat.
This is the perfect meal to choose from after you've had a long week. It's refreshing, it won't take a lot of time to cook, and it's guaranteed to satisfy everyone at the table.
Summer Sunday Dinners
When most people picture a Sunday dinner, a vision of a roast or stew pops into their heads.
While those wintry foods are delicious, let's dive into some recipes that highlight refreshing flavors and textures!
Source: beyondthechickencoop.com
If you find yourself with a lot of time and the urge to do something special this Sunday, these braised short ribs are for you. They're so tender and juicy from their long and low time in the oven.
The truth is, they only require a little preparation. Most of it is baking time. So, you can set this up in the early afternoon and have an incredible dinner ready to go by the time evening rolls around.
Feel free to serve these ribs with these side dishes.
Source: littleferrarokitchen.com
This next dish is best paired with a bottle of good wine. Serve dinner out on the deck in the late evening sunshine to capture the intended atmosphere of this recipe.
If you've never had braciole before, consider it a steak roulade. It's rich without being too heavy, perfect for summer dinners.
Need more ideas? Check out these chuck steak recipes.
Source: christinascucina.com
Is there anything more appropriate for a summer Sunday dinner than a herb citrus chicken? Quick and easy to prepare, this golden chicken is beautifully light.
The lemon and herb notes on the chicken skin combine to create a refreshing bite every single time. Serve with roast potatoes, tomatoes, or a light salad to keep the vibe fresh.
Source: gypsyplate.com
Tacos are the perfect Sunday dinner option. They're finger food, so you can sit outside on a picnic blanket with the family and enjoy the beautiful weather while you eat.
Have them ready to go for your next potluck dinner or bust them out for game day: tacos are always guaranteed to satisfy a crowd.
Source: sunglowkitchen.com
Next up, we have a perfect recipe for getting rid of the last vegetables in your fridge before your next grocery trip. But don't let that fool you; this stew tastes like it came out of a restaurant.
Full of protein, this stew has a smooth and buttery texture that comforts you with every bite. Make a big batch ahead of time and freeze it for the ultimate double-whammy.
Source: peaceloveandlowcarb.com
You know the classic meal, beef stroganoff? Well, now it's a low-carb burger, and it's even better than before!
Served with a side of fresh summer vegetables, this creamy take on a burger patty is to die for. Everything from the patty mix to the sauce is super simple to make, but it tastes incredible.
Source: servedfromscratch.com
One look at this chicken scampi dish will put a smile on your face. It's vibrant in both look and taste, letting you feel the sun on your face long before you step outside.
You only need about thirty minutes to pull this together, so you don't have to stress about what's for dinner.
Source: plantbasedonabudget.com
Next up, we have a rice pilaf recipe that can act as another leftover buster. Clear out that vegetable drawer to create a colorful pilaf full of different textures and flavors.
Best of all, this lightly-flavored dish is full of protein from the black beans, so it's ultra-filling.
Source: apaigeofpositivity.com
Looking for a healthier, more summery take on the traditional burger? Bring down the house at your next potluck meal with these spinach and feta turkey burgers.
These are super simple to whip up. Trust me; you'll have everyone in the neighborhood clamoring for the recipe in no time.
Source: thedevilwearssalad.com
This isn't your ordinary potato salad. Juicy, smoky roast chicken pairs with crunchy radish and green beans to create the ultimate summery potato salad.
Add a green goddess sauce packed with herbs to create a powerful balancing element, and you've got a real winner. Impress everyone at the table with this at your next Sunday gathering.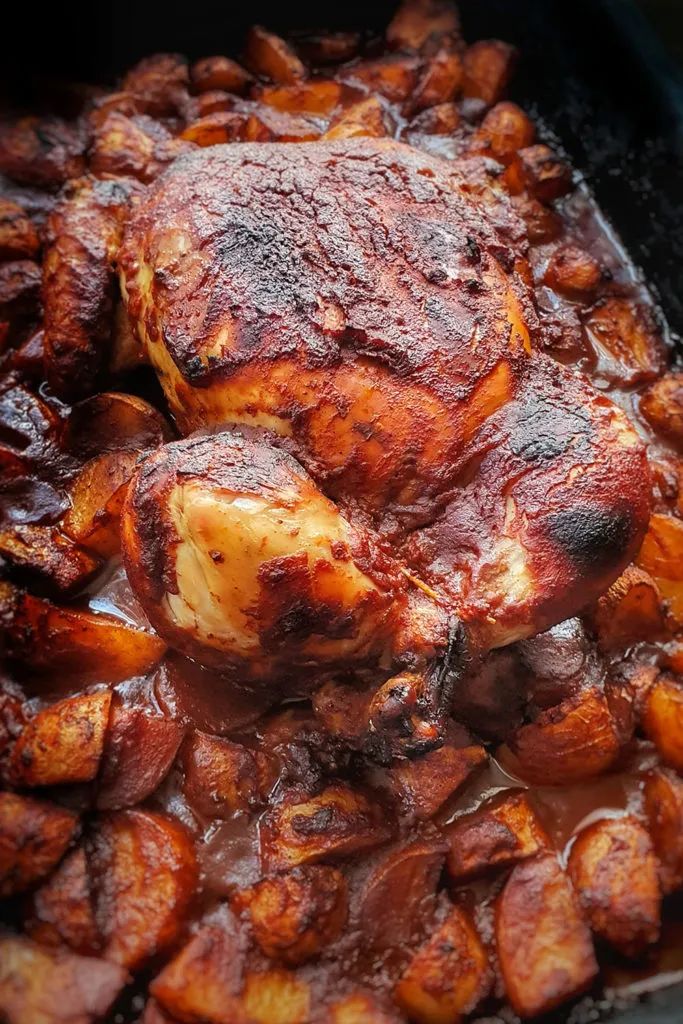 Source: gallaxygastronomy.com
Finally, we've got a classic summer favorite that's perfect for hot days, cold drinks, and dinner with friends or family. Each bite rings with a smoky flavor, and an undercurrent of sweetness runs through.
I love this recipe because it's the perfect playground to experiment in. Try out different sauces, serve up different sides, and test flavor combinations to find the one that will knock your socks off!
51 Sunday Dinner Ideas for Family
Looking for a quick dinner? These Sunday Dinner Ideas are delicious, easy to make, taste yummy, and are great for families.
Ingredients
1. French Onion Chicken and Rice Casserole
2. Instant Pot Chicken Thighs and Rice
3. Cheesy Broccoli Sausage Pasta Skillet
4. Instant Pot Meatballs
5. Garlic Chili Oil Noodles with Cilantro
6. Instant Pot Chicken Bacon Corn Chowder
7. Chicken Bacon Ranch Casserole
8. Pasta Arrabbiata
9. Chicken Noodle Soup
10. Mexican Bean Salad
11. Pressure Cooker Pot Roast
12. Garlic Herb Butter Roast Chicken
13. Grilled Tilapia
14. Orzo Mac and Cheese
15. Parmesan Crusted Chicken with Lemon Cream Sauce
16. Pan Fried Gnocchi
17. Baked Lamb Chop
18. Spicy Pork Roast
19. Fig and Brie Stuffed Chicken Breasts
20. Zesty Turkey Meatballs
21. Creamy Tuscan Chicken with Gnocchi
22. Crispy Lemon Pepper Panko Chicken
23. Pork Sausage and Rice Skillet
24. Traditional Southern Fried Chicken
25. Classic Southern Meatloaf
26. Dutch Oven Pot Roast
27. Southwestern Bison Chili
28. Herb Crusted Salmon
29. Ancient Grain Bowl
30. Eggplant Parmesan
31. Teriyaki Chicken Lettuce Wraps
32. Dutch Oven Chili without Meat
33. Honey Chicken Wings
34. Chicken and Sweet Potato Casserole
35. Healthy Chicken Drumsticks
36. Hamburger Stew
37. Stuffed Bell Peppers
38. Spicy Tomato Basil Pasta
39. Seven Layer Salad
40. Baked Chicken Caprese
41. Braised Short Ribs
42. Beef Braciole with Prosciutto and Parmesan
43. Rosemary Citrus Roast Chicken
44. Ground Beef Tacos
45. Spicy Roasted Tomato White Bean Stew
46. Keto Beef Stroganoff Burgers
47. Chicken Scampi
48. Black Bean and Onion Pilaf
49. Spinach Feta Turkey Burgers
50. Chicken Potato Salad
51. BBQ Chicken
Instructions
Scroll up to get a bunch of easy, yummy, and delicious recipes. Don't be afraid to get creative with the ingredients, you might discover a flavor you didn't know you liked.
Get your shopping list going and make sure you've got all the ingredients.
Get cooking and make your next Sunday Dinner!
Notes
Which one of these recipes was your favorite? Let me know in the comment section or on Pinterest!