Bored with the same old dinner recipes and need some change? How about trying these hearty breakfast recipes for dinner?
Confused? Don't be; we are here to make your dinner ideas more colorful and happening.
Give a new twist to your bland Breakfast recipes and serve them for dinner. For inspiration, check out these super Breakfast Recipes for Dinner the whole family will enjoy after a long day.
Breakfast Sausage Recipes for Dinner
Sausages taste like pepperoni. They are salty and spicy, and you can add them to any recipe for breakfast, lunch, or dinner. If you need inspiration, here are some mouth-watering sausage recipes that you need to try for your dinner.
After all, breakfast is the most important meal of the day.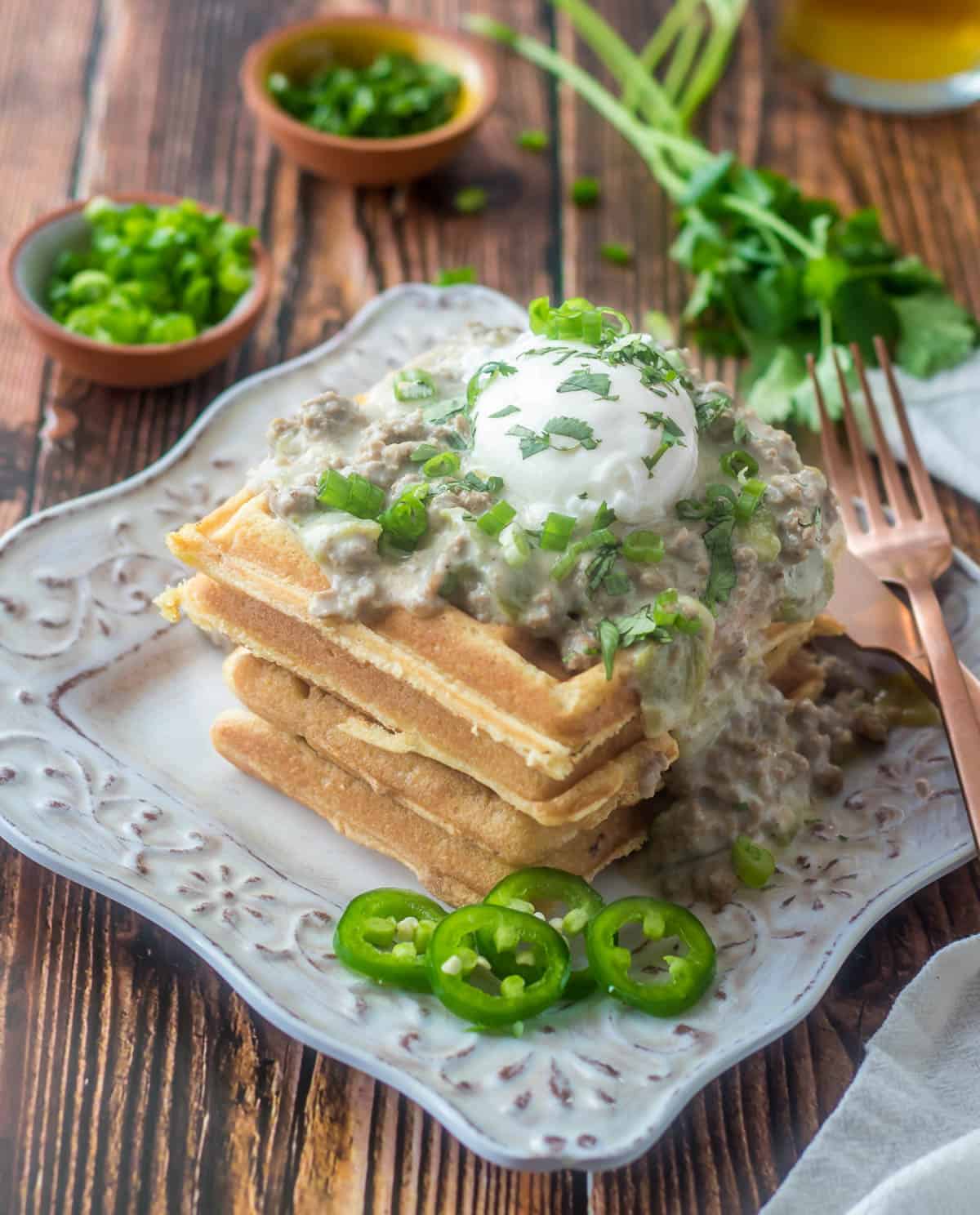 Source: beyondmeresustenance.com
Life is good when you can eat waffles for all three meals of the day. However, these savory Cornmeal Waffles are different from your sweet breakfast waffles.
This recipe is prepared in three parts, savory waffles, Green Chile Sausage Gravy, and a topping of a runny egg. Prepare all three separately, put them together on a beautiful platter and serve hot for the family.
If you aren't fond of runny eggs, you can even have a boiled or fully cooked omelette on your savory waffles.
Source: ameessavorydish.com
If you have friends and family over for dinner and you need to cook for a big crowd, the Sausage and Egg Breakfast Casserole is a life saver.
You can make the recipe a day ahead and put it in the fridge, bake it before dinner, and it will be mouth-wateringly delicious.
For the yummy recipe, you only need Sausage and eggs with a mix of baked onions, cheddar cheese, and all the spices you like. Moreover, you can also add chunks of whole-grain bread.
Source: crumbtopbaking.com
Some breakfast recipes are perfect as dinners, and you won't know until you try them yourself. Just like this Sausage Frittata, that is an ideal recipe for any meal.
This is a gluten-free recipe that you can make in one pan. No need to get a truckload of ingredients or utensils for a simple dinner recipe that is ideal for feeding a crowd.
The main ingredient you will need for this recipe is a pack of Kolbassa Sausage Bites. You will also need some red pepper, eggs, and fresh herbs.
Source: myeverydaytable.com
Whoever came up with breakfast burritos did a fine job or created one perfect meal you can have any time of the day. Our Sausage and Potato Breakfast Burrito is the perfect easy breakfast to get on the dinner table for busy days when you have no energy to cook an extensive dinner.
With as few ingredients as Hash browns, Turkey Sausage Patties, Eggs, Cheese, and Tortillas, your burrito will be ready in no time.
But wait, there is more. This burrito recipe is versatile, and you can change it as per your preference. Add any more veggies or sauces to customize your dinner Sausage breakfast burrito recipe.
Check out more ground turkey recipes for dinner.
Source: inspiringsavings.com
Let's prepare a quick dinner with all things breakfast. The Sausage Patties are effortless to make and are bursting with mouth-watering flavor.
The best part is that you can add as many and as few spices as you want to your dinner sausages.
You can either have this standalone or pair it up with Bacon and Eggs for a full dinner. The key ingredients for this recipe are ground pork, bacon strips, seasoning, Oil, and a dash of maple syrup.
Source: spendwithpennies.com
Looking for a cheesy breakfast recipe, you can serve for dinner? Look no further. This Cheesy Breakfast Pizza is the perfect recipe for any meal, dinner, lunch, brunch, or breakfast; you can serve it any time of the day.
All you need for this should be readily available in your pantry. If you have bell peppers, egg, cheese, and bacon, you can have your pizza in about 15 to 20 minutes.
Can any other quick breakfast for dinner be this easy?
Source: spaceshipsandlaserbeams.com
There is no denying that Casserole is comfort food; it's the food for the soul that warms you up from inside. And for these reasons, you can have your Sausage Breakfast Casserole for dinner whenever possible.
For this recipe, you will need potatoes, butter, Sausage, Eggs, milk and seasoning. Add your favorite blend of cheese to make this Casserole taste like heaven.
Source: livinglou.com
How about a fall-inspired Turkey dinner that you can make with leftover Turkey from the Thanksgiving dinner?
This Maple Sage Turkey Breakfast Sausage is full of flavor, and we are sure once you have it, it will become a family favorite.
To whip this up, you will need Turkey Sausages, sweet potatoes, apples, and Maple. Or a burst of flavor, use Granny Smith Apples.
Healthy Breakfast for Dinner Recipes
There are many recipes you can customize for dinner. However, if you have a healthy lifestyle, you need to keep a check ingredients in the recipe.
Here are some of the best and healthy breakfast recipes you can try for dinner.
Source: therusticfoodie.com
We have just the perfect dinner for your healthy lifestyle if you are inspired by healthy living and clean eating.
Southwest Frittata with Sweet Potato, this recipe is as healthy as it goes as it has sweet potato. Sweet potatoes have Vit C and B, Calcium, Iron, Magnesium, and Zinc, among other minerals.
A frittata is pretty versatile, and you can make it in various ways with various ingredients. It can be vegetarian, or you can add meat to it if you like. The recipe is easy to make and very fulfilling.
Source: rachaelhartleynutrition.com
Life is good when your dinner is delicious and nutritious; most people hate going on a diet because they can't handle tasteless food. But, you don't need to worry; we have the perfect healthy yet tasty recipe for you.
Spiced Tofu Egg Scramble is a balanced dish that is both mouth-watering and healthy. This will become your staple dish if you are a busy bee who rarely gets time to sit and eat a hot meal.
You will need a medium-sized cauliflower, tofu, Indian spices, and bread to have this breakfast scramble for dinner.
Source: atastefortravel.ca
Here's a healthy breakfast you can have for dinner, Watercress Fritters. Watercress is a peppery plant packed with vitamins K, C, and A. a few in your daily meal will surely keep the doctor away.
Boil your watercress for three to five minutes, chop it finely along with other vegetables you want in your omelet, and whip up your eggs and add the veggies to it.
Cook as per your preference and enjoy your healthy and hearty dinner with bread or naan. Top it with feta cheese for a great addition to this good breakfast.
Source: rachaelhartleynutrition.com
With just a few ingredients, you can have a filling and delicious meal that will set you right off to deep sleep. Bake your eggs with Tortillas and spicy tomato sauce, and forget the sorrows of your day.
To cook this delicious breakfast for dinner, you will need onion, garlic, tomatoes, tortillas, eggs, and cheese. For the topping, you can have anything.
We prefer avocado. This baked egg recipe is one of the best healthy breakfast ideas if you are in a breakfast rut.
Check out more low calorie dinner recipes here.
Source: homemadeandyummy.com
Most people seem to think meatless food is unsatisfying; you don't need to be like most people. Check out this Poached Eggs and Lentil Hash recipe, and thanks to the food Gods for making good food this simple.
To make this recipe, you will need lentils, onion, tomatoes, mushrooms, spinach, Sriracha sauce, and eggs. The recipe is as easy as its ingredients.
Source: disheswithdad.com
I love one-pan dishes, especially if I can make my dinner in a Skillet and eat right out of it. Our Sweet Potato Breakfast Skillet is the perfect dinner you can enjoy right out of its pan.
From the mouth-watering aroma of sweet potato to every Buttery bite, this dish is perfect to the core.
Fry your bacon, add your veggies to the lot, and stir fry. Next, add your sweet potatoes and cook till tender. Lastly, add your eggs and enjoy runny eggs amid your sweet potatoes and bacon strips.
Check out more cheap dinner recipes here.
Best Breakfast for Dinner Recipes
Live life to the fullest and eat like a king, whether it's a breakfast or dinner. Change your dinner recipes and give them a fu twist. Here are the Best Breakfast for Dinner Recipes you can try.
Source: juliassimplysouthern.com
Don't bank on any leftovers if you are cooking Tater Tot Breakfast Casserole for dinner. This dish will be gone in no time, as most people go for a second or third helping if you cook this for dinner.
Here's what you need for this recipe, Sausages, Eggs, Heavy Cream, Cheese, Onion, Tater Tots, and seasoning. Every bite of this breakfast Casserole is creamy, rich goodness.
Source: ourlovelanguageisfood.com
Whether you want a healthy start or a healthy end to your day, these protein-rich fluffy pancakes are all you need.
To ship this batch of wholesome goodness, you will need Rolled Oats, Vanilla Protein Powder, Almond Milk, and Apple Cider Vinegar.
Enjoy your pancakes with a warm glass of honey and milk. This fulfilling dinner will have you sleeping like a baby in no time.
Source: twohealthykitchens.com
Surprise your kids with this easy-to-cook and yummy-to-eat breakfast-for-dinner recipe. Waffle Sundae Bar is perfect for brunch, lunch, and dinner, apart from having it for breakfast.
This kid's favorite recipe is for a quick dinner; you can prepare it in 30 minutes or less. If you are worried about the healthy part, you can add peanut butter and Greek yogurt as ideal protein sources to this dinner recipe.
This is a lovely Sunday dinner recipe!
Source: strengthandsunshine.com
Here's our healthy version of Chicken & waffles that is both allergy-friendly and gluten-free. Air fry your Cauliflower in panko breadcrumbs.
Add your fried Cauliflower (Vegan Chicken) to buttermilk waffles or cornbread waffles and enjoy the perfect breakfast for dinner recipe.
Source: pinchandswirl.com
If you think food, health and creativity can't go hand in hand; you can't be more mistaken. Here's the perfect breakfast Quiche recipe with a lot of room for creativity and is also pretty healthy; you can have it for dinner.
This Quiche is the perfect blend of cheesy eggs, smoky bacon, and tender leeks. You can either bake this or air fry it for a crispy, flaky crust.
Source: thehealthyepicurean.com
Easy to make, healthy to eat, and delicious until the very last bite, these Lemon Ricotta Pancakes are all you need for a fulfilling dinner.
To make the whole grain lemon pancakes, you will need whole wheat or oat flour, ricotta cheese, Large eggs, Lemon juice, and zest. If you want, you can also use orange instead of lemon.
Source: pinchandswirl.com
French toast is the most versatile food ever; you can make it savory or sweet, any way you like. However, I prefer savory for dinner, so here's how you can make it healthily and deliciously.
Prepare a wet mixture of eggs, milk, cheese, and pepper. You can add Chipotle or BBQ sauce to your mixture if you want a smoky flavour. Now dip your bread in the egg mixture and fry until both sides are golden brown.
Source: ihearteating.com
Let's make some light inside and crispy Homemade Belgian Waffles. These are ideal for dinner, and you can add any topping to them.
Take flour, Milk, Vanilla essence, and butter to make your sweet waffles. Once cooked perfectly, have them hot with ice cream or any topping you like.
Source: ourlovelanguageisfood.com
Here's a healthy and yummy pancake without added sugar, eggs, flour, and bananas. Amazed? Well, for this healthy pancake recipe, you will need old-fashioned oats, Chocolate Protein Powder, Cocoa Powder, Apple Cider Vinegar, and Semi-Sweet Chocolate Chips.
This great breakfast recipe is sure to satisfy every breakfast craving.
If you want to indulge in an after-dinner dessert, this is as healthy as you can go with a bit of sweet touch.
Source: taoofspice.com
Let's make the perfect stacked dinner with Bacon, Egg, and Cheese Bagel w/ Cholula Hollandaise.
You will need thick-cut bacon because bacon in every bite makes this stack a yummy delight. Apart from bacon, you will need, Eggs, bagels, Butter, Cheddar cheese, Tomato, and Cholula.
Be prepared for a kick, as the Cholula is tangy in taste; get the perfect balance of tangy and salty with Cholula and Cheese.
Source: cookingandcussing.com
Seasoned black beans add a spicy Latin flavor to any dish. If you combine these with Corn Waffles, you will get a slice of heaven on a plate for your dinner.
The sweetness of the corn is the perfect counter to the dense and spicy beans. Together they make the perfect combination for dinner waffles.
Source: sugarandsnappeas.com
Have you ever thought of a sandwich as heavenly as Baked Ham and Cheese Bagel? To make this savory delight, you will need, Deli ham, swiss cheese, and spinach.
Layer this mixture on your buttery bagel and add Dijon mustard, mayo, and Worcestershire for good measure. There, your perfect breakfast sandwich for dinner is ready without any fuss.
Check out more easy college dinners like this here.
Source: theoregondietitian.com
Want to feed a crowd without making much effort? You need to try this Sheet Pan Huevos Rancheros. Made with simple Rancheros sauce, Corn tortillas base, Eggs, Black beans, cheese, and diced tomatoes.
This is the perfect dinner recipe to feed a big family.
Source: yourwanderingfoodie.com
Twenty minutes and seven ingredients are all you need to make these Sourdough French Toast. Score your pantry for the following ingredients: bread, cinnamon, nutmeg, vanilla, milk, heavy cream, and eggs.
Imagine the look on your kid's face when you serve this sweet heaven for dinner with their favorite toppings.
Source: ontysplate.com
Here's a French Fry Breakfast Casserole that is packed with the rich, gooey goodness of cheese, bacon, and sour cream.
Every bite of this Breakfast Casserole is so filling that you will be full in just a few bites. Layer your fries in a pan, and in a separate bowl, mix eggs, white onion, chives, cheese, sour cream, milk, salt, and pepper.
Add this to the pan with fries and bake till it's golden brown from the top. Enjoy your hearty dinner with a drink of your preference.
Source: thenessykitchen.com
With just Bacon, Potatoes, Carrots, Red Onion, Hollandaise Sauce, Eggs, and cheese, you can create a dinner to suit the likes of a king; yes, it's that rich and yummy.
To prepare the bowl, roast your veggies, and add the sauce and egg of your choice. Enjoy with bread or fork; either way, you will love it until the last bite.
Source: yourwanderingfoodie.com
Can you think of a recipe that is crispy, filling, and takes no less than 7 minutes to cook? Well, we can! Our Frozen French Toast Sticks in the Air Fryer take 7 minutes to cook, and it's perfectly crisp and toasty from all sides.
Just get a box of French Toast sticks from any brand you like and put them in the Air Fryer for 3 to 6 minutes. To make a fancy meal out of it, dust them with sugar and cinnamon and add a couple of toppings.
Having breakfast for dinner is a brilliant idea; it's, in fact, the very best idea for people who are always in a hurry and who can't relax and sit with a detailed dinner.
So, these quick recipes will help save time and also give them the healthiest and most delicious breakfast for dinner.
31 Breakfast for Dinner Recipes to Make Tonight
Love your breakfast? Try these breakfast for dinner recipes and enjoy your breakfast throughout the whole day!
Ingredients
1. Cornmeal Waffles with Green Chile Sausage Gravy
2. Sausage and Egg Breakfast Casserole
3. Sausage Frittata
4. Sausage and Potato Breakfast Burrito
5. Homemade Breakfast Sausage
6. Cheesy Breakfast Pizza
7. Sausage Breakfast Casserole
8. Maple Sage Turkey Breakfast Sausage
9. Southwest Frittata with Sweet Potato
10. Spiced Tofu Egg Scramble
11. Watercress Fritters
12. Baked Eggs and Tortillas in Spicy Tomato Sauce
13. Poached Eggs and Lentil Hash
14. Sweet Potato Breakfast Skillet
15. Tater Tot Breakfast Casserole
16. Protein Pancakes without Banana
17. Waffle Sundae Bar
18. Vegan Chicken and Waffles
19. Breakfast Quiche
20. Lemon Ricotta Pancakes
21. Savory French Toast
22. Homemade Belgian Waffles
23. Chocolate Protein Pancakes
24. Bacon, Egg, and Cheese Bagel w/ Cholula Hollandaise
25. Black Bean and Corn Waffles
26. Baked Ham and Cheese Bagel Sandwiches
27. Sheet Pan Huevos Rancheros
28. Sourdough French Toast
29. Loaded French Fry Breakfast Casserole
30. Breakfast Poutine
31. Frozen French Toast Sticks in the Air Fryer
Instructions
Scroll up to get a bunch of easy, yummy, and delicious recipes. Don't be afraid to get creative with the ingredients, you might discover a flavor you didn't know you liked.
Get your shopping list going and make sure you've got all the ingredients.
Get cooking and make your next Breakfast for Dinner!
Notes
Which one of these recipes was your favorite? Let me know in the comment section or on Pinterest!