This spicy pineapple chicken recipe is a one-pan stir-fry! It's sweet, spicy, and umami! Beautifully delicious, high in protein, dairy-free, and so flavorful!
I'm a big fan of chicken, as I'm sure many of you are too. After all, who doesn't love chicken?
But after a while, it can get kind of boring. So, if you're looking to spice up your chicken dinners or lunches, this dish is for you.
The chicken is tender and extra flavorful. The pineapple adds sweetness-perfect for satisfying your sweet tooth.
The garlic and onions add a nice savory taste, while the soy sauce packs a burst of umami.
Meanwhile, the chili sauce, jalapeno peppers, and red pepper flakes add some nice heat. Perfect if you like it spicy.
To make it complete, you can serve your chicken with some rice. But if you prefer to keep it light, you can serve it with cauliflower rice instead.
For extra convenience, you can use prepackaged cauliflower rice, which you can find here. Or, to save money, you can simply make it from scratch.
Making it is pretty easy. Just cut your cauliflower into pieces, and place it in a food processor.
Then process until rice-like. This food processor should do the trick.
Why You Should Make this Spicy Pineapple Chicken
There are so many reasons to make this Spicy Pineapple Chicken. Not only is it delicious, but it's also nutritious.
First of all, it's packed with protein. One serving provides a whopping 31 grams of protein.
So, it makes a perfect post-workout meal. And it's even good for the kiddos- just make sure you tone down the heat.
It also has a ton of Vitamin C. So, it's good for your immune system.
It also provides potassium. This helps maintain healthy blood pressures.
And it has iron too. So, it keeps your energy levels up.
Lastly, it is also low in calories. In fact, one serving contains only 324 calories.
So, you can eat it without feeling guilty.
Now, it does contain quite a bit of sodium. That's because of the soy sauce.
So, if you're watching your sodium, you'll want to use reduced-sodium soy sauce.
This one here contains about 30% less sodium than regular soy sauce.
Another option is to use coconut aminos. Coconut aminos contain about 70% less sodium than regular soy sauce.
Besides adding nice umami to your meals, it also adds sweetness. So, it would complement your Spicy Pineapple Chicken Meal Prep nicely. If you'd like to use it, you can get some here.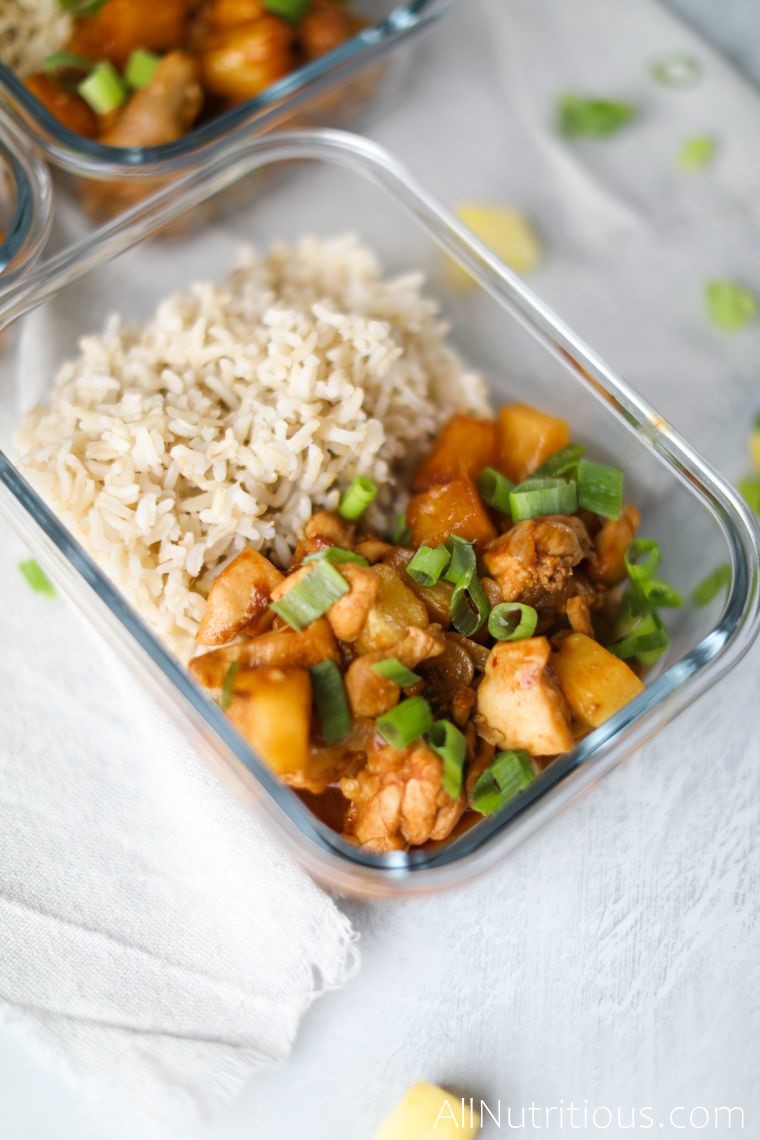 Benefits of Meal Prepping
All of us want to live a healthy life. And part of living healthy is to eat healthily.
However, our busy lives do often get in the way. And the next thing you know, you're eating takeout or eek…fast food.
Meal prepping makes healthy eating easier. By meal prepping over the weekend, you have your meals ready for a couple of days.
Also, when you meal prep, you'll feel less stressed. No more scrambling to figure out what's for dinner.
It also saves you money. That's because you're not relying on takeout or convenience food, which can get quite expensive.
Meal prepping can also save you time. That's because you cook once and have your meals set for an entire week.
No more cooking every single day. And that's how I like to roll.
How to Make Spicy Pineapple Chicken
Combine soy sauce, pineapple juice, chili sauce, garlic, ginger, and pepper flakes in a bowl. You get the pineapple juice from a can of pineapples.
Just drain the pineapples and leave the juice on the side.
Cube chicken thighs and add them to the marinade. Cover it with a lid or plastic wrap.
Keep it in the refrigerator for at least 20 minutes before cooking.
Once we've dealt with the chicken, heat the olive oil in a skillet over medium heat. Afterward, add in chopped onion and jalapeno.
Let it cook for 1-2 minutes.
On this step, add in the chicken with the marinade. Turn up the heat and then cook it for 10-15 minutes.
Make sure to cook the chicken before the next step.
For the final step, we're just going to add in the drained pineapple. Make sure to sprinkle some salt.
Mix in the pineapple chunks.
Cook for another 3-5 minutes until the pineapple chunks soften up a little bit.
Cook up some rice and divide the pineapple chicken stir-fry into 3 meal prep containers.
How Long Does Chicken Last in the Fridge?
The chicken will last in the fridge for about 3 to 5 days. Just make sure you store it in airtight food storage containers to keep it nice and fresh.
I recommend these glass food containers here because they don't contain toxic chemicals that will leak into your food.
If you prefer something lightweight, these BPA-free plastic containers are a good option.
Other Protein Meals for You

Watch Full Instructions
Spicy Pineapple Chicken Meal Prep
Additional Time:
20 minutes
A quick, sweet, spicy pineapple chicken stir-fry you can meal prep! It's a lovely, delicious, Asian-inspired meal prep recipe.
Ingredients
Marinade:
3 tbsp soy sauce
4 tbsp pineapple juice (from can)
1 tbsp chilli sauce
2 cloves garlic (minced)
1 tsp fresh ginger (grated)
1/4 tsp red pepper flakes
Chicken:
1 lb chicken thighs, skinless & boneless (cubed)
1 tbsp olive oil
1/2 white onion (sliced)
1 jalapeño (sliced)
14-ounce can pineapple chunks (drained)
1/2 tsp salt
1 tbsp green onion (sliced)
Instructions
Drain the can of pineapples, leaving out the juice. Combine soy sauce, pineapple juice, chili sauce, garlic, ginger, and pepper flakes in a bowl.
Cube the chicken thighs and add them to the marinade. Make sure all of it is covered, marinate in the fridge for 20 minutes or so.
Heat the olive oil in a skillet over medium heat. Add in the onion, jalapeno. Cook for 1-2 minutes.
Add in the chicken with the marinade. Afterward, turn up the heat and cook for 10-15 minutes until the chicken is fully cooked.
Finally, add in pineapple and salt. Cook for another 3-5 minutes. Sprinkle with green onion before serving.
For meal prep:
Serve with rice of your choice. Keep refrigerated for up to 3 days.
Nutrition Information:
Yield:

3 meal prep bowls
Serving Size:

1 meal prep bowl
Amount Per Serving:
Calories:

324
Total Fat:

10g
Saturated Fat:

2g
Trans Fat:

0g
Unsaturated Fat:

6.9g
Cholesterol:

132mg
Sodium:

1507mg
Carbohydrates:

29g
Net Carbohydrates:

27.2g
Fiber:

1.8g
Sugar:

23g
Protein:

31g
Nutritional values were obtained with automatic software using the amounts of products used. To get the most accurate representation of the nutritional values, you should calculate them with the actual ingredients used in your recipe. You are solely responsible for the nutritional information obtained to be accurate.