Sweet, juicy, and incredibly fragrant! This glazed, bite-sized healthy orange chicken is served with fluffy rice and broccoli for the yummiest made-in-advance lunch! It's also dairy-free!
Chicken with rice and veggies. Isn't that the perfect trio for lunch? Packed with protein, fiber, and so many other nutrients, this amazing dish will definitely keep you full until dinner.
Okay, I admit. This main-meal combo is probably overused, overcooked, and overpacked in your lunch box. And chances are, you are likely a bit tired of it.
I hear you! This is why this is so not your ordinary chicken recipe!
Loaded with exciting flavors, this healthy orange chicken recipe takes your chicken and rice lunch to a whole new level.
This orange chicken is one of the best meal prep ideas for quick and easy dinners all week long!
Glazed in sweet honey and sticky orange sauce, these chicken pieces will have you licking your fingers and feeling like you are at panda express.
Plus, this homemade orange chicken is topped with sesame seeds and sprinkled with green onions. A clash of flavors and textures to jazz up your lunch break. Or even dinner!
The rice is fluffy, and the broccoli is perfectly tender. This easy orange chicken recipe is so easy to cook that it is practically foolproof.
And the best part of all? It makes four generous portions for an easy weeknight dinner every day.
This homemade version is much healthy than the traditional orange chicken you'd get from Chinese takeout.
Perfect for a busy family. Or a single person who likes to get ahead in the game and freeze these portioned delights.
Because, yes. This Chinese food chicken meal prep freezes well, too.
Get more simple meal prep inspiration with these other chicken and rice meal prep ideas!
Ingredients You'll Need
The ingredients you will need for this tender chicken recipe are simple.
And if you are a very big fan of making Asian-inspired dishes, chances are, you already have most of the supplies in your fridge and pantry.
Chicken
Chicken breasts – For this delicious recipe, it is best to use boneless skinless chicken breasts. For the juiciest results, opt for free-range chicken breast.
It goes without saying that organic meat is better, but as long as the cuts are fresh, the chicken will turn out delicious.
Sesame oil – While any vegetable oil will work here for this easy dinner, sesame oil is the best. It has a low smoke point, perfect for stir-frying and sauteeing meat.
Plus, it is also neutral in flavor, which is exactly what this glazed chicken needs for the best flavor.
Sauce
Orange juice – Use freshly squeezed orange juice only. Bottled (or packaged!) juice will give you that orange flavor, but it is not the same as fresh orange juice.
So, don't sacrifice that depth in flavor. Just cut an orange in half and squeeze the juice right before cooking.
Chicken broth – Whether homemade or store-bought, just a little bit of chicken broth will add so much flavor to the sauce. Plus, it will tie the orange, soy, and honey flavors beautifully.
Soy sauce – It is an essential ingredient here. It gives a savory touch to all the sweetness. Plus, it makes the chicken look so irresistibly brown in color.
Garlic powder – You cannot have soy sauce and chicken without any garlic, you guys. But garlic powder works better here as it gives the sauce subtle intensity and flavor.
Fresh ginger – Ginger is an inevitable flavor in this recipe. While powdered ginger will give you similar results, it is best to grate a fresh piece of ginger.
Orange zest – A dash of zestiness is always welcome. Just make sure to wash the orange well before grating.
Honey – You need some sweetness to combine the soy sauce and citrusy flavors. And honey is the best choice.
Black pepper – Ground black pepper will work, but it is way better if you grind it yourself. The fragrance is much more intense when the pepper is fresh.
Topping
Green onion – Green onions are perfect as garnish. Make sure you are using both the green and the white parts.
Sesame seeds – Use plain sesame seeds to add some texture to the chicken.
Broccoli and Rice
Rice – White rice is perfect for meal prepping because it is versatile. For this recipe, it's best to use long-grain or jasmine rice.
But really, any type of rice will make a great side dish to this orange chicken.
Water – You will need water for the rice and broccoli. Make sure to use cold, tap water.
Salt and black pepper – For best results, use sea salt and freshly ground pepper.
Broccoli – The fresher, the better. When shopping for broccoli, make sure that the stem is firm.
How to Make Orange Chicken Meal Prep?
Start by prepping the chicken. Then, rinse the prepped chicken under cold water and pat it dry with some kitchen towels. Then, slice it up into bite-sized pieces.
In the meantime, heat up your sesame oil in a pan over medium heat. Add the chicken pieces to the pan.
Cook the pieces of chicken breast until they turn brown in color. Remember, your chicken is cooked if it is no longer pink in the middle.
You will need to cook the prepped chicken for about 12 to 15 minutes for a nice golden color.
While the chicken is cooking, dump all of the tangy orange sauce ingredients into a bowl. Mix well until everything is incorporated.
You can do this with a small whisk or a fork if you're old-school like me.
When the chicken is ready and cooked, transfer it to a plate.
Pour the healthy orange chicken sauce into the frying pan now, and cook it for 5-10 minutes. You will know it's ready when the sweet sauce becomes thick and bubbly.
At this point, return the cooked chicken to the pan. The meat needs to be smothered in sauce to get that orange chicken taste. So stir well to make sure all of the chicken pieces are coated well.
Finish it off by sprinkling sesame seeds and sliced green onions on top. You can also use toasted sesame seeds for an even better texture.
But as you can see, even plain seeds work wonderfully here.
Remove your hot frying pan from the heat, and set it aside.
Grab a saucepan, add 1 ½ cups of water to it, then season it with salt. Rinse your rice well until the water is no longer milky, then add it to the saucepan.
Place the saucepan over heat, and bring the water to a boil. Reduce to a simmer, and cook for 10 minutes.
Remove the saucepan from the heat without removing the lid, and let it rest for 10 minutes. When it's fully cooked, fluff it with a fork.
If you're using a type of rice that requires different cooking times, please, follow the instructions on the packet.
While the rice is cooking, prepare the broccoli.
You'll want to start by filling a pot with tap water and adding a small pinch of sea salt to it. Place your pot over heat, and bring to a boil.
While the water is heating up, break the broccoli up into florets and rinse under cold water. Add the florets to the boiling water.
Cook for 3 to 4 minutes. Be careful not to overcook the broccoli.
If needed, check with your fork and remove it when tender to prevent it from turning soggy.
Now that everything's ready let's assemble the dish.
Have four meal-prep containers ready for the leftover orange chicken. It is best to use a glass airtight container, but anything with a lid will work fine.
Divide the orange chicken, rice, and broccoli among the four containers. Place in the fridge for up to four days, or you can freeze and consume the dish later.
You'll have your easy dinner meal preps ready for the week ahead!
Is It OK to Meal Prep Chicken?
Chicken is probably one of the most popular meal prep meat. And for a good reason. It is versatile, inexpensive, and will pair well with any veggie or grain side dish.
Plus, this summer meal prep keeps well both in the fridge and freezer.
How Long Will Chicken Meal Prep Last?
Cooked chicken can last for up to 4 days in the fridge. This means you can prep your dishes on a lazy Sunday, and enjoy this classic orange chicken on Thursday, at the latest.
If you liked this, you must see these other Sunday meal prep recipes!
You can also freeze meal-prepped chicken. Just warm up on a busy weeknight, and enjoy!
More Recipes
31 Healthy Summer Meal Prep Ideas
31 Clean Eating Meal Prep Ideas
31 Easy Dinner Meal Prep Recipes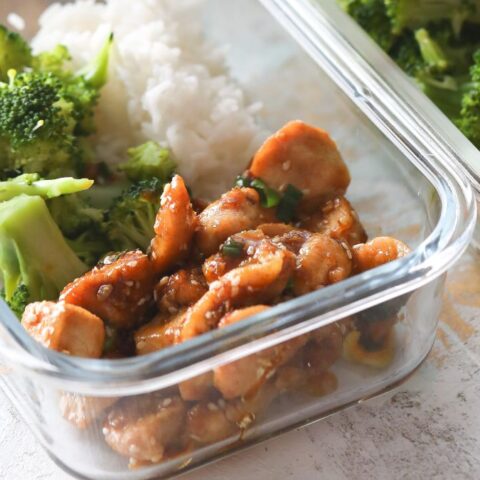 Easy Orange Chicken Meal Prep
Enjoy a hearty meal with this healthy orange chicken recipes that is great to make ahead for a busy week.
Ingredients
Chicken
2 lbs chicken breasts (boneless, skinless)
2 tbsp sesame oil
Sauce
1 cup orange juice
1/4 cup chicken broth
1/4 cup soy sauce (low sodium)
1 tsp garlic powder
1 tbsp fresh ginger (grated)
1/2 tbsp orange zest
3 tbsp honey
1/2 tsp black pepper
Topping
chopped green onion
2 tbsp sesame seeds
Broccoli and Rice
1 cup rice
1.5 cup water
salt and black pepper (to taste)
2 small heads of broccoli
Instructions
Chicken
Cut chicken breasts into 1-inch cubes.
In a frying pan, heat up sesame oil and cook the chicken until it's brown. It will take around 12-15 minutes.
While the chicken is cooking, mix all of the sauce ingredients together in a small bowl.
Remove the cooked chicken and add the sauce to the empty frying pan.
Cook the sauce until it thickens, stirring throughout. It will take around 5-10 minutes.
Add the cooked chicken back into the frying pan and stir all the ingredients together to coat the chicken.
Sprinkle with chopped green onion and sesame seeds.
Broccoli and Rice
While cooking the chicken, cook the rice. Wash the rice and add it to a saucepan, then pour in the water. Add some salt.
Bring the rice to boil and reduce to simmer for 10 minutes. Make sure you cover the saucepan with a lid. Let it sit for another 10 minutes (make sure you cook the rice as per instructions on the packet).
Fluff your rice and leave it be.
Fill a pot with water and bring to a boil. Add a pinch of salt.
Wash the broccoli, cut away the stems from the crown, and slice your florets into pieces.
Add florets into the boiling water and cook for 3-4 minutes until tender.
Remove and drain your broccoli.
Assemble Meal Prep Bowls
Divide rice into 4 meal prep containers, and divide the orange chicken and broccoli. Your meal prep is ready! Keep in the fridge for up to 3-4 days and reheat before eating.
Nutrition Information:
Yield:

4 containers
Serving Size:

1 container
Amount Per Serving:
Calories:

662
Total Fat:

15g
Saturated Fat:

2.5g
Trans Fat:

0g
Unsaturated Fat:

9g
Cholesterol:

166mg
Sodium:

945mg
Carbohydrates:

71g
Net Carbohydrates:

64.9g
Fiber:

6.1g
Sugar:

21g
Protein:

62g
Nutritional values were obtained with automatic software using the amounts of products used. To get the most accurate representation of the nutritional values, you should calculate them with the actual ingredients used in your recipe. You are solely responsible for the nutritional information obtained to be accurate.