Start your morning with this high protein breakfast power bowl, and enjoy your oatmeal much more! This sweet breakfast will set you up for the day to come with a whopping 34g of protein, 20g of fats, and loads of healthy carbs.
This high protein oatmeal is naturally sweet, very easy to assemble, and ready in just 10 minutes. Additionally, it's gluten-free.
Do you have a sweet tooth? Me too!
Then you know the struggle is real. The struggle to not eat muffins or doughnuts for breakfast Every.Single.Day.
After all, you're an adult now. So, you can eat anything you want for a high protein breakfast, right?
But the sugar high you get from having sweets comes at a price. After the sugar high, you get that sugar crash.
And then you reach for more sweets…and the cycle continues.
This High Protein Breakfast Power Bowl is sure to satisfy your sweet tooth. The raspberries, dried cranberries, and blueberries add natural sweetness.
And the creaminess of the oatmeal and Greek yogurt is balanced by the crunchiness of the walnuts and sunflower seeds.
And the drizzle of maple syrup on top is the icing on top of the cake, ahem, oatmeal. You'll be in breakfast heaven.
What is a Power Bowl?
A Power Bowl is simply a meal or bowl packed with nutritious ingredients, aka "power foods".
A Power Bowl typically consists of 4 things. These are:
Grains: For this Power Bowl, I used Rolled Oats. Oats contain a ton of vitamins and minerals.
For instance, they're packed with manganese, phosphorus, and magnesium. So, they're good for your bones.
Vegetables or Fruit: For this Power Bowl, I used blueberries, raspberries, and cranberries.
Berries are packed with health-promoting antioxidants. These fight free radicals in your body.
Protein: For this Power Bowl, I used chia seeds, Greek yogurt, and vanilla protein powder.
Greek yogurt contains almost twice as much protein as regular yogurt.
For instance, a 100g serving of Greek yogurt contains 9 grams of protein. And it contains about half the amount of carbs and sugar found in regular yogurt.
Chia seeds are a good source of plant-based protein. And they contain omega-3s, which are good for your heart and your brain.
They're also excellent sources of bone-building minerals like manganese, magnesium, and phosphorus. If you need to stock up on some, you can get some here.
And if you're looking for a high-quality vanilla protein powder, I recommend this one here.
Dressing: For the "dressing", I used maple syrup. Maple syrup is a healthier alternative to table sugar.
That's because it contains a small amount of minerals like manganese and zinc. And it provides a ton of antioxidants.
However, you still want to practice moderation when using it.
Crunchy Topping: You don't always need to add crunchy toppings to a Power Bowl. However, I added some to complement the creaminess of the oatmeal and Greek yogurt.
I used walnuts and sunflower seeds.
Why Is This Breakfast Bowl Good for You?
This Breakfast Bowl is good for you because it's packed with healthy ingredients. So, it's pretty nutritious.
For instance, it's high in protein. In fact, one serving provides a whopping 34 grams of protein.
It's also high in healthy carbs like fiber. A serving provides almost 70% of your daily fiber needs- that's a whole lotta fiber!
It is also rich in Vitamin C. So, it's good for your immune system.
And it's an excellent source of iron. So, it helps keep your energy levels up.
It's also rich in calcium. So, it's good for your bones.
It is also naturally gluten-free. This makes it a great breakfast option if you have allergies or sensitivities to gluten.
How to Make Protein Breakfast Power Bowl
The recipe is so easy even the teens will be able to prepare this one!
Ingredients You'll Need:
Oatmeal:
unsweetened almond milk
rolled oats
vanilla protein powder
chia seeds
water
Topping:
Greek yogurt
blueberries
raspberries
cranberries
walnuts
sunflower seeds
maple syrup
Step-by-step Instructions
We're going to start by taking out a medium-sized saucepan. Heat it up to medium-high.
Then, add in unsweetened almond milk, rolled oats, protein powder, chia seeds, and water.
Give all these ingredients a good mix and bring them to a boil. Afterward, reduce the heat so that the oatmeal gets to simmer for 3 to 5 minutes.
Make sure you're mixing throughout so that our oatmeal doesn't burn. It's only a couple of minutes, so that should be relatively easy.
We will then add our oatmeal into a bowl. Use a larger bowl so that the oatmeal doesn't fill it completely.
We want to leave space for our toppings.
Top it all up with greek yogurt, blueberries, raspberries, cranberries, walnuts, and sunflowers. To finish up, I'm going to drizzle a little bit of maple syrup over it.
Maple syrup adds some sweetness to our power breakfast bowl. However, it's not necessary if you're not a fan.
Feel free to use any other syrup or honey.
Note: you could also make the oatmeal porridge by leaving oats overnight. Here is a tutorial on how to make overnight oats.
How to Make This Protein Breakfast Bowl Vegan?
To make this Protein Breakfast Bowl vegan, just replace the Greek yogurt with your favorite non-dairy yogurt.
Some good options would be soymilk yogurt, almond milk yogurt, or coconut milk yogurt.
Also, make sure you use a vegan vanilla protein powder like this one here.
Other Recipes You Might Like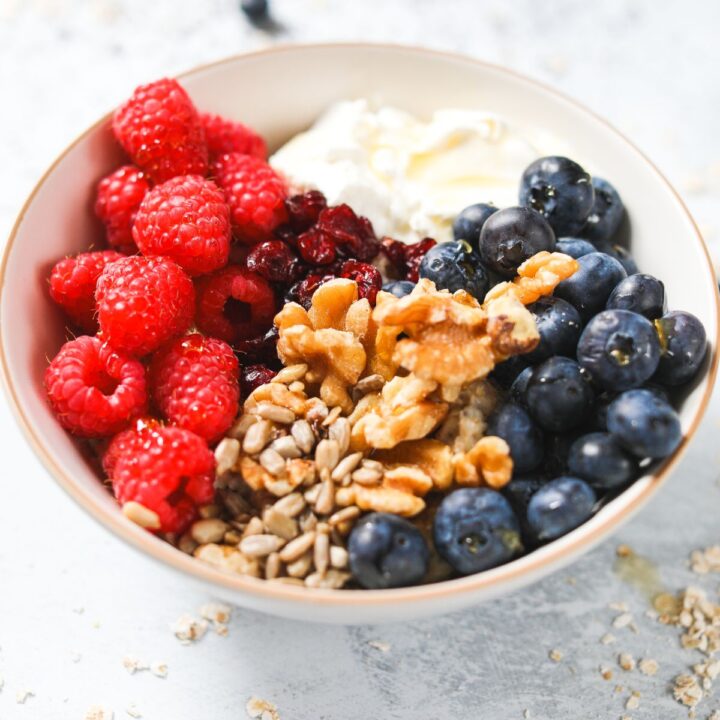 High Protein Breakfast Power Bowl
This high protein breakfast power bowl will keep you full for the day to come! It's high in protein, gluten-free, vegetarian, and super filling!
Ingredients
1½ cup unsweetened almond milk
1 cup rolled oats
1 tbsp vanilla protein powder
1 tbsp chia seeds
½ cup of water
Topping:
¼ cup Greek yogurt
¼ cup fresh blueberries
¼ cup fresh raspberries
1 tbsp dried cranberries
2 tbsp walnuts
1 tsp sunflower seeds
1 tsp maple syrup
Instructions
Heat up a saucepan to medium-high. Add almond milk, oats, protein powder, chia seeds, and water.
Bring it to a boil, then reduce the heat and let it simmer for 3-5 minutes until the oats are fully cooked. Make sure you don't burn them.
Add in your oatmeal into a bowl and top with yogurt, berries, walnuts, and sunflower seeds. Finally, drizzle with maple syrup.
Nutrition Information:
Yield:

1 breakfast bowl
Serving Size:

1 breakfast bowl
Amount Per Serving:
Calories:

641
Total Fat:

20g
Saturated Fat:

2.5g
Trans Fat:

0g
Unsaturated Fat:

15.4g
Cholesterol:

5.4mg
Sodium:

219mg
Carbohydrates:

87g
Net Carbohydrates:

70g
Fiber:

17g
Sugar:

19g
Protein:

34g
Nutritional values were obtained with automatic software using the amounts of products used. To get the most accurate representation of the nutritional values, you should calculate them with the actual ingredients used in your recipe. You are solely responsible for the nutritional information obtained to be accurate.