Loaded sweet potatoes bursting with Mexican flavors – spiced and creamy, refreshing and filling. These bean stuffed sweet potatoes are also gluten-free and vegetarian.
These stuffed sweet potatoes are a filling and comforting food you can easily customize.
Loaded with beans, corn, tomatoes, and onions. And enriched with mashed lime avocados with a creamy sour cream topping.
It also makes a pretty packable lunch that you can easily enjoy during your lunch break at work.
These potatoes are so jam-packed with veggies and nutrients that they don't even need a side dish.
It is best to serve these stuffed delights warm. But I'd be lying if I said that I didn't enjoy them straight out of the fridge, too.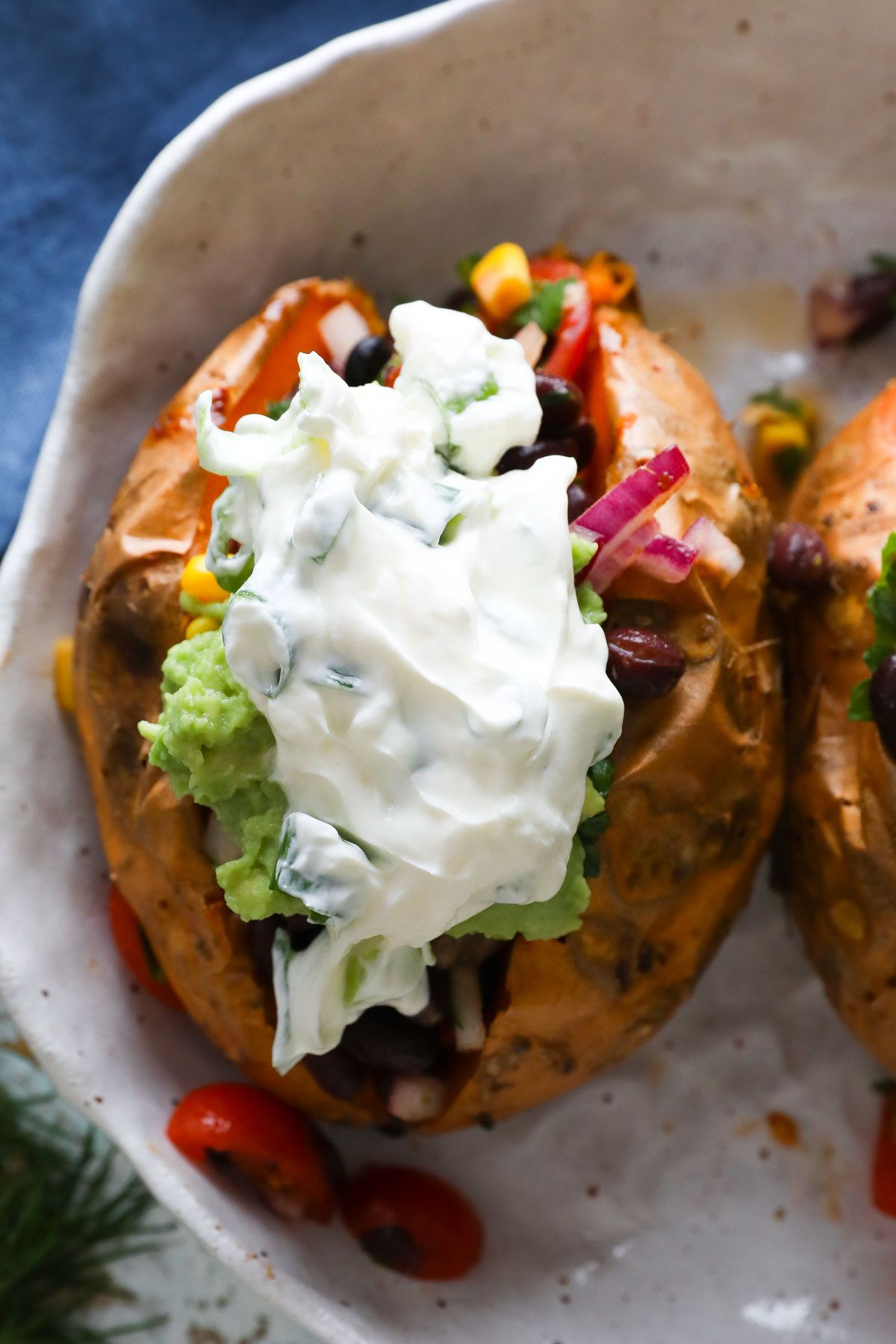 Ingredients and Substitutes
Sweet potatoes – When shopping for sweet potatoes, make sure that they are firm with smooth skin. Also, pick potatoes that are similar in size to ensure even baking.
Olive oil – I always use extra-virgin olive oil.
Spicy Bean Mixture
Black beans – Kidney beans can be equally good here.
Tomatoes – We use cherry tomatoes. You can use larger tomatoes as long as you dice them well.
Corn – Canned works best here.
Garlic – Fresh preferably
Red onion – Mexican flavors go better with red onions, but other onions will do.
Parsley – You can also use chopped cilantro here.
Lime juice – Lemon juice will do as well
Chilli flakes – This dish tastes a lot better if there is a kick of chili to add some excitement to the flavor.
Cayenne pepper – This ingredient is added solely for the intensely hot kick.
Salt
If you have extra kidney beans, you should try this Instant Pot spicy chicken with quinoa!
Toppings
Avocado – Make sure to use ripe avocado that you can mash well.
Lime – For the juice
Salt
Sour cream – Coconut yogurt, greek yogurt, or vegan yogurt works too.
Spring onion – Optional
How to Make Stuffed Sweet Potatoes with Beans
Step 1. Preheat the oven to 400 degrees F. Grab a smaller baking dish for the potatoes.
Pierce all your sweet potatoes all over with a fork. Brush the potatoes over with a tablespoon of olive oil.
Arrange in the baking tray and pop into the oven. You'll need approximately 40 minutes for smaller and 60 minutes for larger potatoes to bake.
Steps 2-3. While the potatoes are baking, grab a larger bowl and add all of the ingredients for the spicy bean mixture. Give the mixture a nice stir so that everything is incorporated well.
Step 4. In a smaller bowl, add the avocado and mash it well with a fork. Add the lime juice there and stir until the two are well combined. Season with some salt.
Step 5. Grab a third bowl, and place the sour cream and chopped spring onions. Stir to combine well.
Steps 6-7. Once the potatoes are baked, slice the sweet potatoes in half lengthwise, but not all the way through.
Steps 8-9. Divide the spicy bean mixture between the halved sweet potatoes. Then, add a dollop of the mashed avocado and finish them off with a topping of the sour cream mixture.
How to Keep These Stuffed Sweet Potatoes Vegan?
These stuffed sweet potatoes are vegetarian. But you can easily make them vegan by simply omitting the sour cream. Instead, you can use.
Coconut cream or vegan yogurt are definitely the best choices. They offer that refreshing bite that goes really well with the spicy Mexican flavors.
Other Good Toppings for Sweet Potatoes
If sour cream doesn't agree with you, there are other tasty options you can try:
Greek yogurt
Salsa
Crumbled bacon
Diced salami
Ground beef
Shredded cheese
For the same creaminess, go with yogurt.
This is one of the best dinner ideas for busy nights!
More Healthy Comfort Recipes to Try
Watch: How to Make It
Bean Stuffed Sweet Potatoes
Yield:
4 stuffed potatoes
Total Time:
1 hour
20 minutes
Loaded sweet potatoes bursting with Mexican flavors. A perfect gluten-free comfort food you can make for a vegetarian dinner and get creative! Easy to meal prep and to enjoy - this is one of the sweet potato recipes you'll want to have over and over again. Perfect for weeknight dinner.
Ingredients
4 sweet potatoes
1 tbsp olive oil
Spicy Bean Mixture
1 can black beans (strained and rinsed) (or red kidney beans)
1 cup cherry tomatoes (chopped)
1/2 cup corn
1 clove garlic (minced)
1/2 red onion (diced)
1/3 cup parsley (chopped)
1/2 lime juice
1 tbsp olive oil
pinch chilli flakes
3/4 tsp cayenne pepper
1/4 tsp salt
Mashed avocado
1 avocado
1/2 lime juice
pinch of salt
Sour cream
1/3 cup sour cream
Spring onion (chopped)
Instructions
Preheat the oven to 400F. Pierce your potatoes with a fork all around so they have small holes. Add them to a baking tray. Use a brush to oil (or spray) the sweet potatoes all around and bake in the oven for 40-60 minutes until they're tender. Smaller potatoes will need 40 min, while larger 60 min.
While potatoes are baking, get a bowl and add in all of the spicy bean mix ingredients. Start with kidney beans and finish up with salt. Combine all of them together.
Mash avocado in a bowl with a fork, squeeze over the lime juice, and add a pinch of salt. Set aside.
In a separate bowl, mix sour cream with chopped spring onions.
Once the potatoes are baked, cut them in half, but not all the way through, so the potatoes open up but are still in one piece.
Fill them in with the spicy bean mixture, top up with avocado mash, and top up with sour cream.
Nutrition Information:
Yield:

4 stuffed potatoes
Serving Size:

1 stuffed potato
Amount Per Serving:
Calories:

479
Total Fat:

19g
Saturated Fat:

4.1g
Trans Fat:

0.2g
Unsaturated Fat:

13.1g
Cholesterol:

11mg
Sodium:

279mg
Carbohydrates:

67g
Net Carbohydrates:

47g
Fiber:

20g
Sugar:

11g
Protein:

16g
Nutritional values were obtained with automatic software using the amounts of products used. To get the most accurate representation of the nutritional values, you should calculate them with the actual ingredients used in your recipe. You are solely responsible for the nutritional information obtained to be accurate.