These sheet pan chicken thighs with veggies are savory, sweet, and slightly spiced. It's a high protein, gluten-free, and dairy-free meal you can quickly prepare over and over again.
Are you looking for a dinner that's savory, sweet, and healthy? This is a recipe that's going to hit all of those spots.
Sheet pan chicken thighs with garlic and honey are also a healthy way to satisfy those cravings. It's an easy meal with less than 500 calories per serving.
The best part about this dish is that it cooks in one pan. That's right, there are no extra baking dishes or saute pans.
Everything is cooked all at once and comes out hot and ready to eat at the same time.
The honey garlic marinade perfectly carmelizes the chicken. Which makes it some of the tastiest meat you can make at home.
The fresh vegetables are also tossed in seasoning and pair perfectly with the sweet and savory chicken.
How to Make Sheet Pan Chicken Thighs with Garlic and Honey
To make the sheet pan dinner, you'll need to prepare the vegetables and marinate the chicken.
Ingredients for Chicken
Chicken thighs (skin-on, bone-in) – Using a skin-on, bone-in chicken will provide the most flavor for this recipe. Plus, chicken thighs are often less expensive than other parts of a chicken.
If you are watching your fat intake, you can use skinless without a problem. However, the chicken won't have as much flavor.
Apple cider vinegar – An excellent component of any marinade. It adds a tangy flavor that makes a big difference once the chicken is cooked.
You could substitute rice vinegar or red wine vinegar if needed.
Honey – One of the most essential ingredients in this recipe. It's a natural sweetener that is going to pair perfectly with fresh garlic.
Garlic – You will want to use fresh garlic here, if possible. It's going to provide the best flavor and has added health benefits.
For example, garlic has cleansing properties and is known to help boost your immune system.
Chilli Powder – Another component that will taste really delicious with the honey and garlic. Adding that little bit of heat will make a big difference.
Don't worry. Using standard chili powder will not make this dish very spicy.
If you don't want to use chili powder, you could substitute it with paprika. Additionally, if you did want it to be a little spicer, add some red pepper flakes to the marinade.
Oregano – Brings a fresh herb flavor to the marinade. It helps balance out the other ingredients with its earthy flavor.
Olive oil – A base ingredient that's going to hold the marinade together. You could also use grapeseed avocado oil if you are out of olive oil.
Salt and black pepper
How to Make Garlic Honey Chicken
The first step to make the garlic honey chicken is to make the marinade.
Start by combining the olive oil, honey, garlic, chili powder, oregano, salt, and pepper in a small bowl.
Then, toss the chicken thighs into the marinade.
Allow the chicken to sit in it for at least thirty minutes.
Ingredients for Vegetables
Brussel sprouts – Mini cabbages packed with fiber, antioxidants, and vitamin C. They are no longer the shunned vegetable!
In fact, they have become very popular (and rightfully so). Don't skip out on this delicious vegetable.
Red bell pepper – They taste a bit sweet when they are cooked. Red bell peppers have a high amount of fiber and have very few calories.
Yellow bell pepper – Another healthy vegetable in this mix. You could use a green pepper if you'd prefer more of a mild taste.
Carrots – Not only high in fiber (so they are very filling), but they are also a terrific source of beta carotene and potassium.
Red onion – They can help stimulate digestive health and promote a healthy heart. Substituting with yellow or white onions is perfectly fine for this recipe.
Olive oil – It is going to coat the vegetables and help season them. If you don't have any on hand, another cooking oil will work just fine.
Garlic powder – Offers a great way to add garlic flavor without getting your hands stinky.
Onion powder – It pairs really well with garlic powder to enhance the flavor of vegetables. Using dried spices like this is a healthy way to add flavor without adding artificial ingredients and extra calories.
Salt and black pepper
How to Prepare Vegetables
To prepare the vegetables, first cut up all of the vegetables and place them in a large bowl.
Then, mix together the olive oil, garlic powder, onion powder, salt, and pepper.
Pour that mixture over the vegetables and toss to coat.
Spread the vegetables evenly on a large sheet non-stick pan like this. Now, lay the marinated chicken thighs over the vegetables.
Set a timer for 30-35 minutes. Then make sure the chicken is cooked through.
To check that the chicken is done, use a sharp knife to poke into the chicken. Check to see that it's no longer pink and that the juices are clear.
Can You Cook Chicken and Vegetables Together?
Cooking chicken and vegetables together is OK, as long as you carefully check that the chicken is cooked through.
You must make sure that the chicken is not raw. If the chicken is not cooked yet, simply put it back in the oven until it is cooked.
How to Check if the Chicken is Cooked Through?
Here is the way to make sure the chicken is really cooked.
First, while using a sharp knife and a fork, make a small slit in the chicken thigh to check its colors.
The chicken should not be pink. When you poke the knife in, juices will likely run out of the chicken. The juices should be clear and no longer pink.
If they are pink, put the chicken back into the oven and cook for another 5-10 minutes.
Don't forget to recheck the chicken when you pull it out the second time.
Why Do Chicken Thighs Taste Better?
Chicken thighs are one of the most delicious parts of the chicken. But why is that so?
Meat that is cooked bone-in or just close to the bone is going to taste the best. As the meat cooks, the bone also releases flavor into the meat.
The chicken thigh is also made up of dark meat, which has much more flavor than white meat (like chicken breasts).
Keeping the skin on adds even more flavor!
Other Recipes You May Like
More Sheet Pan Dinners
If you loved this recipe, check out more of my sheet pan dinners on Youtube!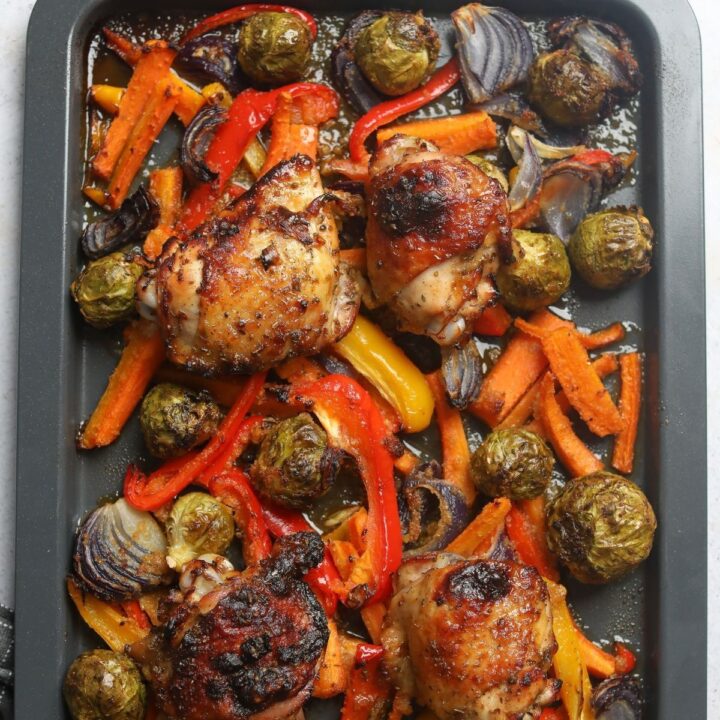 Sheet Pan Chicken Thighs with Garlic and Honey
Additional Time:
30 minutes
Total Time:
1 hour
25 minutes
This sheet pan chicken dinner is garlicky, sweet, slightly spiced, and savory. These chicken thighs are high in protein, gluten-free, and dairy-free.
Ingredients
Garlic Honey Chicken
4 chicken thighs (skin-on, bone-in)
3 tbsp olive oil
1 tbsp apple cider vinegar
2 tbsp honey
3 garlic cloves (minced)
1 tsp chilli powder
2 tsp oregano
Salt and black pepper (to taste)
Vegetables
2 cups Brussel sprouts
1 red bell pepper (sliced)
1 yellow bell pepper (sliced)
4 carrots (cut into sticks)
1 red onion (cut into chunks)
3 tbsp olive oil
1 tbsp garlic powder
1 tbsp onion powder
Salt and black pepper (to taste)
Instructions
Preheat the oven to 425F.
In a relatively large bowl, mix together olive oil, vinegar, honey, garlic, chili powder, oregano, salt, and pepper.
Toss in chicken thighs and set them aside for at least 30 minutes.
In a separate larger bowl, mix together olive oil, garlic powder, onion powder, a pinch of salt, and pepper.
Add in cut vegetables and toss them until they're fully covered.
Spread the vegetables on a baking sheet and cover them with chicken thighs. Bake in the oven for 30-35 minutes until the chicken is fully cooked.
Nutrition Information:
Yield:

4 plates
Serving Size:

1 plate
Amount Per Serving:
Calories:

478
Total Fat:

33g
Saturated Fat:

6.3g
Trans Fat:

0.1g
Unsaturated Fat:

25g
Cholesterol:

81mg
Sodium:

340mg
Carbohydrates:

31g
Net Carbohydrates:

24.7g
Fiber:

6.3g
Sugar:

17g
Protein:

18g
Nutritional values were obtained with automatic software using the amounts of products used. To get the most accurate representation of the nutritional values, you should calculate them with the actual ingredients used in your recipe. You are solely responsible for the nutritional information obtained to be accurate.