These honey garlic chicken thighs are sweet and sour, sticky, nutritious, and delicious. They're quick and easy to make. These meal prep bowls are macro-friendly, and high protein.
We all want to live healthy lives. And part of that involves eating healthy.
But all too often, life gets in the way. So, despite our best intentions, we fall off the healthy eating wagon.
That's because life is pretty busy. And at the end of the day, who wants to cook dinner or prepare lunch for the next day?
All we want to do is plop onto the sofa. And binge-watch our favorite TV shows, right?
So, we end up ordering takeout. And we all know how unhealthy takeout can be with all the added sugar and salt.
So, how can you have all the convenience of takeout and eat healthily? By making a meal prep dish like this Honey Garlic Chicken Meal Prep.
The chicken thighs are juicy and flavorful. They're nicely caramelized and coated in a garlic, soy, and honey sauce.
The honey adds sweetness, while the garlic adds savory notes. Meanwhile, the soy sauce adds umami.
And there's a hint of heat from the black pepper. You'll definitely be licking your fingers while you're eating.
It's also pretty simple to make too. All it takes is 20 minutes.
So, it's much faster than takeout. As an added bonus, it's good for you too.
Why You Should Make This Honey Garlic Chicken
This Honey Garlic Chicken is pretty nutritious.
For one, it's packed with protein. Just one serving provides a whopping 65 grams of protein.
So, it makes the perfect post-workout meal. And it's good for growing kids as well.
It's also loaded with fiber. So, it's great for your digestion and helps you feel full too.
It is also rich in potassium. So, it helps maintain good blood pressure.
Now, it is high in sodium. That's because you're using regular chicken broth and soy sauce.
So, if you want to lower the sodium contents, just be sure to use low sodium soy sauce and low sodium chicken broth.
This soy sauce here is a good option as it contains 30% less sodium than regular soy sauce. Meanwhile, this chicken broth here contains only 20 mg of sodium per cup, compared to the regular chicken broth, which can contain as much as 859 mg of sodium per cup.
How to Make Honey Garlic Chicken
Mix cornflour, salt, and black pepper in a glass bowl.
Toss in chicken thighs and coat the chicken with the mixture.
Add vegetable oil to a skillet. Then, add in the chicken thighs and cook for 4-5 minutes.
Afterward, flip and cook for another 2 minutes. The chicken thigh should become golden brown.
Now add in butter and garlic to the pan. Lower the heat and let the chicken cook.
Combine honey, chicken broth, and soy sauce. Add the mixture into the skillet and bring to boil.
Afterward, just let it simmer for another 4-5 minutes until the sauce thickens up and beautifully coats the chicken.
Prepare the rice of your choice! Cook it according to instructions!
I'm using brown rice because it has more fiber. Black rice works too.
Divide the rice into two meal prep containers. Top with honey garlic chicken and sprinkle with some chopped green onion.
How Long Does Chicken Last in the Fridge?
The chicken will last about 3 to 5 days in the fridge. To keep it tasting fresh, just be sure to store it in food storage containers.
I recommend these ones here because they are BPA-free.
Is Honey Garlic Chicken Healthy?
It sure is! That's because you're using a lot of healthy ingredients. Some of these include:
Chicken thighs: Chicken thighs are an excellent source of protein. Just one chicken thigh provides close to 30% of your daily protein needs.
It is also a good source of B vitamins that you need for a healthy brain. And it provides selenium and zinc, which are potent antioxidants.
Garlic: Garlic is not only tasty but good for you too. Garlic may help prevent the common cold.
It also contains antioxidants which have health benefits. It may even improve athletic performance.
Honey: Honey is a healthier alternative to sugar. That's because it's rich in antioxidants.
And honey can even suppress coughs in kids. When choosing honey, just be sure to choose high-quality honey like this one, which doesn't contain high fructose corn syrup.
Brown rice: Brown rice is pretty nutritious too. Besides being high in fiber, it contains a ton of nutrients.
It provides B vitamins that you need for a healthy brain. It also contains magnesium, phosphorus, and manganese, which you need for healthy bones.
Other Meal Prep Recipes

Watch Full Instructions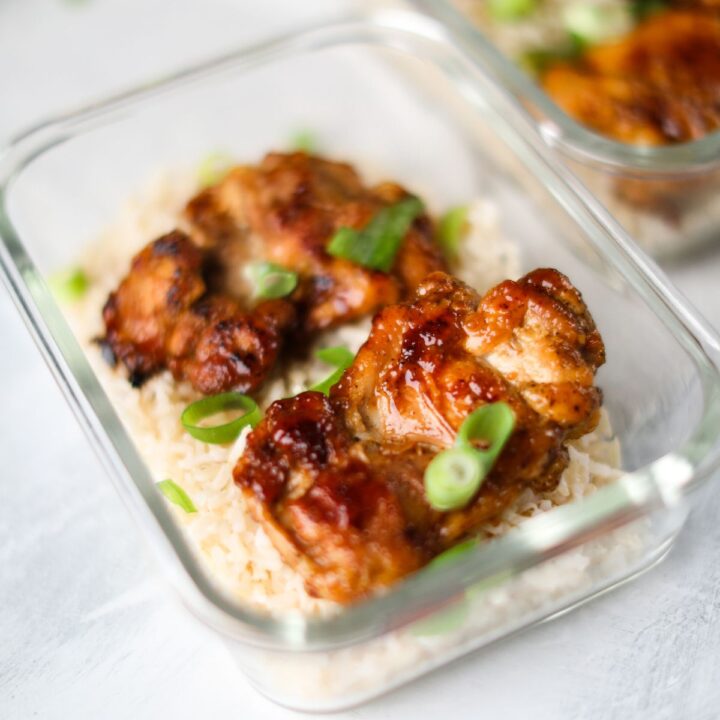 Honey Garlic Chicken Meal Prep
Just in 25 minutes, you can make this one-pan dinner! Honey garlic chicken is sweet, flavorful, and nutritious. Perfect for meal prep!
Ingredients
Honey Garlic Chicken:
4 chicken thighs (skinless and boneless)
1 tbsp cornflour
1/2 tsp salt
1/2 tsp black pepper
1 tbsp vegetable oil
1 tbsp butter
4 cloves garlic (minced)
3 tbsp honey
1/3 cup chicken broth
1 tbsp soy sauce
2 tbsp green onion (chopped)
Brown Rice:
1 cup brown rice
6 cups water
Pinch of salt
Instructions
Rinse brown rice. Then, boil the water in a large pot and add rice to it. Let it boil uncovered for 30 minutes until the rice is fully cooked. Drain excess water once finished, season with salt.
Meanwhile, mix cornflour, salt, and pepper together. Toss the chicken into cornflour until fully coated.
Now, make sure to heat up the vegetable oil in a skillet. Add in chicken thighs and cook for 4-5 minutes until golden brown. Then, just flip them and cook for another 2 minutes.
Afterward, add butter to the pan and garlic. Lower the heat.
Combine honey, chicken broth, and soy sauce. Now, add the sauce into the skillet and bring to a boil. Let it simmer for 4-5 minutes until the sauce thickens up and coats the chicken.
Divide rice into meal prep containers. Top with honey garlic chicken and season with green onion.
Nutrition Information:
Yield:

2 meal prep bowls
Serving Size:

1 meal prep bowl
Amount Per Serving:
Calories:

803
Total Fat:

23g
Saturated Fat:

6.5g
Trans Fat:

0.4g
Unsaturated Fat:

6.5g
Cholesterol:

190mg
Sodium:

1633mg
Carbohydrates:

105g
Net Carbohydrates:

100.9g
Fiber:

4.1g
Sugar:

26g
Protein:

47g
Nutritional values were obtained with automatic software using the amounts of products used. To get the most accurate representation of the nutritional values, you should calculate them with the actual ingredients used in your recipe. You are solely responsible for the nutritional information obtained to be accurate.