A flavorful breakfast skillet you can make with just 3 ingredients. Super filling and easy to make! The meal is keto-friendly, Whole30-friendly, gluten-free, and dairy-free.
Here's a breakfast or brunch dish that's full of flavor, that bursts from only 3 ingredients, yes 3!
When time is short, it's good to reach for a recipe that takes minutes to prepare but still tastes amazing, and this 3-ingredient Breakfast Skillet fits the brief perfectly.
When we think about fast food, it doesn't have to be processed or premade; it can still be fresh, nutritious, and delicious and be quick, quick, quick too.
This 3-ingredient Breakfast Skillet will keep you full until lunchtime and will help you feel wide awake and full of energy for the morning, so grab a pan and let's get cooking super quick.
Fast food with minimal ingredients relies on quality ingredients. Not only do they taste better, but they are better for your health, so take away some of these tips:
Ingredients You'll Need
Ground beef – the best you can find! This means buying a lean, grass-fed, organic variety from cattle that haven't been treated with medicines you really don't want to be eating.
Salsa sauce – Check for added sugars here as some premade varieties can have lots added. You should try and opt for fresh salsa from the refrigerator section of your local store and full of crisp, tangy, and spicy flavors. You could even make your own and store it in the refrigerator for recipes like this.
Eggs – Use organic, free-range eggs if you can. Some eggs have Omega-3 added, so these are worth buying if you find them. The best eggs will have gloriously golden yolks.
Olive oil – You don't need an expensive, extra-virgin olive oil here, just one that you would usually cook with.
How to Make Breakfast Skillet
Add your olive oil to a large skillet, like this one, and heat it to medium-high heat.
Add your beef to the hot oil and stir well. You want to cook your beef for 4-5 minutes until it's no longer pink, so cooked through!
Tip in the salsa and stir well to combine. Cook for a further 2-3 minutes until bubbling and thickened a little.
Next, break the eggs into the skillet, spacing them apart as much as you can. Try and do this carefully so not to break the yolk.
Cover the skillet with a lid, or even some aluminum foil, to allow the eggs to steam a little.
Cook the eggs for around 6-7 minutes, or until they are cooked to your liking.
Top with a garnish of chopped green onion if you like and serve one egg per portion, with a generous helping of the spicy beef.
What Does This Skillet Go Well With?
If you wanted to make this dish even more filling or make it a little special for a brunch or breakfast, there are a number of things you could add.
How about a serving of cubed baked or fried potatoes cooked in olive oil and lots of fresh or dried herbs?
This 3-ingredient Breakfast Skillet also goes well with some buttered noodles if you wanted to add something slightly different. Add some diced red chili pepper, too, to give it a kick.
A fresh herb salad packed with arugula, fresh parsley, or even cilantro adds a tasty blend of peppery freshness to this dish.
Sliced avocado and a good helping of baby plum tomatoes could be served here, too, to make this even more filling.
If you wanted this 3-ingredient Breakfast Skillet to takeaway, you could always find a large flour tortilla and pack a portion into this, wrap up tightly, and off you go!
Other Ingredient You Can Add to the Skillet
When cooking this 3 ingredient Breakfast Skillet with a little more time, there are some extras you could grab and add to the pan too.
Fresh, seasonal tomatoes that have been diced and deseeded could be added to the beef once cooked to give the salsa a boost of even more freshness.
Frozen or fresh spinach could be stirred through the beef until it has wilted. This will add some extra iron nutrition that your red blood cells will love you for.
Chopped mushrooms could be added to the skillet when you have cooked your beef. Stir well and cook until all the moisture has evaporated.
Add some aromatics to boost the dish further! Crushed garlic and grated ginger could be added to the beef while cooking to bring some extra flavor.
A dollop of sour cream could be added to the top of the eggs while cooking and a sprinkle of smoked paprika to finish off.
Grated cheese could be sprinkled over the finished dish, and then place your skillet under a hot grill to toast until golden.
What Diets Is It Suitable For?
This 3-ingredient Breakfast Skillet is perfect for a keto diet. If you are looking for a breakfast that's low in net carb, high in a balance of fats, and keeps you satiated, this is perfect!
Using lean ground beef would make this breakfast dish perfect for a low-fat diet too. Try and use a non-stick pan, and you could even avoid the olive oil to cook the beef in.
And a family diet! If you are looking for a breakfast dish to serve at the weekend, where the whole family can tuck in, this would be a perfect addition to your favorites.
This is also a wonderful gluten-free dish to serve up.
Other Recipes You Might Like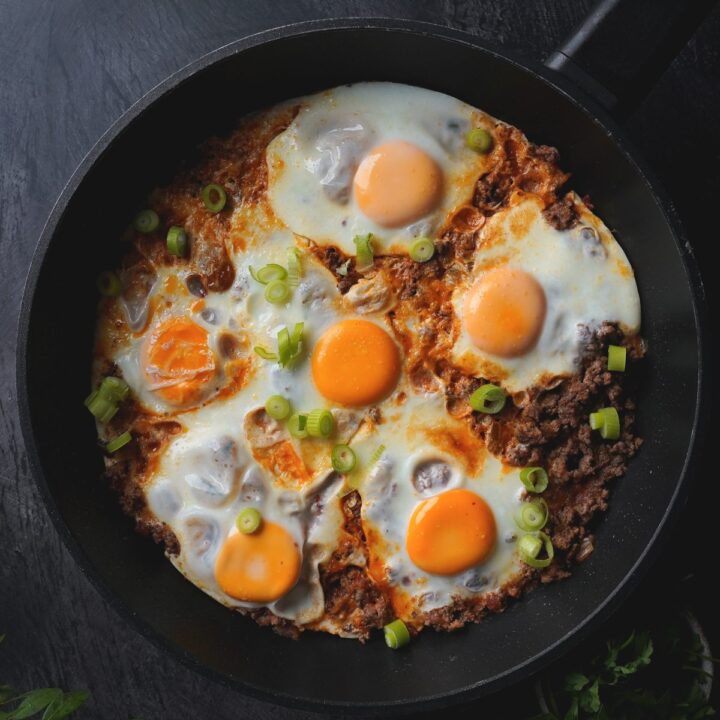 3-Ingredient Breakfast Skillet
This extra easy breakfast skillet requires only 3 ingredients. It's yummy, nutritious, full of flavors and, on top of it all, keto, Whole30, gluten-free and dairy-free.
Ingredients
1 tsp olive oil
1 lb ground beef
1 cup salsa sauce
6 medium eggs
Instructions
Take out a large skillet, add olive oil, and heat it to medium-high heat.
Add in the beef and cook occasionally, stirring until it's no longer pink.
Add in salsa sauce and let it cook for another 2-3 minutes.
Break in the eggs, cover the skillet, and let them cook for around 6-7 minutes until the eggs have cooked through.
Garnish with chopped green onion if you fancy.
Nutrition Information:
Yield:

6 eggs
Serving Size:

1 egg
Amount Per Serving:
Calories:

274
Total Fat:

20g
Saturated Fat:

7.2g
Trans Fat:

0.9g
Unsaturated Fat:

10.2g
Cholesterol:

217mg
Sodium:

420mg
Carbohydrates:

3.2g
Net Carbohydrates:

2.4g
Fiber:

0.8g
Sugar:

1.9g
Protein:

19g
Nutritional values were obtained with automatic software using the amounts of products used. To get the most accurate representation of the nutritional values, you should calculate them with the actual ingredients used in your recipe. You are solely responsible for the nutritional information obtained to be accurate.