These chicken burrito bowls are flavorful and full of nutrition. They're easy to make and can be meal prep for days to come.
The meal is refreshing, high in protein, and gluten-free.
When it comes to having a healthy lunch, convenience is king. After all, we all have busy lives, right?
So, things like sandwiches and salads are often our go-to lunches. But after a while, they can get kind of boring.
And we all know what happens when things get boring. We ditch our healthy eating habits and order takeout instead.
And although takeout is delicious, it is often unhealthy. Besides, it can get pretty expensive too.
This Chicken Burrito Meal Prep Bowl has all the taste of takeout. And it is way healthier for you.
On the menu is tender, shredded chicken with spicy rice. All accompanied by sweet corn, creamy black beans, juicy tomatoes, and fresh arugula.
All topped with a creamy Caesar dressing.
And you won't be spending a ton of time in the kitchen to make them either. All it takes is 30 minutes to make them, and you'll have your lunches (or dinners) covered for a couple of days.
To keep your Chicken Burrito Bowls fresh longer, just be sure to store them in airtight food storage containers. I recommend these ones here because they are more sustainable that will leak into your food.
If you prefer lighter containers, these ones here are a great option.
Why Should You Make These Chicken Burrito Bowls?
Well, first of all, they taste amazing. Enough said.
They're also pretty nutritious.
For instance, they're packed with protein. Just one serving provides a whopping 37 grams of protein.
They're also loaded with fiber. In fact, you get almost 40% of your daily fiber needs from one bowl.
Fiber is good for your digestion. And it helps keep you full too…and away from those cookies that are calling your name.
They're also good sources of Vitamins A and C, which you need for a healthy immune system.
They're rich in iron too. So, they keep your energy levels up.
And they contain a ton of potassium. So, they're good for healthy blood pressures.
They don't contain a ton of calories, either. So, you can eat them without feeling guilty.
How to Make Chicken Burrito Bowls
Place chicken breasts in a pot. Make sure to season with salt and black pepper and then cover the chicken with a good 1 inch of water.
Bring the pot to a boil and then reduce the heat. Let the chicken simmer for around 15 minutes or so until it's fully cooked.
Let it cool down and shred it with two forks.
Now, prepare the rice! First, rinse it using a mesh strainer. Cook your rice according to instructions and add in the paprika, cumin, cayenne, and black pepper 5 minutes before it's fully cooked.
Mix the spices in and let the rice cook for the remainder of the time. Fluff before serving!
Divide arugula, sliced grape tomatoes, drained corn, and black beans into 4 glass containers.
Then, add in the chicken and rice. Finally, drizzle the whole meal prep with a bit of Ceasar dressing or any dressing of your choice.
Are Burrito Bowls Healthy?
These Burrito Bowls are pretty healthy. That's because they're loaded with healthy ingredients like:
Arugula: Arugula contains a lot of fiber. It's also a good source of manganese, magnesium, and calcium, which you need for healthy bones.
And it's rich in Vitamins A and C, which help boost your immune system. And it is an excellent source of folate, which you need for making DNA, as well as Vitamin K, which helps your blood clot.
Grape Tomatoes: Grape tomatoes are also good sources of fiber. They also provide Vitamin C, Vitamin K, folate, and potassium.
And they're rich in lycopene, a powerful antioxidant.
Corn: Corn has a good amount of fiber. It is also a good source of manganese and phosphorus, which you need for healthy bones.
And it provides Vitamin C and a few B vitamins. So, it helps boost your immune system and your brain as well.
Black Beans: Beans are an excellent source of fiber, protein, and folate. They're also rich in bone-building minerals like manganese and magnesium.
And they're rich in iron. So, they help keep your energy levels up.
Chicken Breasts: Chicken breasts are excellent sources of low-fat protein. So, you're getting a ton of protein without all the fat and calories.
They also provide Vitamin B3 and selenium, a powerful antioxidant.
Basmati Rice: Basmati rice is a rich source of B vitamins such as folate, Vitamin B1, and B3.
It also provides antioxidants such as selenium and copper. And it is a good source of iron.
Do You Eat Burrito Bowls Cold?
Yes, they can be eaten cold. So, you can skip the line-up for the microwave at work.
However, if you prefer them warm, just heat them in the microwave for about 2 minutes.
Other Meal Preps

Watch Full Instructions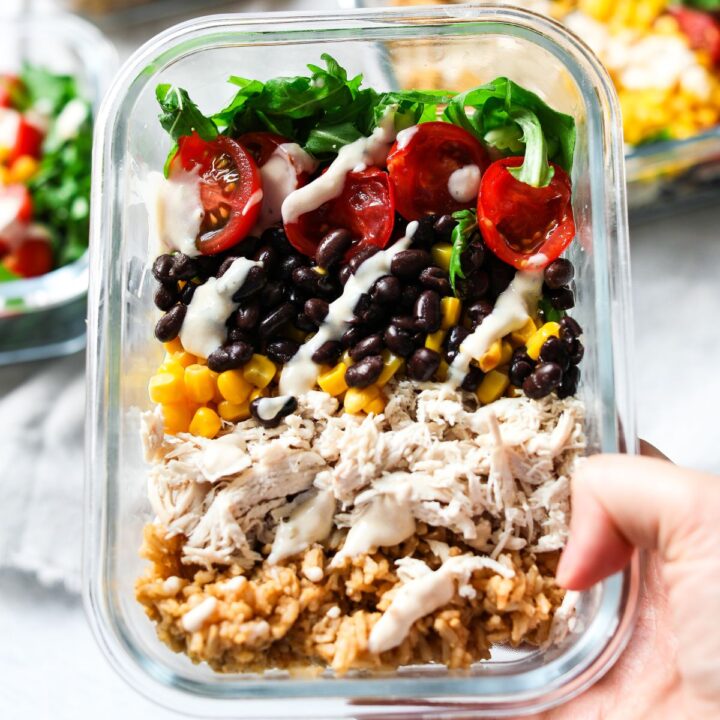 Chicken Burrito Bowls Meal Prep
These healthy chicken burrito bowls are flavorful, nutritious, and delicious. Filled with Mexican flavors, they're a perfect high protein lunch or meal prep to bring to work. Can be made in just 30 minutes!
Ingredients
Cold Ingredients:
2 cups arugula
1 cup grape tomatoes (halved)
7-ounce can corns (drained)
14-ounce can black beans (rinsed and drained)
Shredded Chicken:
1 lb chicken breasts (450g)
1/2 tsp salt
1/4 tsp black pepper
Rice:
1 cup basmati rice
1.5 cups water
1 tsp paprika
1/2 tsp cumin
1/4 tsp cayenne
1/4 tsp black pepper
Dressing:
Instructions
Chicken
Place chicken breasts at the bottom of a pot. Season with salt and black pepper. Cover the chicken with 1 inch of water.
Place the pot on the stove, bring to boil. Then, reduce the heat, and let it simmer until the chicken is fully cooked (no longer pink in the center) or reaches the temperature of 165 F. It will take around 15 minutes.
Remove the chicken from the water. Let it cool down before shredding.
Rice
Rinse your rice using a mesh strainer.
Place rice and water into a saucepan. Bring to simmer without the lid on, and once the surface is bubbling, place the lid and lower the heat. Cook for another 7 minutes. Now mix in paprika, cumin, cayenne, and black pepper. Cover the rice and cook for another 5 minutes. (Or just cook your rice according to instructions and mix in the spices 5 minutes before the rice is fully cooked).
Remove from the stove and rest for 10 minutes. Fluff before serving.
Meal Prep Assemble
Divide the cold ingredients, rice, and chicken between 4 food containers. Drizzle with Caesar dressing.
Nutrition Information:
Yield:

4 meal prep bowls
Serving Size:

1 meal prep bowl
Amount Per Serving:
Calories:

520
Total Fat:

13g
Saturated Fat:

2.2g
Trans Fat:

0g
Unsaturated Fat:

9g
Cholesterol:

88mg
Sodium:

1013mg
Carbohydrates:

64g
Net Carbohydrates:

54.5g
Fiber:

9.5g
Sugar:

4.2g
Protein:

37g
Nutritional values were obtained with automatic software using the amounts of products used. To get the most accurate representation of the nutritional values, you should calculate them with the actual ingredients used in your recipe. You are solely responsible for the nutritional information obtained to be accurate.