These baked herb chicken breasts with couscous are a filling and veggie-packed meal prep. It's a high protein, dairy-free chicken meal prep that's yummy and flavorful!
Are you trying to lose weight or build muscle? Besides exercise, nutrition is key.
You want to choose meals that are high in high in protein. That's because protein fills you up the most- even more than fat.
You also want your meals to contain a lot of fiber. Besides being good for your digestion, fiber fills you up too. So, you're less likely to hit the vending machine.
Chicken breasts are a great source of protein. That's why many bodybuilders eat it.
But it can taste quite bland. That's because they contain very little fat.
So, they can end up tasting like cardboard. And as much as we want to be slim and toned, eating bland chicken breasts is not worth it.
Baked Herb Chicken Breasts with Couscous
This baked herb chicken breasts with couscous meal prep is anything but bland. It's packed with flavor from the Mediterranean spices.
It's also packed with Mediterranean veggies like red onions and zucchini. So, it's a great way to get your kids to eat their veggies.
Red and yellow bell peppers add further freshness and sweetness to the dish.
Besides being delicious, this dish is packed with both protein and fiber. So, it's pretty filling.
In fact, one serving provides a whopping 61 grams of protein. So, it's great for you and growing kids as well.
It also provides 30% of your daily fiber needs. So, it's great for your digestion.
It's also an excellent source of vitamins A and C, which you need for a healthy immune system.
And it's rich in iron, which helps keep your energy levels up.
How to Make Baked Herb Chicken Breasts with Couscous Meal Prep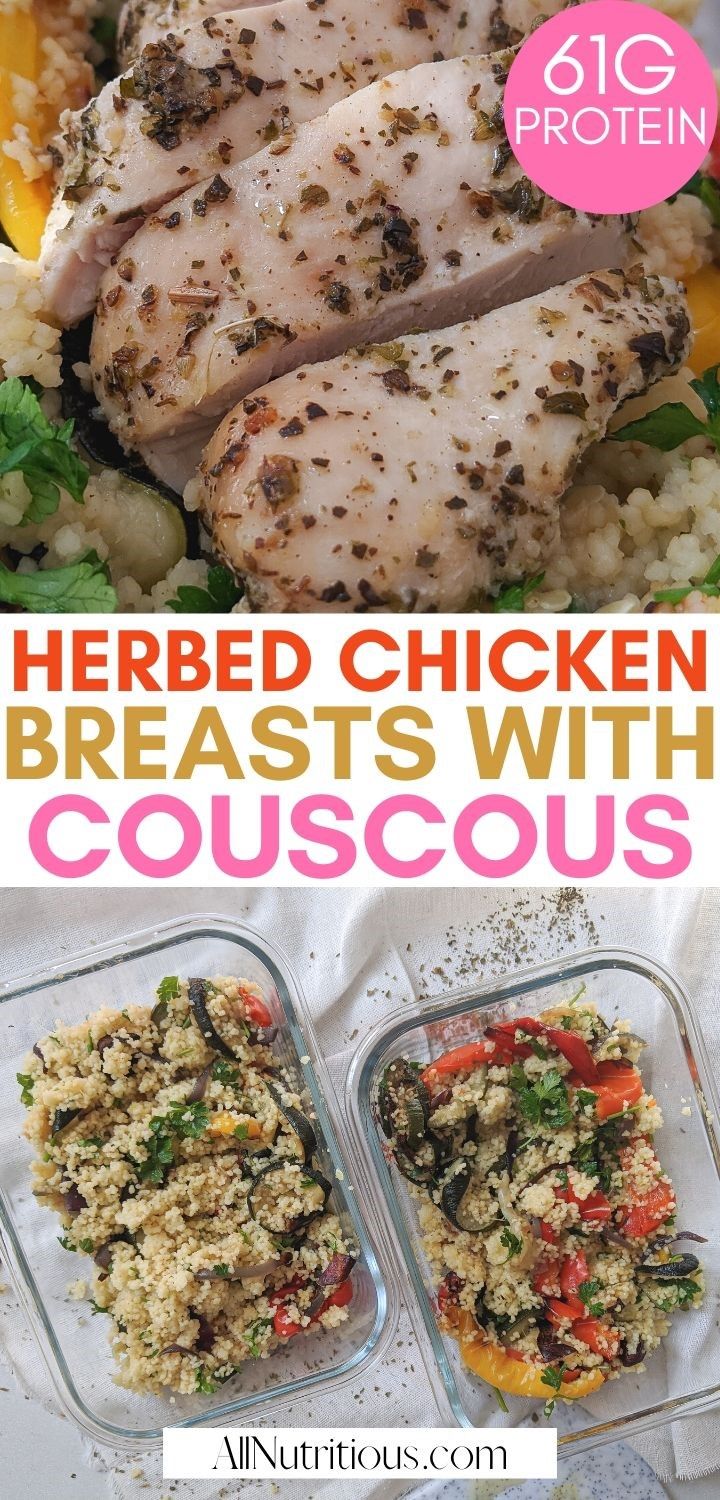 Making this dish is pretty easy. You're going to be using your oven, so make sure you start by preheating it to 400 degrees Fahrenheit.
Roasted Vegetables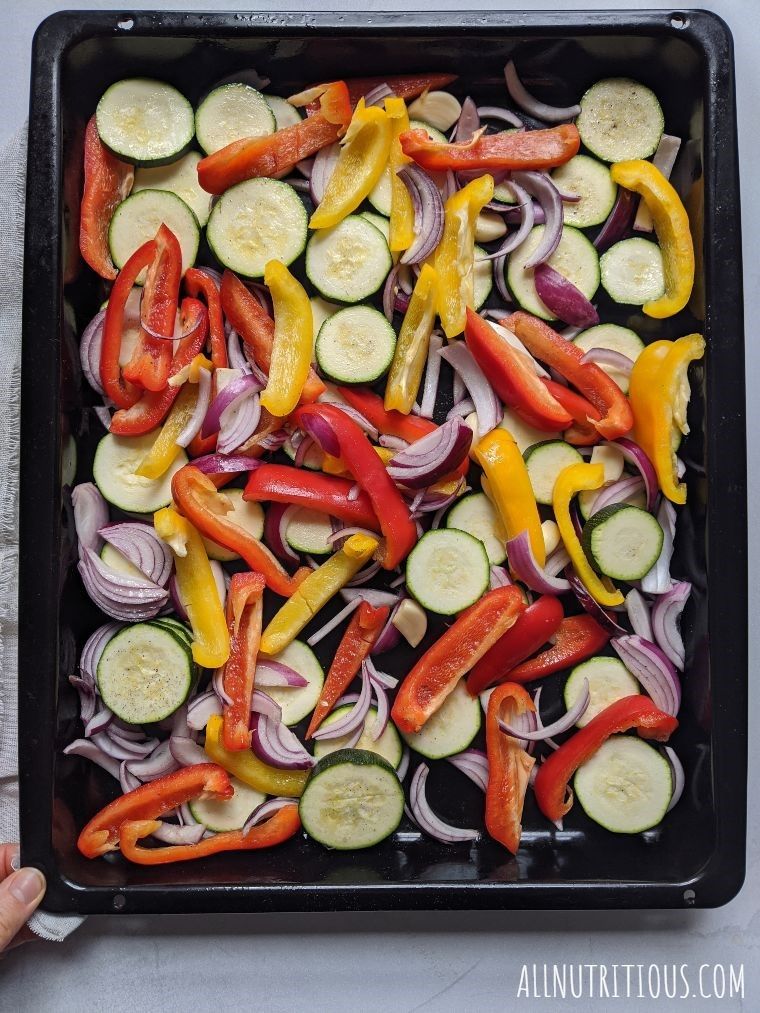 Next, you want to chop your veggies into one-inch slices. Then, chop your red onions and peel your garlic cloves. You'll be using 2 red onions, but if you're not a big fan of red onions, you can just use one instead.
Place your veggies, garlic, and red onions on a baking sheet. Since there are a ton of vegetables, you want to make sure you use a large baking sheet. These ones here should do the trick.
Spray everything with some olive oil, mixing well, so everything is evenly coated. Then add a pinch of salt and pepper and roast for 45 minutes, stirring every 15 minutes so that your veggies don't burn.
Couscous
While you're roasting the veggies, start making the couscous. I love couscous because it is so easy to make and healthy for you too.
It's an excellent source of selenium, a powerful antioxidant that can boost your immune system. If you need to stock up on some, you can get some here.
To make the couscous, boil some vegetable broth, and add your couscous. Then cover your pot and turn off the heat, wait 5 minutes, so your couscous soaks up all the broth. Once it has, remove the cover, and fluff it with a fork, so it's light and fluffy, and not one giant clump.
Chicken
While you're roasting the veggies, you also want to start making the chicken breasts. In a small bowl, add your spices for the chicken breasts, mixing well until it becomes like a paste.
If your chicken breasts are quite thick, you want to pound them with a mallet so that they're about three-quarter inches thick. Here's a kitchen mallet that's good quality.
Once your chicken breasts are thin enough, coat them with your paste and place them on a baking tray and bake for 20 minutes.
Since you'll be baking it at 400 degrees Fahrenheit, you can just bake your chicken while roasting your veggies. Once your chicken is done, let it cool down before slicing it.
Meal Prep Assemble
Once your veggies are done, take out the garlic, and using a garlic press, press the oil from the roasted garlic into your couscous. Don't forget this step… It makes the couscous extra yummy.
If you don't have a garlic press, here's a good-quality, yet budget-friendly garlic press.
Finally, mix your couscous with your veggies, add some chopped parsley, and top with slices of chicken. Bon appetit!
How to Store Roasted Vegetable Couscous Meal Prep?
Store the healthy meal prep in an airtight container to keep it fresh longer. I recommend these glass containers because they're not only airtight but also sustainable that will leak into your food.
Now glass containers tend to be heavier, so if you prefer a lighter container, you can use these BPA-free plastic containers here.
How to Make This Meal Prep Vegan?
To make this macro-friendly meal prep vegan, you can use chickpeas instead of chicken.
To make the chickpeas with couscous meal prep, simply rinse and drain your canned chickpeas.
Then add some olive oil to a large skillet over medium heat. Once the oil is hot, add your chickpeas and saute for approximately 5 minutes or until they are nice and golden.
Finally, turn off the heat and coat your chickpeas in the herbs and spices you would have used for the chicken, leaving out the olive oil.
How Long Does Chicken Meal Prep Last in the Fridge?
This chicken meal prep will last about 3 days in the fridge.
Other Recipes You Might Like:
Watch Full Instructions
Baked Herb Chicken Breasts with Couscous Meal Prep
Total Time:
1 hour
10 minutes
Baked herb chicken breasts with couscous is a cheap meal prep that's nutritious and filling. It's packed with protein and fiber, and, on top of that, full of flavors! A great option for packable lunch!
Ingredients
Couscous with Roasted Vegetables
2 zucchini
2 red bell peppers
1 yellow bell pepper
2 red onions
8 cloves garlic (peeled)
1 cup couscous
1.5 cups vegetable broth
1 cup parsley (chopped)
2 Tbsp olive oil
pinch of salt and black pepper
Baked Chicken Breast
4 boneless, skinless chicken breasts (2 lbs)
3 Tbsp olive oil
2 tsp dried oregano
1 tsp dried basil
1 tsp garlic powder
1/4 tsp salt
pinch of pepper
Instructions
Couscous with Roasted Vegetables
Preheat the oven to 400F (205C). Chop zucchini, red bell peppers, yellow bell peppers into 1-inch pieces. Slice onion and peel garlic cloves. Now place all of the vegetables, onion, and garlic on a large baking sheet.
Spray them with olive oil and toss to coat them as evenly as possible. Finally, add a pinch of salt and black pepper. Now, roast the vegetables in the oven for 45 minutes and make sure to stir them every 15 minutes.
Now, get a saucepan while you're roasting the vegetables. Bring vegetable broth to boil and add in the couscous. Cover it with the lid and turn off the heat, wait for 5 minutes until the couscous absorbs all the broth, and uncover the saucepan. Give the couscous a stir to make sure it's light and fluffy.
Baked Chicken Breast
While vegetables are roasting, combine oregano, basil, garlic powder, salt, and pepper with olive oil. Stir well, and it should form a nice paste.
Take out your chicken breasts, gently pound them with a mallet if they're a little thicker than usual. Cover them with the paste we've just made.
Bake in a baking tray for 20 minutes. Make sure you cool it down before slicing it.
Final Steps
Finally, combine couscous with roasted vegetables. Press in garlic and chop some parsley. Combine all the ingredients together and divide them into food containers.
Top it up with slices of chicken. Store in the fridge while tightly sealed for up to 3 days.
Nutrition Information:
Yield:

4 meal prep containers
Serving Size:

1 meal prep container
Amount Per Serving:
Calories:

633
Total Fat:

17g
Saturated Fat:

3g
Trans Fat:

0g
Unsaturated Fat:

11.5g
Cholesterol:

166mg
Sodium:

547mg
Carbohydrates:

56g
Net Carbohydrates:

48.5g
Fiber:

7.5g
Sugar:

9.7g
Protein:

61g
Nutritional values were obtained with automatic software using the amounts of products used. To get the most accurate representation of the nutritional values, you should calculate them with the actual ingredients used in your recipe. You are solely responsible for the nutritional information obtained to be accurate.