Have a pound of ground turkey at home? Make these delicious easy ground turkey recipes that'll make for a perfect dinner.
Ground turkey is one of those staples that many people rely on throughout their weekly meals. It's a lean type of meat that's great at absorbing flavor and typically pretty cheap.
The problem is, if you're so used to using something in your meals, those same recipes can start to feel repetitive. That's where this list comes in!
What Recipes Can I Make with Ground Turkey?
We will dive into thirty-one different recipes that put a delicious spin on ground turkey. Any recipes that use ground meat can be substituted with ground turkey, which is just lean protein.
Things like meatloaf, pies, curries and even shepherd's pie would be great to try with ground turkey. It's a versatile meat that soaks up flavor like a sponge!
Healthy Ground Turkey Recipes
As always, health does not have to mean sacrificing flavor! The following nine recipes are perfect examples of balancing taste and nutritional value.
When you need a healthy meal with simple ingredients, these recipes are just for you. They will become a family favorite and will become a full meal with a great side dish.
Try these healthy recipes and enjoy your ground turkey in a great way.
Source: greedygourmet.com
We all love a one-pan wonder, and it's even better if you're using your leftovers instead of wasting them. This leftover turkey curry ticks both boxes, making me a huge fan!
While this recipe is all about using leftover shredded turkey, you can quickly achieve the same result with leftover ground turkey. Warm, spicy, and full of flavor, this recipe is a must-try.
Source: wholesomeyum.com
Turn your next batch of nachos into a festival of health and color! These cauliflower nachos minimize fat to help your heart health, using lean turkey and cauliflower to produce something tasty.
This sheet pan recipe requires barely any effort beyond cooking the ground turkey to well-spiced perfection. Whack it in the oven with some cheese and serve to a crowd of excited guests!
Source: randaderkson.com
You can have a hale and hearty chili packed with protein in just under an hour. This is an ideal meal preparation recipe, mainly because the ingredients are cheap and straightforward.
It freezes well, so you can pull portions out of your freezer when you're ready to chomp down a bowl of this delicious concoction.
This could also be a nice healthy freezer meal with tomato sauce.
Source: maesmenu.com
This meal is so tasty that your mouth will just start watering at the mere sight of a photo! Dripping with cheese, this is guaranteed to satisfy everyone sitting down to eat.
I love using this as a weeknight meal because of how simple it is to whip up. In thirty minutes or less, you can have a quick dinner ready for the entire family, with barely any dishes to do once you've eaten.
Source: amandascookin.com
If you're looking for a recipe to sneak a few more vegetables into your diet, you've found it! These adorable zucchini boats are a great choice to get kids on board with this underrated vegetable.
When the sun is high, and the sky and zucchini are in season, I firmly believe there's nothing better you can do with this vegetable.
This cooking style keeps the meat super moist, and the flavors are to die for. This is a perfect college dinner.
Source: hildaskitchenblog.com
Seeking out a dish that tastes as impressive as it looks? This turkey pumpkin chili is packed with delicious spices, and it's served in a pumpkin! How cool is that?!
As you eat, you can scrape the inside of the roasted pumpkin, mining pieces of the delicious orange flesh to eat alongside the chili. This is a great healthy recipe to whip out at dinner parties.
Looking for a side dish? You'll love these side dishes for chili.
Source: wholesomefamilyliving.com
I know, I know. Blueberry turkey meatballs? Trust me; these are delightful little bite-sized morsels that are great for serving as an appetizer to your main dish (or as a snack!).
Using only five ingredients, you can transform your standard ground turkey into a treat for your tastebuds.
Shredded sweet potatoes act as the binding element here, so these walk the perfect line between sweet and savory.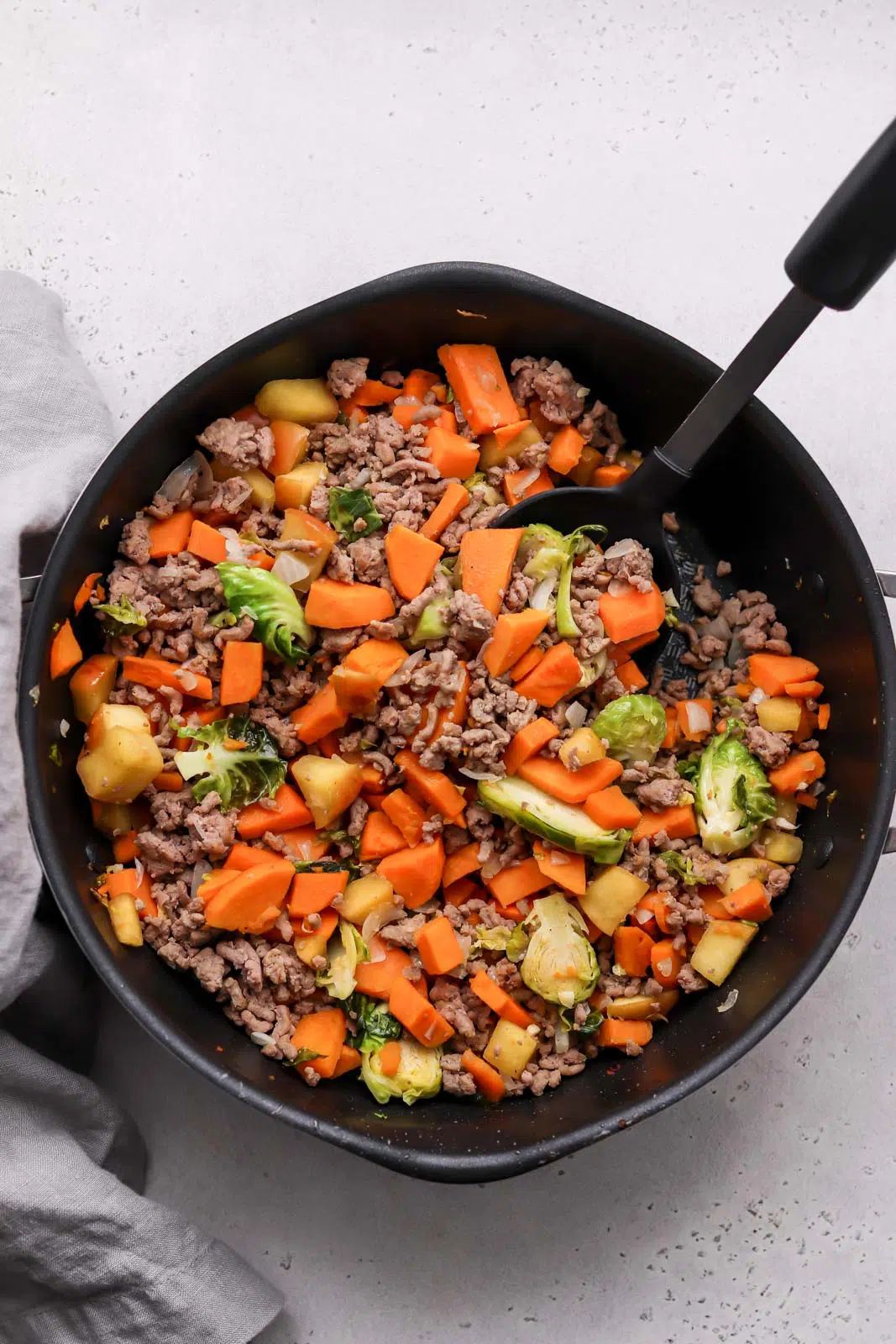 Source: monicanedeff.com
Speaking of turkey and sweet potato, here's another recipe that heroes that delicious combination. This skillet recipe is perfect for weeknight cooking, with plenty of vegetables and minimal dishes.
I also love using this recipe for meal preparation. Serve with brown rice or quinoa to keep that health theme going all week long!
Source: organicallyaddison.com
Our final healthful choice is a teriyaki bowl, but we're just using turkey instead of chicken! This is a simple and colorful dish that's sweet, smoky, and perfectly suited to a lean meat-like turkey.
Serve it up with some cauliflower rice to keep it light, or go with wheat wraps for a fiber-filled lunch you can take on the go.
This is a perfect meal for Sunday dinner.
Keto Ground Turkey Recipes
Going keto doesn't mean giving up all your favorite dishes; it just means getting a little creative! These next few easy recipes celebrate how you can enjoy ground turkey keto-style.
If you need to find favorite ground turkey recipes that are low carb yet absolutely delicious, these are perfect for busy weeknights.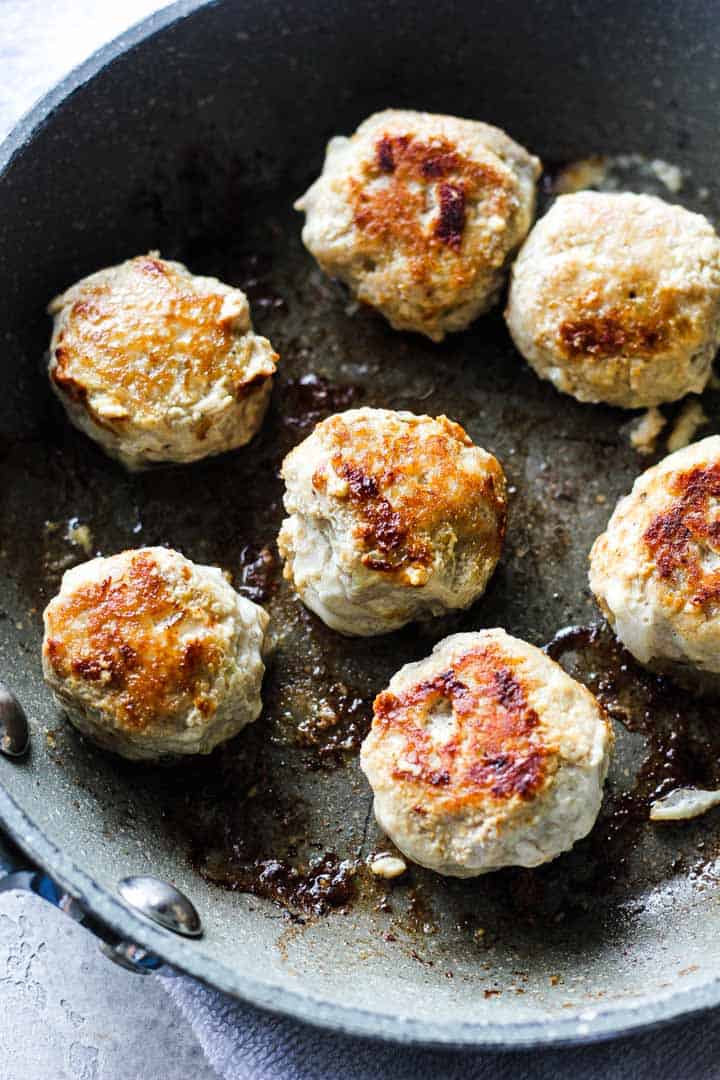 Source: thetopmeal.com
Meatballs typically use flour as a binding agent, but these substitute almond flour. Combined with the lean ground turkey, the almond flour lends a light earthiness perfect for this dish.
The key to delicious meatballs is letting them get a good char in the pan but not overcooking them. Serve these as part of a salad, with some dipping sauces as an entrée, or on a sandwich!
Need more recipes? Check out these Sunday dinner ideas.
Source: jenniferbanz.com
While traditional meatloaf uses pork, beef, or lamb, you can achieve that same smoky and hearty flavor with ground turkey. You just need to get a little creative with the spices.
The meatloaf is covered in an irresistible glaze that will have your mouth watering instantly. This great family meal will fill everyone's stomachs with a single slice, so it's great for Sunday dinner.
Source: agrillforallseasons.com
Finally, these smoked turkey burger patties are perfect for your keto-style burgers. Whether you serve them on a piece of lettuce, as part of a salad, or just on their own, they're utterly delicious.
There's something extraordinary about these burgers because the turkey is smoked! That brings out their flavor, adding the slightest smoky feel to the patties that goes a long way.
Serve this meal with these sides for burgers.
Instant Pot Ground Turkey Recipes
The Instant Pot is every home cook's best friend! You can leave your dish to its own devices until it's cooked to perfection, and the cooking happens fast enough to suit a weeknight meal.
Ground turkey and Instant Pots go together like two peas in a pod, as the turkey needs to stay moist while it cooks to avoid it becoming dry and stale.
Source: cleaneatingkitchen.com
Tired of white turkey chili? Whether you're shooting for Whole30 or not, this sweet potato turkey chili is a great Instant Pot meal to have in your arsenal. This is a dump-and-start meal, so there's virtually no effort needed.
Experiment with the vegetables you like to have in your chili. If you're not going for Whole30, you can make this chili with beans to add some extra protein.
Check out more cheap dinner recipes here.
Source: killingthyme.net
This ground turkey version is for you if you're hunting for a healthier alternative to sloppy joes. I might be so bold as to say this lean and mean version of sloppy joes is better than the original!
It's a quick and easy recipe perfect for your weeknight roster, and the sauce keeps the ground turkey moist. Take these along to your next potluck, and you'll have people clamoring for the recipe.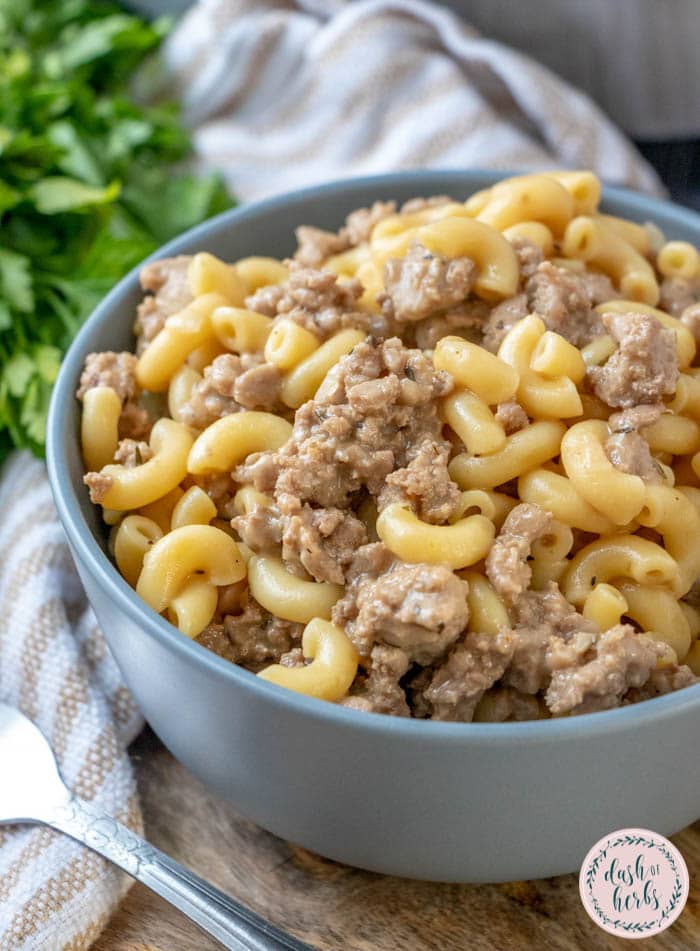 Source: dashofherbs.com
Macaroni and cheese with ground meat is a weeknight staple for many households, and this version is absolutely killer. Made with ease in your Instant Pot, this could also be a good meal prep recipe.
The key to nailing this recipe is not overcooking the pasta. Make sure you use the quick release mechanism rather than letting the pot depressurize slowly, as this keeps the pasta al dente.
Love crockpot recipes? Check out these ground beef crockpot recipes!
Source: killingthyme.net
Looking for easy dinner recipes? We've got tacos!
Tacos are the perfect meal for serving large crowds! They're dinner with some assembly required, which takes a load off your shoulders. Everyone can make their taco in their image!
The ground turkey is an excellent canvas for a Mexican spice palette, soaking up all those warm and vibrant flavors to create maximum taste. Taco seasoning happens to go great with turkey!
Serve these with corn tortillas and make it a great addition to your meal plans! And find more sides for tacos here.
Source: veronikaskitchen.com
Tacos are a great dish in summer, but taco soup is the perfect winter recipe. Warm, hearty, and packed with spices, this delicious soup will warm you up from the inside out.
This soup has all the flavors of a great taco spread, but with even less work! Simply toss all the ingredients in the Instant Pot and let it cook away until the broth is deep and delicious.
Source: thebrooklynmom.com
A solid lettuce wrap is an excellent choice for a weeknight meal or your work and school lunches! The main component is the spiced ground turkey, packed with all different kinds of veges.
Surrounding that turkey is your chosen lettuce; I'd like to recommend butter lettuce. It's crisp and flavorful, and the look of that bright green against the edamame elevates this dish's look even more.
Ground Turkey Soup Recipes
No cool winter evening is complete without a warm bowl of soup to clutch by the fire. These delicious turkey soup recipes keep the lean meat moist, which is the best way to appreciate it.
Source: savorywithsoul.com
This incredible recipe has a fantastic, protein-filled soup in less than an hour. If you're using dry lentils, the only preparation you need to worry about is soaking them for a couple of hours first.
Otherwise, you need to do nothing other than getting those ingredients in the pot and get the soup simmering. This is perfect for weeknights to avoid doing a hundred dishes!
Source: thelazyslowcooker.com
The following recipe has 'lazy' in the title, so you know it will be good. After all, lazy cooks are the best because they figure out the easiest way to get the best results.
This turkey burger soup has a deep red broth surrounding various delicious ingredients. Packed with protein and nutrients, it's the perfect way to sneak vegetables into your little ones' diets!
Find more easy crockpot ground beef recipes here.
Source: savorythoughts.com
Similarly, this turkey taco soup takes the tacos everyone knows and loves, transforming them into hearty soup. One glimpse of this will have your dinner guests inhaling their bowls.
The moist turkey absorbs all the delicious flavor hiding in the broth, so the flavors in this recipe are unforgettable.
Source: nibbleanddine.com
This is sweet potato soup like you've never had before. Chunks of perfectly-cooked sweet potato adorn a bowl of delicious orange broth, all capped off with flavorful turkey and croutons.
With how good this soup looks, you might think it takes a lot of effort and time, but it's just the opposite. So simple! Plus, it stores well, so you can enjoy this any time of the week you like.
You could also just make this recipe in a crockpot. Check out these cheap crockpot recipes.
Source: theroastedroot.net
This is a great summer soup recipe that celebrates everything in season. The vegetables are cooked down just enough, but not so much that they get too soft, and the broth is delicious.
Gentle on your digestion but wonderfully filling, this is a great soup to reach for if you're feeling like a soup in the warmer months.
Source: straighttothehipsbaby.com
Our final soup celebrates one of the most well-known superfoods: kale! Kale is so underrated, especially as a soup ingredient, so I'm glad this recipe shows its strengths.
Aside from the tasty vegetables and light broth, this is a great recipe because of the turkey meatballs. You can prepare the meatballs ahead of time, so the soup is even simpler!
Love this recipe? Check out more cheap dinner ideas!
Best Ground Turkey Recipes
Which delicious recipes are the ones that will end up in your weekly roster, guaranteed? Which ones have you reaching for them repeatedly simply because they're so quick, easy, and delicious?
Find wonderful recipes that have much flavor and not a whole lot of cook time. You can try them for a perfect easy weeknight dinner for the whole family.
Source: courtneyssweets.com
First off, the blocks are a baked turkey meatball recipe that shows you don't have to spend hours in the kitchen to make something delicious. These meatballs are so simple and tasty!
You can have enough meatballs ready to serve your entire family in just twenty-five minutes and have some leftovers for lunch. Serve on pasta, with rice, on a sandwich; whatever you feel like!
Source: spendwithpennies.com
Ground turkey doesn't typically turn up in many Asian cuisines, but it's a great0-0 substitute for chicken meat, which certainly does! This sesame ground turkey bowl recipe is a total winner.
Vibrant in both color and flavor, these bowls celebrate the sweet and tangy flavors Asian food is well-known for.
Source: maesmenu.com
What's better than a perfect pasta bake? One you don't have to boil the pasta for, of course! This delicious pasta bake is golden and crunchy once it comes out of the oven.
Little pockets of cheese and sauce dot this delicious casserole, so every bite is like a new adventure. While the recipe uses spaghetti, you can also use fettuccine or another slim pasta variety.
Need more ground meat meal ideas? Check out these ground venison recipes.
Source: wholesomemadeeasy.com
Sick of meatloaf that's way too heavy to get through? This turkey meatloaf is light and juicy, but the BBQ glaze adds that delicious smokiness we're all looking for in a meatloaf.
This recipe is a great one to add to the weekly rotation. You can dress it up or dress it down depending on the sides you choose.
Source: wholesomeyum.com
Stuffed peppers are an excellent treat for the warmer months, with a vibrant look and strong, hearty flavors. You can whip up the filling in ten minutes flat; then, it's just a matter of baking the peppers.
Serve with a few choice taco toppings, like avocado or salsa, and watch them disappear!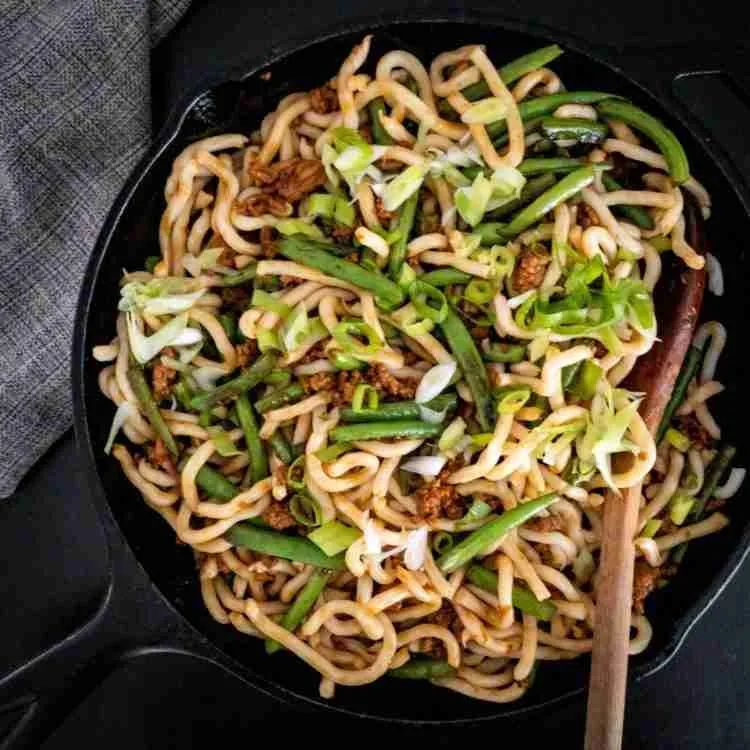 Source: thepyperskitchen.com
A classic stir-fry is the ideal meal preparation meal. You only need one pan to make it, it's full of healthy vegetables, and you can make large amounts to stretch over the whole week.
This udon take on stir fry uses deliciously thick noodles to soak up the sauces, so each bite is permeated with punchy Asian flavors.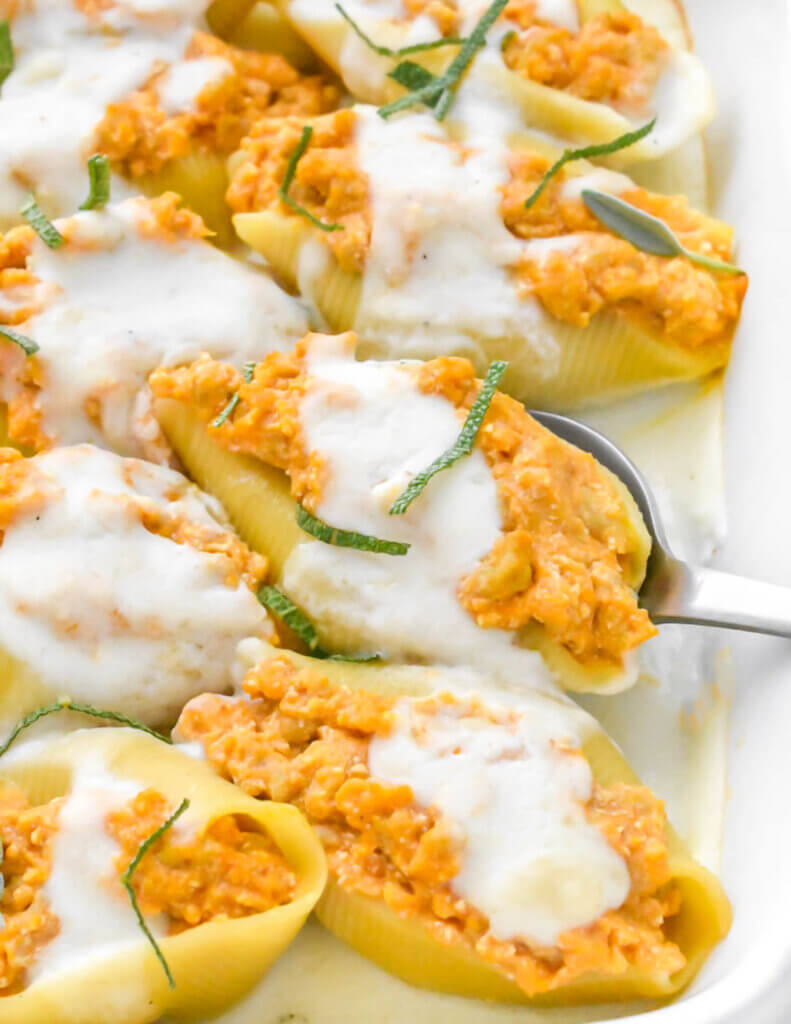 Source: herbsandflour.com
Our final recipe is another one that's bound to impress with its visuals and taste! Stuffed pasta is a treat like no other, with a texture to die for and a flavor to match.
These ground turkey stuffed shells are fantastic because the turkey is there to provide protein and a delicate savory flavor. The sweet potato takes care of the rest with its delicious natural sugars.
What are you waiting for? Give it a try!
31 Best Ground Turkey Recipes for Next Dinner
Got some ground turkey? Make these wonderful Ground Turkey Recipes that taste absolutely delicious. Easy and yummy!
Ingredients
1. Leftover Turkey Curry
2. Healthy Cauliflower Nachos with Ground Turkey
3. Turkey Chili
4. Ground Turkey Sweet Potato Skillet
5. Zucchini Boats
6. Turkey Pumpkin Chili
7. Blueberry Turkey Meatballs
8. Ground Turkey Sweet Potato Skillet with Brussels Sprouts & Apples
9. Ground Turkey Teriyaki Bowls
10. Turkey Meatballs with Almond Flour
11. Turkey Meatloaf
12. Smoked Turkey Burgers
13. Sweet Potato Turkey Chili
14. Ground Turkey Sloppy Joes
15. Cheesy Pasta with Ground Turkey
16. Ground Turkey Tacos
17. Taco Soup
18. Ground Turkey Lettuce Wraps
19. Turkey Lentil Soup
20. Lazy Turkey Burger Soup
21. Ground Turkey Taco Soup
22. Turkey Sweet Potato Soup
23. Hearty Ground Turkey Soup with Vegetables
24. Turkey Meatball Soup with Kale
25. Baked Turkey Meatballs
26. Sesame Ground Turkey Bowls
27. No-Boil Pasta Bake with Turkey
28. Turkey Meatloaf with BBQ Glaze
29. Turkey Taco Stuffed Peppers
30. Udon Stir Fry
31. Turkey and Pumpkin Stuffed Shells
Instructions
Scroll up to get a bunch of easy, yummy, and delicious recipes. Don't be afraid to get creative with the ingredients, you might discover a flavor you didn't know you liked.
Get your shopping list going and make sure you've got all the ingredients.
Get cooking and make your next Ground Turkey Recipe!
Notes
Which one of these recipes was your favorite? Let me know in the comment section or on Pinterest!