Wondering what to serve for dinner tonight? These quick dinner recipes for tonight are easy, delicious and great for family.
What's in a name, or in this case, a dinner? It needs to be simple, nutritious, and above all, it needs to be tasty.
But with the overwhelming amount of choices for easy dinner recipes out there on the Internet's backroads, how can you know which recipe to try on busy weeknights?
Not to worry, I've got you covered with these simple dinner ideas. Check out this curated list of quick and easy dinner ideas that satisfy your and your family's cravings
What's a Good Idea for Dinner Tonight?
If you're stuck on easy weeknight dinner ideas on the day you plan to cook; it's best to opt for something simple with a delicious payoff. Sheet pan recipes, one-pot, and pressure cooker recipes are all great for easy dinners.
Any healthy dinner that requires minimal meal planning and clean-up and delivers large portions easily is in the weeknight dinner hall of fame. That's why I've populated this list with plenty of those options for you.
What are Popular Dinners?
This answer will vary from country to country, but the most popular dinner structure tends to be protein, starch, and a few vegetable options.
In Japan, this might look like sushi or sashimi. In Mexico, it might be a delicious pozole. Germany, this might look like fragrant currywurst.
What Should I Cook for Family Dinner?
I always find it's best to start with what you have in your fridge or pantry. Avoid unnecessary trips to the grocery store next time and get acquainted with the hidden gems that might be stalking in your pantry to make your new favorite recipes.
From there, you can get creative with substitutions. Want to make macaroni and cheese but only have spaghetti? Go for it, that's the point of easy recipes!
Ensure you round out each meal with plenty of vegetables to keep your family's nutrition levels up. It's super easy to hide pureed or diced vegetables in all weeknight dishes.
So, are you ready to find what you'll have for dinner tonight? Let's dive right in!
Chicken Dinner Ideas for Tonight
Chicken is a super versatile ingredient with a lot of different uses. It's easy to cook, cheap to access, and it absorbs flavor like a sponge. What's not to love?
Source: allnutritious.com
Let's kick off our list with an ultra-convenient yet delicious chicken dinner: Greek sheet pan chicken. Cooked on a single pan in the oven creates barely any dishes!
Let the Greek flavors of red peppers or whichever color bell peppers you have access to, and fresh herbs whisk you away to the Mediterranean tonight.
Check out more easy sheet pan dinners!
Source: allnutritious.com
Speaking of sheet pan chicken, use this recipe to minimize effort and maximize taste. You can cook your main protein of chicken breasts and side dish together on a single pan, so both elements are ready together!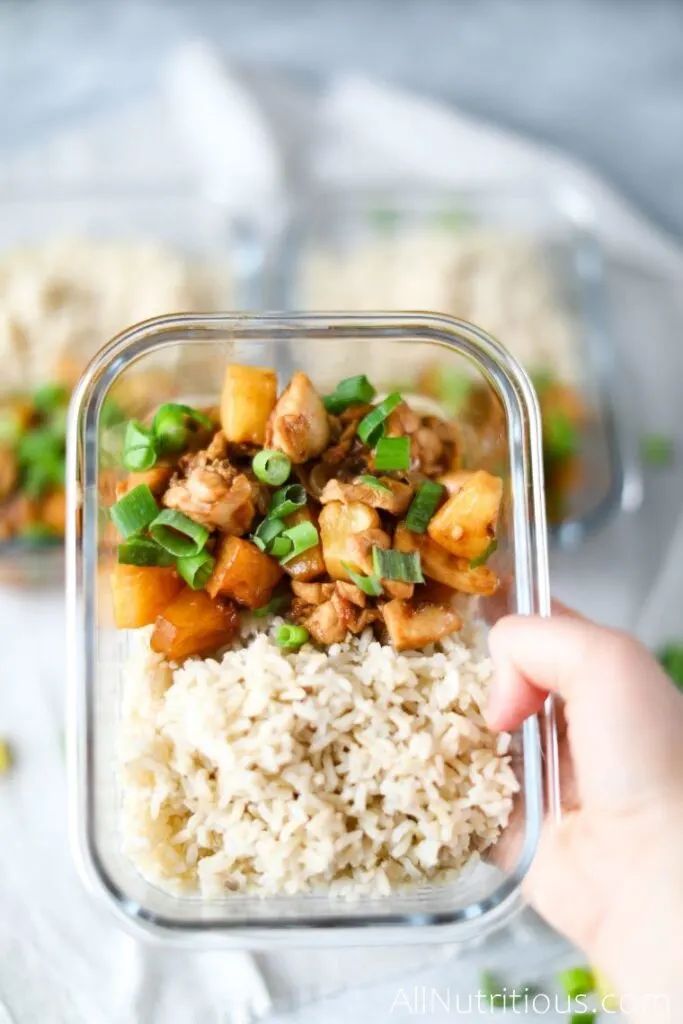 Source: allnutritious.com
This next dish is one of mine, and I can't recommend it enough! Enjoy sticky sweet pineapple on tender chicken. You just need a single pan and a few ingredients to make this dish happen.
Serve it up on a bed of rice or make it in bulk for your weekend meal preparation. With a recipe this easy, the possibilities are endless.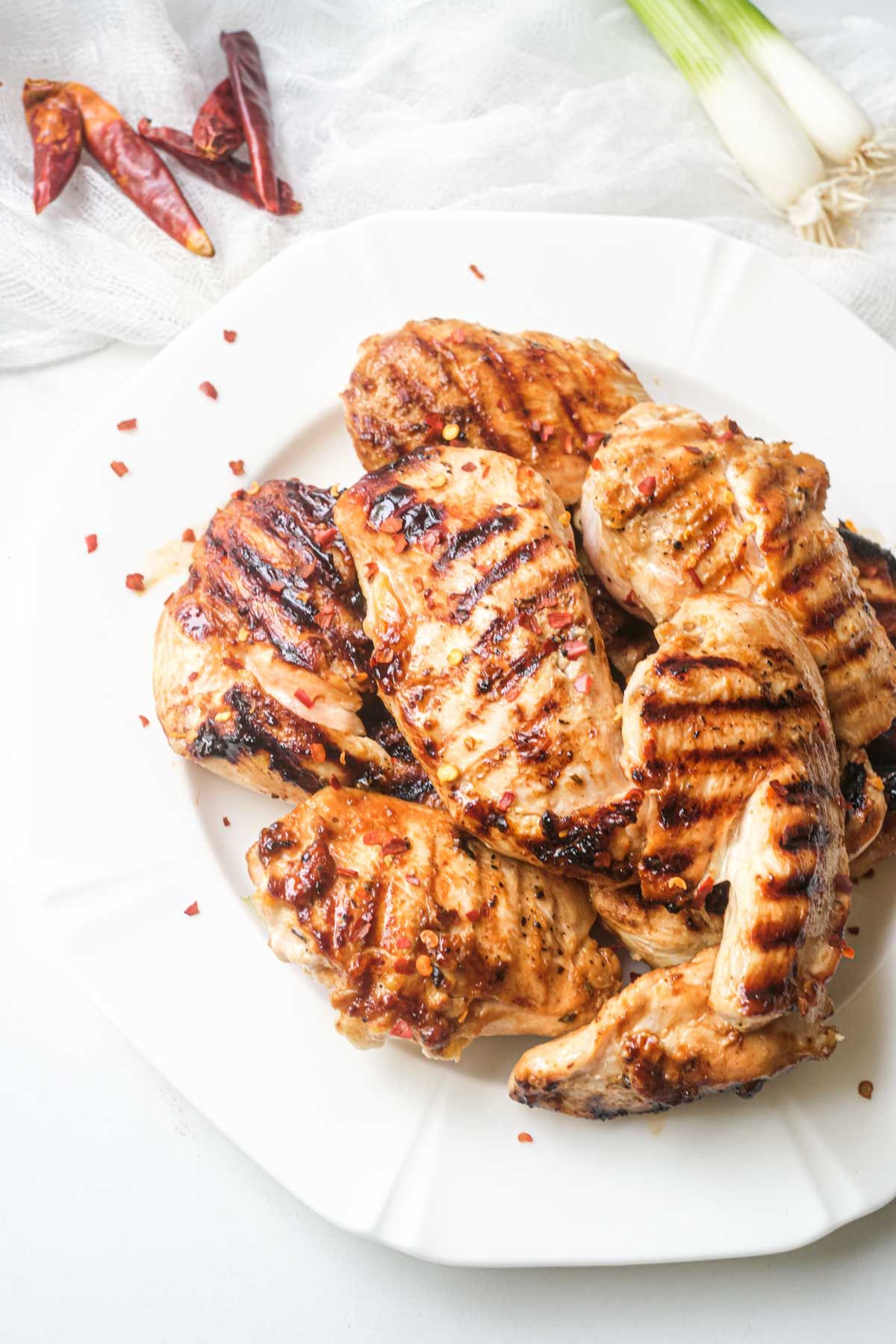 Source: recipesfromapantry.com
These Asian-inspired grilled chicken tenders are a great crowd pleaser. Bursting with the sweet and spicy flavor of honey and soy sauce, they're perfect on top of everything from salad to stir fry.
If you put this on the family dinner table tonight, I guarantee everyone will be delighted.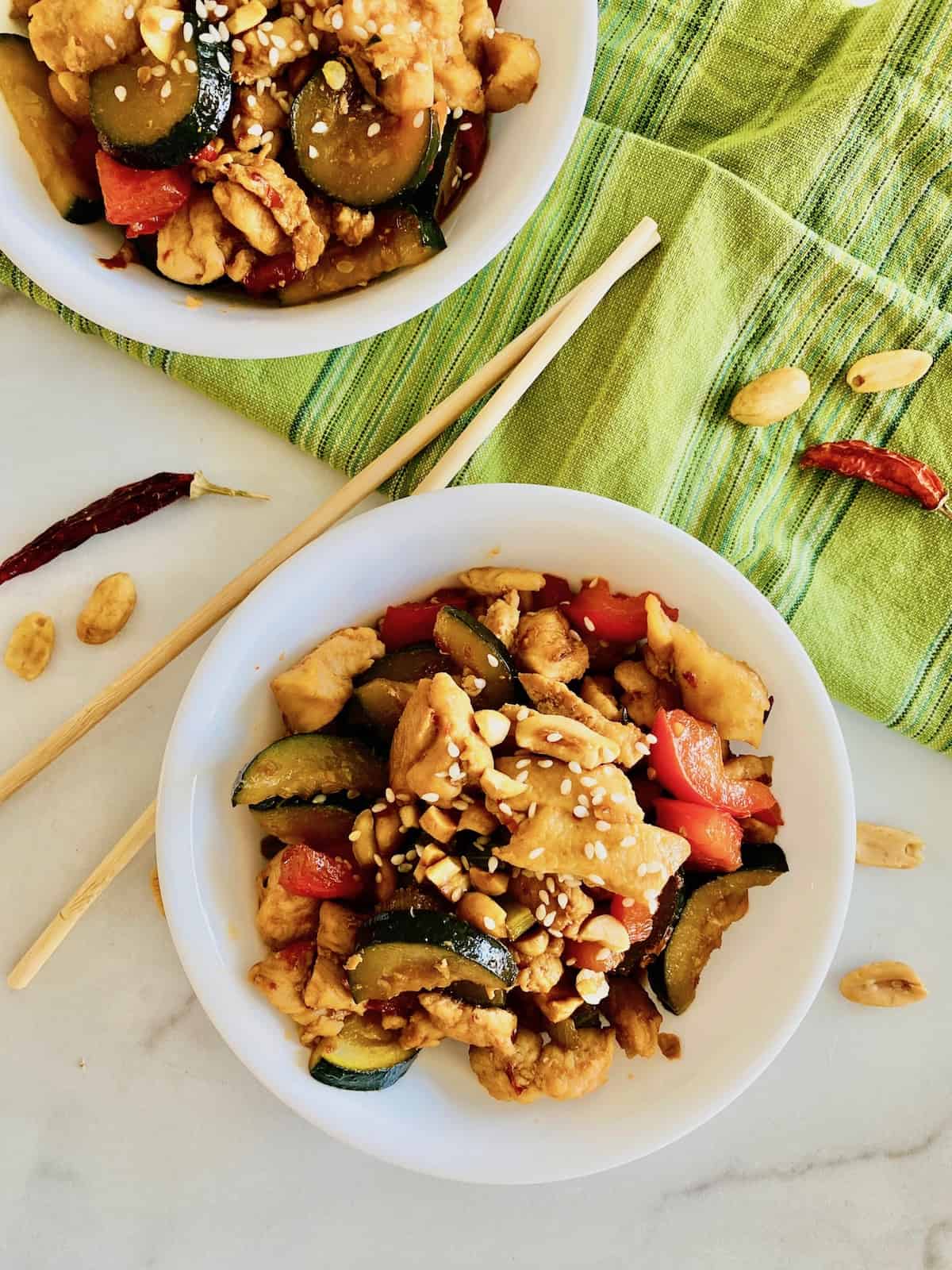 Source: theshortordercook.com/
Are you feeling a craving for fast food? Don't take out; make in! This delicious keto Kung Pao chicken recipe is a hundred times better than anything you can buy at a food court.
Plus, it's full of vegetables and delicious natural ingredients, so it's much healthier than a paper box of Kung Pao chicken.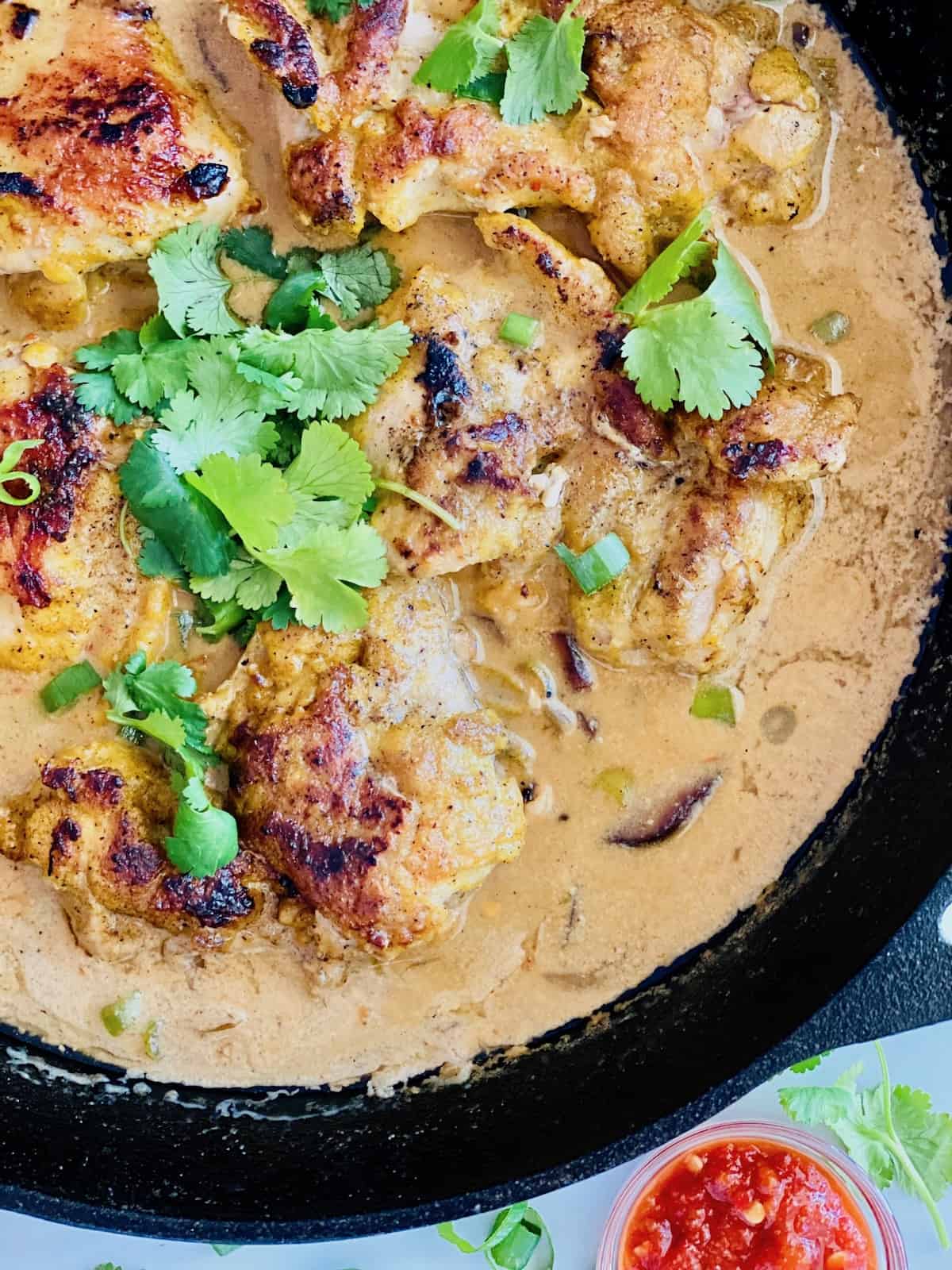 Source: theshortordercook.com
Coconut milk is such a versatile ingredient! It goes with every protein, offering the perfect base for a rich and spicy sauce or broth.
If you have a can of coconut milk in your cupboard right now, you've got to try this super simple recipe. Let your spice drawer speak for you in creating this heavenly dish.
Source: moneywisemoms.com
Your slow cooker is the ultimate weapon in the fight against weeknight indecision. Crank out this slow cooker salsa chicken with only a few minutes of preparation in the morning.
Serve the deliciously juicy chicken over rice, shredded in tacos, or even on a salad for a healthy option.
Find more easy crockpot recipes.
Source: theforkedspoon.com
Honey and mustard are a flavor combination dreamt up in heaven. The earthy mustard and sweet, sticky honey complement each other perfectly, especially on a crispy chicken thigh.
Whip up these honey mustard chicken thighs in no time to act as the centerpiece of your meal. This also works well as a meal prep recipe!
Family Dinner Ideas for Tonight
Feeding a family tonight? Choosing a recipe that suits everyone's tastes can be a challenging task, but each of these recipes should fit the bill.
Source: allnutritious.com
Feed your family with just one pan tonight! This salmon sheet pan recipe is my invention. It features a vast range of deliciously healthy vegetables.
The main event is a perfectly-cooked piece of salmon with a sweet, sticky glaze that will have everyone's mouth-watering, guaranteed.
Source: allnutritious.com
This is another sheet pan recipe of mine, but we're heroing pork chops this time! Pork chops are a great last-minute meal idea. They're tender and juicy but don't require much effort to cook.
Best of all, this is an easy meal the whole family will be on board with!
Source: cassidyscraveablecreations.com
I've never met a deep-dish pizza I didn't like, and your family will love this one. Embrace the keto lifestyle while enjoying a slice of delicious goodness, thanks to this simple recipe.
This recipe is a great way to spend some quality cooking time with your kids!
Source: becomingness.com
Are you looking for a warm and hearty winter dish? These oven-baked lamb cutlets feature an array of delicious roasted vegetables. The result is a filling, nutritious, and utterly delightful dinner.
Plus, it's super easy to make! All you need is a deep baking dish and your chosen supplies to get going.
Source: lovefromtheoven.com
Don't give in to the fast food cravings! Instead, bring the takeout into your kitchen with these unbeatable cheeseburger sliders. This is a fantastic dish to enjoy on a hot summer night.
Your family will absolutely love every bite of these deliciously juicy sliders. Serve solo or with chips to cap off the meal.
Source: apaigeofpositivity.com
Enjoy the simplicity of a single-pan dish but with all the flavor complexity of a restaurant-quality dish. This recipe substitutes chickpea noodles for potatoes to make it even healthier.
The mellow and cheesy topping perfectly contrasts the hearty mince hiding beneath. This is a great freezer meal as well!
Source: cookingorgeous.com
I've said it before, and I'll say it again; the air fryer is the ultimate convenience tool. These homemade fish sticks are so deliciously high-quality but only take twenty-five minutes!
Serve them on a bun or with a pile of chips to create a stunning family-friendly dish from scratch in no time at all tonight.
Source: hungryhealthyhappy.com
Here's a unique spin on the classic Shepherd's pie that embraces all the qualities of hearty British cuisine. This is a fantastic dish for using up any leftover meat or vegetables.
After all, that's where the idea for Shepherd's pie originated!
Pasta Dinner Ideas for Tonight
Even the most straightforward pasta meal is comforting and warming, so it's an excellent start for an impromptu dinner. From classic feta tomato to tasty spinach salmon, check out these delicious pasta recipes for tonight.
Source: kitchenmason.com
Enjoy a unique and delicious pasta dish with just a few simple ingredients. This is an ultra-easy pasta dish that feels as if it just stepped off the menu at a high-class restaurant.
Whether you're cooking for a last-minute date or want to treat yourself, this is the one for you.
Source: theshortordercook.com
Searching for a delicious dinner recipe that's leftover friendly? Well, look no further! Whip up a big batch of this Pasta al Forno and enjoy it twice, once tonight and again for lunch tomorrow.
Allowing the pasta to sit overnight encourages the flavors to intermingle, so it tastes better the next day.
Source: budgetdelicious.com
There's nothing better on a game day than a delicious buffalo chicken dish. This pasta bake is a great go-to meal for unexpected gatherings because you need barely any ingredients!
It's also an excellent base for creating your signature pasta bake since you can add anything to the mix.
Love chicken pasta? Give this chicken zucchini pasta a try!
Source: thefoodblog.net
Step away from the same creamy pasta dishes you're used to and try something unique. This delightful spinach and salmon pasta is a great way to use leftover salmon from last night.
Trust me; this creamy and vibrant pasta dish will immediately become your new favorite salmon meal.
Source: thebellyrulesthemind.net
Next up, we have an effortlessly nutritious pasta meal that's as delicious as simple to make. Enjoy fresh broccoli, chili, and a creamy sauce poured over perfectly-cooked pasta.
You can have this meal ready to go in no time at all. Feel free to add chicken or chickpeas for additional protein!
Source: thebellyrulesthemind.net
In the mood for Mexican but only have pasta in the house? This black bean pasta proves that you can enjoy Mexican flavors any way you like!
This super nutritious, bold, vibrant pasta celebrates all the possibilities hiding in your spice drawer.
Source: livingsmartandhealthy.com
If you have some vodka on hand, this is an Instant Pot recipe you've got to try! It's super quick and straightforward. The result is a bowl of fragrant tomato pasta begging to be gobbled up.
This is also fantastic for lunch the next day, as the pasta keeps beautifully.
Source: veganhuggs.com
Finally, who says meat eaters get to have all the fun? This delightful vegan carbonara substitutes tofu bacon and a deliciously silky sauce for the traditional bacon and egg in a carbonara.
Even if you're not vegan daily, you'll want to try this delicious meal. Who knows, it might convert you!
Dinner Ideas with Ground Beef
Ground beef is a fantastic ingredient for weeknight dinners. Buy it on sale and store it in your freezer, ready to use when those red meat cravings strike!
From nachos to mac and cheese, let's dive into the many ways ground beef can work for you.
Source: joyfoodsunshine.com
Let's kick things off with a classic: beef tacos. This is a great recipe to have up your sleeve if you're serving many people tonight, especially if they're picky eaters!
You only need a few ingredients to deliver an out-of-this-world taco spread to the table.
Source: deliciousonadime.com
Firing up the grill tonight? Make these ground beef kebabs the main event! These spicy and fragrant skewers are deliciously juicy. The best part is that they're easy to make with minimal ingredients.
Let your spice cabinet do the talking. Serve the skewers on their own or as part of a bigger spread to beef up dinner tonight.
Source: eazygrub.com
Tired of the classic macaroni and cheese? This beefy tortellini version is the delicious remix you've been waiting for.
With spicy, bold flavors overlaying the tried-and-true mac and cheese, you won't be able to stop going back for more! Like traditional mac and cheese, this is also great for meal prepping.
Source: goodiegoodielunchbox.com.au
Take the simple yet delicious route with a plate of beef nachos. This is a great family recipe to lean on, offering everyone a chance to make their plate to their taste.
The beef on the nachos takes just twenty minutes to bring together; then the rest is up to a good smattering of toppings!
Source: drivemehungry.com
Yaki udon – or fried noodles – is a staple dish in many Japanese homes. Made with beef, this is a hearty and delicious meal that's packed with nutritious vegetables, all coated in a tangy sauce.
In other words, there's no better way to celebrate your ground beef than this recipe!
Source: honestandtruly.com
Looking for something insanely quick and easy? This next recipe fits the bill! Enjoy minimal dishes and maximum flavor with this cheesy beef and rice casserole.
This is a great dish to dig out if you don't have much in your cupboards. It uses just a few staple ingredients, but the result tastes gourmet.
Source: masalaherb.com
Looking for a healthier alternative to a burger or chicken parm? These stuffed zucchini boats are coming to the rescue! Bursting with tomato and melted cheese, each bite is to die for.
Plus, they're super simple to make in just one pan. Impress your guests with this Italian dream dish.
Source: garlicsaltandlime.com
Speaking of healthy alternatives, this next dish is a great way to celebrate Mexican flavor without the starchy tortilla.
Cooking your ground beef in these peppers keeps it deliciously juicy, especially when the entire affair is capped off with a smothering of melted cheese.
Indian Dinner Ideas
Indian cuisine is bold, flavorful, and very nutritious. Even better, it exemplifies using what you have at home to make something delicious.
If you're looking to branch out with your flavors tonight, pick one of these dishes to try.
Source: masalaandchai.com
In my opinion, all paneer recipes are a triumph, but this one might just take the cake. Do you know that swiss chard no one is sure how to use? This is the best way to make it work for you!
Freeze the blended chard in blocks, ready to go, and you can have this dish prepared in mere minutes.
Source: plantbasedandbroke.com
Instead of chicken, make your favorite sweet and buttery curry with the can of chickpeas hiding in your pantry. This is a great last-minute dinner that tastes as good as it smells.
Source: paintthekitchenred.com
With this stunningly fragrant chicken korma, your Instant Pot will be your best friend tonight. Use your last can of coconut milk and a liberal sprinkling of spices to bring this recipe to life.
Serve over fragrant white rice for a delicious meal requiring only ten minutes of hands-on prep time.
Source: nourishplate.com
This is another dal recipe you can try, but this time, it's a little bit citrusy. Whether using canned lentils or soaking dried ones, the result is a light and creamy soup perfect for spring.
Try your hand at making naan or roti to serve with this delightful soup!
Source: moonandspoonandyum.com
Got an eggplant in the pantry that's on its last legs? Give it new life with this delicious aubergine curry. It's fragrant, flavorful, and packed with vitamin-rich vegetables.
This curry is fantastic as leftovers as well. Leave it to sit overnight and allow all the flavors to mingle for an even richer flavor.
Source: plantbasedandbroke.com
If you don't have any chicken or chickpeas handy, this delightful tofu butter chicken recipe will come to your rescue!
Whether you're catering to vegetarians or a meat-eating crowd, the result is the same with this dish: a bunch of satisfied customers.
Quick Dinner Ideas
Finally, we come to every home cook's favorite category for a weeknight meal: quick. Just because you can make these dishes quickly doesn't mean they're overly simple.
No matter which one you pick, you can be sure you'll be enjoying a delicious dinner tonight without sweating over it.
Source: temeculablogs.com
Ramen is a Japanese dish known for its long cooking time, but the Instant Pot allows you to overcome that obstacle.
Enjoy a delicious depth of flavor and perfectly-cooked toppings with this Instant Pot ramen recipe.
Source: apaigeofpositivity.com
Craving Chinese food? Make your version of takeout home with this delicious beef and broccoli stir fry recipe. It's so quick and easy that you'll feel like you're cheating.
The best part about this recipe is that it's great for cheap cuts of beef since the marinade tenderizes the meat.
Check out more recipes with these college dinners!
Source: pressurecookrecipes.com
Looking to get a little bit fancy this evening? Then this Instant Pot shrimp is the way to go. You only need three ingredients to make these shrimp sing, so it's super last-minute friendly!
Serve these as a starter for a larger meal or on a bed of fragrant rice for a quick and easy gourmet delight.
Source: mondayismeatloaf.com
Get a delicious dinner on the table in just thirty minutes, thanks to this outrageously tasty smoked sausage and potato recipe. Your Instant Pot will be your companion here.
You'll only need to sacrifice about ten minutes of preparation time. The rest is up to your Instant Pot! Keep this recipe on file for cold winter evenings when you need something hearty to warm you.
Source: servedfromscratch.com
Achieve these stunning sweet and spicy noodles in just twenty minutes! Put the packet of ramen down and treat yourself to a delightful dish that requires almost no effort to create.
Best of all, this recipe uses very few ingredients. So, if it's been a little too long between grocery shops, this recipe is your new best friend.
Source: recipesfromapantry.com
Want the taste of enchiladas without all that additional effort? This Instant Pot enchilada rice will deliver on that flavor in spades. Upgrade taco night with a bowl of this tasty gourmet rice.
Stuff this full of any vegetables you like! The spices provide a safe harbor for any vegetables added to the mix.
Source: cookinginchinglish.com
This recipe only takes ten minutes. You heard me, ten minutes! This is a must-have recipe for rushed weeknights or lazy Sunday evenings.
Enjoy rich Cantonese flavors with just a few classic condiments pulled out of your cupboard, without hours spent bent over the stove.
Source: bonappeteach.com
If there's one thing I know, it's that almost every protein is better when you stir fry it. This salmon stir fry certainly makes my case with its sweet, sticky glaze and abundance of nutritious vegetables.
Serve this up solo, or add a bed of rice or noodles to the mix for a fully-realized weeknight meal. You can also whip up a big batch on Sunday to cater to your meal-prepping needs!
Source: hungryhealthyhappy.com
That's right; you can even cook steak in your air fryer! This way, you use very little oil, so it's a super healthy way to prepare your steak.
I highly recommend marinating your steak before frying it. A quick and easy marinade goes a long way toward making cheaper cuts of beef feel gourmet.
Love it? You might also enjoy these chuck steak recipes!
Source: clankitchen.com
Whisk yourself and your family off to the Mediterranean with this delightful baked cod recipe. If one of you is an avid angler who just brought back a haul, this is the perfect way to celebrate it.
Bask in the feeling of sunshine as garlic, lemon, butter, and cilantro all vie for your attention on this stunning fish.
Source: fitasafiddlelife.com
Next up, we have one of the simplest ways to achieve a lasagna! Instead of spending hours layering all those pasta sheets, just reach for your skillet.
This creative recipe will provide you with all the lasagna flavor in just under an hour. All you need are some classic Italian pantry staples like pasta sauce, some pasta, and a few aromatics.
While this recipe calls for ground turkey, you can easily substitute beef or chickpeas to achieve a similar result. Work with what you've got!
Check out more ground turkey recipes here.
Source: therusticfoodie.com
Second, to last on our list is a vibrant and refreshing bowl just bursting with Mexican spices. This bowl celebrates seasonal, fresh ingredients in their best forms.
This is the way to do it if you have some shrimp waiting to be used. Each juicy little shrimp oozes a smoky flavor, while the fresh vegetables on top bring the whole dish back down to earth.
Source: mommyevolution.com
Our last dish takes us from Mexico to Italy! This chicken mozzarella puts a cheesy twist on the classic chicken parmesan, embracing melted mozzarella rather than sharp parmesan.
This is an excellent choice if you don't have enough parmesan in the house for the classic Italian dish. Alternatively, it's also a great crowd-pleaser to integrate into your weekly meal rotation.
So, which of these recipes will hit the table at your place tonight? Comment below and let me know!
What's for Dinner Tonight: 51 Best Dinner Ideas
What's for dinner tonight? These easy, quick dinner recipes are easy to make and taste delicious.
Ingredients
1. Greek Sheet Pan Chicken
2. Sheet Pan Chicken and Sweet Potatoes
3. Spicy Pineapple Chicken
4. Grilled Chicken Tenders
5. Keto Kung Pao Chicken
6. Creamy Coconut Chicken
7. Slow Cooker Salsa Chicken
8. Honey Mustard Chicken Thighs
9. Salmon Sheet Pan and Veggies
10. Sheet Pan Pork Chops
11. Deep Dish Pizza
12. Baked Lamb Cutlets with Potatoes
13. Cheeseburger Sliders
14. Healthy Skillet Shepherd's Pie
15. Air Fryer Fish Sticks
16. Sausage and Mash Pie
17. Feta Tomato Pasta
18. Baked Pasta
19. Buffalo Chicken Pasta Bake
20. Spinach Salmon Pasta
21. Creamy Broccoli Pasta
22. Black Bean Pasta
23. Penne Alla Vodka
24. Vegan Carbonara
25. Tacos
26. Ground Beef Kebabs
27. Beefy Tortellini Mac and Cheese
28. Beef Nachos
29. Yaki Udon with Beef
30. Cheesy Beef and Rice Casserole
31. Ground Beef Stuffed Zucchini Boats
32. Taco Stuffed Peppers
33. Saag Paneer
34. Chickpea Curry
35. Chicken Korma
36. Lentil Dahl
37. Aubergine Curry
38. Vegan Butter Chicken
39. Instant Pot Vegetable Ramen
40. Beef and Broccoli Stir Fry
41. Instant Pot Shrimp
42. Sausages, Green Beans and Potatoes
43. Sweet and Spicy Noodles
44. Enchilada Rice
45. Beef and Egg Rice Bowl
46. Salmon Stir Fry
47. Air Fryer Steak
48. Baked Cod
49. Skillet Lasagna
50. Mexican Shrimp Rice Bowl
51. Chicken Mozzarella
Instructions
Scroll up to get a bunch of easy, yummy, and delicious dinner recipes. Don't be afraid to get creative with the ingredients, you might discover a flavor you didn't know you liked.
Get your shopping list going and make sure you've got all the ingredients.
Get cooking and make your next Quick Dinner!
Notes
Which one of these recipes was your favorite? Let me know in the comment section or on Pinterest!