Cannot find a great side dish that goes well with steak? How about 37? From salads to cheesy veggie roasts, here are the ultimate list of the best sides for steak!
If steaks are on the menu tonight, you are probably looking for the perfect partner for your juicy entrée. But choosing what to serve with steak shouldn't be overwhelming.
Combing through the culinary side of the web, I've compiled a list of 37 of the very best side dishes for steak that will complement and transform your protein-packed dinner.
Whether looking for a comforting salad, a creamy mash, crispy wedges, or something to serve on special occasions, this post has it all. All you have to do is pick your favorite pairing!

Potato Side Dishes for Steak
Just because potatoes are a classic side dish doesn't mean they have to be boring. Here are some perfect potato side dishes for your steakhouse dinner.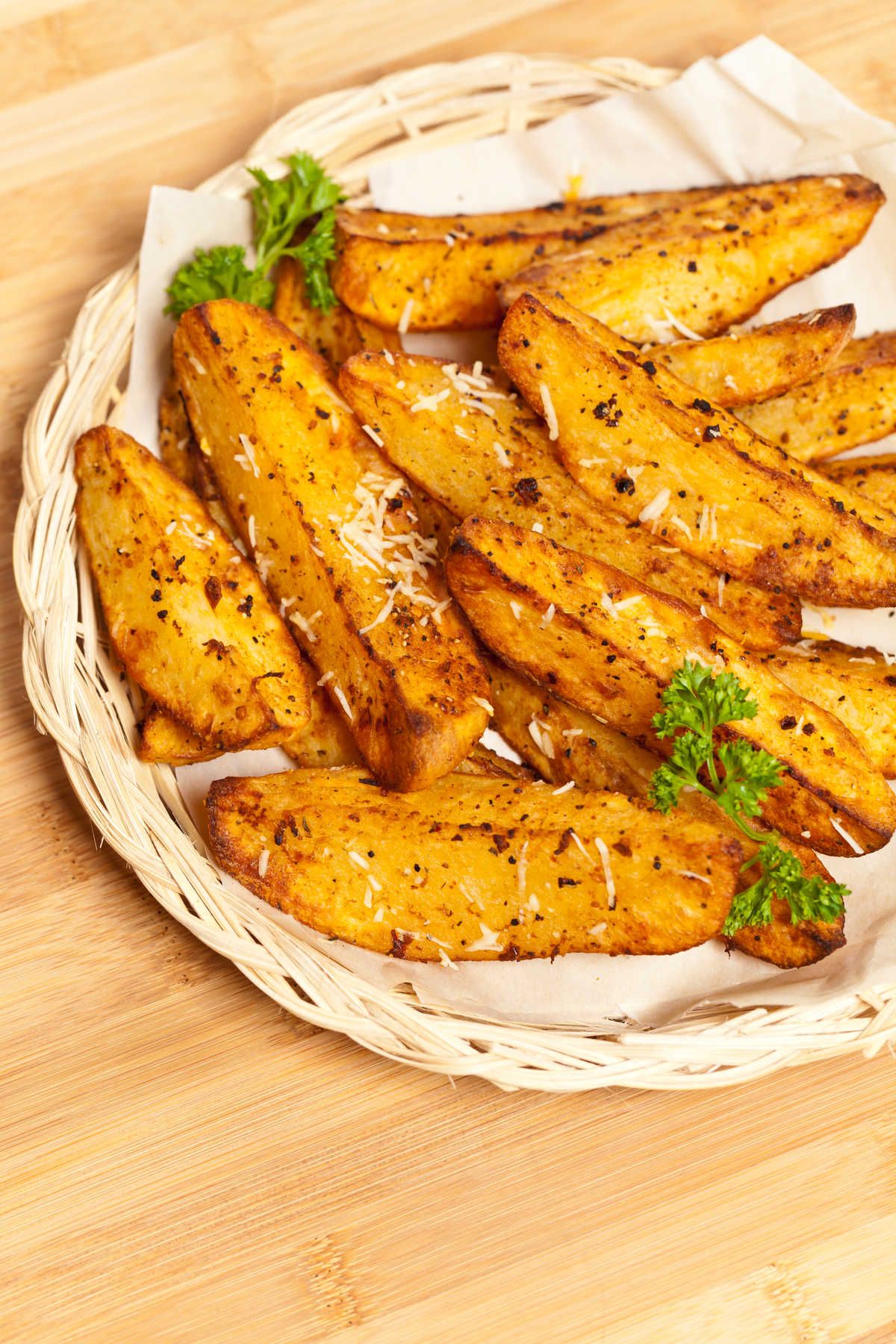 If you cannot cut back on the fatty fries alongside your juicy steak, then these doctor-approved wedges can be a life-saver. Literally, by cutting your cholesterol levels, they might just do that.
Crispy, well-seasoned, and full of flavor. Who knew that baking your potatoes can be more delicious than deep-frying them?
If you like them crunchy all around, let them turn completely brown before taking them out of the oven. Then drizzle with olive oil for a healthy fat boost that goes oh-so-well with your steak.
I dare you to try and eat only one wedge. Completely irresistible potato recipe that you can serve also with your favorite ground lamb recipe.
Creamy, rich, and cheesy. If that's your definition of a good side dish, then you might have just found the perfect match for your t-bone.
And you don't even need special ingredients for this heavenly gooeyness. Potatoes, cream, parmesan cheese, butter, and flour. All it takes to make this delight are your pantry's staples.
If you're in a hurry, feel free to simply mix everything together in a baking dish. But for that fancy table look, take your time arranging the potato slices to wow your guests.
My guess is you won't be able to wait for it to cool down before you grab your serving spoon and dig into the creaminess. You could also use this recipe as a side dish for ribs.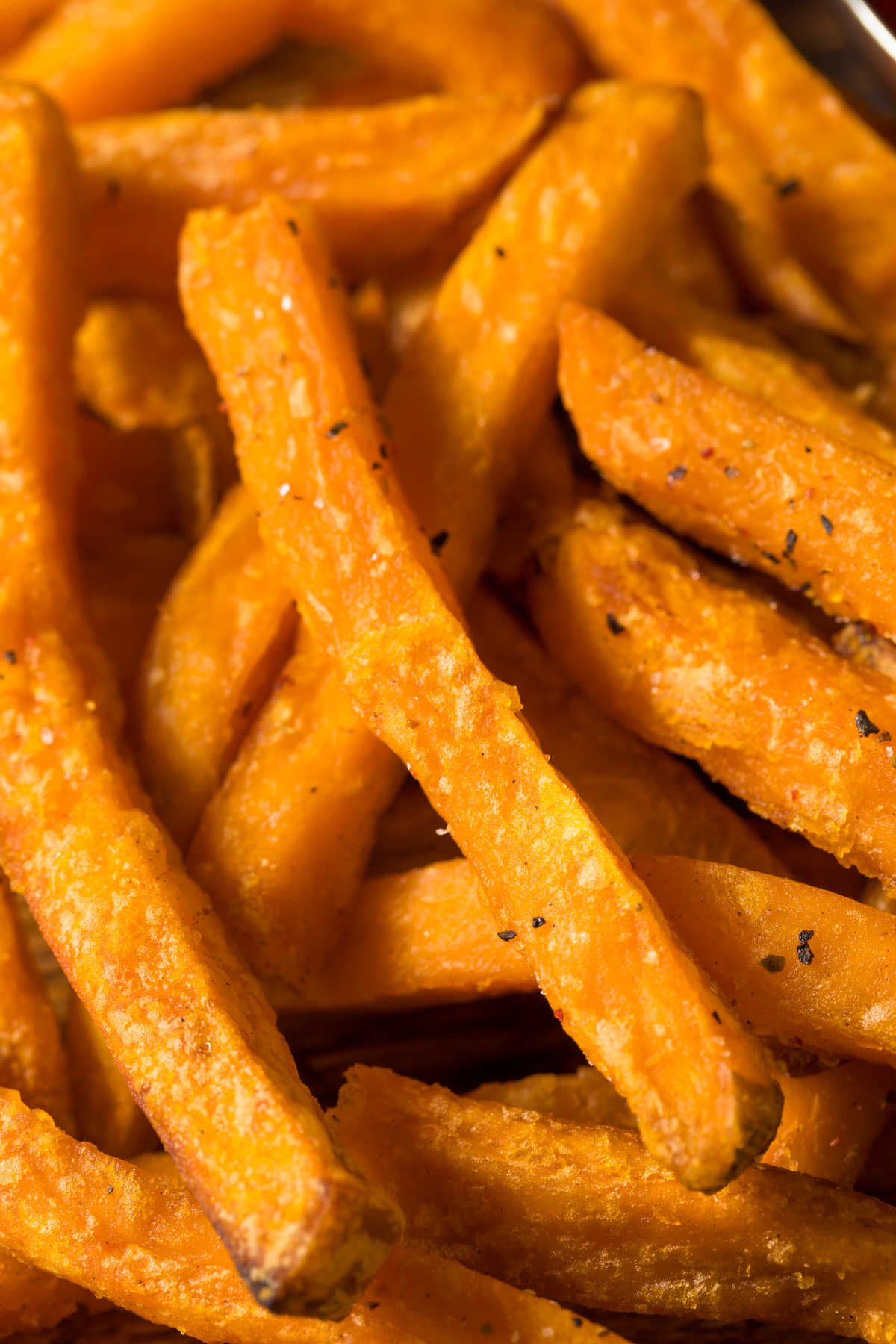 Sweet potatoes with steak? Now that's a divine combo! Way healthier than your French fries, and deeper in taste than your baked wedges, sweet potatoes are a must-try with your juicy meat.
Ready in just under 15 minutes (or more if you want them extra crispy), this is the definite fuss-free simple side dish.
This recipe uses nothing but healthy oil and some salt. However, if you are a spice-dependent kind of eater, feel free to season with your favorite herbs and spices.
However flavored, they are still a healthy, sweet, and delicious upgrade to your regular oil-drenched fries.
Sliced, topped with a creamy and cheesy mixture, and slow-cooked to perfection. Can you possibly find more delicious potatoes than that?
The cheese of choice here is gruyere and cheddar, but anything that melts well will do the trick.
The Worcestershire sauce gives the cheese mixture some depth and offers a nice kick to complement all of that creaminess.
The trick here is to slice the potatoes as thinly as you possibly can. That way it is not only faster to cook them, but they practically get lost in the gooey sauce.
Isn't that just the thing your steak needs? It's a delicious side dish for any main dish.
Grilled steak craves some sweetness, crunchiness, and creaminess. Add some healthy greens to the mix, and you've got yourself the perfect side dish.
This kale/potato salad includes onions and almonds. It is also coated with a fresh and zesty dressing that will have you licking your fingers.
Don't have any almonds? No problem! Because everything that gives you a crunchy bite will work here. From nuts, seeds, crispy bacon, quinoa, or even granola!
It is recommended that you shred the kale thinly for a more tender mouthfeel. If you prefer big, leafy chunks, massage the leaves with oil before adding them to your salad bowl.
This potato salad makes for a perfect accompaniment for any type of steak.
If you're hosting a backyard barbecue, you might want to opt for a more classic side dish. And what's a safer option to serve along with your steak than mashed potatoes?
Creamy, buttery, and with a deep flavor that satisfies both your tongue and eyes. These mashed potatoes will be a total hit on your dinner table.
Make sure not to omit the sour cream, even if it's not your go-to ingredient. It offers a tangy kick that only aids the richness and gives more texture.
If you're feeling really generous, sprinkle parmesan shavings over and top with some chopped herbs.
This could also be a great side for pork chops.
Vegetables for Steak
Add some veggies to the plate, and your steak dinner is complete. Or is it? Step away from bland steams, and up your steak game with these yummy vegetable side dishes.
Whether you're looking for traditional side dishes or for a perfect recipe for a hearty meal, these vegetable sides will do the job.
Sweet, smoky, and crispy. That's how this side dish can be defined. It's the best option when you want a simple recipe with all-natural ingredients.
The dates here may not be your usual choice, but trust me, they make all the difference. Mash them while cooking, and you'll give a caramelized and sticky glaze to your Brussel Sprouts.
Top with crispy bacon pieces, and everyone will go crazy over your tiny cabbages.
Flavorful, nutritious, and so easy to make, this side dish accompanies your medium-rare cut, perfectly.
Besides, it is whole30, paleo, and gluten-free compliant. That makes it a pretty good choice for those barbecue parties you plan on hosting.
Brussel sprouts also go amazingly well with griddle recipes.
If you own an Instant Pot, then you're probably looking for almost zero hands-on cooking. Well, these carrots are as close to that as possible.
All you have to do is simply mix the carrots with the Dijon glaze, and add them to the Instant Pot for a steaming session.
The recipe uses honey, but for a sugar-free version, use a low-carb sweetener or syrup, instead.
And if you are a fan of everything smoky, then feel free to add half a teaspoon of smoked paprika to the glaze. That will give the carrots a deeper flavor, perfect for serving alongside steak.
Who doesn't like green beans with their steak? But if you're sick of your mushy, steamed, and lifeless beans here's a delicious upgrade.
These air fryer green beans taste almost like a treat. And wait until you hear just how healthy they are.
With nothing more than a few drops of healthy oil and sea salt, these beans are the ultimate side dish even for those on a restrictive diet.
If you want more flavor though, feel free to play around with herbs and spices, and season the green beans to your liking. You could also serve these with lasagna.
Cheesy. Garlicky. Broccoli. Three words, three ingredients, for the best-tasting broccoli side ever.
Since there are only a few ingredients, make sure to use a stronger cheese such as cheddar. That will give some deep and sharper notes to the dish, and really transform the flavor.
Packed with tons of vitamins, loaded with enough protein to complement any entrée, and delightful enough eaten on its own, even your picky kids will love this side dish.
So easy and simple, anyone can whip up this green veggie goodness in no time!
This side dish is a real display of mushrooms. They dress up nicely on a fancy plate for a special occasion. But they also work great alongside your regular steak dinners.
Sauteed in garlicky and thyme oil, these caramelized mushrooms take on smoky and sweet flavors which complement their umami taste perfectly.
And even those who say they are not a fan of the earthy flavor will quickly change their mind.
Feel free to add some more chopped herbs during the cooking process, or simply toss with a splash of tamari at the end. This will enhance the flavor and make them even tastier!
Imagine your favorite cut of steak, grilled to perfection, and then topped with extra grilled goodness. Yup, you've guessed it, we're talking about onions.
Cut into rings, submerged in a thyme balsamic dressing, and then grilled until nicely charged. How's that for an addition to your meat?
The recipe also covers the process of grilling wedges or whole onions in a foil packet, so there's something for all onion lovers.
Add some barbecue flavor for extra smokiness, and no one will be able to resist these soft and sweet rings.
This is also a perfect pairing for leftover brisket recipes.
Do you feel like your barbecue dinner is missing something? You cannot serve steak and mashed potatoes and not include some corn on the cob. Practically a crime, right?
Well, this recipe will show you how to perfectly grill corn. Buttered, sweet, and spicy, this corn is covered in everything you want to taste with your grilled meat.
Butter with maple syrup and chili flakes are combined and then brushed on top of the corn. The mixture also includes ginger which gives yet another spicy kick.
The grill gives it nice smokiness for a complete flavor that your taste buds will appreciate!
Ah, asparagus! The classic match for your juicy sirloin. If you're not a fan of steaming and eating tasteless veggies, then this roasted asparagus recipe is the side dish you've been looking for.
Crispy, salty, and full in flavor, these garlicky sticks will soon become your regular side.
And it is super easy to prepare, as well. Just drizzle with olive oil and lemon juice, flavor with minced garlic, salt, pepper, and bake in the oven.
If you want that charred look and extra smokiness, then you can grill the asparagus over charcoal. Either way, a great addition to almost any meal.
This is also a perfect side dish for chicken wings.
Not a fan of zucchini? Who says it has to be mushy and squashy by default? This recipe will show you how to perfectly grill this vegetable for the ultimate indulgence.
If sliced between 1/3 and ½ inch thick, grilled to medium, and served immediately, your zucchini will always be tender, crispy, and well, yummy.
This recipe uses garlic and onion flavoring, Italian seasoning, and sugar for extra sweetness. That combo gives the zucchini a flavor that even the fussy little eaters will enjoy.
Sounds like just the thing to serve with your steak, right?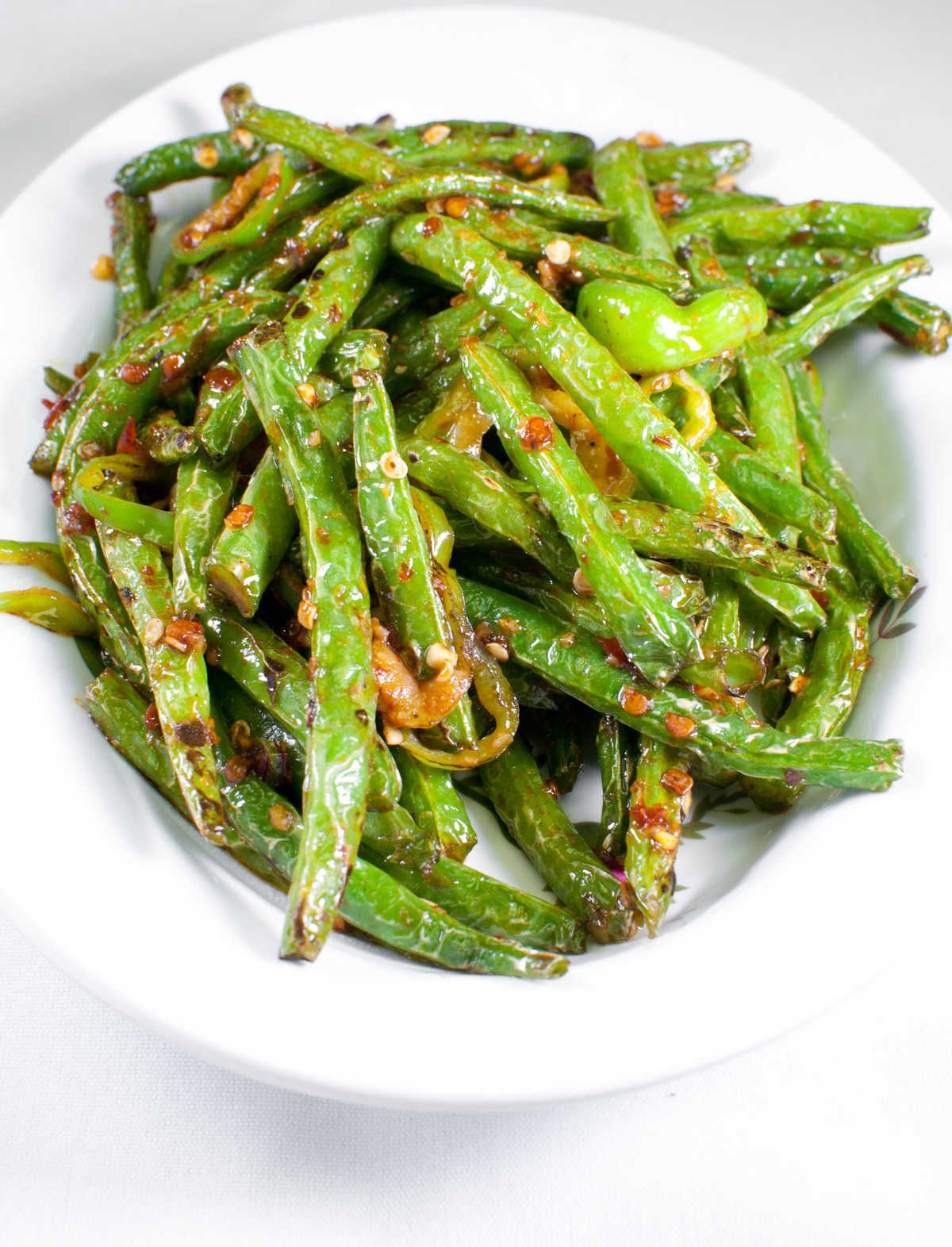 Fries? But with green beans! Not sure how that can be crispy? Well, let this recipe prove you otherwise!
Breaded and coated with chunky breadcrumbs, then baked to crisp perfection. These parmesan-flavored green bean fries will win your palate over after a single bite.
Great with your grilled steak and delicious on their own, this crispy green bean recipe will become your number one side and snack.
Plus, being so delicious and healthy, these crisp beans are the perfect way to trick your kids into eating more green veggies.
Feel free to also serve these with brisket.
Who says that your radishes are exclusively grown to be put in a salad? With this grilled version, you will see that these light veggies can be the perfect low-carb swap for calorie-laden potatoes.
All you have to do is coat them with olive oil, season with rosemary and garlic, and bake in the oven. It's as simple as that.
It might make sense to grill them over charcoal if you're hosting a backyard dinner party. Just make sure they are not overly charred, and your side dish is ready to meet your steak.
Besides, if you're watching your weight, this slimming side will be just the thing for your carb counting meals. This is a delicious side dish for pasta as well.
Delicate, sweet, and with the right touch of sharpness, shallots are less-intense substitutes for your classic onions.
Glossy glazed with sweet and buttery balsamic mixture and then roasted until golden and sticky. What more could you possibly need from your soft and slightly tangy shallots?
Feel free to serve them on top of your steak, spreading as much of that syrupy glaze over as possible.
It is recommended to line your tray with some parchment paper, as the sticky glaze can be tricky to clean after the roasting.
Are you tired of your mashed potatoes and are looking for a tasty alternative?
Or are you a Keto dieter who is looking for a low-carb substitute?
Either way, this mashed turnip recipe will surely complement your steak deliciously.
Mashed turnips with coconut milk (or dairy if you can stomach it), butter, and the perfect amount of seasonings. The result is a creamy, silky, and absolutely yummy bowl of goodness.
For best results, cook the turnips just until tender, and mix everything in a food processor.
And if the flavor is a bit light for your taste, sprinkle it with some paprika, turmeric, or whatever spices you enjoy the most.
Healthy Sides with Steak
Tired of your healthy side dishes being tasteless? These steak sides offer a great way to incorporate more healthy meals into your diet and take your dinners to next level.
Colorful and refreshing, this vibrant salad may be low in calories but it's definitely bursting with flavor. A great side salad for Mediterranean cuisine lovers who love extra flavors.
The tomato acidity, onion sharpness, and pumpkin seed crunchiness are perfectly bound in this spinach feta wholesomeness.
Classic Mediterranean flavors for a healthy side to serve along with your steak. Or even a light meal on its own to knock down the summer heat.
However you wish to serve this nutrition in a bowl, one thing is certain – your palate will thank you later.
Coated with a tangy and sweet dressing, healthy food has never tasted so good. A great choice for salad lovers!
You don't need more than a tablespoon of honey for this salad. Perfectly sweet on their own, the carrots and beets in this recipe practically don't need any additions.
Simple ingredients but extraordinary taste! If that's what you're looking for alongside your succulent meat dinner, then this recipe will surely deliver.
And it couldn't be easier to prepare! Just grate the veggies, coat with the dressing mixture, and dig in!
Vibrant and deep in color, this salad will look good however you serve it. For special occasions though, garnish with chopped herbs and/or lemon slices.
If you're not a fan of cauliflower rice, then you haven't found the right way to prepare it yet. But that's about to change with this lovely recipe.
Low in carbs and rich in texture, this cheesy and creamy cauli rice will make any dish look (and taste!) better. Yes, your beloved rib-eye steak, too!
Cheese, sour cream, and mayo give these cauliflower bits an extraordinary, signature flavor that will have you coming back for more.
Save yourself some time and just process the cauliflower head in a food processor. Grating it is time-consuming and downright exhausting, but that will work, too.
If you're hosting a fancy steak dinner, you cannot exactly serve your meat with fries or a huge bowl of mashed potatoes. This is one of the delicious sides that's filling and super nutritious.
For those special occasions and restaurant-grade dinners, whip up this chickpea and quinoa salad. Serve in small individual bowls, garnish well, and everyone will be raving about it.
Colorful and loaded with rich taste and texture, this nutritious salad will become the star of the table.
And thanks to the filling ingredients such as chickpeas and quinoa, it can also make a decent meal on its own.
The sweet and zesty dressing gives the beets and tomato a tangy hint that is nothing but satisfying.
If you're looking for a tummy-filling salad to go alongside your steak, then maybe this tabbouleh is the best choice.
But, what is tabbouleh, anyway?
Tabbouleh is a traditional Levantine salad with bulgur, tons of herbs (mostly parsley), and fresh veggies tossed together in a lemony vinaigrette.
Minty, fresh, zesty, and incredibly nutritious, this tabbouleh recipe will round off those fatty steak cuts perfectly.
This recipe doesn't include tomatoes. But if you have some extra laying around, feel free to dice them up and include them in the mix for a more colorful bowl.
Love bulgur but not a fan of the classic tabbouleh? Then how about this green bulgur salad with broccoli, avocado, lettuce, and green onions?
Practically health in a bowl, this nutrient-dense salad is so rich and abundant that it barely needs an entrée. Pair it with steak, though, and it will instantly become a regular.
And you don't even need a fancy dressing or rich-in-ingredients vinaigrette. Simple drizzling with olive oil and lemon juice is enough to make everything pop.
Rich in fiber, vitamins, and minerals, this bulgur salad packs a deliciously healthy punch!
Craving some exotic flavors? Then this mango and avocado salad will give you the fruity sweetness your steak might just need – it's one of my favorite side dishes.
Loaded with healthy fats and bursting with nutrients, this yummy salad will inject an energy dose almost instantly.
The mango adds some strong naturally sweet hints, so no need for a dressing or sweetener here. Just squeeze some lemon juice over, and your salad is ready to be served.
This recipe uses fresh parsley, but feel free to add some other herbs to the mix as well. Experimenting with flavors is always encouraged!
Mmm… kale with sauteed whole mushrooms, crispy croutons, and blue cheese. How's that for a comforting side dish?
If blue cheese is too strong for your taste, substitute it with some feta cubes. Or even better, use goat cheese instead.
With tons of flavor, a bunch of texture, and most importantly, loads of nutrients, this mushroom and kale salad surely packs a wallop.
If you choose this with your steak, even the fattiest meaty cuts will taste absolutely guilt-free.
Protein-packed and spicy, this bean salad brings the distinct flavors of your beloved Mexican cuisine straight into your kitchen.
Beans, corn, bell peppers, onions, tomatoes, jalapeño… Do I need to say more?
This salad is not only perfect right alongside your favorite slice of meat, but it can also be paired with some greens as a meal on its own.
And the best thing about it? It is genuinely a fuss-free salad. Just toss everything together in a bowl, and let it sit in the fridge while you work on your grilling game.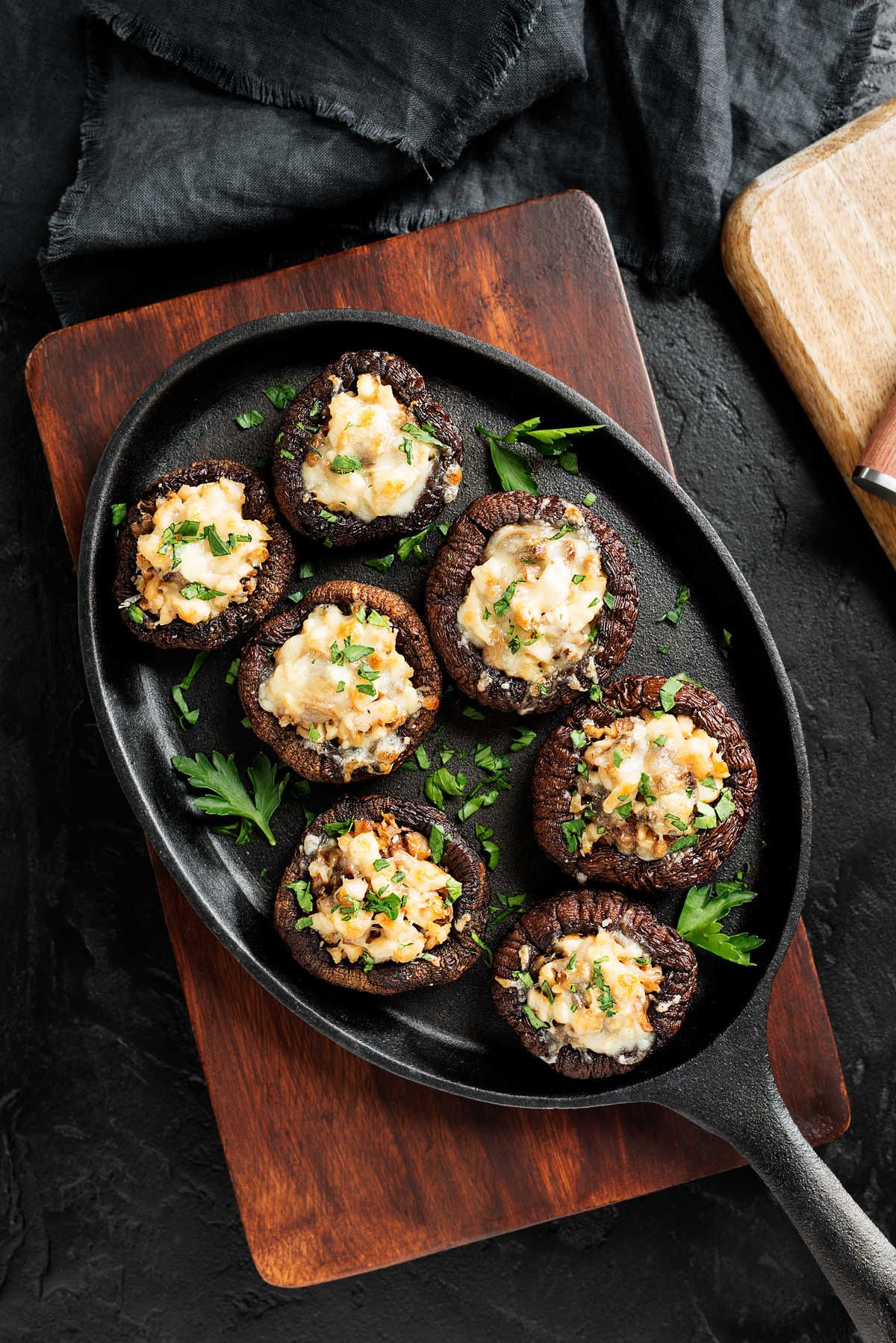 Who can say no to stuffed food? Seriously, though, these feta-filled Portobello caps are a game-changer. Not only do they taste amazing, but they're also a breeze to make.
At first, it may seem like there's a lot of work involved, but it's pretty quick, really. You just remove the stems, add the cheese, and pop these babies in the oven.
Or you can grill them, whatever you're in the mood for. Either way, finger-lickingly good!
Drizzle with some olive oil and top with herbal sprinkles, and the wow factor next to your steak is served.
Whether you call it swede or rutabaga, this root veggie can be one tasty potato alternative. Combine it with carrots, like in this recipe, and you've got yourself a naturally sweet and creamy mash.
Lower in carbs than mashed potatoes, easy-to-make, and just as cheap, this delicious root-veggie mash can bring a new dimension to your steak dinner.
Buttery and silky with a touch of thyme, this is definitely a side dish made for meat.
If you want to up the spices, know that turmeric and paprika both go well with this recipe. And, of course, if you're a fan of all things garlicky, add some garlic powder to enhance the aroma.
If you're a fan of Asian cuisine, then you will really like this spinach stir fry.
Enriched with red chili, garlic, spring onions, sesame seeds, and soy sauce, this fried spinach is fragrant and aromatic.
The only thing missing is a bit of ginger. If you're into the flavor, make sure to grate some (or sprinkle ginger powder) right after you add the garlic.
Make sure to cook just until the green leaves become wilted. No need for blanching or overcooking.
Make sure to drain the water right after wilting, so that you can continue frying, not boiling.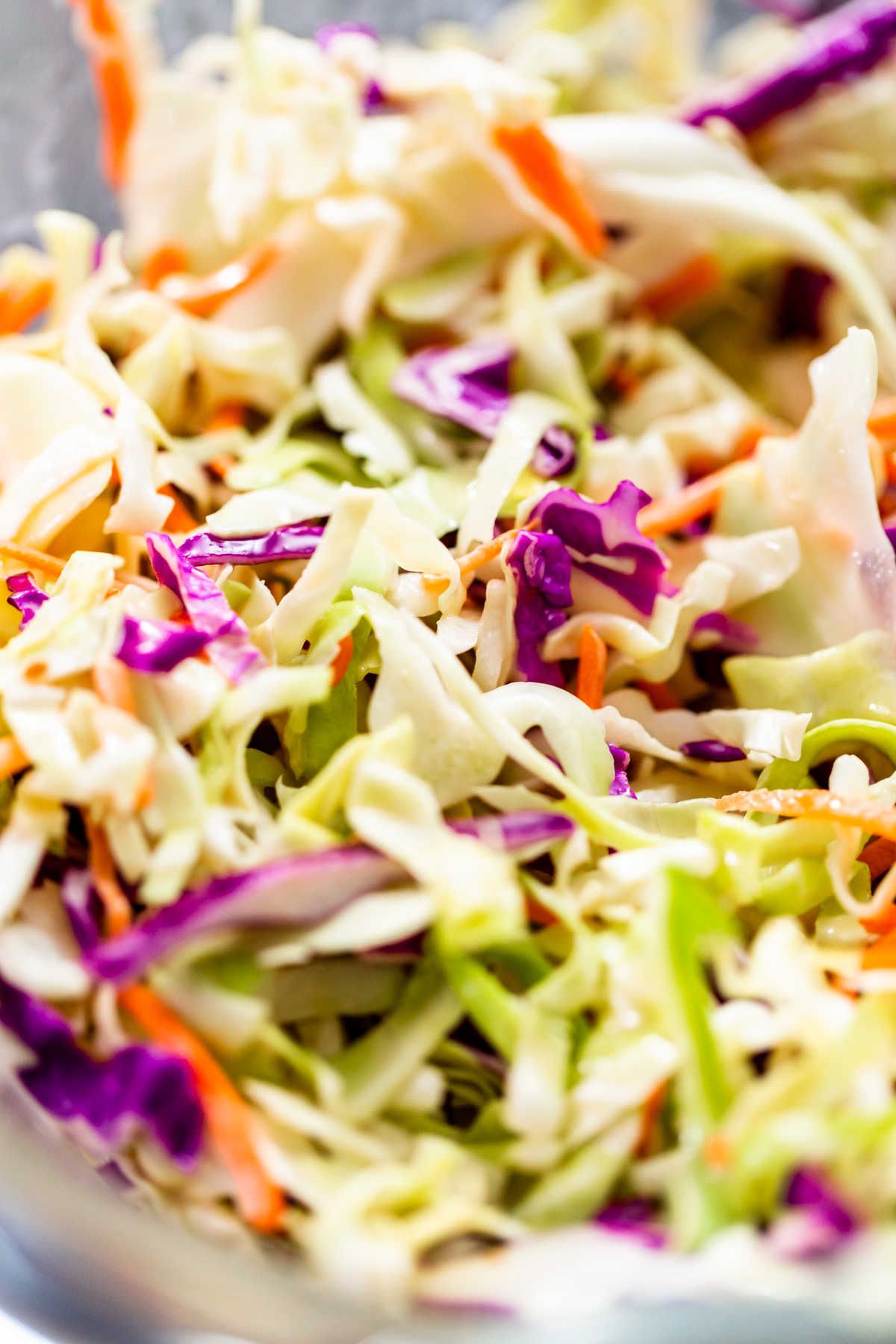 Only a few ingredients, but so many variations. If you still haven't found your go-to coleslaw recipe, then perhaps this one will be a match for your taste buds.
With just green cabbage, carrots, and a vinegary mayo dressing, this coleslaw tastes better if consumed after a few hours of chilling in the fridge.
In fact, the longer you refrigerate it, the better and fuller the taste.
Creamy and with the ideal note of tanginess, this recipe offers a somewhat sweet, but still balanced mouthfeel.
Ideal for all meat dishes, coleslaw can be a great addition to your grilled steak, as well.
All of the Greek flavors in a bowl, plus pearl couscous for some filling starches. How can you not enjoy this alongside your juicy meat?
Fresh veggies, kalamata olives, and crumbled feta cheese. Combined well with a seasoned olive oil/lemon dressing for a sleek and super delicious salad.
Top with chopped herbs and serve with some lemon slices, for a real summertime side dish.
Best consumed right after preparing, but still yummy cold from the fridge a day later.
Packed not only with taste but also nutrients, this couscous salad makes one healthy steak partner.
Why tenderstem? Because we're actually talking about Broccolini here. And since Broccolinis have long stems, it is only natural to want to cook them to pleasant tenderness.
Drizzled with lemon and seasoned with some salt and pepper, nothing more than some olive oil is needed.
Feel free to spice up with your favorite spices, but roasted broccolini are perfectly delicious without too many flavorings.
Make sure not to crowd the tray, as that will cause steam and make them soggy.
You can also grill them over charcoal, but make sure to take off the grill as soon as the charred lines start to appear.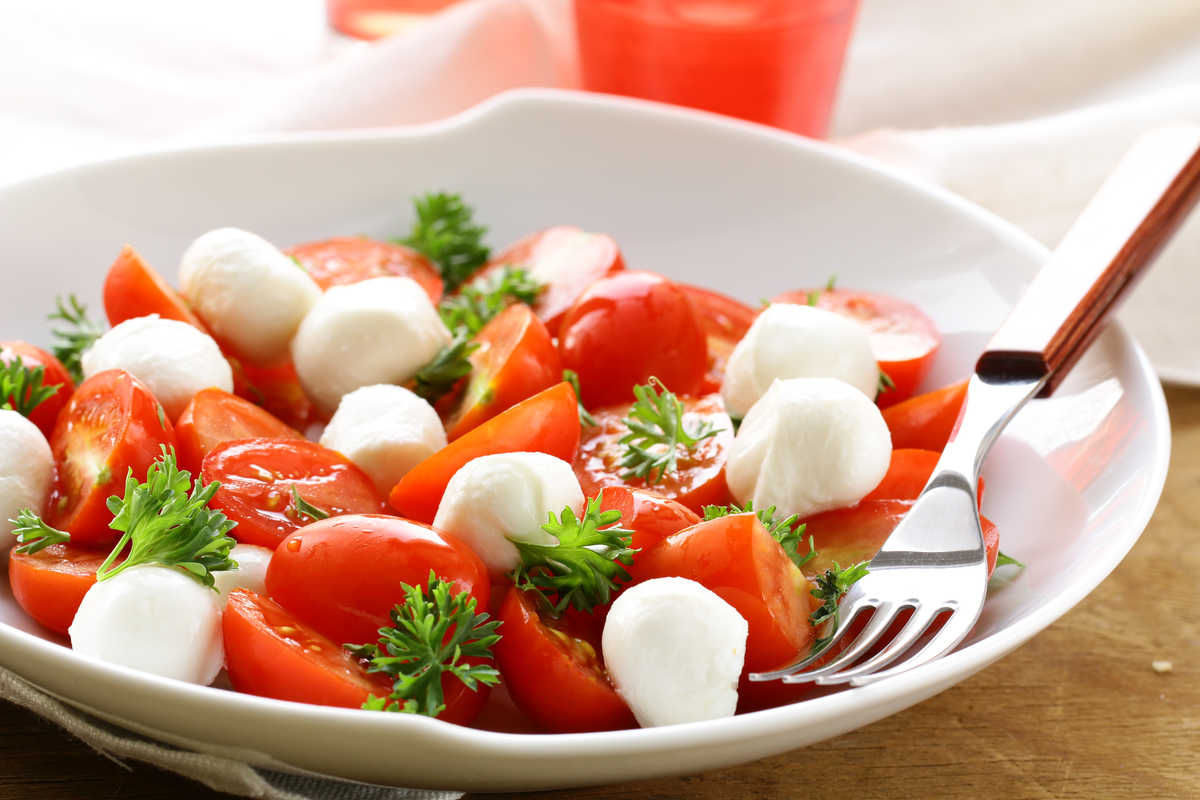 Caprese is one of those salads that simply pairs well with anything. And I mean anything. From fish to – well, you've guessed it – steak.
Fresh tomato slices with mozzarella and basil, drizzled with some olive oil and balsamic vinegar. The dressing uses a touch of sugar, just to knock down the acidity a bit.
For the best taste use fully-ripe tomatoes, fresh mozzarella, and whole basil leaves. Slice at somewhat equal thickness, and arrange them overlapping on a serving platter.
The green, white, and red look like Italy on the plate but taste like summer. Are you dreaming of an Italian summer yet?
A classic cornbread to serve with your meat, but without the bloating side effects that gluten provides. That's right, we're talking about gluten-free cornbread here.
Made with cornmeal (naturally gluten-free!) and flour without gluten. This simple cornbread is ready in just under 30 minutes from start to finish.
And if you want to jazz up this classic, then crumble some bacon, feta, or even diced peppers. This will give a crunchy or creamy bite to your bread, completely transforming the flavor.
Peas and steak? Yes, please! If you are a fan of this all-time favorite combo, then this recipe will blow your mind.
Why? Because these are not your regular peas. They are creamy, crunchy, cheesy, loaded with flavors, and so darn delicious.
There's mayo, sour cream, cheese, onion, and the absolute favorite – crumbled bacon. Now, how can you resist this bowl of heaven?
This large bowl of peas serves a crowd. But keep in mind that the leftovers can be enjoyed for up to three days if kept in the fridge. No need for cutting in half, even if cooking for a small group.
What to Eat With Steak: 37 Best Sides for Steak
Looking for what to serve with steak? These delicious side dishes for steak include vegetarian options, potato options, and even healthy ones.
Ingredients
1. Baked Potato Wedges
2. Scalloped Potatoes
3. Baked Sweet Potato Fries
4. Cheesy Potatoes
5. Kale and Sweet Potato Salad
6. Mashed Potatoes
7. Brussels Sprouts with Bacon and Dates
8. Instant Pot Carrots
9. Air Fryer Green Beans
10. Cheesy Garlic Broccoli
11. Caramelized Mushrooms
12. Grilled Onions
13. Grilled Corn on the Cob
14. Garlic Roasted Asparagus
15. Grilled Zucchini
16. Baked Green Bean Fries
17. Roasted Radishes
18. Roasted Shallots
19. Mashed Turnips
20. Spinach Tomato Salad
21. Carrot and Beet Salad
22. Cheesy Cauliflower Rice
23. Quinoa and Chickpea Salad
24. Tabbouleh
25. Bulgur Wheat Salad with Avocado
26. Mango Avocado Salad
27. Mushroom and Kale Salad
28. Mexican Bean Salad
29. Stuffed Mushrooms
30. Carrot and Swede Mash
31. Spinach Stir Fry
32. Cole Slaw
33. Couscous Salad
34. Roasted Tenderstem Broccoli
35. Caprese Salad
36. Cornbread
37. Easy Pea Salad
Instructions
Scroll up to get a bunch of easy, yummy, and delicious side dishes. Don't be afraid to get creative with the ingredients, you might discover a flavor you didn't know you liked.
Get your shopping list going and make sure you've got all the ingredients.
Get cooking and make your next Side for Steak!
Notes
Which one of these recipes was your favorite? Let me know in the comment section or on Pinterest!