Make this cheesy garlic broccoli with just 3 ingredients and enjoy a delicious, flavorful side dish. They're gluten-free, high protein, and vegetarian.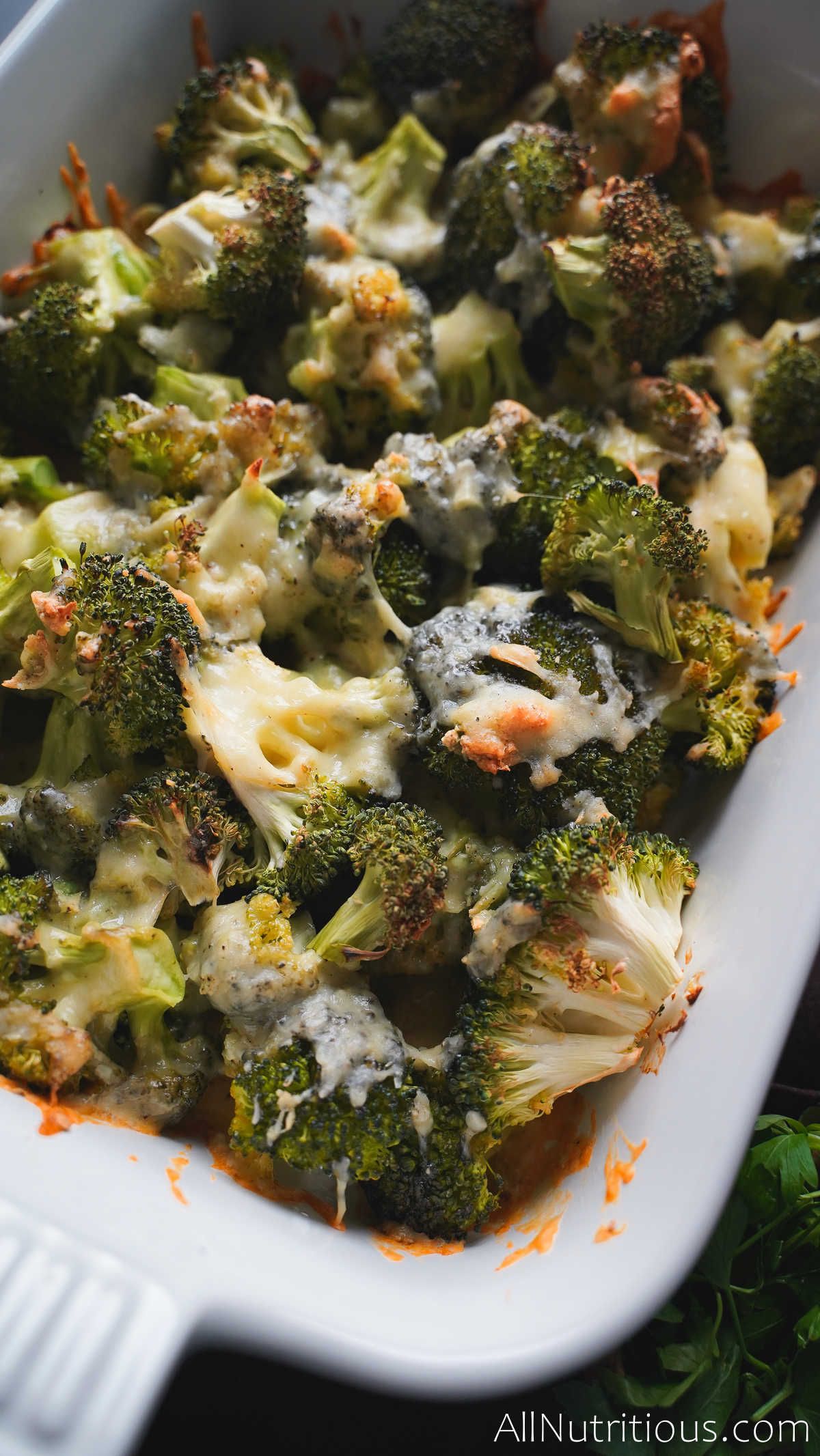 This dish is a showcase of broccoli goodness, and if you know someone that doesn't care for this delicious vegetable, this is the dish to cook them!
How can a cheesy and garlic topping ever be wrong? Oh, and this recipe is quick to cook too!
Broccoli and cheese should perhaps be listed in a dictionary of food together. They are a marriage made in heaven, and when you add garlic and a bit of seasoning, you will create something you will want to serve with everything!
You could, of course, eat this Cheesy Garlic Broccoli on its own (in secret, as why share?), or you could use it as a tasty side dish. It would also make a fantastic dish when entertaining as it's got prepare ahead qualities!
Ingredients You'll Need
Broccoli – Find fresh and use quickly! That should be the phrase used when buying any vegetable. The longer a vegetable has been sitting around, the more nutrition it loses, so find a vibrant, crisp head of tasty florets! You know…you could use cauliflower instead or mix the two!
Cheddar cheese – If you like your cheese, go really strong here! There are lots of quality cheddars out there, so choose your favorite. If you wanted some milder, mozzarella would work well too. If you wanted to go the other way for some huge flavors, blue cheese could be added instead.
Garlic – this is great for our health and, in particular, high blood pressure, so don't shy away from large juicy cloves. You could also try the black garlic variety or a smoked one – they are both delicious!
Salt and black pepper – Freshly ground pepper will heighten the taste here, so if you have a pepper grinder, you will be amazed at how much difference it can make. This grinder is easy to use and a good design! Sea salt is a better option for taste, but regular salt could be used too.
How to Make Cheesy Garlic Broccoli
Preheat the oven to 375F.
Place your broccoli on a chopping board and cut into similar-sized, small florets.
Grate your cheese, add to a bowl, or crumble it with your fingers if you are using blue cheese or mozzarella.
Stir the minced garlic, salt, and black pepper into the cheese, and combine well.
Place the broccoli florets into a baking dish, spreading out evenly.
Scatter the cheese and garlic mixture all over the top of the broccoli, trying to cover as much as you can.
Place in the oven and bake for 25 minutes, or until the top of the dish is golden and toasty.
What Does Garlic Broccoli Go Well With?
This Cheesy Garlic Broccoli would go well with many things.
You could use it as a side dish for grilled meat, creating a really simple and tasty supper. Grilled steak goes particularly well with the garlic and cheese!
Baked salmon would be an excellent choice to add to this Cheesy Garlic Broccoli as it's quite a strong-tasting fish that could certainly hold up the bold flavors. You could use a white fish, too, if you fancied that instead.
Make the Cheesy Garlic Broccoli with some extras. When adding the broccoli to the baking dish, scatter over some thinly sliced red onion to add another flavor dimension.
Cut 1 zucchini up into chunks and add to the broccoli as well, a welcome idea if you are short of florets as the broccoli wasn't that big.
You could add some thickly sliced ham to the broccoli before scattering over the cheese and if you wanted to make a Hawaiian-styled pizza flavor, add some chunks of pineapple too.
Before adding the cheese to your broccoli, a fresh tomato sauce could be poured over to create a saucier bake.
How about sprinkling over some mixed seeds and eating this bake for lunch.
Or, it's perfect just with a fork…
Benefits of Eating Broccoli
Broccoli is known to be a really healthy vegetable. It is part of the cruciferous vegetable family and shares the same nutrition as its other members, like cauliflower, cabbage, and kale. It's a powerhouse of vitamins!
Containing vitamins; A, B, C, E, and K, broccoli is undoubtedly a hard veggie to beat when comparing nutrition.
If you think eating oranges was the only way to boost your immune system, look at broccoli. It has high levels of vitamin C that will help reduce your risk of picking up infections, and one serving can actually provide you with 135% of the daily goal for Vitamin C.
Vitamin A will help eye health and protect against issues like macular degeneration in the future, so your vision will thank you for a little more broccoli in your diet.
Broccoli is also perfect for your gut health. Providing 2-3 grams of fiber in 1 cup, broccoli will help keep you feeling full and feed the good gut bacteria that you have. By keeping the bacteria well-fed, it can help protect against chronic conditions and inflammation, so fiber is an essential element to include in your diet.
Broccoli can be eaten raw. Some nutrients are lost in cooking, so it's really worth eating broccoli cooked and raw as you will get a different set and strength of the nutrition that it provides.
Some studies link broccoli to having compounds that reduce the risk of cancer. The plant nutrients that broccoli contains certainly make it one of the top in the veggie charts!
Other Healthy Recipes
Cheesy Garlic Broccoli (3-Ingredients)
Cheesy garlic broccoli is a perfect side dish anyone can make with just 3 ingredient. It's nutritious, full of deliciousness, extra yummy, gluten-free, high protein and vegetarian.
Ingredients
4 crowns broccoli
2 cups cheddar cheese (shredded)
5 garlic cloves (minced)
a pinch of salt and black pepper
Instructions
Preheat the oven to 375F.
Chop up the broccoli into florets. Spread them on a baking dish.
In a separate bowl, mix cheddar cheese, minced garlic, salt, and black pepper.
Sprinkle the cheese all over the broccoli in the baking dish.
Bake for 25 minutes.
Nutrition Information:
Yield:

4 plates
Serving Size:

1 plates
Amount Per Serving:
Calories:

363
Total Fat:

20g
Saturated Fat:

11g
Trans Fat:

0.5g
Unsaturated Fat:

6.3g
Cholesterol:

56mg
Sodium:

526mg
Carbohydrates:

28g
Net Carbohydrates:

18g
Fiber:

10g
Sugar:

6.7g
Protein:

24g
Nutritional values were obtained with automatic software using the amounts of products used. To get the most accurate representation of the nutritional values, you should calculate them with the actual ingredients used in your recipe. You are solely responsible for the nutritional information obtained to be accurate.