In need of delicious side dishes for pasta? Find the perfect side dish for your pasta recipes and get cooking!
Pasta is one of the most versatile dishes on the planet today. From warm, comforting dishes to sophisticated inventions, pasta spans a whole spectrum of tastes!
In fact, it's so easy to get lost in making delicious pasta and find yourself without a side dish to serve. So, what do you do if you find yourself in that situation? You consult this list!
There are forty-one different side dishes for pasta on this list. Each one is selected to perfectly highlight this well-loved staple, so let's get into it.

What Are Good Sides for Pasta
Pasta has a long history in the world's recipes, which means there are many potential easy side dish recipes to choose from. So how do we know we're choosing the right ones when planning dinner?
There are some general suggestions to follow that can help in your pairing adventures.
Try pairing creamy pastas with a light vegetable side to balance out any heaviness. If you're serving a light summer pasta dish, stick with a similar side to carry the theme over.
Similarly, if you're serving a heavier pasta dish in winter or fall, a root vegetable side dish or bread dish is a perfect choice.
Without any further ado, let's get into some of your options!
Healthy Sides for Pasta
We're starting off with healthy side dishes, and I for one love this category. While pasta dishes are delicious, they can be a little rich.
So it's great to have a good balance on the table with these healthy recipes.
Source: recipesfromapantry.com
Our first side dish celebrates the collision of sweet and savory. This Jamaican steamed cabbage is so quick and easy to make, but it's absolutely bursting with flavor.
You only need six ingredients to pull this side together. That's great when making a side because you don't want to divert too much attention away from your main dish!
This spicy and sweet side would pair beautifully with a summer pasta dish. If there are any leftovers once you're done eating, store it away and re-fry later with some protein.
Source: budgetdelicious.com
Next up is a tasty and earthy but simple side dish that's perfect for serving up with a winter pasta dish. These smothered green beans live up to the name!
They're covered in a creamy garlic sauce that soaks into the beans, filling them with flavor. But don't worry, bacon and pickled onions pull them back from the edge of 'too much'.
Served alongside a creamy pasta dish, these will take your breath away. They're super easy to cook alongside your main meal, so you don't have to be a master chef to make dinner happen.
Source: recipesfromapantry.com
Here's a simple recipe! A cucumber tomato salad that would perfectly accent a pesto pasta dish. Packed full of juicy and crispy vegetables, this salad is sure to satisfy everyone at the table.
I love side dishes like this because they're so simple. The flavor shines through, highlighting the main dish without overpowering it. Plus, that means they're very easy to make.
I highly recommend making this salad in advance and then putting it in the fridge. Serving it up cold will amplify those summery flavors and textures, making this a cracker of a salad.
Serve it with your main course and enjoy an easy dinner.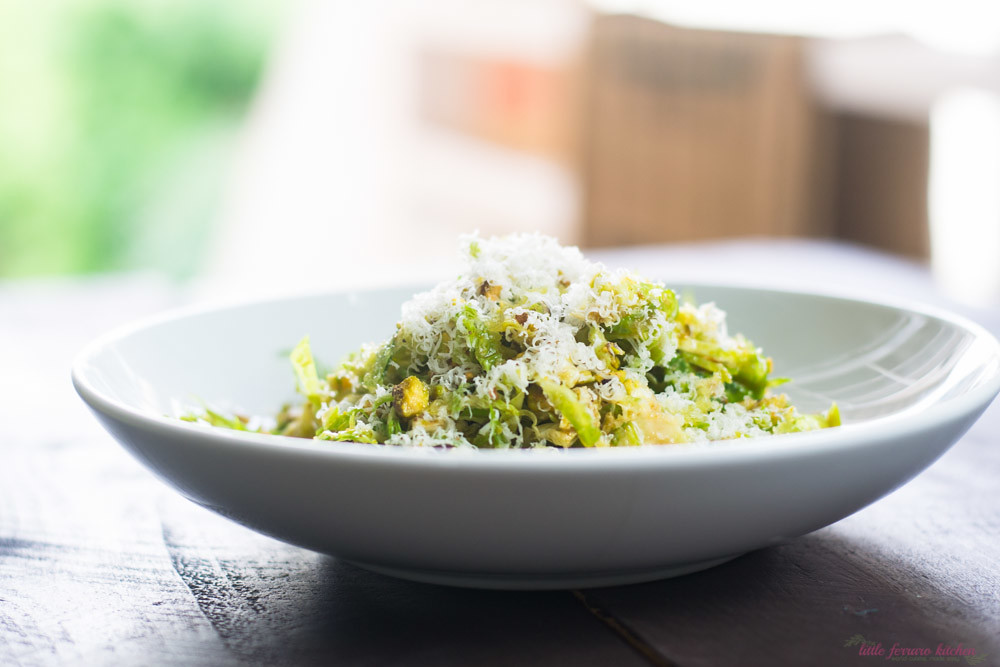 Source: littleferrarokitchen.com
Pistachios, pecorino cheese, and shaved brussels sprouts. All of these ingredients add up to an elegant side dish you could easily find in your local Italian restaurant.
The good news is, it's super simple to bring that sophistication to your very own dinner table. You can whip this salad up ten minutes before serving, but it will seem like it took so much longer!
Shaved brussels sprouts have a wonderful crunch, so this salad has a great texture to it. Combined with the earthy pistachios and pecorino cheese, is it any wonder this is a personal favorite?
Source: budgetdelicious.com
The amazing thing about Italian cuisine is how much it values simplicity. Sometimes it's better to just let the ingredients shine through! These versatile marinated tomatoes do exactly that.
Anyone can make this cold and zesty salad in five minutes or less. It highlights the juicy tomatoes' flavor beautifully, allowing the sweetness to shine through with every bite.
Serve this up alongside a summery pasta dish. I highly recommend serving it with a basil pesto dish, as the tomato and basil will blend into an Italian flavor sensation.
Source: saltandbaker.com
Next up is another side dish just brimming with sophistication. If you've never had this combination of flavors before, all I can say is: try it! You won't regret it.
Creamy feta and juicy watermelon combine to form an unforgettable dish. The slight saltiness of the feta cheese offsets the sweetness of the watermelon in the most beautiful way.
The basil adds a final touch of brightness that will have you coming back for more. Despite its sophistication, this dish will take only minutes to whip up.
Bring it out at your next dinner party and just sit back to enjoy the praise.
Source: littlesunnykitchen.com
This simple tossed green salad relies on great ingredients and simple methods. In essence, it's a base of leafy greens with a red onion kick. Then it's finished off with a dressing of your choice.
If you want to go 100% Italian, good olive oil and a generous sprinkling of salt is the way to go. The richness of the oil deepens the salad's flavor, making simple greens utterly scrumptious.
If you'd like a little more flavor, a sweet balsamic vinaigrette or apple cider vinegar dressing will play against those red onions nicely. Either way, this is one of those quick salads great for busy weeknights!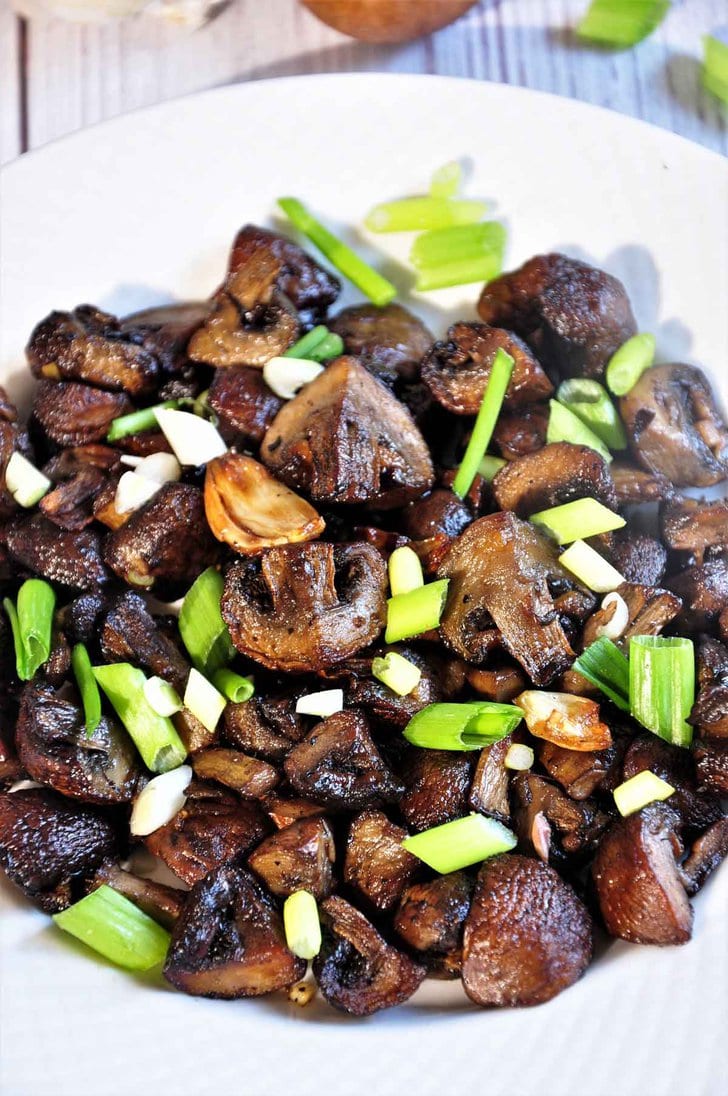 Source: culinaryshades.com
Here's a quick and easy dish that celebrates the down-to-earth, hearty flavor of mushrooms. All you need is an air-fryer and about five minutes of hands-on cooking time. Simple!
I was skeptical about air-frying mushrooms at first, but now I'm never going back. With just some oil and soy sauce, these mushrooms transform into well-roasted packages of pure delight.
Serve alongside creamy pasta to anchor it with these earthy flavors.
Source: joyousapron.com
Avocado and orange isn't a flavor combination you hear about a lot, but I think that's criminal. The creaminess of the avocado and the sweetness of the orange is a heavenly duo that makes for a popular dish!
Served over vibrant green salad leaves, this salad offers a wonderful pop of color for your table. You can easily enjoy this quick and delicious salad at your next summer potluck.
If you want some extra kick, serve it up with a sweet and spicy vinaigrette to bring it up a level in taste.
Source: cookingchatfood.com
If we're talking healthy side dishes, there are few that can compare to this. Arugula and bell peppers are both packed full of nutrients. They also happen to be very tasty together!
By sauteing the arugula, you break down some of those proteins and let the flavor out. The same applies to those gorgeous red peppers. Doesn't the green and red remind you of the Italian flag?
Serve this lovely dish with any type of pasta or any other main dish.
Source: alittleandalot.com
These roasted beets are the ultimate example of how good simplicity can be. You only need three ingredients, they're so easy to make, but they taste amazing!!
To make this recipe the best it can be, you'll want to use fresh beetroot. Canned beetroot is doused in beet liquid in sugar, so that will change how well it roasts.
Hit up your local farmer's market with the family to get some high-quality beetroot that will knock everyone's socks off! Once they're scrubbed clean, all you need to do is roast low and slow.
This is a lovely side dish for pork chops.
Source: therusticfoodie.com
This marinated tomato salad celebrates the color and sweetness of red and yellow heirloom tomatoes. The mozzarella mixed through the salad elevates it even further.
If you're looking for a truly Italian side dish that also happens to be healthy, this is the recipe for you. Bursting with both nutrients and flavor, this salad is all about traditional Italian tastes.
Try making it a few hours before dinner and letting it sit in the fridge. The tastes will all soak into each other to make one big bowl of delight.
Source: thehealthyepicurean.com
If we're talking about healthy side dishes for pasta, you can't go past kale. This leafy superfood is packed full of enriching antioxidants and fiber to improve your dinner's nutritional value.
The olives and feta peppered throughout this salad give it a delicious Mediterranean vibe. But if you want to experiment with other flavors, you can easily change them out for other cheeses or vegetables.
This is actually a great dish to use if you're meal-prepping pasta for the week. It keeps well in the fridge, plus it's a great way to stretch that pasta a little further.
Source: twokooksinthekitchen.com
Making a pasta to celebrate a holiday this winter? You'll need a side dish to go with that. I'd highly recommend this festive winter salad.
Take fifteen minutes to assemble this delicious study in red and green. Tart pomegranate and crispy pear play off the ricotta and leafy greens, creating a symphony of textures and flavors.
Serve it up just as is or whip up the vinaigrette dressing in almost no time at all. The additional sweetness and tartness will brighten the dish. That's great if you're serving it with creamy pasta.
Source: veronikaskitchen.com
Roasted cherry tomatoes are one of my favorite side dishes to prepare for Italian food. The roasting process condenses the tomatoes' flavor, making them taste even better.
All you have to do is coat them in olive oil, season with salt and herbs, then bake low and slow. Baking them in an overheated oven might caramelize them too much, so be careful!
This is a great recipe to make if you're cooking for quite a few people. You can bake many cherry tomatoes at once, and they don't require a lot of hands-on work.
Source: nourishplate.com
This is another healthy side dish that's so quick and convenient that you'll almost feel like you're cheating. It's crispy, tasty, and almost like eating takeout (but much healthier)!
Using an air fryer means you can set the cauliflower to fry and leave it be. There's minimal preparation involved, and you can change up the spices however you like.
Experiment with different spice mixes depending on the main dish you're serving up! If it's a tomato pasta, some garlic powder and paprika would be delicious on these crunchy delights.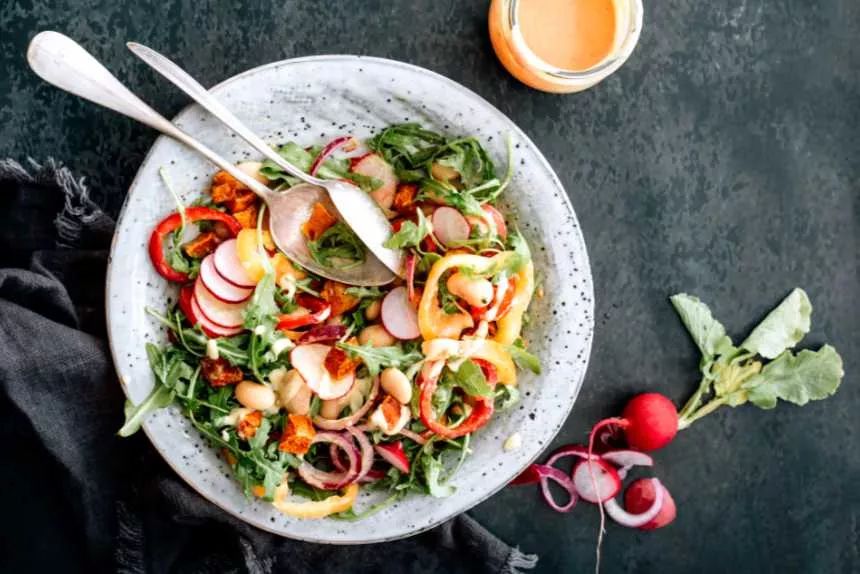 Source: nutriciously.com
Sweet potato, arugula, bell peppers, and red onion. What do all of these ingredients have in common? They're delicious together! That's why this side salad is both healthy and scrumptious.
This is the perfect dish to whip out for a Sunday meal-prepping session. Paired with your main pasta dish, this salad offers a variety of textures and tastes that keep each bite interesting.
Source: saltandbaker.com
The Caprese salad is a tried-and-true Italian side dish. It's an absolute triumph of flavor, relying on classic ingredients that sing together.
This particular version uses grilled cherry tomatoes and grilled mozzarella pearls. Grilling the ingredients adds a little smokiness, which in turn brings out more sweetness in each bite.
No matter what kind of pasta you're serving up, this salad will fit the bill. You could also easily serve this side dish with steak.
Source: maesmenu.com
Next up is a light side dish that embraces some truly delicious flavors. This is a great one to whip out in the warmer seasons. It adds a wonderful pop of color to the table, plus it's super healthy!
Not to mention, making this dish requires minimal hands-on work. All you need is a knife and pan to bring this summery delight to life.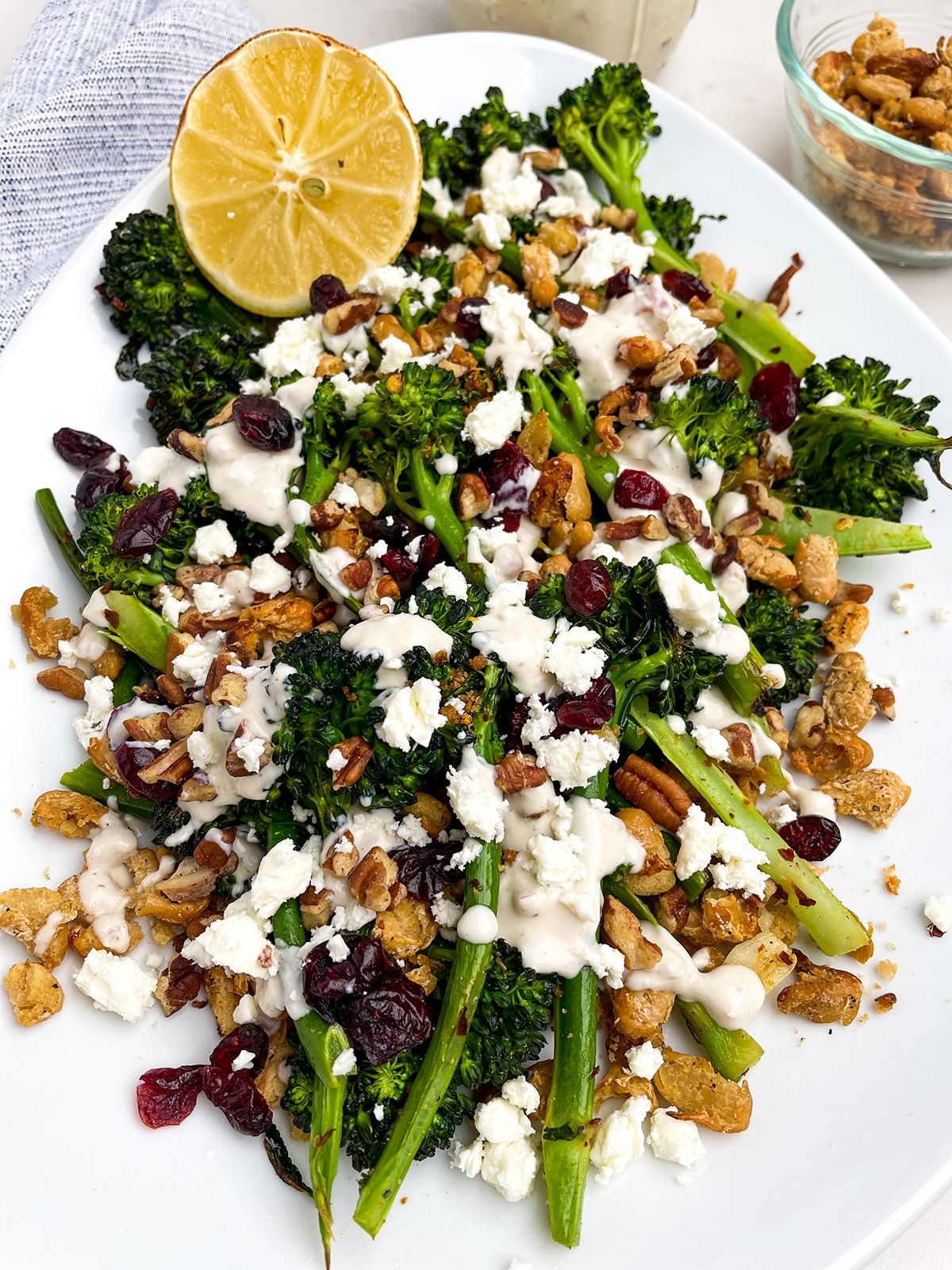 Source: midwesternhomelife.com
The final dish in the healthy section of our list is a festival of earthy flavor, perfect for serving in winter or fall. This could easily anchor a dish on its own, but it's a great side to tasty pasta too.
The walnuts, crispy white beans, and tahini are all wonderful accents to our roasted broccolini. The different textures make every bite unique and delicious, so you'll really enjoy this treat.
Best Sides for Pasta
What makes for the best side dishes? I'm so glad you asked.
The truth is, the best pasta sides are easy to make but also taste awesome. It comes down to how much you and your loved ones are enjoying the meal.
Sometimes that means you have to be willing to experiment!
Usually, the best side dish comes with an easy recipe, takes minimal effort but has maximum flavor. Each one of the dishes to come delivers on this promise. So, let's crack into it.
Source: urbanfarmie.com
Avocado fries? Yes, you read that right. These avocado fries are tender but crispy, combining the best aspects from two of the world's favorite things. Plus, they're incredibly tasty.
You only need five ingredients to get these fries going, including the spice mix. Speaking of which, feel free to experiment with the types of spices you use in the batter!
If you can, I highly recommend air frying these. The air fryer gives them a lovely crisp without the need for a lot of oil, but baking works too! Serve up with a tasty dipping sauce of your choice.
Source: midlifehealthyliving.com
Next in the genre of unexpected fries… zucchini! Zucchini are the ideal healthy fry substitute because of their beautiful taste and texture. They take well to spice and go crunchy so easily.
This is a great dish to get your kids on the vegetable fries bandwagon. Get them involved in the breading and baking stage… but only if you have the time to clean up afterward!
I love serving zucchini fries with a good aioli since the flavors blend together so well.
Source: carmyy.com
Good old brussels sprouts have gotten a bad reputation, but it's undeserved! These underrated vegetables have so much potential hiding in them, if you treat them right.
And this recipe treats them right.
These maple mustard brussels sprouts are sweet and earthy, with a lovely char on the outside. You should be able to find everything you need for this recipe just hiding in your pantry.
Depending on what you're serving this dish with, you might want to make some alterations to the recipe.
Serving up a spaghetti carbonara? Top your sprouts with some bacon. Bolognese? Cover your sprouts in parmesan cheese. The options are limitless!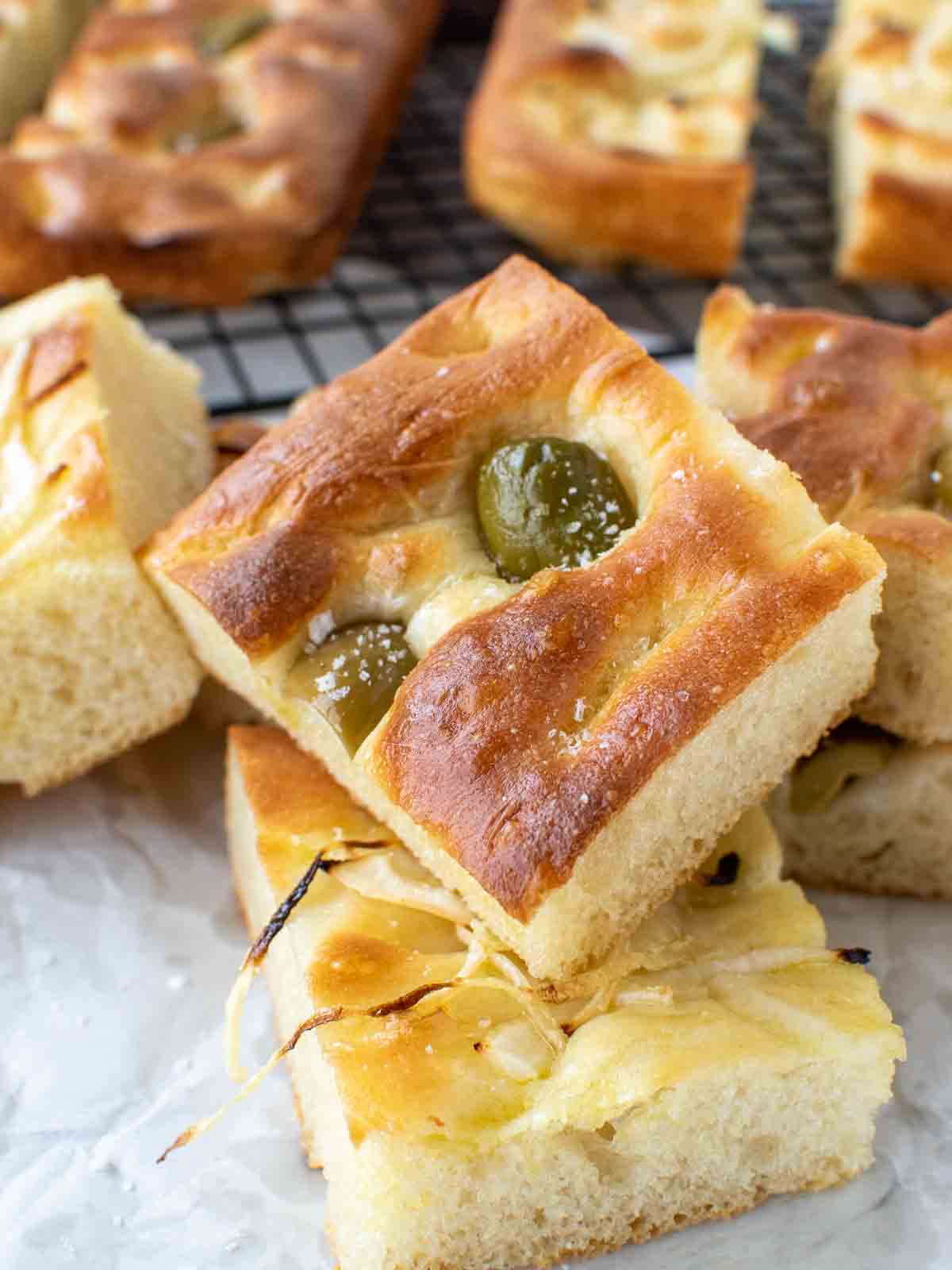 Source: marcellinaincucina.com
This classic Italian side dish is a well-loved staple on many an Italian grandmother's table. Focaccia Genovese is a thin and crispy bread dotted with tasty green olives.
If you're serving up saucy or soupy pasta, this bread will be the perfect companion. Dip at your leisure and enjoy the crunchy saltiness this bread will add to your main dish.
Focaccia is one of the easiest bread to make, so don't worry if you've never made it before. In fact, get the kids in to help you knead the dough for some fun family time.
Source: veganhuggs.com
Whether you're vegan or not, this vegan coleslaw is guaranteed to light up your dinner table. It's lighter than your standard coleslaw, thanks to a lack of mayonnaise.
But it's still ringing with enough flavor to make you want to dig in. Creamy, tangy, and crunchy, this coleslaw checks all the boxes.
It's quick and easy to make in advance, so you can leave this one sitting in the fridge while you get on with your pasta.
Source: simplesidedishes.com
I mean, this recipe has bacon in it. Need I say more?
These bacon-wrapped green beans are a lesson in contrasting flavors. The freshness of the beans bumps up beautifully against the salty, fatty bacon. It's an insanely good combination.
When you're cooking this up, make sure you get a really good crisp on the bacon. That's the key to the perfect play of crunchy and chewy textures in this side dish.
This will happily adorn the table with any main pasta dish, so just go nuts!
Source: airfryeryum.com
While these green beans don't come in bundles, they still come with bacon. That makes them perfect in my book. If you have an air fryer in your arsenal, you've got to try this side dish.
Even if you don't have an air fryer, this dish will come together beautifully in the oven. This is a great dish to get the kids on board with some vegetables. Bacon is the ideal Trojan horse.
Once you serve this up, try shaving some high-quality parmesan cheese over the top. The saltiness will go beautifully with the crispy bacon and fresh green beans!
Source: chefjar.com
Mushrooms and onions are a match made in heaven. When they're sauteed together, the sweetness of the onion blends seamlessly with the earthy flavor of the mushroom.
Served with winter pasta, this side dish will kick the whole meal up a couple of notches. It's a quick and easy way to add some deep and delicious flavor to the table.
If you want to add a crunchy element, try dusting the lot with a handful of crispy onions.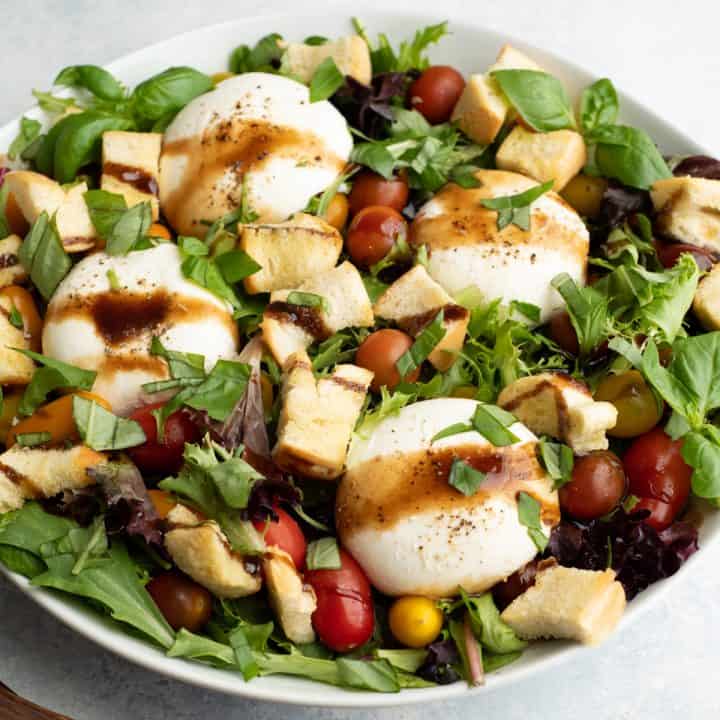 Source: joyfoodsunshine.com
Burrata cheese is a delight in and of itself. It's a type of delicious mozzarella cheese stuffed with stracciatella, another kind of creamy cheese. Something so rich needs a little freshness.
That's where the salad comes in! Bursting with color and refreshing flavor, the salad around the burrata helps bring it back down to earth.
Try getting extra fancy with it by giving each guest their own ball of burrata. Serve a big bowl of salad in the middle of the table and let them scoop as they like.
Feel free to also serve this salad with one of your favorite griddle meals.
Source: salads4lunch.com
The classic Caesar salad uses either romaine or cos lettuce as the base. However, this is a modern take on the salad that offers a more robust side dish.
Using asparagus instead of lettuce lends this salad a lot of bright, summery flavors. There's also an extra layer of crunch in there that makes this a delight to eat.
Source: livingsweetmoments.com
Every good pasta dish needs bread to dip in the sauce. I submit: this crusty rosemary olive bread!
With olives and rosemary speckled throughout, this bread is a fragrant treat that'll bring the neighborhood running.
The crusty and crunchy texture is a perfect contrast to the soft, rich main dish that is pasta. You can add even more flavor to the bread with mellow roasted garlic butter or just some quality olive oil.
Serve up with an extra saucy pasta and watch your guests' faces light up with joy.
Source: slenderkitchen.com
If a plain bread for a side dish isn't quite your idea of a good time, try this one for size. This Caprese flatbread is a bold choice that's ideal for a summertime lunch.
A Caprese dish is made up of three key pieces: tomato, basil, and mozzarella. These are the three flavor-packed ingredients adorning this tasty flatbread.
The bread itself is super easy to make. But if you're strapped for time, you can always use store-bought flatbread. Either way, everyone at the table will love this one.
Italian Sides for Pasta
Pasta hails from Italy, so it only makes sense to serve up an Italian side dish to round out your meal. Many Italian side dishes use similar flavor profiles: garlic, tomato, basil, and mozzarella.
So when you pair them with a pasta dish, you can usually be sure they go together. Plus, Italian food is known for its bold flavors and comforting vibe, so you can't go wrong!
Find some of the best pasta side dishes that will be a great addition to any Italian-themed dinner.
Source: littleferrarokitchen.com
First on our list of easy pasta side dishes is an old classic that I've already mentioned: focaccia. This is a quick and easy bread that's big on crunch and just as big on flavor.
The thing I love about focaccia is how easy it is to customize. This recipe takes you through a roasted garlic and herb variation, but you can easily dress that up with some more vegetables.
In fact, this could be a great family activity. Bring the kids into the kitchen to assemble a picture atop your focaccia, they'll love it!
Source: littlesunnykitchen.com
There's really nothing that beats a classic. This Caesar salad recipe honors the salad's roots, bringing together three key ingredients: lettuce, croutons, and a creamy dressing.
In my humble opinion, the best part of this recipe is the garlic croutons. Made with day-old bread, this crispy delights are packed with a rich garlic flavor that catapults off the dish.
If you like your Caesar salad with a few more elements, feel free to serve them alongside this simple dish.
Source: beyondthechickencoop.com
Next up, we've got garlic bread with a herb-packed twist. Both pesto and garlic bread are staples in Italian cuisine, so it makes sense to bring them together this way.
The rich and vibrant green pesto really highlights the buttery garlic flavor from the bread. It's an unbeatable combination that will effortlessly elevate your meal.
You can make this bread beforehand and grill it with some parmesan just before you serve it up. Enjoy the depth of flavor hiding in this seemingly simple bread side dish!
Source: brooklynactivemama.com
A good Caprese salad is chunky, bold and full of flavor. By that definition, this salad is excellent. Big rounds of scrumptious mozzarella are offset by sweet tomato, balsamic, and some bright basil.
This is an essential entry in the Italian recipe book. That means it's going to easily match up with any pasta dish you'd like to serve. You can even use it as an entree instead of a side dish.
The real secret to this salad lies in high-quality ingredients. There's nowhere to hide with the flavor, so make sure to pick up some really good vegetables that sing!
Source: swirlsofflavor.com
This salad recipe was originally invented to serve as an antipasto, not a side dish. That said, it would go perfectly with a pasta dish. It's full of elements that promise bold, fresh flavors.
Even though there are so many ingredients on the plate, this dish doesn't take long to crank out. Some quality time with a knife and a chopping board will bring this salad to life in minutes.
If you're headed to a potluck where you know there'll be pasta, bring this along! It's perfect for serving to large groups or with multiple main meals.
Source: cookingwithmammac.com
Of the dishes on this list, this one might be the most simple. But don't let that fool you. The flavors hiding beneath the surface will have you coming back for a bite over and over again.
The key to making this salad sing lies in choosing the right leaves. Standard iceberg lettuce doesn't have a lot of flavors or nutritional value. Rather opt for spinach or butter lettuce for a robust salad.
If your kids aren't too happy with the idea of a salad, this is a great way to start getting them on board. It's simple, it's tasty, and takes virtually no time at all to make.
Source: hungryhealthyhappy.com
Who doesn't love a cheesy garlic bread? Cheese makes everything better (at least that's how I feel). The mellow garlic infuses its flavor into the cheese, so every bite is perfectly balanced.
The best part? The crunch. You've got to let this bread bake long enough to get a lovely golden color. That's when you know every bite will sound – and feel – like heaven.
Source: christinascucina.com
Raw bell peppers are sweet and crunchy, the perfect summery vegetable. But when you roast them, they turn smoky, and their flavor deepens into something made for the cold seasons.
I love this roasted red pepper antipasto dish. It heroes a single vegetable and does it well. It allows us to enjoy the unique flavor of these roasted peppers.
Serve this up on a cold winter's night with warm pasta to light the way. You won't regret this one, trust me.
Source: therusticfoodie.com
The final dish on our list is a fresh, delicious green bean salad. With red, white, and green elements in this salad, it's proudly waving the Italian flag.
Not only is this a healthy dish, but it's also full of flavor and texture. The slivered almonds offer a lovely crunch with every bite. Meanwhile, the juicy tomatoes sing with a freshness that keeps you coming back for more.
Whether your kids or a ton of guests are sitting down to dinner, this salad will definitely satisfy them.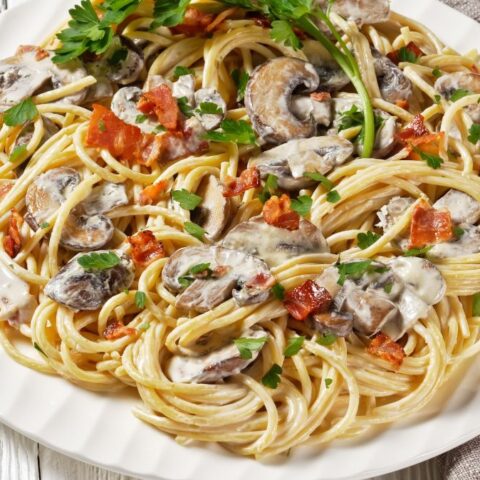 What to Serve with Pasta: 41 Sides for Pasta
Wondering what to serve with pasta? These Side Dishes for Pasta are easy, delicious, and make for a great addition to your dinner.
Ingredients
1. Jamaican Steamed Cabbage
2. Smothered Green Beans
3. Cucumber Tomato Salad
4. Shaved Brussels Sprouts Salad with Pistachios and Pecorino
5. Marinated Tomatoes
6. Watermelon Feta Basil Salad
7. Tossed Green Salad
8. Air Fryer Mushrooms
9. Avocado Orange Salad
10. Sauteed Arugula with Red Bell Peppers
11. Roasted Beets
12. Marinated Tomato Salad
13. Mediterranean Kale Salad
14. Festive Winter Salad
15. Roasted Cherry Tomatoes
16. Air Fryer Cauliflower
17. Vegan Sweet Potato, Lima Bean Salad
18. Caprese Salad
19. Sauteed Zucchini with Herbed Parmesan
20. Roasted Broccolini Salad with Crispy White Beans
21. Avocado Fries
22. Zucchini Fries
23. Maple Mustard Brussels Sprouts
24. Focaccia Genovese
25. Creamy Vegan Coleslaw
26. Bacon Wrapped Green Beans
27. Air Fryer Crack Green Beans
28. Sauteed Mushrooms and Onions
29. Burrata Salad
30. Roasted Asparagus Caesar Salad
31. Crusty Rosemary Olive Bread
32. Caprese Flatbread
33. Roasted Garlic and Herb Focaccia
34. Caesar Salad
35. Pesto Garlic Bread
36. Mozzarella Caprese Salad
37. Italian Chopped Salad
38. Italian Green Salad with Homemade Dressing
39. Cheesy Garlic Bread
40. Roasted Red Pepper Antipasto Salad and Crostini
41. Marinated Italian Fresh Green Bean Salad
Instructions
Scroll up to get a bunch of easy, yummy, and delicious side dishes. Don't be afraid to get creative with the ingredients, you might discover a flavor you didn't know you liked.
Get your shopping list going and make sure you've got all the ingredients.
Get cooking and make your next Side Dish for Pasta!
Notes
Which one of these recipes was your favorite? Let me know in the comment section or on Pinterest!