Fruity, sweet, full of healthy fats, refreshing, and yummy! This mango avocado salad is vegan-friendly, dairy-free, gluten-free, Whole30, and low-calorie.
Are you tired of the standard, old salad option? You know, the one with lettuce, tomatoes, cucumbers, or whatever other vegetables you have laying around.
Is it leaving you hungry? Or maybe you're just bored with this meal idea.
It's time for a change! Ready to put a hold on the leafy greens and allow some new concepts to come in?
This salad is something new, bright, delicious…and, best of all, it's filling! It's a great thing when a salad will leave you feeling full and satisfied.
This mango avocado salad is a terrific way to add variety to your weekly meal plan. The ingredients are fresh, healthy, and delicious.
Adding mango to anything will make it taste sweeter, brighter, and honestly, it makes everything taste better. Also, it's a fantastic way to add sweetness without dousing a salad with unhealthy dressing.
Now, let's talk about the avocado. Avocado is a tender, green superfood that provides a ton of nutrition.
For example, avocado contains more potassium than a banana. Also, avocados are high in fiber.
Additionally, they have healthy fats that are called monosaturated fatty acids.
Now, you may have heard that avocados have a high-fat percentage (77% fat, to be exact). And that may steer you away from using them.
But keep in mind that these are healthy fats and a great addition to your diet.
Some of these reasons to add them to your diet are that they have been known to reduce inflammation and even provide cancer-fighting properties.
Ingredients You'll Need for the Salad
Red onion -Red onions are a great low-calorie option to add to salads. They also have antibacterial properties to help your body fight off infections.
There are a few alternative ideas if you don't like red onion's pungent taste. One option would be to fun the onion through some chilly water. Doing this will take a little bit of the "bite" away.
Two, you may use a substitute. Some substitutes to use are a milder onion, like green onions or chives.
Mango – It's best to use a ripe mango for the best flavor.
However, suppose you can't find any fresh mangos. In that case, you can substitute with frozen mango pieces or another tropical fruit like pineapple.
Avocado – Avocado is one of the best ingredients of this salad. Use ripe, slightly tender avocados for the best flavor.
English cucumber -English cucumbers are the really long cucumbers you find in the store. Don't worry if you can't find an English cucumber. Any other type of cucumber will work just fine.
Grape tomatoes – Grape tomatoes are easy to find and incredibly delicious. Also, they are high in fiber and leptin.
Lemon – Lemons provide citrus, acidic flavor without any unnatural ingredients.
If you don't have a lemon handy, you can substitute it with lime or a splash of apple cider vinegar.
Garlic – Garlic is another great way to add flavor without any unhealthy ingredients. The garlic can be omitted altogether if you don't have any around, or you could use a small sprinkle of garlic powder.
Fresh parsley – Fresh herbs make any salad better! The fresh parsley makes a big difference in the final taste of this salad.
If you want, substitute with another fresh herb like cilantro, basil, or chives.
How to Make Mango Avocado Salad
Now it's time to put everything together. Let's make this delicious salad!
First, you will need to collect all of your ingredients. Remember, it's essential to use the freshest ingredients possible here.
Make sure that you are finding ripe mangos and avocados for the best flavor.
It's time to cut up all of your fruits and vegetables.
When you are cutting a mango, you must remove the fruit from the hard center core. Also, be sure to remove the skins, as well.
Now the salad will be much easier to put together once all of your ingredients are cut up.
Remember, if you don't like the strong taste of red onions, you can simply run them through some frigid water before putting them in the salad.
Make sure that you shake all of the excess water off before putting them in the salad.
Now it's to mix the salad together.
Next, pour all of the fruits and vegetables into a large bowl. Squeeze the juice from the lemon over all of the ingredients.
Finally, using a garlic press like this, press the garlic into the salad as well. Then you can sprinkle the parsley on top.
Now, gently toss all of the ingredients together so that they are all evenly coated.
And there you have it! You've made this delicious mango avocado salad.
Now it's time to divide it up and serve.
It's important to remember that this salad is best when served immediately after making it. This is because the avocados will start to oxidize and get brown shortly after they are chopped up.
What Goes Well With This Salad?
This salad would pair great with a lot of different things. To begin with, it is a perfect side for pork chops. Here are some options:
Benefits of Eating Mango
Mangos aren't just delicious. They are also really good for you.
They are high in antioxidants and immune-boosting properties. Therefore, eating mangos can help you fight against a cold and the flu.
They are also known to support heart and eye health.
You can enjoy mangos frozen or fresh, but they pack in a lot nutritional value either way.
Other Salads You Might Like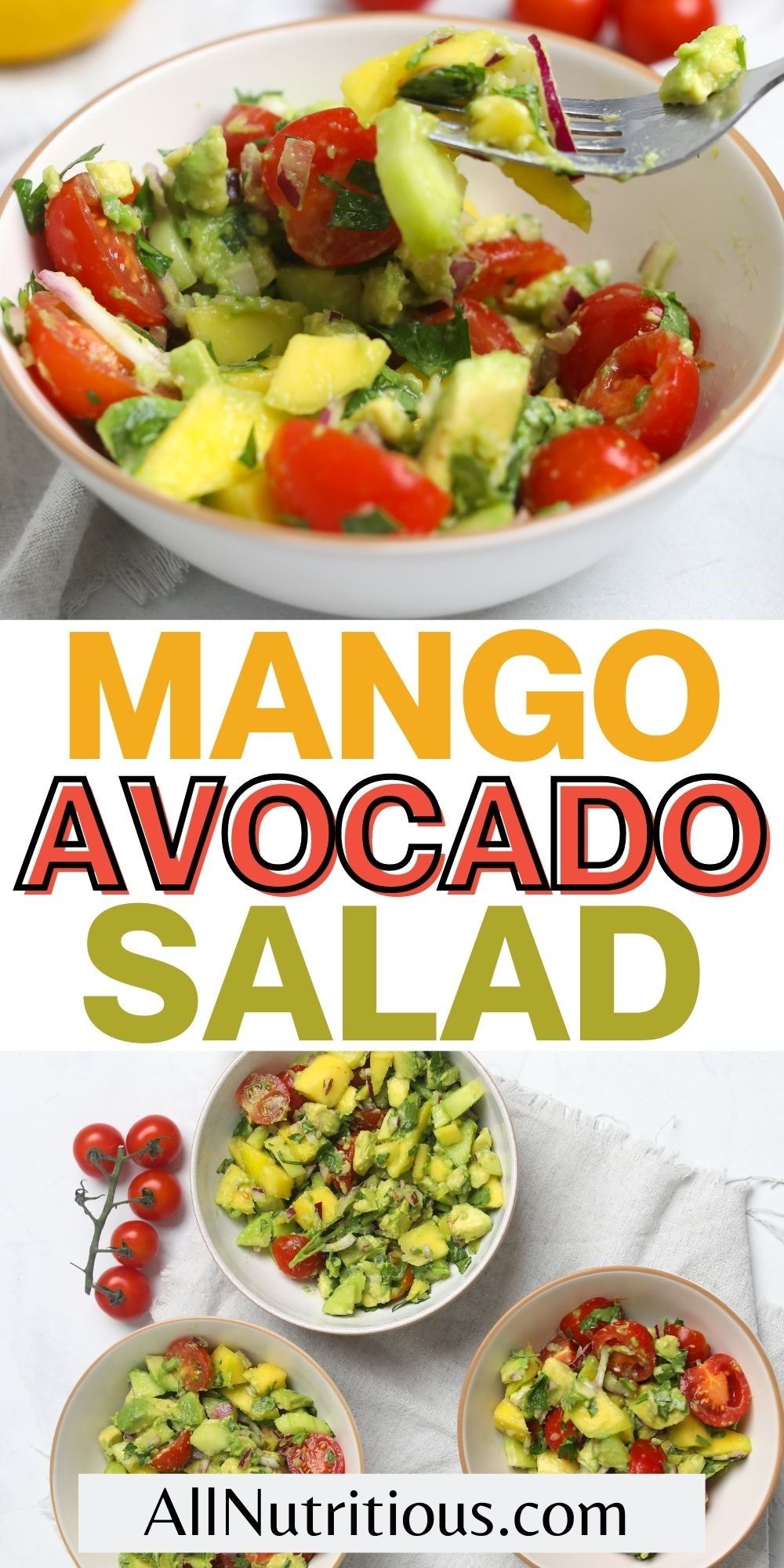 Watch More Salad Recipes
Love the mango avocado salad? Give more salads like this a try!
Mango Avocado Salad (Whole30, Low Calorie)
This mango avocado salad is a refreshing, tropical, fruity, and delicious meal. It's vegan-friendly, Whole30 approved, gluten-free, dairy-free, and low calorie.
Ingredients
1/2 red onion (finely chopped)
1 mango (peeled, cubed)
2 avocadoes (peeled and cubed)
1/2 English cucumber (peeled and chopped)
1 cup grape tomatoes (halved)
1 lemon (juiced)
2 cloves garlic (minced)
a handful fresh parsley (chopped)
Instructions
Chop red onion and add it to a large bowl.
Cute your mango. Make sure to peel the skin and cube the flesh. Add it into the bowl as well.
Cube the flesh of the avocado and add it in.
Peel the cucumber and chop it. Add it into the bowl as well.
Cut your grape tomatoes in halves, add them to the salad bowl and squeeze in lemon juice!
Peel garlic cloves and press them with a garlic press into the bowl.
Chop parsley and top the bowl with it. Now combine all the ingredients, and feel free to serve the salad right away!
Nutrition Information:
Yield:

3 bowls
Serving Size:

1 bowl
Amount Per Serving:
Calories:

312
Total Fat:

20g
Saturated Fat:

3g
Trans Fat:

0g
Unsaturated Fat:

15.6g
Cholesterol:

0mg
Sodium:

26mg
Carbohydrates:

35g
Net Carbohydrates:

22g
Fiber:

13g
Sugar:

18g
Protein:

5.2g
Nutritional values were obtained with automatic software using the amounts of products used. To get the most accurate representation of the nutritional values, you should calculate them with the actual ingredients used in your recipe. You are solely responsible for the nutritional information obtained to be accurate.