Looking for some of the best side dishes for ribs? Find the perfect side dish you can make with simple ingredients.
Whether you're feeding people on game day or enjoying a weekend treat, there are few foods better than ribs. These tasty hunks of meat are the ultimate barbecue delight.
In fact, most families have their very own well-guarded rib recipe. I personally know many families who don't take their rib days lightly. It's a whole production!

What to Serve with BBQ Ribs?
So, it only makes sense that the dishes you serve with ribs should be just as good. BBQ ribs have a rich, deep, and sticky flavor. They need something strong and tasty to cut through the taste.
That's why everyone single one of the side dishes on this list has been selected. Each one can stand up to the ribs' captivating flavor profile.
Not to mention, they're the perfect additions to a day spent by your grill. Sun in the sky, cold drink in hand, and the smell of ribs and a good side on the air. Who could ask for more?
Potato Sides
Let's start off with one of the best known sides to ribs: the good old potato. Potato is such a versatile vegetable.
There are hundreds of delicious ways to prepare it, so let's look at just eleven of them and find the easy side dishes you'll love.
Source: tastesofhomemade.com
We're beginning the list with a tried-and-true classic: mashed potatoes. Creamy, buttery, and utterly delicious! There's a reason so many people love this potato-based side dish.
But these particular mashed potatoes have a wonderful twist: ranch. Ranch dip is possibly the greatest food-related invention since someone came up with mashed potatoes.
So, it makes total sense to blend them! The creamy ranch dressing is balanced by sour cream and a few choice herbs in the potatoes.
This comforting, easy-to-make option will easily elevate those sticky ribs. So, when you looking for tasty side dishes just go with mashed potatoes.
Source: rosemaryandmaple.com
Next up, we're jumping on the sweet potato train with these delicious crispy wedges. A crispy wedge with a dipping sauce is the perfect complement to a plate of sticky ribs. They're both finger food!
Not to mention, wedges are extremely easy to make which makes for a great choice. No matter how many people you're feeding, all you need is a couple of sheet pans and plenty of sweet potato.
Don't be shy on the spices! The built-in sweetness of these potatoes loves to be challenged by plenty of seasoning. Dip these in a homemade creamy dressing for the ultimate treat.
Source: recipesfromapantry.com
If you love potatoes but don't love the oil that comes with them, these air fryer potato wedges are for you. An air fryer is a wonderful appliance to have. It makes side dishes like these so much easier.
This recipe only uses half a teaspoon of oil. Yet somehow, these wedges are as crispy and delicious as if they'd been covered in the stuff!
I love making anything in an air fryer because they're so quick and easy. Just set and forget, then come back when it's time to plate up.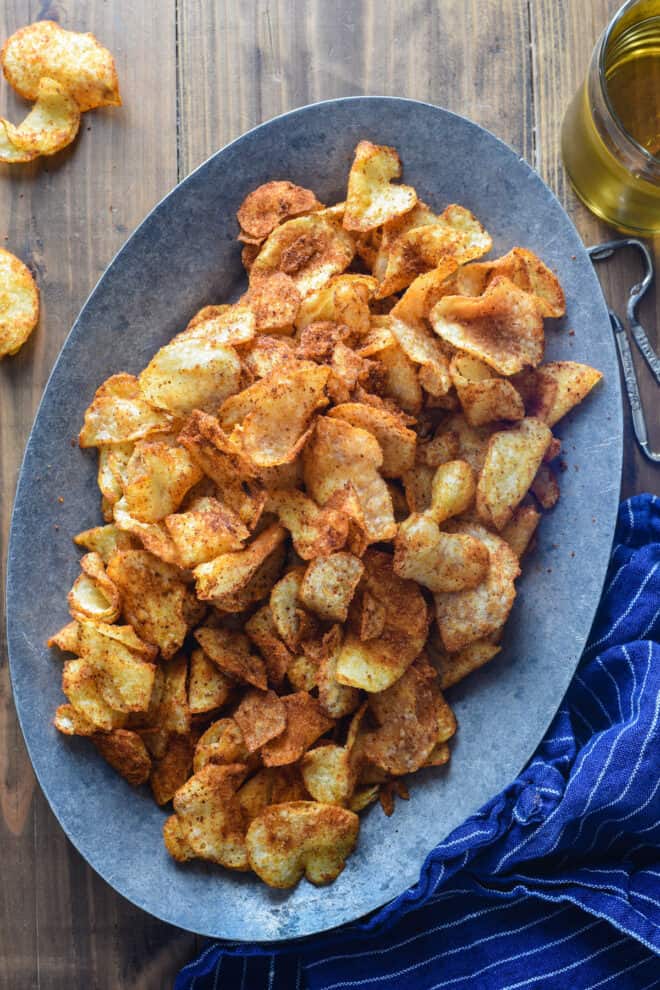 Source: foxeslovelemons.com
If you prefer an easy recipe to serve with your ribs, these are for you. Spice up the regular, plain-old potato chip with this DIY spice mix!
This particular spice blend is warm, earthy, and sweet. Thanks to the cumin and paprika in the mix you'll enjoy a delicious kick on these warm chips as soon as you pop one in your mouth.
These are easy to make in bulk, so they're perfect for potlucks or game days. Whip up the spice mix in advance and store in a jar.
Then it's ready to go at a moment's notice and to enjoy all that extra flavor!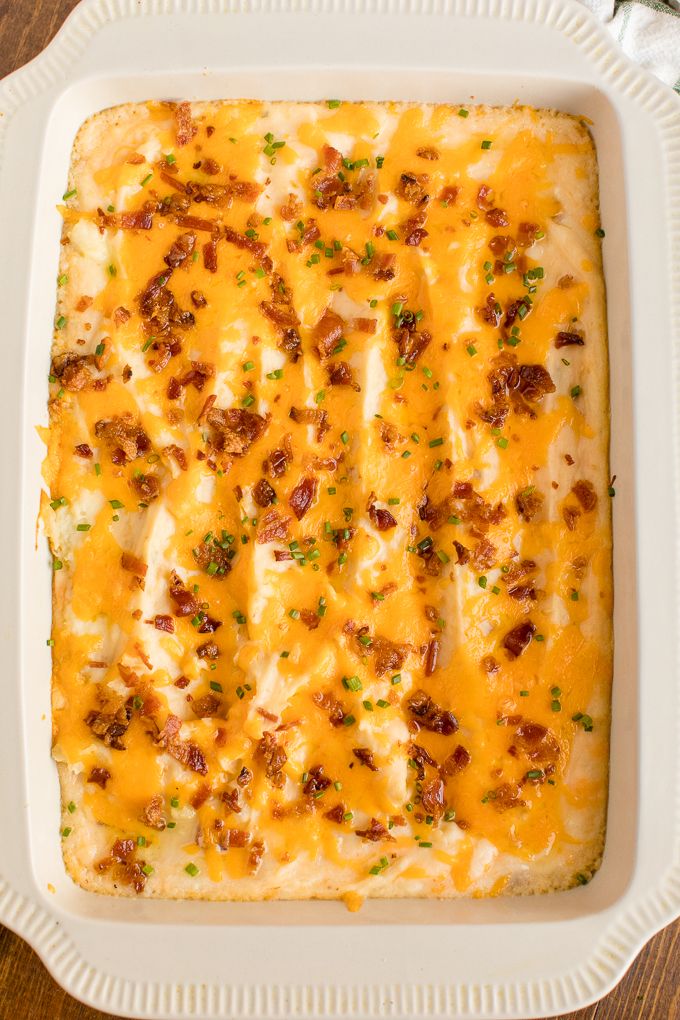 Source: simplystacie.net
Potato casseroles are like mashed potatoes' bigger, better brother. Topped with cheddar cheese, bacon, and chives, this casserole might actually steal the show from your ribs.
There's some sour cream hiding in the potato mix. Thanks to that, these are ultra-creamy and just tangy enough to avoid being overpowering as a side dish. The best part? You can pre-make it!
Enjoy your big Sunday lunch without spending all day in the kitchen. Whip this up beforehand, store in the fridge. When you're ready to eat, whack it in the oven on high to get that cheese bubbling.
This classic recipe is absolutely delicious and will definitely satisfy your taste buds.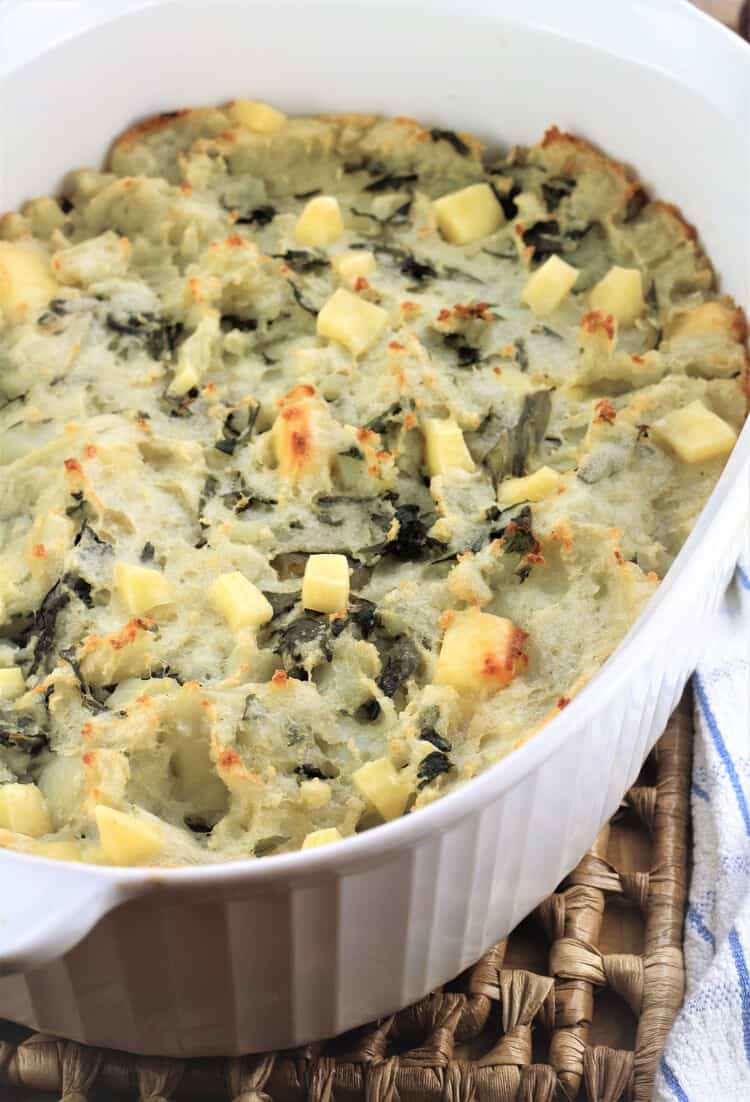 Source: mangiabedda.com
If you're looking for a healthier take on the potato casserole, I've got your back. Swiss chard is the perfect vegetable for the task. It's packed with antioxidants and makes for a delicious cheese recipe.
This is a chunkier take on a potato casserole, so it stands up well against the hearty ribs. This is another one you can make in advance and heat up on the day.
In fact, if there are any leftovers you can reuse them for a couple of days after! This is a well-rounded dish, so you can even have it as a main meal.
Source: countrygirlcookin.com
If you're looking for a popular recipe, look no further. These baked curry sweet potatoes are absolutely bursting with rich spices to accent a sticky, meaty rib dish.
The sweetness of the potatoes plays beautifully against the warm spice mix. Plus the spice mix from the recipe would be perfect on a whole range of root vegetables, so pick your favorite.
Source: greedygourmet.com
When I think of sweet, rich, sticky rib sauce, sweet potato mash is always hot on its heels. The two flavors blend together so well it's a wonder they aren't always served together.
The sweetness of these potatoes is accented by a rich, buttery aftertaste. As a base for your rib main course, they're the perfect thing to cut through all that hearty meat.
If you're feeling adventurous, hang onto any leftovers (if there are any that is!). This mash makes a wonderful baked casserole the next day.
Source: ruchikrandhap.com
Sometimes, simplicity is king. But don't let the word 'simple' fool you, these baby potatoes are absolutely packed with flavor.
Garlic butter, onions, and fresh dill all combine to make the little vegetable sing.
These are easy to whip up in large quantities, so there's very little hassle. My recommendation? Make a large batch of the garlic butter and store it in your fridge.
It's good enough that you'll just want to spread it on your toast, trust me.
Source: spendwithpennies.com
Twice baked potatoes highlight everything that's good about the humble potato. The creamy, soft inside. The crispy skin.
And the mellow, rich flavor of the potato flesh combined with its favorite companion: cheese.
Once you know how to make these potatoes, you'll never look back. I love this recipe because of how simple it is to customize to your tastes. Add some vegetables or a spice mix for a new flavor.
Source: sunglowkitchen.com
The final entry for our potato sides is a true-blue barbecue classic: the potato salad. A cold potato salad served alongside warm, sticky ribs is the perfect way to cap off a delicious meal.
Not only can you make this in advance, I'd highly recommend it. The longer the potato can sit in the fridge to blend with the other flavors, the tastier it will be.
Sprinkle with fresh dill when you're just about to serve, for a little extra kick of scrumptious herby flavor.
Healthy Sides for Ribs
With ribs being the hearty main dish they are, sometimes it's nice to add a healthy side dish into the mix. Cut through some of that heaviness with these eleven dishes.
Each one adds a few serves of nutrient-rich vegetables to the table, so you can enjoy those ribs guilt-free! Whether you want fresh vegetables or cooked ones we include them all.
Source: lifeloveliz.com
We're starting off with a crispy, refreshing delight! This Honeydew Cucumber salad highlights the crunchy, cooling qualities of both cucumber and honeydew melon.
Some honey and olive oil add the slightest touch of rounded sweetness to this side salad. Everything is topped off by a few pieces of red onion. It adds a kick to every bite, pairing easily with the ribs.
Make sure you refrigerate this salad for a while before you serve it. This just adds to the delicious coolness, which is the perfect break when you're eating hot ribs!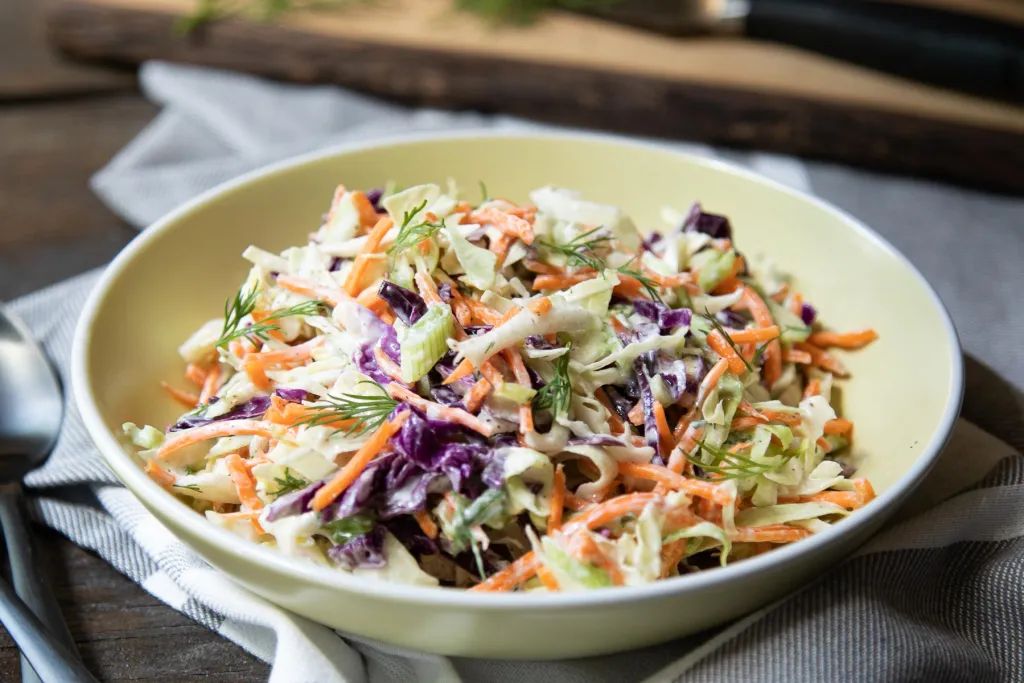 Source: lucismorsels.com
When I'm being health-conscious, a coleslaw that's too heavy on the mayo is always my enemy. It's delicious, but with the amount of mayo on some coleslaw, it can get downright unhealthy.
That's why I love this recipe for No-Mayo Coleslaw. This cooling take on a homey coleslaw is perfect for hot summer days out by the grill. You can easily satisfy the whole family with this side dish.
Instead of mayo, use Greek yoghurt with a variety of spices. You won't even notice the difference.
Source: cookathomemom.com
This next coleslaw is absolutely bursting with color. The purple cabbage and orange carrot blend together into a riot of color in the bowl. It just makes you want to dig in straight away.
The secret to this slaw is a little bit of mustard hidden in the mayo. It combines with the earthy vegetables to make a grounded, super-tasty slaw you can't put down.
If you want to make this even healthier, consider using Greek yoghurt instead of mayonnaise.
Source: fedbysab.com
Brussel sprouts have a bad reputation. This shaved sprout salad is here to change that. The secret to good brussel sprouts lies in the preparation, and this recipe has it down to a tee.
Raw sprouts are actually a wonderful base for a salad. They're crunchy and filling, and the earthy flavor is the perfect foundation to build up some layers of taste.
Add craisins, apples, pears, and some creamy dressing for a salad you won't forget.
Source: feastingnotfasting.com
You love cornbread, I love cornbread, everyone loves cornbread. But unfortunately, most cornbread recipes are absolutely packed with butter which can be bad for your heart.
This tasty recipe is here to save the day. Using whole wheat flour means the bread has more fiber, and the reduced butter content makes this easy on the heart.
Double the recipe and store this in the fridge so you can save yourself some time. Enjoy it up to five days later!
Source: upstateramblings.com
Broccoli is another green vegetable that has an unfortunate reputation, but it shouldn't! Those little treetops can hold so much flavor. The stalks are lovely and sweet when you serve them just right.
This recipe plays a lot with texture. Raw broccoli pairs with sunflower seeds and bacon. In other words, it's a delightfully crunchy salad!
As a healthy side dish for ribs, you couldn't ask for anything better. The freshness of the salad will refresh your palette between bites of rib. So, you won't get sick of either one as you eat.
You could also serve these as a side dish with steak.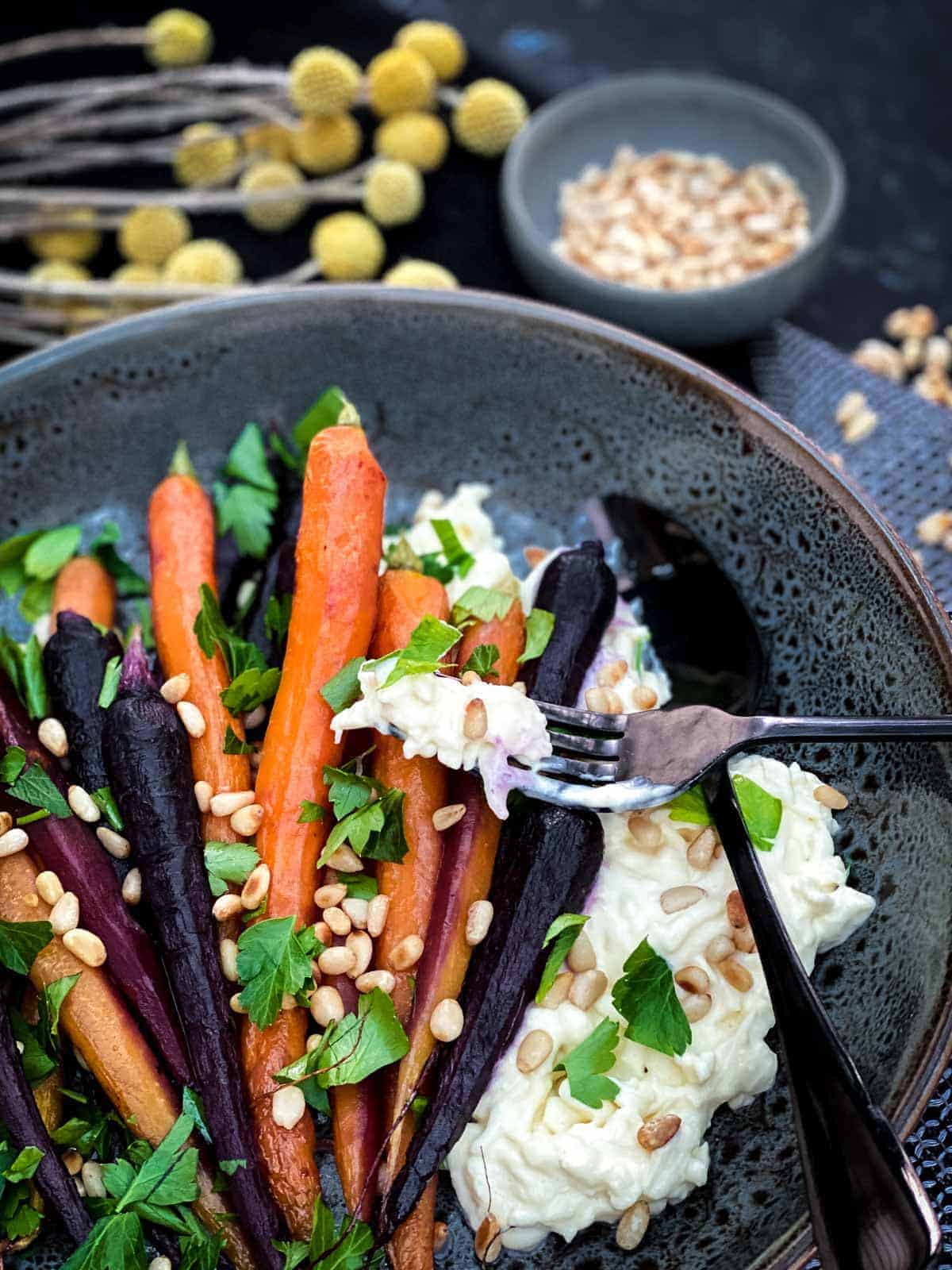 Source: thedevilwearssalad.com
If you've never eaten stracciatella cheese before, this is the place to try it. It's little pieces of shredded mozzarella in cream. This is a buttery cheese that pairs with sweet carrots perfectly.
The humble carrot is pretty good on its own, but when combined with maple syrup, it can't be beaten. A little bit of orange zest lightens the whole affair to a whole new level.
Source: theveganlarder.com
Love potato fries, but don't love the unhealthy oils and starches? These vegan zucchini fries are for you. I love zucchini, but even I was a little bit sceptical when I read this.
Not anymore though! The crunchy coating on these fries gives them the perfect texture to bite into. Coated in a mild spice mix, these healthy fries go from bland to absolutely mouth-watering.
Serve with some aioli and watch these disappear from the family's plates!
Source: sunglowkitchen.com
Depending on how you're seasoning your ribs, you might want something sweet to anchor your meal. Enter this sweet potato and beet salad.
This salad combines two sweet root vegetables, so it's both earthy and slightly sweet. Everything is caramelized to perfection, which adds a smokiness that ties perfectly with the ribs.
Top it all off with some light feta and a few leafy greens for a refreshing element to this tasty dish.
Source: theartoffoodandwine.com
They say it's not easy being green, but this salad might have to disagree. If you love the traditional Caesar salad, then you'll love this version with a sophisticated twist.
Top your charred romaine lettuce wedges with a quick Caesar dressing and crunchy croutons, and you're all set! If you want some additional flavor, feel free to customize it.
I strongly recommend adding a couple of medium-boiled eggs and crumbled bacon, then serving as a lunch all on its own. However, if you're serving it with ribs then just as the recipe suggest is perfect.
Serve with fresh herbs for the best flavor!
Source: delightfulplate.com
Our final healthy side dish is a one-pan wonder, so barely any dishes! Sweet and crunchy asparagus pairs with earthy mushrooms for a tasty addition to any meal.
If you're serving up ribs, this side dish is just robust enough to stand up against the hearty meat flavors. But, it's not so robust that it will steal the show from your main event.
If you want to elevate this even further, sprinkle it with some crispy shallots for a crunchy element that's to die for!
Keto Sides for Ribs
Going keto can be a tough ask. Especially when you're looking for delicious side dishes that feel at home beside a plate of delicious ribs.
Luckily, there are geniuses all across the internet who have come up with some truly tasty ketogenic options. You'll get a ton of different flavors that will make your low carb lifestyle more exciting.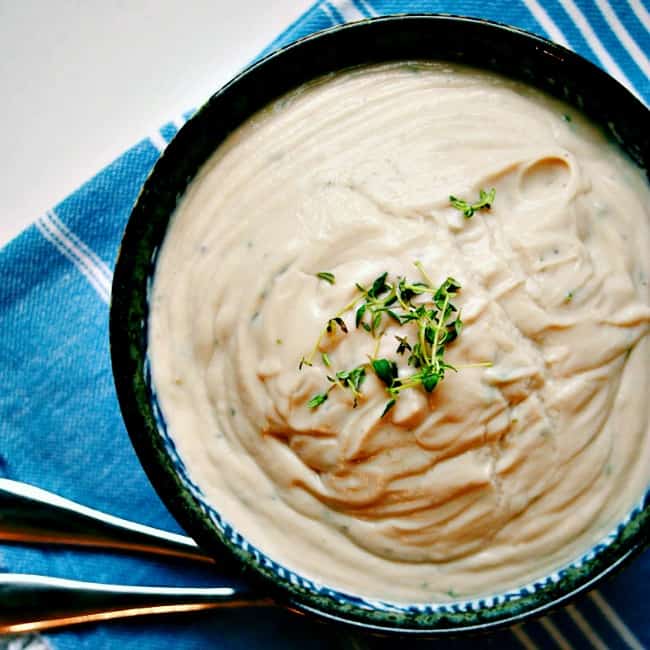 Source: wholefoodbellies.com
Cauliflower is a wonderful substitute for mashed potatoes. It has the same mellow, somewhat starchy flavor, without all the carbohydrates!
The best part of mashed potatoes is how well it supports other flavors. Cauliflower mash truly delivers on that same promise. Top with cheese or leave as is; it's delicious either way.
This recipe delivers on a garlic and herb version that will have your mouth watering as soon as you start cooking. The secret ingredient? Vegetable broth! It adds a depth of flavor that can't be beaten.
Source: thebellyrulesthemind.net
Next up, air fryer zucchini! Not only does this recipe feature no carbs, it also uses very little oil. Don't let that lack of oil fool you though; the zucchini is wonderfully crispy and flavorful.
This one is so easy to pull together. Chop the zucchini like fries or chop it into rounds like little potato chips. In fact, you might find that this becomes a staple in your snack repertoire.
While this recipe only uses simple seasonings, I highly recommend trying out some new spice mixes. Serve these up with some homemade ranch or a Greek yoghurt dip to blow your guests away.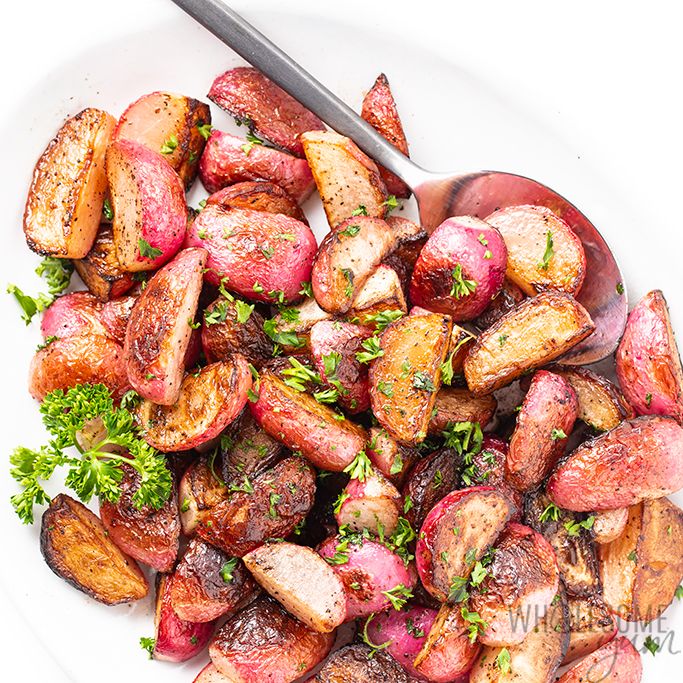 Source: wholesomeyum.com
If you're really craving some baked potatoes with your batch of ribs, I've got you covered. Substitute those starchy potatoes with some tasty sauteed radishes!
Thanks to the natural sugars in radishes, they caramelize and tenderize just like a potato. When you add butter, herbs, and a sprinkling of salt, you'll happily wave goodbye to potatoes forever.
Even if you're not on keto, this is a great way to change up some of your favorite potato dishes. Sneak some of those additional nutrients into your kids' diets. They won't even know the difference.
Source: summeryule.com
While onion rings aren't typically keto-friendly, these frozen onion rings have a low-carb breading. The breading is made from crushed-up pork rinds, so you know that these will be scrumptious.
Keep in mind that you need to allow at least four hours for the onion rings to freeze all the way through. This helps them retain their shape while air frying. Trust me, the extra time is worth it!
If you're having guests over, try doing the majority of the work the night before. Whack these in the freezer for the night, then straight into the air fryer just fifteen minutes before serving.
This is also an amazing side dish for pork chops.
Source: wholesomeyum.com
This recipe gives the often underappreciated mushroom some time in the sun. These vegetables are packed so full of natural flavor that they often only need a small boost to become amazing.
That's where a heaping helping of delicious garlic butter comes in. There aren't many dishes that can't be made better with the presence of good garlic butter, wouldn't you agree?
This side dish will be a wonderful addition to the table when ribs are involved. Both are warm, hearty, and flavorful, so they support each other wonderfully.
If you're craving a little bit of crunch, I recommend sprinkling the finished product with some crispy onions.
Best Sides for Ribs
Now, we've come to the best part of the list… see what I did there? These recipes are the utterly indulgent, completely scrumptious side dishes everyone dreams of when they think of ribs.
Creamy, cheesy, and not shy on the sauce. These are all the elements that make these dishes the best thing to serve next to a plate of smoky, sticky ribs.
Whether it's a classic side dish or something light for your savory ribs, you can find a recipe for it all.
Source: bellyfull.net
It's called a classic macaroni salad for a reason! At every potluck or day out by the grill, you'll find a tasty mac salad perched on the table for the guests.
The creaminess in this macaroni salad is the perfect way to highlight a hearty meat main. So, what's the key to a fantastic version of this recipe? Dressing, dressing, dressing!
This recipe sports a well-seasoned dressing that's just bursting with spice, vinegar, and creamy ranch. Serve that alongside a sweet and sticky set of ribs and you'll be rolling your guests away.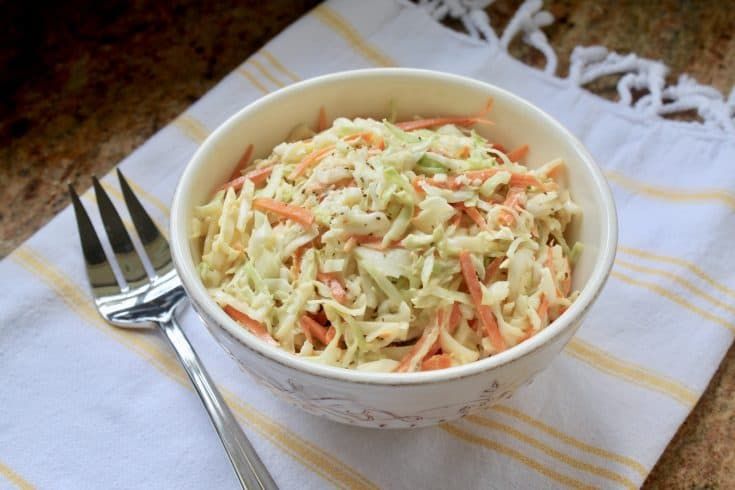 Source: christinascucina.com
Coleslaw is known for its mellow and comforting taste. So what happens when you get a bit of spice in there? The answer is: taste! This spicy coleslaw is the perfect way to use up leftover veges.
On top of the standard creamy dressing, this coleslaw uses a green Tabasco hot sauce that knocks it out of the park. You can customize the level of spice to suit you, so experiment as you will.
As with any spicy food, if you've never made this before, go slow. Add a little bit of Tabasco at a time and taste as you go.
Source: lifeloveliz.com
These macaroni and cheese muffins are the perfect way to get the kids in on the fun. While everybody loves a good mac and cheese, turning them into muffins is perfect work for little hands.
While they're not your standard muffins, these actually seem to hold their shape quite well. If by some miracle these aren't gone by the end of the meal, they're also super easy to store.
Make sure to use a generous amount of cheese on these babies. The cheese acts as a glue and holds the macaroni in the muffin shape. So… that's a great excuse to go nuts on the cheddar
Source: twopinkpeonies.com
I think creamed corn is one of the most iconic side dishes for ribs. Not creamed corn from the can, but true-blue homemade creamed corn. It's easier to make than you think, and so worth the time.
This recipe is particularly great because all you need is a crock pot, slow cooker, or Instant Pot. This side dish has minimal ingredients and maximum taste. Set and forget while you focus on grilling!
You have an option to add honey to the mix if you think you'll want an extra sweet batch of corn. If you're serving with ribs, I recommend serving as is! A savory side will nicely balance your ribs.
Source: recipesfromapantry.com
This crispier take on a corn side dish is sure to satisfy everyone at the table. It's so simple to throw together and so tasty there won't be any leftovers.
With a sweet corn base and a savory sauce, this scalloped corn bake is perfect balance of flavors. The unique thing about this recipe is that it uses cornflakes instead of the traditional saltine crackers.
The cornflakes add the same lovely crunch without the sodium. Make this alongside the kids for a little family fun. Or whip it up for any last minute BBQ potlucks on the horizon. You're welcome!
Source: anediblemosaic.com
If you're making ribs from scratch, there's a big chance your oven and stove are pretty much occupied. That's why recipes that use the Instant Pot are a saving grace for rib lovers.
Enter: the Crispy Instant Pot Brussels Sprouts! Topped with crispy bacon and cheese, these brussels sprouts are easy to whip up and just as easy to nosh on. These little parcels are sure to be a favorite.
Brussels sprouts are sponges for flavor. So these caramelized balls of greenery are bursting with tasty bacon and balsamic notes. Serve with fresh-grated Parmesan for the ultimate taste sensation.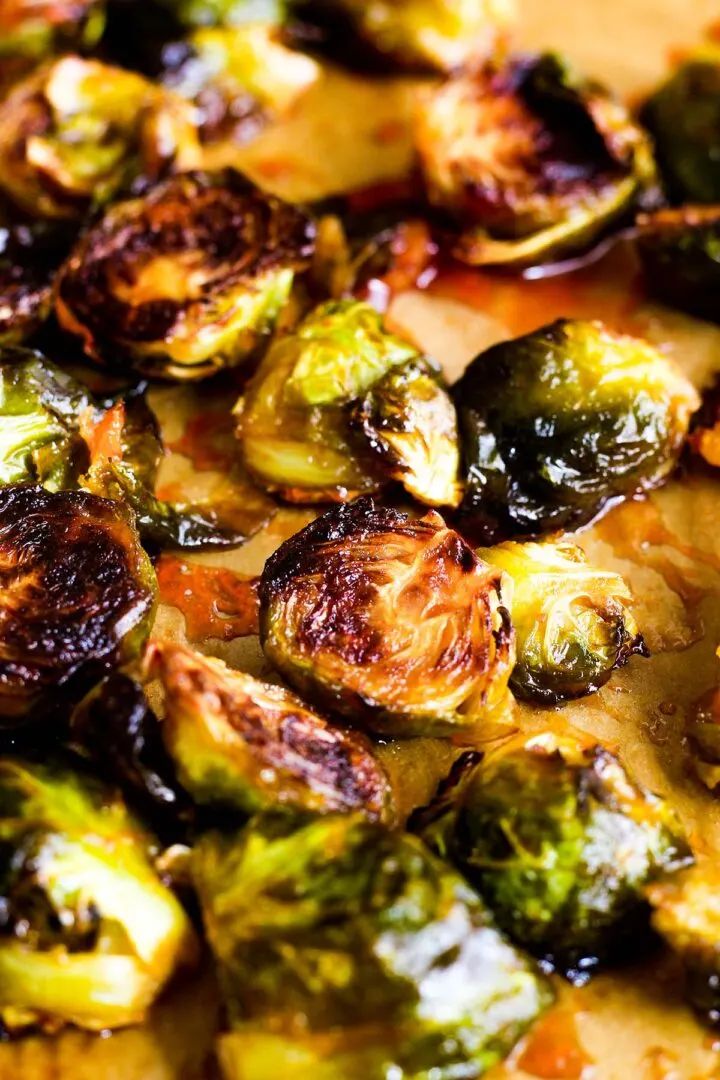 Source: taoofspice.com
While I know everyone loves the bacon and cheese combination, you might be looking for something new to try. That's where these honey and sriracha brussels sprouts come in.
These sweet and spicy treats are incredibly easy to make. You only need five ingredients and a single baking sheet to make it happen. Plus, most of the cooking time is hands-off.
Served up beside ribs, these spicy sweet delights will elevate the heart flavor of your main. I highly recommend putting some ranch or aioli on the table for a creamy element.
Source: wholefoodbellies.com
Looking for a more sophisticated take on mashed potatoes? Well look no further. This creamy roasted parsnip puree has mellow notes of garlic that will absolutely make your mouth water.
This puree is the perfect base for any rib sauce, whether you've gone spicy, sticky, or sweet. You can also make it ahead of time and reheat so you can focus on getting your ribs perfect.
This is a great way to replace your potatoes with a healthier option that tastes just as good, if not better.
Source: taoofspice.com
If you've never braised cabbage before, welcome! This might just be your new favorite side dish to serve with ribs. Featuring bacon, barbecue sauce, and chicken broth, this is a punchy side dish.
Braising cabbage makes it taste about a million times better than it does raw. You're still getting those nutrients, but it'll almost feel like you're cheating because of how tasty this is!
If you have any leftovers, this is an incredible sandwich filling. It also keeps in the fridge for a few days, so you can easily reheat and serve with another meaty main.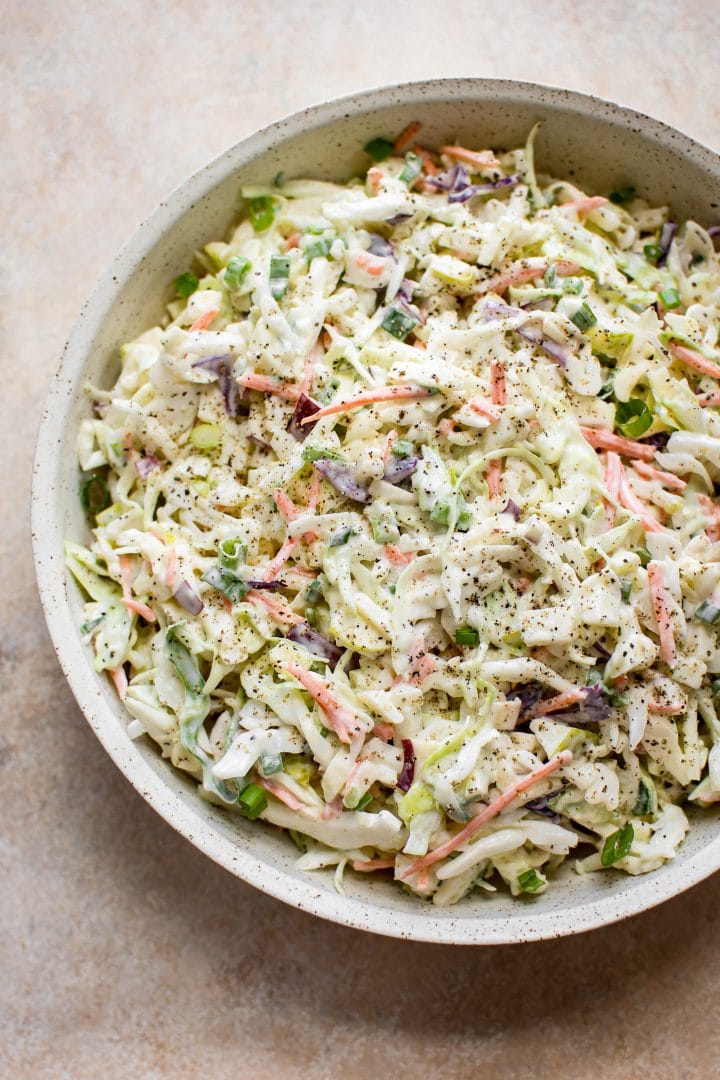 Source: saltandlavender.com
Rather than your standard coleslaw, add a sweet and refreshing kick to the table with this apple slaw. Which is an excellent choice if you're looking for a great side dish.
It's so easy to make and takes barely any time at all. But you wouldn't know that from how good it tastes!
The sweet and crunchy slaw is the perfect balance to a rich and meaty rib dish. Thanks to this, you'll be able to demolish that plate of ribs in short order.
Source: yuminthekitchen.com
What's the best thing to serve with ribs? That's right, riblets! Specifically, corn riblets. These sweet, crunchy, and smoky delights are an out-of-this-world side dish for any rib recipe.
Despite their depth of flavor, these are actually super easy to make. You just need a few spices, and since you're making ribs, you'll definitely have the right ones.
Serve with a dipping sauce or just use them to mop up the rib sauce.
Source: saporitokitchen.com
Traditional cornbread is undoubtedly delicious. But if you're looking for something with a little more kick, this jalapeno cornbread pudding will knock your socks off.
This is such a clever recipe! It plays on the tried-and-true bread and butter pudding. But instead of making it sweet and creamy, this is a cheesy and spicy treat that goes perfectly with a plate of ribs.
Source: sunglowkitchen.com
Macaroni and cheese is usually made with macaroni elbows, the dish's namesake. But this recipe replaces the larger elbows with a tiny pasta shape called 'orzo'.
These tiny pieces of pasta are almost rice-sized, which means each mouthful of this mac and cheese is smooth as butter.
Want to make it even better? Top with some crispy bacon for a mouth-watering crunch.
Source: thekitchenandalatte.com
The final dish on the list is a tribute to potlucks everywhere: the pasta salad! This cold salad is perfect for making ahead of time, plus it's a tried-and-true companion for almost all meaty mains.
While you can make this using store-bought ranch dressing, I recommend making it from scratch. That extra depth of flavor will set your salad above the rest for sure.
Serve cold and watch it disappear at light speed!
41 Best Side Dishes for Ribs (Easy & Delicious)
What to serve with ribs? These Side Dishes for Ribs are super easy to make, taste delicious, and are great for dinner.
Ingredients
1. Creamy Ranch Mashed Potatoes
2. Crispy Sweet Potato Wedges
3. Air Fryer Potato Wedges
4. DIY Seasoned Potato Chips
5. Twice Baked Potato Casserole
6. Cheesy Swiss Chard Potato Casserole
7. Roasted Curry Sweet Potatoes
8. Sweet Potato Mash
9. Baby Potatoes in Garlic Butter
10. Twice Baked Potatoes
11. Potato Salad with Dill
12. Honeydew Cucumber Salad
13. No Mayo Coleslaw
14. Purple Cabbage and Carrot Slaw
15. Shaved Brussels Sprout Salad
16. Healthy Cornbread
17. Broccoli Salad
18. Roasted Maple Carrots with Stracciatella Cheese
19. Vegan Zucchini Fries
20. Sweet Potato Beet Salad with Feta
21. Grilled Caesar Salad
22. Sauteed Asparagus with Mushrooms
23. Slow Cooker Garlicky Herbed Cauliflower Mash
24. Zucchini in Air Fryer
25. Sauteed Radishes
26. Air Fryer Frozen Onion Rings
27. Sauteed Mushrooms in Garlic Butter
28. Classic Macaroni Salad
29. Spicy Coleslaw
30. Mac and Cheese Muffins
31. BBQ Creamed Corn
32. Scalloped Corn
33. Crispy Instant Pot Brussels Sprouts with Bacon
34. Honey Sriracha Brussels Sprouts
35. Creamy Garlic Roasted Parsnip Puree
36. BBQ Braised Cabbage with Bacon
37. Apple Slaw
38. Corn Riblets with Smoky Dipping Sauce
39. Savory Cheddar Jalapeno Cornbread Pudding
40. Orzo Mac and Cheese
41. Ranch Pasta Salad
Instructions
Scroll up to get a bunch of easy, yummy, and delicious side dishes. Don't be afraid to get creative with the ingredients, you might discover a flavor you didn't know you liked.
Get your shopping list going and make sure you've got all the ingredients.
Get cooking and make your next Side Dish for Ribs!
Notes
Which one of these recipes was your favorite? Let me know in the comment section or on Pinterest!