This quinoa chickpea salad is naturally sweet, refreshing, filling, yet low-calorie. It's high in fiber, vegan, dairy-free, gluten-free, and low-calorie.
This quinoa chickpea salad has a little bit of everything. It's bursting with different flavors and has the perfect variety of ingredients.
The salad has everything from earthy chickpeas to crunchy cucumber. Not to mention the exciting variety of spices in the dressing.
Also, this salad is a great option when trying to follow a healthy eating plan. The salad is gluten-free and dairy-free.
Better yet, it's very low in calories! Each serving only has 251 calories.
It's a beautiful salad that would be great for a simple lunch or even a fancy side during a dinner party. There is an assortment of flavors and textures that everyone will love.
Plus, substitutions will be easy to come by if you can't find these specific ingredients.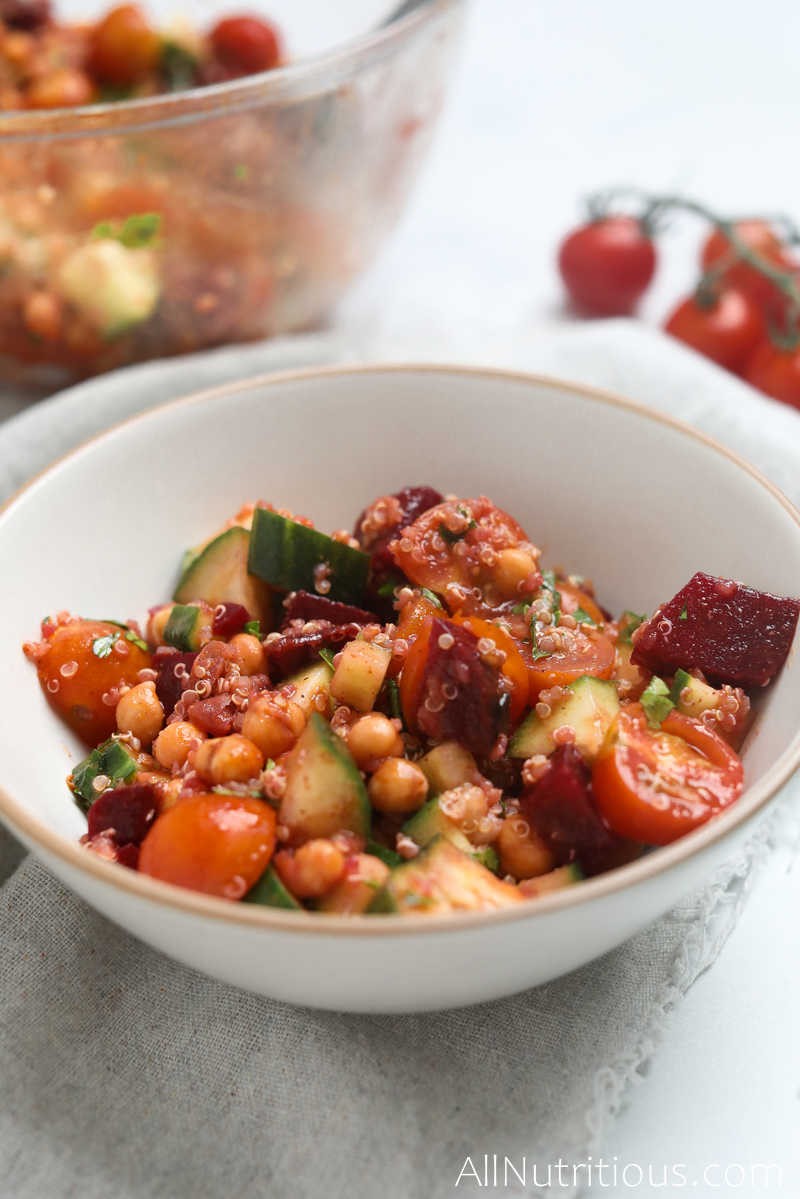 How to Make Quinoa Chickpea Salad
This salad requires a few different (but simple!) steps.
Spiced Chickpeas
You'll need to make the spiced chickpeas separately before adding them to the salad.
This will be the first step so that the chickpeas have time to cool before adding them to the salad.
Ingredients
Olive oil – Olive oil coats the chickpeas while they cook. The delicious spices stick to them and develop a really unique flavor.
Olive oil is a fantastic healthy fat to add to your diet (much better than butter!). Other healthy substitutes include coconut oil or avocado oil.
Cinnamon – Adding cinnamon to savory dishes brings a different flavor to the dish that you won't want to miss out on. Cinnamon also naturally high in antioxidants and can help lower blood sugar levels.
Cumin – Cumin is another spice to use that helps boost flavor. It's been known that cumin can help with weight loss and help those with high cholesterol levels.
Paprika – Paprika is a bright red spice made from ground peppers. However, it won't make your dish that much spicer.
Instead, it provides a deep, earthy flavor with a little bit of sweetness. It also provides Vitamin A and can help aid in healthy digestion.
Cayenne – Cayenne will bring the heat to your dish. Feel free to omit it (or just use a smaller amount) if you don't like spicy food.
There isn't a large amount of cayenne in this low-calorie recipe, so it's a safe place to try out the spice. Cayenne has cleansing properties and is really good for you.
Ginger – Last but not least, ginger is the last spice we will use. Ginger improves digestion and is another cleansing element.
It also provides properties that help fight colds and flu. If you don't have any ground ginger, you can substitute it with fresh ginger instead.
Canned chickpeas – Chickpeas are high in protein and fiber, making them a terrific option for a weight loss diet. They are also a source of vitamins and minerals.
You can substitute them with edamame or another type of bean.
Salt
Step 1: Cook Your Chickpeas
First, you are going to heat up a medium-sized saute pan on medium heat. Then add the oil and spices.
Stir the oil and spice together so that it creates a thin paste. You'll want to stir and "toast" the spices until they become fragrant.
Next, add the chickpeas. Toss the chickpeas in the oil and spice mixture so that they are evenly coated.
Let the chickpeas cook for about 5-7 minutes. Once the chickpeas are done, remove the pan from the heat.
Now, Set the pan aside and let the chickpeas cool.
Lemon Dressing
You can now make the dressing while the chickpeas are cooling down. You could also make this dressing ahead of time and simply store it in the refrigerator.
Ingredients
Dijon mustard – Dijon mustard is low-carb and sugar-free. It adds flavor without any unnecessary sugar.
If you don't have any Dijon mustard, you can substitute it with spicy brown mustard or yellow mustard.
Mayonaise could also be a reasonable substitute if you don't like the taste of mustard. But try to stick to a keto-friendly option for the best health benefits.
White wine vinegar – Vinegar is an essential component in most salad dressings. It adds a "punch" and brightness to the dressing.
It can be replaced with apple cider vinegar or additional lemon juice.
Honey – Honey is a natural sweetener with antioxidants and many other health benefits. Raw, organic honey is best.
Lemon – Lemon is another easy way to add flavor without ingredients that are bad for you. Lemons are one of the greatest fruits for vitamin C, fiber, and weight loss.
Olive oil – If you don't have any olive oil, you can easily substitute it with avocado oil or sunflower oil.
Salt & black pepper
Step 2: Make the Dressing
Making the dressing is very simple. You just need to add the ingredients into a small bowl.
Then, mix them together and set the dressing aside until you are ready to use it.
Salad
You're going to want to save this step for last. This is because the ingredients below will taste the best after being cut and tossed together while fresh.
Ingredients
English cucumber – English cucumbers help you stay hydrated. You can substitute with another type of cucumber if you cannot find an English cucumber.
Quinoa – Quinoa is an excellent source of protein. It's gluten-free and high in fiber.
It's best to use quinoa if you want to keep the salad gluten-free. Couscous will be a good substitute if you are ok with consuming wheat products.
Beets – Beets provide vitamins and minerals. They have many health benefits, like being high in fiber and magnesium.
Cherry tomatoes – – Cherry tomatoes are easily accessible year-round and incredibly delicious. Also, they are high in fiber. Grape tomatoes or Roma tomatoes would work if you cannot find cherry tomatoes.
Parsley – Green herbs, like parsley, are a great way to finish a salad. Not only does it add a bright color, but fresh herbs really enrich the overall flavor of the recipe.
If you can't find fresh parsley, you can substitute it with another herb like basil or mint.
Step 3: Cut the Veggies and Combine All the Ingredients
Now it's time to put together the salad components.
Start by chopping all of the vegetables.
Also, prepare your quinoa according to the instructions on the package. This is another item that can be made ahead of time and stored in the refrigerator.
Bonus tip: You can make a large batch of quinoa and use some for this salad and for other purposes, too! It's a great side dish for breakfast, lunch, and dinner.
It's time to bring the salad together once all of your vegetables are chopped up. Make sure that the ingredients are coated with the dressing.
Finally, divide the salad up into two bowls. Serve immediately and enjoy!
What Goes Good with Quinoa Chickpea Salad?
This salad is a great pantry meal option on its own, and it's also a great snack.
You could also add protein to make a filling, nutritional lunch, or dinner. Some protein options to consider are lean chicken breast, hardboiled eggs, a small beef steak, or fish.
Benefits of Quinoa and Chickpeas
Quinoa and chickpeas are both nutritious ingredients that will benefit you in many ways.
For example, one of the best things about these two ingredients is their fiber content. This high fiber content makes you feel full for a more extended period.
You'll be less likely to be hungry after having this fiber-filled snack.
They are also a good source of protein. So whether you are trying to follow a vegetarian diet or simply omit meat every now and then, these are great options to fill the protein void.
Other Recipes You Might Like
Watch More Salad Recipes
This quinoa chickpea salad is truly delicious! Check out the video below to see the full recipe and get more salad inspiration.
Quinoa Chickpea Salad
This vegan quinoa chickpea salad is filling, refreshing and naturally sweet. It's a low-calorie meal great for cold evenings.
Ingredients
Salad
1 English cucumber (chopped)
1 cup quinoa (cooked)
2 cups beets (cooked and cubed)
2 cups cherry tomatoes (halved)
½ cup parsley (chopped)
Chickpeas
1 tbsp olive oil
1/4 tsp cinnamon
1 tsp cumin
1 tsp paprika
⅛ tsp cayenne
½ tsp ginger
1 can chickpeas (drained and washed)
1/2 tsp salt
Lemon Dressing
1 tsp Dijon mustard
3 tbsp white wine vinegar
3 tbsp olive oil
1 tbsp honey
1 tsp fresh lemon juice
a pinch of salt & black pepper
Instructions
Chickpeas
First, heat up your skillet to medium-high and add olive oil. Now, add the spices and give it a good stir so that the oil combines with spices.
Add in your chickpeas and some salt. Coat the chickpeas in spices and cook for 5-7 minutes.
Once finished, remove them from the stove and leave them in the pan to cool down.
Lemon Dressing
Mix all the ingredients in a separate bowl.
Salad
Chop and cube all your vegetables, prepare cooked quinoa, and add them to a large bowl. Top them up with cooked chickpeas.
Mix all the ingredients together and finish up with the dressing. Toss the salad, so it all gets fully covered with the dressing.

Nutrition Information:
Yield:

5 bowls
Serving Size:

1 bowl
Amount Per Serving:
Calories:

251
Total Fat:

13g
Saturated Fat:

1.8g
Trans Fat:

0g
Unsaturated Fat:

10.5g
Cholesterol:

0mg
Sodium:

483mg
Carbohydrates:

30g
Net Carbohydrates:

23.9g
Fiber:

6.1g
Sugar:

12g
Protein:

6.4g
Nutritional values were obtained with automatic software using the amounts of products used. To get the most accurate representation of the nutritional values, you should calculate them with the actual ingredients used in your recipe. You are solely responsible for the nutritional information obtained to be accurate.