Don't know how to serve chicken wings? With one of these delicious sides for chicken wings, of course! You're welcome to try them all!
Chicken wings are usually paired with oily fries and other calorie-laden sides, which gives them a bad rap. But who says these glazed and sticky protein goodies cannot be healthy?
If you find their right match, chicken wings can make one full, nutritious, and well-rounded dinner. And luckily for you, I know not one, not two, but 41 tasty side dishes for chicken wings.
Whether you like them the Buffalo-style, smoked, grilled, or exotically spiced, I've got you covered.
Offering something for every taste, these are my ultimate chicken wings pairings.

What to Serve with Chicken Wings?
From potatoes and rice to roasted veggies, stir-frys, and salads, chicken wings are some of the most versatile barbecue classics that go well with almost anything.
Any grain or veggie, perfectly cooked and seasoned, will offer your wings that little something.
Of course, let's not forget its majesty – the good, old sauce. Not including something to dip your chicken wings into is a cookout crime.
So, what will go along best with your chicken wings? Well, that depends on how your wings are prepared.
For instance, hot and spicy chicken wings work best if paired with something refreshing (think slaw!). Once you find what flavors and spices work for your palate best, only the sky will be the limit.
Salad Sides
Nothing beats a delicious and nutritious salad to round out your protein entrée? Then these incredibly tasty options are perfect for you.
Definitely some of the best side dishes you can have with chicken.
Shredded carrots and beets, so even the little eaters can enjoy this nutrient-packed salad with ease!
When you need something quick to go along with your beloved chicken wings, then this simple yet incredibly scrumptious salad comes to the rescue!
Smothered in sweet balsamic vinegar, these beets and carrots really don't need any special dressing up.
And the thing I love most about it is how super versatile it is, too. Simple enough for your weeknight dinner, but also fancy for your elegant party.
That's why it's such a great side dish. Just top with something crunchy and aromatic, and you're good to go.
This could also do for an amazing side dish for pork chops.
Whether a potluck, a large barbecue party or a picnic, the classic potato salad is always there. It only makes sense to serve it with your chicken wings, too. Don't you think?
Dressed in creaminess and slight tanginess and offering a crunchy and flavorful bite, this salad will surely please a crowd. One of the best sides you'll ever have for sure.
Tender potatoes and hard-boiled eggs with scallions, pickles, celery, and onions. How well do these ingredients combine, right?
If you want to up the protein intake, I suggest you cook some bacon and then crumble that crispy delight on top of the salad. Your guests will be begging you for refills!
This could also be a great side dish for brisket.
For heavily seasoned wings, I suggest you try this refreshing and exotic salad with mangos. It will give a nice balance that will combine perfectly with the spiciness of the chicken.
Loaded with healthy fats and all sorts of nutrients your body needs, my mango avocado salad is not just tasty but super healthy as well.
Nothing more than some lemon juice is needed to dress up this colorful bowl of nutrition. The parsley and garlic offer tons of flavor that combine beautifully with the mango sweetness.
If red onions are not really your thing, use sweet ones for a not-so-strong bite. As you can see there are many different ways you can have your salad. This could also be a great side dish for ribs.
Cucumbers, onions, and sesame seeds. The three stars of this salad create such a powerfully delicious flavor.
The dressing is, obviously, Asian inspired, and it is the soy sauce and rice vinegar that brings all of the flavors together.
So simple to make and yet so darn tasty next to your spicy chicken wings, this Asian cucumber salad is a must for your next cookout.
The recipe uses chili flakes, but feel free to omit them for a kid-friendly side dish.
I suggest you leave the cucumber peel on for a more nutritious taste and presentative look. It's definitely the best thing you'll ever eat!
Check out more side dishes for chicken.
If you haven't tried adding ripe peach chunks to your salads, then now is the time for a change. This recipe will definitely bring good times into your home!
Refreshing, super light, and with a bite that pleases everyone, this peach and corn salad is your summer's barbecue must.
Without fancy dressings and unnecessary ingredients, just some olive oil and lemon juice to add some zestiness and make it super velvety.
The salad is best if sprinkled with some ground sumac, but, technically, any seasoning that you love can work here, too.
Make sure to only use fresh and ripe peaches. If out of season, then add mangos or even pineapple. Do not be tempted to use canned peaches as they are mushy and will offer way too much liquid.
Feel free to also have this side dish with steak.
An assortment of nutritious green broccoli, soft sweetness, and super crunchiness. How's that for a game day?
With dried berries, pumpkin seeds, and walnuts, these broccoli chunks are anything but boring.
Plus the minty and orangey dressing binds everything perfectly, offering a slightly acidic note that balances out the sweetness from the cranberries beautifully.
Vegan, colorful, and stunning looking, this broccoli mix will combine well with whatever you choose to serve it. Your finger-licking chicken wings included.
Nothing beats the taste of fresh broccoli. So if possible, do not use frozen florets for this salad.
Feel free to serve this side with brisket dishes too.
Looking for some Mexican side dish to accompany your smoked chicken wings for your next get-together? Well, look no more because this mango bean salad has it all!
Taste, texture, and vibrant colors that will look good in any bowl, next to any meal. Loaded with sweet mango chunks, this side will definitely please even the fussiest guests.
Zested with orange and lemon zest, the beans are not only packed in flavor and aroma, but these bright zesty speckles look amazing when covering the deep color of the black beans.
Make sure not to forget to use both the white and green parts of the onions, as they deliver a note that brings everything together. All these flavors will take your chicken wings to the next level.
Feel free to serve this salad with Polish sausage recipes as well.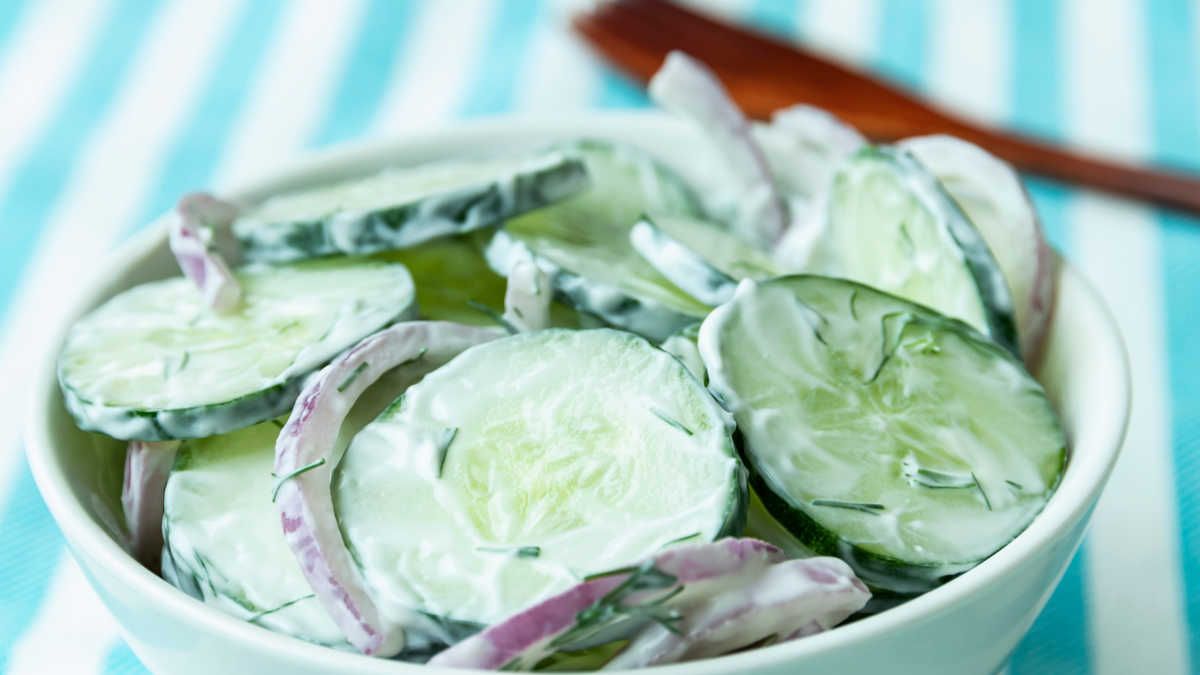 Creamy cucumbers. Do you really need to know more? Once I hear that this light veggie is accompanied by yogurt, I am definitely sold.
So cool and refreshing, there's nothing you can enjoy more with your protein meal on a hot summer night. Or day. Or morning, if it's up to me.
This recipe also uses dill, which seriously boosts that refreshing note. All you have to do is generously season with salt and pepper and dig in.
If this makes your mouth water and you have no yogurt in the fridge, don't fret. You can use sour cream instead. I'd suggest mixing some olive oil into it, just so that it becomes runnier.
This is one of the chicken wing sides that offers probably the best way to use up your cucumbers!
Pasta Side Dishes for Chicken Wings
Cannot go a day without this Italian staple? Then you'll probably find these incredible side dishes for your juicy chicken wings extra delicious.
What's a classic macaroni salad, anyway? It is a bowl of elbow macaroni, eggs, cheese, and some veggies, all glued together with a creamy mayo dressing. In short, it is this salad!
Whether looking for a salad for your potluck, barbecue, or just a quiet game night with your closest friends, this salad will up your chicken wing game without any doubt.
The recipe uses pickles, bell peppers, onion, and celery, but feel free to experiment with the veggies as you see fit. As long as there's something acidic, crunchy, sweet, and tangy, you're good to go.
This salad tastes best when dusted with some paprika on top, so I suggest you give that a try.
Talking about comfort food, this skillet mac and cheese is the ultimate indulgence. I'd eat it as a side dish, snack, lunch, dinner… Heck, I'd even serve it for breakfast topped with some crispy bacon.
Al dente macaroni smothered in a creamy, buttery, and cheesy sauce. What's not to like? And with a touch of Dijon mustard, everything just makes perfect sense.
The recipe uses both cheddar and gouda for equal amounts of sharpness and silky creaminess. However, keep in mind that any type of cheese that melts well will technically work.
Topped with some parmesan cheese, no one will be able to resist this goodness.
Chips are perfect for any barbecue type of food gathering, no one can argue. But aren't you tired of those unhealthy fats and boring tastes?
If you wish to spice up your backyard dinner parties, then these pasta chips will more than help. They will seriously transform any picnic-style meal.
All you need are some rigatoni pasta, parmesan cheese, and your favorite spices. Then you simply air fry these tidbits and devour them in an instant.
Don't have an air fryer? No problem, you can cook the pasta and then bake it in the oven. The result will be even crispier.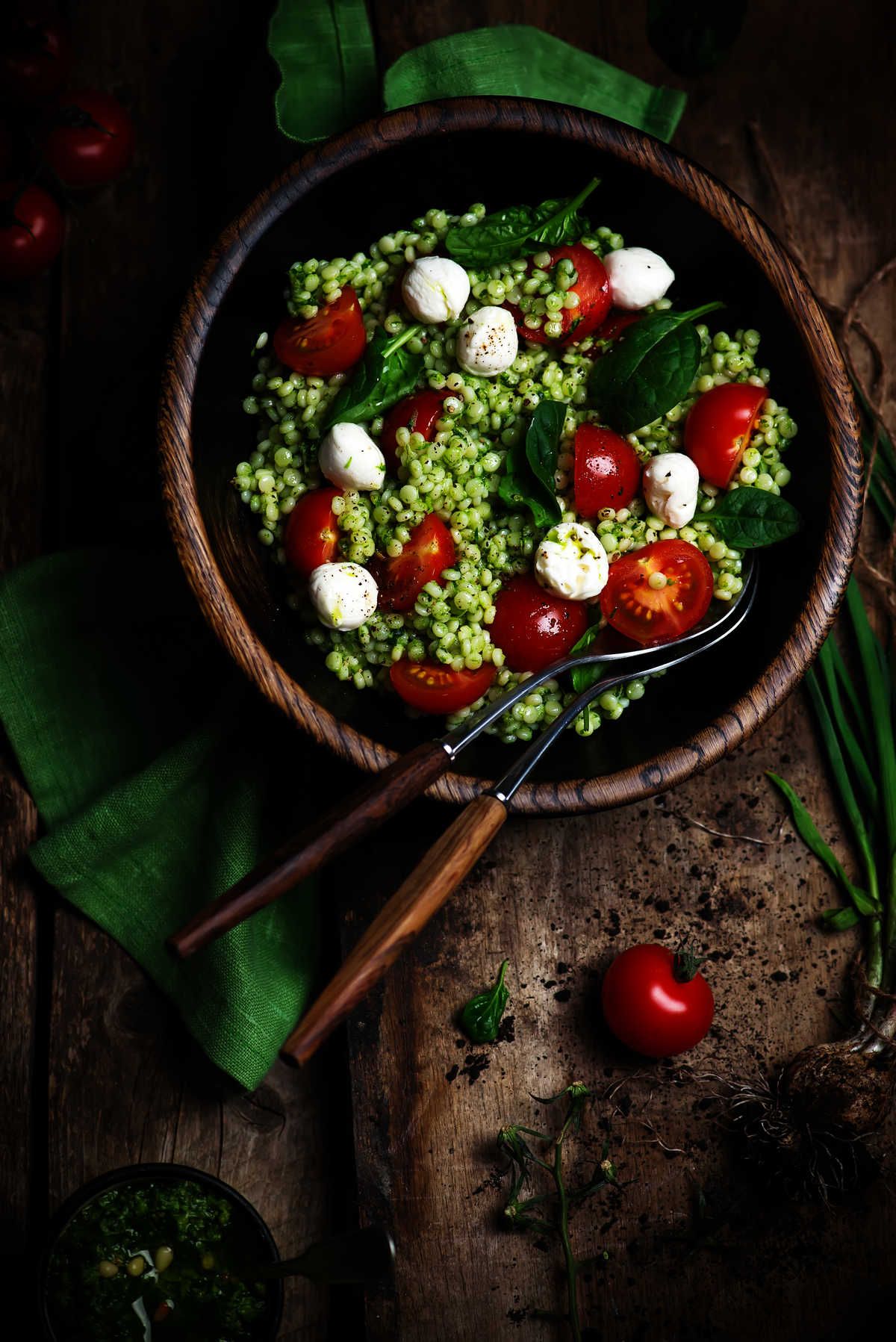 If you haven't tried making a pesto sauce with arugula before, then include it in your foods-to-try list, and underline it twice. Yup, it's that tasty!
And once you toss it with couscous and tomatoes, well, you can only guess how filling and refreshing at the same time that must be.
Perfect with poultry, fish, and yes, your yummy chicken wings, this salad is chock full of flavor and nutrition that works perfectly with your protein.
The walnuts here give the salad a warm and earthy crunch. If not a fan, you can substitute with another type of nut.
The term Southwest says it all, really. It means there's corn, tomatoes, bell peppers, onions, and everything that goes perfectly with your fiery and super seasoned chicken wings.
Plus, this pasta salad is loaded with a spicy creaminess that is also fresh and zesty. If that's not a perfect mix of tastes, I don't know what is.
Mayo, sour cream, limes, cilantro, and jalapenos make your rotini pasta anything but ordinary.
Filled with flavor and amazing scent, this Southwestern pasta bowl will be just the thing your summer backyard party needs.
This pasta salad will be a nice addition to your griddle recipes as well!
Rice Side Dishes for Chicken Wings
Rice and chicken may be the classic combo, but trust me, there's nothing ordinary about these rice side dishes. Choose one to go with your chicken wings, and see what I'm talking about.
These recipes offer a great way to make your chicken a full meal that tastes better.
The perfect companion to spicy food, this Asian-inspired fried rice with eggs will be the perfect thing to serve with your sticky chicken wings.
With carrots, peas, and spring onions, this fried rice side is also packed with nutrients. The recipe also uses one red chili, but you can omit that for a non-spicy version if you prefer.
If you're looking for a flavor explosion, then the mirin and sweet chili, oyster, and soy sauces will bring a yummy oomph to this fried rice.
To further round out the flavor, add some grated ginger to the mix.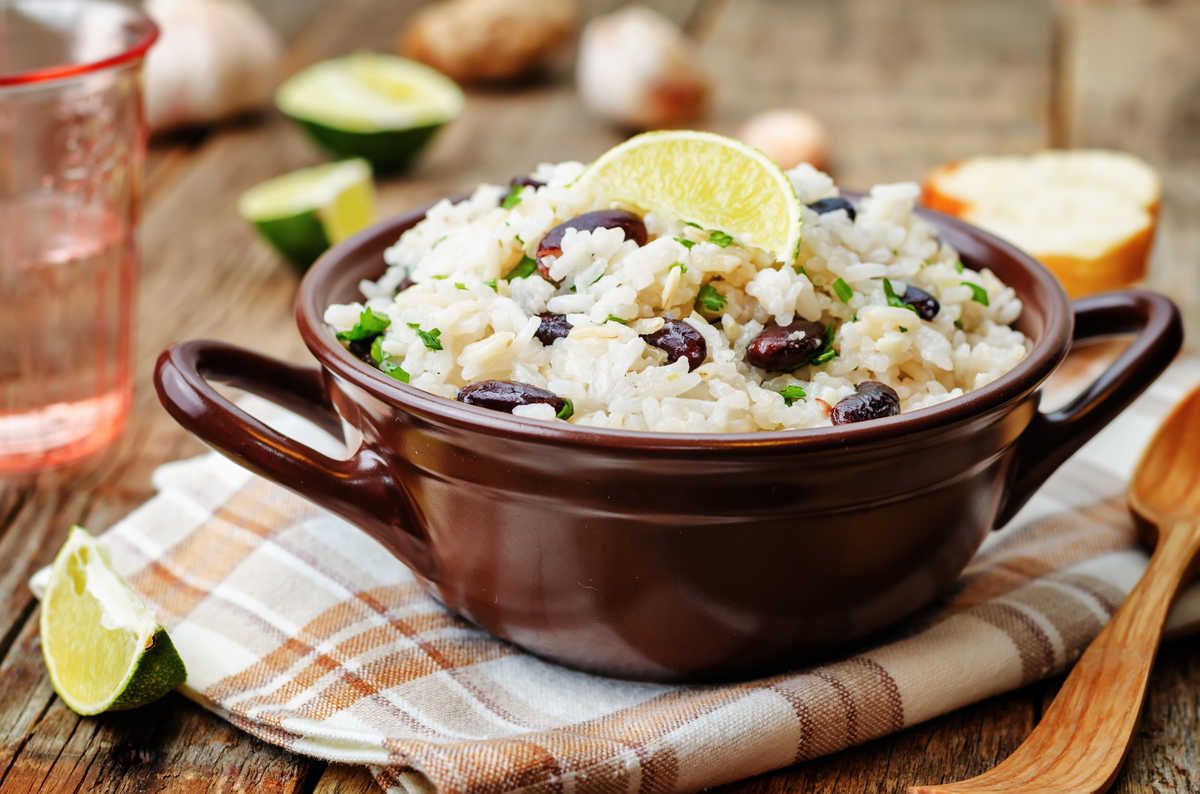 The most delicious and fluffiest rice you will ever taste, period. Ever since I've started cooking rice with coconut milk, it has been a real game-changer.
All you need are basmati rice, coconut milk, some olive oil, and favorite spices.
This recipe uses fennel and cumin seeds, bay leaves, and all-spice, but really, whatever seasonings work for your taste buds will definitely work with this rice, too.
To make it even more refreshing, sprinkle some lime zest or just drizzle some of that tarty juice all over. Or just skip this part and serve neat. It will be delicious, regardless.
If you don't like cauliflower rice, it must be because you haven't tried the right version of it yet. But this toasted coconut recipe will change your mind.
Crispy, gingery, and loaded with exotic coconut flavors, this low-carb rice with peanuts, green peas, and chilies is a must-try with your Asian chicken wings.
The recipe also includes refreshing cucumber raita to cool your palate after the spicy bites, which is nothing short of balancing.
The designated coconut is great fresh, but for deeper flavor, use toasted flakes. Feel free to also serve this rice with Hawaiian recipes.
Healthy Vegetable Sides
Feeling guilty for serving you chicken wings with sweet and calorie-rich barbecue sauce? Choose one of these healthy sides for a well-balanced and yummy meal.
If you have picky eaters who always leave their broccoli florets lingering on the plate after dinner, then this is the easiest way to trick them into devouring this green veggie.
Cheesy and packed with garlicky aromatic flavor, no one will be able to resist these roasted broccoli chunks.
With only three ingredients and a quick prep time, this will be your go-to healthy side dish for many entrées. Yes, your sweet chicken wings as well.
Feel free to sprinkle with some paprika or other spices if the salt and pepper are not enough for your seasoning-dependent taste buds.
If you're looking for a better way to eat your broccoli, this 3 ingredient recipe is a perfect addition to your menu.
If you're not a fan of spinach, let me change your mind with this recipe!
So creamy, buttery, cheesy, and with oh-so-many-yummy-different-flavors, you will literally be licking your fingers with this low-carb side dish.
Perfect for your weight-loss goals, health, and satisfaction-craving taste buds, there is nothing you wouldn't like about this smooth spinach recipe.
The garlic and shallots are a vital part of the taste, as they offer a strong aroma and flavor that you cannot recreate with something else.
Perfect over pasta, meat, or next to your beloved chicken wings, this recipe is a true keeper.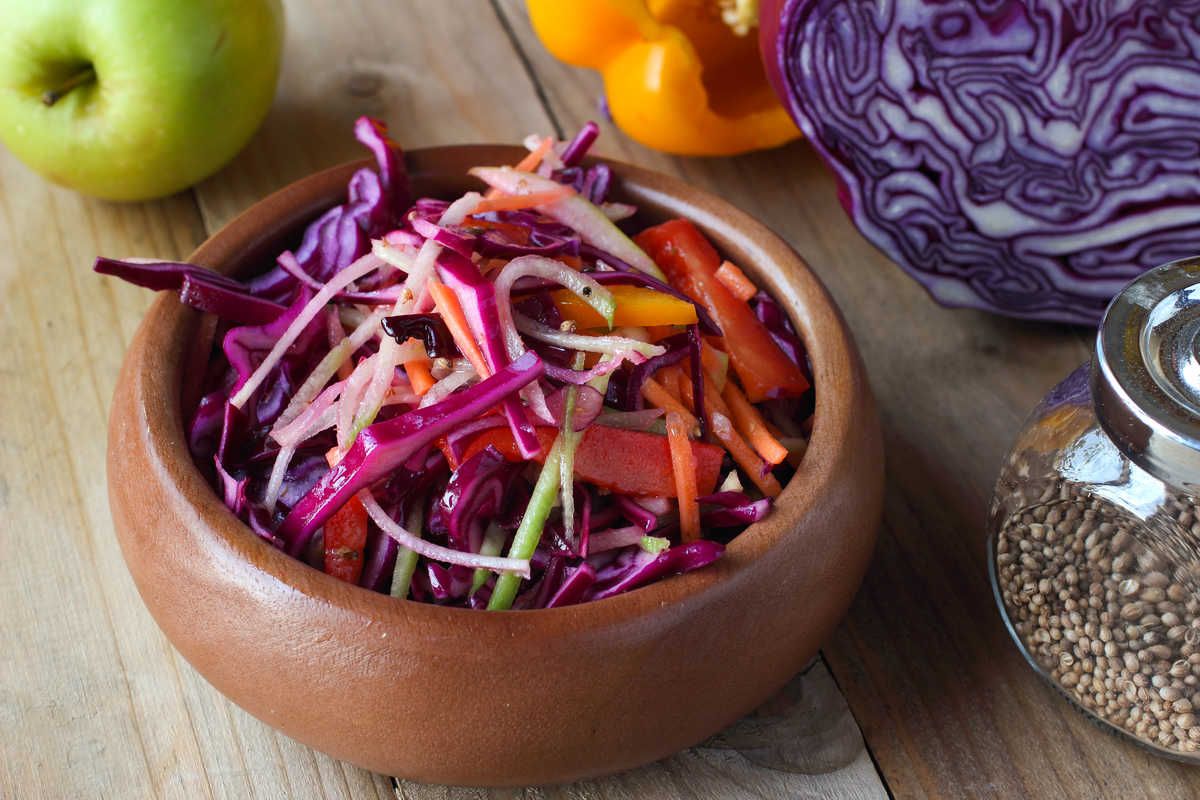 What's your take on coleslaw? You cannot be indifferent if you love spicy and Southern food. But let me tell you, however, you like your shredded cabbage, this recipe will please, for sure.
Cabbage, carrots, and onions with the classic sweet and vinegary mayo dressing. But, with a twist! A shredded Gala apple for extra sweetness and crunchiness.
This slaw also includes celery seeds which give the dressing earthy and savory notes. Please don't omit them, as they combine the contradicting flavors of the rest of the ingredients nicely.
This is a healthier alternative to your regular coleslaw.
Sauteed Swiss Chard with ginger? It really cannot get any healthier than that!
Make sure not to forget about the garlic though, as it gives a distinctive and pungent kick to the greens.
You really don't need more than a single tablespoon of soy sauce for this leafy indulgence, but feel free to double it if you're an Asian-food addict.
This keeper of a recipe does not only make one great side. But, it is also perfect for devouring straight from the fridge as an appetizing start to your main dish.
How can you not want these healthy greens with your chicken?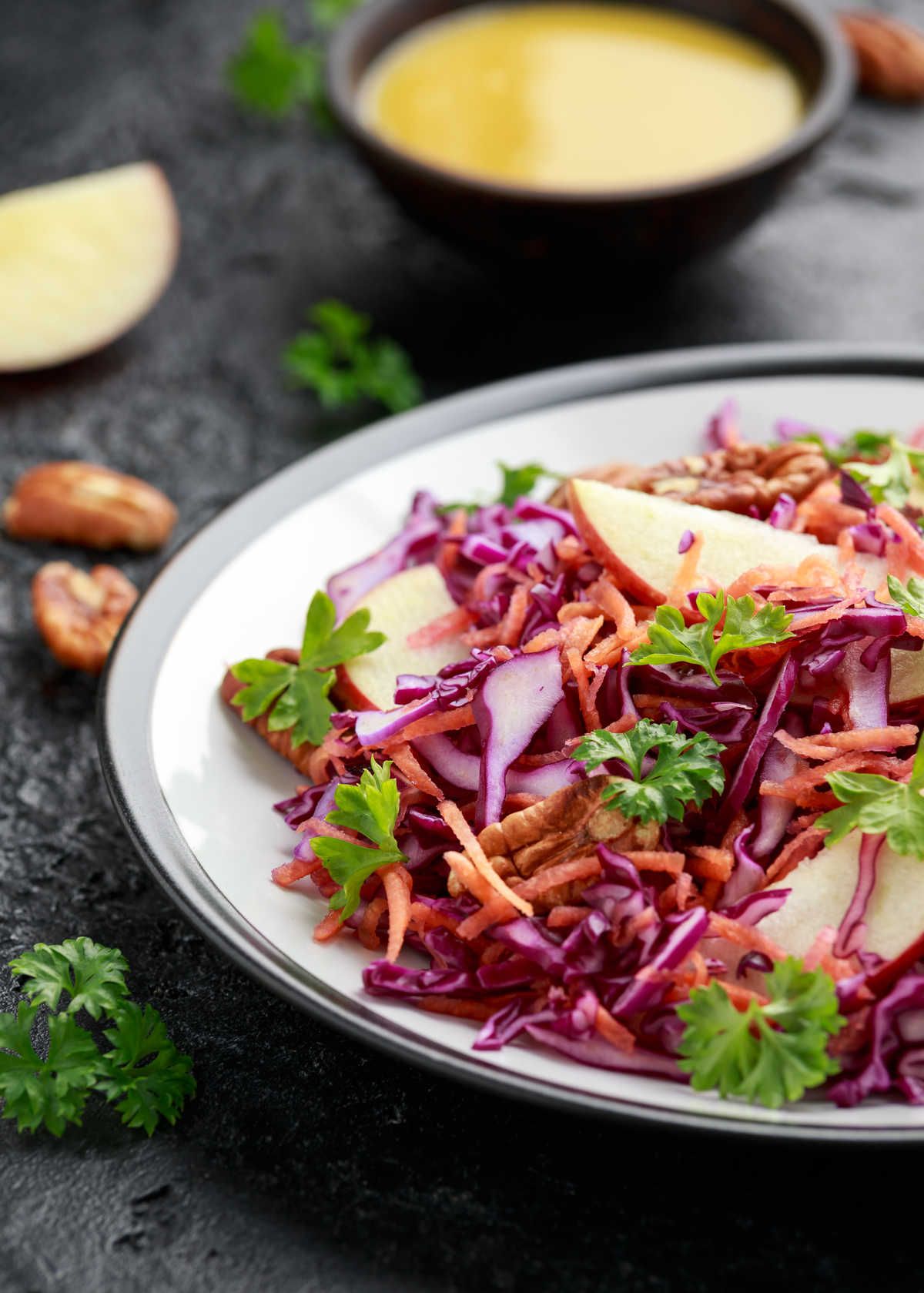 Looking for a mayo-free slaw for your summer barbecues? This Asian colorful cabbage bowl will surely satisfy!
Cabbage and carrots may be the stars of this slaw, but it is the peanuts that really shine through.
This salad is not only coated with a nutty and creamy peanut butter dressing but it is also loaded with toasted peanuts for extra saltiness and a nice crunchy bite.
While it pairs well with any meat dish, your BBQ-style meat will benefit the most from this delicious vegan slaw.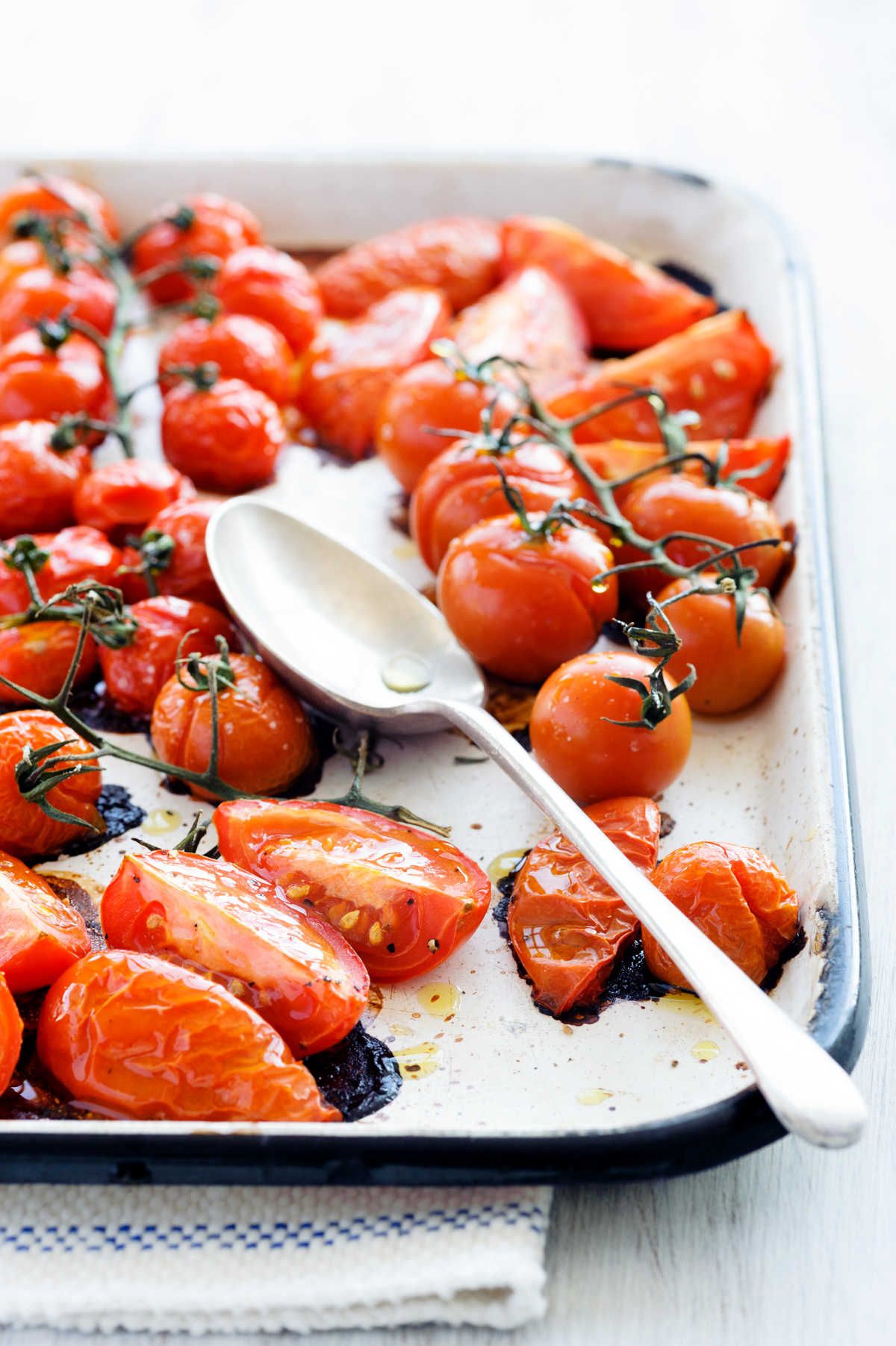 Let's just face it – tomatoes go well with everything. From grains, bread, cheese, other veggies, to meat, and yes – chicken wings.
And the thing that tomatoes taste best with? Balsamic vinegar, of course!
These halved cherry tomatoes are seasoned with balsamic vinegar, garlic, and herbs and then roasted to sweet and almost-charred perfection.
You can choose to roast in the oven or even pan-fry on the stove. Either way, you will be licking your fingers.
Green beans with sesame seeds smothered in a sweet and balsamic dressing. Just the thing your spicy chicken wings need.
Boiled for a few minutes then coated with the sticky and tangy soy mixture, these Asian-influenced beans are the perfect side dish to make ahead of time.
Why? Because it tastes even better after a couple of hours.
While you can devour straight after cooking, for best results, let the beans marinate in the dressing for at least 30 minutes before serving.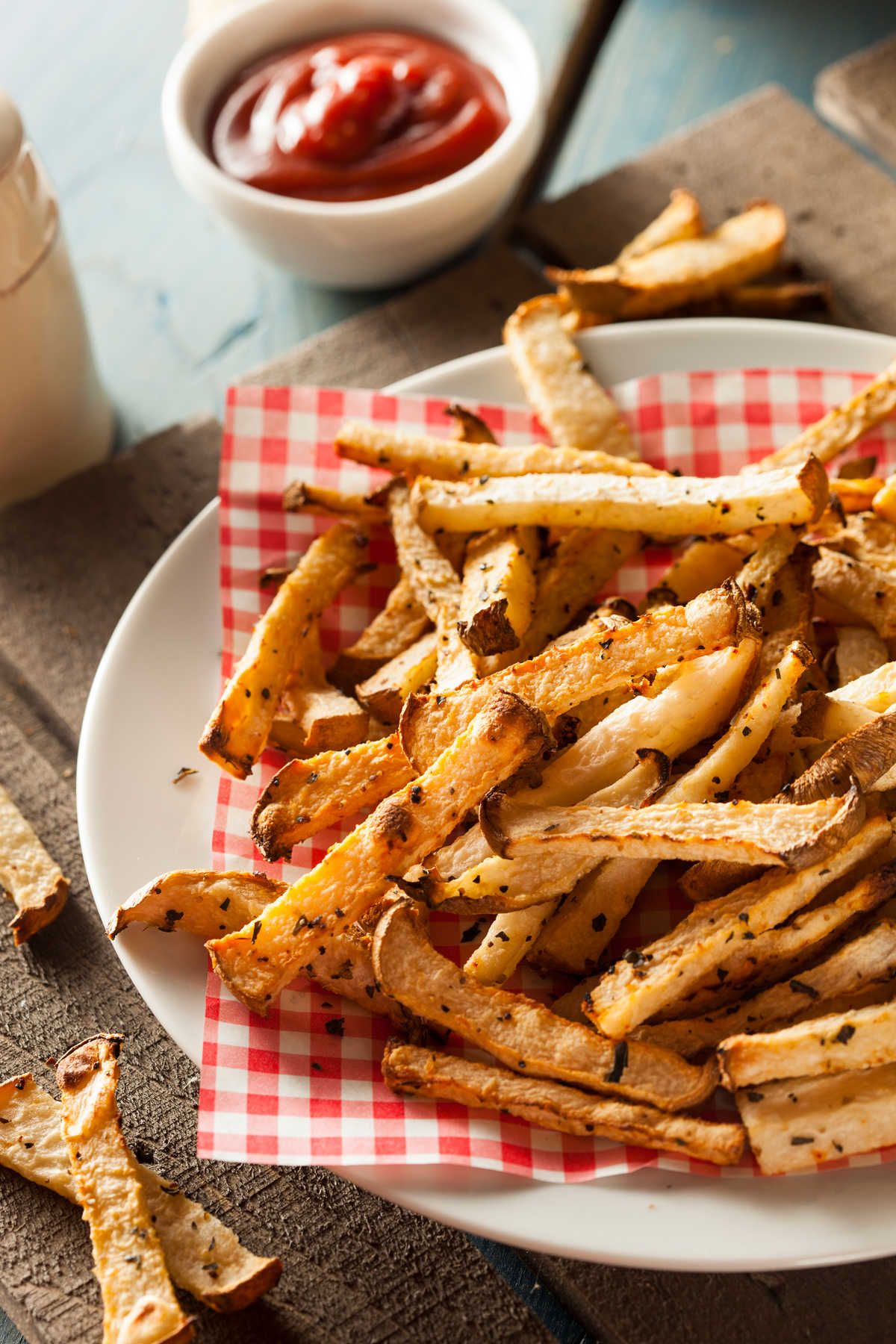 Never had Jicama before? Then, what are you waiting for? This root veggie is just as tasty and versatile as the potato but with way more nutrients and fewer carbs.
And if you choose to make these fries in the Air Fryer, well, it will be the perfect healthy side dish that any kid will enjoy. Serve with ketchup, and they won't even know the difference.
Needless to say, anything that even slightly resembles French fries will be a definite hit with your chicken wings.
Nutrients, protein, crispiness, natural sweetness, and tons of flavor. Isn't that the definition of a crowd-pleasing side dish?
If you are afraid that your regular asparagus side will look boring on your table, then wrap them up in bacon slices for a more elegant platter.
The perfect party food that tastes and looks good. These bacon-wrapped asparagus stalks are crisp and tender all in one.
Besides, they're so quick and easy to make, which is yet another plus.
What better to serve with your chicken wings for a summer BBQ party than generously seasoned summer squash?
These squash slices are delicious, nutritious, and packed in flavor. They're also fried in an Air Fryer, so they're definitely on the healthy side.
The spices here are garlic powder and Italian seasoning, but feel free to experiment according to your palate's preferences.
If you ask me, even salt and pepper suffice with these yummy slices.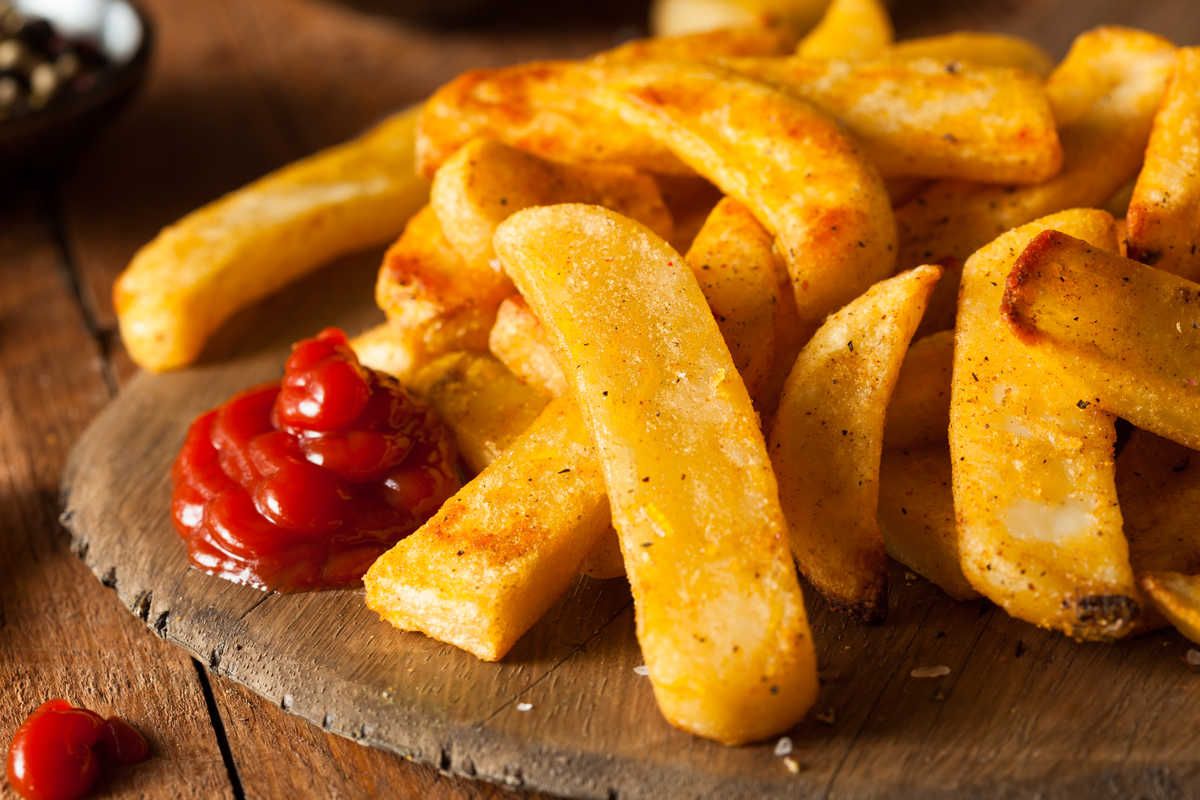 These rutabaga fries are so simple to make, and they really don't need more than a drizzle of healthy oil and some salt and pepper.
With just 6 grams of net carbs per serving, these delightfully crispy sticks will be the perfect potato alternative for all Keto dieters. Or even those who are just sick of their French fries.
Make sure to definitely peel the rutabaga before cooking, as the skin is pretty tough and jaw-hurting to chew.
Sauce and Dips
Okay, serving chicken wings without a dip or sauce is like eating a burger without fries. A big, fat, culinary no-no!
Here are some of the best dips and sauces that go well with wings. At the end of the day, dips are the best part of most dishes.
Applesauce may be that baby food or lunch-box snack that every kid loves. But did you know that it could also make one heck of a side for your spicy chicken wings?
Without added sugar, but packed with natural sweetness, this applesauce recipe is to die for.
Seasoned with cinnamon and nutmeg and enriched with zesty lemon juice, this sauce offers a well-rounded taste that goes with meat. Pork, ribs, and chicken wings, in particular.
If you're not afraid of the dreaded sugar, feel free to swap the substitute with real brown sugar.
With just 5 minutes needed to whip up this dressing, it will seriously become your go-to dip for all those get-togethers and cookouts when you're busy making food for a crowd.
But besides being great with veggie sticks, this homemade ranch dressing will taste incredible if served next to your chicken wings.
And since it keeps well in the fridge (up to 5 days, to be precise), it is a good idea to always have it on hand for last-minute parties.
Besides, mayo and yogurt with herbs are always more than welcome on the table!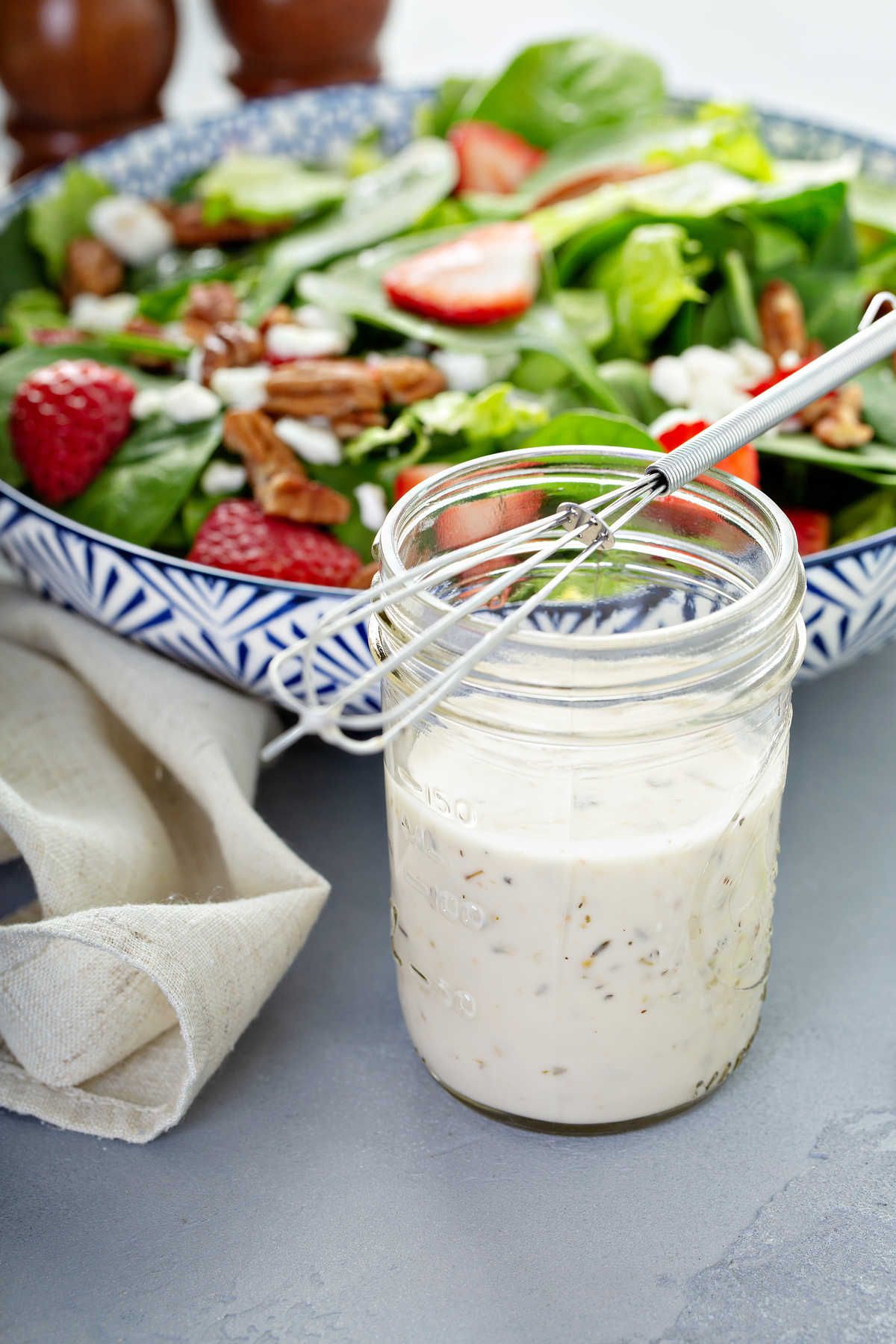 Ranch dressing, but keto. The perfect refreshing dip for your overly spiced chicken wings that you can enjoy without a shred of guilt.
Dill, parsley, and chives pack this dressing with an incredible aroma that will also work well on most salads.
Creamy and oh-so irresistible, this low-carb dressing is the most delicious and fuss-free drizzle or dip you could possibly make.
Tangy and sweet at the same time, this mango chutney uses few ingredients but offers tons of flavor.
Packed with antioxidants and other nutrients from the green mangos, this chutney may even help you lose weight!
Spicy and finger-licking good, it will be the perfect side for your wings.
I prefer it chunky, but feel free to make it smoother if that works better for your taste.
Chipotle and chicken wings? Who is crazy enough to turn down that flavor burst? Not me!
I love Subway's Chipotle sauce – a guilty pleasure and weakness of mine, I know. But seriously, after trying this homemade eggless version, I've been low-key obsessed with it.
So creamy, spicy, and incredibly similar to the original sauce, you will lick your fingers. And even the plate!
And how can that not be the perfect pairing for your sticky chicken wings?
If you want to serve a restaurant-worthy sauce to show off your cooking skills at your next cookout, well, here's your chance.
With blue cheese, buttermilk, mayo, and a touch of garlic, this creamy sauce pairs perfectly with spicy chicken and can be drizzled over salads.
With almost no time needed to stir together, this finger-licking 5-minute dressing will spoil your taste buds.
Add your favorite herbs for an aromatic kick, and enjoy!
Whether you're sick of your regular BBQ sauce or too darn overwhelmed to make it at home, then this quick and fun alternative will be much appreciated.
The sumac in this recipe offers a tangy and sour note, so you don't have to use vinegar. If sumac worked for the Romans to sour food before the birth of lemons, it would surely work for your sauce.
Smoky and spicy, this sumac BBQ sauce is made for your chicken wings.
Popular Side Dishes
Looking for a side dish that your guests will be raving about, asking for refills? Then any one of these popular sides will look irresistible next to your juicy meat.
If you own an Air Fryer and want to serve potatoes as a side for your yummy chicken wings, then this recipe is an absolute must for you to try.
Savory, crispy, and buttery soft at the same time, these oil-reduced fried potato chunks have everything you can possibly be looking for in a potato side dish.
Red and Yukon gold potatoes will taste the best, but you can use this method with any variety.
Looking for some sweetness in them? I like them drizzled with some maple syrup straight from the Air Fryer. Try this trick to see if it pleases your sweet tooth.
If you haven't made smashed potatoes before, you cannot imagine what you have been missing out on. You just can't!
Any world-class chef will tell you that the ultimate way to make potatoes is by smashing them mid-bake.
This will make the potatoes extra crispy, especially around the edges. The inside will remain fluffy and soft, just how you want it to be.
These garlic-flavored potatoes are further enhanced by being topped with grated cheese for extra flavor.
Sprinkle some pepper and coarse salt over as soon as you take them out of the oven, and serve warm.
Crispy potatoes are what any chicken meat needs. No, seriously, these roasted and parmesan-topped potato wedges are one of the tastiest and safest sides for your chicken wings.
Generously seasoned with garlic and cayenne, these sliced potatoes are nothing but delightful.
Fluffy on the inside and perfectly crisp on the outside, the two-texture wedges are what anyone is looking for in baked potatoes.
Plus, they are super easy to make. No overwhelming prep, no fussy instructions. Just simple and downright pleasure. Both to make and eat.
Sounds just like the side dish you need, right?
Onion rings and chicken wings are the ultimate fast-food combo that instantly wipes off your blue-feeling mood. But you don't have to leave your house to indulge in such a crispy pleasure.
With these air-fried onion rings, you will have that beloved Burger King flavor minus all that oil and cholesterol-boosting nastiness.
All you need are some flour, buttermilk, breadcrumbs, egg, and the star of the recipe – onions. Add your favorite spices, and enjoy the best-tasting onion rings you will ever have.
So delicious and satisfying, your guests will have a hard time believing these crispy rings are actually healthy.
Dipped in flour, then fried to crisp perfection, these salty and sour pickle slices are a real treat. The perfect guilty pleasure to serve alongside your glazed chicken wings.
Feel free to add whatever spices work for you, but nothing beats the good old paprika, garlic, and onion powder. Make sure not to add salt to the breading, as the pickles are already salty enough.
I suggest you stock up on these chip-sliced breaded pickles because they will disappear from the bowl before you even blink.
Your guests will be begging you for the recipe!
Potato skins with sweet and crisp bacon! Can it get any better? Yes, it can! This recipe uses sweet potato skins for a deeper and more enjoyable taste. Also, the portions are larger, too.
The potato skins are topped with cheddar and drizzled with sweet and basil yogurt sauce, which makes them even more irresistible.
Perfectly crunchy comfort food, worthy of your high-class barbecue chicken wings.
The drizzle includes a whole jalapeno pepper but cut back on the spiciness so that even your youngest guests can dig in.
No, these are not your regular drown-in-oil potato fries. These home fries are healthy, delicious, and absolutely guilt-free!
Depending on the desired texture, you can either choose to parboil the cubed potatoes before frying them or not. I've tried those both ways, and cannot decide which I prefer more.
Small potato cubes that are soft on the inside and crispy on the outside. Season with your favorite spices, and you've found yourself the perfect match for your chicken wings.
My go-to seasonings are paprika, garlic powder, and thyme, but the flavoring options are pretty endless. Sprinkle with whatever your palate is most comfortable with!
41 Best Side for Chicken Wings (Quick & Delicious)
Planning on having chicken wings for dinner or lunch? These Sides for Chicken Wings will make for a nice, filling meal!
Ingredients
1. Carrot & Beetroot Salad
2. Classic Potato Salad
3. Mango Avocado Salad
4. Asian Cucumber Salad
5. Peach Salad
6. Vegan Broccoli Salad
7. Mango Bean Salad
8. Creamy Cucumber Salad
9. Classic Macaroni Salad
10. Skillet Mac & Cheese
11. Pasta Chips
12. Arugula Pesto Couscous
13. Southwest Pasta Salad
14. Egg Fried Rice
15. Coconut Rice
16. Cauliflower Rice Stir Fry
17. Cheesy Garlic Broccoli
18. Keto Creamed Spinach
19. Sweet Celery Seed Apple Slaw
20. Swiss Chard with Ginger
21. Asian Summer Slaw
22. Roasted Cherry Tomatoes
23. Asian Green Bean Salad
24. Air Fryer Jicama Fries
25. Bacon-Wrapped Asparagus
26. Air Fryer Squash
27. Keto Rutabaga Fries
28. Homemade Applesauce
29. Homemade Ranch Dressing
30. Keto Ranch Dressing
31. Green Mango Chutney
32. Chipotle Sauce
33. Buttermilk Blue Cheese Dressing
34. Sumac BBQ Sauce
35. Air Fryer Potatoes
36. Baked Crispy Smashed Potatoes
37. Crispy Potato Wedges
38. Air Fryer Onion Rings
39. Fried Pickles
40. Loaded Potato Skins with Candied Bacon
41. Home Fries
Instructions
Scroll up to get a bunch of easy, yummy, and delicious side dishes. Don't be afraid to get creative with the ingredients, you might discover a flavor you didn't know you liked.
Get your shopping list going and make sure you've got all the ingredients.
Get cooking and make your next Side for Chicken Wings!
Notes
Which one of these recipes was your favorite? Let me know in the comment section or on Pinterest!