Getting tired of trying the same easy recipes? How about jazzing things up with lamb and making a weeknight dinner you won't forget? The most delicious ground lamb recipes await here!
Maybe you're just tired of eating chicken breasts or ground turkey. Or perhaps you need fresh ideas on what to do with that frozen spring lamb. Either way, you're in desperate need of delicious lamb recipes.
Cooking with ground lamb is forgiving, fun, and downright tasty. There are so many different meals with ground lamb meat to choose from. Here are what I believe to be the best ground lamb dishes.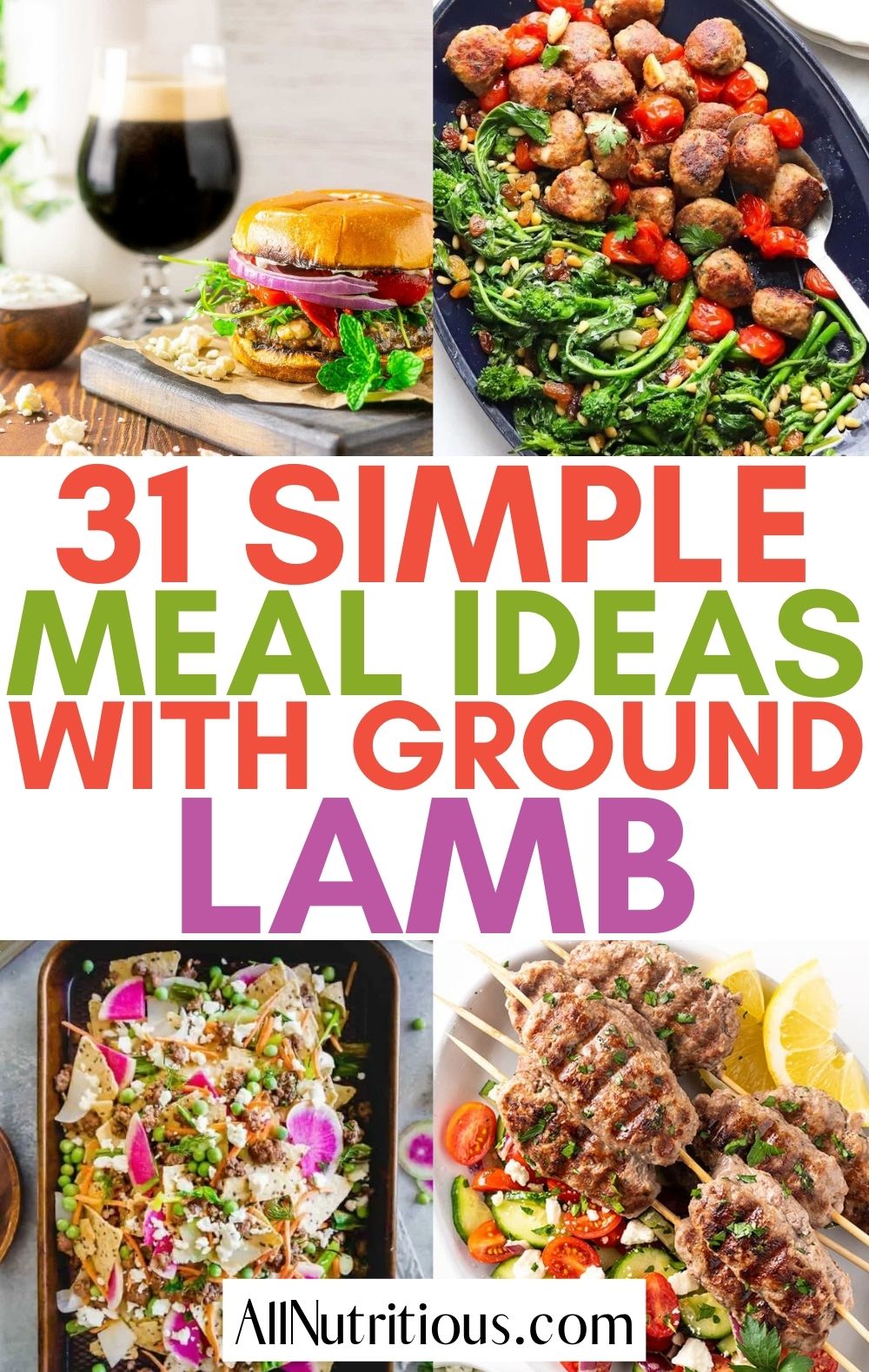 No fuss, no mess, straight to the point, and chock full of flavor. It's impossible to pick a favorite for your busy weeknights!

What to Make with Ground Lamb?
Anything you would usually make with ground beef or other red meat will taste good with lamb.
Lamb has a stronger and somewhat earthy flavor. If you're just dipping your toes, you may need some time adjusting to the taste because it is very distinct.
But once you start gaining an appreciation for the gamier flavor, you will see that the cooking options are pretty endless.
From stews and chilis to patties, sandwiches, and even nachos, there's practically nothing that you cannot make with ground lamb.
How to Season Ground Lamb?
The best thing about lamb is its robust flavor. That means that it pairs well with strong flavors and exotic herbs and spices.
With that in mind, the perfect seasonings for your lamb would be anything that is aromatic and has a kick when you take a whiff.
Think oregano sage and mint for herbs. And cumin, garlic, cinnamon, and chili powder for spices.
You season the lamb just as you would pork or beef. You can either marinate it, or just rub the seasonings right before cooking.
Middle Eastern Ground Lamb Recipes
The flavors of the Middle East combined with ground lamb for a truly authentic cooking experience. Even a simple recipe with the right spices can taste absolutely amazing and be a nice addition to your dinner table.
Source: theforkedspoon.com
With a saffron tomato sauce made from scratch, these meatballs are a creamy flavor explosion.
Rich in herbs and your beloved Middle Eastern spices, you cannot find a more fragrant lamb meatball recipe than this.
These baked meatballs are made with walnut milk. That gives an earthy note to the meat for an even more delicious flavor. If you're not a fan, know that whole milk will be just as yummy.
The exotic tomato sauce uses raisins for sweetness and walnuts for crunch, but any type of nuts and dried fruits will combine well.
Source: whatagirleats.com
If you're into healthy foods that actually taste good, then these lettuce wraps with lamb meat are a definite must-try! It's a healthy ground lamb recipe made with simple ingredients.
Flavorful, crunchy, and with the right touch of cumin and cinnamon. These Whole30 compliant wraps will be praised by all low-carb dieters.
I strongly suggest not to omit or substitute the oregano in this recipe. This Italian staple combines the lamb with the Middle Eastern flavors beautifully.
For a fresher taste and a stronger West-Asia vibe, you can add a couple of tablespoons of finely chopped mint to mix.
Source: coupleinthekitchen.com
Imagine a toasted English muffin half topped with the most delicious lamb patty. Now imagine a poached egg on top of that muffin, and a finger-licking Hollandaise sauce spread all over.
Are you on your way to purchasing ground lamb yet? You better be, because these Lamb koftas with eggs benedict leave no one indifferent!
The lamb koftas are generously flavored and packed with herbal freshness. Add a dollop of harissa, and you have the authentic Moroccan scent right in your kitchen.
Drizzle with lemon juice and pair with a tomato and red onion salad for a filling and palate-cleansing lunch.
Greek Lamb Recipes
Looking to bring the Greek spirit to your kitchen? Then these traditional ground lamb recipes will help you prepare some Greek-restaurant-style dishes.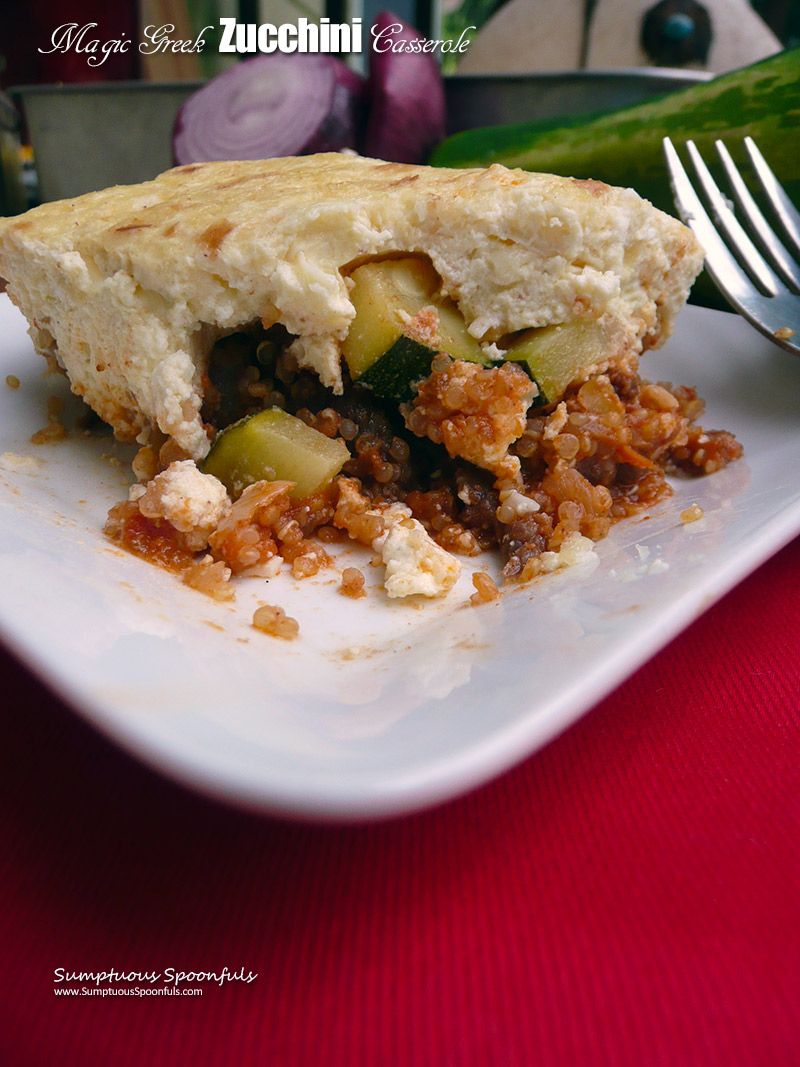 Source: sumptuousspoonfuls.com
Are you a lasagna fan who is tired of the empty-calorie pasta? Then this lamb and zucchini casserole with quinoa is just what you have been looking for!
Ground lamb in a tomato sauce, paired with zucchini and quinoa, and topped with bubbly bechamel sauce. If that doesn't bring water to your mouth, I don't know what will!
Richly seasoned and perfectly paired ingredients, this Mediterranean casserole is the ultimate summer dinner!
Quinoa is a much healthier option, but substitute it with rice if that's your go-to grain. This is one of the easy dinners you can make for a special occasion.
Source: alekasgettogether.com
Moist, jam-packed with flavors, and super juicy, these traditional lamb meatballs are the perfect appetizer!
For the ultimate Greek indulgence, these yummy balls are packed with feta cheese and topped with creamy tzatziki sauce.
Make sure that you cut the cheese into larger cubes. When incorporating, be careful to keep it chunky so that you have a melty cheesy bite in the end.
A tip for the hungry – these lamb meatballs can make quite the dinner, as well. Just wrap them into a flatbread with some chopped veggies and the tzatziki on top. You'll be licking your fingers!
This is one of the easy dinners you can make for a special occasion. Serve with pita bread for the best satisfaction!
Source: slowthecookdown.com
Ground lamb, feta cheese, olives, and sun-dried tomatoes. Already on a Greek Island in your mind? You better leave the daydreaming for later because this recipe doesn't deserve to wait.
Lamb meatloaf packed with the most incredible Mediterranean flavors that will have all your guests raving! Pair it with a quinoa salad for a full and hearty meal!
Although any black olives would do, for an authentic Greek dish, opt for large Kalamata olives.
If you want your meatloaf to have a crunchy bite, do not saute the onions before combining them with the meat.
This meatloaf will offer a nice change to your usual rotation of dinner recipes.
Source: burrataandbubbles.com
Next time when you're looking to up your taco dinners, check out this healthy Mediterranean twist on your usual tacos.
And it couldn't be simpler! Just cook the meat, chop the veggies, and combine them all in warm tortillas.
The cucumber Pico de Galo adds a fresh note to the well-seasoned meat. Top with feta cheese and Greek yogurt for some salty creaminess to wrap up the taste!
This recipe uses jalapenos, but feel free to substitute them with chopped green bell peppers. The result may not offer a spicy kick, but it will surely kick your palate to ask for more!
Need a gluten-free option? Serve these with gluten-free corn tortillas.
Source: cookingorgeous.com
If moussaka is the first thing that comes to mind when you think about Greek cuisine, then you will love this lamb version. It's definitely a middle eastern staple.
Flavorful tomato lamb sauce in between layers of potatoes and eggplants with creamy and cheese bechamel sauce. Do I need to say more?
Let's admit that this recipe is not the easiest to make. But a single bite of this rich moussaka will prove that the extra effort always pays off.
I'd pair this heavenly dish with a green salad and a dollop of Greek yogurt. But feel free to experiment!
Source: coupleinthekitchen.com
Although not technically a pizza, this lamb-topped flatbread is so much better. Why? Because it is both delicious and nutritious.
Plus, if you love gyros, you will have so much fun preparing this unwrapped alternative.
Colorful, and with the right mix of creaminess and crunchiness, every single bite of this lamb flatbread satisfies.
The ground lamb is perfectly seasoned. If you're a spicy food lover though, add a teaspoon of chili flakes for a hot kick.
The recipe offers a detailed preparation from scratch, but feel free to use store-bought tzatziki and flatbread if you're pressed for time.
Source: christinascucina.com
Ah, gyros! Nothing screams Greek cuisine more than this classic flatbread and meat sandwich. But do you know how easy it is to make one at home?
Well, this recipe will surely help! Up to the point and without any fancy ingredients, anyone can become a gyro master with this sandwich.
The meat is baked and thinly sliced, since most people do not own a rotisserie. If you are one of the lucky few, use it with this recipe to seriously up your gyro game.
The lamb and beef mixed meat is not heavily seasoned, but feel free to add more aromatics.
Source: foxeslovelemons.com
Looking for a fun, practical, and mess-free appetizer or brunch dish? Then say no more because this crowd-pleasing Greek layer dip is a life-saver!
In just four layers, the fresh Mediterranean flavors are right in your kitchen! Lamb meat, minty yogurt, and crisp cucumbers and tomatoes. What more could you possibly want?
All you need to do is cook the meat, combine the yogurt with the mint, and assemble! Serve in mason jars, and ta-da! Everyone gets an equal portion.
Besides, the clean-up is such a breeze, which is nothing but a plus.
Indian Ground Lamb Recipes
Tired of eating your favorite Indian chicken recipes? How about making these spiced ground lamb recipes and have your lamb in a new delicious way.
Source: soyummyrecipes.co.uk
Once you try this curried ground meat, you will see why it is an Indian/Pakistani regular!
This meat is traditionally consumed with nothing but naan bread. But for a more filling dish, serve it with salad and basmati rice on the side.
The variety of spices gives this lamb a powerful flavor boost. Make sure not to omit the green peas or tomatoes as they are such an indispensable part.
For a kid-friendly meal, omit the chili powder. The result will be just as tasty, and the whole family will absolutely love it!
Source: simplyrecipes.com
You cannot host regular Indian dinners and not learn how to make their classic recipes. You just can't!
The key to making a finger-licking curry is for the meat to be butter-soft. No one enjoys a chewy lamb– cook it slowly for best results.
Apples and raisins may not be your go-to ingredients for stews. In this curry, though, they make all the sense.
The sweetness, the spiciness, the powerful touch of curry… every note of this recipe complement the irresistible taste.
Even the fussy and picky eaters will devour it in an instant!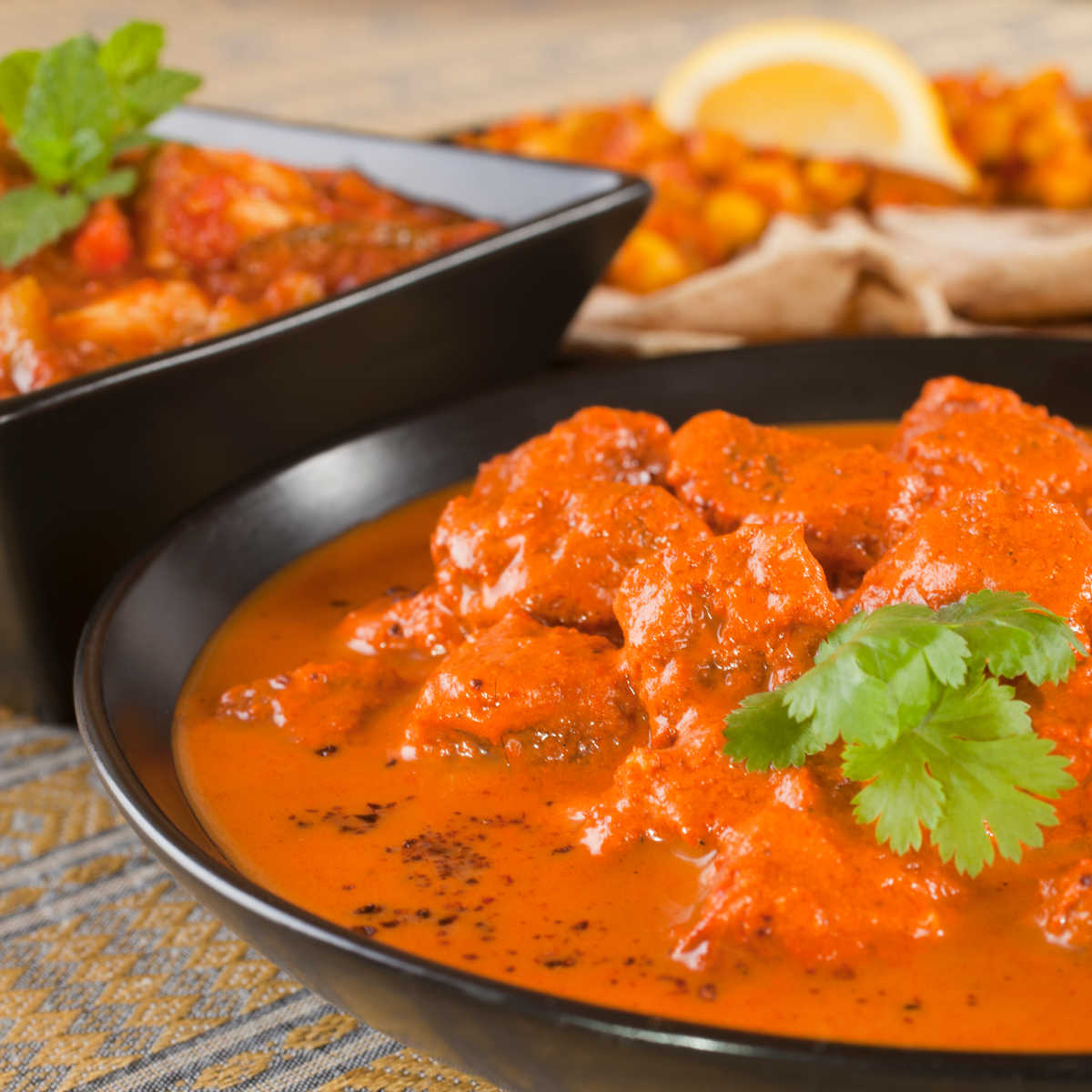 Source: indianambrosia.com
Traditionally prepared in a karahi – an Indian cast-iron wok-like pan – and slow-cooked to perfection. This bone-in lamb curry will have you licking your fingers in an instant!
The meat is cooked in a tomato and onion gravy that is perfectly seasoned. The kick from the chilies gives a strong dimension to the taste, so omit only if serving to children.
For a deeper flavor, let the lamb marinate in the ginger-garlic paste for a few hours before cooking. Either way, a succulent and juicy dish is guaranteed!
Source: littlesunnykitchen.com
If you don't know what lamb Keema is yet, you are so missing out. This ground lamb staple is so good and easy to make, that it will soon become the base for many of your culinary experiments.
Pretty ordinary ingredients but definitely an extraordinary taste! The peas in the mix give this dish a sweet note that combines perfectly with the meat.
A one-pan meal, perfect to whip up in a jiffy after a long and hectic day! Lamb keema is also freezer-friendly, which is a bonus for all meal-prep enthusiasts.
For a true tummy-filler, serve with white rice on the side.
Best Ground Lamb Recipes
If you're looking for some foolproof ground lamb recipes, then let the crème de la crème help you out.
Source: cookingorgeous.com
Juicy lamb koftas packed with tons of flavor and served with minty yogurt dressing on the side. Could it be any tastier or fresher?
Best-tasting if cooked over charcoal, but equally delicious on your griddle, oven grill, and even on your stove.
Out of eggs? Don't fret! You can still make this recipe if you omit the egg. The meat may not bind together well, but the taste will be the same.
And the best part? These koftas are quick and easy to make, and they also store well. Perfect for all you busy bees out there!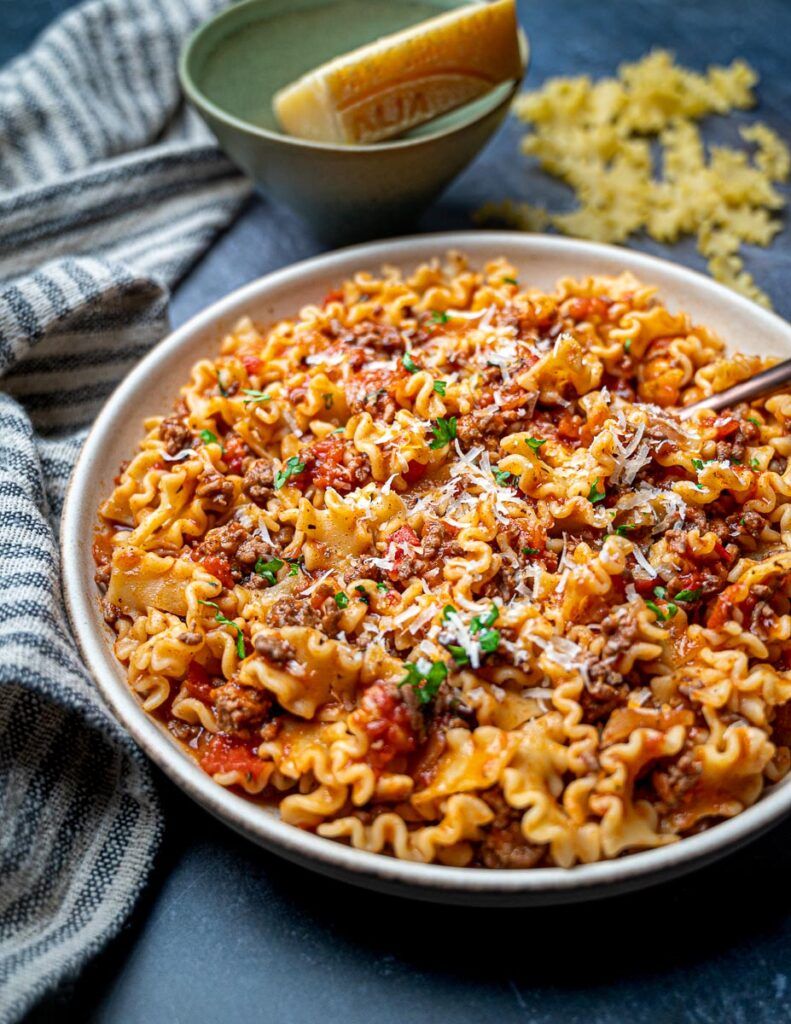 Source: skinnyspatula.com
Ever made Bolognese with ground lamb? If not, then I suggest you better hurry to the store, because this recipe will change your life! Or at least your pasta dinner!
Much richer than its classic, beef sibling, the bold taste of this lamb Bolognese satisfies after the first bite.
The lamb is seasoned with thyme and sauteed in full-bodied red wine. Pinot Noir and Cabernet Sauvignon work great with this ragu, but any quality red wine would do.
Use on top of (or toss with!) spaghetti, penne, or my personal favorite mafaldine.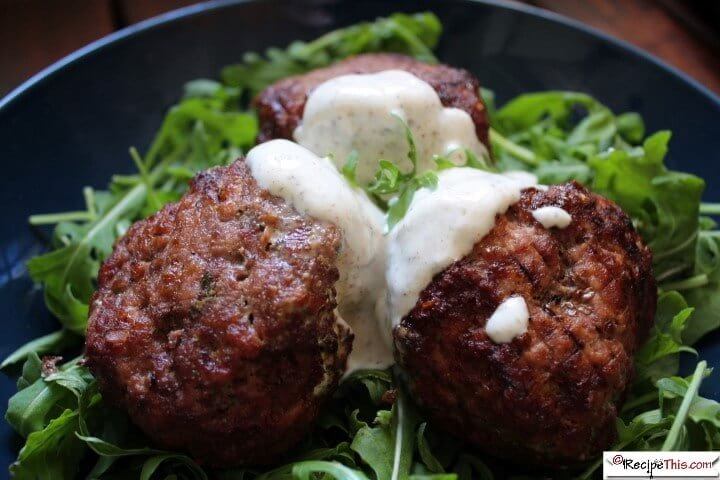 Source: recipethis.com
If you own an Air Fryer, then these lamb burgers will be a great addition to your healthy-frying recipe folder.
Seasoned with well-known Moroccan flavors and served with a fresh yogurt dip, these juicy Mediterranean burgers don't fail to satisfy!
Whether served in burger buns or over salad for a slimming meal, no one will resist this lamb lunch/dinner.
This recipe doesn't use breadcrumbs for a reason. Avoid adding it to the meat, as the result will be much drier. As in, might set off your smoke alarm, dry.
Source: livinglou.com
Shepherd's pie is one of those warm, comforting, reminds-us-of-home meals. And if you are a fan of this classic, then you will absolutely love this recipe!
And while its beef version can be delicious too, for an authentic version, lamb is what you should include in your Shepherd's pie. Get it? Shepherd = sheep.
Seasoned ground lamb with carrots, onions, peas in a tomato and red wine sauce, topped with silky mashed potatoes. Now that's something that draws water to your mouth.
And the best thing? It works well with leftovers, too. Just dump your Easter leftover lamb into the sauce, and voila!
Source: wholesomeyum.com
Thread onto skewers and grilled to perfection, these lamb kebabs are the ultimate crowd-pleaser!
This recipe uses only a few ingredients, but it surely offers tons of flavor. Easy to make and versatile, lamb kebabs pair well with almost anything.
They are not only succulent and super flavorful but also fun to eat. Who doesn't love meat on a stick, right?
If you have trouble getting your kid to eat some more versatile protein, here's a chance.
And if you don't have skewers, forget about them! Simply make patties out of the mixture, and grill away.
Need inspiration for a different meat? Why not check these leftover brisket recipes?
Source: cookathomemom.com
Want to give your dinner plate a rusty look? Then these Italian meatballs with broccoli on the side will give you a colorful and Instagram-worthy dish. Plus, they taste outrageously good!
Sauteed with cherry tomatoes and served alongside a nutritious broccoli rabe, this meatball dinner makes one full and healthy meal.
Juicy, tender, with just the right notes of earthiness, crunchiness, acidity, and sweetness, this Italian dish is a real keeper.
This hearty dinner uses pine nuts and raisins, but go crazy and experiment. Walnuts, almonds, dried cranberries… the sky's the limit.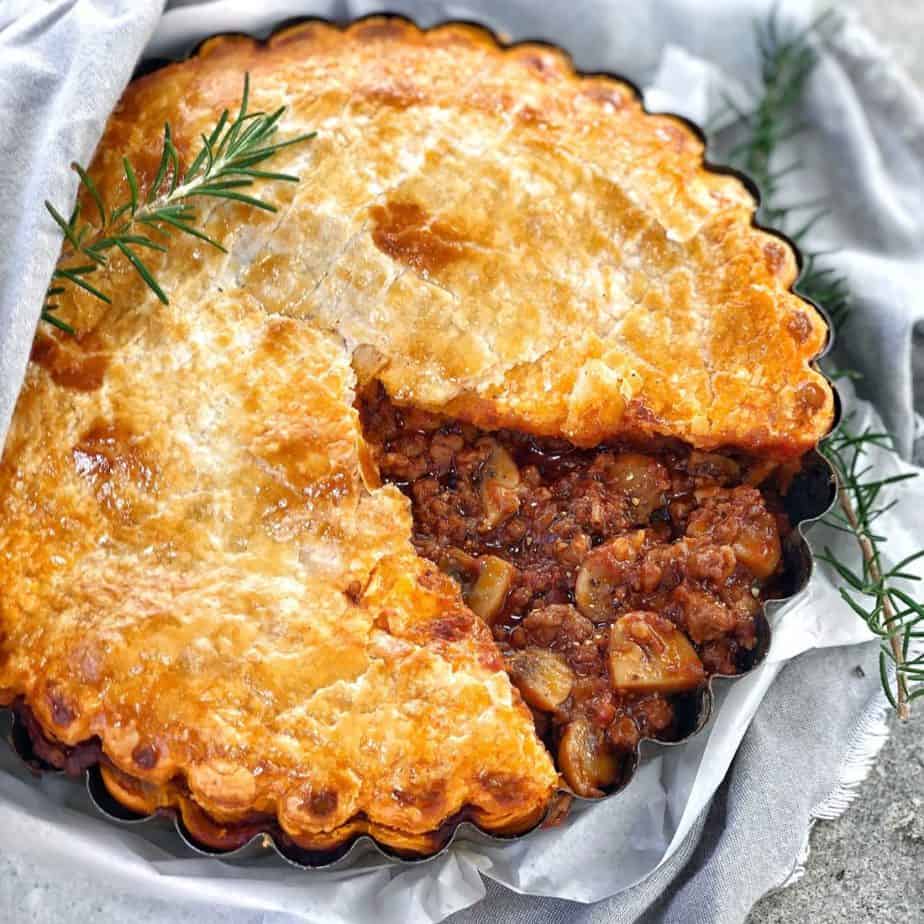 Source: chefnotrequired.com
Looking for a meaty pie to serve at your next family get-together? Then this lamb pie is a perfect choice!
Plus, you don't even need to get your rolling pin out. Just saute the meat with the veggies and top with a store-bought pastry sheet. Put in the oven, and dinner's on its way!
Ground meat in a tomato and mushroom sauce topped with crunchy pastry? Who can possibly resist that delightfulness? Your guests will be licking your plates and asking for seconds.
Rustic and hearty, this family-style pie will have everyone craving lamb. Serve it with sour cream and fresh herbs for the best flavor combination.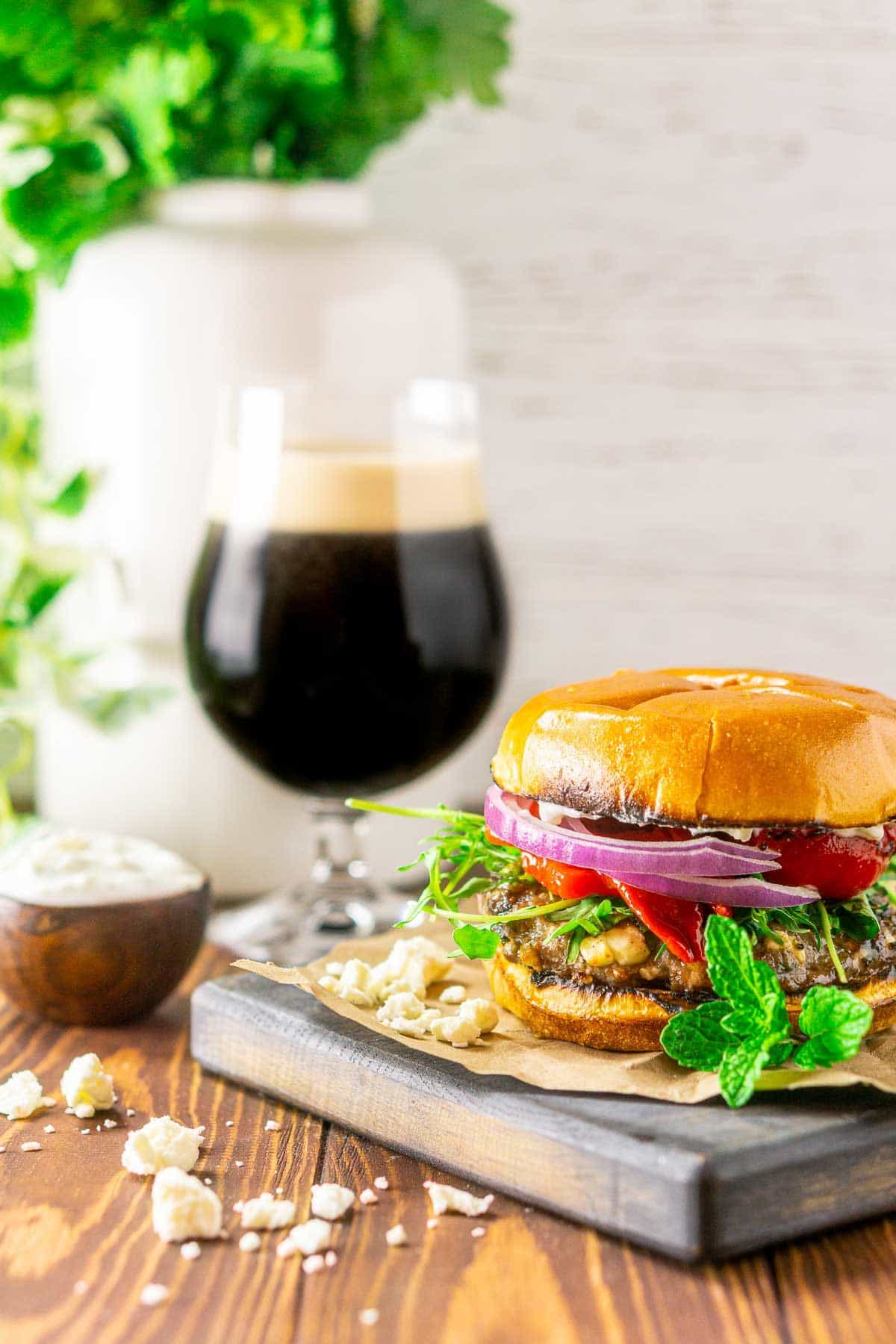 Source: burrataandbubbles.com
Burgers with mint? I know, I know, sounds exotic. Maybe too exotic for some tastes. But trust me, once you sink your teeth into this minty juiciness, you will change your mind.
Because when the richness of the meat combines with the freshness of the mint and the salty creaminess from the feta cheese, an explosion of flavors happens on your tongue.
Add some light tzatziki sauce on top of that, and you will be immediately transported to Santorini. Or Crete. Or whatever Greek island you're dreaming of.
Find more macro-friendly recipes like this here.
Source: servedfromscratch.com
Okay, technically these meatballs are three-meat balls. They are made with ground lamb, pork, and beef. But feel free to make them all lamb. The result will be richer and more aromatic meatballs.
A classic meatball recipe but in a healthier way. The balls are not fried but baked. They are then submerged in a luscious gravy that tastes best if served over mashed potatoes.
And if you add some green peas and berry jam on the side, then you'll see that those Ikea meatballs have nothing on these three-meat delights.
Source: cookingorgeous.com
A thin and crispy flatbread, topped with well-seasoned ground lamb cooked with veggies and herbs. Feel free to devour it as an appetizer, snack, lunch, or dinner. Seriously, it is that good!
Lahmacun is a traditional Turkish dish that can be eaten flat or rolled like a burrito for a practical, street-food type of meal. Either way, the result is pure satisfaction!
The dough is rolled into a circle, the cooked meat is spread on top, and the lahmacun is then baked for a crisp delicacy. Think of it as a Turkish version of pizza.
For a healthy and full meal, serve lahmacun with a bowl of soup.
Source: foxeslovelemons.com
This Greek version of the Italian classic doesn't use lasagna noodles but rigatoni. So think of it as baked lamb bolognese rigatoni that is bubbly, cheesy, and oh-so-delicious.
A bit of work may be involved in the process, but once you put a square of this pastitsio (a nickname for Greek lasagna), all efforts will instantly pay off.
Want to break off the work? Make the sauce in advance. It also freezes well which is a huge jumpstart.
The creamy yogurt sauce that is spread all over the pasta really builds up the taste, so don't be tempted to omit that part.
Source: runningtothekitchen.com
Lamb chili with chocolate? Yup, you've read it correctly! This delicious lamb stew is made with chopped lamb, tomatoes, beans, aromatic spices, and yes – chocolate.
Spicy, smoky, dark, rich, bold, and with sweet notes that proudly flow throughout. If that sounds like your idea of comfort food, you're in the right place.
Only two ounces of chocolate are enough to complement the spiciness here. If you're using more chili, though, feel free to add more. As long as the sweetness doesn't overpower, all is good.
Source: runningtothekitchen.com
Packed with spring veggies, deliciously sauteed ground lamb, and crumbled feta cheese, these lamb nachos are just the thing you need to healthify your game night.
Carrots, radishes, onions, and peas are used in this recipe, but feel free to up the vegetable content for an even bigger nutrient boost.
Crunchy, creamy, meaty, and incredibly healthy, you will go crazy over these lamb nachos!
Layer your ingredients, place in the oven for a few minutes, and indulge while warm.
Source: thismamacooks.com
If you're craving authentic gyro meat, then this recipe will put a smile on your face. Restaurant-style gyros right in your kitchen? Yes, it is possible!
Every bit as good as the street-food Greek staple, this homemade gyro meat will have you reminiscing about that one summer in Greece.
And making this gyro meat is just as easy as cooking a meatloaf. All you have to do is slice thinly and add the meat to your flatbread.
Top with fresh veggies, feta cheese, or the all-time favorite tzatziki sauce.
Source: kitchensanctuary.com
Minty, spicy, and loaded with your favorite Middle Eastern flavors. This ground meat will taste and look on your table, no matter how you serve it.
But if you ask for the best option, then shape it into koftas and thread it onto skewers. Then grill or fry, and serve with flatbread and preferred toppings.
If you want the ground lamb to hold shape better, crack an egg right into the meat mixture. This is one of the healthy recipes you can serve with fresh tomatoes and other veggies.
Source: apinchofadventure.com
Soft savory dough filled with seasoned ground lamb? How's that for comfort food?
Flavored with all the right spices and drizzled with lemon juice, this Mediterranean staple is fresh, juicy, and nothing but yummy.
The traditional process is a bit time-consuming, but not this one. By using frozen bread dough, you save time on this so you can focus on another recipe. Like the desert.
Besides, these soft pockets of meaty heaven are the perfect party food. Eaten with your hands and nothing but addictive. Could dinner be more fun?
31 Easy Ground Lamb Recipes Anyone Can Cook
Tired of eating your lamb the same way? These Ground Lamb Recipes are full of new flavors that will surprise your whole family.
Ingredients
1. Middle Eastern Lamb Meatballs
2. Lettuce Wraps
3. Moroccan Lamb Kofta Eggs Benedict
4. Greek Zucchini Casserole
5. Meatball Appetizer
6. Meatloaf with Feta
7. Greek Lamb Tacos with Cucumber
8. Moussaka
9. Flatbread Pizza with Lamb
10. Greek Sandwich
11. Greek Layer Dip
12. Minced Meat Curry
13. Lamb Curry
14. Karahi Gosht
15. Lamb Keema
16. Grilled Kofta
17. Bolognese
18. Air Fryer Lamb Burgers
19. Shepherd's Pie
20. Kebab
21. Italian Meatballs with Broccoli
22. Lamb Mince Pie
23. Minted Burgers
24. Swedish Meatballs
25. Turkish Lamb Wraps
26. Lasagna
27. Chocolate Lamb Chili
28. Spring Lamb Nachos
29. Homemade Gyros
30. Lamb Koftas
31. Lebanese Meat Pies
Instructions
Scroll up to get a bunch of easy, yummy, and delicious recipes. Don't be afraid to get creative with the ingredients, you might discover a flavor you didn't know you liked.
Get your shopping list going and make sure you've got all the ingredients.
Get cooking and make your next Ground Lamb Recipe!
Notes
Which one of these recipes was your favorite? Let me know in the comment section or on Pinterest!