Looking for flat grill recipes that go beyond pancakes and griddle steak? Check out these wonderful griddle recipes you can quickly sizzle up.
Barbecue enthusiasts may argue that food tastes better when prepared by an open fire. But once you griddle up your grilling game, you will soon discover that there are many Blackstone recipes to die for.
Here, you will find some of the best Blackstone griddle recipes that will not only sharpen your grilling skills but also revolutionize your whole outdoor cooking experience.
Now, fire up your griddle and better get used to that sizzling sound because these delicious recipes will make the most of your griddle.
What Is the Best Thing to Cook on Blackstone Griddle?
Although nothing beats griddle pancakes, its flat-top surface is designed for more. Like a lot more! Think steak, eggs, veggies, fried rice, and even tacos, more.
From breakfast to dinner, and everything in between. You can griddle up pretty much any food group on this flat-cooking surface.
Pancakes in the morning, English muffins for brunch, grilled salmon and veggies for lunch, and smash burgers for dinner. How's that for a menu, huh? Nothing better than an easy meal like that!
What Oil Do I Use to Season my Blackstone Griddle?
Greasing your griddle with oil before grilling creates a non-stick coating that prevents the food from sticking to the flat surface.
And while any oil will do the greasing part, not every type is suitable for high-temperature cooking. For that reason, you need to find a type of oil that has a high smoke point.
The smoke point is the temperature at which the oil starts breaking down and releases chemicals that give that burnt rancid taste to food.
The best oil to use for seasoning your Blackstone Griddle is canola oil. It is the cheapest and most commonly used oil. Also, the one with the highest smoke point.
Blackstone Griddle Chicken Recipes
Love your chicken breasts, tenders, legs, and ready for new flavors? These chicken meals will inspire even beginner cooks.
Source: budgetdelicious.com
Herbal and zesty, these chicken tenders make one refreshing and lean meal all achieved with simple ingredients. Perfect for those summer dinners on your patio.
For extra juiciness, allow the chicken to marinate for at least a few hours. Don't beat yourself up if you forget or don't have the time, though.
Simply coating the strips with the flavorings would be enough to offer a deep taste that pairs well with just about anything.
For an ultra-busy night, just throw some veggies on the griddle next to the chicken, and dinner will be ready before you even set the table.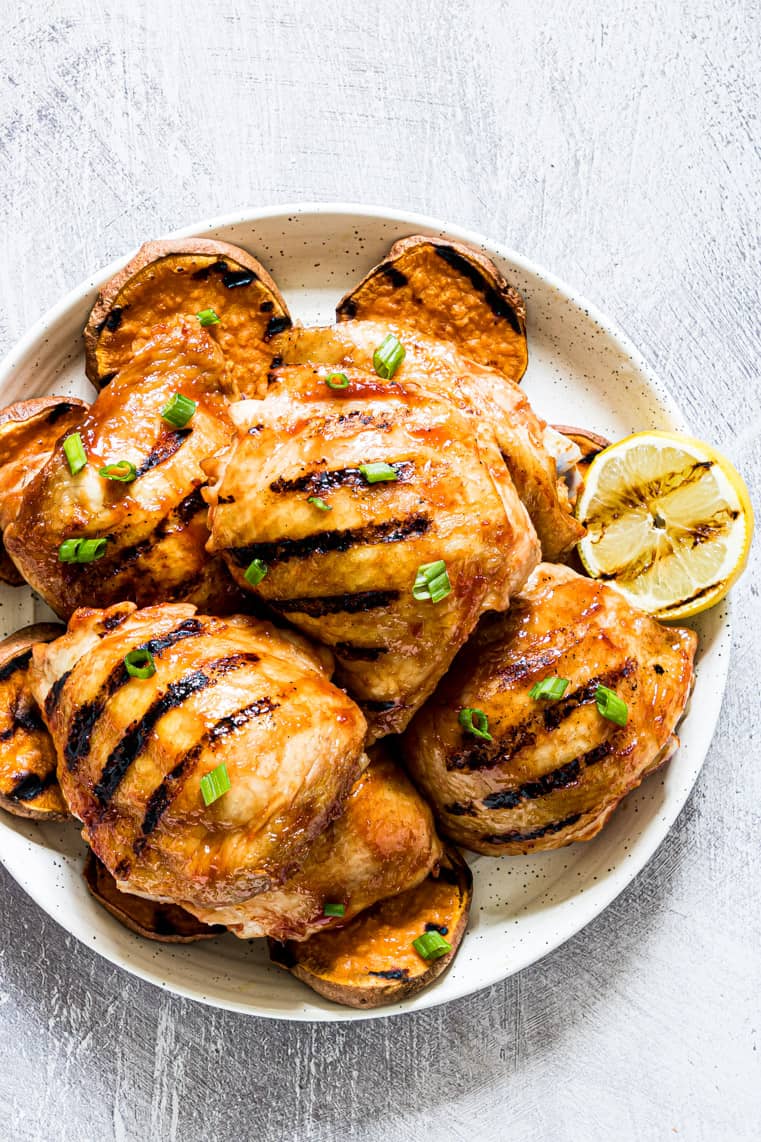 Source: recipesfromapantry.com
Sometimes, everything tastes better with booze. And these finger-licking chicken thighs are here to prove that!
Sweet, salty, and smokey, sticky chicken thighs are the perfect get-together food to be grilling with the people you love.
If you are a spicy-food aficionado, feel free to double (or triple!) the amount of hot sauce. It will offer a stronger kick without overpowering that barbecue flavor you are aiming for.
For a kid-friendly meal, swap the bourbon for some apple juice for a sweeter and fruity taste that the whole family will love.
Source: mindeescookingobsession.com
There is something about quesadillas that scream comfort!
The crispy bite, the gooey mouthfeel… All you need is this buffalo chicken, and the ultimate dinner's served.
Shredded chicken – sweetened with honey, spiced up with hot sauce, and seasoned with smokey saltiness – is the star of this recipe.
But don't let all those spices fool you. The buffalo chicken is well-seasoned but not hot, so even children can enjoy it.
Be creative with the toppings. Diced onions, sour cream, cilantro, bell peppers whatever you think will complement the buffalo cream cheese flavor is more than welcome.
Source: homefreshideas.com
Frying rice with eggs and chicken on the Blackstone griddle may sound complicated, but even total amateurs can perfect this recipe in no time.
The key is to drizzle with the right amount of soy sauce after every new ingredient is added to the griddle.
The rice is fluffy, the chicken super tender, and the eggs and veggies just wrap the whole thing up delightfully.
Not a meat lover? No problem! Just omit the chicken and add some more vegetables to the mix for a nutritious and tummy-filling dinner.
Source: recipesfromapantry.com
If Asian is your cuisine of choice, then these marinated chicken tenders will be your go-to pick for busy weeknight dinners.
Staple Chinese ingredients pack a flavorful punch and give this grilled chicken an irresistible taste. Just allow the meat to soak in the marinade for at least half an hour before grilling.
And if you want to spice things up a bit, then a couple of minced garlic cloves will add some warm intensity to the flavor. Just make sure you cook on high heat.
For a full dinner, serve with rice drizzled with some soy sauce. Check out more chicken recipes here.
Healthy Blackstone Griddle Recipes
Whether it's salmon or pancakes, we got them all! These delicious meals offer healthier options to your regular recipes, which makes them some of the best recipes out there.
Source: salads4lunch.com
Light and healthy, these whole-wheat pancakes will show you that you don't need any sugar to enjoy your breakfast favorite.
And yes, you can make them big and fluffy, even on your Blackstone griddle!
For the ultimate taste, do not use oil to grease the griddle, but butter. That way, you give your pancakes a nice coating that makes them even more delicious.
Beware when grilling with butter, though. Your griddle needs to be medium-heated, not hot. Otherwise, the butter will brown too quickly, adding a burnt taste to the pancakes.
Source: angrybbq.com
When in doubt, grill some salmon!
This classic main dish will not only save you from spending hours in the kitchen but will also wow your guests too.
And it couldn't be simpler. Just season the salmon, preheat your griddle, grill for about five minutes per side, and voila! A tasty dinner is ready to be served.
Don't be tempted to omit the sugar in this recipe, as it makes all the difference.
With just a half teaspoon of white sugar, you give the salmon a caramelized sweetness that will practically revolutionize the flavor.
Source: heartbeetkitchen.com
Never made sourdough before? Don't fret! This step-by-step recipe will carefully take you through the process.
Once you try these pillowy muffins, you will never buy another English muffin again.
Crispy and golden on the outside and soft on the inside, these puffy muffins can be perfectly "baked" on the Blackstone griddle.
Just grill for about 6-7 minutes per side, and your favorite new breakfast is ready!
Cut in half, and you've got yourself the perfect match for your butter and jam dollops.
Source: scrummylane.com
Rich, but also mellow, with a tangy kick that never disappoints, grilled halloumi should become a barbecue staple, like today!
Slice it or cut it into cubes, grill It on your griddle until golden brown, then drizzle with some olive oil and sprinkle herbs on top.
The crispy exterior and gooey exterior complement each other perfectly, but the most impressive thing of all is the wonderfully salty flavor.
Perfect for salads, on skewers, or as a side alongside lean meat or fish.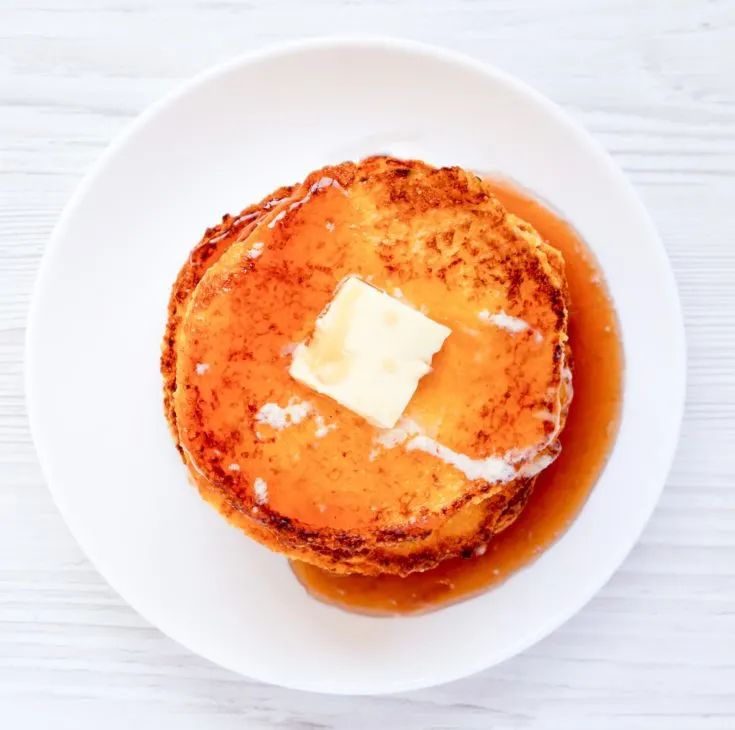 Source: fittoservegroup.com
When you have these Johnny cakes on the table, who needs classic pancakes, really?
Made with almond meal, eggs, and sour cream, these Keto hoecakes taste just their corn sibling, without all the fattening carbs.
Top them with butter and some Keto-approve syrup, and you won't even be able to tell the difference.
The Blackstone griddle will give them a nice golden color and a grilled note for some depth in taste.
If making them savory, grease the griddle with reserved bacon grease for a better taste and a fatty Keto boost.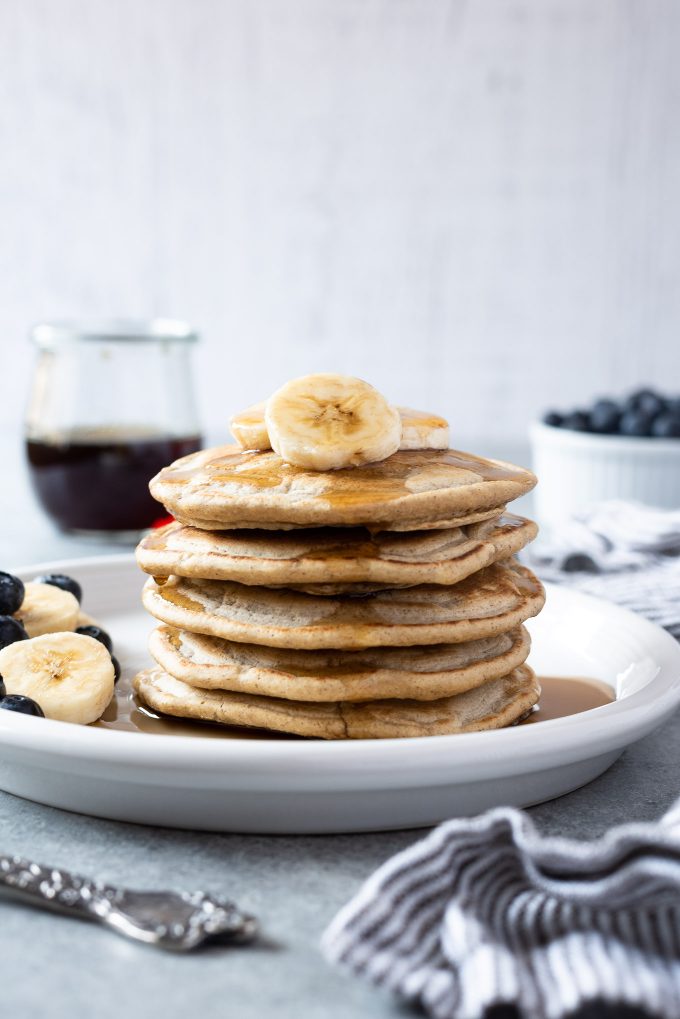 Source: flavorthemoments.com
If the whole-wheat or Keto pancakes don't quite match your taste buds, then this oaty recipe will fuel your mornings perfectly.
Fluffy banana and oat pancakes that are soft, flavorful, and easy to make on your Blackstone griddle.
Just preheat to medium, spread the butter, and wait for the bubbles to appear before you flip over.
Feeling celebratory? Try adding a handful of chocolate chips to the batter and a drizzle of maple syrup over the cooked batch. Not that healthy, but hey, some flavors are worth the extra workout.
Source: veganhuggs.com
Whip up these savory pancakes for an easy and cheesy breakfast!
Nutritious, delicious, and 100% vegan, these cheddar and green onion pancakes are packed with fiber and healthy fats to kickstart your day.
Pair them with bacon or some breakfast sausage for an extra protein punch, and you will be full until lunch, guaranteed.
These grilled pancakes are super versatile, so feel free to skip the onions and add other herbs and veggies to your liking.
Source: theforkedspoon.com
Somewhere between a potato pancake and a beef patty, this grilled version offers a bit of both – a meaty protein kick and a tender potato taste.
Whether plain, with sour cream, or even applesauce (yes, you want that sweetness over the corned beef), these grilled pancakes make one heck of an entrée.
Just make sure to grease the Blackstone griddle well before adding the pancakes to it, and your dinner is ready in just under ten minutes.
This recipe uses chives, but feel free to experiment with herbs and spices you like.
Source: wholesomefamilyliving.com
For a low-carb breakfast, try these pumpkin and coconut pancakes!
They are not only easy to make and naturally sweet but super griddle-friendly, as well.
To add a Keto boost, use coconut oil when grilling the pancakes. Just be sure that the temperature doesn't exceed the medium-high.
Add some cinnamon or pumpkin pie spice, and your kitchen is filled with that October vibe.
Just remember, these pancakes may smell like autumn, but they sure taste like heaven!
Find more fall recipes here.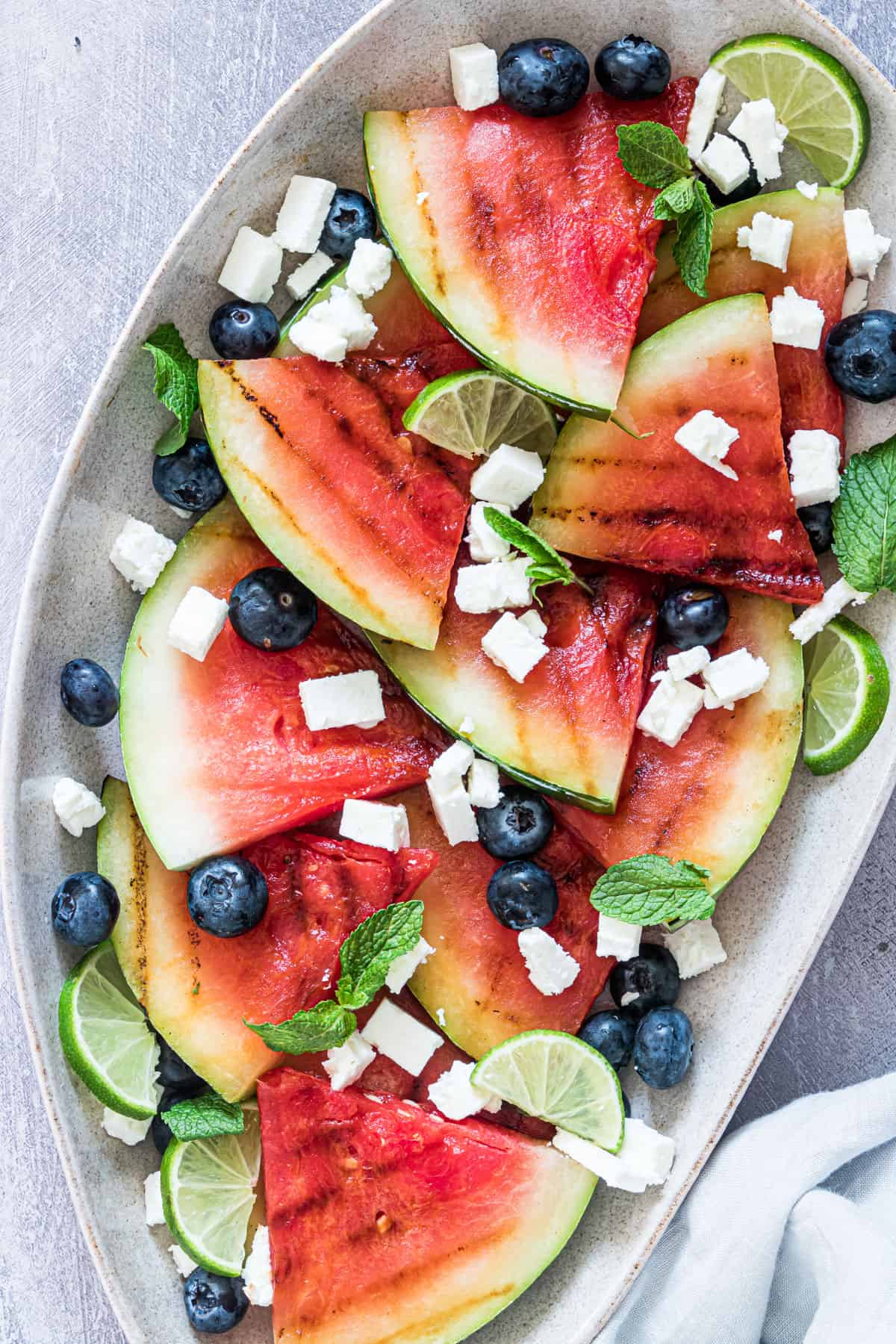 Source: budgetdelicious.com
Owning a griddle and not grilling watermelon slices at least one should be a crime. If you're ready to make something with fresh fruits, you're in for a ride!
Not a fan of grilled watermelon? Well, then, let this recipe change your mind!
Brush the watermelon with oil, grill for a couple of minutes on each side until you see the charred marks, and you're good to go.
Combine it with cubed feta cheese, berries, lime slices, and mint. It is recommended that you drizzle the salad with orange juice for extra zestiness.
You can also make a salad dressing by combining citrus juice with olive oil and a touch of salt.
Almost like summer in a bowl, don't you agree?
Source: amummytoo.co.uk
Does French toast really need an introduction? Well, this one does!
This grilled cinnamon bread topped with apples and lemon mascarpone is not your typical French breakfast.
It is sweet, tangy, zesty, and with just the right oomph to make it your new favorite.
For the absolute best taste, do not skip grilling the apple slices. The heat will knock some of the crunchiness, offering a softer, more enjoyable bite.
The mascarpone is already slightly acidic, so whatever apples you choose – sweet or sour – the end result will be delightful. A delicious treat for anyone!
Source: fitmealideas.com
Peppers, carrots, cabbage, and coriander give these pancakes a healthier twist that will help nourish your mornings.
These oat pancakes can be perfectly grilled on the Blackstone griddle, just make sure the batter is not runny.
A tip for the busy bees: make a huge batch of the batter ahead of time. Keep it in the fridge for up to a week, and whip up healthy pancakes in a jiffy, every morning.
Source: abeautifulspace.co.uk
In just 20 minutes, you will be able to prepare a restaurant-grade healthy salad with this recipe.
And for a restaurant-grade experience, make sure to serve warm, right off the griddle.
Remember not to cut the radicchios thinly, as they are the star of the plate. The pieces should be chunky and offer a nice bite.
Top with chopped nuts for an inviting crunchiness, and finish off with an aromatic herb such as parsley for a palate-cleansing.
Perfectly paired with ciabatta and some Italian white wine, your guests will go crazy over this simple yet hearty salad.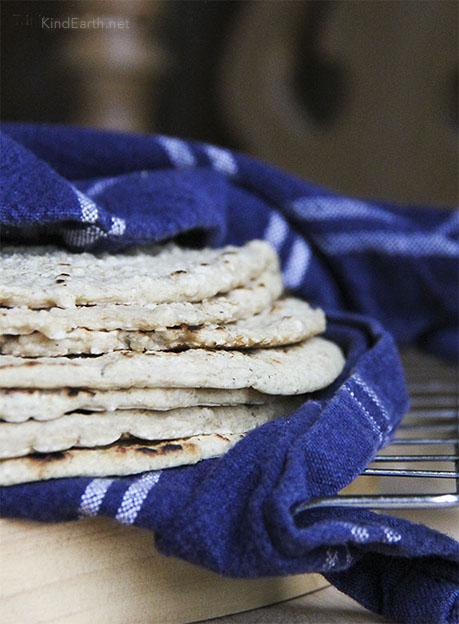 Source: kindearth.net
Whether consumed as a wrap, crepe, pancake or simply a bread alternative, these oatcakes can handle pretty much any filling and topping.
For those looking to ditch the gluten, this is definitely a recipe worth keeping.
And the best part? These oatcakes can be prepared on your Blackstone griddle in no time.
With practically two ingredients (and a pinch of salt!), you cannot find a simpler recipe.
The secret to making them soft and wrappable is to place them on top of a kitchen towel immediately after being prepared and keep them covered until cooled.
Camp Griddle Recipes
Are you going camping? These easy recipes will taste awesome outdoors.
Source: neighborfoodblog.com
If you love ricotta cakes, then you will fall in love with these pancakes after the very first bite. Perfect with coffee and tea, ricotta pancakes are the ultimate breakfast choice.
Add a generous butter dollop on top and smother them in syrup, and who can possibly resist?
And if you're a fan of all things citrusy, feel free to omit the vanilla in the recipe and go for lemon juice and zest instead.
It is recommended that you grill them on butter. Just make sure the griddle is not overly hot to burn it, though.
Stack your favorite fruit slices on top for an even more luxurious taste.
Source: ninjafoodigrillrecipes.com
Eggs and bacon on a grill is probably the most anticipated camping breakfast. And if you add cheese and take them with croissants, you're in for some first-class experience.
The key to nailing the perfect flavor complexity is to make sure the bacon is crispy. Also, that the egg is not runny (but also not overdone), and the croissant is warm.
Make sure to add the cheese right on top of the hot bacon so that the heat can melt it slightly.
Every single bite out of that succulent sandwich will be deeply enjoyed!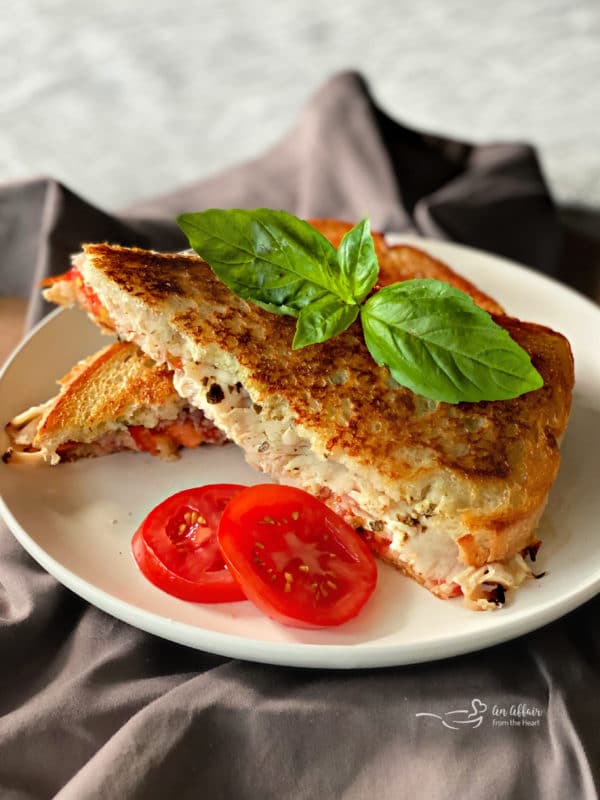 Source: anaffairfromtheheart.com
Turkey sandwich seems like a safe choice. But, to make it exceptional, there is more to it than simply dumping ingredients on a piece of bread.
Which is why this recipe uses Havarti cheese. Lusciously balanced with a subtle taste between acidic and sweet, using Havarti instead of regular cheese can really transform a turkey sandwich.
Pair it with tomato and pesto, and delicious is an understatement.
Make sure to butter the outsides of the bread, and not the griddle, when grilling. This will intensify the taste and make it even toastier.
Source: ninjafoodigrillrecipes.com
Did you know that the perfect French toast is made on a griddle? Well, give this recipe a try and see for yourself!
Evenly cooked on all sides without all that extra grease, your griddle can make one crunchy yet super-soft French toast.
Plus, it's hard to go wrong with flavors like vanilla, cinnamon, and nutmeg.
And if you choose to top it off with a generous drizzle of maple syrup and some berries, now really, who can say no to that?
Most Popular Griddle Recipes
If you don't have time and just want to make what most people would, you're in the right place. These are some of our favorite recipes. Super delicious, easy to make, and family-friendly.
Source: beyondthechickencoop.com
Now, who owns a griddle and has never made grilled cheese on it? Right, no one! It's probably the best way to use it!
But have you ever made it with pesto, tomatoes, parmesan, and gouda? Now, that's definitely a combo worth trying.
The trick here is to spread the pesto evenly and to make sure that your cheese is not sticking out of the bread to avoid making a mess.
Simply spread the butter all over the outside of the bread, and you don't even need to grease the griddle.
This much more sophisticated version of the classic favorite will become your go-to lunch. I know it's become mine.
Source: angrybbq.com
Making burgers from scratch may seem like a daunting process, but not with this recipe. This meal can become one of your favorite things to make.
And with a simple burger sauce that requires nothing but your condiment staples, you can give your burger an authentic flavor.
The burgers are grilled on the griddle until their edges turn brown, but that is not the actual secret.
The key to a juicy burger is allowing the patties to rest for at least five minutes after grilling. This helps the delicious juices to flow to all the nooks and crannies.
And if a cheeseburger is your junk food of choice, then add a slice of cheese on top, just a minute before you stop the grilling.
Source: lemonblossoms.com
Birria is a classic Mexican stew. And if you've already guessed it, yes, these birria tacos are made with braised meat.
The recipe uses beef that is slowly cooked until it reaches high tenderness and fall-apart doneness.
Once you've got your slow-cooked meat ready, you blend a chili sauce, assemble the tacos, and grill on your griddle.
The grilling time shouldn't be longer than a minute or two, and it is recommended to use toppings like red onions, crumbled feta, or coriander.
Source: lemonblossoms.com
Apples in the batter, apples on top… you can never get too many apples in a dessert.
These cinnamon pancakes taste better if you shred a sour apple (like Granny Smith) into the batter. That gives them a tangy kick that pairs perfectly with the caramel sauce on top.
Light, fluffy, soft, and with all the right attributes that make pancakes so palatable, this recipe will satisfy even those who prefer pears over apples.
And with that caramelized burnt sweetness on top, making these pancakes will almost feel like an art.
Simply mouthwatering!
Source: learningtosmoke.com/
Aside from the precooked rice and ham, there isn't much extra work involved in this recipe.
The frozen peas and carrots are cooked on the griddle right from the bag. Plus, everything is simply mixed in one big bowl for easy cleanup.
When the holidays roll over and you have leftover ham and rice, this is the perfect (and most delicious) way to empty those containers in your fridge.
The recipe uses soy sauce, but if you want a spicy kick, feel free to add some Sriracha to it, too.
Source: thegoodheartedwoman.com
Who can say no to a Monte Cristo sandwich?
Crispy egg batter on the outside with evenly layered ham and cheese slices on the inside. Isn't that the ultimate comfort food?
Instead of being deep-fried, this sandwich is grilled on the griddle. And that slightly charred taste is what makes it so uniquely pleasing.
And if you're feeling exotic, try adding a pineapple slice between those meat layers. That will give the sandwich a sweet and recognizable note.
Dip in some berry jam for the ultimate indulgence.
Source: dishnthekitchen.com
Do you know that the traditional English muffin is cooked on a griddle?
Whether you like it plain or with jam, this is definitely THE recipe for an English muffin you've been searching for.
Grill them on the lowest setting on your griddle, and soft and fluffy is guaranteed.
Ready in under two hours and tasting better than any store-bought version, these yeast English muffins will become your number one brunch choice.
ight and airy on the inside, and crispy and chewy on the inside. They are the perfect thing to serve with tea between the meals or to bring to a camping trip.
Source: homefreshideas.com
Steak, cheese, onions, and peppers, all combined in a soft, buttered roll. How drool-worthy is that?
The best thing about this recipe is that everything but the cheese is cooked on the griddle.
Make sure to assemble the cheesesteak while still hot so that the cheese becomes melted. That will give the sandwich a gooey taste, making it even more succulent.
The perfect companion is, obviously, a cold beer. Whip up this grilled Philly cheesesteak, and host the perfect game night, ever.
Source: livingsmartandhealthy.com
If you love Indian food, it is only natural to want to be able to make your own Naan bread.
But while you may not have a tandoor oven at home, your griddle will do the job quite well. And this recipe will show you how it's done.
Buttery, soft, and fresh is how this Indian flatbread can be described. And for a little more flavor, a classic garlicky topping on the side.
Dip into curries for an authentic Indian dinner.
Source: homefreshideas.com
If simple is how you describe your cooking, then this recipe definitely belongs in your folder.
No messy sauces, no odd ingredients needed. Just beef balls that you smash and grill on your Blackstone griddle. Okay, and the optional slice of cheese and toppings.
If using cheese, make sure to add it near the end of the cooking time, and cook just until it starts to melt.
Serve with French fries on the side for the real fast-food experience. No waiting in lines involved! Check out more healthy school meals like this here.
Source: olebluedog.com
Looking for a yummy side dish to touch up your entrée? Well, this recipe has got you covered!
These Brussel sprouts are combined with crispy bacon and caramelized shallots for a healthy, crunchy, and somewhat sweet dish.
Add your favorite seasonings to the mix, and you'll be tempted to devour the whole bowl.
Keep in mind that the Brussell sprouts tend to burn quickly, so blanching them before grilling is probably a good idea.
Source: olebluedog.com
With almost no prepping involved, your pork dinner will be ready in a blink of an eye.
All you have to do is simply coat the pork chops with the three dippings, and place them on the Blackstone griddle to grill.
These breaded chops are versatile and can be paired with pretty much anything – from sweet apples to sauteed beans – but you will absolutely love them with the grilled Brussell sprouts with bacon.
Crispy and chock-full of flavor like any deep-fried meat, minus all the grease.
Source: christinascucina.com
These Scottish scones are actually traditionally cooked on the griddle, not in the oven.
They are buttery with a slight tanginess from the buttermilk and a consistent sweet hint.
They can either be made plain and served with butter and jam. Also, you can incorporate some add-ins directly into the dough. Dried fruit and chocolate chips are just some great options.
Best to serve warm alongside a hot herbal cuppa, but in all fairness, they taste amazing even cold.
Source: dinneratthezoo.com
If you have kids, then you are already well aware of how huge a hit mini pancakes can be.
And if you're tired of your plain recipe, then perhaps these banana pancakes can shake things up at your breakfast table.
This recipe is best reserved for those mornings when you have overripe bananas sitting around your kitchen, turning brown purposelessly.
Fluffy, airy, and jam-packed with a satisfying banana flavor, these mini pancakes are so worth saving.
And if you're feeling generous, a third of a cup of chocolate chips can do wonders!
Source: ourwabisabilife.com
If you're a fan of cranberry maple granola – whether store-bought or homemade – then you will absolutely love adding some on top of your pancakes.
That will not only add a sweet crunchiness and a crispy bite to all that fluffiness, but it will also inject some healthy fiber into your mornings.
Combine that with the softness of these griddle-cooked pancakes, and you've got yourself a new breakfast favorite.
Make sure to grill with butter and over medium heat for a truly smooth and enjoyable taste.
Source: servedfromscratch.com
The classic tuna melt is, well, a classic. But if you want to squeeze some more nutrients into your lunch box, then I suggest you give this spinach version a try.
Creamy, cheesy, crispy, and buttery all at the same time, this tuna melt packs so much flavor that your taste buds will practically explode.
Butter the outsides of the bread before the grilling for a nice and evenly golden crust.
If you want an extra kick, add some diced onions to the mix.
Source: mysequinedlife.com
A fan of delicious steaks? How to best use your leftover steak? Make a sandwich, of course!
And if you don't know what kind of a sandwich, then let this recipe be a yummy inspiration.
Grilled onions, steak, and melted cheese are all cooked on the griddle and then topped on an already crispy bread slice.
Brush the insides of the bread with horseradish aioli for a spicy and somewhat pungent kick to perfectly accompany the steak and round off the sandwich.
Crusty bread makes a killer steak sandwich, but soft slices will do, too.
Source: saporitokitchen.com
Cannot decide between grilled cheese and pizza? Why not combine them both?
In this mash-up style recipe, you get it all. Yummy mini pepperoni slices, melted cheese, tomato sauce, and the crispy buttery outside of a grilled cheese sandwich.
The Italian seasoning wraps everything up and gives this sandwich that familiar, comforting taste.
The outsides of the sandwich are buttered before cooking and then grilled for a couple of minutes until brown and melted.
For an ultimate taste, serve the sandwich cut in half, with a tomato sauce on the side, then dip and devour!
How to Season a Blackstone Griddle?
As already mentioned, you need to season your griddle with oil so your food won't stick to the grilling surface.
Preheat your previously cleaned flat-top, and let it reach the maximum temperature, about 10-15 minutes.
Once you notice a change in color, dab the griddle with oil. Grab some paper towels, and carefully spread the oil into a thin, even layer.
Now, fire the griddle back up, and let it burn for 30 minutes.
Let it cool slightly, and repeat.
Doing 3-4 more rounds will turn your griddle into a dark, non-stick surface.
Finish off by applying another thin layer of cooking oil, and you're all set.
Griddle vs. Grill, Which One is Healthier?
The truth is, both griddles and grills offer a healthy way of cooking.
With grills, you need to pay attention not to cook directly over an open flame, as that may release unwanted chemicals from the meat.
On the other hand, the good thing about grills is that the excess oil and juices from the food drip off through the grates, which is not the case with griddles.
A gun to my head? I would say that griddles are a bit healthier simply because they are somewhat easier to maintain.
If you use a small amount of oil and you clean your griddle frequently, there will be zero health concerns for you to worry about.
41 Best Griddle Recipes Anyone Can Make
Looking for easy recipes to cook up on your Blackstone griddle? These Griddle Recipes are delicious and easy to make.
Ingredients
1. Lemon Oregano Chicken Grilled Tenders
2. Honey Bourbon Grilled Chicken Thighs
3. Buffalo Chicken Quesadillas
4. Blackstone Chicken Fried Rice
5. Grilled Chicken Tenders
6. Whole Wheat Pancakes
7. Grilled Salmon
8. Sourdough English Muffins
9. Halloumi
10. Keto Johnny Cakes
11. Oat Flour Pancakes
12. Savory Pancakes
13. Irish Corned Beef Potato Pancakes
14. Keto Pumpkin Pancakes
15. Grilled Watermelon Salad
16. Cinnamon French Toast with Griddled Apple Slices
17. Savory Vegetable Pancake with Oats
18. Charred Radicchio Chickpea Salad
19. Oatcakes
20. Ricotta Pancakes
21. Bacon, Egg & Cheese Croissants
22. Turkey & Havarti Sandwiches
23. French Toast
24. Pesto Grilled Cheese
25. Smash Burgers
26. Birria Tacos
27. Caramel Apple Pancakes
28. Ham Fried Rice
29. Monte Cristo Sandwich
30. English Muffins
31. Blackstone Philly Cheesesteak
32. Garlic Naan
33. Blackstone Smash Burger
34. Bacon Brussel Sprouts
35. Parmesan Crusted Pork Chops
36. Cream Girdle Scones
37. Mini Banana Pancakes
38. Maple Cranberry Granola Pancakes
39. Spinach Tuna Melt
40. Leftover Steak Sandwich
41. Pepperoni Pizza Grilled Cheese
Instructions
Scroll up to get a bunch of easy, yummy, and delicious recipes. Don't be afraid to get creative with the ingredients, you might discover a flavor you didn't know you liked.
Get your shopping list going and make sure you've got all the ingredients.
Get cooking and make your next Blackstone Griddle Recipe!
Notes
Which one of these recipes was your favorite? Let me know in the comment section or on Pinterest!