This bulgur wheat salad is naturally sweet, yummy, and filling. It's dairy-free and vegan.
Are you looking for a salad that's a little different, nutritious, and that will fill you up? This bulgur wheat salad is a great option.
It's loaded with green vegetables like broccoli, green onions, and avocado. On top of that, it has bulgur wheat, a fiber-filled grain loaded with health benefits.
This salad also doesn't require a fancy dressing. In fact, it's merely olive oil, lemon juice, salt, and pepper.
And that is all you will need! Those simple ingredients will bring out the flavors of the other ingredients perfectly.
Another great thing about this salad is that it's low in calories. One serving is only 342 calories.
Therefore you could enjoy it on its own or still have room for another side or a small piece of protein (like chicken or steak).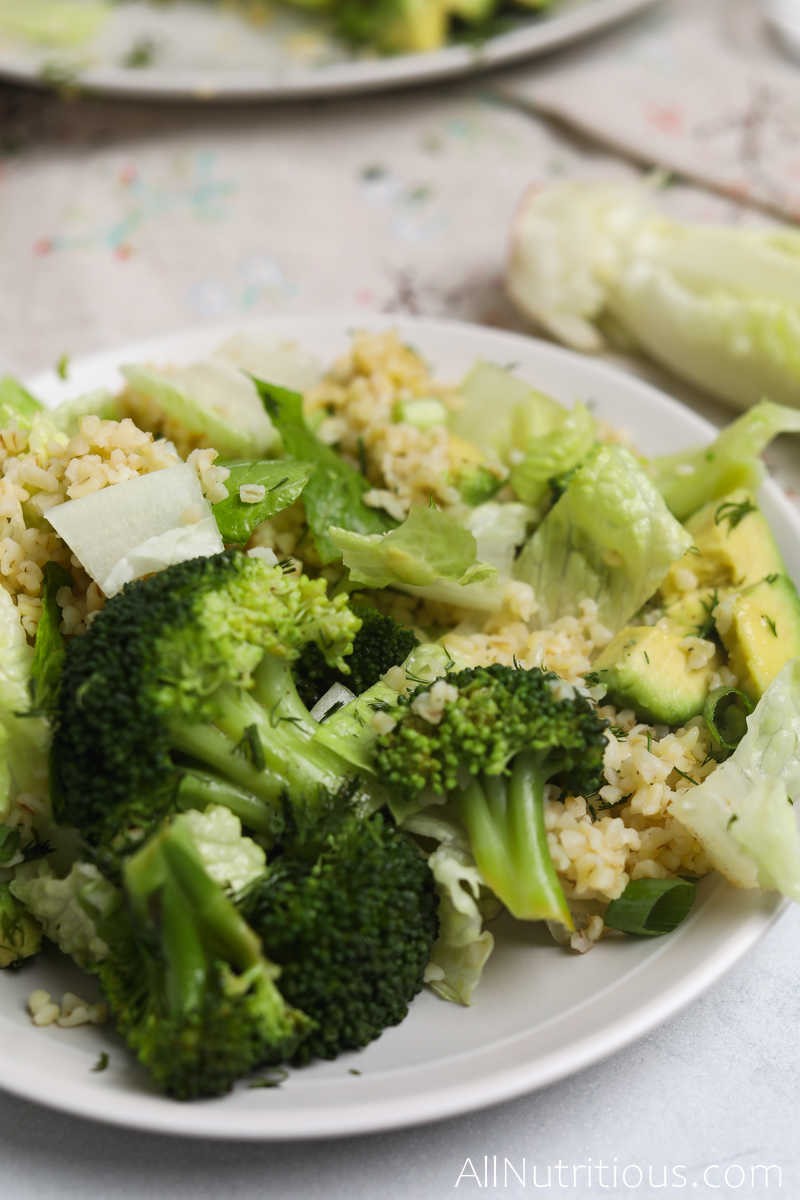 Is Bulgur Healthy?
Bulgur is a great healthy choice when it comes to choosing what grain to use.
But what kind of nutrition is in bulgur wheat?
It's very high in fiber compared to other grains. It's also high in protein, vitamins B3 and B6.
Bulgur wheat is also rich in minerals like magnesium and phosphorus.
You might be wondering if bulgur wheat is also suitable for weight loss. Bulgur is a great grain option to choose when forming a weight loss diet.
This is mainly due to bulgur's high fiber and protein content.
Ingredients for the Salad
Bulgur wheat – Bulgur wheat is a whole grain that is made from cracked wheat. It has health benefits, like being high in fiber, vitamins, and minerals.
Broccoli florets – Broccoli is high in vitamins, fiber, and antioxidants. It's also great for your skin.
Romaine lettuce leaves – Romaine lettuce is easy to find and is an excellent option for this salad. If you can't find romaine, you can substitute with spring greens, iceberg, or fresh spinach.
Avocado – Avocados have healthy fats, fiber, and many vitamins. You must use a ripe avocado for the best flavor.
Green onion – Green onions have vitamin K and C. If you can't find green onions, you could use leeks or chives.
Dill – Dill is a great source of magnesium, vitamin A and vitamin C. It has a very unique flavor that is a crucial element to this dish.
It's best to give it a try. But if you don't like dill or cannot find fresh dill, you may substitute it with another fresh herb like parsley, basil, or mint.
Olive oil – Olive oil is a healthy oil option with monounsaturated acids and cancer-fighting properties. Avocado oil is another option that could be used as an alternative.
Lemon – Lemons are one of the greatest fruits for vitamin C, fiber, and weight loss. They add a fresh flavor to the salad that makes a significant impact.
If you don't have any lemons, you can also use lime or a splash of apple cider vinegar.
Salt & Black pepper
How to Make Bulgur Wheat Salad
This salad requires a few additional steps aside from chopping up vegetables. But don't worry, it's time well spent. The extra effort put into making the bulgur wheat and steamed broccoli is worth it!
To cook the broccoli, bring a pot of water to a boil. Then drop the chopped broccoli into the water.
Allow the broccoli to cook for 3-4 minutes, or until tender. Immediately remove the broccoli from the pot so that it doesn't get too soft.
In fact, you can quick-chill the broccoli pretty quickly. You can do this by running the broccoli under some icy water or putting the broccoli into a bowl of ice for a few minutes.
The next step is to cook the bulgur wheat.
First, add the bulgur wheat and 1 ¾ cups of water into a saucepan. Bring the water to a simmer, then lower the heat and cover the saucepan.
Let The bulgur wheat simmer for about 10 minutes.
Now, turn off the heat and let the bulgur sit for another 10 minutes while covered. If the grains aren't soft yet, let them while covered for a couple more minutes.
When they are soft, drain the remaining liquid and fluff with a fork.
Now it's time to build the salad. Grab a large plate and spread the chopped romaine lettuce to cover the dish.
Then, add the broccoli, avocado, green onions, bulgur wheat, and fresh dill. To finish the salad, drizzle with olive oil, lemon juice, salt, and pepper.
Do You Need to Soak Bulgur Wheat?
There are a few ways to soften bulgur wheat. Bulgur wheat does not need to be cooked, but instead soaked in some sort, as it's already par-cooked.
Using a cooking method, like in this pantry recipe, will give you the fastest results.
Something to keep in mind is that bulgur wheat comes in different grain sizes – fine, medium, and coarse. Therefore, more coarse grains will likely take longer to soften than fine grains.
Is Bulgur Better Than Rice?
Bulgur wheat is an excellent substitute for rice and has more health benefits.
Remember, bulgur is a par-cooked product. Although it's already cooked, it's one of the few foods that maintains its nutritional elements because of the particular cooking process.
This immediately makes it a healthy choice. We want to maintain all of those nutritional benefits!
Rice is often stripped of some nutritional value while being processed (like white rice).
Compared to rice, it has twice the amount of fiber. It also has many more minerals.
Other Salads You Might Like
Watch More Salad Recipes
This bulgur wheat salad with avocado is yummy! Check out the full recipe and get more salad inspiration.
Bulgur Wheat Salad with Avocado
This bulgur wheat salad is naturally sweet, extra nutritious, vegan, and filling! You can prep it for work or have it as a side dish with your dinner.
Ingredients
1 cup bulgur wheat
2 cups broccoli florets
8 romaine lettuce leaves (chopped)
1 avocado (sliced)
Green onion (Chopped)
Dill (chopped)
1 tbsp olive oil
½ lemon
A pinch of salt & black pepper
Instructions
Add bulgur and 1 ¾ cups of water into a saucepan. Bring to simmer, then lower the heat and cover the saucepan. Let it simmer for a total of 10 minutes.
Now, turn off the heat and let the bulgur sit for another 10 minutes with the lid on. If the grains aren't soft, let them sit in the saucepan with the lid on for a couple more minutes.
Drain the remaining liquid and fluff with a fork.
Boil some water in a saucepan, add broccoli to it, let it simmer for 4 minutes or so, and then remove.
Get a large plate and cover it with chopped romaine lettuce, then cover the leaves with bulgur, broccoli florets, avocado slices, green onion, and dill.
Drizzle with olive oil, squeeze in the lemon juice, and add some salt and pepper.
Nutrition Information:
Yield:

3 bowls
Serving Size:

1 bowl
Amount Per Serving:
Calories:

342
Total Fat:

15g
Saturated Fat:

2.2g
Trans Fat:

0g
Unsaturated Fat:

12.1g
Cholesterol:

0mg
Sodium:

82mg
Carbohydrates:

49g
Net Carbohydrates:

35g
Fiber:

14g
Sugar:

2.7g
Protein:

9.7g
Nutritional values were obtained with automatic software using the amounts of products used. To get the most accurate representation of the nutritional values, you should calculate them with the actual ingredients used in your recipe. You are solely responsible for the nutritional information obtained to be accurate.