Planning a lasagna dinner? Make a complete meal with these delicious side dishes for lasagna.
Ah, lasagna; the ultimate crowd favorite! This is a delicious Italian dish with a long, delicious history. From restaurants to weekend celebrations, this pasta dish appears everywhere.
While it may be the star of the show, there's one thing we all know. Whether you're making it from scratch or buying one made, you need a good side dish to go with your lasagna.

What to Serve with Lasagna
A side dish that can stand up to this delicious main course is a tough ask! After all, what contends with meaty, cheesy layers bookended by perfectly-cooked pasta?
Well, I have forty-one suggestions for you that I think fit the bill. Whether you want something Italian to match your lasagna or you're looking for a healthy side, this list has what you need.
Italian Sides for Lasagna
What better to kick this list off with than some Italian lasagna side dishes? They're the perfect dish to serve with the Naples-born lasagna. Each one will make your main dish sing with flavor!
We're starting off with a classic: garlic bread! One of the best side dishes in Italian cuisine, garlic and tomato go hand-in-hand for a very good reason.
The two flavors play off each other, making everything taste richer.
Grilled romaine salad is one of my favorite sides to serve with lasagna. So quick to make, it's healthy, and the charred taste really brings out the flavor of your hero dish.
All you need to do is salt and char your romaine lettuce halves. Add a squeeze of lemon juice, and you're ready to serve!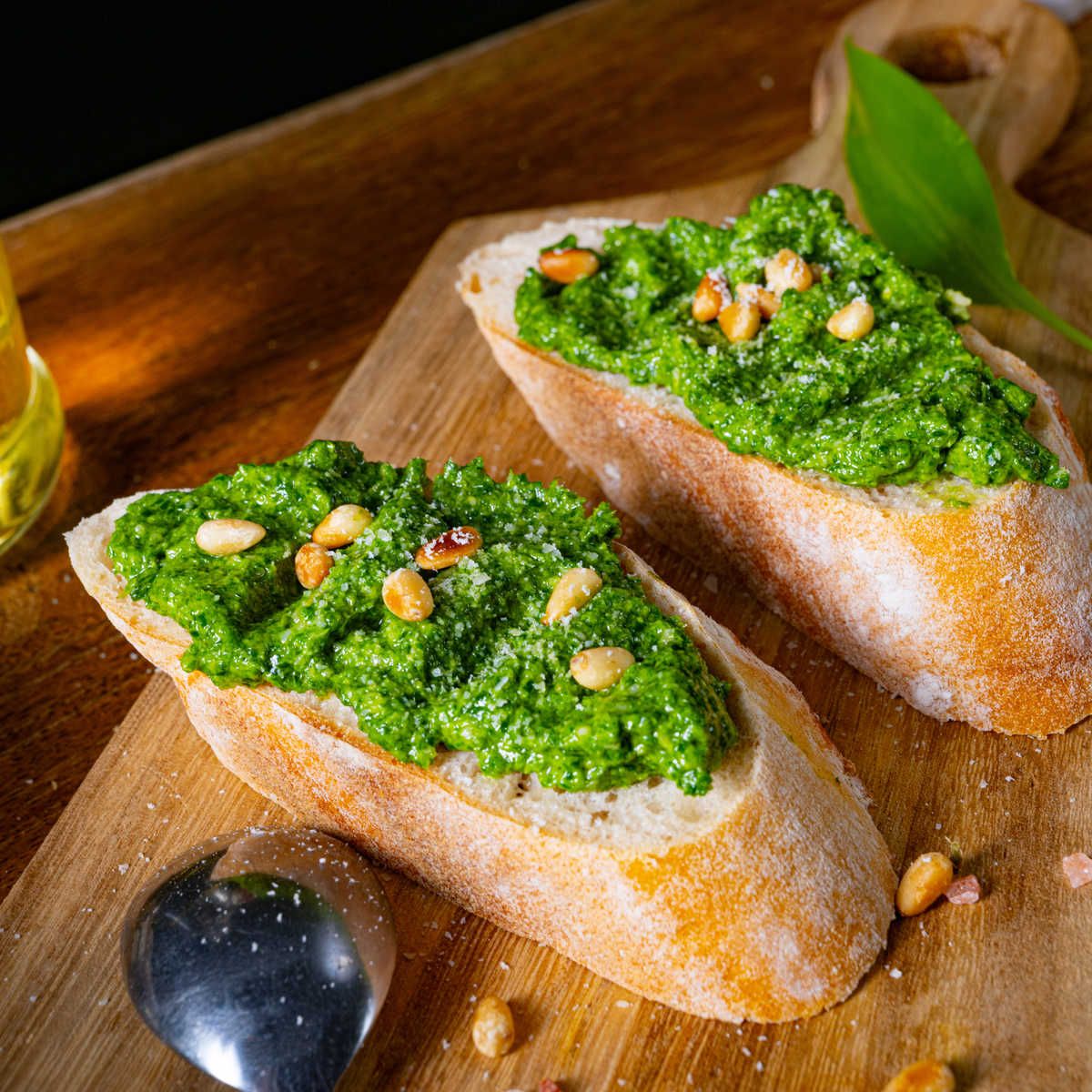 We're back to garlic bread on this one, but can you blame me? This pesto garlic bread puts a delicious spin on an old classic. The pesto is quick to whip up, but it's absolutely packed with flavor.
The recipe involves spreading pesto on garlic bread and baking it (which is wildly tasty).
These tasty vegan garlic knots are easy to make beforehand and warm up later. Plus, they're a great twist on the traditional loaf of garlic bread.
If you're serving up your lasagna for a special occasion, this is the perfect way to make sure everyone enjoys some of these best sides.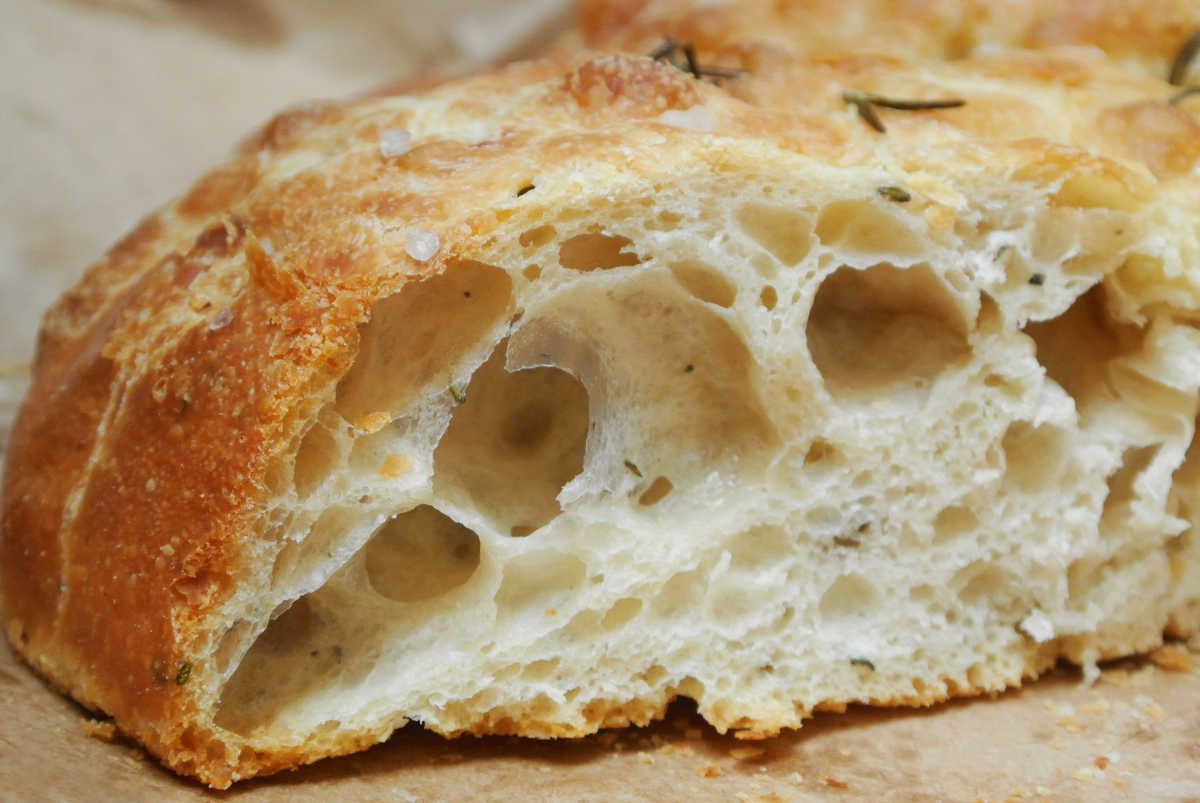 Soak up the lasagna's sauce with this spongy loaf. Foccaccia is one of the easiest breads to make. You just whip up the dough, let it sit, then spread in a pan and bake. No muss, no fuss.
Get creative with it and decorate the top with pieces of vegetables, herbs, or even cheese.
A caprese salad is the perfect Italian side to suit your lasagna. It celebrates fresh ingredients, so it's amazing at balancing the rich, cheesy hero dish. Plus, it only has a few ingredients!
The sweet roma tomatoes balance the rich, mellow mozzarella.
This makes for an amazing side dish for steak as well.
Vegetable Sides
Lasagna is a fairly rich main course. So, to balance it out, you might be seeking a great side dish! I've got ten dishes here that will perfectly complement your delicious, cheesy lasagna.
Starting off with this grilled broccoli recipe, you're in for a treat. It's quick and easy to make this once your lasagna is out of the oven.
The tender, fresh stalks of the broccoli become even sweeter when grilled. So, you've got a delicious char elevating the broccoli's sweetness, all topped off by a satisfying crunch.
Brussels sprouts have a bad reputation, but this recipe is going to fix that. Grilled to perfection and coated in cheese, these little balls of greenery look and taste amazing.
You'll be using roasted garlic in this recipe. Pro tip: roasting garlic mellows it out quite a bit.
This is also just an amazing side for pork chops.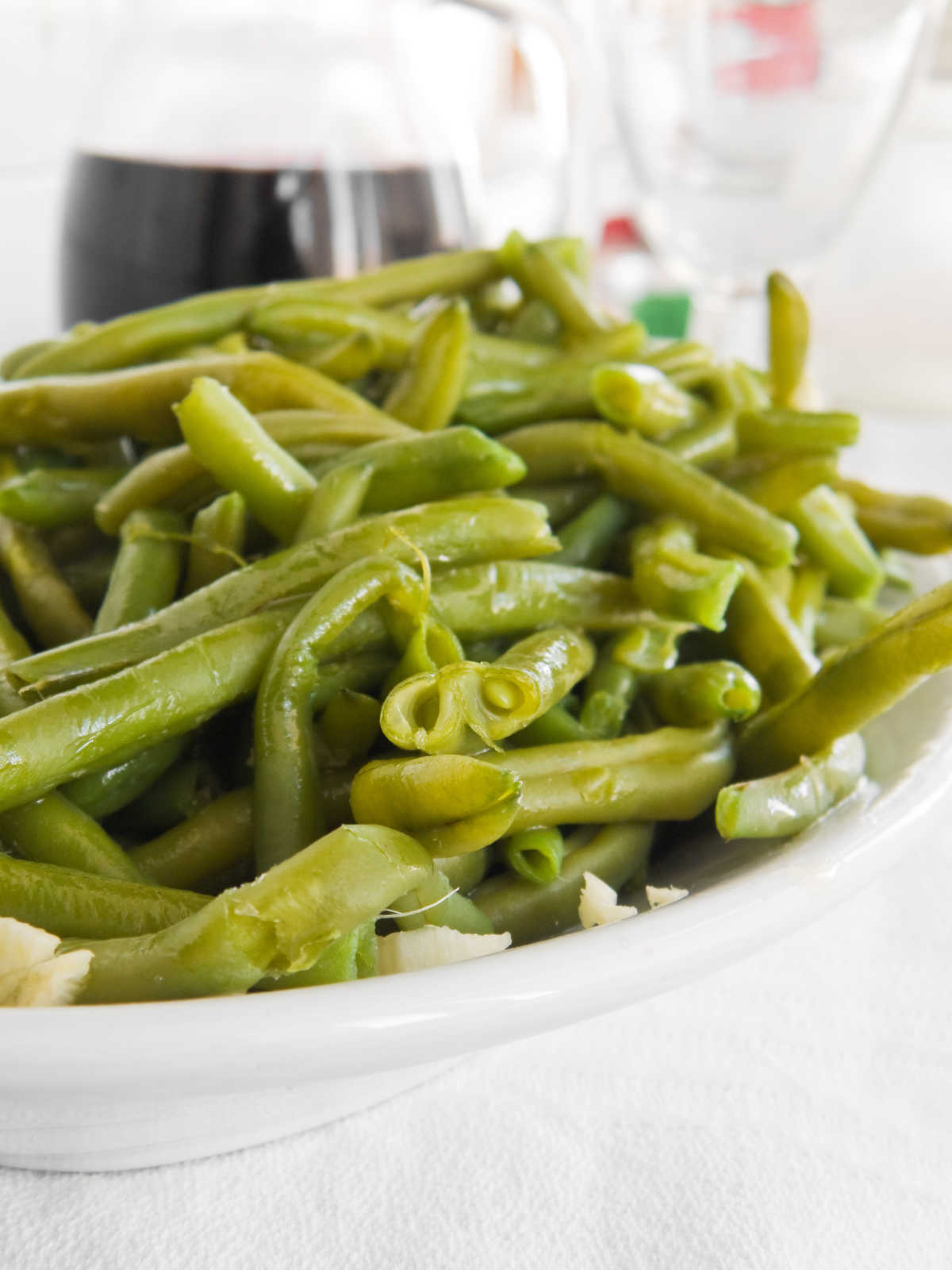 This is a healthy and easy way to cook your green beans.
These green beans are crunchy, salty, and perfect as a side dish to almost any meal. You can set them up in the air fryer and forget about them until you're ready to plate up!
Balsamic vinegar and feta turn some simple stalks of asparagus into your new favorite side dish.
The salty, rich taste of the feta perfectly balances the sweetness of the balsamic. Served alongside lasagna, the two flavor profiles will mean your guests can't stop eating until it's all gone!
These marinated beauties are sweet, tender, and juicy. The perfect counterpoint to a rich lasagna!
The collection of Italian herbs and garlic brings out the sweetness of the peppers. Served hot, these will disappear from everyone's plate before you can say 'ciao'!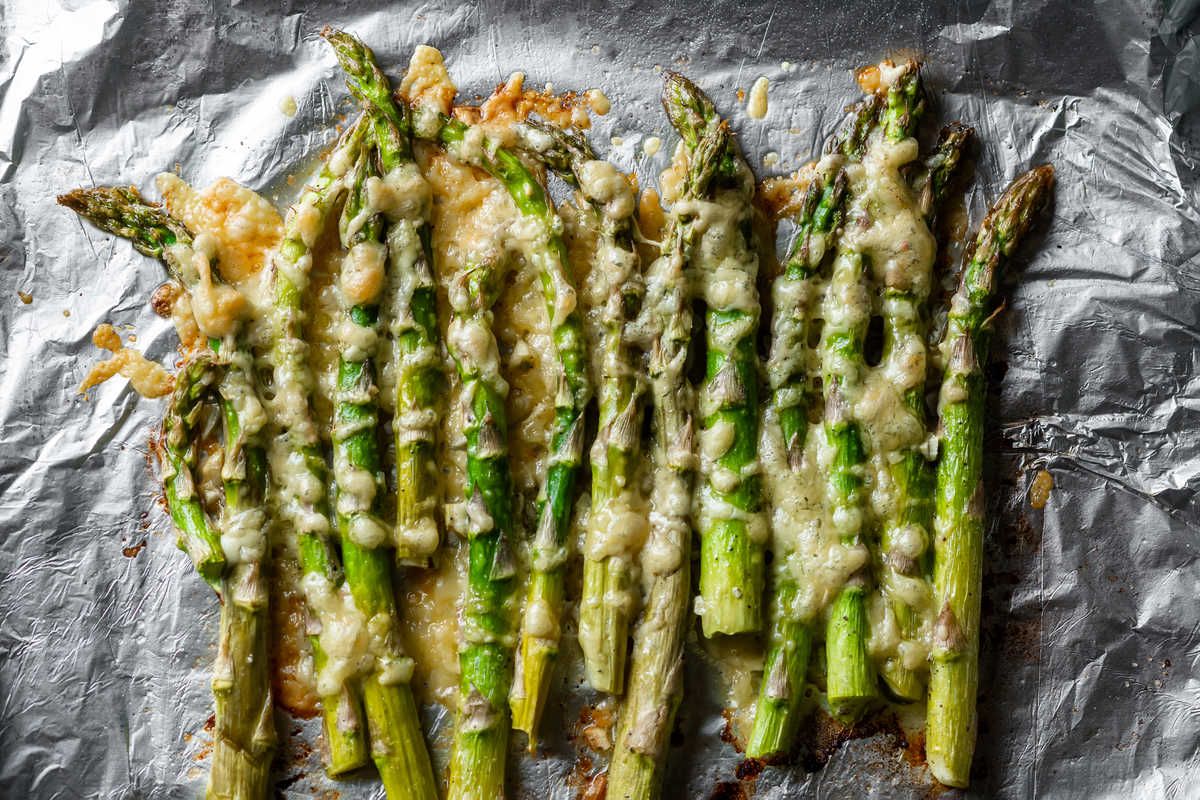 Lemon, parmesan cheese, and asparagus are a match made in heaven. The sourness of the lemon and the richness of the cheese bring out the sweet, tasty crunch of the asparagus.
This dish is so quick and easy to make. All you need is a pan and a few ingredients to make the asparagus sing.
Yes, I said purple mashed potatoes. Hear me out! Purple potatoes taste exactly the same as regular potatoes.
But you'll also get to enjoy the looks of shock and awe as you serve purple potatoes! This adds a pop of color to the dinner table.
Love potatoes? You might also enjoy this apple sweet potato bake!
You don't often hear broccoli and radish in the same sentence, but that's about to change. Radish is the perfect little kick to add to a broccoli salad.
When you add the lasagna into the mix, this salad will have everyone at the table scrambling for more. It lightens the broccoli's earthiness and lasagna's cheesiness.
This is a lovely side for your brisket meal as well.
If we're talking Italian food, we can't leave cherry tomatoes out of the running. Sundried tomatoes are a staple in Italy. In this recipe, you can make some from scratch.
These aren't dried down all the way, so they still have a deliciously juicy texture to them once you bite in.
We're back to the air fryer, and this time, we brought backup. This assortment of delicious, colorful vegetables is a beautiful and healthy side dish.
Sprinkle some garlic and salt through the vegetables to tie them into the Italian flavor.
We've all wished for a healthy version of loaded fries, right? Just me? Either way, these smothered green beans are the answer to that particular wish!
Covered in a creamy garlic sauce and speckled with bacon, these green beans are utterly mouth-watering.
Healthy Sides for Lasagna
Lasagna is a fairly rich dish filled with cheese, creamy sauce, and carbohydrate-filled pasta. If you're looking to balance out some of that indulgence with a healthy side dish, I've got your back.
Transform your lasagna meal and make it a little healthier.
Featuring tasty, crunchy walnuts and two delicious dressings, this salad will block your socks off. Whip it together in a large batch to serve to your guests!
If you've got kids that are reluctant to eat their vegetables, I hear you. Don't worry, the Caesar dressing and balsamic vinaigrette will bring them around in no time.
If you're shooting for simplicity and taste, you can't go past this arugula shaved fennel salad. It's packed with flavor in every bite.
One minute you're tasting the sharp arugula, then the aromatic fennel. The next bite, you get sweet balsamic, and it's all topped off with creamy blue cheese crumbles.
This light and easy salad harnesses the power of avocado to take it to the next level.
If you're looking to add some crunch, try adding some homemade croutons or even a Parmesan crisp! The signature saltiness will tie in beautifully with the Italian theme.
When you treat it right, kale is by far one of the tastiest salad greens out there. It's fluffy, crunchy, and packed with flavor.
The raw brussel sprouts and kale form a crunchy base for your salad. Then, dress it with sweet grapes and almonds for a flavor and texture sensation.
Kale and fruit is a wonderful combination. This super green has a mellow, slightly bitter flavor that pairs beautifully with the sweetness of your favorite fruits.
That's what makes it the perfect base for this Fall Apple Salad. Enjoy the tastes of apple and berry bursting across your tongue. Walnuts and sunflower seeds lend a wonderful crunch to this dish.
Arugula is one of those salad greens you can trust to shine on their own. This arugula and parmesan side salad promises to do just that.
This is a healthy side dish that only takes seconds to make. Whether you need something for the table last minute or have some fussy guests to satisfy, this will work!
This is also a great side for pork chops.
This next dish is just bursting with Italian inspiration.
Roasted artichokes are a hearty, earthy treat. Combine them with some mellow mozzarella and the sweetness of Roma tomatoes for a delicious bite every time.
Top with fresh basil to spark the flavors together.
Rather than relying on garlic bread to fill the side dish role, opt for something a little healthier. These vegetarian muffins are packed with fiber, grains, and flavor.
They're made with an array of Italian herbs to slot easily onto the table alongside the lasagna.
The hero of the salad is the balsamic vinaigrette, highlighting the tomatoes' natural sugar content. Top off with red onions and pepper for a kick. Make sure to use fresh basil for the best result.
This fresh salad is fantastic to make ahead of time and serve with dinner.
This is a great side dish for steak as well!
Caesar salad is a classic side dish, and there's a very good reason for that.
Impress the family by whipping up your very own Caesar salad alongside the lasagna. The great thing about this salad is how easy it is to customize.
Similar to a butternut squash, delicata squash is a tasty winter vegetable with a lot of hidden flavor. When grilled, those beautiful char lines add a delightful smoky sweetness that's hard to ignore.
This refreshing salad is so easy to put together. It's also very impressive to look at!
This unique choice of side dish is packed with healthy antioxidants. Plus, it adds a stunning splash of color to your table! The natural sweetness of the beets pairs beautifully with a tasty lasagna.
You can make this up to four days in advance and have it sitting in your fridge, ready to go.
Have you ever heard of cauliflower bread?
One of the struggles of serving Italian food is the instinct to serve buttery garlic bread with it. But that's not always the healthiest option in the world. Enter: cauliflower bread.
This genius substitution has all the taste and texture of traditional bread with much fewer carbs.
This is the perfect way to use up that loaf of stale bread you haven't gotten around to throwing away yet. A panzanella is an Italian salad that uses stale bread as its base.
Combine the diced bread with dressed greens, sweet roma tomatoes, and our hero: avocado.
Good Sides for Lasagna
Our final category is good sides for lasagna, and that can only mean one thing. These side dishes are completely and totally, without a doubt, insanely tasty.
Each one would be a perfect complementary dish to the scrumptious lasagna you've just whipped up. And even better? There are ten of them.
A potato casserole is like mashed potatoes on steroids. In fact, it's the perfect way to give new life to any leftover mashed potatoes.
Covered in cheese and bacon and baked to a crisp, this twice-baked casserole is an absolute treat. You can serve it piping hot or cold from the fridge. Which is a bonus when making lasagna!
Garlic bread is guaranteed fun for the whole family. This pull-apart version is the perfect way to make sure everyone can just dig in; no knives required!
Whip this bread up a day in advance to serve with your lasagna. It reduces the amount of tasks you'll have to pay attention to as you're creating your dish dish.
If garlic bread isn't your favorite, you might like this herb and cheese version of the pull-apart bread instead. It's so quick and easy to make. Plus, it packs a flavorful punch you certainly won't forget.
This bread doesn't just go with lasagna. Pull this together for winter soups, stews, or even your next last-minute neighborhood potluck.
That's right, you can cook crescent rolls in your air fryer! It's quick, easy, and absolutely scrumptious.
Elevate the standard rolls by stuffing them with a stick of mozzarella cheese. Brush them with garlic butter for a deep, earthy flavor. Then, set them to frying!
A good coleslaw is just saucy enough to be full of flavor without being too runny. It's light enough to be used as a side salad, but strong enough to stand on its own if need be.
I love this recipe because you can whip up a big batch ahead of time.
We all know that breadsticks belong on the dinner table on Italian night. It's just a fact of life.
This tapioca bread stick recipe will teach you the secret to getting crunchy, golden bread sticks every time. They're much easier than you think! You only need half an hour to create these little delights.
If you love garlic bread but don't have any ready to go, this is a quick fix that might just replace your go-to brand.
You only need a few ingredients and they're probably all in your pantry right now. Serve with lasagna, and voila! Sensational.
This next dish will bring some extra sophistication to your dinner table. Don't worry about the pastry, they're still super easy to make. The Italian flavors on display make for a great appetizer too!
The key to nailing this dish is getting the cook on the puff pastry just right. You want it to be puffy and golden brown, so watch them in the oven.
Next up, this rosemary parmesan bread is a quick and easy solution that will have your mouth watering.
The rosemary and parmesan flavors blend beautifully when dipped into lasagna. The tastes bounce off each other, heightening each component until they're singing on your taste buds.
Our final side dish on the list is the ultimate one-pot wonder. Just set and forget these mushrooms while you get on with making your lasagna. All you need is a slow cooker and some good aromatics.
Once you're ready to serve, you'll have tender and juicy mushrooms sure to impress.
41 Best Sides for Lasagna (Easy & Delicious)
Want to bring Italian flavors into your menu? These Side Dishes for Lasagna are flavorful, easy to make, and mouth-watering.
Ingredients
1. Garlic Bread
2. Grilled Romaine Salad
3. Pesto Garlic Bread
4. Vegan Garlic Knots
5. Focaccia Bread
6. Caprese Spinach Salad
7. Grilled Broccoli
8. Crispy Brussels Sprouts
9. Air Fryer Green Beans
10. Balsamic Roasted Asparagus
11. Marinated Roasted Bell Peppers
12. Lemon Parmesan Asparagus
13. Purple Mashed Potatoes
14. Broccoli Radish Salad
15. Roasted Cherry Tomatoes
16. Air Fryer Vegetables
17. Smothered Green Beans
18. Simple Side Salad
19. Arugula Shaved Fennel Salad
20. Avocado Tomato and Arugula Salad
21. Kale and Brussels Sprouts Salad
22. Fall Kale Apple Salad
23. Arugula Parmesan Salad
24. Roasted Artichoke and Mozzarella Salad
25. Savoury Vegan Muffins
26. Tomato Basil Salad
27. Caesar Salad
28. Grilled Delicata Squash
29. Pickled Beet Salad
30. Cauliflower Bread
31. Avocado Panzanella Salad
32. Twice Baked Potato Casserole
33. Garlic Pull Apart Bread
34. Herb and Cheese Pull Apart Bread
35. Air Fryer Garlic Cheese Stuffed Crescent Rolls
36. Homemade Coleslaw
37. Tapioca Breadsticks
38. Texas Toast Garlic Bread
39. Roasted Bell Pepper Puff Pastry Bites
40. Rosemary Parmesan Bread
41. Slow Cooker Garlic Parmesan Mushrooms
Instructions
Scroll up to get a bunch of easy, yummy, and delicious side dishes. Don't be afraid to get creative with the ingredients, you might discover a flavor you didn't know you liked.
Get your shopping list going and make sure you've got all the ingredients.
Get cooking and make your next Side for Lasagna!
Notes
Which one of these recipes was your favorite? Let me know in the comment section or on Pinterest!