Got a bunch of leftover beef brisket and are not sure what to do with it? These leftover brisket recipes offer creative ways to use your leftovers.
What's better than a delicious piece of meat that's just falling off the bone? When you have too much of it! Having enough brisket to turn into leftovers is almost better than the original dish.
Anytime I make a brisket, I spend more time thinking about the leftovers. It's such a versatile dish, so the leftover meat can be used in unlimited ways!
What to Do with Leftover Brisket?
Minimize waste while maximizing taste. The best part about leftover brisket is that you can turn it into breakfast, lunch, or dinner very quickly.
After all, who wants to be stuck in the kitchen after you've just conquered a brisket?
Whip up these quick and easy recipes to impress your family the very next day, without the extra time needed. Trust me. There's a recipe on this list for anybody and everybody.
Don't settle for eating the same meal until your leftovers are gone. Check out these inventive ways you can use brisket to put a delicious spin on some old favorites.
Brisket Breakfast
Did someone say breakfast? It is the most important meal of the day, after all.
You might not think brisket fits into this morning-time meal, but it's actually the perfect thing to wake you up. You'll be ready for anything the day holds!
I've got a couple of suggestions that will have you reaching for that frying pan in no time.
Source: learningtosmoke.com
This one-pan wonder is guaranteed to make your mouth water. Combine the juicy, tasty, tender meat of your leftover brisket with fried potatoes, cheese, and an egg for the breakfast of dreams.
Whipping up a hearty breakfast to prepare for a big day? Trying to get your kids to try something new? Either way, this cast iron skillet is bursting with enough flavor and protein to do the job.
Plus, it's a fantastic way to get rid of brisket leftovers in your fridge before your next grocery run.
Love this recipe? You might enjoy these high calorie breakfast ideas!
Source: runningtothekitchen.com
If you're looking for a more colorful breakfast option, this twist on a breakfast hash is to die for. Definitely, my favorite way to make hash!
Your leftover brisket is the perfect topper to this treat for the eyes (and the tastebuds). Sweet potatoes, bell peppers, and pinto beans combine to make a hearty and nutritious first meal.
If your kids are going to be sitting down to breakfast, you might want to leave out the jalapenos. I find that thinly-sliced green onions are the ideal zingy substitute.
Brisket Lunch
A hearty and delicious lunch is the best way to get any of us through the dreaded midday slump.
If you're not already salivating at the idea of brisket for lunch, allow me to offer some amazing ways to transform your brisket. These delicious recipes are guaranteed to satisfy, no matter who's eating.
Whether your kids are clamoring for something tasty or you need a quick work lunch to get through those meetings, I've got you covered.
Source: freshaprilflours.com
Take the traditional brisket hash and give it a vegetable-based spin. This recipe combines red cabbage, sweet potatoes, poblano, and jalapeno peppers for the ultimate taste sensation.
These earthy flavors will bring out the juices in your leftover meat. It will be more tender and delicious than ever!
This is a quick and easy lunch for a busy weekend day. Plus, it yields a whole lot of food, so no one at the table will be left hungry.
This recipe is a good idea when you want to feed the whole family when you have way too much brisket at home!
Source: fantabulosity.com
This recipe was born from the ultimate freezer deep-dive, but don't let that deter you. Every taste in this dish comes together to form a cheese, crunchy, BBQ-style festival of flavor.
Made the brisket for a party the night before and still have some guests floating around? Lay out a table of these ingredients for a make-your-own-nachos bar!
Minimal hassle and maximum payoff, you won't regret putting this sensational spin on your brisket.
Source: kitchenlaughter.com
We've all had a good grilled cheese sandwich. In fact, most people say they know how to make the best grilled cheese sandwich – it's a common claim to fame!
This recipe will neatly take the top spot in your grilled cheese repertoire, trust me. Oozing, melting cheese with tender brisket is a mouth-watering combination.
Make sure to leave that bread toasting long enough to get a nice crunch. Anyone with tastebuds will be clamoring for this one!
Source: xoxobella.com
Speaking of sandwiches, here's a crunchy, zesty option to knock your socks off. If you've got teenagers in the house, be ready to call this their brand-new favorite meal.
The pickled red onions on this sandwich are so easy to make! Combined with crunchy pickle and spicy jalapeno (and fried onions if you're fancy), this sandwich is bursting with juicy flavor.
Serve it up with some delicious home fries or just as is. It'll be clean plates all around.
Source: runningtothekitchen.com
Returning to nachos, this one-pan delight combines beans with your brisket for the ultimate carne asada. This recipe offers an easy way to turn brisket into good stuff.
The colorful array of vegetables covering this high-protein lunch makes it a sight for sore eyes. The sweetness of the corn and the hearty pinto beans add an earthiness that's out of this world!
I highly recommend a quick squeeze of lime just before you dive in. The zesty punch elevates the meaty brisket and sweet corn to even greater heights!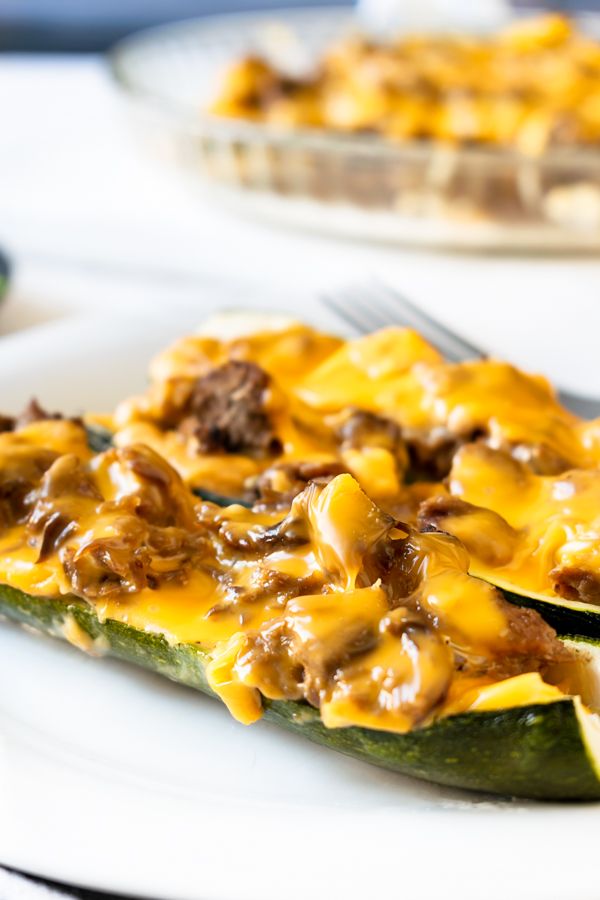 Source: theketoqueens.com
This one goes out to all the parents trying desperately to introduce more vegetables into the family diet. Zucchini is such a versatile vegetable – one of my personal favorites.
In this recipe, the vegetable serves as the perfect base for a cheesy, meaty, utterly delicious topping. Not to mention, this features a low-carb BBQ sauce that will melt in your mouth.
The zucchini blends beautifully with the tasty stuff on top. So, your kids won't even notice it hiding in there!
Source: mooshujenne.com
A good old-fashioned Sloppy Joe sandwich is a staple at every family picnic. Put a quick and easy spin on it with your leftover brisket.
If your brisket has been sitting in the fridge for a little while, try mixing it with your favorite BBQ sauce before putting it on the sandwich.
Serve it up on a crunchy bun, pickles and all. Ever tried a brioche bun for a good meat sandwich? Life changing.
Source: daisiesandpie.co.uk
I cannot overstate how delicious this next option is. The mere idea of tacos for lunch is a treat, but add brisket in there and you've got an absolute winner!
This is another one you can offer to a larger group, because there is some assembly required. Go with hard shells, soft tortillas, or both depending on your preference.
The two things that have to appear in the spread? A good salsa and a lot of cheese. Your tastebuds will take it from there.
Source: learningtosmoke.com
Any sandwich recipe that calls for pastrami will be doubly improved when you use a few pieces of brisket.
If you've left the brisket sitting in the fridge for a couple of days, even better. The meat will hold together well enough to slice into pastrami-thin pieces, and the flavor will be even deeper.
Source: fantabulosity.com
The humble side salad is often overlooked on the dinner table, but not this time! This might even steal the show from your main course.
Aside from the brisket adding a hearty touch to a traditionally light meal, there's a secret to this salad. Basil and garlic powder. Who knew?!
Those two ingredients elevate every other element of the dish. No longer just a pile of lettuce, this salad will blow your mind.
Source: missinthekitchen.com
If you've never had a taquito, you're about to thank me. If you have had a taquito before, you're still going to thank me, because this is one of the best.
Hearty, tender, juicy brisket is packaged in these delicious rolls of bread, cheese, and spice. Whether you eat them alone or dip them in a fresh salsa, you're in for a treat.
Plus, if you're looking for a good meal to make with the kids, this is it! Super easy to whip together in thirty minutes with the help of little hands, and all the more tasty for it.
Source: runningtothekitchen.com
If taquitos aren't your style, these quesadillas are the perfect lunchtime solution. They're stuffed full of flavor, crunchy, and gooey all at the same time. They're also great for making with the kids.
Send these along to school with the little ones and steal a few for yourself. With five simple ingredients and only a pan needed, these come together so quickly!
Not to mention, they're great to have in your arsenal come game day. A platter of cheesy quesadillas made with last night's rich brisket? Gamechanger.
Brisket Dinner
For most of us, dinner is the meal that demands a little more time and energy. So it's always a treat when we can use some leftovers to speed the process along.
After brisket has sat in your refrigerator overnight, the flavors have soaked even deeper into the meat. From there, you can build up the taste however you like.
Thanks to this incredibly versatile cut of meat, almost any dinner recipe that features meat can be reinvented with brisket. Whether solo or family-sized, take the stress out of your weeknight meals.
Source: kitchenlaughter.com
Looking for ultimate comfort food? Why not turn your very own leftover brisket into nachos?
This is a perfect meal for parties and celebrations. With a bit of cheddar cheese, extra brisket, and tomato sauce, you can create the nachos of your dreams.
This is definitely one of the best leftover brisket recipes that anyone can make.
Source: runningtothekitchen.com
Chilli. Comforting, hearty, scrumptious brisket chili. On a cold evening with rain drizzling down your windows, absolutely nothing compares to this dish. Now, imagine adding brisket!
This chilli features a tomato base and a lot of beans, so it's high in protein. Great as a leftover dish itself, you can save any extra for your lunch the next day. Peppers and corn add a lovely sweetness.
Because this dish simmers away on the stove with the brisket inside, the meat has a chance to absorb even more flavor. Not to mention, the meat adds its rich flavor to the bubbling mix.
Source: littlesproutslearning.co
Who doesn't love a good soup? This is another hearty favorite for a winter evening. The Mexican spice medley hiding in this soup offers a warm, robust kick that ties beautifully with the brisket.
This soup is almost bordering on a stew, thick and luscious without edging into "too much" territory. The best part? It takes less than thirty minutes to pull together, so it's perfect for weeknights.
It serves eight people, so whip up a full batch for the family and guests, or save the leftovers for lunch the next day. You can even make this ahead of time and heat it up when it's time to nosh.
This is a great recipe for Mexican food lovers. It offers a perfect way to incorporate Mexican flavors and make something truly delicious.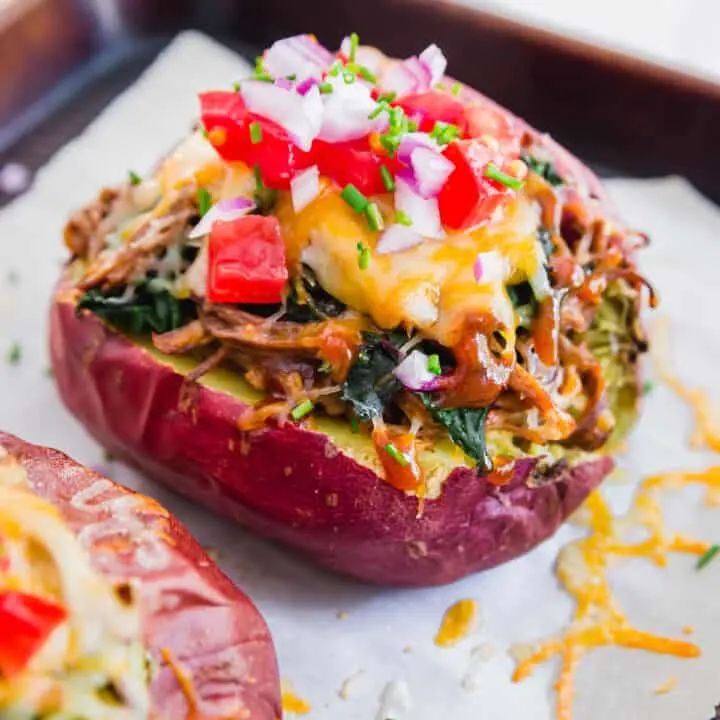 Source: runningtothekitchen.com
A potato stuffed to the brim with delicious leftover beef? Topped with cheese? And a sprinkle of tangy salsa? Need I go on?
These brisket baked potatoes are the best of both worlds. The mellow flavor of the baked potato offers a delicious, starchy base for the brisket mixture to shine.
While the original recipe uses spinach, onion, and tomato, you can use whatever you'd like. Try out a BBQ-inspired potato with caramelized onions and liquid smoke. It's the perfect canvas!
Source: missinthekitchen.com
In my humble opinion, the smokiness of a good brisket is never more at home than in a taco shell. Tacos are perfect for a crowd; they're the best people-pleaser. Everyone can assemble their own!
Your standard taco fixings will go beautifully with a leftover brisket. But you can always up the ante by refrying the brisket with a bit of cumin, cilantro, and chili powder for extra flavor.
Brighten the spread with some cilantro and charred corn to top the tacos. Whether you're laying out a spread for Superbowl Sunday or catering your kid's sleepover, these will go down a treat.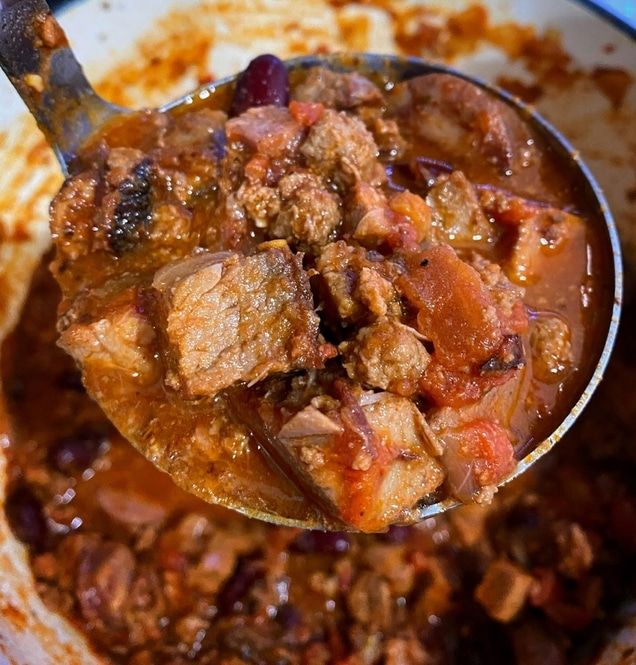 Source: learningtosmoke.com
When it comes to using brisket for a smoked chilli, it's always best to use the fatty parts. When it's simmering away on the stove, the fat will dissolve into the chilli to add a rich, luscious mouth feel.
This is a one-pot wonder you can set and forget on the stove. If you've got some extra root vegetables lying around that need using, you can dice them up and bulk the chilli with them easily!
I usually serve chilli just as it is. But if you're looking to stretch it even further, serve this up with some tasty polenta. Sprinkle with cilantro for a little brightness and you're good to go.
Source: everythingairfryer.com
If you haven't heard of air fryer tacos, I don't blame you, I hadn't either. But now that I know they exist, I'll never forget them again! These delicious tacos are the perfect college dinner option.
Air frying the brisket gives it a wonderful crispy texture. The texture contrast with the mellow sour cream and avocado (plus the shell) will delight your tastebuds at every turn.
I love this option because it changes the leftover brisket just enough for it to feel like a whole new meal. Plus, each person eating can customize their taco to perfectly suit their tastes.
Source: hildaskitchenblog.com
A good relleno is, in a word, unforgettable. In short, you'll be stuffing poblano peppers with your delicious leftover brisket. Then, you coat them in batter, fry them to golden perfection, and serve.
Pair these wonderfully crunchy peppers with salsa rojas; a tangy, sweet, rich sauce that brings out the brisket's taste. Bulk out your meal with a side of rice, or leave the spotlight on the peppers.
If you're making this for a large group, make sure to cook up any sides before frying the peppers. That way you can serve them up golden, crunchy, and warm; just as they should be!
Source: angrybbq.com
Tender, flaked brisket meat will always beat grocery store ground beef. Combined with the soft tortilla and a few spices you should have just lying around, you've got heaven in a bite!
While this might be under the dinner category, you can absolutely whip up these tacos for lunch. Or, you can keep any leftover mix for lunch at work or school the next day.
I like to serve tacos with both hard shell and tortilla options. That way, everyone attending can assemble a meal that best suits their tastes. Add some guacamole, salsa, and sour cream for a party.
Source: missinthekitchen.com
That's right, you heard me. Brisket spaghetti. This quick and easy weeknight college dinner blends your already-delicious brisket with tried and true Italian flavors. I'm talking peppers, pasta, and herbs.
This colorful array of vegetables will adorn a plate of pasta and brisket, and you'll never go back to plain Bolognese again! Invest in a high-quality parmesan cheese to round it off with a salty tang.
Serve on its own or splash out on some garlic bread to make this Italian feast stretch even further. Perfect for busy parents looking for a tasty mid-week meal to satisfy everyone at the table.
Source: mooshujenne.com
Aside from the incredible flavor of these carnitas, my favorite thing about this meal is how quickly you can pull it together. Five minutes of quality time with your knife and you'll be ready to serve!
This works as a last-minute meal to satisfy any unexpected guests. I don't know anyone who will turn down bread, meat, and tasty salsa. Brighten your spread with lime and cilantro to tone down spice.
If you want to take this one step further, reheat the brisket in a pan with some broth, cumin, and paprika. These spices will soak into the tender meat, making it a perfect fit for the carnitas spread.
Source: kitchenlaughter.com
Whether you're looking for a delicious addition to the game day meal or just in the mood for a treat, this has you covered. Queso – already the ultimate dip – has just gotten a makeover!
The combination of smoky brisket with creamy jack cheese and spicy jalapeno creates a flavor sensation like no other. This dip is a great way to clean out your fridge while impressing guests.
Serve with nachos, over fries, or even with a vegetable spread. Regardless of what you pair it with, I guarantee this dip will be the hero of your next get together.
Source: kitchenlaughter.com
This traditional household staple is getting a delicious twist using your leftover brisket. Needing only fifteen minutes of preparation, you can serve up this impressive comfort meal any night of the week.
When making twice baked potatoes, always make sure to spring for some big gorgeous russets. The skin roasts so crispy while the insides go nice and soft, which is all you want out of a baked potato.
Set and forget the potatoes to bake in the oven while you get on with other things. Once you come back later, all you have to do is assemble your ingredients and serve this cheesy, meaty perfection!
Source: missinthekitchen.com
Any good rice recipe is formed from leftovers, that's just a fact. Raiding the depths of your fridge will always yield fantastic fried rice ingredients. If you have brisket hiding in there, you're in for a treat.
When shredded, brisket is the ideal addition to fried rice thanks to its flaky texture. It blends beautifully with the fluffy rice and crunch vegetables to create a medley of luscious flavor.
Sprinkle a bunch of cilantro on the finished result – or even sambal for an extra kick. It's so easy to customize a fried rice dish using brisket as your core ingredient, so feel free to experiment!
Source: daisiesandpie.co.uk
Almost every recipe on this list focuses on spinning the brisket as something else. But there's a lot to be said for celebrating brisket exactly as it is.
Whip up some mashed potatoes, some gravy, and even some Yorkshire pudding if you're feeling frisky. This will bring your brisket back to life for a quick version of the Sunday roast.
This is definitely one of our favorite recipes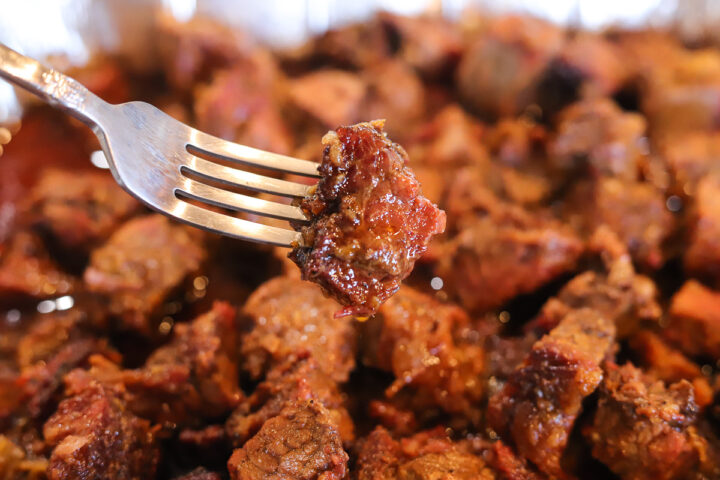 Source: hildaskitchenblog.com
Burnt ends are already a triumph. But if you're pulling those burnt ends from a piece of brisket, this chutney will elevate them to new heights. Spicy, sweet, and savory; you just can't put these down.
This chutney comes together nice and quick, requiring only a few ingredients. The best part is, you can easily make it ahead of time and store it in the fridge, ready to use whenever you want it.
Source: kitchenlaughter.com
Finally, toss out those canned baked beans from the supermarket and make your very own. These brisket baked beans easily trump any you'll find in the canned goods aisle. The best part?
You'll only need about 15 minutes to make them, start to finish.
Bursting with juicy, meaty, tomatoey flavor, these baked beans fit beautifully into any dish. Make them ahead of time and store, or make them fresh to serve up with your next big breakfast.
No matter what you choose to do, I guarantee it will be tasty.
31 Leftover Brisket Recipes Anyone Can Make
Have some leftover brisket from barbecue? Make these Leftover Brisket Recipes and have enough food for breakfast, lunch, and even dinner.
Ingredients
1. Breakfast Skillet
2. Brisket Hash
3. BBQ Brisket Hash
4. BBQ White Queso Nachos
5. Grilled Cheese
6. Smoked Brisket Sandwich
7. Brisket Nachos
8. Stuffed Zucchini Boats
9. Beef Sandwich
10. Brisket Tacos
11. Pastrami
12. Side Salad
13. Taquitos
14. Quesadilla
15. Brisket Nachos
16. Chili
17. Mexican Brisket Soup
18. Brisket Baked Potatoes
19. Brisket Tacos
20. Smoked Chilli
21. Air Fryer Tacos
22. Chile Relleno
23. Tacos
24. Brisket Spaghetti
25. Spicy Beef Carnitas
26. Smoked Brisket & Beer Queso
27. Twice Baked Potatoes
28. Fried Rice
29. Brisket & Gravy Dinner
30. Spicy & Sweet Habanero Pineapple Burnt Ends
31. Guinness Brisket Baked Beans
Instructions
Scroll up to get a bunch of easy, yummy, and delicious recipes. Don't be afraid to get creative with the ingredients, you might discover a flavor you didn't know you liked.
Get your shopping list going and make sure you've got all the ingredients.
Get cooking and make your next Leftover Brisket Recipe!
Notes
Which one of these recipes was your favorite? Let me know in the comment section or on Pinterest!