These keto zucchini fritters are crispy, soft, naturally sweet and delicious. Perfect cheesy comfort food that's keto-friendly, gluten-free, and vegetarian. One serving – 4 fritters – contain around 10g of net carbs.
Boy, these are going to be great! Crispy and delicious, these Keto Zucchini Fritters have a cheesy center and flavor you'll find hard to resist.
Garlic and parmesan have been combined to create a tasty fritter that you can use for any number of meals. Cook them in secret as you may get a queue forming!
Side dishes on Keto can be tricky, yes? Most of us have a longstanding history of potatoes, rice, or pasta forming part of a dish, but following a Keto diet, these are no longer an option.
But help is at hand, and Keto sides can be so delicious that you won't miss the traditional way of meal planning. These Zucchini Fritters are the answer!
Crispy and moreish, you can use these as a side or just enjoy them as a snack. How about using one for breakfast and topping with an egg? Keto is never dull, for sure!
Ingredients You'll Need
Zucchinis – You're going to need 8 medium-sized ones for this recipe. Choose the freshest ones that you can!
Sea salt – You can use regular salt too, but sea salt is a little healthier.
Parmesan cheese – Any variety would be good here, but always remember to use a rennet-free brand if you are following a vegetarian diet. Not all cheeses are safe! You could use a strong cheddar cheese instead.
Eggs – This recipe has used large eggs. Buy free-range where you can, as the yolk is far deeper in color, and their nutrition is better.
Garlic – You can use the pre-minced variety or the paste, but fresh is best!
Italian seasoning – There are many variations to buy when it comes to Italian seasoning, so use your favorite. You could use separate herbs instead, like dried oregano or thyme.
Garlic powder – Added to increase that moreish, garlic flavor further, and it's a great store cupboard ingredient.
Onion powder – This is another store cupboard ingredient that's good for Keto. It contains fewer carbs than a fresh onion, and it's quick to grab (and it won't make you cry!)
Olive oil – You don't need the best extra-virgin olive oil here as you are only cooking with it. You could also use other oils like avocado oil or even melted butter.
For serving
Green onion – These tasty salad onions are such a quick to prepared ingredient and add freshness to a dish you can't beat. You could use capers here instead if you like.
Sour cream – Use your favorite sour cream for this recipe, but don't use a low-fat one as it doesn't have the creaminess that you will love!
How to Make Keto Zucchini Fritters
First, grate the zucchinis. There are 8 of them, so a good grater always makes this job much more manageable. One like this grater is simple, but it always creates the least mess (always a good thing), and sometimes the most basic designs are the best!
Add the salt to the grated zucchinis and stir. Leave to sit for 10 minutes to allow the moisture from the zucchinis to start to release.
Next, using your hands, squeeze the water out of zucchini over a bowl.
To get even more water out, wrap the zucchini in paper towels and squeeze even more. You want to get as much water out as possible, as wet zucchinis may affect how well your fritters stick together.
Add the squeezed and dry zucchini to a large bowl, followed by the parmesan cheese, minced garlic, Italian seasoning, garlic powder, and onion powder.
Add the eggs to the bowl too.
Stir all of the ingredients together to create a well-combined mix of tastiness!
Add plenty of olive oil to a skillet and heat to medium-high heat.
Spoon the batter onto the skillet to create fritter shapes and flatten. Don't overcrowd the pan as you want these fritters to be crisp!
Fry the fritters for 2 minutes on each side until golden brown. Remove from the pan and keep warm.
Continue with the remaining batter.
Serve the fritters with the sour cream and green onion, or look below for some more suggestions.
Why Are My Zucchini Fritters Soggy?
These Zucchini Fritters can become soggy if you haven't squeezed enough water out of your zucchini and they have too much moisture in them still. Another sign of this will be if the fritters are falling apart.
Tip: You could use a muslin cloth or chef's cloth to squeeze the grated zucchini's really well to ensure you have got as much water out as you can.
Another reason for soggy Zucchini Fritters will be how you have kept them warm. If you have removed from the pan crispy and delicious and then you have covered them on a plate, the steam from being covered can create moisture and cause them to go soggy.
Tip: If you keep them warm while cooking others, or just waiting to serve, keep them in a skillet over a low heat, or place them in a low heated oven without covering. They will continue to crisp up until serving then.
If they are soggy before removing them from the pan, you may not have cooked them for long enough. When water does release from the fritters, it will evaporate out of the pan if you keep cooking.
Tip: Cook for longer, and make sure you use plenty of oil.
What Can I Serve with Zucchini Fritters?
These fritters can be served with a number of things, so take your pick! Even as a keto side!
You could just serve them as a snack on their own and enjoy.
Use them as a side dish to a meal—for example, baked chicken thighs or drumsticks, grilled steak or chicken breasts, or fish.
Have them for breakfast and top them with something as equally delicious. Add a fried egg or two or some slices of avocado or sliced tomatoes.
The choice is yours!
Other Recipes You Might Like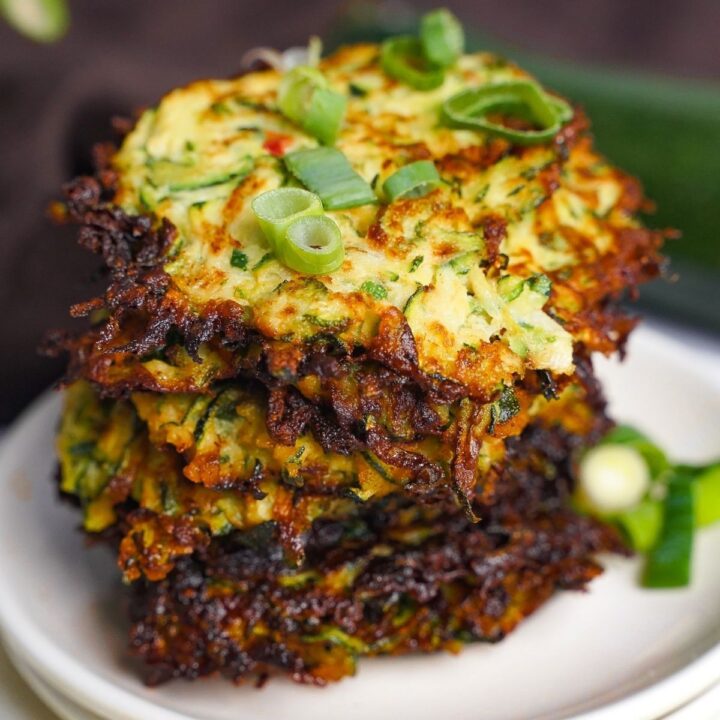 Keto Zucchini Fritters (Gluten-Free, Vegetarian)
These vegetarian zucchini fritters are yummy, flavorful and so delicious! Great comfort food when you're on a keto diet.
Ingredients
8 medium zucchinis (grated)
1 tsp sea salt
1 cup parmesan cheese (grated)
2 large eggs
4 cloves garlic (minced)
2 tsp Italian seasoning
2 tsp garlic powder
2 tsp onion powder
Olive oil
For serving
Green onion (chopped)
Sour cream
Instructions
Grate zucchinis, salt them, and toss them. Let them sit for 10 minutes or so.
Squeeze the water out of zucchini with your hands.
Now, wrap the zucchini in paper towels and squeeze as much of the leftover water as possible. Make sure to drain as much as possible so that your fritters don't fall apart.
Add zucchini to a large bowl and add parmesan cheese, eggs, minced garlic, Italian seasoning, garlic powder, and onion powder.
Mix all the ingredients.
Add plenty of olive oil to a skillet and heat it to medium-high heat.
Spoon the batter onto the skillet and flatten each fritter. Fry for 2 minutes on each side until the fritters are golden brown.
Serve with sour cream and green onion.
Nutrition Information:
Yield:

24 fritters
Serving Size:

4 fritters
Amount Per Serving:
Calories:

287
Total Fat:

22g
Saturated Fat:

6.1g
Trans Fat:

0.2g
Unsaturated Fat:

14.3g
Cholesterol:

88mg
Sodium:

353mg
Carbohydrates:

13g
Net Carbohydrates:

10g
Fiber:

3g
Sugar:

7g
Protein:

11g
Nutritional values were obtained with automatic software using the amounts of products used. To get the most accurate representation of the nutritional values, you should calculate them with the actual ingredients used in your recipe. You are solely responsible for the nutritional information obtained to be accurate.