These keto zucchini boats are so yummy, flavorful, and filling. With just 5.6g of net carbs per boat, it does for a great keto lunch or dinner. They're gluten-free, keto, and high protein.
Warm spiced pork, topped with oozing cheese, sat on a zucchini boat; yes, please!
This dish fits the keto requirements for deliciousness, and the whole family can enjoy these too.
Pork mince is so easy to cook, cheap to buy, and simple to use, but it can be lacking a little in the flavor area.
Bring on the spice! The smoky paprika and jalapeno will transport you to Spanish shores, where you can sip sangria and watch the sun go down. Your pork will be transported too.
Zucchinis are so versatile for a keto diet, so give some a little love with this tasty recipe!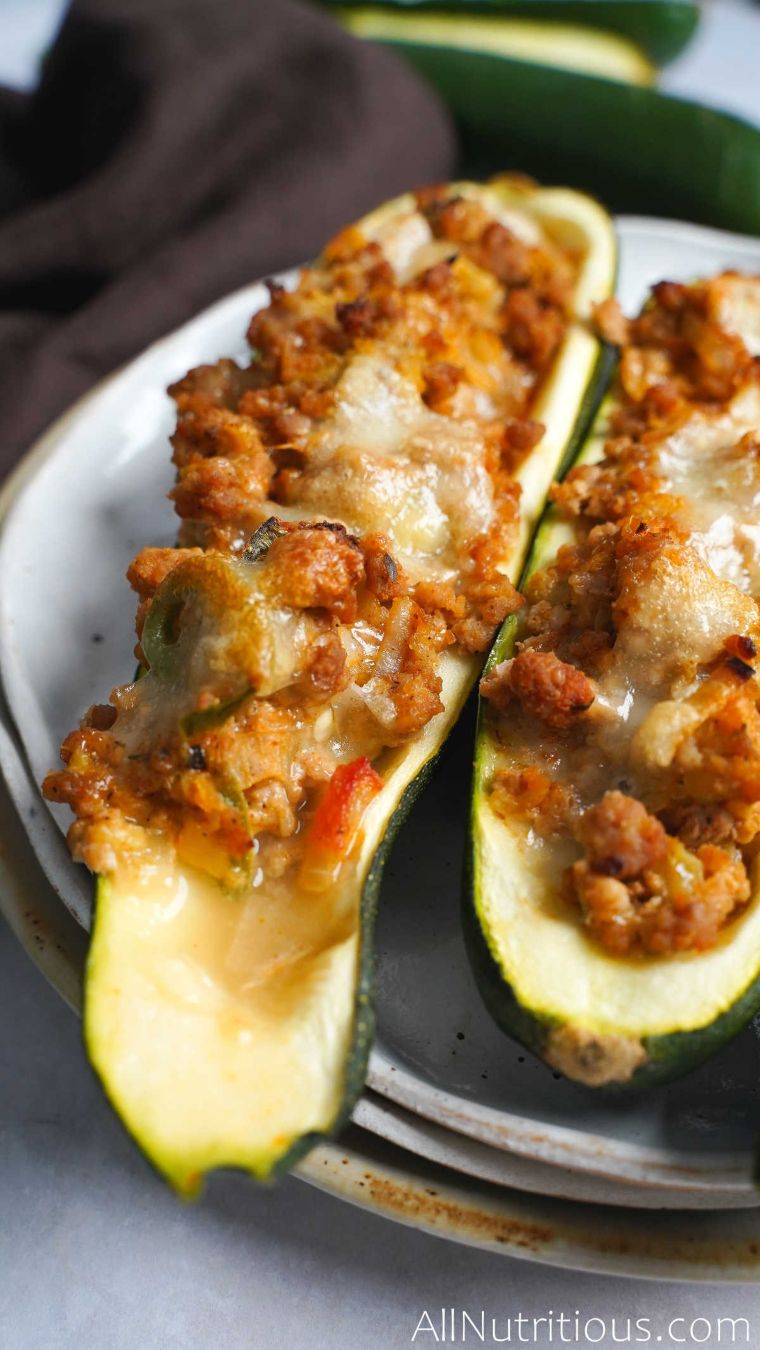 Ingredients You'll Need
Zucchini – You will need 3 medium-sized ones for this recipe.
Pork mince – Try and source a good quality, organic pork mince. You could also use another variety of mince, such as turkey or beef.
White onion – A medium onion diced up finely is perfect for this recipe. If you can't eat onion, some finely chopped celery would also work to bring some extra flavor,
Jalapeno – Choose one that has the perfect spice for you. There are so many varieties with different 'heat' levels, so find one that suits your taste.
Smoked paprika – This can be a sweet smoked paprika or the regular smoked one, but don't skip on the smoke! It's the taste that will take you to Spain!
Cumin – Warming and delicious. This spice can be omitted, but it really does deepen the taste of this dish.
Garlic powder – Easy to use! You can switch with 1 crushed garlic clove if you wish, though.
Onion powder – This is a great store cupboard ingredient for a keto diet. It supplies plenty of flavor of onion but much less of the carb.
Dried oregano – A quick flavor addition to so many dishes, it's worth always having some in the store cupboard at all times. You could add fresh oregano too. Dried thyme could also be switched in.
Salt – Sea salt or pink Himalayan salt is the healthiest, but you can use a regular table salt too.
Black pepper – Freshly ground pepper has a more intense flavor that can make a difference.
Cherry tomatoes – Choose the sweetest ones you can find as they add a great balance to the dish.
Mozzarella – You can use whichever mozzarella you wish here. Or, if you like, you could substitute with cheddar cheese or another one that melts well. You want an oozing top and middle!
How to Make Keto Zucchini Boats
First of all, preheat your oven to 350F and oil a baking tray, like this one which is perfect!
Wash the zucchinis well and then cut each one in a half lengthwise.
Using a tablespoon, scoop out the middle of the zucchinis, so you create a 'boat' shape, leaving a border around the outside still, so the zucchini holds its shape.
Chop up the scooped-out portion.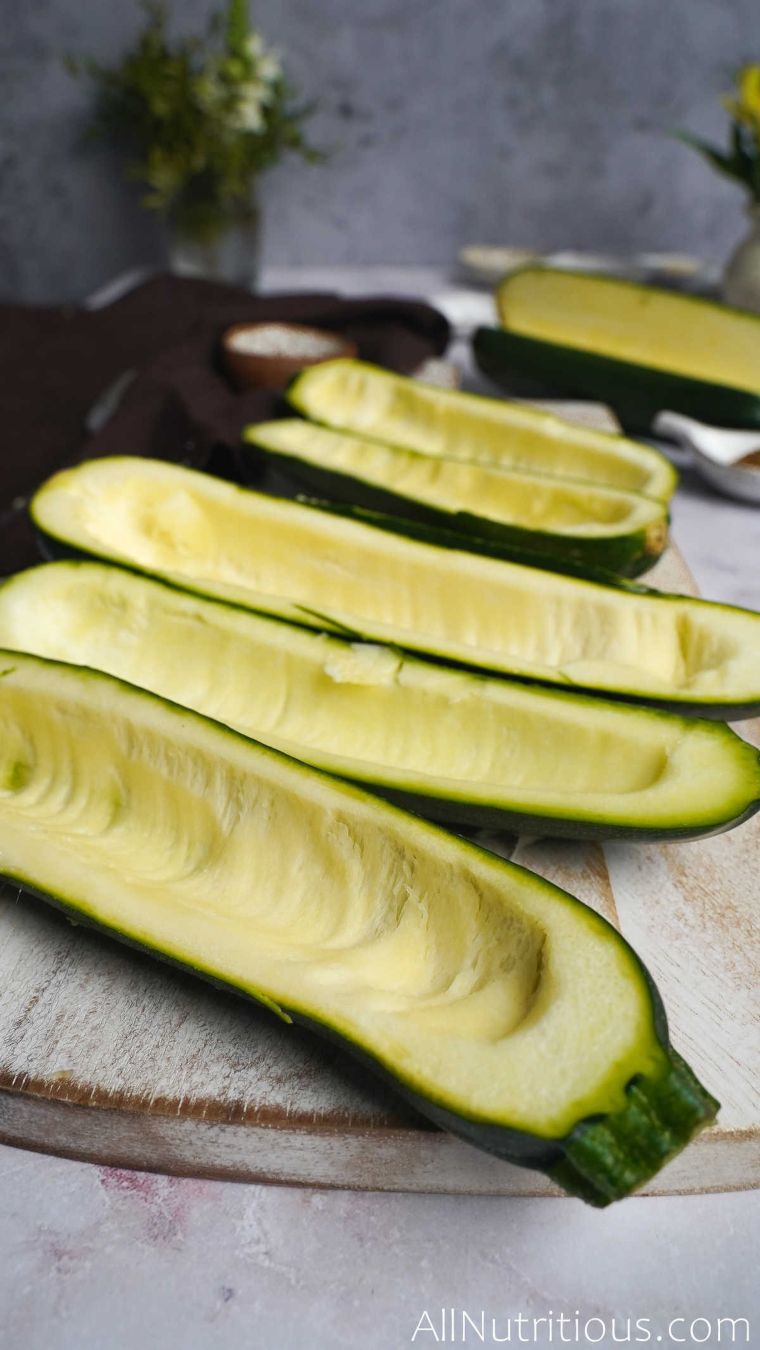 Now, heat your pan over medium heat and add the chopped zucchini and onion and stir. The zucchini should release some moisture into the pan, but you could add a splash of water if you find the onions are sticking a little.
Stir until the onion is soft.
Next, add the pork mince, jalapenos, paprika, cumin, garlic powder, onion powder, and oregano.
Stir continuously.
Keep stirring until the pork is fully cooked. Drain any liquid from the pan, and then add the salt and pepper.
Next, stir in the tomatoes and simmer for a further 2-3 minutes.
Take 1 cup of the mozzarella cheese and stir into the pork mix, making sure it's well combined.
Place the halved zucchini 'boats' onto the baking tray and then spoon the pork mix into the scooped-out areas, evenly between all 6.
Take the last ½ cup of mozzarella and scatter all over the tops of the zucchini boats.
Now, place the baking tray into the oven and bake in for 30 minutes.
Remove when the top is oozing and a little crusty. These zucchini boats are best served hot and fresh out of the oven!
Can You Eat Too Much Cheese on Keto?
Well, you can definitely have too much of a good thing if you are eating lots and lots of cheese on keto. Eating until you are satiated is the way to go, but if you are full to the brim with cheese, how will you get a balance of other nutrients packed in too?
Keto is high fat, but it still needs to be nutritious!
When following a keto diet, you also shouldn't rely on just dairy sources for your fat (you know the stuff – cream, butter, cheese). Yes, cheese is delicious, and it fills you up, but it's high in one type of fat only, and it's good to get a balance of different ones.
Cheese is a popular way to add some saltiness, fat, low carb, and protein to a dish which are all great for keto but try and add some other fats in too. Avocado, olive oil, nuts, and seeds provide monounsaturated fats, and oily fish provides some beneficial Omega-3.
So, it's good to mix things up!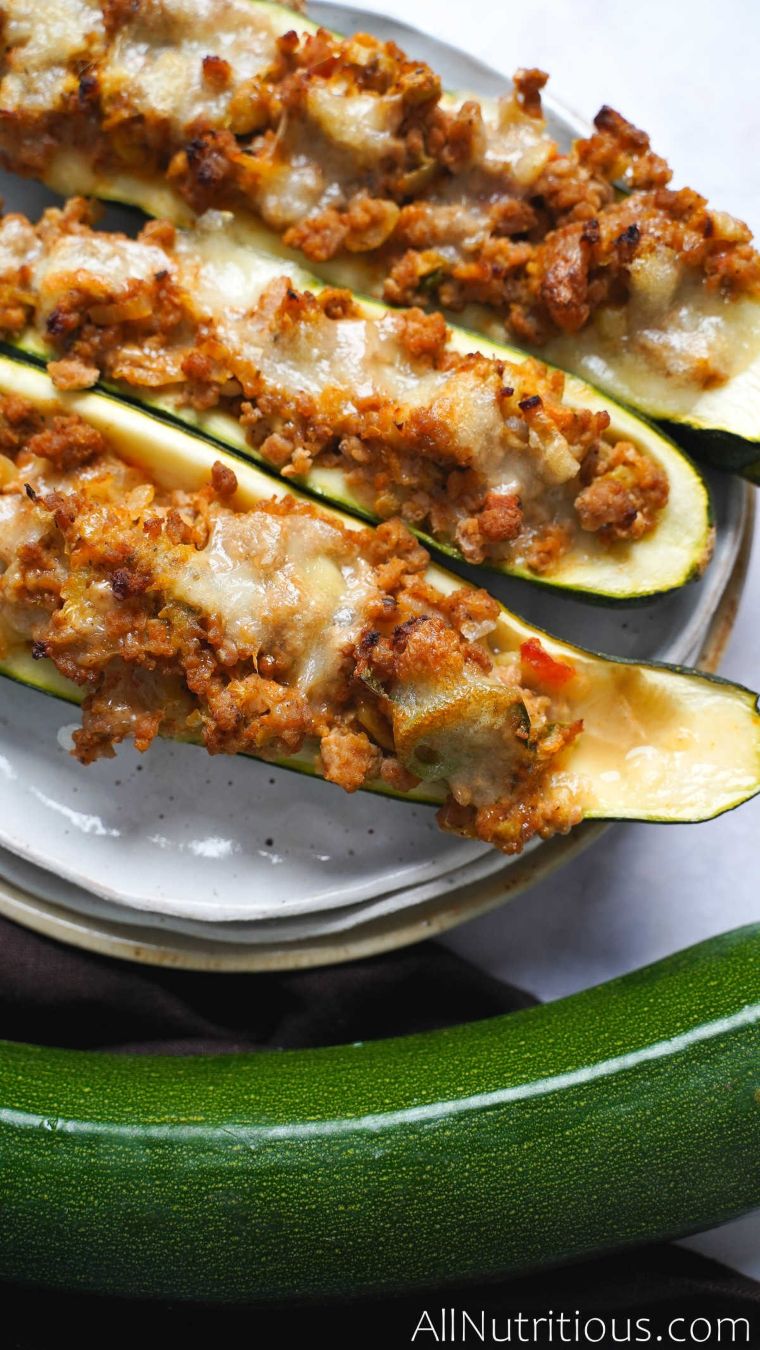 Can You Store Zucchini Boats?
Yep! If you can't eat them all in one sitting (and this recipe does serve 6), you can wrap and store them in the refrigerator for up to 3 days. Re-heat in the oven until piping hot and oozing again.
You can also freeze these, well wrapped, for 3-4 weeks. Defrost overnight in the refrigerator and pop in the oven again to heat through thoroughly.
Other Recipes You Might Like
Keto Zucchini Boats
These keto zucchini boats are so flavorful, yummy, and filling. A great meal for staying in ketosis while still getting enough protein. Each boat has 5.6g net carbs.
Ingredients
3 medium zucchini
1 lb pork mince
1 small white onion or ½ large onion (finely chopped)
1 jalapeno (sliced)
1 tsp smoked paprika
1/2 tsp cumin
1 tsp garlic powder
1 tsp onion powder
1/2 tsp dried oregano
1/4 tsp salt
1/4 tsp black pepper
2 cherry tomatoes (diced)
1 1/2 cups mozzarella (shredded)
Instructions
Begin by preheating the oven to 350F and oil a baking tray.
Wash zucchinis and cut in each in half lengthwise.
Using a spoon, scoop out the middle of the zucchinis. Chop up the scooped-out portion.
Heat a pan over medium heat, add in chopped zucchini and onions and cook until soft.
Add the pork mince, jalapenos, paprika, cumin, garlic powder, onion powder, and oregano.
Cook them until the pork is fully cooked. Don't forget to stir continuously.
Once fully cooked, drain the pork in the pan and then add salt and black pepper. Stir in the tomatoes and let them simmer for another 2-3 minutes.
Now, stir in 1 cup of mozzarella cheese.
Place zucchinis onto the baking dish or baking sheet and spoon in the meat mixture.
Top each zucchini boat with the remaining mozzarella cheese.
Bake in the oven for 30 minutes. Serve hot.
Nutrition Information:
Yield:

6 zucchini boats
Serving Size:

1 zucchini boat
Amount Per Serving:
Calories:

317
Total Fat:

23g
Saturated Fat:

9.8g
Trans Fat:

0g
Unsaturated Fat:

10.8g
Cholesterol:

77mg
Sodium:

229mg
Carbohydrates:

7.6g
Net Carbohydrates:

5.6g
Fiber:

2g
Sugar:

4.3g
Protein:

21g
Nutritional values were obtained with automatic software using the amounts of products used. To get the most accurate representation of the nutritional values, you should calculate them with the actual ingredients used in your recipe. You are solely responsible for the nutritional information obtained to be accurate.