With just 1g of net carbs, this keto chicken salad is a great lunch, dinner, or side dish to have. It's keto-friendly, full of flavors, nutritious, yummy, and super easy to make.
Chicken salad is a recipe to always have in your repertoire. Above all, it's very simple.
What I personally love about making my own salads is that I can control the ingredients I use. Thus, we can incorporate more keto-friendly products into the recipe without compromising the taste.
Additionally, some store-bought chicken salads might seem keto-friendly on the surface. However, they end up having a bunch of sugar.
Yes, sugar! Why do we need sugar in our chicken salad?
We don't. It's delicious as is. All in all, this keto side dish is a favorite, and you're going to love it, too.
There is no lack of flavor in this recipe. That's because we are going to use lean chicken breasts, hard-boiled eggs, greek yogurt, mustard, and a lot of delicious spices and flavors.
Chicken is an excellent source of protein, especially chicken breasts. This is the leanest part of the chicken, and skinless is always preferred.
One serving is only 88 calories and has 1 gram of net carbs.
How Many Carbs in This Low Carb Chicken Salad?
There is only 1 gram of net carbs in this chicken salad. This makes it a great option for those following a keto diet.
Using lettuce as the serving vessel for the salad helps keep the carb content very low. There is no need for bread or crackers here.
If anything, a bit of lettuce brings in the extra flavors and crunchiness the salad needs!
How to Make Keto Salad
Here is all you need to know! We'll start with chicken!
Chicken
Ingredients You'll Need
chicken breasts
olive oil
salt and pepper
Preheat the oven to 350F (180C).
Remove the chicken breasts from the packaging. Then, place them on a baking tray or in a baking dish.
After that, season with salt and pepper. Finally, drizzle the olive oil over all of the chicken breasts.
Bake the chicken for about 30 minutes or until it is fully cooked.
Now, let the chicken cool at room temperature. After that, we will shred the chicken with two forks.
Then, put it in a large bowl and set it aside while we prepare the other ingredients.
You can go on and do the next part while the chicken is baking as well. 30 minutes should be more than enough to deal with other ingredients.
Salad
Ingredients
boiled eggs
greek yogurt
dijon mustard
fresh lemon juice (squeezed out of a lemon)
celery
fresh dill
garlic powder
onion powder
salt and black pepper
sweet gem lettuce
Step 1: Boil the Eggs
To start with, you will want to hard-boil your eggs. So, what is the perfect way to hard-boil eggs? Well, that's simple.
First things first, the egg is really important. That's because older eggs are going to peel easier than fresh eggs.
Thus, find the right eggs and put them in a saucepot. Then, cover with cold water so that there is about one inch of water above the eggs.
Heat the pan on the stove on high heat and bring to a boil. Finally, turn off the heat once the water starts to boil.
Now, cover the eggs and let them sit in hot water for 10-12 minutes. While you are waiting for the eggs to cook, prepare an ice bath.
Grab a large enough bowl and fill it with ice cubes and water. When the time is up, carefully place the eggs into the ice water to stop the cooking process.
You can peel them once they are cool. If the shell is still sticking a bit, try peeling under running water.
The cold water will help the egg separate from the shell. Finally, place the peeled eggs on a cutting board and chop them up for the salad.
Step 2: Mix the Rest of Ingredients
Add the eggs and the remaining ingredients (except the lettuce) to the chicken in a large bowl. Then, gently stir everything together.
Prepare your sweet gem lettuce leaves by removing large leaves from the head. In total, you should aim to get 12 large leaves.
Afterward, gently wash them with ice-cold water. In addition, pat them dry with paper towels or use a salad spinner.
Now, lay the leaves out on a serving platter. Then, scoop 12 equal portions into each leaf.
Finally, serve these lettuce bowls immediately.
What to Serve This Salad With
If you do not have the gem lettuce on hand, don't worry. That's because there are other things you can serve your salad with.
Any large leaf lettuce will work as a lettuce cup. I would also suggest Bibb lettuce, romaine lettuce, and even iceberg lettuce.
You could also use this as a salad topping. Just scoop the salad on top if you have greens that simply won't work for lettuce cups.
Additionally, you could have it with keto bread or serve it with a bowl of keto soup.
How to Store This Salad
You can store the chicken salad in the refrigerator for 2-3 days. However, you need to make sure you're storing them either in air-tight containers or in a bowl covered with plastic wrap.
So, make sure you seal the chicken well before putting it away. As a result, your chicken will stay fresh for longer.
Other Recipes You Might Like:
Watch Full Instructions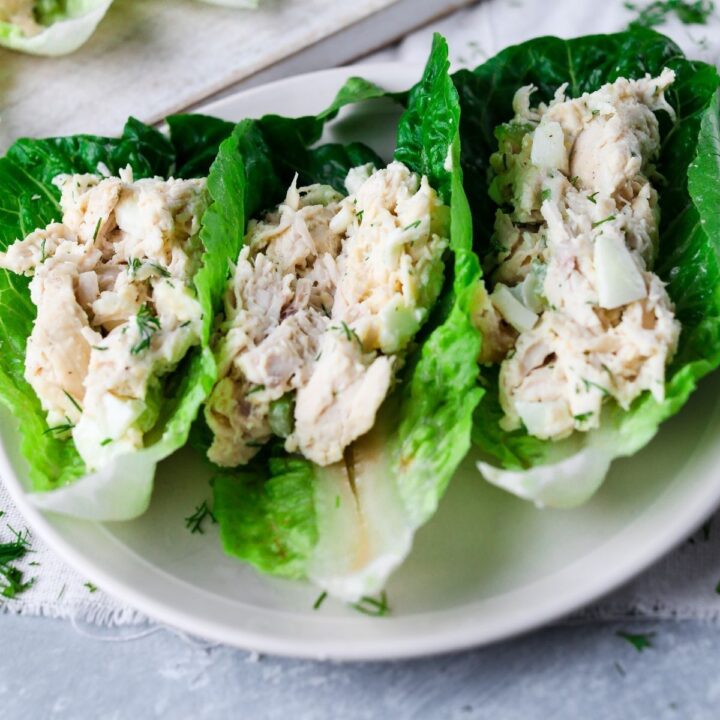 Keto Chicken Salad Recipe
With just 1g net carbs, this chicken salad is super delicious, nutritious, and most important keto-friendly. It's a lovely lunch or dinner meal that could be easily meal prepped. While it's ketogenic, the salad is refreshing and filling.
Ingredients
Chicken
3 chicken breasts
1 tbsp olive oil
salt and black pepper (to taste)
Salad
2 boiled eggs (peeled and chopped)
1/2 cup greek yogurt
1 tsp dijon mustard
1 tsp fresh lemon juice
1 stalk celery (diced)
1 tbsp fresh dill (chopped)
1/2 tsp garlic powder
1/2 tsp onion powder
pinch salt and black pepper
Sweet gem lettuce (for serving)
Instructions
Chicken
Preheat the oven to 350F (180C). Place your chicken on a baking tray and season it with salt and pepper. Then, cover it in olive oil.
Bake the breasts in the oven for 30 minutes until the chicken is fully cooked.
Once the chicken cools down, shred it with a fork.
Salad
Add the rest of the ingredients except for sweet gem lettuce leaves into a bowl. Mix in the chicken and combine all the ingredients.
Fill the lettuce leaves with the chicken salad and enjoy it!
Nutrition Information:
Yield:

12 salad boats
Serving Size:

1 salad boat
Amount Per Serving:
Calories:

88
Total Fat:

3.4g
Saturated Fat:

0.8g
Trans Fat:

0g
Unsaturated Fat:

2g
Cholesterol:

66mg
Sodium:

84mg
Carbohydrates:

1.3g
Net Carbohydrates:

1g
Fiber:

0.3g
Sugar:

0.9g
Protein:

12g
Nutritional values were obtained with automatic software using the amounts of products used. To get the most accurate representation of the nutritional values, you should calculate them with the actual ingredients used in your recipe. You are solely responsible for the nutritional information obtained to be accurate.