Start your keto diet right with these keto dinners. They're not only delicious but also super quick to make – maximum of 30 minutes.

Life can get quite busy. And after a long day at work, the last thing you want to do is slave away in the kitchen.
But, you still want a home-cooked meal that won't kick you out of ketosis. And that gives you time to kick up your feet and relax later.
So, what's the solution? Cook a dinner that's ready in under 30 minutes.
Today I'm sharing 20 quick keto dinners that are ready in under 30 minutes. They're delicious and will have you spending less time in the kitchen, and spend more time on what truly matters-taking care of yourself and your family.
1. Baked Crack Chicken Breasts
Credit: diethood.com
Chicken breasts are a great source of protein. Perfect for growing kids.
But let's face it…they can taste like rubber. Because they don't contain tons of fat. And less fat equals less flavor.
These chicken breasts taste like anything but rubber. That's because they're loaded with tasty ingredients packed with fat.
Crispy bacon pieces, Ranch dressing, cream cheese, and cheddar cheese. Yum!
What you get is tender chicken breasts bursting with flavor. It's simply addictive.
Serve with a garden salad and dinner is ready. Here are quite a few ketogenic salads to choose from.
Per Serving:
Calories: 492
Fats: 37g
Net Carbs: 2g
Protein: 35g
2. Lemon Chicken Piccata with Capers
Credit: savorytooth.com
In the mood for Italian food? Then, give this dish a try!
It's juicy chicken breasts served in a rich and creamy butter sauce. Delish!
Heavy whipping cream, butter, and olive oil add tons of fat and flavor. And lemon juice and capers add a nice tang.
To keep it low carb, you use almond flour to bread the chicken breasts. Almond flour is a great low carb alternative to regular flour because it contains less net carbs and more fat than regular flour. If you need to stock up on some, you can find some here.
Now, the net carbs for this dish are a bit on the higher side. But to decrease the carbs, just use half of the capers; it will still taste delicious.
Per Serving:
Calories: 920
Fats: 70g
Net Carbs: 7.5g
Protein: 55g
3. Keto Fried Chicken Tenders
Credit: meganseelinger.com
Did you love chicken tenders as a kid? I sure did, and I bet you did too!
But they're usually breaded with breadcrumbs and flour. So, they're a no-no if you're following a keto diet.
These fried chicken tenders are tender on the inside and nice and crunchy on the outside. And the pickle juice marinade adds a pickle brine flavor and makes the chicken extra juicy.
But the best part is that they're good for you and your kids. One chicken tender contains only 0.5 grams of net carbs, so they're basically carb-free!
And they contain tons of protein. Perfect for growing kids.
To keep them low carb, you'll be breading them with almond flour and pork panko, which you can find here.
Now, you could grind pork rinds yourself to bread the chicken tenders. However, they don't stick to the chicken tenders very well since they're moist.
Find more ketogenic meals that have under 5g of net carbs.
Per Serving:
Calories: 193.6
Fats: 9g
Net Carbs: 0.5g
Protein: 26.8g
4. Zucchini Noodles "Mac & Cheese"
Credit: kirbiecravings.com
Mac and Cheese is another childhood favorite. What's not to love about pasta swimming in a bed of creamy cheese sauce?
Everything but the carbs, that is! But, what if you could have mac and cheese with fewer carbs?
This Mac and Cheese is a great sub for mac and cheese. It is nicely spiralized zucchini noodles drenched in a nice cheese sauce.
The heavy cream and cheddar cheese sauce tastes better than your commercial cheese sauce. And the chili powder and mustard powder add some nice heat.
Meanwhile, the zucchini noodles add a nice freshness to the dish. It's a great way to get your kids to eat their veggies.
Making zucchini noodles is easy. All you need to do is spiralize your zucchini using a spiralizer. This low budget spiralizer will do the job.
Now you'll be using a bit of all-purpose flour to make your cheese sauce. But if you're on a strict keto diet, you can just use almond flour instead and knock your net carbs down even lower.
Check out more ketogenic comfort food recipes like this one here.
Per Serving:
Calories: 594
Fats: 54g
Net Carbs: 10g
Protein: 18g
5. Sausage and Cabbage Skillet
Credit: maebells.com
Do you want a tasty dinner ready in only 20 minutes? Then, try this dish!
It's tender, juicy smoked sausage. The cabbage is sauteed in sausage fat and butter, and lightly seasoned, imparting a nice sweetness and savoriness to the cabbage.
It's the perfect way to prepare your cabbage- much better than boiling it. And cabbage provides tons of nutrition.
For instance, just ½ cup of boiled cabbage provides 47% of your vitamin C needs. And a whopping 102% of your vitamin K needs.
What I love most about this dish is that it just requires one pan. So, clean-up is a breeze.
Per Serving:
Calories: 319
Fats: 27.4g
Net Carbs: 5.7g
Protein: 11.2g
6. Keto Coconut Shrimp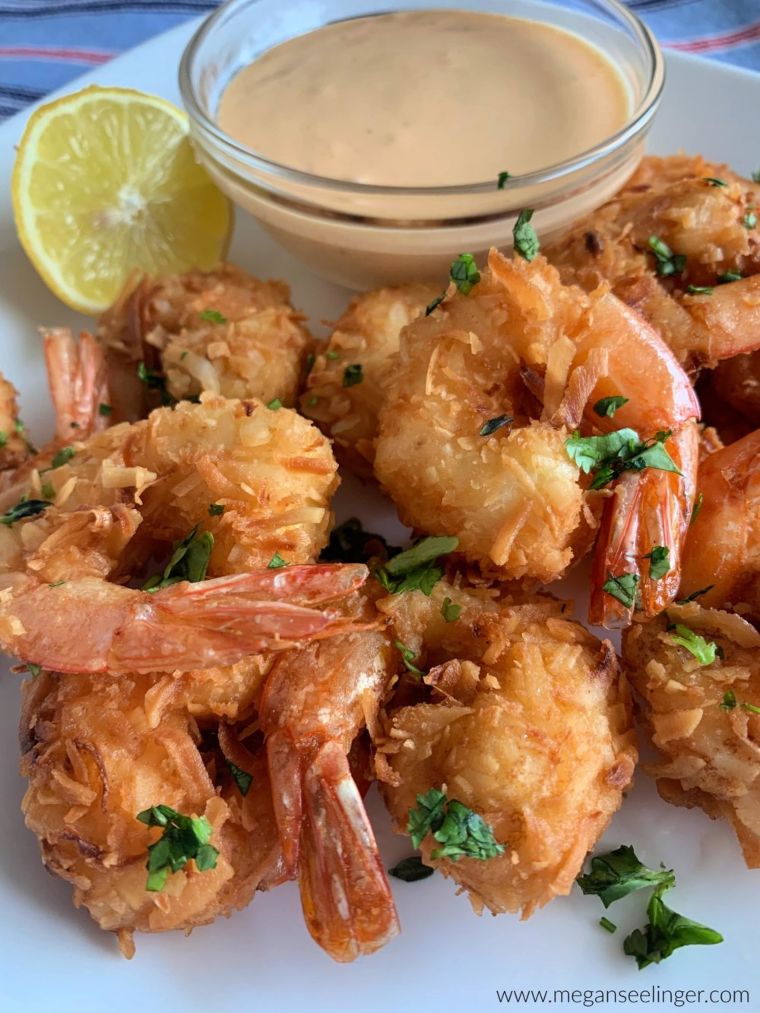 Credit: meganseelinger.com
Meat is a staple on the keto diet. But, sometimes you want seafood for a change.
One thing I like about seafood is that takes less time to cook. So, it's perfect if you're short on time.
This keto coconut shrimp is a treat in itself. The shrimp are nice and perfectly crusted on the outside and juicy on the inside.
And the unsweetened coconut flakes and Lakanto Monk fruit sweetener add a nice sweetness and crunch to the shrimp.
Also, each coconut shrimp contains only 0.5 grams of net carbs. So you can keep popping them in your mouth.
The key to keeping them low carb is that you use coconut flour to bread the shrimp. Coconut flour is not only lower in net carbs than regular flour, and since it is extra absorbent, a little goes a long way.
It also contains medium-chain triglycerides, which are fats that promote ketosis. If you'd like to give coconut flour a try, you can find some here.
Now, these coconut shrimps are lower in fat since shrimp is naturally low in fat. So, to increase your fat intake, you want to serve them with a nice butter sauce.
Per Serving:
Calories: 40
Fats: 2.4g
Net Carbs: 0.5g
Protein: 3.2g
7. Pork Chops in Parmesan Cream Sauce
Credit: momfoodie.com
Pork chops are a nice cut of meat when you're running short on time. But, let's face it, sometimes pork chops can look and taste like cardboard-particularly when they're dry.
These pork chops are juicy and tender, with a nice sear on the outside. But what truly makes the dish is the sauce.
It is a creamy, garlic parmesan cheese sauce with some herbs for freshness. You'll want to lick this sauce off your plate.
The trick to getting these pork chops nice and moist is that you use thick cuts of pork chops. If you use thin cuts, they will dry up easier.
Serve with a side of broccoli for extra freshness. Here are more ketogenic pork recipes you definitely want to give a try.
Per Serving:
Calories: 571
Fats: 42g
Net Carbs: 7g
Protein: 38g
8. Low Carb Buffalo Sloppy Joes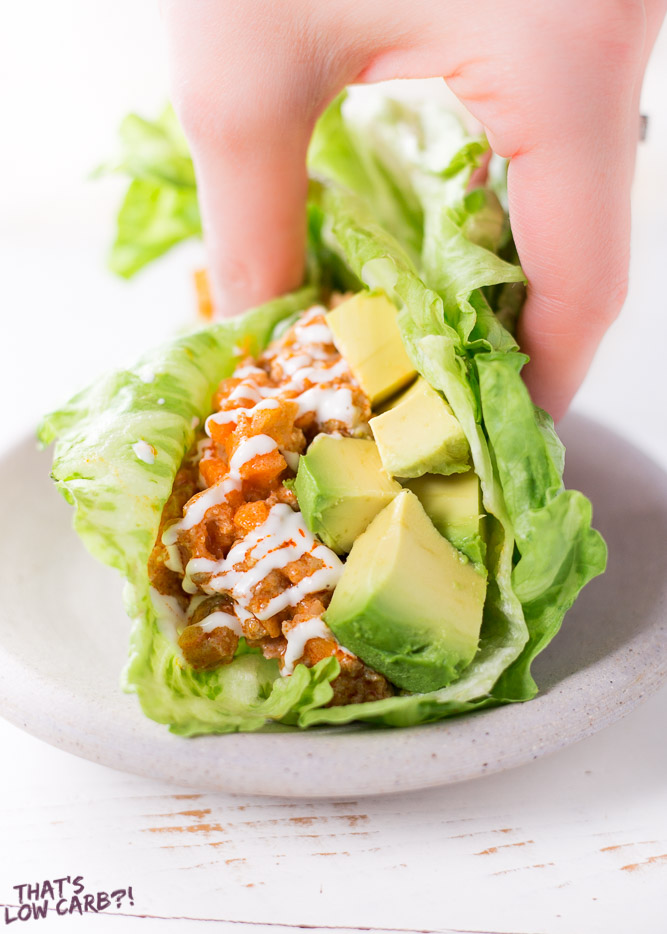 Credit: thatslowcarb.com
Looking for more ways to sneak veggies into your kids' diet? Then, give these Sloppy Joes a try!
It's nicely browned ground meat in a creamy sauce with plenty of heat. It's not your mom's Sloppy Joes.
Unlike your regular Sloppy Joes, this one is made with ground chicken, not beef. So, it's much better for the environment.
And the sauce has some hidden veggies; celery, baby carrots, and onion. Now if you're strict keto, you can sub your favorite low carb veggies for the carrots.
The key to keeping the veggies hidden is that you pulse the veggies in your food processor before adding them to your sauce.
If you don't have a food processor, you can also finely chop the veggies. But a food processor will definitely do a better job of getting your veggies nice and small so your kids can't find them. You can find a food processor here.
Serve on a bed of lettuce and some avocado. And you're good to go. This recipe could do for a lovely keto lunch as well!
Per Serving:
Calories: 184
Fats: 12.7g
Net Carbs: 2.2g
Protein: 10.8g
9. One Pan Keto Sesame Pork and Green Beans
Credit: thebestketorecipes.com
Are you craving some Asian food? This dish is sure to satisfy your cravings.
And it only takes 20 minutes to make from start to finish. Faster than it would take to get takeout.
What you get are thinly cut strips of pork and fresh green beans in an Asian-inspired sauce.
The sauce has tons of umami flavor thanks to the soy sauce and sesame oil. The ginger and sriracha add some heat, while the sweetener and rice vinegar add some sweetness.
To keep it low carb, you use Brown sugar Swerve. This not only adds sweetness but provides a nice caramelization to your pork. You can find some here.
This dish is great just the way it is. Or you can serve it with some cauliflower fried rice.
Per Serving:
Calories: 257
Fats: 19.3g
Net Carbs: 5.1g
Protein: 15.5g
10. Buttered Cod Skillet
Credit: valentinascorner.com
Need dinner in 10 minutes flat? This is the dish for you.
It's tender, flaky cod fillets cooked in butter.
The dish is not only tasty but good for you too. Not only is it high in protein, but it is also an excellent source of selenium, a powerful antioxidant.
So, it's good for growing kids and you as well. Serve with some mashed cauliflower and dinner's served.
Per Serving:
Calories: 294
Fats: 18g
Net Carbs: 3g
Protein: 30g
11. One Pan Keto Cheesy Jalapeño Chicken
Credit: maebells.com
Chicken is a favorite go-to meal. After all, everyone loves chicken right?
Except that it can get boring after a while. If you are looking for a way to jazz up your chicken, this is the dish for you.
It's tender chicken breasts in a savory, spicy, creamy cheese sauce. All topped with bubbling cheese.
The cream cheese, cheddar cheese, and heavy cream make the sauce extra creamy. And the fresh jalapenos add a nice kick…sure to wake you up.
The garlic and cumin add some nice savory notes too. While the chili powder ramps up the flavor.
To make it more kid-friendly, you can use mild green chilies instead of the jalapenos. Enjoy!
Per Serving:
Calories: 289
Fats: 23.6g
Net Carbs: 4.3g
Protein: 14.8g
12. Tuna Cakes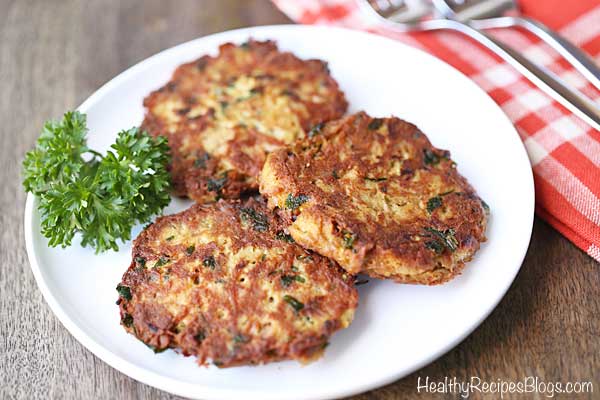 Credit: healthyrecipesblogs.com
Looking for a dish that is high on flavor and packed with nutrition? Give these tuna cakes a try!
They are tasty tuna cakes, nicely browned on the outside. They are as beautiful to look at, as they are to eat.
And since they're made with tuna, they're packed with omega-3 fats. These are fats that boost your heart and brain health.
Making them is a breeze. Just whip together all your ingredients except the oil.
Then, fry your patties in oil for about 3 minutes on each side. How easy is that?
And in just 30 minutes, you can make a bunch of them. So, you have enough left over for the next day- if your family does not gobble them all up.
To keep them nice and fresh, store them in some good BPA free storage containers like these.
With all of that said, this recipe is definitely a great option for ketogenic meal prep.
Per Serving:
Calories: 223
Fats: 15g
Net Carbs: 1g
Protein: 19g
13. Easy Lemon Butter Salmon
Credit: cooktoria.com
Looking for a tasty, but elegant dish for a dinner party? This is a perfect option!
The salmon is tender and flaky and is nicely seared. Then it's topped with a creamy garlic lemon butter sauce that is so easy to make, yet so tasty.
Your guests will be so impressed. They'll feel like they're eating at a fine dining restaurant.
And since it's packed with fats and protein, they'll feel satiated. They may even skip dessert.
Serve with some roasted asparagus spears. Bon appetit!
Per Serving:
Calories: 382
Fats: 25g
Net Carbs: 2g
Protein: 34g
14. Creamy Tuscan Shrimp
Credit: thatlowcarblife.com
It's nice to have theme nights for dinner. It makes dinner time a little bit more special.
So, why not try Italian night… but without all the carbs?
For dinner, you're serving up butter-cooked shrimp in a decadent cream sauce. The sun-dried tomatoes add a nice tang and give the dish a nice Tuscan feel.
And the spinach adds freshness and color to the dish. And packs it with nutrition.
The spinach alone provides more than 90% of your daily vitamin A needs and almost 300% of your vitamin K needs. How is that for a power dinner?
Serve with some zucchini noodles to complete your Italian dinner! To make zucchini noodles, get a good quality but low budget spiralizer like this one here.
Per Serving:
Calories: 368
Fats: 29g
Net Carbs: 6g
Protein: 20g
15. Breaded Baked Pork Chops
Credit: thatlowcarblife.com
Here is another pork chop dish for you. After all, you can never have enough pork chops right?
What's different about these pork chops is that they are breaded. So, they are juicy on the inside and have a bit of crunch on the outside.
But they're not too crispy. That's because you use parmesan cheese and crushed pork rinds to "bread" them.
So, you don't get that breadcrumb taste that takes away from the flavor of the pork chops.
Now, you can crush your pork rinds by hand or in a food processor. Or you can get them already ground here.
Keep in mind that this dish is quite high in protein. Since the keto diet is a moderate protein diet, you'll want to have less of this dish.
Serve with some delicious coleslaw or any other ketogenic salad.
Per Serving:
Calories: 494
Fats: 30g
Net Carbs: 3g
Protein: 53g
16. Air Fryer Pork Chops
Credit: recipesfromapantry.com
Do you prefer your pork chops sans *without* any cream? Then, this is the dish for you.
These pork chops are really crispy on the outside. Yet, they're surprisingly juicy on the inside-without any cream!
And they have some heat too, because of the Cajun seasoning.
The key to keeping them tender on the inside, yet super crispy on the outside is how you make them.
You use an air fryer to make them. So, the juices are sealed in, while the outside becomes crispy. If you're in the market for one, there's a deal on this air fryer here.
Per Serving:
Calories: 431
Fats: 20g
Net Carbs: 3g
Protein: 56g
17. 30-Minute Hearty Keto Chili
Credit: perfectketo.com
The winter months are upon us. So, now is the perfect time for some piping hot chili.
This chili is nice and hearty, even though you're not using beans. It tastes just like your regular chili, but without the carbs.
And it is not watery either, thanks to the beef bone broth. The beef bone broth adds flavor and helps your chili gel together.
Serve with some avocado and sour cream.
Now, this chili contains ground beef which has a high carbon footprint. So, to reduce your carbon footprint, you may want to eat it less often or sub ground turkey for the ground beef.
Per Serving:
Calories: 156
Fats: 8g
Net Carbs: 4g
Protein: 18g
18. Orange Chicken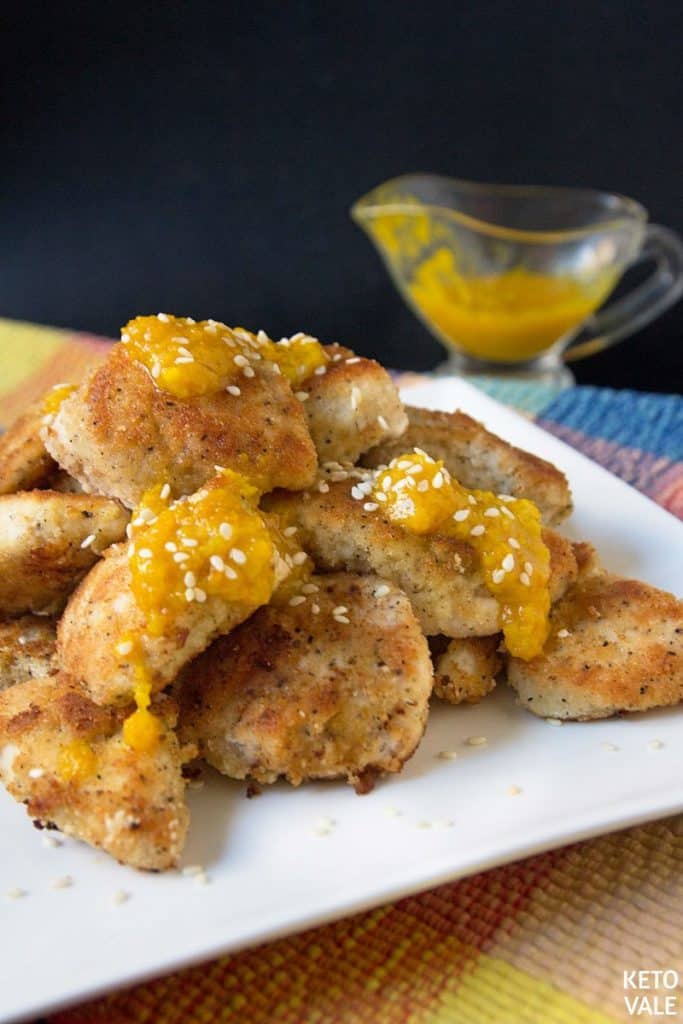 Credit: ketovale.com
Craving Chinese takeout? Have this instead!
Your typical orange chicken has tons of carbs.
Just 3 pieces of orange chicken can pack almost 14 grams of net carbs. That's probably more than half your daily net carbs allowance.
This orange chicken is nice and juicy. And the orange sauce has a nice sweet and umami flavor, with a hint of heat from the fresh ginger.
To keep it low carb, you use erythritol to sweeten your sauce. Erythritol is a natural sweetener that won't spike your blood sugars.
And unlike some other sweeteners, it doesn't leave a bitter aftertaste. You can find some here.
Serve with some stir-fried broccoli and some cauliflower fried rice. Delish!
Per Serving:
Calories: 388
Fats: 22g
Net Carbs: 6g
Protein: 30g
19. Turkey with Cream-Cheese Sauce
Credit: dietdoctor.com
Turkey is an excellent option if you're tired of chicken. It is not only tasty but good for you too.
It's an excellent source of protein, as well as some B vitamins. But, it can get quite dry if you overcook it.
These turkey breasts are tender and juicy. Covered with a luxurious crème Fraiche-cheese sauce and covered with capers, it makes for a pretty looking dish.
So, it's perfect to serve to your guests. Just in time for the holidays.
Per Serving:
Calories: 347
Fats: 67g
Net Carbs: 7g
Protein: 47g
20. Keto Salad Heaven
Credit: aussieketoqueen.com
Sometimes you want a light dinner. This salad fits the bill.
It's colorful and bright and packed with tons of veggies. But it doesn't feel like you're eating grass.
The avocados add a nice creaminess and provide healthy fats that keep you satiated. And the roasted pumpkin seeds add a nice crunch.
The crumbled feta cheese finishes this salad beautifully. And adds a depth of flavor.
Per Serving:
Calories: 198
Fats: 16g
Net Carbs: 5g
Protein: 6g
Conclusion
Are you going make any of these quick dinners? Share them with your friends and family!