Easy, yummy, flavorful ham roll-ups with cream cheese. Quick to make in just a couple of minutes, gluten-free, keto-friendly, and contain only 3.7g of net carbs per serving (3 rolls).
I'm hungry – what can I eat? These ham rolls ups with cream cheese are coming barging through with all the taste, but none of the carbs, and would be perfect for a keto lunch or snack.
This quick to prepare dish is full of a creamy filling that would fit a lunch box perfectly, so get rolling!
Cream cheese is a tasty ingredient to use for keto as it's high fat, a source of protein, low carb, and it will keep you satiated.
But don't stop there! Cream cheese is the perfect foundation to add some taste, and this combination of flavors will be a surprising change.
Any deli meat could be used, so find a favorite and create these tasty Roll-Ups!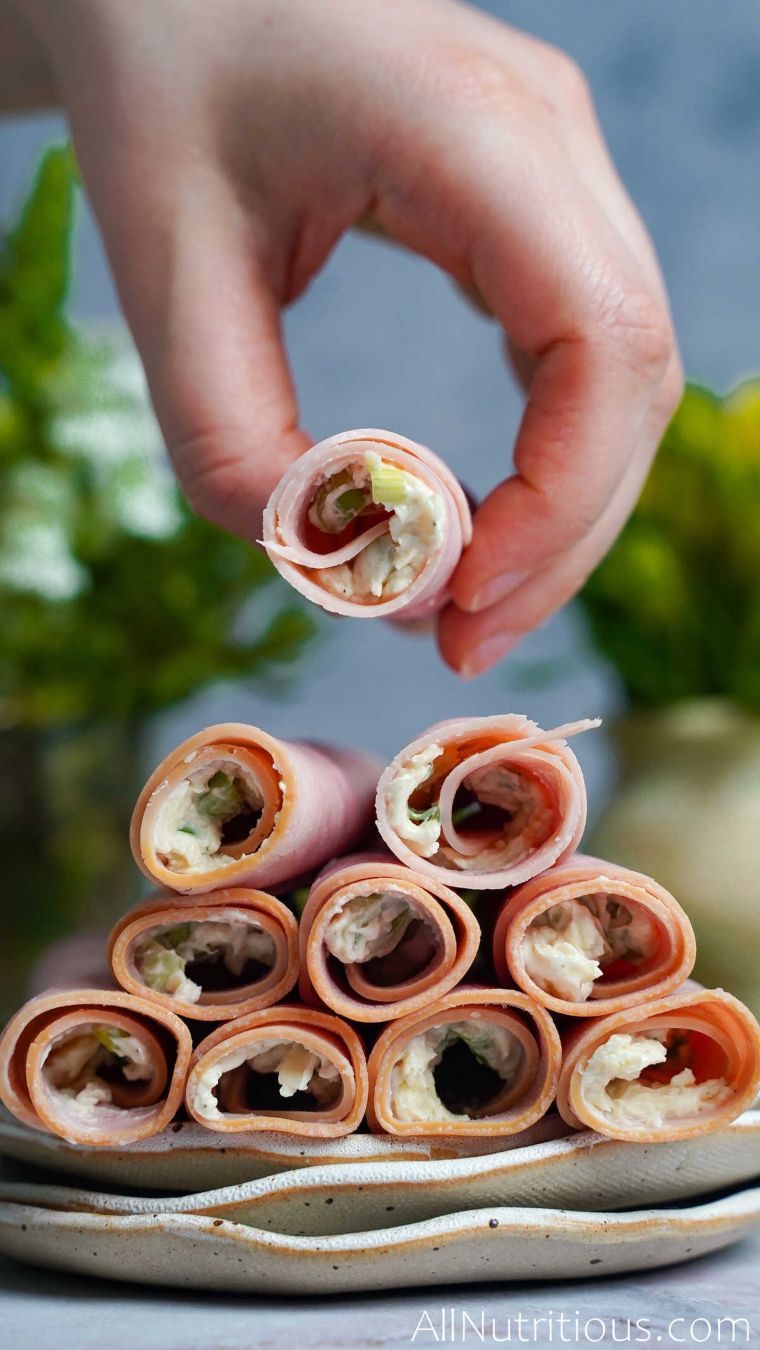 Ingredients for These Roll-Ups
Ham – Choose the best quality ham you can find. A nitrate-free variety with no added sugars is essential if you are following a clean eating keto diet. You could use slices of turkey, or pork or chicken too.
Cream cheese – Try and avoid the low-fat choices as you want something thick and creamy and with no added sugars. If you wanted to be indulgent, you could add mascarpone instead.
Cheddar cheese – You can use any cheddar variety here, but a good strong one will give you a much deeper flavor. You could also use grated parmesan or even crumbled blue cheese.
Worcestershire sauce – This sauce is a great way to add a different taste sensation. You may have only used this in meat dishes, but try it here; it's delicious!
Green onions – You could always use a little chopped celery here instead or add some chopped bell pepper if you would rather. There are some other alternatives to fillings for these Roll-Ups, so scroll down to check them out!
Salt and black pepper – Sea salt and freshly ground pepper if you can, but the regular would be fine.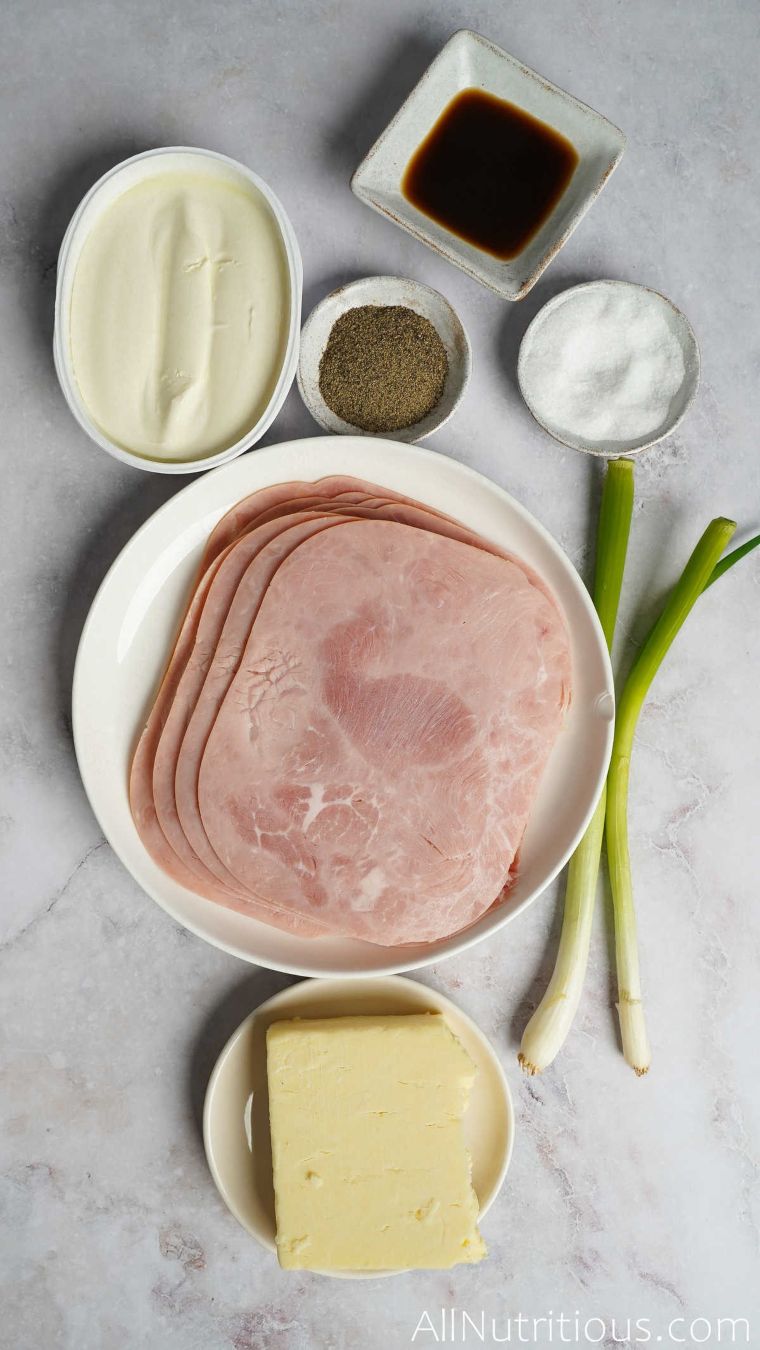 How to Make Ham Roll-Ups with Cream Cheese
Take a bowl and add the cream cheese, cheddar cheese, Worcestershire sauce, green onions, salt, and pepper and stir together until well combined.
Lay each slice of ham out on a plate and spread with the cream cheese mix, being careful to leave a little border around the edge.
Tip – don't overfill as that lovely cream cheese filling will seep out!
Roll up the slice of ham and secure it with a toothpick if you like. These dispenser ones are good to have in the store cupboard as they are easy to use and they are so useful with many dishes!
Continue with the remaining 11 slices of ham, spreading and rolling, until you have 12 awesome Roll-Ups.
Try to spread the cream cheese evenly between them, so they are roughly filled with the same amount of mixture.
Serve 3 Roll-Ups per person as a snack. You could add some extras to these Roll-Ups to make a complete lunch dish, so scroll down for some ideas.
Can I Make the Roll-Ups the Day Before?
Absolutely! Roll up and store in an airtight container in the refrigerator. Use them within 24 hours if you want to eat them at their best.
They aren't very good to freeze, unfortunately, so eat as fresh as you can. They don't take long to make, though, so preparation time won't be an issue here!
What Can I Serve the Roll-Ups With?
These are perfect as a keto snack, but if you want to make them into a more filling lunch, you can add some extras.
A few baby tomatoes and slices of cucumber would work well.
A handful of olives and arugula leaves would be delicious.
How about some pickles and chopped bell pepper?
You could make these for a party too.
Imagine taking a plate of these to a family or friend get-together. They could be made up ahead of time, and they would be perfect for transporting. The roll ups contain no gluten, and they're suitable for keto; they would please many!
If you like picnics, yes! These Roll-Ups could be packed and served with other items, giving a keto choice for you that anyone would enjoy.
Or just serve with an iced cold tea on a hot afternoon for a fresh-tasting and filling snack.
Can I Add Something Different Inside the Roll-Ups?
Absolutely! Use your imagination and find the flavors that you love.
Omit the Worcestershire sauce and add some capers to the cream cheese, stirring in some freshly chopped basil leaves too.
You could make this ' Italian style' and add some chopped olives and shredded mozzarella.
You could stir in some hot pepper flakes for a kick to your Roll-Ups or add some chopped jalapeno inside.
How about mixing some chopped anchovies and sundried tomatoes into the cream cheese instead?
Mixed seeds or chopped nuts and a variety of other herbs could be used too.
A mashed or sliced avocado would be welcome in the cream cheese, along with some chili flakes.
Many keto ingredients would be welcome inside these Roll-Ups, so go and have some fun!
Other Recipes You Might Like
Ham Roll-Ups with Cream Cheese
These keto ham rolls ups are a perfect cold lunch when you're on a keto diet. Easy to meal prep, creamy and flavorful!
Ingredients
12 slices of ham
4 tbsp cream cheese
4 tbsp Cheddar cheese (grated)
1 tsp Worcestershire sauce
2 green onions (finely sliced)
a pinch of salt
a pinch of black pepper
Instructions
1 portion: 3 rolls
Mix cream cheese, cheddar cheese, Worcestershire sauce, green onions, and salt with black pepper.
Spread each slice of ham with the mixture. Roll up and secure with a toothpick if necessary.
Nutrition Information:
Yield:

12 roll ups
Serving Size:

3 roll ups
Amount Per Serving:
Calories:

360
Total Fat:

17g
Saturated Fat:

5.9g
Trans Fat:

0.1g
Unsaturated Fat:

7.3g
Cholesterol:

150mg
Sodium:

2088mg
Carbohydrates:

3.9g
Net Carbohydrates:

3.7g
Fiber:

0.2g
Sugar:

3g
Protein:

48g
Nutritional values were obtained with automatic software using the amounts of products used. To get the most accurate representation of the nutritional values, you should calculate them with the actual ingredients used in your recipe. You are solely responsible for the nutritional information obtained to be accurate.