This keto teriyaki chicken can be made in just 25 minutes. Thus, it's a great dinner or lunch option for you and your family.
The low-carb version of original teriyaki chicken is just as tasty while it's sugar-free, starch-free, and dairy-free.
Is Keto Teriyaki Chicken Healthy?
This Keto Teriyaki Chicken is pretty healthy. For starters, it is low in net carbs.
One serving provides only 4.4 grams of net carbs. Now, that's much lower than your traditional Teriyaki Chicken that is coated with non-keto ingredients like brown sugar or honey.
It is also high in fat and protein, so it keeps you full longer.
It even provides 17% of your daily iron needs. So, it helps keep your energy levels up.
It is also an excellent source of potassium. Potassium has many health benefits.
For example, it may help lower your blood pressure and prevent bloating. It may even reduce your risk of stroke, osteoporosis, and even kidney stones. So eat up!
Now, it is high in sodium as most Teriyaki Chicken is due to the soy sauce. However, if you're watching your sodium, you can simply use a low sodium soy sauce like this.
Teriyaki Chicken is Very Quick to Make
We all have busy days, and the last thing you want to do when you come home from work is a slave in the kitchen for an hour…who has the luxury, anyway?
This dish is also great for meal prep. Now this recipe makes 2 servings, but you can easily double or triple the recipe so you can have your lunches prepped for the rest of the week.
To keep your leftovers fresh, be sure to store them in airtight containers. I recommend glass storage containers like these because they keep food fresh longer and don't leak toxic chemicals into your food.
Can You Use Soya Sauce on Keto?
Yes, you can use soya sauce on a keto diet. Unlike soybeans, which are high in net carbs, soy sauce is low in net carbs. This is one of those little keto hacks you want to know.
However, you still want to use it in moderation. That's because one tablespoon of soya sauce contains 0.9 grams of net carbs.
And the net carbs can add up if you put are putting soya sauce on everything.
Now, if you have food allergies, one of those allergies is likely to soy. That is because soy causes about 90% of food allergies.
To avoid an allergic reaction, you can use coconut aminos in place of soya sauce. The coconut aminos will change the flavor profile slightly since it has both a savory and sweet flavor profile.
And since coconut aminos contain less sodium than soya sauce, they are a great way to add flavor to this Keto Teriyaki chicken, as well as other Asian cuisines that need an umami flavor. If you need to stock up on some coconut aminos, you can get some good quality organic coconut aminos right here.
Sides to Serve Keto Teriyaki Chicken With
There are lots of sides that you can serve with your chicken with. My favorite side is cauliflower fried rice. After all, you can't have Teriyaki Chicken without some good old fried rice, right?
However, since your regular fried rice is loaded with carbs, a good keto option is cauliflower fried rice.
Making cauliflower fried rice is pretty easy. Just place your cauliflower florets in a food processor, and process until rice-like. This food processor right here will do the trick.
Then, fry your cauliflower rice, low carb veggies, and eggs in a skillet. Just like you would for "regular" fried rice. Here is a recipe you can follow to make things easier.
Other great sides you can have with your Teriyaki Chicken are sautéed green beans, sautéed asparagus, or sautéed mushrooms. Yum!
How to Make Teriyaki Sauce Sticky Without Cornstarch?
On a keto diet, you definitely don't want to use cornstarch as your thickener. That's because just one tablespoon of cornstarch contains 7 grams of net carbs. Now, that's a whole lot of carbs for one measly tablespoon!
So, instead, we use xanthan gum. One tablespoon of xanthan gum contains 0 grams of net carbs.
Besides being low carb, xanthan gum has a number of health benefits. For instance, if you eat enough of it, it may lower your blood sugar.
It also helps you feel full. So, it may help you lose weight. If you need to stock up on some xanthan gum, you can get some here.
Other Recipes You Might Like:
Watch Full Instructions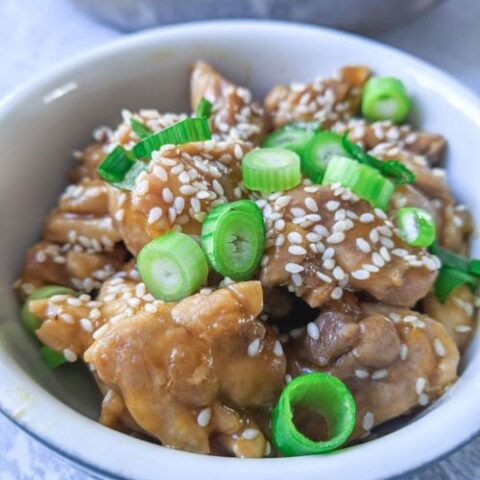 Keto Teriyaki Chicken with Sesame Seeds
A quick keto lunch or dinner you can make on a low carb diet. This keto teriyaki chicken stir fry is flavorful and is a mix of savory and sweet.
Ingredients
1 lb skinless chicken thighs (450g)
2 tbsp olive oil
3 tbsp soy sauce
2 tbsp erythritol
1 clove garlic, minced
1 tsp ginger, grated
¼ tsp xanthan gum
1/2 cup water
Salt, to taste
Sesame seeds (garnish)
Sliced green onions (garnish)
Instructions
Heat olive oil. Cut chicken thighs into 1-inch pieces and sauté the chicken for around 6-8 minutes.
In a separate bowl, mix soy sauce, erythritol, minced garlic, grated ginger, xanthan gum, and water.
Pour the mixture into the frying pan and reduce the heat. Now, cook the chicken for 5-8 minutes until the sauce thickens up and coats the chicken.
Add salt to the taste. Top the chicken up with sliced green onions and sesame seeds.
Serve with steamed or oven-baked broccoli or a salad of your choice.
Nutrition Information:
Yield:

2 bowls
Serving Size:

1 bowl
Amount Per Serving:
Calories:

434
Total Fat:

26g
Saturated Fat:

4.4g
Trans Fat:

0g
Unsaturated Fat:

18.8g
Cholesterol:

196mg
Sodium:

1973mg
Carbohydrates:

5.9g
Net Carbohydrates:

4.4g
Fiber:

1.5g
Sugar:

0.4g
Protein:

47g
Nutritional values were obtained with automatic software using the amounts of products used. To get the most accurate representation of the nutritional values, you should calculate them with the actual ingredients used in your recipe. You are solely responsible for the nutritional information obtained to be accurate.