Tired of your tasteless greens? These ultimate keto side dishes will show you that your dinner can be exciting even if it is free of carbs!
When following the restrictive rules of the Keto diet, finding some delicious low-carb side dishes to serve for dinner can get overwhelming. But it doesn't have to be so daunting!
With these keto sides, you can forget all about counting carbs, and focus on the explosion of flavors on your tongue, instead.
Offering you 41 best keto side dishes, this post will show you that you don't need carbs for a filling and satisfying dinner.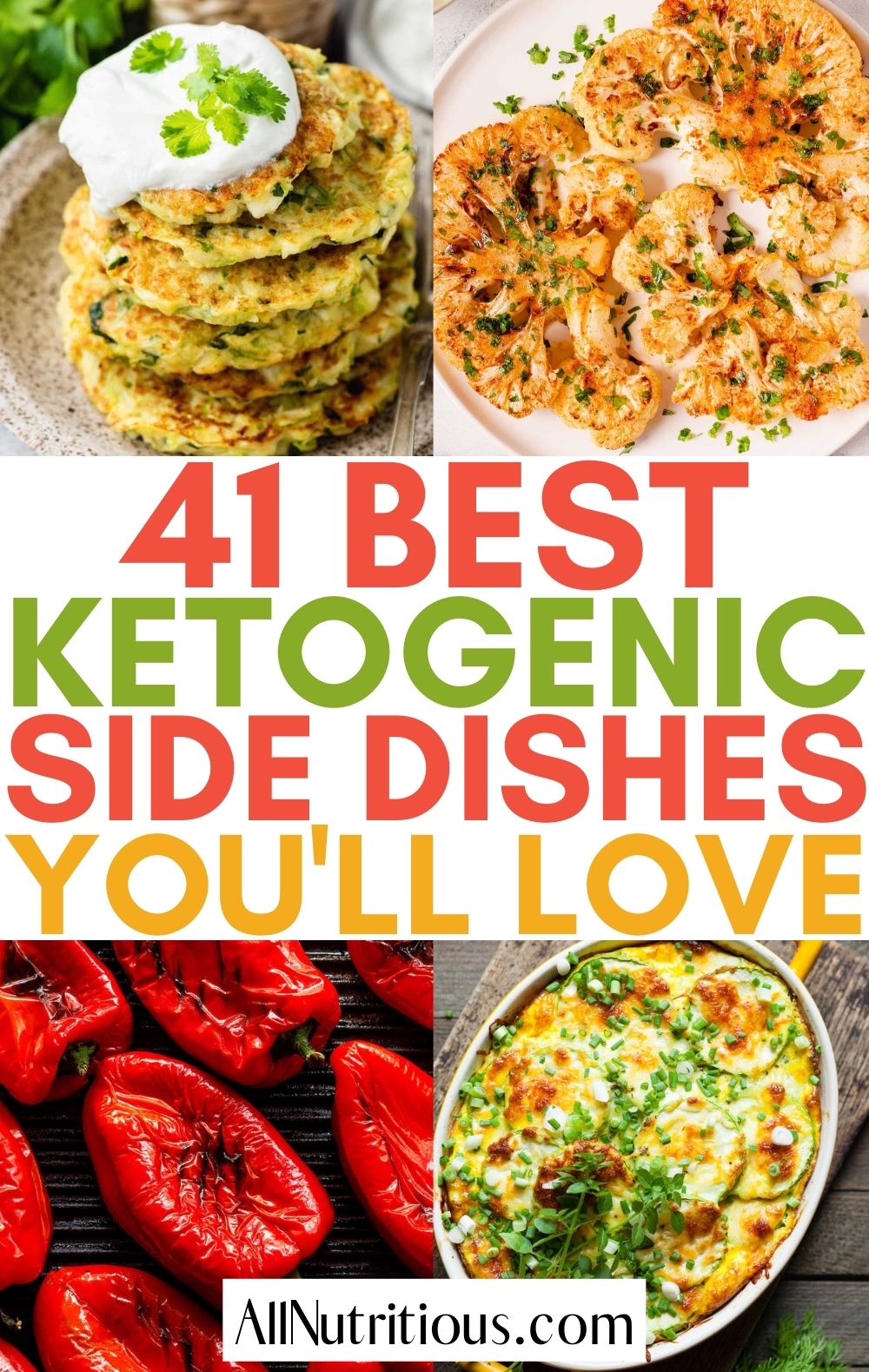 What Side Dishes Are Keto-Friendly?
Any side dish that contains low-carb ingredients can be considered a decent Ketogenic option to serve alongside your main dish.
If it is high in fat and moderate in protein, that's yet another plus, as those are practically the guidelines for this diet.
Low-carb salads, mashed cauliflower, sauteed mushrooms, or dishes with asparagus, Brussel Sprouts, or green beans, are just some nice options.
You can also enhance the flavor with some creamy mayo, sour cream, heavy cream, cheese, bacon, or butter, as they are all Keto-friendly.
Keto Sides for Burgers
The best thing about the Keto diet is that you can allow yourself a juicy burger. If you're looking for a perfect side dish for your hamburger dinner nights, here are some great options to try.
If you think that your beef burger cannot possibly go with a chicken salad, let this healthy recipe prove to you just how wrong you are.
Served in a lettuce cup, this light and creamy chicken and egg salad will brighten your fatty burger in the most delicious way possible.
The lemon and dill add fresh and zesty notes to the mix so that your high-fat entrée can be beautifully balanced. The creamy yogurt surely helps, too.
Whether you choose to roast your chicken or even use leftover shreds, I guarantee that this salad will be a real hit alongside your fast-food favorite.
Check out more keto chicken recipes here!
Per Serving:
Calories: 88
Fats: 3.4g
Protein: 12g
Net Carbs: 1g
Cauliflower is so versatile and neutral in flavor, that you can play around and transform it into whatever you see fit. Believe it or not, you can also turn it into a potato salad.
Chopped cauliflower florets and eggs, tossed in a creamy mayo and Dijon dressing, rich in spices and bursting with flavor. How can you not want that next to your beef pattie?
Make sure to chill well before serving (at least one hour) so that the cauliflower can soak all of the flavors and become even softer and more enjoyable.
Per Serving:
Calories: 136
Fats: 12g
Protein: 3g
Net Carbs: 3g
Here's the thing, these zucchini fritters have only 10 grams of net carbs when made with regular flour. Swap that with almond flour and you've got yourself an almost carb-free side.
So crispy and packed with incredible flavors, these zucchini and parmesan patties are almost a burger of their own. Of course, if you choose to pair them with an actual meaty round, even better.
Top with some sour cream and chopped parsley or cilantro, and seriously, you will not be able to stop yourself from eating greedily.
Although this easy side is made in the Air Fryer for added convenience, you can easily fry these cakes on the stove.
Per Serving:
Calories: 110
Fats: 4g
Protein: 7g
Net Carbs: 10g
These zucchini slices do not only look and taste good next to your meaty dishes (burgers, too!), but they also make one heck of a snack.
Coated with a Parmesan and almond flour mixture that is bursting with seasonings, these rounds are the crispiest and most delicious baked bites you've ever tasted.
So simple to make and a real crowd-pleaser, this recipe will definitely be one of your go-to Keto snacks.
Plus, it also makes a healthy kiddie snack with a decent protein punch.
Per Serving:
Calories: 212
Fats: 16g
Protein: 12g
Net Carbs: 6g
I always want something nutritious in my burgers. And this broccoli salad is just loaded with nutrients.
And the fatty crunch from the bacon makes this colorful goodness even more suitable for your juicy meat patties.
Loaded with pimentos, onions, cheese, bacon, and sunflower seeds, broccoli has never tasted better than this.
Besides, the creamy and tangy mayo dressing combines all of the flavors together, giving you a healthy bowl that can easily impress your taste buds.
Per Serving:
Calories: 152
Fats: 13g
Protein: 5g
Net Carbs: 3g
If you've been craving tater tots lately, then this mock version made with cauliflower will more than satisfy you.
Loaded with kale and cheddar cheese, these low-carb tots are not only crispy to irresistible perfection, but they are also super healthy too.
With only 15 minutes of prep time, they are super easy to assemble, too, giving you plenty of time to focus on flipping your burgers or working on your Keto dessert.
If you're not a kale fan, you can easily substitute with spinach, chard, or some other greens.
Per Serving:
Calories: 45
Fats: 3g
Protein: 2g
Net Carbs: 1g
Although a carb-loaded mac and cheese may not pair that well with your cheeseburgers, this cauliflower version will surely be a match made in heaven.
Creamy and cheesy, just as regular mac and cheese, this cauliflower alternative offers tons of flavor minus the unwanted carbs.
If you ask me, I'd just chop the cauliflower into smaller chunks, so I can top my beefy patty with this cheesy and velvety delight. But serving it on the side will be just as tasty, too.
Made in a casserole dish, this keto mac and cheese is just the thing your crowd-serving dinner needs.
Per Serving:
Calories: 375
Fats: 26g
Protein: 0g
Net Carbs: 2.7g
Keto Sides Dishes for Chicken
If chicken's on your Keto menu today, then these carb-free but flavor-packed side dishes will pair with your entrée in the most delightful way possible.
Creamy egg salads should be mandatory with grilled chicken breasts. Or any chicken-based dish, for that matter. Once you whip up this flavorful bowl, you will see what I'm talking about.
With only 4.4 grams of net carbs, these well-seasoned and smothered-in-yogurt eggs are totally approved by your low-carb lifestyle or Ketogenic diet.
Make sure not to skip adding a few splashes of lemon juice, as the salad can taste bland without an acidic touch. For a truly palate-pleasing taste, prepare the recipe as described.
Perfect as a side, but loaded with enough proteins to serve as lunch, or even dinner alongside some leafy greens. This salad is an absolute must-try!
Per Serving:
Calories: 264
Fats: 16g
Protein: 23g
Net Carbs: 4.4g
This loaded cauliflower recipe is not only loads of fun to make, but it also looks the part. With vibrant colors and the ideal mix of creaminess and crunchiness, it will be a real star on the table.
And how can it not when there is melted cheddar and crumbled bacon enhancing these roasted cauliflower florets?
Serve with sour cream and next to your chicken, and enjoy!
Per Serving:
Calories: 272
Fats: 22g
Protein: 12g
Net Carbs: 5g
If you are a grits fan, then you know that the cauliflower version is nowhere near the original. But how about making them with almond flour?
This is not only filling, but it will also taste grainy as well, just without all the carbs to knock you out of Ketosis.
Who would have thought that such magical taste can be achieved by simply mixing chicken broth, almond flour, and cheese? And the best part? There are only 3 grams of net carbs.
Per Serving:
Calories: 189
Fats: 16g
Protein: 8g
Net Carbs: 3g
If you've never enjoyed Brussels sprouts, you are probably tempted to jump to the next recipe. However, this shredded version is everything you've never tasted about these tiny cabbages.
Why? Because there are many layers of flavor that make these Brussel Sprouts taste anything but bitter.
Made with bacon grease, butter, and parmesan cheese, this dish will make you lick the plate and ask for seconds in no time.
And since a generous portion sacrifices only 4 net carbs off your allowed daily intake, every Keto dieter will become addicted to this recipe.
Love this recipe? You might love these cheap keto meal prep recipes.
Per Serving:
Calories: 159
Fats: 12g
Protein: 8g
Net Carbs: 4g
If stuffed chicken sounds like a good dinner choice, then besides a nice bird, you also need to have a giant bowl of hearty stuffing at hand. And this cauliflower recipe fits the description the best.
With cauliflower rice instead of traditional breadcrumbs, this stuffing will fill you up and please, without having too many carbs to weigh you down.
Loaded with mushrooms, celery, carrots, leeks, and a handful of mixed herbs, this Keto stuffing will also look perfect if served on the side, too.
I'd suggest sticking to the butter if you can tolerate dairy, for a truly silky and smooth bowl.
Per Serving:
Calories: 190
Fats: 12g
Protein: 15g
Net Carbs: 3g
Zucchinis and tomatoes taste like summertime on your plate. And this colorful recipe is not short of that ripe summer veggie flavors.
With green zucchini, red tomatoes, and yellow squash, sliced and layered in a nice pattern, you can only imagine how tempting this bake will look on your table.
And if that's not enough, then the grated Parmesan cheese and chopped herbs on top will definitely seal the deal.
So light and flavorful, this healthy bake will pair perfectly with whatever you put it next to. However, serving it alongside chicken is really something else.
Love this? Check out more low carb vegetarian recipes here.
Per Serving:
Calories: 75
Fats: 6g
Protein: 3g
Net Carbs: 3g
Although there really is no corn in this cornbread (a huge no-no on a Keto diet!), trust me, you won't even miss it in this recipe.
Almond and coconut flour do such a great job in creating a cake-like consistency that goes perfectly with your chicken pot pie or chili.
Plus, the recipe is versatile enough and you can easily eat it as a dessert with some berries and sugar-free cream.
Even the carb-addicts and die-hard cornbread fans will be totally hooked on the taste!
Per Serving:
Calories: 204
Fats: 15g
Protein: 8g
Net Carbs: 5g
Cauliflower in casseroles is probably one of the most exhausted keto-friendly sides. But this creamy and cheesy version will most certainly become a vital part of your Keto recipe folder.
With full-fat coconut cream and grated cheese, this light and dairy-free casserole is perfect for your chicken-based dinners.
The coconut sauce gives the dish a dash of natural sweetness, so I suggest you stick to it. Although, in theory, anything creamy will do the trick.
Served with sliced green onions, this side casserole might just steal the show at your keto dinner table.
This is a perfect keto dinner anyone can make.
Per Serving:
Calories: 175
Fats: 16g
Protein: 6g
Net Carbs: 3g
If grilled or stir-fried chicken is on the table, then I highly recommend you pair it with these cheesy roasted cauliflower steaks.
Crispy around the edges, soft in the middle, and loaded with melted cheese, there is really nothing but harmony in these cauliflower bites.
The recipe relies on onion and garlic powder, but paprika and chili powder might add a nice smoky or hot kick to the somewhat neutral taste.
Although this recipe is roasted in the oven, you can also just grill these steaks and then sprinkle them with cheese while still hot.
Per Serving:
Calories: 365
Fats: 35g
Protein: 8g
Net Carbs: 4g
Keto Side Dishes for Steak
Serving steak on the Keto diet is almost a regular. To prevent your dinner from turning boring, you need some tasty side dishes to pair your t-bone with. Here are the yummiest options.
So simple and yet packed with nutrients and flavor, this is one of the greatest side dishes you can possibly serve with your meat.
And once you add onions and garlic for flavor, butter for smooth silkiness, and parmesan cheese to top it all off, you'll see why this yellow side will soon become a regular.
Sprinkling with fresh herbs on top gives this dish an even more elegant look, perfect for those important dinners when you want to show off your cooking skills.
Per Serving:
Calories: 119
Fats: 8g
Protein: 3g
Net Carbs: 8g
With some dishes, you just know that the taste will be satisfying, just by looking at them. This mashed cauliflower has just that look.
Creamy and buttery, with just five simple ingredients these mock mashed potatoes will win over your taste buds almost instantly.
The sour cream and parmesan cheese add a sharper punch that is just what the mellow-tasting cauliflower florets need.
And with such a dense, almost real-potato texture, you will surely trick your palate into thinking you're enjoying a rich-in-carbs meal. Isn't that the whole point with these mock recipe twists?
Per Serving:
Calories: 88
Fats: 6.1g
Protein: 3.4g
Net Carbs: 3.9g
For a real holiday feast or a huge get-together, you need a giant bowl of a hearty side dish that can satisfy everyone. And these fragrant and taste green veggies are just what you're looking for.
Sauteed with garlic and topped with crumbled bacon, there's nothing but flavor in this lovely bowl of Brussel Sprouts.
The chicken broth further boosts the taste, but it is the lemon juice they're tossed with that wraps everything together.
Made in the Instant Pot and budget-friendly, this is one of those meals that are super convenient and don't break the bank.
Per Serving:
Calories: 210
Fats: 15g
Protein: 8g
Net Carbs: 10g
Cauliflower rice with mushrooms is something you see a lot on a Keto diet. But trust me, this recipe really stands out!
Deglazed with wine and loaded with cream, butter, and cheese, there is nothing like this smooth and silky mouthfeel that slides down perfectly.
The secret to the taste here really has to be the mascarpone cheese, as it gives this dish a deep creaminess that cannot be quite achieved with regular cream cheese.
And besides, with just 4 grams of net carbs, this has to be one of the most filling and delicious Keto side dishes ever.
Per Serving:
Calories: 202
Fats: 16g
Protein: 8g
Net Carbs: 4g
I hear cheese-stuffed mushrooms, and I immediately know it's something my taste buds will deeply appreciate. This recipe, though, practically makes them swoon. It is that irresistible!
Without any fancy ingredients or heavy preparation methods, this recipe is right up my alley. Simple, quick, and incredibly tasty.
Just portobello mushroom caps topped with tomatoes and mozzarella, for a melty, cheesy, and oh-so-irresistible side dish.
Isn't that just what your juicy steak needs?
Per Serving:
Calories: 171
Fats: 13g
Protein: 8g
Net Carbs: 4g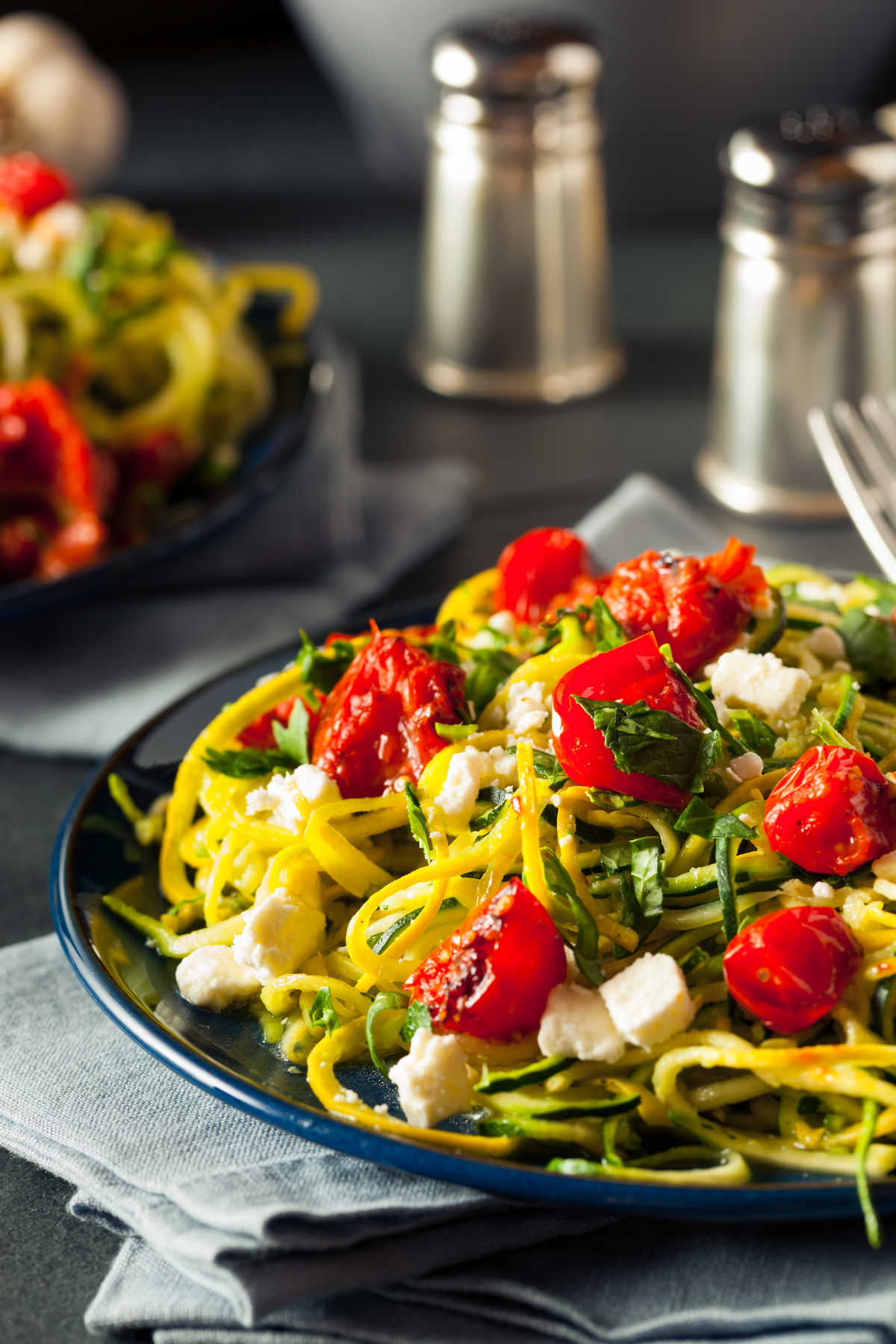 Zucchini noodles or, known by their shorter and fun name, zoodles, are the perfect Keto side dish that is simply made for any cut of meat.
So light and versatile enough to take on any sauce or topping, a decent spiralized zucchini recipe is something you definitely need to know how to whip up on a Keto diet.
With just 15 minutes and some garlic, parmesan cheese, and olive oil, you can create flavorful mock-spaghetti noodles that are packed with flavor and all the right nutrients.
Feel free to add some more herbs or a splash of lemon juice to these noodles, for some refreshing notes.
Per Serving:
Calories: 102
Fats: 6.8g
Protein: 6.5g
Net Carbs: 4.4g
Mushrooms, steak, & cheese has to be a winning combo, don't you think? And the best part, it is low in carbs and Keto-approved, too.
If you're a cheese and mushroom fan, then these stuffed Bella mushrooms are perfect for your steak dinners.
Loaded with garlicky butter, topped with mozzarella, and sprinkled with fresh dill, these mushrooms are the perfect way to incorporate some more flavor to your main course.
Although traditionally, this Georgian recipe is served as an appetizer, pairing it with meat will show you that it's an even better side.
Per Serving:
Calories: 105
Fats: 10g
Protein: 4g
Net Carbs: 2g
Making cheese-loaded spaghetti squash will fool your taste buds into thinking you're actually enjoying a real Mac and cheese.
Except this is a healthier, leaner, and cleaner alternative, with way fewer carbs than the traditional pasta dish.
All you need to do is cook the spaghetti squash, shred into spaghetti with a fork, make a cheese sauce, and simply pour it into the halved squash.
Stir with a fork, and dig right in! So creamy and cheesy, messy eating is approved when devouring such yummy goodness.
Per Serving:
Calories: 251.3
Fats: 18.1g
Protein: 12.9g
Net Carbs: 10g
Okay, let's face it. Mushrooms in a cream – any cream – are the ideal match for a butter-drowned steak cut. And these saucy and smooth basil button mushrooms are definitely it.
With no chopping or whipping involved, you really don't need more than 5 minutes to prep this side.
So simple to make but incredibly tasty, mushrooms in a buttery heavy cream sauce will become your number one choice when it comes to side dishes for meat.
Keep in mind that swapping the basil for another herb is not a crime. As long as it is fresh, any herb will play that part well.
Per Serving:
Calories: 233
Fats: 23g
Protein: 3g
Net Carbs: 3g
Keto Vegetable Side Dishes
The Ketogenic diet relies so much on meat, that Keto dieters are often overwhelmed when they have to find protein in plant-based ingredients. These veggie side dishes, though, will surely help.
If simple and budget-friendly side is what you're hoping to serve with your dinner, then this cabbage recipe will more than deliver.
Smothered in butter and cooked with broth, this cabbage side is one of the most delicious and simplest low-carb sides you can whip up.
A hint of nutmeg gives this veggie subtle and sweet note, perfect for your holiday dinner, but feel free to play around with the seasonings as you see fit.
The recipe uses chicken broth, but for a vegetarian side, swap this with a veggie broth instead.
Per Serving:
Calories: 78
Fats: 5g
Protein: 2g
Net Carbs: 5g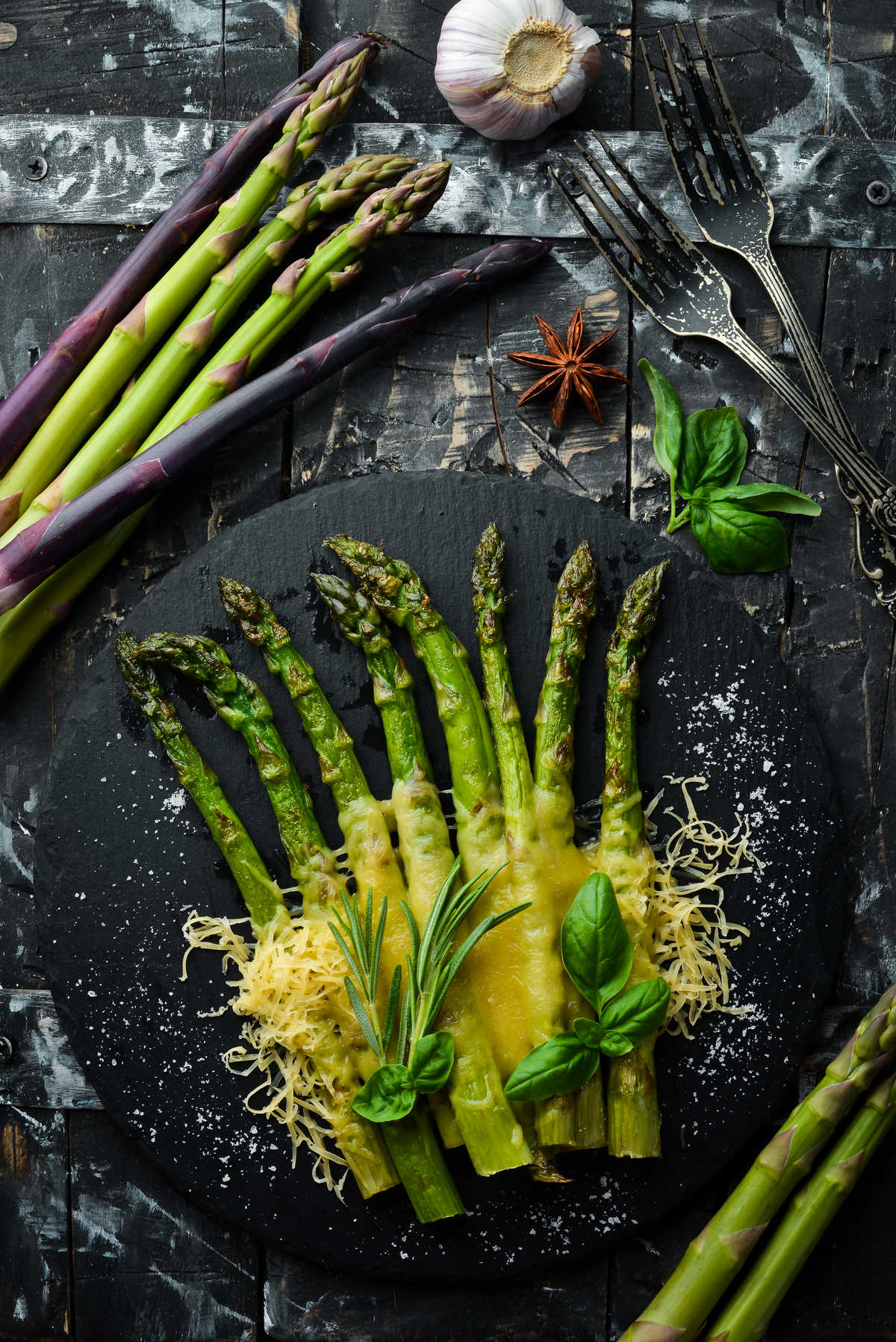 Asparagus has to be one of the most versatile sides that go well with chicken, fish, steak, and pretty much anything. Plus, they are low in carbs, which is perfect for all you Keto dieters out there.
I'm sure you already have a favorite asparagus dish you come back to, but for a truly fool-proof side, you simply have to try this Air Fryer version.
Ideally crispy in just seven minutes, this air fryer method takes all the guesswork and gives you a consistently delicious dish, every single time.
Plus, sprinkled with parmesan cheese and enhanced with lemony aroma, who is crazy enough to say no to this delight?
Per Serving:
Calories: 114
Fats: 6g
Protein: 8g
Net Carbs: 7g
If you don't like sauteing zucchini because they always turn out soggy, then this chunky side dish will be a real game-changer for your Keto cooking adventures.
The key to perfectly tender zucchini is to remove the seeds and chop into larger pieces. Another tip is to leave the skin on. Not only does it prevent mushiness, but it is also packed in nutrients.
Now that sogginess is out of the way, you can add a generous tablespoon of butter and your favorite seasonings. Don't forget about garlic, because the deep fragrance makes all the difference.
Per Serving:
Calories: 98
Fats: 7g
Protein: 3g
Net Carbs: 6g
If you haven't tried Brussels Sprouts from the microwave before, now is your chance to catch up. With this simple yet scrumptious recipe, you can have a delicious side in just 10 minutes.
All you need is a steamer, or even a large microwave-safe bowl, and microwave until super tender.
This recipe uses a single tablespoon of butter and just salt and pepper, but feel free to add your favorite spices to adjust the seasoning to your taste.
Perfect with meat-based dishes, these are probably the easiest-to-make Brussels Sprouts that taste amazing.
Per Serving:
Calories: 67
Fats: 3g
Protein: 3g
Net Carbs: 5g
Frozen green beans popped in the Air Fryer and sprinkled with garlic powder and some olive oil for a simple and perfectly cooked side dish.
The key is to cook them in a single layer and avoid overcrowding, for equal doneness that will please your taste buds.
If you prefer a somewhat charred bite, make sure to let them cook for longer than 12 minutes.
For the real cheese fans (raising my hand here!), feel free to top these green beans with Parmesan cheese just before serving for a flavor infusion that never disappoints.
Per Serving:
Calories: 19
Fats: 2g
Protein: 1g
Net Carbs: 0g
It doesn't get any more vegetable side than this green lettuce salad with radishes and avocados. So healthy and nutritious, this is the perfect balance to offer your fatty meat dinners.
With a creamy, tangy, and finger-licking lemon and Dijon dressing, this crisp and lively salad offers nothing but a fresh taste.
The main star of this salad is butter lettuce, but it can easily be substituted with romaine lettuce, or any other salad green, for that matter.
Per Serving:
Calories: 276
Fats: 29g
Protein: 2g
Net Carbs: 2g
Red potatoes may not be on your Keto table anytime soon, but these healthy radishes will bring you the same level of satisfaction. Without all the carbs, of course!
Tossed with some lemon juice, garlic, and Italian seasonings, these nutritious chunks offer a flavorful punch, too.
Crispy around the edges and with a soft inside that basically melts in your mouth, I bet you cannot find a better way to prepare these red and white root veggies.
High in fiber and low in carbs, this will become one of the most popular mock-potato side dishes on your Keto diet.
Per Serving:
Calories: 55
Fats: 4g
Protein: 1g
Net Carbs: 3g
If you're into green salads like me, then trust me, this wonderful bowl of greens will taste like sunshine.
Chopped broccoli with crunchy pine nuts, dressed in a sweet and spry lemony vinaigrette; this salad is dangerously addictive.
For the freshest of taste, top with chopped mint, a handful of raspberries, and lemon slices.
And if you appreciate a cheesy bite, then some crumbled feta on top would definitely round out the flavor.
The deep roasted flavor paired with the tangy dressing is everything you're looking for in a nutritious veggie bowl.
Per Serving:
Calories: 198
Fats: 17g
Protein: 4g
Net Carbs: 3g
Sometimes, you just cannot afford the risk of experimenting with flavors. If you're looking for a safe low-carb side dish, then you can never go wrong with well-seasoned roasted broccoli florets.
Simply drizzling with olive oil and sprinkling with your favorite spices is all it takes for this simple veggie to take on a deeply satisfying umami and spicy flavor.
The recipe uses paprika and garlic powder, but feel free to add or omit according to taste. Chili and onion powder are some other nice options.
If you want your florets to offer a crispier bite, place them under the broiler for a couple of minutes at the end of the roasting.
Per Serving:
Calories: 123
Fats: 9g
Protein: 4g
Net Carbs: 6g
Sauteed peppers and onions is a versatile dish that pairs well with anything, which makes it great for vegetarians and meat lovers both. In short, it is a side that pleases the whole family.
This recipe uses only yellow and red bell peppers, but to add more color, feel free to use green peppers, too.
The onions and peppers are dressed in a spicy vinaigrette with jalapenos chili. So if you had a Mexican-themed dinner in mind, this side will be a great fit on your table.
There's nothing I'd love more than to match these lovely sauteed veggies with some sloppy Joes!
Per Serving:
Calories: 221
Fats: 19.4g
Protein: 1.9g
Net Carbs: 9.8g
Lemony eggplants with soy sauce and tons of seasonings for a truly flavorful side dish that is low in carbs.
For a fail-proof dish, fry these spicy eggplant slices in the Air Fryer, and an equally crispy dish will be served every time you're in the mood for this meaty veggie.
For a golden color and tender texture, make sure to turn the eggplants once halfway through.
Although these fried rounds will be great alongside your main dish, I have to admit that these taste insanely good as an appetizer, sprinkled with some lemon juice and dipped with Tzatziki sauce.
Per Serving:
Calories: 87
Fats: 5g
Protein: 2g
Net Carbs: 6g
What is the first thing that comes to your mind when you think of a refreshing salad? Cucumbers? Dill? Lemon? Sour Cream? Because this salad has all those things, plus more!
These sliced cucumbers offer crunchy bites in a sea of creamy sour cream dressing. Add some mayo, garlic, and Dijon, and you better make a double batch if you want to enjoy some.
Otherwise, you can just watch your guests devour it in an instant. And asking for more.
For some more texture and a chewy bite, make sure not to peel the skin. Also, if you want it lighter, use Greek yogurt instead of sour cream.
Per Serving:
Calories: 102.3
Fats: 9.2g
Protein: 1.2g
Net Carbs: 4.2g
Keto Mexican Sides
If serving a Mexican entrée, then you better pick some of the ultimate four Keto Mexican side dishes below. Yes, they are dangerously tasty!
With only a handful of ingredients and five minutes of prep time, this easy and budget-friendly homemade guacamole will beat any store-bought version any time.
With avocados, jalapenos, cilantro, lime, and red onions, this tasty dip contains all of your beloved Mexican flavors.
And with just 2 grams of net carbs, this will be the best guilt-free pleasure you've tasted on your Keto diet so far.
Served with low-carb fajitas, this guacamole will show you what pure satisfaction tastes like.
Per Serving:
Calories: 86
Fats: 7g
Protein: 1g
Net Carbs: 2g
This yellow squash with tomatoes drowned in a creamy mayo and sour cream will become one of your favorite casseroles to whip up for your Keto-following family.
Plus, if you love cheese, then this melty bake surely belongs on your Mexican sides list. Just make sure to use a sharper kind such as cheddar, and an explosion of flavors is guaranteed.
The squash is sliced into somewhat thicker slices for a real bite. However, if you feel like enjoying it with a spoon, make sure to dice up finely and mix everything well together.
Per Serving:
Calories: 248
Fats: 21g
Protein: 8g
Net Carbs: 7g
If you haven't tried pickled avocados before and are following a Ketogenic diet, then you definitely need to give this delight a shot, as soon as possible.
Avocados are not only a Keto staple thanks to their low-carb content and tons of healthy fats, but they also make one delicious snack. Or side, in this case.
Pickled avocados are quick, simple, but super spicy and enjoyable. With vinegar, some sweetener, and chili flakes, you can make yourself the perfect high-fat condiment for your Keto dishes.
Per Serving:
Calories: 115
Fats: 10g
Protein: 1g
Net Carbs: 1g
Looking for a side dish to serve in addition to your Keto tacos or enchiladas? Well, this avocado, cucumber, and tomato salad is fresh, light, and just made for your classic Mexican flavors.
With only five ingredients and a quick prep time, this recipe is a healthy side to put on your busy weeknight dinner table.
Just chop everything up, top off with some olive oil and balsamic vinegar, and dig in!
Per Serving:
Calories: 205
Fats: 17g
Protein: 3g
Net Carbs: 7g
Are Pickles Keto?
Pickles can be the perfect snack or add-in to your Keto meals, as they are low in carbs and will not disrupt your ketosis.
However, keep in mind that some pickle brands have added sugar, so always make sure to read the label before purchasing.
As in other keto-friendly food, be moderate with pickles, as well. While they are low-carb, excessive amounts can still push you over your carb limit.
Is There a Keto-Friendly Rice?
The most popular Keto rice swap has to be the cauliflower version. Cauliflower is processed into tiny rice-sized bits, and then steamed or fried, and consumed just like its carb-loaded lookalike.
But it is not the only keto rice option!
Another popular substitute is konjac rice. Made with only 3% Konjac plant fiber and containing a whopping 97% water, konjac rice is another healthy rice alternative and a Japanese staple.
Can You Have Hummus on Keto?
Hummus is not really keto-friendly, as it is made with chickpeas, which are high in carbohydrates.
Although a couple of tablespoons would provide about 5 grams of net carbs and won't hurt, consuming traditional hummus when following a Ketogenic diet is not recommended.
For a keto version, try making your own hummus without legumes but with cauliflower, tahini, and your favorite spices, instead.
41 Best Keto Side Dishes (Easy & Delicious)
On a ketogenic diet? These Keto Side Dishes will make for a wonderful addition to your favorite keto dinners. Easy to make, flavorful, and delicious.
Ingredients
1. Keto Chicken Salad
2. Cauliflower Potato Salad
3. Air Fryer Zucchini Fritters
4. Crispy Baked Zucchini Slices
5. Broccoli Salad
6. Cauliflower Kale Tots
7. Roasted Cauliflower Mac and Cheese
8. Egg Salad
9. Loaded Cauliflower
10. Easy Grits
11. Shredded Brussels Sprouts
12. Riced Cauliflower Stuffing
13. Healthy Zucchini Tomato Bake
14. Low Carb Cornbread
15. Creamy Cauliflower Casserole
16. Cheesy Oven Roasted Cauliflower Steaks
17. Roasted Spaghetti Squash
18. Cauliflower Mashed Potatoes
19. Instant Pot Brussels Sprouts
20. Cauliflower Mushroom Risotto
21. Caprese Stuffed Baked Portobello Mushrooms
22. Parmesan Zucchini Noodles
23. Georgian Stuffed Mushrooms
24. Spaghetti Squash Mac and Cheese
25. Creamy Basil Mushrooms
26. Buttered Instant Pot Cabbage
27. Air Fryer Asparagus
28. Sauteed Zucchini
29. Microwave Brussels Sprouts
30. Air Fryer Green Beans
31. Butter Lettuce Salad with Lemon Dijon Dressing
32. Air Fryer Radishes
33. Roasted Broccoli Salad with Lemon Vinaigrette
34. Oven Roasted Broccoli
35. Sauteed Peppers and Onions
36. Air Fryer Eggplants
37. Cucumber Salad
38. Adobo Guacamole
39. Squash Casserole
40. Pickled Avocado
41. Avocado Salad
Instructions
Scroll up to get a bunch of easy, yummy, and delicious side dishes. Don't be afraid to get creative with the ingredients, you might discover a flavor you didn't know you liked.
Get your shopping list going and make sure you've got all the ingredients.
Get cooking and make your next Keto Side Dish!
Notes
Which one of these recipes was your favorite? Let me know in the comment section or on Pinterest!