This keto chicken and broccoli stir fry is sweet and umami. A tasty, flavorful dish for Asian cuisine lovers. On top of it, it has just 9g of net carbs per serving.
In the mood for a sticky garlic and ginger sauce? This Keto Chicken and Broccoli Stir Fry is going to hit the spot!
Yes, you can still do sticky sauces on keto, so read on and get ready; the taste is on the way.
Stir-fried chicken and broccoli, smothered in a sticky sauce and topped with sesame seeds, may conjure up some tastes of a Chinese Takeaway. But this one is keto and good for you.
With a Takeaway, you can never be sure exactly what ingredients have been used, so if you are following a keto plan and you need to keep an eye on your net carbs, it can be tricky!
Especially when some thickeners and ingredients can kick you out of ketosis.
But, there's no need to pick up the phone or order online, as this Chinese-style dish can be cooked quicker than any delivery, and your body will love you for it.
Ingredients You'll Need
Sesame oil – This has a very unique flavor that adds a lovely toasted taste to the dish. It's also full of Vitamin E and can help with balancing hormones, so it's a worthwhile ingredient to have to hand.
Olive oil – Don't go mad and use the extra-virgin variety, as you are going to be cooking with it and mixing with the stronger flavored sesame oil.
Chicken breasts – Use free-range and organic for this dish, if you can, as it will provide the best texture and flavor for this dish. You could use chicken thigh meat, or turkey breast too for this recipe.
Broccoli – Fresh and green, try and use broccoli quite soon after purchasing as it does lose its nutritional values the longer it sits.
Sauce
Chicken broth – You can use homemade or a good quality stock cube here. Low sodium is good if you need to watch your salt.
Soy sauce – Any variety would be good here but look for low salt and sugar if you can, as these are far better for keto. You could even use a substitute, like coconut aminos, if you would rather.
Erythritol – This sweetener is great for keto as it won't affect your carb levels like regular sugar can. You can use other keto sweeteners, too, like stevia, but check your package for a conversion as they all have different sweetness levels.
Garlic – Fresh garlic is best, but the pre-minced variety or paste can be used here.
Ginger – This root is utterly delicious and really sends your taste buds to Asia, so use fresh if you can!
Xanthan gum – This is the perfect thickener for keto and removes the need to use flour. You can omit if you like, but your sauce won't be quite as thick and sticky.
Sesame seeds – These nutty little seeds add a great crunch to the dish. You could use another seed or chopped nuts if you like, but these do go particularly well with this recipe.
How to Make Keto Chicken and Broccoli Stir Fry
First, add the sesame oil and olive oil to a skillet. Turn up the heat to medium-high.
Add the chicken pieces to the skillet and stir into the oil, coating well.
Cook for 7-10 minutes, or until the chicken is golden brown and cooked through.
Remove from the chicken from the skillet and keep warm.
In a bowl, mix the chicken broth, soy sauce, erythritol, garlic, ginger, xanthan gum, and sesame seeds.
Now, add the broccoli to the skillet and cover with a lid, or a little baking foil, to help start steam the florets.
You're going to want to cook for 5 minutes, or until broccoli is soft.
Return the cooked chicken back to the skillet.
Next, pour the sauce we've mixed together all over the chicken and broccoli and stir well.
Keep cooking until the sauce coats the chicken and broccoli and has thickened.
When the chicken and broccoli are soft and coated in the sauce, divide between plates or bowls.
Sprinkle with some extra sesame seeds if you like, just before serving.
Can You Have Soy Sauce on Keto?
Yes, soy sauce can be enjoyed on keto but be warned!
Some soy sauce products contain lots of sugar and, therefore, carbs, which can affect your overall levels. The sweetened versions of soy sauce should be avoided!
Soy sauce is high in salt, too, and if you need to keep an eye on this, it's worth finding a low sodium variety. However, it's worth noting that when following a keto diet, your body may need some extra salt anyway, as this mineral can be depleted on keto, giving some unpleasant symptoms of 'keto flu".
A great product to use instead of soy sauce is coconut aminos, and many keto lovers use this instead. It has gone through minimal processing compared to soy sauce and contains no MSG or phytoestrogens that some worry about when consuming soy.
Coconut aminos are also packed with 17 amino acids, potassium, and Vitamins B and C, so perhaps it's worth looking at if you haven't come across it yet.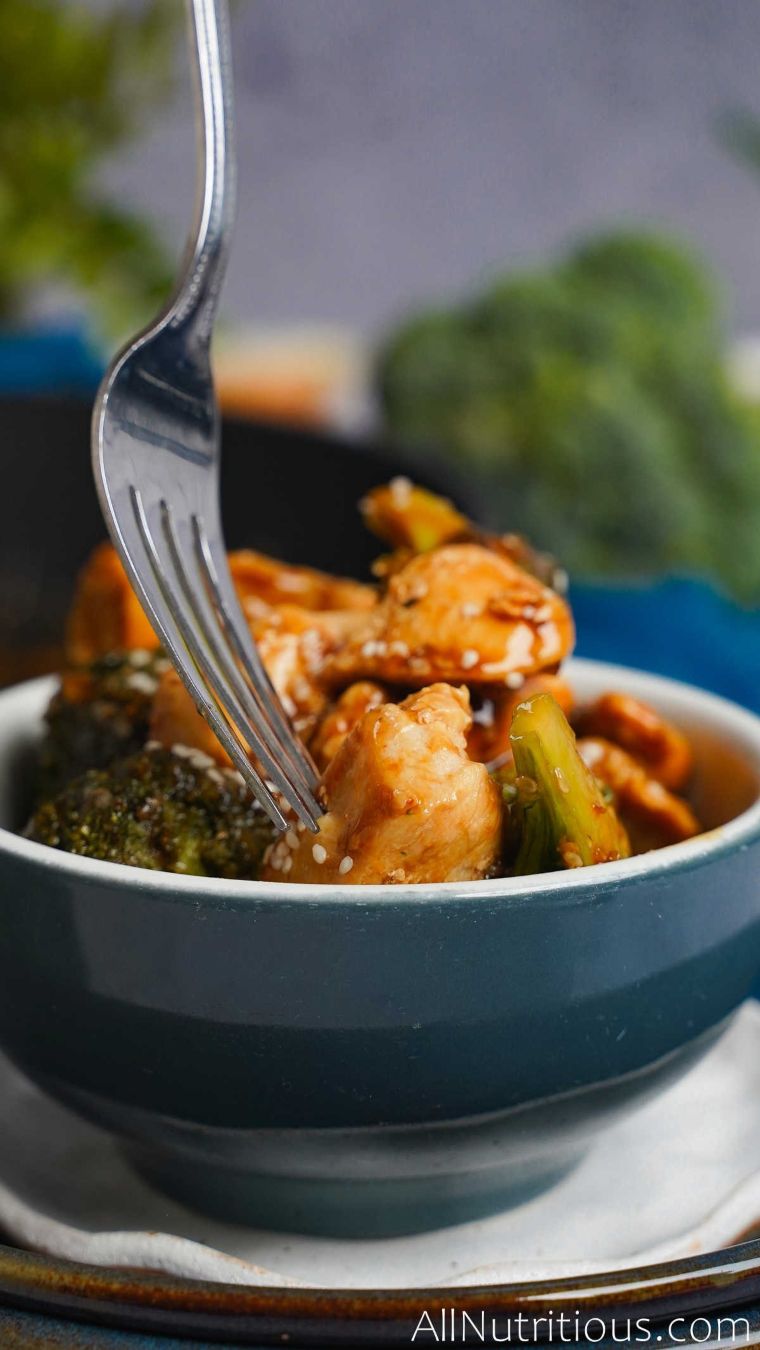 What Sides You Can Have with This Keto Stir Fry
One of the best sides for this Chicken and Broccoli Stir Fry are noodles! Yes, you can use keto noodles!
You can make your own noodles from spiralized zucchini or buy them if you don't have a spiralizer. It's an easy thing to do, though, and if you are missing your pasta or noodles, it can be a great filler.
This spiralizer is excellent as it has many attachments for different results, but there are other designs.
You could use shirataki noodles too. These noodles are made from a root vegetable from Japan that has a very low carb count. It can act quite similar to noodles, so it's another option if you are following a keto diet.
You could add some steamed spinach, kale, or cabbage as these would also go well as a side with the tasty garlic and ginger sauce.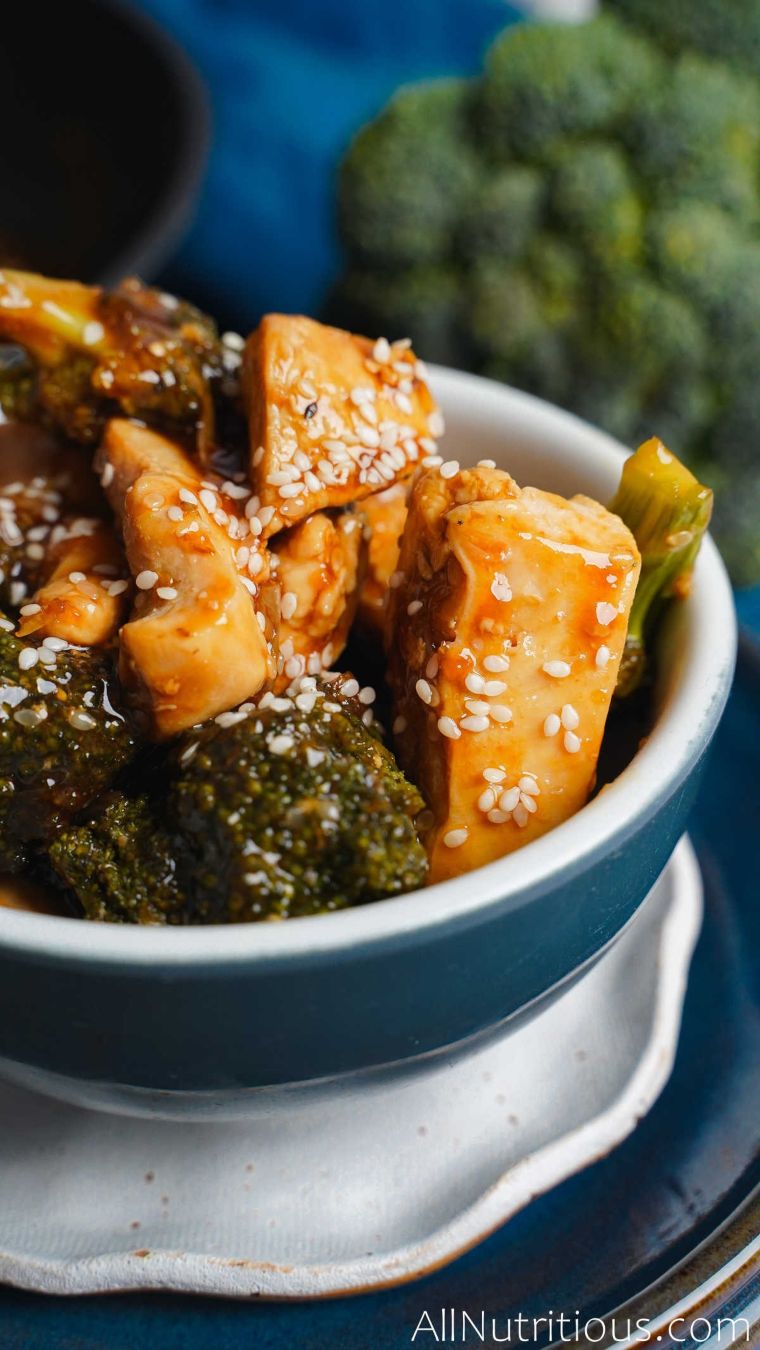 Other Recipes You Might Like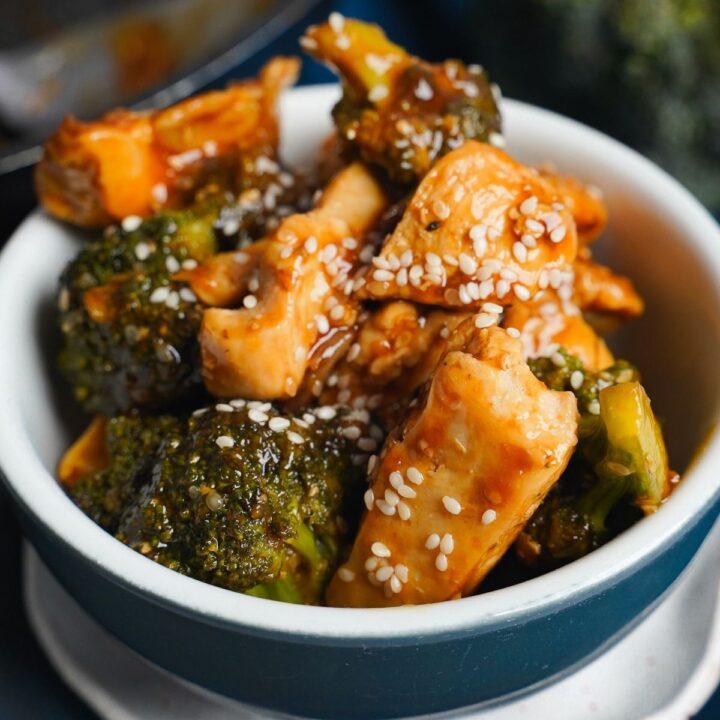 Keto Chicken and Broccoli Stir Fry With Sesame Seeds
Bring in the Asian flavors into your kitchen with this keto chicken and broccoli stir fry. It's a flavorful, umami meal that will keep you in ketosis.
Ingredients
1 tsp sesame oil
1 tbsp olive oil
1 lb chicken breasts (skinless, boneless, cut into strips)
3 cups broccoli florets
Sauce
¼ cup Chicken broth
½ cup Soy sauce (low sodium)
3 tbsp erythritol
4 cloves garlic (minced)
1 tsp ginger (grated)
¼ tsp xanthan gum
1 tbsp sesame seeds
Instructions
Add sesame oil and olive oil to a skillet and heat up to medium-high heat.
Add the chicken to the heated skillet and cook for 7-10 minutes until the chicken is brown and cooked.
Remove the chicken from the pan and add in the broccoli florets, reduce the heat, cover and let the broccoli steam until it's cooked.
Add the chicken back to the skillet.
In a separate bowl, mix all the sauce ingredients.
Pour the sauce all over the chicken and broccoli and stir it in.
Cook until the sauce coats the chicken and broccoli.
Sprinkle with sesame seeds before serving.
Nutrition Information:
Yield:

3 bowls
Serving Size:

1 bowl
Amount Per Serving:
Calories:

318
Total Fat:

12g
Saturated Fat:

1.9g
Trans Fat:

0g
Unsaturated Fat:

2.4g
Cholesterol:

111mg
Sodium:

1713mg
Carbohydrates:

12g
Net Carbohydrates:

8.9g
Fiber:

3.1g
Sugar:

1.9g
Protein:

41g
Nutritional values were obtained with automatic software using the amounts of products used. To get the most accurate representation of the nutritional values, you should calculate them with the actual ingredients used in your recipe. You are solely responsible for the nutritional information obtained to be accurate.