Sometimes you just need a quick meal. These keto one-pan meals are rich in flavors, nutritious, and low in carbs.

I live a very busy life, as I'm sure you do too. So, the idea of making dinner at the end of the day can be quite stressful.
Add to that, all the pots and pans you have to wash. It's enough to make you want to curl up in a ball and just order takeout.
But takeout gets pretty expensive and is not always healthy. Particularly if you're on a keto diet.
So, I have the perfect solution for you- one-pan meal ideas!
Today, I'm sharing 20 Keto One-Pan Meal Ideas. They'll help keep you in ketosis and save you time as well.
1. Keto Teriyaki Chicken With Sesame Seeds
Credit: allnutritious.com
In the mood for some yummy Chinese takeout, but afraid of all the added sugars in the sauces? Then give my keto teriyaki chicken a try!
It's tender and juicy and packed with umami flavor, with sweet and spicy notes. And because you're not using brown sugar or honey to sweeten it, it has only 4.4g of net carbs per serving.
Topped with sesame seeds for crunch and sliced green onions for garnish. It's as beautiful to look at, as it is to eat.
The key to it being low carb is that you use erythritol to sweeten it. Erythritol is one of the best all-natural sweeteners on the market. It tastes just like sugar, and it doesn't leave a bitter after taste, like some other sweeteners. If you would like to give it a try, you can find some here.
Best of all, this dish takes only 21 minutes to make. So, it's even faster than takeout.
Serve with some delicious cauliflower fried rice.
Per Serving:
Calories: 434
Fats: 26g
Net Carbs: 4.4g
Protein: 47g
2. One-Pot Cheesy Taco Skillet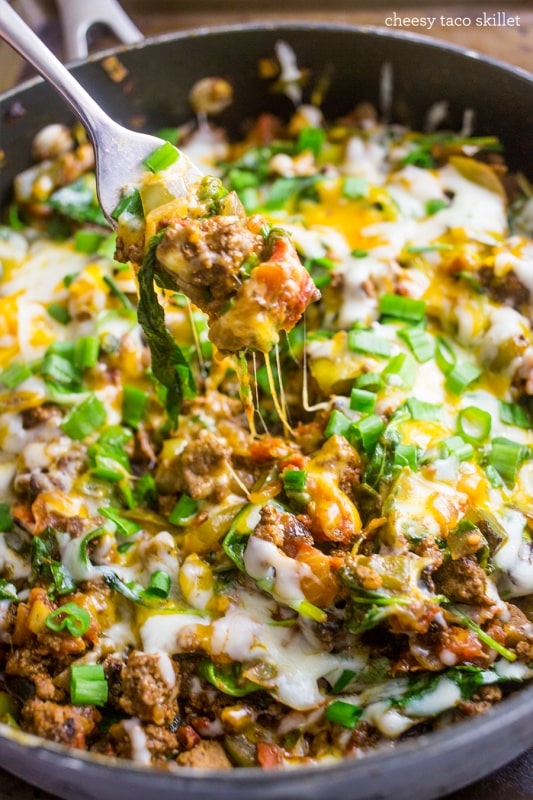 Credit: sweetcsdesigns.com
What's better than a one-skillet meal? A cheesy one-skillet meal!
This skillet meal is packed with tons of ooey gooey cheese and perfectly browned ground beef. The diced tomatoes with green chilies and taco seasoning add a Mexican flare and some heat.
And if you look closely, you'll see some bell peppers, baby kale, and spinach. So, it's perfect for sneaking in veggies to your kids. Ha!
And it takes only 20 minutes to make this scrumptious dish. So, you can spend less time in the kitchen, and more time relaxing.
Now, this dish uses beef, which has a high carbon footprint. To reduce your carbon footprint, you can eat this dish less often or use ground chicken or turkey and add extra cheese to up the fat content.
Check out more keto meals you can make in under 30 minutes!
Per Serving:
Calories: 341
Fats: 20g
Net Carbs: 8g
Protein: 30g
3. Chicken and Mushroom Casserole
Credit: sugarfreemom.com
Do you hate dry chicken? Me too!
This chicken is anything but dry. It is succulent and moist on the inside, with a beautiful sear on the outside.
All bathed in a creamy, mushroom sauce.
Besides being delicious, it is nutritious as well. It is a good source of vitamins A and C, which you need for healthy peepers and to fight colds.
The key to the beautiful sear is using a cast-iron skillet. Cast iron skillets not only brown your chicken evenly, but they also cook your food evenly, so you don't have some pieces of burnt chicken and other pieces of undercooked chicken. If you're in the market for a new cast-iron skillet, there is a great deal on this one here.
And you won't be slaving in the kitchen for this beauty of a meal. All it takes is 30 minutes, and dinner is served.
Check out more keto casserole recipes here.
Per Serving:
Calories: 400
Fats: 29g
Net Carbs: 4g
Protein: 27g
4. One Pan Keto Cheesy Jalapeño Chicken
Credit: maebells.com
Are you feeling stressed and need some relief? This dish is sure to cheer you up!
The cream cheese and cheddar cheese make it extra creamy. While the jalapeno peppers are sure to wake up those taste buds.
And the juicy chicken breasts are packed with B vitamins that are sure to boost your mood.
The best part? It takes only 16 minutes to whip up this amazing, comforting dish. So, dinner is ready in 1, 2, 3.
Serve with some steamed broccoli or cauliflower.
Need more chicken recipe ideas? Check out these keto chicken meals here.
Per Serving:
Calories: 425
Fats: 26.5g
Net Carbs: 4.3g
Protein: 40.3g
5. Cheesy Taco Cabbage Skillet
Credit: thebestketorecipes.com
Do you have some extra cabbage on hand, and want to make something besides coleslaw? Make this cabbage skillet!
It's brimming with ground beef and cheese. The jalapeno pepper and green chilies add heat, while the cabbage adds freshness.
It also packs a ton of nutrition. Besides being an excellent source of vitamins K and C, cabbage contains antioxidants that help fight inflammation.
Like your food spicier? Feel free to use Monterey Jack cheese instead of cheddar cheese.
This skillet dish is another time-saver. Since it takes only 20 minutes to cook from scratch, it's one of those meals you'll want to have on your weekly rotation.
Per Serving:
Calories: 277
Fats: 13.1g
Net Carbs: 5.7g
Protein: 32.5g
6. Creamy Broccoli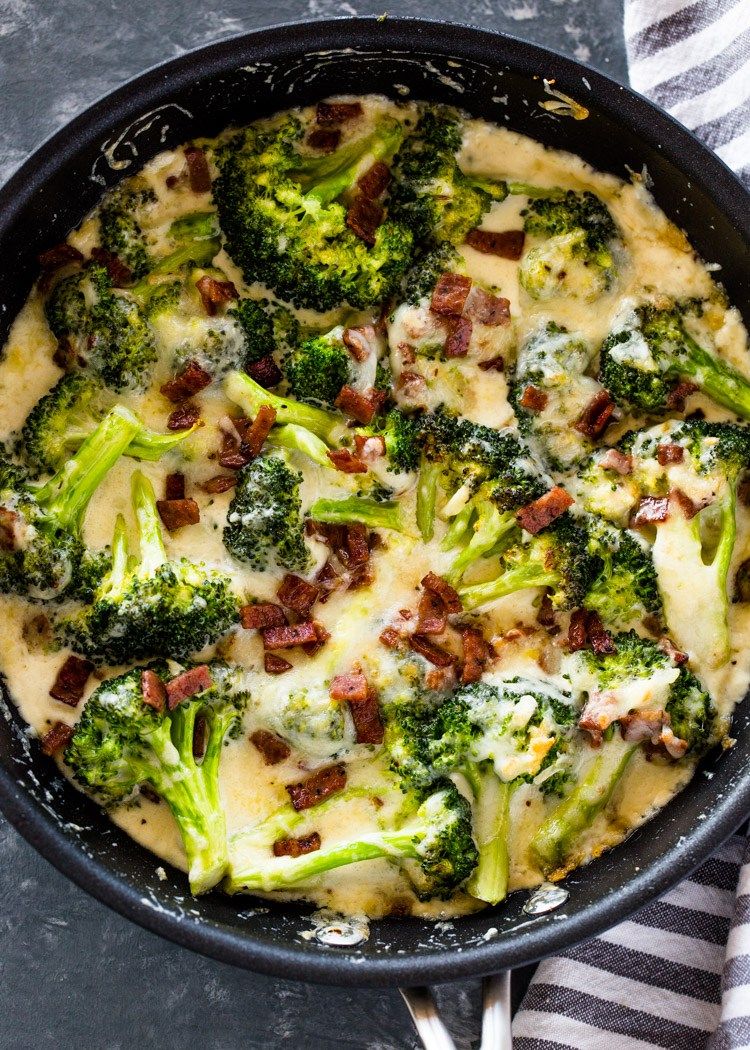 Credit: gimmedelicious.com
Now, for some more veggies… We all need a bit more veggies in our life, right?
But, as much as veggies are good for us, who's going to eat them if they taste like grass? Not me, for one!
This broccoli is not like your momma used to make it. It's crunchy and nicely caramelized, so tastes sweet.
It's also swimming in a heavenly garlic and cream sauce. It will have your kids saying "More please!"
The best part is that it's topped with crispy pieces of bacon. And who doesn't love bacon?
The second best thing, it takes only 20 minutes to cook. So, you won't have long to feed those growling tummies.
Per Serving:
Calories: 341
Fats: 31g
Net Carbs: 7g
Protein: 9g
7. One-Skillet Chicken and Asparagus
Credit: kaseytrenum.com
Here's another one-skillet meal that includes veggies. With all the germs in the air, it's so important to get those vitamins!
On the menu tonight are tender, juicy chicken breasts. All in a perfectly seasoned, creamy garlic cheese sauce.
The Italian seasoning nicely complements the asparagus. You'll be smacking your lips in delight.
Asparagus is not only tasty but good for you too. The asparagus contains fiber that is great for your digestion.
It also contains potassium, which helps lower your blood pressure. So, eat up that asparagus!
With a tasty sauce like this, you'll not only eat up your asparagus. But, lick your plate as well.
This recipe could do for a great ketogenic lunch.
Per Serving:
Calories: 435
Fats: 27g
Net Carbs: 4g
Protein: 41g
8. Cheesy Cabbage Sausage Skillet
Credit: castironketo.net
Do you love sausage? Then you'll love this winning combination!
After all, sausages go with bell peppers and onions. Just like peanut butter goes with jam.
The cabbage adds some extra freshness and nutrition. And the bubbly cheese- well, everything is better with cheese, right?
Now, this dish makes 6 servings, so you'll need a cast-iron skillet that is at least 10.5 inches long. I recommend this high quality 12.5 inch cast iron skillet here.
And to keep your leftovers fresh longer, be sure to pack them in BPA-free glass storage containers like these. That way, you don't have to worry about toxic chemicals leaching into your food.
Per Serving:
Calories: 377
Fats: 28.7g
Net Carbs: 6.7g
Protein: 21.7g
9. Pork Chop with Mushroom Cream Sauce
Credit: mymontanakitchen.com
I love chicken, as I'm sure many of you do too. But, after a while, the chicken gets boring, and it's time to change things up.
And these pork chops definitely make a nice change. They are juicy and tender, and the sear on the outside? Perfect!
But, it is the homemade cream of mushroom sauce that truly makes this dish. That's because you make the sauce using pork fat drippings.
So, it tastes much better than canned cream of mushroom sauce. It simply doesn't compare.
Serve with a nice cauliflower mash or steamed broccoli.
Per Serving:
Calories: 556
Fats: 41g
Net Carbs: 3g
Protein: 44g
10. Tuscan Chicken With Sun-dried Tomatoes and Creamy Garlic Sauce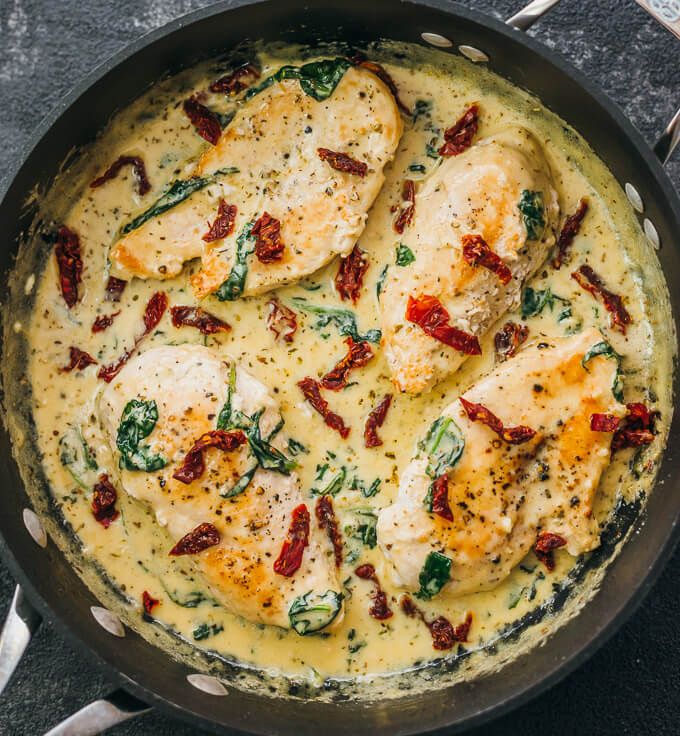 Credit: savorytooth.com
Do you dream of warmer climes? Then, it's time to cook this Italian-inspired dish.
It is super flavourful thanks to ingredients like sun-dried tomatoes, oregano, and finely grated parmesan cheese. The wilted spinach adds freshness and nutrition as well.
Meanwhile, the chicken is nice and golden. You'll think you're eating at an Italian fine dining restaurant.
You'll want something to mop up the delicious, creamy garlic sauce. Mashed cauliflower is an excellent choice.
Per Serving:
Calories: 780
Fats: 53g
Net Carbs: 6.5g
Protein: 63g
11. Bacon Cheeseburger Skillet
Credit: thebestketorecipes.com
What's better than a cheeseburger? A bacon cheeseburger!
You've got sizzling, hot bacon, and ground beef and onions cooked in bacon grease. On top of that you have a creamy, cheesy sauce with a hint of heat from the mustard.
You'll want to eat it right out of the skillet. You definitely won't miss the bun.
In the last 7 minutes of cooking, you'll need to have your skillet covered. So, make sure you have a cast-iron skillet that has a lid. If you don't have one, you can get one here.
Serve with Garden salad or zucchini fries.
Per Serving:
Calories: 423
Fats: 27.2g
Net Carbs: 4.8g
Protein: 25g
12. Sesame Chicken and Broccoli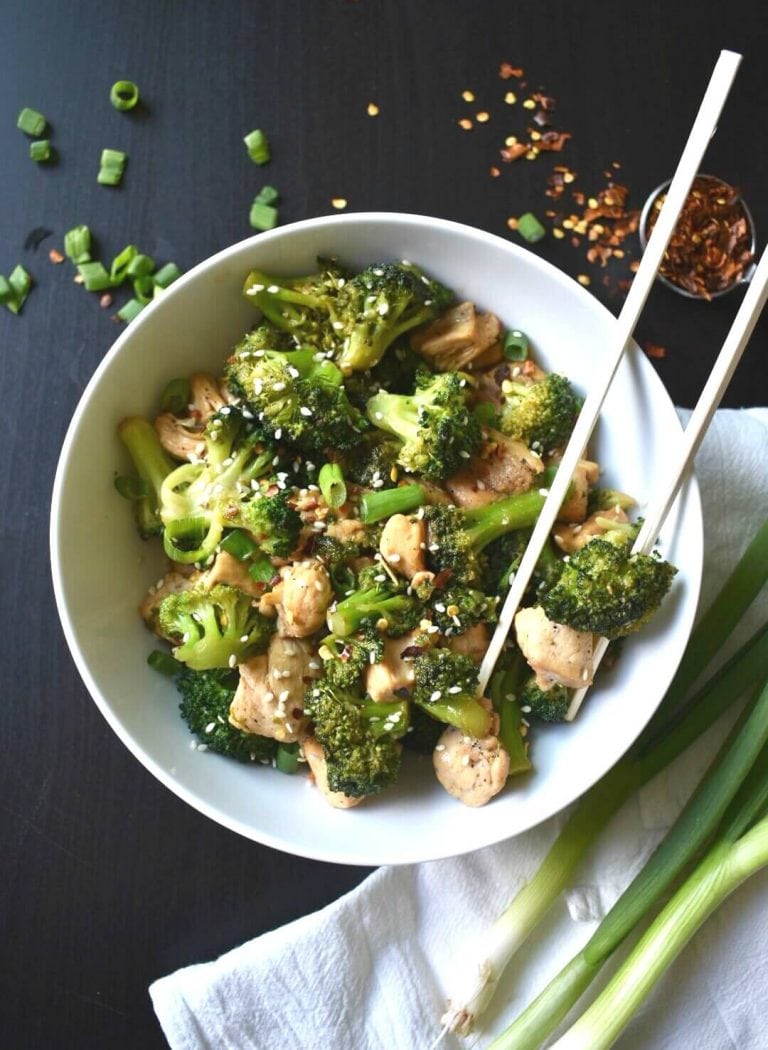 Credit: peaceloveandlowcarb.com
Chinese food is so tasty, but it can be quite high in sodium. And this can be a problem if you need to watch how much sodium you're eating.
This sesame chicken is packed with umami flavor with hints of sweetness. The broccoli adds color, freshness, and antioxidants to boot.
To get umami flavor in Asian dishes, soy sauce is often used. However, soy sauce is full of sodium.
One tablespoon of soy sauce contains 879 mg of sodium. That is almost 40% of the recommended sodium intake.
Instead of soy sauce, you'll be using coconut aminos to get a nice umami flavor. Coconut aminos contain 70% less sodium than soy sauce. As a bonus, they also give a nice sweetness to your dishes. If you're looking for a low sodium alternative to soy sauce, you can get some here.
This dish is great on its own. Or you can serve it with some cauliflower fried rice.
Per Serving:
Calories: 204
Fats: 6.1g
Net Carbs: 4.9g
Protein: 30g
13. Chicken Thighs with Creamed Spinach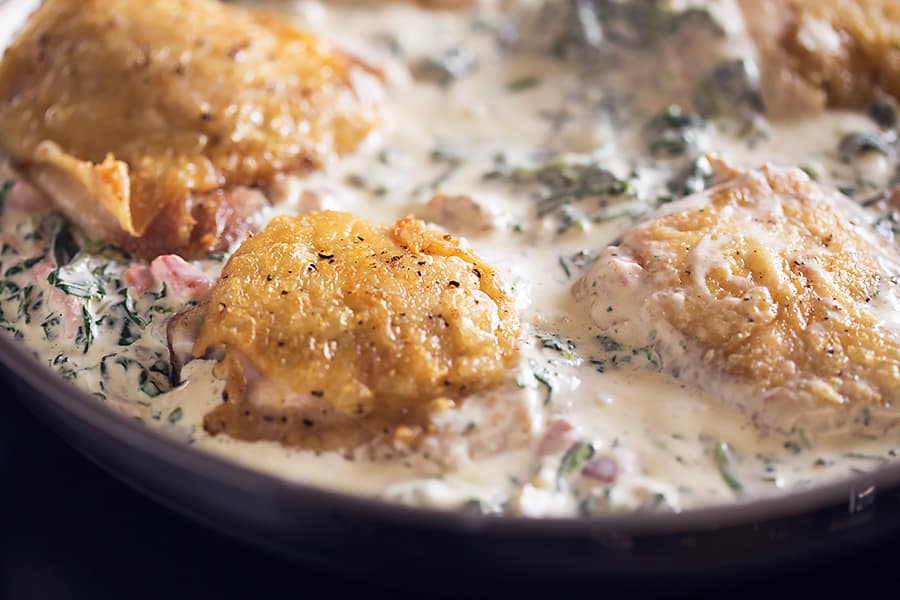 Credit: jenniferbanz.com
Do you prefer chicken thighs? Then, this recipe is for you.
You've got crispy, nicely seasoned skin-on chicken thighs fried to perfection. The cream cheese, mayonnaise, sour cream, and parmesan cheese make this sauce extra creamy and cheesy.
Meanwhile, the Rotel tomatoes add some tang and heat. So, the sauce is perfectly balanced.
And the spinach adds some freshness and extra nutrition too. Gotta love it when nutrition and taste are bang on.
To get the perfect fried chicken, you want to make sure the oil is hot. If it's not, you'll end up with soggy fried chicken. Yuck!
When frying the chicken, you're going to have quite a lot of splatter. To prevent the oil from splattering on your stove, you can just use a splatter screen like this.
Serve over a bed of zucchini noodles.
Per Serving:
Calories: 368
Fats: 28.9g
Net Carbs: 6.5g
Protein: 17.1g
14. Creamy Mustard Pork Chops with Sauteed Vegetables
Credit: 730sagestreet.com
Many people have a love-hate relationship with pork chops. And for a good reason.
You can easily overcook pork chops. So, they look and taste like rubber hockey pucks.
These pork chops are cooked just right. They're juicy on the inside and nicely browned on the outside.
The creamy mustard sauce is the icing on top of the cake. The Dijon mustard adds a nice heat, while the zucchini and yellow squash add color and freshness.
Meanwhile, the chicken bone broth not only adds flavor but helps your gut as well. It may even help you lose weight because it contains gelatine that helps you feel full. If you'd like to give chicken bone broth a try, you can find some here.
Per Serving:
Calories: 408
Fats: 28g
Net Carbs: 4g
Protein: 33g
15. Buttered Cod
Credit: valentinascorner.com
Are you getting tired of eating meat? Take a break with some seafood!
This cod cooked in butter and herbs is fall-off-your-fork flaky. The tender morsels will keep you coming back for more.
Besides being yummy, cod is good for you too. It is rich in phosphorus and selenium, a powerful antioxidant.
So you can feel good knowing that you're doing your body a world of good. Best of all, this dish takes only 10 minutes to make, making it perfect for those hectic weekday evenings.
Per Serving:
Calories: 294
Fats: 18g
Net Carbs: 3g
Protein: 30g
16. Salmon in Roasted Pepper Sauce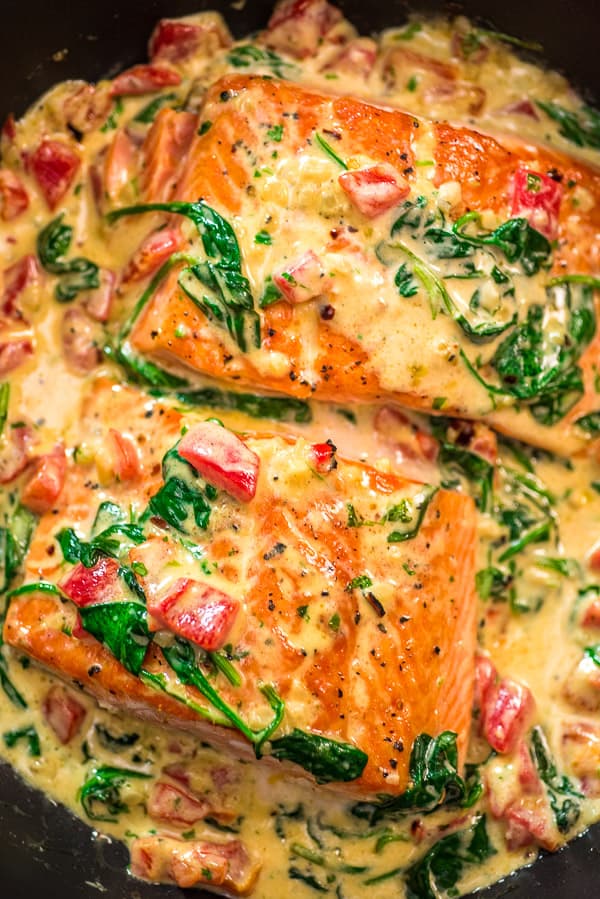 Credit: cooktoria.com
Do you love seafood? Here is another recipe for the seafood lover in you!
Salmon is another one of those proteins that is easy to overcook. However, this salmon is cooked just right.
It is flaky and tender on the inside and has a nice sear on the outside. And the creamy cheese roasted red pepper sauce? Lip-smacking good!
The wilted baby spinach adds tons of nutrition. And don't forget the salmon-it contains tons of brain-boosting Omega-3s. Here is another keto salmon recipe you might like.
Per Serving:
Calories: 572
Fats: 35g
Net Carbs: 7g
Protein: 43g
17. Dirty Cauliflower Rice Recipe with Ground Meat
Credit: joyfilledeats.com
Do you have a hankering for rice? Try dirty cauliflower rice!
Dirty cauliflower rice is the keto version of dirty rice. Dirty rice, if you don't know, is a Cajun dish made from rice.
It is called dirty because the rice becomes "dirty" from it getting cooked with pieces of meat such as chicken, beef, or pork.
This dirty cauliflower rice is packed with flavor as you use 8 different spices. Spices that you probably already have in your pantry.
You mix your ground beef in those spices and then brown your meat in some fat. For this dish, you use avocado oil or bacon drippings.
If you can, use bacon drippings. Not only will there be tons more flavor, but you also get to eat some bacon while you're cooking.
The bell peppers, onions, and celery add a nice crunch to the dish.
Spoiler alert: You'll need some frozen cauliflower rice. You can use packaged cauliflower rice, or to save money, you can make your own cauliflower rice ahead of time, place it in a freezer bag, and freeze it.
Making your own cauliflower rice is pretty easy. Just break your cauliflower into small pieces.
Then, pulse them in a food processor until they become rice-like. This food processor should do the trick.
Per Serving:
Calories: 327
Fats: 19g
Net Carbs: 7g
Protein: 27g
18. Sausage and Cabbage Skillet
Credit: maebells.com
Are you cooped up at home with the kids? Make them this dish!
It is sure to please the pickiest of eaters. After all, which kid doesn't love sausages?
As an added bonus, it has cabbage. So, it's the perfect way to get your kids to eat their veggies.
And the cabbage is really tasty because you're frying it in sausage grease and butter. Yum!
All it takes is 20 minutes to make this dish. With a dinner like this, maybe you'll be able to get your kids to clear the dishes too!
Per Serving:
Calories: 319
Fats: 27.4g
Net Carbs: 5.7g
Protein: 11.2g
19. Creamy Tuscan Chicken
Credit: thatlowcarblife.com
Here is another Tuscan chicken dish. You can never get enough Italian, right?
This one is lighter than the one I talked about previously. So, it's a good one if you're watching your calories.
You have moist, beautifully seared chicken breasts. And the sauce is heavenly.
It's a creamy garlic butter sauce with sundried tomatoes and wilted spinach. So, it not only tastes good but is nutritious too.
Sundried tomatoes are excellent sources of vitamin C. And spinach? Well, you probably grew up with your mom telling you to eat your spinach. So enough said.
Serve over a bed of zucchini noodles.
Per Serving:
Calories: 485
Fats: 32g
Net Carbs: 6g
Protein: 42g
20. Pork Chops with Garlic Butter & Mushrooms
Credit: momsecrets.co
Another thing you can't get enough of are pork chops. Particularly when they're served with garlic butter and mushrooms.
These ones also happen to be lighter than the other ones I talked about. At 300 calories per serving, they're perfect for weight loss.
These pork chops are moist and finger-licking good. The key to them being so flavourful is the rub.
You place your lightly seasoned pork chops in a rub containing sweet paprika, cumin, and olive oil. This gives them a beautiful earthy flavor.
And the homemade mushroom gravy adds extra flavor and seals in the moisture. So, your meat doesn't dry out.
Serve with some steamed broccoli or cauliflower.
Per Serving (calculated):
Calories: 304
Fats: 25g
Net Carbs: 2.3g
Protein: 18g
Conclusion
Are you going to make any of these ketogenic one-pan meals? Share them with your family and friends!