A quick one-sheet pan dinner that you can make for the whole family. It's savory and infused with butter and garlic flavors. Ready in just 20 minutes!
This Salmon and Asparagus is keto-friendly and gluten-free.
We are all looking for easy meals right now. Sheet pan dinners are some of the easiest!
These simple meals require fewer pots and pans, therefore less of a mess. What could be better?
This Keto Salmon and Asparagus dinner is a great place to start if you have not tried a sheet pan dinner. It's easy and very nutritious and great for keto meal prep.
One serving of this dinner has 38 grams of protein. There are also only 3.6 grams of net carbs.
This is a great meal for those following a Keto or other low carb diet.
One serving has only 465 calories.
Is Salmon OK for Keto?
Salmon is a fantastic choice if you are following a Keto diet. It has a high amount of fats and protein and has many other health benefits.
Salmon isn't always everyone's favorite fish. But don't knock it until you try this recipe.
You'll want to give it a shot. It's hard to pass with such a simple preparation method and flavorful butter.
There are a lot of good reasons to add salmon to your diet.
Salmon is one of the healthiest fish out there. It is low in carbs and high in the kind of fat that our bodies need.
Salmon has a good amount of Omega-3 fatty acids. That's the good kind of you definitely want to eat!
Why? Our bodies cannot produce Omega-3 fatty acids. Thus, we must rely on outside sources for this nutrition.
Why Make This Sheet Pan Salmon?
This sheet pan salmon dish is incredibly easy to make and doesn't require a lot of ingredients. Dinner will be ready in just a couple short steps.
The salmon paired with asparagus is a nutrient powerhouse. We know how great salmon is for us, but what about asparagus?
This green vegetable has a high amount of nutrients with very little calories. Asparagus has high levels of Vitamin K and folate.
How to Make Keto Salmon with Asparagus
It doesn't take much time to get everything together for this dish. The most work that you will do will be preparing the garlic butter.
Let's get started.
Ingredients:
salmon fillets
fresh asparagus
olive oil
butter
garlic
lemon juice (squeezed out of lemon)
garlic powder
onion powder
salt and black pepper
parsley
Some tips when buying salmon:
Remember a few things when shopping for salmon. The skin on or off is up to your preference.
Salmon should smell like fresh fish. The flesh should be bright pink and slightly firm.
Wild-caught Pacific salmon tends to have the most nutrients and is considered more healthy. Farmed salmon can be just as healthy as long as you do a little research.
Check the label to be sure that it's coming from an environmentally-friendly, sustainable farm.
Those that don't have that label could use antibiotics with their fish and waste to feed it.
Step-by-step by Instructions
Preheat the oven to 450F (230C). Line a baking tray with aluminum foil.
Now trim the asparagus. By trimming the asparagus, you are removing the woody, tough ends that are not edible.
You can do this with a knife or simply snapping it off. The end will snap off if you try and bend towards the bottom of the stem.
It will break right where you need it to remove the woody part.
Now it's time to make the delicious garlic butter. Melt the butter in the microwave.
In the same bowl, mix together the olive oil, melted butter, garlic, lemon juice, garlic powder, and onion powder.
Lay out the salmon fillets on the cooking tray. Lay the asparagus on the remaining space on the tray.
Try to lay the asparagus in an even layer, so they cook evenly.
Next, pour the butter evenly over the salmon and asparagus. Sprinkle the salt and pepper over everything on the pan.
Bake for 12-15 minutes. Remove from the oven when the salmon is cooked.
The salmon should be light pink and flaky. That is how you will know it is done.
Plate the salmon and asparagus. Garnish with the fresh parsley.
Serve immediately while it's nice and hot.
What is a Good Side Dish with Salmon?
Salmon pairs well with a lot of really tasty side dishes. Some healthy side dishes include:
mashed cauliflower
sauteed greens (like spinach or kale)
roasted vegetables
Salmon goes well with green vegetables. Broccoli and Brussels sprouts are just a few that are also low carb.
Other Recipes You Might Like:
Watch Full Instructions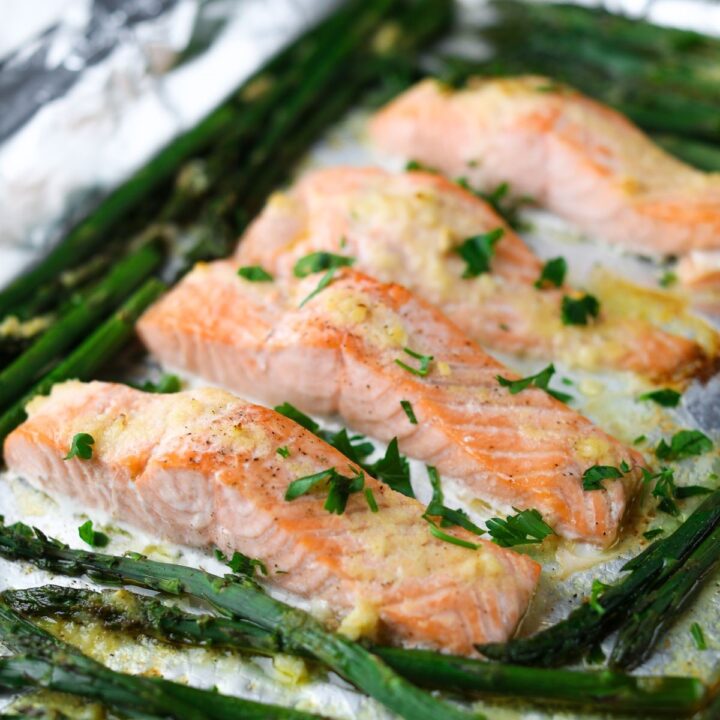 Keto Salmon and Asparagus
A one sheet pan dinner you can make in just 20 minutes. Salmon tastes amazing with the garlicky butter sauce. It's a quick keto-friendly and gluten-free meal anyone will like.
Ingredients
4 salmon fillets 4-6 ounces each
1 lb asparagus (fresh)
2 tbsp olive oil
4 tbsp butter
2 tsp garlic (minced)
2 tsp lemon juice
1 tsp garlic powder
1 tsp onion powder
salt and black pepper to taste
1 tbsp fresh parsley (chopped)
Instructions
Preheat the oven to 450F (230F). Line your baking sheet with foil.
Melt butter. Whisk together olive oil, butter, garlic, lemon juice, garlic powder, and onion powder.
Trim asparagus.
Lay salmon fillets in the center of the baking sheet. Cover the rest of the sheet with asparagus.
Drizzle the mixture over the salmon and asparagus. Sprinkle with salt and pepper.
Bake for 12-15 minutes until salmon is fully cooked.
Sprinkle salmon with fresh parsley before serving.
Nutrition Information:
Yield:

4 salmon slices
Serving Size:

1 salmon slice
Amount Per Serving:
Calories:

465
Total Fat:

32g
Saturated Fat:

9.4g
Trans Fat:

0.2g
Unsaturated Fat:

17.2g
Cholesterol:

109mg
Sodium:

224mg
Carbohydrates:

6.2g
Net Carbohydrates:

3.6g
Fiber:

2.6g
Sugar:

2.3g
Protein:

38g
Nutritional values were obtained with automatic software using the amounts of products used. To get the most accurate representation of the nutritional values, you should calculate them with the actual ingredients used in your recipe. You are solely responsible for the nutritional information obtained to be accurate.