You can easily bring the delicious flavors of Italy into your home with these flavorful Italian chicken recipes for dinner.
When it comes to chicken, you have an almost blank canvas. It is pretty bland on its own, so you want to add flavor to make it taste better.
This is where Italian cooking comes into play! Fresh ingredients and various herbs, sauces, and dressings produce tasty food.
If you love Italian food, you'll want to check out the recipes below! You'll find soup, pasta, and salads. There are delicious chicken recipes alone too. You can add your favorite side dishes to these!
What is Italian Chicken Made Of?
Italian chicken is pretty much what it says it is. So, chicken cooked with tasty Italian flavors!
In pretty much every Italian chicken recipe, you will find base flavors. Some are olive oil, garlic, and a mix of herbs. Basil, thyme, and oregano are the most common.
A lot of Italian chicken recipes also have cheese in them. Parmesan and mozzarella are popular picks.
Italian Chicken Breast Recipes
These are the best Italian recipes made with chicken breast.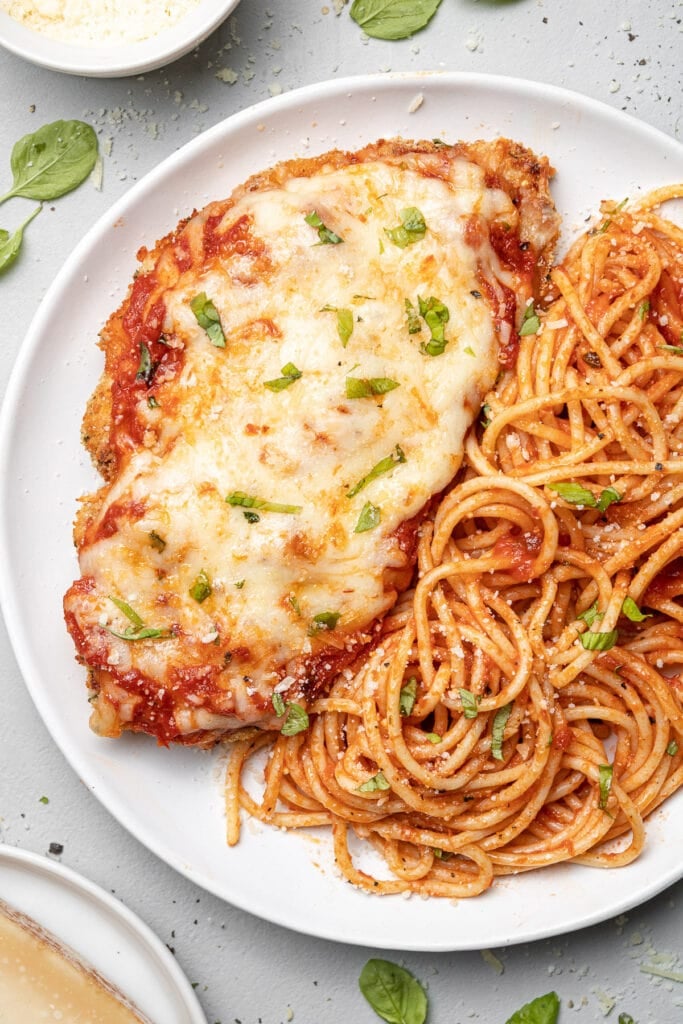 Source: thecleaneatingcouple.com
This baked chicken Parmesan is crunchy and delicious.
For the coating, use whole wheat flour and bread crumbs. This makes it a bit healthier. Add salt, pepper, basil, and parsley to taste.
Rich marinara sauce and melty mozzarella make your chicken even more delicious! Serve this with tender spaghetti noodles or a fresh salad.
Love mozzarella with chicken? Check out this Mozzarella Stuffed Chicken Breast Recipe!
Source: twohealthykitchens.com
This creamy gnocchi soup makes you feel warm and cozy. It tastes like the Olive Garden version but is better for you!
The base of your soup is onion, celery, and garlic. Use nonfat evaporated milk for a creamy texture and taste. Also, add chicken stock.
Gnocchi and rotisserie chicken provide chunky textures. Fresh spinach and shredded carrots add color and nutrients.
Serve with crusty bread to soak up the sauce. Find more cheap healthy recipes here.
Source: littlesunnykitchen.com
Try golden battered chicken cutlets with a delicious lemony sauce!
Your crispy chicken is flavored with salt, pepper, and garlic powder. Make your sauce in the same pan as the chicken to soak up the flavors.
Your silky sauce consists of butter, chicken stock, and white wine. Lemon juice adds a bright, zesty flavor.
Serve with mashed potatoes, pasta, or a fresh Caesar salad.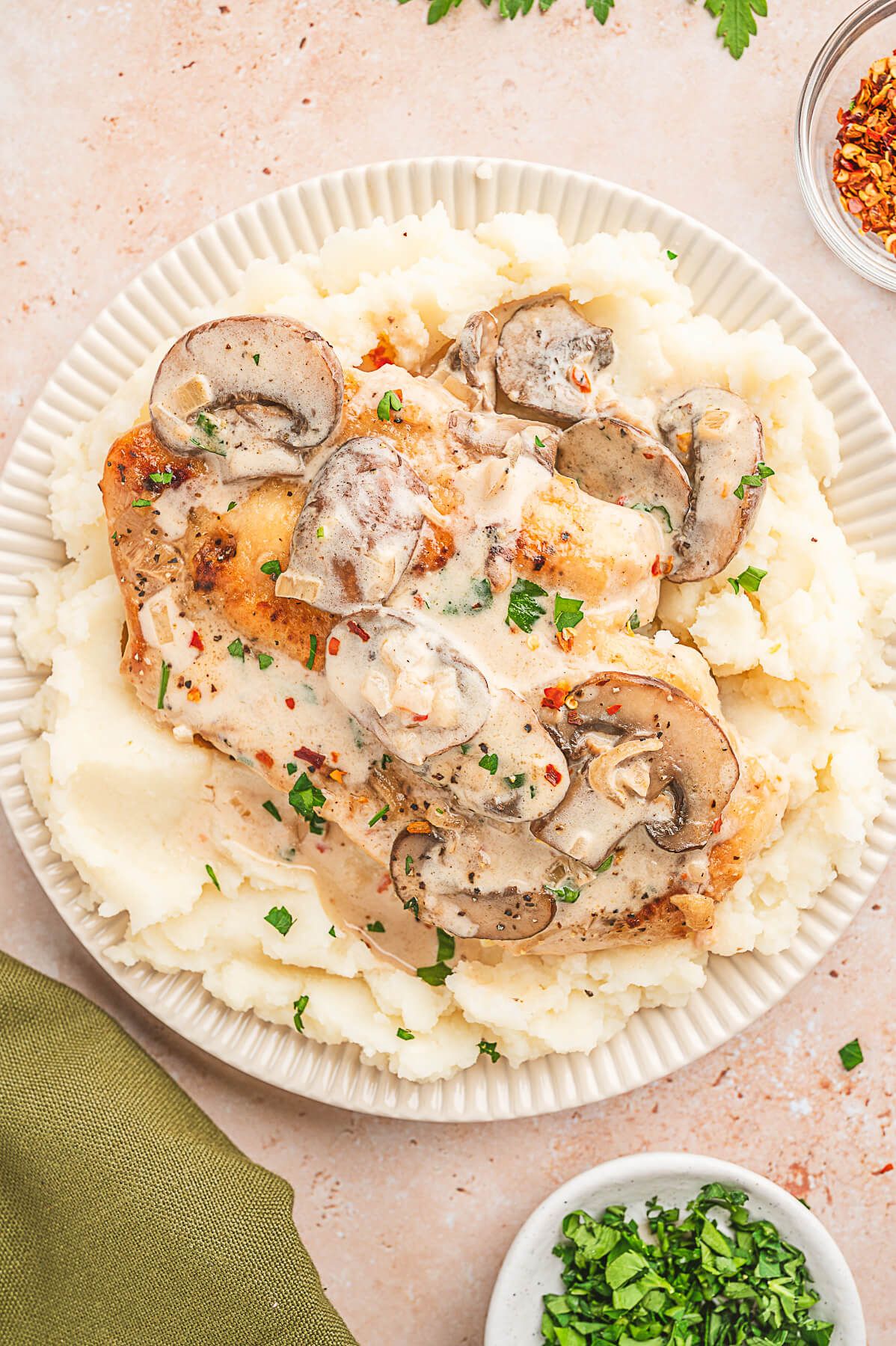 Source: dishnthekitchen.com
Find chicken scallopini coated in a creamy Marsala wine sauce. It's perfect with pasta, rice, or mashed potatoes.
Add flavor to your chicken with salt, pepper, and garlic powder. Shallots, minced garlic, and cremini mushrooms add a delicious taste to your sauce.
Combine marsala wine, chicken stock, and heavy cream for the base of the creamy sauce. Add extra flavor with red pepper flakes.
Source: littlesunnykitchen.com
Cook golden crispy chicken cutlets in a cheesy garlic cream sauce. Spinach adds authenticity to this dish.
The crust of your chicken is made with flour and Italian seasoning. Cook it in olive oil and butter for a beautiful depth of flavor.
Juices from the chicken make your sauce even tastier! Use chicken stock or wine for the base flavor. You'll thicken it with heavy cream and parmesan.
Serve your chicken Florentine with buttered noodles or creamy potatoes.
Source: adorefoods.com
Lots of fresh basil and a rich tomato sauce provide the Italian flavors to this delicious chicken dish.
Seasoning of salt and pepper is all you need for your chicken. It's going to soak up all the flavor of your tomato sauce.
Chopped bacon, fresh basil, and celery deliver the flavor to your sauce. Serve your Italian chicken with more chopped basil!
Mop up the delicious sauce with a side of warm, crusty bread. Find more cheap recipes for families here.
Source: healthyrecipes101.com
Tender chicken breast is coated in a cheesy parmesan crust. You'll air fry it for maximum crunch!
Your chicken is topped with a rich tomato sauce. Use a generous helping of mozzarella. This provides a gooey melted topping for your chicken!
Serve your chicken with a fresh salad or tender spaghetti noodles.
Source: littlesunnykitchen.com
A bright lemon sauce with salty capers is combined with juicy, crusted chicken.
Parmesan cheese, salt, and pepper add a lovely flavor to your flour-crusted chicken breast.
Use butter for your sauce to give it a velvety texture. Dry white wine provides a rich depth of flavor. Add minced garlic, too, for extra flavor.
Try serving your chicken with crushed potatoes and roasted broccoli.
Source: slowthecookdown.com
Herbs and cheese are mixed with fresh tomatoes. Find these inside juicy chicken breasts. Add a tasty balsamic sauce.
Put basil pesto, creamy mozzarella, and tomatoes inside the sliced chicken. During cooking, the ingredients combine. Every bite tastes delicious!
To make your balsamic sauce sweeter, add brown sugar to it. Serve this with a fresh salad or your favorite veggies.
This stuffed chicken is a great idea for a Sunday dinner with your family!
Source: theblondcook.com
This skillet chicken dish contains fresh veggies in an Italian tomato sauce. Your chicken breasts are lightly seasoned to soak up the flavor of this.
This recipe is ideal for zucchini, red bell pepper, and white onion. They go well with the marinara sauce and diced tomatoes.
Add flavor to your sauce with garlic and red pepper flakes. Italian seasoning and a fresh bay leaf are essential too.
This is delicious when it's served as it is. Add tender pasta or rice for a heartier meal.
You might also enjoy this delicious chicken zucchini pasta recipe!
Source: twocloveskitchen.com
Make these chicken cutlets extra crunchy by coating them in panko breadcrumbs!
Mix your panko with Italian seasoning, garlic powder, salt, and pepper. These add more flavor.
Fresh lemon slices go well with your crispy chicken. They're a great match for the chicken's flavor.
Serve your tender chicken cutlets with a simple green salad. They're delicious in a grain bowl, too!
Find more chicken cutlet recipes here.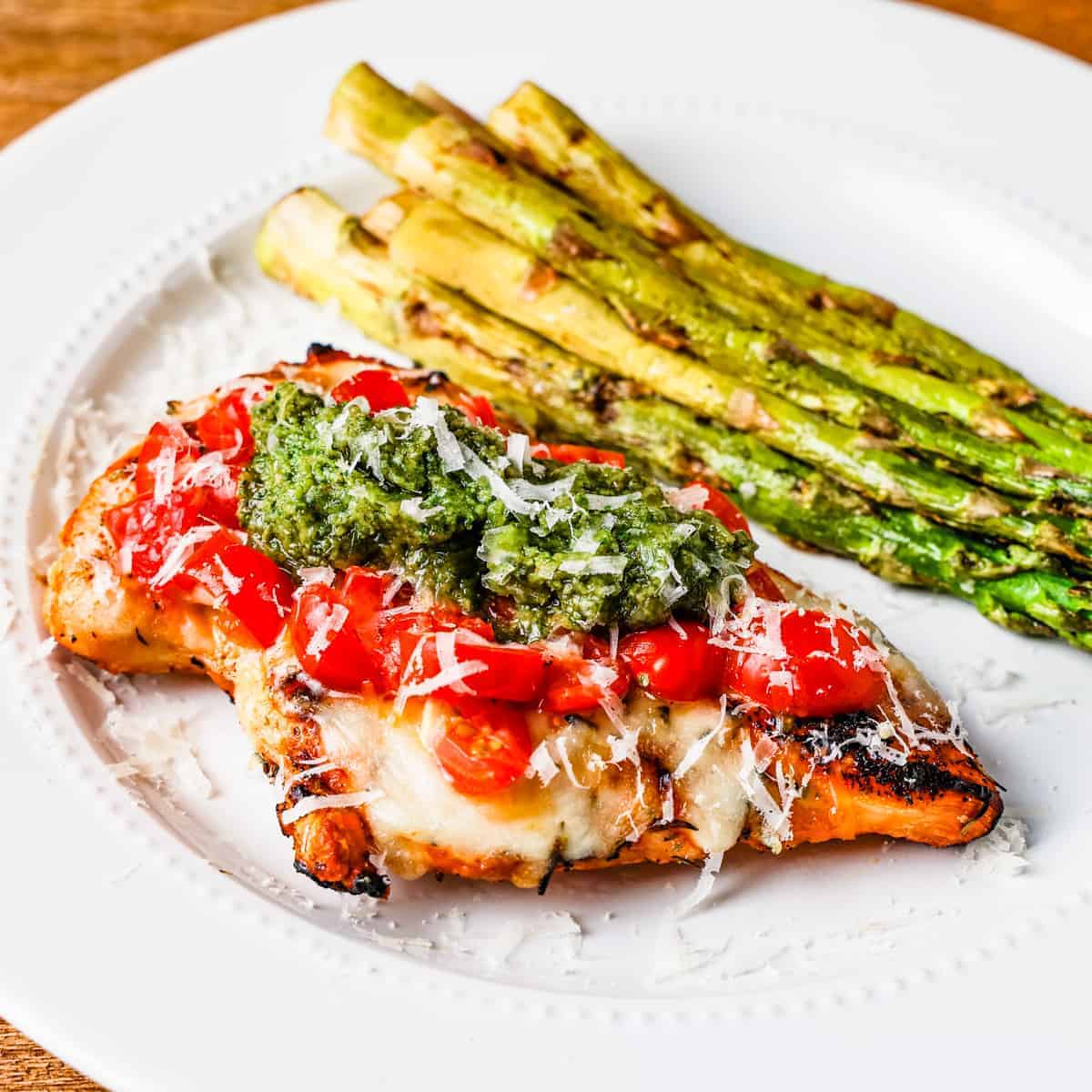 Source: disheswithdad.com
This has fresh tomatoes, creamy mozzarella, and basil pesto. It's a spin on a pizza. Instead, you'll use juicy chicken!
Add salt, pepper, and herbs to your chicken. When your chicken is almost done, put mozzarella on top of it.
Cherry tomatoes and basil pesto go well with your chicken. Add parmesan, too!
Grilled asparagus or zucchini is an excellent side dish.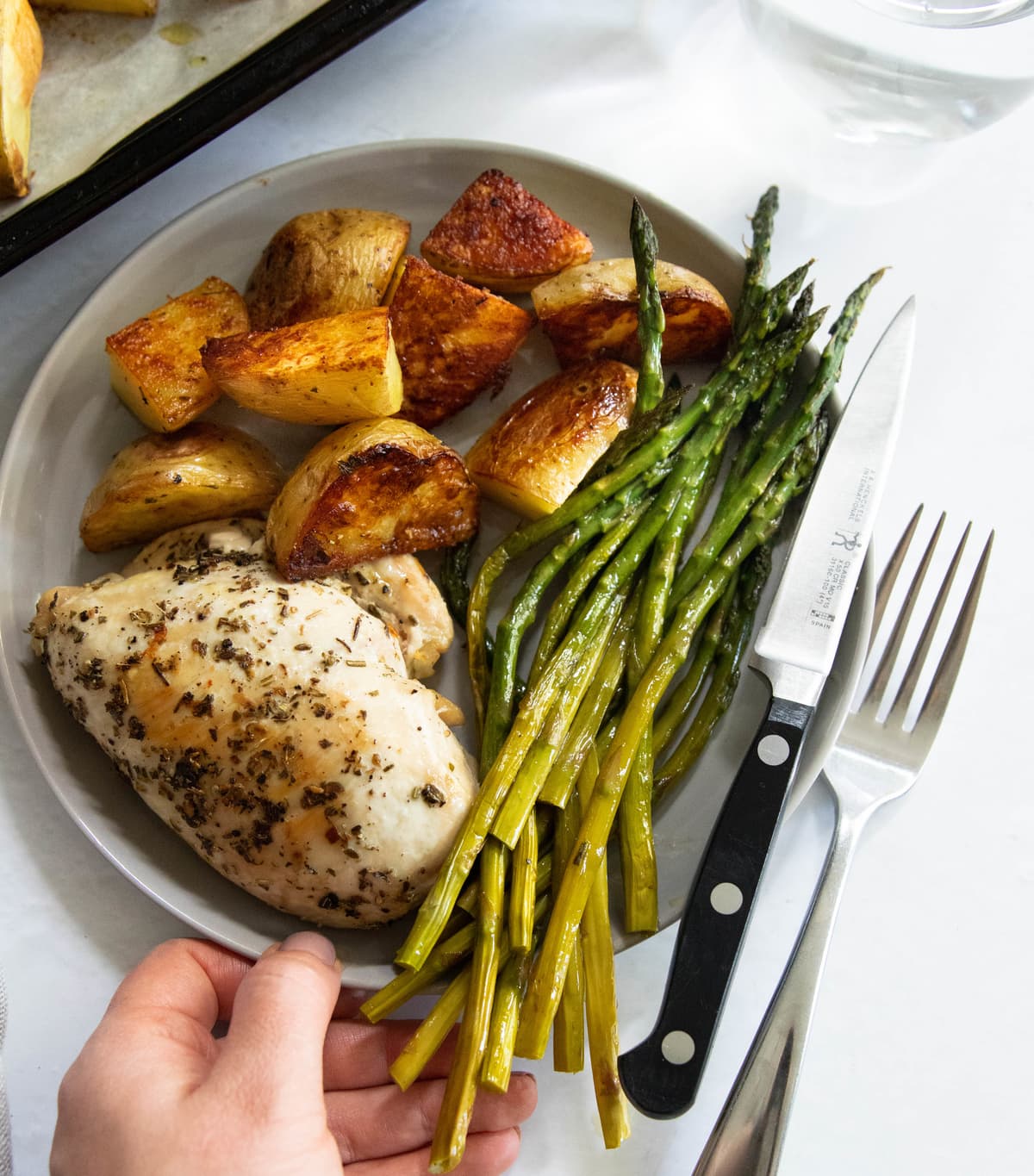 Source: cookathomemom.com
Cook juicy chicken breasts, golden crispy potatoes, and tender asparagus. These make a completely delicious meal.
Mix red wine vinegar, olive oil, and Italian seasoning. Use this to add flavor to your chicken. Season your potatoes with Italian herbs as well.
Drizzle olive oil on your asparagus before you cook it. It makes it taste even better!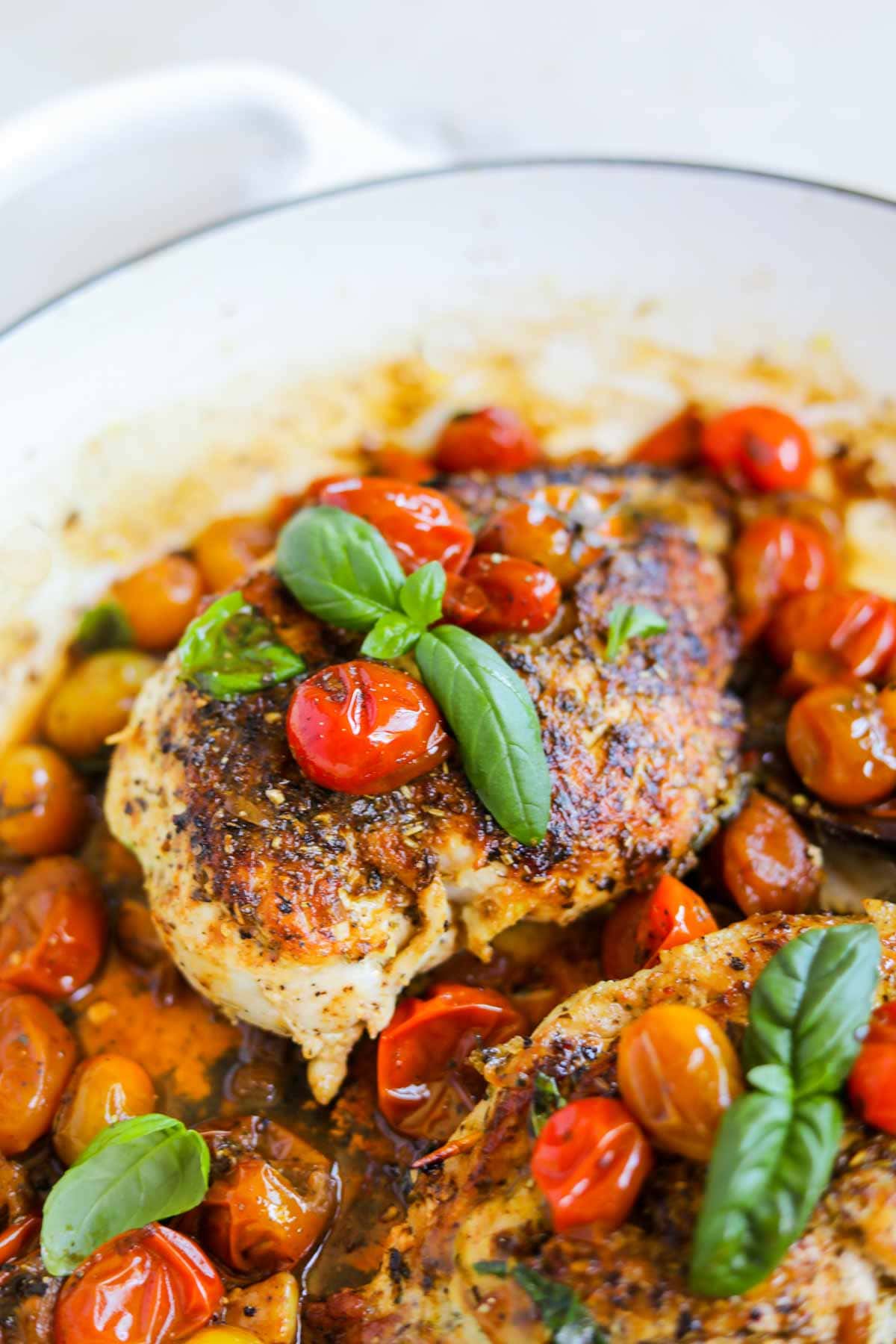 Source: theheirloompantry.co
Juicy chicken is stuffed with creamy mozzarella and pesto. A flavorful tomato sauce lifts this dish.
Season your chicken with garlic powder, dried basil, dried oregano, salt, and pepper.
Add garlic and shallots to your tomato sauce to make it tasty. The best flavor comes from fresh cherry tomatoes.
Your liquid elements are white wine and chicken broth. For a fresh taste, add torn basil leaves. Try serving your chicken with arugula salad.
Italian Chicken Pasta Recipes
These are the best Italian pasta recipes made with chicken.
Source: thecleaneatingcouple.com
This is like chicken parmesan, but it is made with pasta! It has all the flavors you love in a popular dish. You'll have tomato sauce, juicy chicken, and gooey cheese.
Use onion, garlic, basil, oregano, and red pepper. They add an Italian taste to your marinara sauce.
Use panko breadcrumbs to make an extra-crispy topping. Add butter, garlic, and black pepper for flavor.
Serve your pasta with tasty garlic bread to mop up the sauce!
Source: mommyevolution.com
Pair creamy garlic sauce with juicy chicken and soft pasta. These are a perfect match of flavor.
Season your chicken with mixed herbs, salt, and pepper. Add garlic, onions, sundried tomatoes, capers, and basil to your sauce.
Heavy cream makes your tomato sauce smooth and creamy. Sprinkle parmesan cheese on top when serving.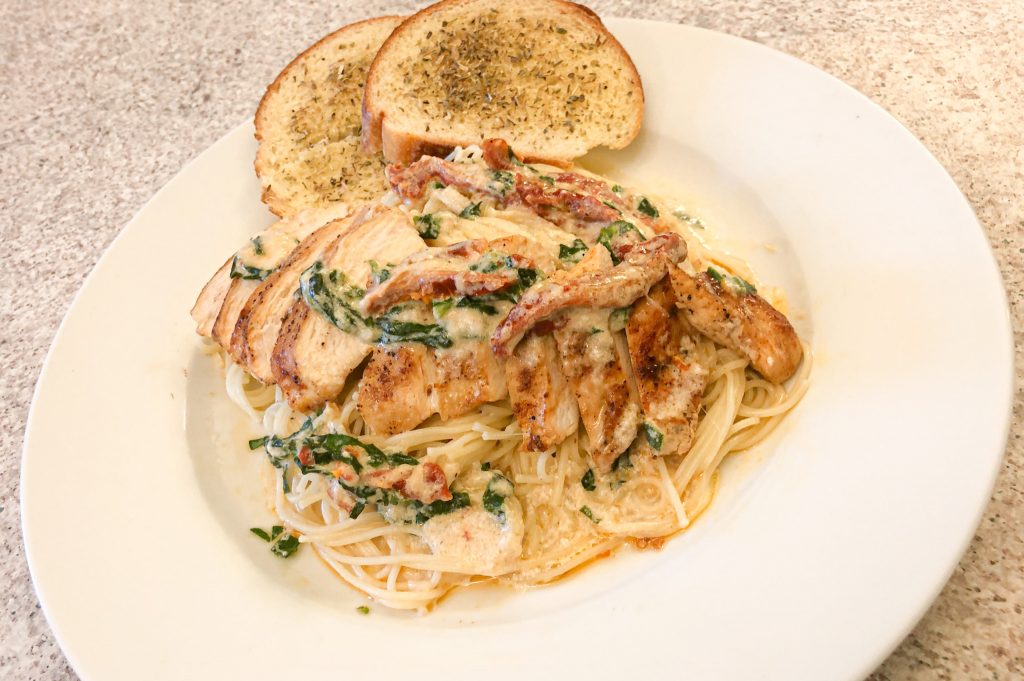 Source: comfortcooks.com
The base of this dish is a rich, creamy sauce. It includes fresh spinach and sundried tomatoes.
Season your chicken with salt, black pepper, and paprika. This also adds a beautiful red tint to your sauce. Chicken broth and garlic add flavor.
Sprinkle your pasta, chicken, and sauce with shredded parmesan when serving.
Source: the-pasta-project.com
This is a unique type of pasta! It's an endless braid made from semolina flour and water.
You'll make a tasty ragu for coating your pasta. Use tomato pulp, onions, garlic, red wine, and juicy chicken pieces.
Use parsley, rosemary, basil, sage, and bay leaves for a herby taste. Sprinkle with pecorino when serving your pasta.
Source: threeolivesbranch.com
Fresh tomatoes are one of the stars of this dish. They make light, fresh pasta "sauce" to go with your balsamic chicken.
Mix balsamic, olive oil, lemon juice, thyme, garlic powder, salt, and pepper. This is the marinade for your chicken.
Combine finely diced tomatoes with balsamic, olive oil, salt, garlic, and fresh basil. Use this in place of a traditional pasta sauce. It's delicious!
Serve your balsamic chicken and tomatoes on top of angel hair pasta.
You might also enjoy this yummy creamy tomato chicken skillet.
Source: uniquecooks.com
This chicken pasta is loaded with flavor. The dish's sun-dried tomatoes, garlic, and pepper go well together.
Heavy cream, milk, and mozzarella make a smooth and rich texture. Basil provides an Italian flavor. A bit of heat comes from red pepper flakes.
Add your cooked pasta at the end of cooking and serve hot.
Source: freshcoasteats.com
Make a refreshing pasta salad with moist grilled chicken breasts! Add a taste of Italy with juicy tomatoes, pesto, and fresh parmesan.
This salad is super easy to make. Put your items in a bowl and toss them until well combined!
Garnish your tasty pasta salad with fresh basil.
Source: disheswithdad.com
A tasty garlic parmesan cream sauce brings this Tuscan chicken pasta together.
Cook your chicken in oil and butter for a moist, juicy texture. Onion, garlic, and sundried tomatoes add a delicious taste to your sauce.
The creamy texture comes from heavy cream, chicken broth, and parmesan. Spinach adds nutrition and a pop of color!
Add your chicken and pasta to the sauce, and mix well to combine! Sprinkle grated parmesan on your pasta when you serve it.
Source: fromvalerieskitchen.com
Rustic chicken pesto pasta is packed with Italian flavor. Add tender chicken, creamy ricotta cheese, and sweet red peppers.
Season your chicken with garlic, salt, and red pepper flakes. Basil pesto, half and half, and juices from your chicken create your tasty sauce.
Add ricotta and parmesan close to the end of cooking time. It melts right into your pasta!
Source: slowthecookdown.com
Ground chicken is mixed with herby pesto and stuffed in tender pasta shells. They're baked in a deliciously creamy Alfredo sauce.
Cook your chicken with onion and bell pepper for extra nutrition. Bake your stuffed shells on top of your Alfredo sauce. They will soak up the flavor!
Use shredded cheddar for a melted cheesy topping.
Source: thecookingduo.com
Juicy chicken breast sits on a bed of pasta in a cheesy, creamy sauce.
Season your chicken with salt, paprika, onion powder, and Italian seasoning. Add these to your flour before coating your chicken.
Make your rich Alfredo sauce to mix with your pasta. Use minced garlic, heavy cream, and lots of parmesan!
Source: thecleaneatingcouple.com
A wonderful mix of spices gives juicy chicken meatballs a delicious taste.
Use Italian herbs, onion and garlic powders, salt, and pepper to flavor your meatballs. A hint of heat comes from the red pepper flakes and paprika.
Serve your meatballs with tender pasta and your favorite sauce.
Italian Chicken Sausage Recipes
Use flavorsome Italian chicken sausage for these tasty recipes.
Source: acedarspoon.com
Tasty chicken sausage is mixed with tomato sauce, tender pasta, and cheese. It's then baked to perfection!
The sweet sausage has Italian herbs and green and red peppers. A jar of your favorite tomato sauce makes prep easy. However, you can make your own.
Mix ricotta with tomato sauce for a creamy texture. Add everything into a baking dish. Then, sprinkle with cheese. Mozzarella and parmesan are perfect!
Love sausage? Check out these Italian sausage recipes!
Source: twohealthykitchens.com
This delicious soup contains fresh veggies, crumbled sausage, and cheesy pasta!
Onion, bell pepper, carrot, and zucchini provide nutrition. A robust tomato taste comes from the sauce and fresh tomatoes.
Much flavor comes from beef broth and vegetable juice. You'll also use chopped garlic and mixed herbs. Add spinach, and sprinkle with parmesan when you're ready to serve!
Source: theheirloompantry.co
This rustic pasta dish has spicy sausage, kale pesto, and flavorful rapini.
Shallots, chili flakes, garlic, and salt flavor the crumbled sausage. This is mixed with your other cooked ingredients. When you boil your broccoli rabe, the bitter taste is removed.
Add parsley and parmesan to the top of your delicious pasta. Find more fun dinner recipes here.
Italian Chicken Thigh Recipes
Juicy chicken thighs are the star of these recipes.
Source: goodthingsbaking.com
Serve juicy chicken thighs on a bed of tender pasta. Cover them in a delicious creamy sauce with sundried tomatoes.
Season your chicken with salt and pepper. You'll cook these with some chicken stock before making your sauce.
Make this by combining chicken broth with heavy cream. Basil, tomatoes, and garlic go in there too. Garnish your dish with fresh basil and parmesan.
Source: cookingwithcurls.com
Olives, capers, and lemon give an original Italian flavor to juicy chicken thighs.
Bake your chicken with lemon slices and fresh thyme on top. The lemon will pass on a lovely fresh taste!
You'll add olives and capers to your skillet when your chicken is cooked. Let it rest with a lid on before serving. Try it with creamy potatoes and grilled veggies.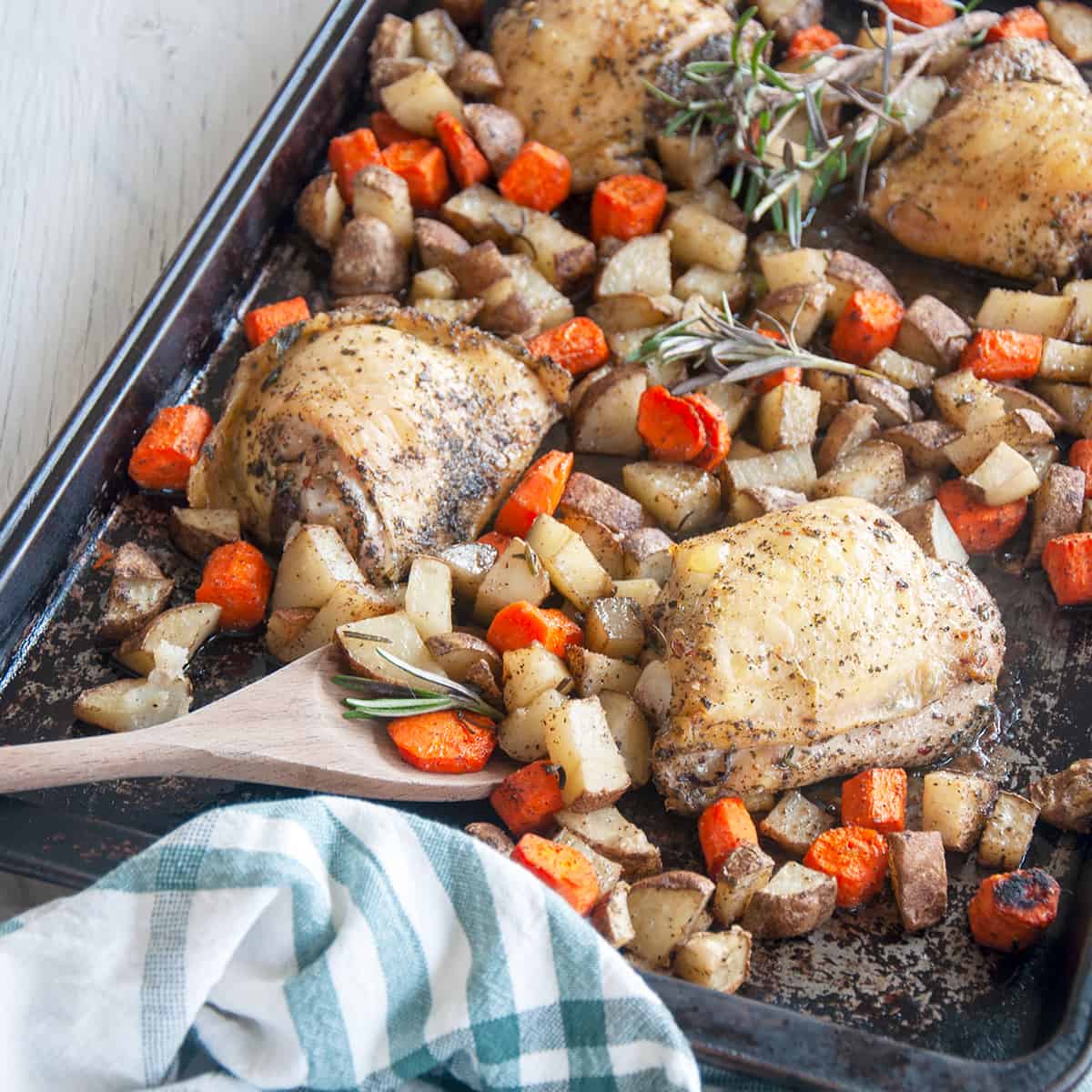 Source: ramshacklepantry.com
Add tender potatoes and carrots to your sheet pan of chicken thighs. This gives you a full meal, ready to serve.
Mix salt, thyme, oregano, basil, chili flakes, and pepper. This is the seasoning for your juicy chicken thighs. The chili flakes add a hint of spice!
Add rosemary to your veggies. This is a perfect complement to the flavor of your chicken.
If this easy meal is appealing to you, you must know these other easy sheet pan dinners!
Source: cookingschooldropout.com
Chicken thighs cooked in the air fryer are easy, crispy, and delicious. Especially with a cheesy coating!
Your chicken has a simple coating of fresh parmesan, minced garlic, and Italian herbs. Serve with a fresh salad or your favorite roasted veggies.
Source: dailyappetite.com
This one-pot recipe is loaded with delicious flavors and textures. Juicy chicken thighs, mild Italian sausage, and sweet cherry peppers are the stars.
Your chicken only needs salt and pepper to season it. Many tastes come from other ingredients! Onion and bell peppers work well with the proteins in this dish.
Flavors come from fresh garlic, chicken broth, and oregano. Liquid from the jar of cherry peppers is in there too.
This is delicious served as it is. However, a simple, light salad is a perfect side dish.
Italian Chicken Crockpot Recipes
Cook these delicious recipes in your crockpot for an easy meal.
Source: crockpotsandflipflops.com
You only need a handful of ingredients for this creamy chicken. Moist chicken is smothered in a creamy cheese sauce. It's perfect for serving with pasta!
Cream cheese and cream of chicken soup make the creamy base for this dish. A blend of Italian herbs and spices adds all the flavor!
Make this using dried oregano, parsley, basil, thyme, and celery flakes. Onion powder, garlic powder, salt, and pepper go in there too.
This is one of the most flavorful slow cooker chicken recipes out there!
Source: remakemyplate.com
This dish is almost the same in taste as the Cheesecake Factory version! It contains earthy mushrooms alongside a creamy lemon sauce. The mushrooms make it unique!
Tender chicken breast has a seasoning of salt and pepper. However, add garlic, capers, and mushrooms on top before cooking.
Your chicken is cooked in white wine and lemon juice. This delivers so much flavor! For a smooth, creamy texture, stir in heavy cream before serving.
Serve this with tender rice, pasta, or mashed potatoes. A simple salad works well, too.
Source: themagicalslowcooker.com
This hearty chicken soup contains wholesome beans. A mix of veggies provides nutrition.
Add your chicken breasts whole and cut them after cooking. This stops them from drying out.
Celery, onion, garlic, and rosemary add flavor to your soup. You'll cook your ingredients in chicken broth that's also full of flavor. Add diced tomatoes and herbs before serving!
Love beans? Check these canned pinto bean recipes.
Italian Dressing Chicken Recipes
These chicken recipes are even more delicious when using an Italian dressing!
Source: neighborfoodblog.com
This chicken recipe is easy! There are only three things you need.
Marinate chicken breasts in Italian dressing. You can use store-bought or homemade. Whatever you prefer. Leave them for a few hours before grilling or baking!
Try serving this with balsamic grilled veggies. Garlic green beans are tasty too.
Find more fancy dinner recipes here.
Source: melaniecooks.com
The marinade for these chicken kebabs is effortless! Use thigh for meat that is moist and juicy.
Soak pieces of chicken in a bottle of flavorful Italian dressing. Put them on skewers before cooking them to perfection.
Serve your tasty kebabs with your favorite dipping sauce!
Source: beyondthechickencoop.com
Juicy chicken thighs are soaked in a homemade Italian dressing. Lemon, garlic, and Dijon deliver a delicious flavor!
Make your marinade with olive oil, white wine vinegar, mustard, and honey. These are your liquid ingredients.
Also, add garlic powder, onion powder, dried oregano, and dried basil. Red pepper flakes add a hint of heat.
Leave your chicken for as long as possible, up to 12 hours. Then, grill until golden and crispy!
This chicken is delicious when it's served with a Caesar salad. Add pesto garlic bread too.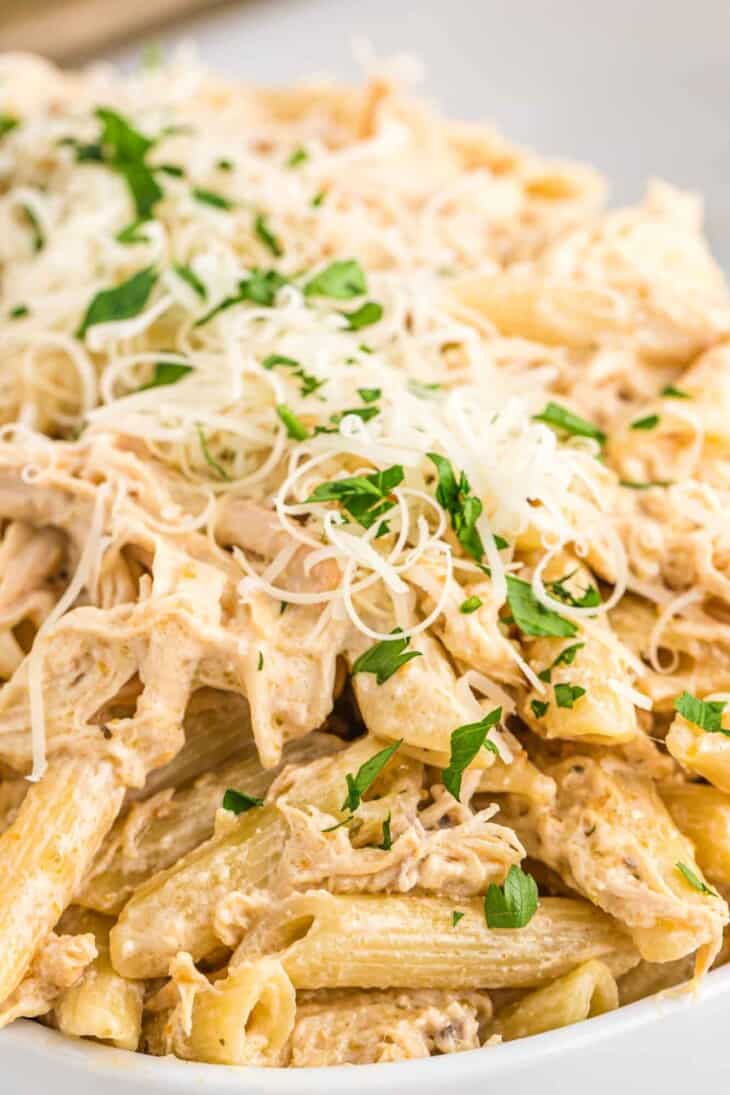 Source: littlesunnykitchen.com
Olive Garden dressing adds flavor to tender chicken. Cook your chicken in a cheesy pasta sauce.
You can make your own dressing if you can't find the Olive Garden. Or, you can use a bottle of your choice. Olive Garden is best if possible, however!
Parmesan and cream cheese make your smooth, creamy sauce. Shred your chicken when cooked, and serve it with tender pasta!
41 Best Italian Chicken Recipes for Dinner
Take your taste buds on a trip and experience an unforgettable dining experience with these Italian chicken recipes.
Ingredients
1. Baked Chicken Parmesan
2. Creamy Chicken Gnocchi Soup
3. Chicken Francese
4. Creamy Chicken Marsala
5. Creamy Chicken Florentine
6. One Pan Italian Chicken
7. Air Fryer Chicken Parmigiana
8. Chicken Piccata
9. Caprese Stuffed Chicken
10. One Skillet Italian Chicken
11. Italian Chicken Cutlets
12. Grilled Chicken Margherita with Pesto
13. One Pan Italian Chicken Breasts, Potatoes, and Asparagus
14. Mozzarella Stuffed Chicken Pomodoro
15. Chicken Parmesan Pasta
16. Italian Creamy Garlic Chicken Pasta
17. Tuscan Chicken Pasta
18. Homemade Lorighittas with Chicken Ragu
19. Balsamic Chicken Bruschetta Pasta
20. Creamy Chicken Pasta
21. Chicken Pesto Pasta Salad
22. Creamy Tuscan Chicken Pasta
23. Chicken Pesto Pasta
24. Creamy Pesto Chicken Stuffed Pasta Shells
25. Chicken Fettuccine Alfredo
26. Ground Chicken Meatballs
27. Italian Sausage Pasta Bake
28. Italian Sausage Tortellini Soup
29. Sausage Pesto Pasta with Rapini
30. Creamy Italian Instant Pot Chicken Thighs
31. Chicken Thighs with Olives, Capers, and Lemon
32. Italian Sheet Pan Chicken Thighs with Potatoes and Carrots
33. Air Fryer Parmesan Chicken Thighs
34. Chicken Scarpariello
35. Creamy Italian Chicken
36. Chicken Piccata
37. Italian Chicken Bean Soup
38. Italian Dressing Chicken
39. Grilled Chicken Kebabs Marinated in Italian Dressing
40. Italian Dressing Chicken
41. Olive Garden Chicken Pasta
Instructions
Scroll up to get a bunch of easy, yummy, and delicious recipes. Don't be afraid to get creative with the ingredients, you might discover a flavor you didn't know you liked.
Get your shopping list going and make sure you've got all the ingredients.
Get cooking and make your next Italian Chicken Recipe!
Notes
Which one of these recipes was your favorite? Let me know in the comment section or on Pinterest!