This chicken zucchini pasta is sweet, umami, and slightly spiced. A favorite for Asian cuisine lovers who want to keep their meals low-calorie! It's low-calorie, dairy-free, and high-protein.
Do you love to order Chinese takeout? It's the best, isn't it?
But most of the time, it can leave you feeling full, and not a good kind of full. The high levels of sodium can leave you bloated and uncomfortable.
Very rarely do I feel "healthy" after eating a takeout meal. Plus, wouldn't it be better to figure out how to make it any home anyways?
This stir-fry dish is a great place to start. The ingredients are simple, and it's way better for you than a standard takeout stir fry.
This chicken zucchini pasta is easy to make and full of flavor.
Plus, it's really good for you. It's naturally low carb, low fat, and doesn't have the added sodium and MSG that other takeout stir fry might have.
It's also low-calorie. Each serving has less than 350 calories!
You get to control the ingredients and calories in this dish.
What's the secret? No real noodles.
The noodles are actually made from zucchini and onions. This option still gives you all of the great stir fry flavors but no extra, unnecessary carbohydrates.
Ingredients You'll Need for the Pasta
Chicken breasts – Chicken is a great source of lean protein. Especially if you are cooking with chicken breasts.
And if you want to mix it u a little bit, try a different protein the next time you make this recipe.
Olive oil – This oil is a great choice to use as a cooking oil. It has plenty of healthy fats and adds a rich flavor to the dish. Some other cooking oils you could try are avocado oil and coconut oil.
White onion – Don't worry if you don't have white onions. You could also use yellow, sweet, or even red onions.
Zucchini – This low-carb veggie is the ultimate noodle food! It's been such a craze lately to turn this popular vegetable into carb-free noodles.
It's filling, low carb, and low fat. If you can't find zucchini, summer squash would also work.
Soy sauce – It is a great way to add umami flavor to your dishes. It's also a great way to add salt.
If you have a gluten intolerance, try substituting with a gluten-free alternative, like tamari sauce.
Honey – Honey and soy sauce pair so well together! Additionally, honey is a great way to add natural sweetness to a dish.
Garlic – Garlic is another part of this dish that should not be left out. It's a pretty critical ingredient when making Asian food.
Ginger – You'll always get the best flavor when you cook with fresh ginger.
Cornstarch – Cornstarch is a thickening agent that's going to help bind the sauce together. You can find it at your local grocery store or online.
Sesame oil – It is high in antioxidants and has anti-inflammatory properties. It has a pretty strong flavor, so be sure to use it in small amounts.
How to Make Chicken Zucchini Pasta
It's pretty easy to make zucchini noodles. Once you try them, you'll probably want to make the switch more often.
The easiest way to make zucchini noodles, also known as "zoodles," is to use a spiralizer.
What is a spiralizer? It's a handy kitchen tool that allows you to make noodles out of a variety of vegetables.
Using the spiralizer will vary depending on which kind you are using. We'll talk more about the different types below.
The first step to making this dish will be making the zucchini and onion noodles using the spiralizer.
You'll want to pat the noodles dry before cooking them. You can do this with a paper towel or a cloth towel.
You can go ahead and leave them right on the towel while you work on the sauce.
Next, you'll put together the sauce. Combine the soy sauce, honey, garlic, ginger, sesame oil, and cornstarch in a bowl.
Stir it together with a fork or small whisk until the cornstarch is dissolved.
Now it's time to start cooking.
Heat your wok on medium-high heat. Add the small chicken pieces.
Toss them around gently so they cook evenly on all sides.
Then, add the spiralized onions. Toss them around with the chicken until they start to look transparent.
Then add the zucchini noodles and cook for another two minutes or so.
Now you'll want to add the sauce. Pour the sauce in slowly and mix together all of the ingredients.
The stir fry sauce will begin to thicken as it heats up and simmers.
It's time to eat once the sauce has thickened up. Serve right away while it's still hot!
What You'll Need for This Recipe
Spiralizer – There are a lot of different spiralizers out there. Some are handheld like these, and others are a bit bigger and more versatile like these.
You can also find one that attaches right to your Kitchen Aid mixer like this.
Choose the one that works best for you. You may want to start out with something small to see how often it's used in your kitchen.
Wok – A large wok like this is an excellent cooking pan to have. It may take up a bit of space, but that's why it's so great!
It has plenty of surface area to cook all of your ingredients quickly and evenly.
Is Zucchini Pasta Healthy?
Zucchini pasta is probably one of the healthiest pasta substitutes out there! It's low carb, low fat, and is a rather bland vegetable.
Don't worry though, this blandness works in your favor. The zucchini noodles go great with just about any pasta sauce or in any noodle dish.
They will carry several different flavors very well. Be sure to try other recipes with them.
How Do You Make Zucchini Noodles Not Soggy?
Zucchini does have a lot of water in it, like most other vegetables. Your noodles could end up a soggy mess if you don't try and remove the water.
The simplest way to prevent them from getting soggy is to pat them dry with paper towels or a cloth towel. You can even leave them sandwiched between two towels for a few minutes to draw out any extra moisture.
If you have more time, you can salt the zucchini noodles as well. This is a standard method when trying to make crunchy pickles.
Simply sprinkle a tiny amount on the noodles before laying them on the towel. You could also use a fine mesh colander as well.
The salt will help remove the water out of the zucchini. However, you won't want to rinse the salt off.
So, you may want to tweak the salt level in your dish after trying this method.
Other Low Calorie Meals You Might Like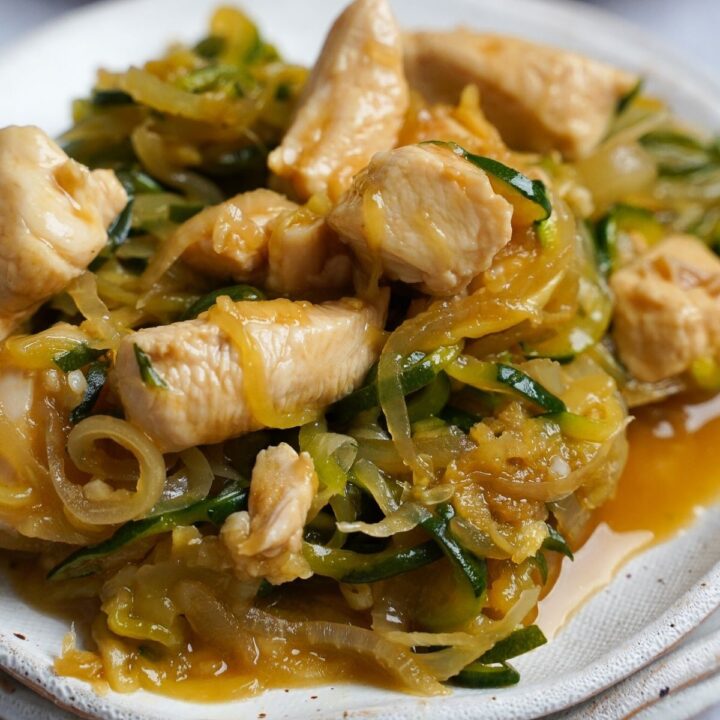 Chicken Zucchini Pasta (Low Calorie, High Protein)
Bring in Asian flavors with this low-calorie, high protein chicken zucchini pasta. It's sweet, umami, and spiced.
Ingredients
Chicken and Noodles
1 chicken breast (cubed)
2 tbsp olive oil
2 white onions (spiralized)
4 small zucchini (spiralized)
Sauce
4 tbsp soy sauce (low sodium)
2 tbsp honey
3 garlic cloves (minced)
2 tsp fresh ginger (grated)
1 tsp cornstarch
1 tbsp sesame oil
Instructions
First, pat dry spiralized zucchini with a paper towel.
Heat olive oil in a wok over medium heat and add in the chicken. Cook for 3 minutes.
Add onions and cook for 4-5 minutes until they're tender. Make sure you're stirring throughout the whole time.
Stir spiralized zucchini and continue cooking for another 2 minutes or so.
While cooking, combine together the sauce ingredients in a separate bowl.
Add in the sauce, stir and continue cooking for another 5 minutes until zucchini is tender and chicken is cooked, and the sauce has thickened a little bit.
If there is still too much liquid, just add in more cornstarch.
Nutrition Information:
Yield:

3 plates
Serving Size:

1 plate
Amount Per Serving:
Calories:

327
Total Fat:

16g
Saturated Fat:

2.4g
Trans Fat:

0g
Unsaturated Fat:

12.1g
Cholesterol:

46mg
Sodium:

728mg
Carbohydrates:

29g
Net Carbohydrates:

25.4g
Fiber:

3.6g
Sugar:

20g
Protein:

19g
Nutritional values were obtained with automatic software using the amounts of products used. To get the most accurate representation of the nutritional values, you should calculate them with the actual ingredients used in your recipe. You are solely responsible for the nutritional information obtained to be accurate.