Canned beans are quite simply one of the best cupboard ingredients you can have. These recipes with canned pinto beans are incredibly easy and provide a filling protein that's good for most diets.
These pantry staples are already cooked and ready to use, inexpensive, and good for you, so it would seem silly to not include them in your diet and keep them in your cupboard for easy recipes.
Pinto beans are really quite pretty, too; also known as the 'speckled bean' or 'strawberry bean', so grab a can and have some fun!
What to Add to Beans from a Can?
Oh, my goodness, the list is endless when you think about everything you could add to a can of pinto beans.
Let's face it, though. Pinto beans don't scream out with a complicated flavor profile, but they have one advantage here.
They are like a flavor sponge and are willing and able to absorb any tastes you want to add.
So, it's essential to think about the ingredients you are going to add, and anything that has a strong taste is going to go well with your beans. But what?
I have collected as many tasty pinto beans recipe ideas as I can find for you, so the hard work of finding lots of exciting flavors has been done.
Grab your shopping list pad and get going!
Canned Pinto Beans Recipes
Source: thetoastykitchen.com
Pinto beans love a slow cooker as it gives them plenty of time to absorb the spices and herbs you may want to introduce to them.
This soup is ridiculously easy, and if you use a premade taco seasoning, this is going to take you minutes to stir together.
Since there are no dry pinto beans here, no pre-cooking is involved; just tip everything into your cooker and switch it on.
When the time is up, you just need to shred your chicken. Dinner is made tasty with this simple recipe with cans of pinto beans.
Enjoy these other delicious slow cooker chicken recipes!
Source: uglyducklingbakery.com
If you are looking for a veggie bean burger that actually tastes like BBQ, this main dish with cans of pintos is it!
If you are used to a mushy bean burger, this will be your new favorite dish. Drying the beans out in the oven first is an easy way to get the beans ready for the ultimate texture.
A mouth-watering combination of BBQ sauce and cheesiness is going to make this bean burger main course go on the repeat list.
Source: ihearteating.com
Of course, there needs to be a chili on my list, but it has to be special.
This is what I would call the ultimate chili as it has everything in it, and if you have a growing family that needs a hearty meal, this is going to be perfect.
Made with ground beef and ground sausage, and three different types of beans, this will give everyone a huge boost of protein and a warm smile on their face.
Check out these best leftover ground beef recipes if you have extras!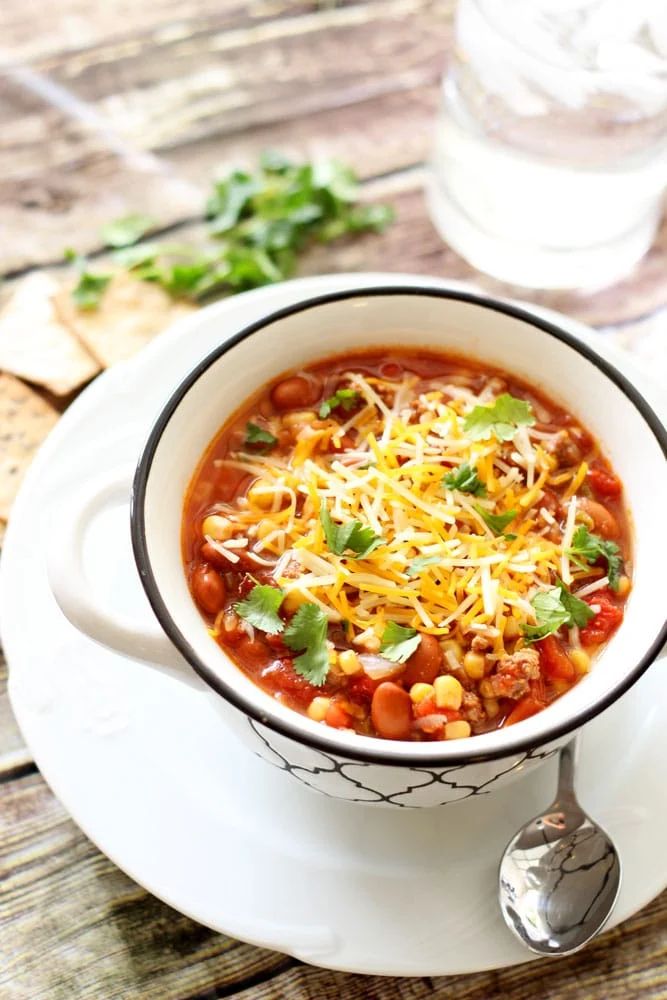 Source: recipesworthrepeating.com
Flavors of the southwest have been packed into this stew with cumin, chili, garlic, and pepper sauce. Beans and corn have been added to the browned beef to give a filling addition to a warming dish.
Some freshly baked cornbread or cheese bread is going to go perfectly with this.
Source: dinneratthezoo.com
Taco in a soup has to be the best idea ever! This recipe is perfect for a cold night and super quick to make.
No slow cooker is needed, just one saucepan and an appetite. Both black beans and pinto beans have been used in this recipe, and there are some lovely ideas for topping your taco soup.
Source: twobittart.com
What's a 'posole,' you may ask? Well, it's a traditional soup or stew from Mexico, so you will need to expect some spice and some zing!
This pork dish is a smoky, deeply flavored stew that has the meat shredded after being slow-cooked.
The addition of oregano, smoked paprika, and cumin really brings some full-on Mexican taste that the pinto beans will soak up.
This perfect posole is definitely one of the best meat recipes for dinner!
Source: thehealthyepicurean.com
This great casserole is packed with pinto beans but also has brown rice, corn, red bell peppers, and green chilies to bring some well-balanced flavors to the chicken.
Finished with some cheesy tortilla crisps, this casserole is rather special for a Mexican night or busy weeknights. You won't even miss the corn tortillas with this taco recipe.
If you are looking for the best summer casserole recipe, this is one of them!
Source: babaganosh.org
This spicy salad is an excellent example of how pinto beans can be such a versatile ingredient. Straight from the can, they will love any dressing you give them.
This dressing has a fresh garlic and lime taste that combines well with the beans, cucumber, tomatoes, spinach, and cheese for a really filling salad dish.
Source: fantabulosity.com
How about this make-ahead side salad that only improves in flavor in the fridge?
This salad can accompany any weeknight dinner, or you could even pack it as a dish to take a friend's dinner night.
The recipe uses three different beans, kidney beans, and Mexican pinto beans, and they look really pretty together.
With lots of different colored bell peppers, fresh cilantro, and red onion, this dish is visually beautiful!
Source: julieseatsandtreats.com
Caviar from Texas? Yes! Also known as cowboy caviar, this is such an easy appetizer to make and one of the most delicious recipes.
This mix of pinto beans, black beans, corn, chiles, peppers, olive oil, and cilantro will make your mouth water!
Adding this caviar to anything like grilled chicken or salad would be great to take to a BBQ.
Source: pinchandswirl.com
Pulled pork is one of life's luxuries if you like your meat.
Soft, stringy, and full of flavor, the meat can be cooked from the recipe, or you could just cheat and add a ready-made one to get this done super quick.
You can make this bean and pork chili your own with suggested toppings such as cheese, sour cream, avocado, cilantro, and hot sauce.
Source: thestingyvegan.com
This soup will be ready in 30 minutes, and it will feed your soul! It has been crammed with taste, with cumin, oregano, garlic, and chipotle peppers, and uses a sofrito base.
The sofrito is just a well-cooked veggie base that will provide the foundation of taste to a dish. It certainly does that here.
Source: christinascucina.com
Pasta and beans must be one of the most inexpensive yet nutritious and delicious dishes available, which will go down well with any family.
Pinto beans have been simply added to pasta, pasta sauce, and canned tomatoes and topped with grated cheese.
Source: rachaelhartleynutrition.com
This street food-inspired salad will make you feel the sun's warmth on your skin. Your pinto beans will be transformed with honey, lime, and cilantro dressing.
This salad is made with lots of veggies. These beans, corn, peppers, bacon, tomatoes, and cheese will be a difficult recipe to beat.
Source: noshingwiththenolands.com
This French-inspired dish is made in one pot and is incredibly elegant. You could serve it as a dinner party dish, and it could be easily doubled for a crowd.
The beans are cooked with chicken and kale in a wine and mustard sauce that the beans just love. Tarragon has been added for that French touch, which is something different to try with your beans.
This easy skillet recipe is one of the best dinner ideas for tonight!
Source: runningtothekitchen.com
This recipe is excellent if you have some leftover brisket, as the beans bulk this dish out to make it go further.
It is served with BBQ sauce, cheese, peppers, and tomatoes, and you will find the tortilla chips the perfect topper for a really imaginative and relaxed dish to use up some meat!
Source: worldofvegan.com
This is it if you are after a quick, healthy, and filling lunch dish.
The beans have been added to by vitamin E-rich sesame seeds in both the tahini and the toasted sesame oil and are a great alternative to those needing to avoid nuts.
The wilted kale provides helpful Vitamin K and C to the diet and combines well with the pinto beans.
17 Best Canned Pinto Beans Recipes (Quick and Easy)
Looking for healthy and hearty meal? Get your daily dose of protein and fibre with these delicious and easy recipes with canned pinto beans.
Ingredients
1. Slow Cooker Chicken Taco Soup
2. BBQ Quinoa and Pinto Bean Burgers
3. Three Bean Chili
4. Southwestern Crockpot Beef Stew
5. Taco Soup
6. Pork Posole
7. Chicken Taco Casserole
8. Spiced Pinto Bean Salad with Avocado Dressing
9. 3 Bean Salad
10. Texas Caviar
11. Pulled Pork Chili
12. Pinto Bean Soup
13. Pasta E Fagioli
14. Mexican Street Corn Chopped Salad
15. Skillet Chicken with Beans and Greens
16. Brisket Nachos
17. Sauteed Kale, Bean, and Avocado Salad
Instructions
Scroll up to get a bunch of easy, yummy, and delicious recipes with canned pinto beans. Don't be afraid to get creative with the ingredients, you might discover a flavor you didn't know you liked.
Get your shopping list going and make sure you've got all the ingredients.
Get cooking and make your next Canned Pinto Beans Recipe!
Notes
Which one of these recipes was your favorite? Let me know in the comment section or on Pinterest!