They say that breakfast is the most important meal of the day, but this list might change that. You won't be able to wait to put these fun dinner ideas on your dinner table!
I'm a huge fan of making meals fun, no matter the occasion! After all, how lucky are we to enjoy these delicious ingredients at our fingertips?
Health and nutritional value are both super important, but you can have healthy dinners that are fun, too.
Let's prove it. Here are fifty-one deliciously fun dinner ideas for you, your entire family, or even your dinner party guests to enjoy for dinner tonight!
Fun Dinner Ideas for Family
Making dinner fun for the whole family is a great way to come together and enjoy a meal. Quality time is made better with quality food, after all!
Luckily, fun family dinner ideas don't have to mean spending hours in the kitchen, thanks to these dinner recipes.
Check out a few ways to make your family dinners a little more fun, no matter if it's for busy weeknights or a fun Saturday night.
Source: allnutritious.com
Don't settle for ordinary chicken cutlets! These delicious baked chicken cutlets are one of my inventions, and they don't disappoint, even with picky eaters.
This easy dinner recipe is crunchy, juicy, and good for you to boot, making it the perfect easy weeknight dinner!
Your family will love sinking their teeth into these delicious cutlets, especially with the crunchy crust. Top with your favorite chicken sauce, serve with an easy side, and you're away!
Source: quichemygrits.com
There's a reason that shrimp and grits have been a staple in Southern kitchens for an easy meal as long as they've been around. This is a delicious, comforting, and super flavorful dish!
Not only is it fun to eat, but this is also the kind of great recipe that's fun to make. The crunchy bacon, sweet shrimp, and creamy grits combine to create something beautiful for your taste buds.
Source: acedarspoon.com
We all love chicken tenders, but did you know you could make them even better next time? These pretzel-crusted chicken tenders are crunchy, salty, and great for a quick meal in the best way.
This recipe uses fun ingredients, but it's also fun because of how easy it is to make. The pretzels act as breadcrumbs and seasoning, eliminating a few steps along the way.
Source: happykitchen.rocks
Make a healthier and gluten-free version of your favorite Italian dish with just a few simple ingredients. This is a great way to substitute pasta for your dish.
The eggplant becomes super soft as the lasagne cooks, absorbing the lasagna sauce to become ultra flavorful. Pair that with a layer of crispy cheese, and you've got a winner!
Source: dishedbykate.com
What's more fun than a dish you can eat the whole of? These loaded beef burrito bowls are served in tortillas shaped like bowls and baked to a crisp.
The result? A bowl you can break pieces off of and dip into your burrito mixture! You and your family will be eating the dishes, so you'll have far less to do later!
Source: ambitiousfoodie.com
Macaroni and cheese is a delicious crowd-pleaser of a dish guaranteed to excite your family for dinner.
The mere smell of the cheese sauce coming out of the kitchen might just attract a few neighbors. This recipe is super simple, using quality ingredients and a few spices to up the flavor.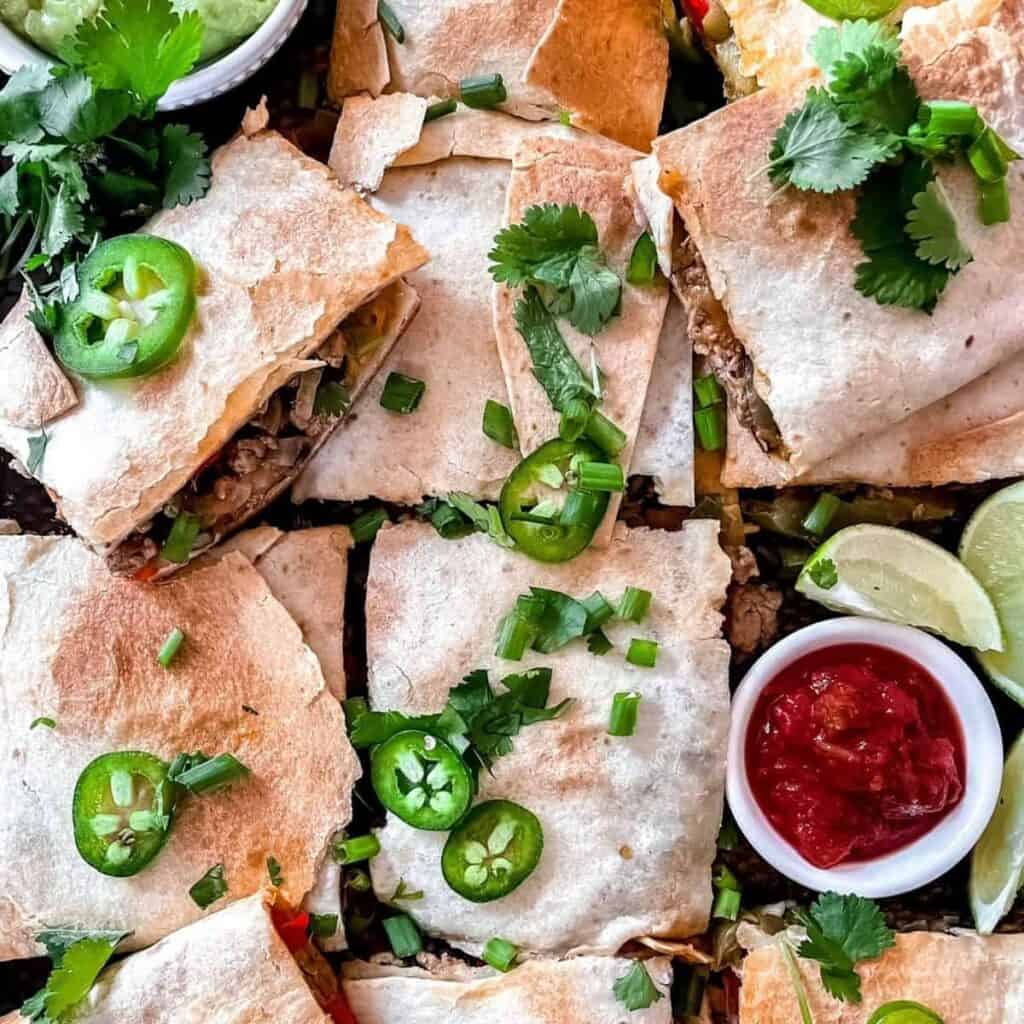 Source: sugarandsnappeas.com
Ground turkey is a super healthy protein option. It's lean, absorbs a ton of flavor, and cooks quickly. Imagine all that flavor and protein packed into a delicious quesadilla!
These quesadillas are quick and easy hand food that your family will love. Serve a massive plate of them in the middle of the table and let everyone dig in.
Source: simplyscrumptiouseats.com
Jerk chicken is known worldwide for being one of the most flavorful, bold, and vibrant ways you can prepare chicken. Packed with spices and singing with flavor, it's a real treat.
Now imagine it in pasta! Use any vegetables on hand to add a healthy kick to the dish. The creamy sauce and bold, spicy chicken make a wonderful contrast.
Source: artofnaturalliving.com
Tacos are a super fun dinner option. You can make your own, assembling each taco with the perfect balance of ingredients to suit your taste. Not to mention, your kids can enjoy the fun of cooking!
Start them on the road to culinary greatness by getting them to make the perfectly creamy sauce to accompany the blackened salmon. This is a great summer dish everyone will love.
This is one of the best light dinners for a hot summer night!
Source: randaderkson.com
Stuffed peppers are super fun to prepare and eat. They're one of my favorite weeknight recipes! Cooking ground chicken in pepper helps it stay super moist and delicious.
Pair that with the vibrant flavors bursting from every bite of this dish, and you've got a winner. In just half an hour, you can enjoy the perfect dinner.
Have bell peppers to spare? Check out these useful green pepper recipes!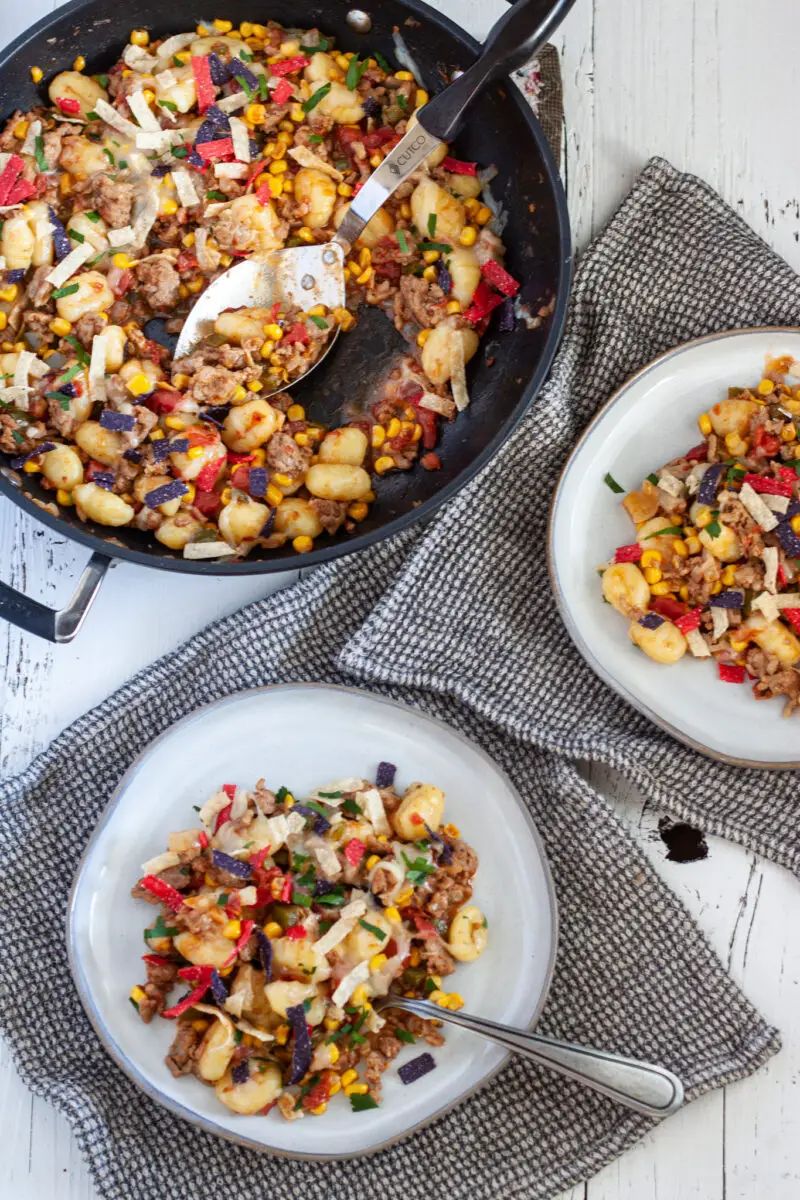 Source: midwexican.com
Sometimes, to have some fun with dinner, you need to think outside the box. Italian and Mexican flavors combine in this unbeatable one-pot wonder.
The chewy gnocchi nuggets and spicy taco ingredients make for something beautiful! This is fun, simple to prepare, and guaranteed to please everyone in the family.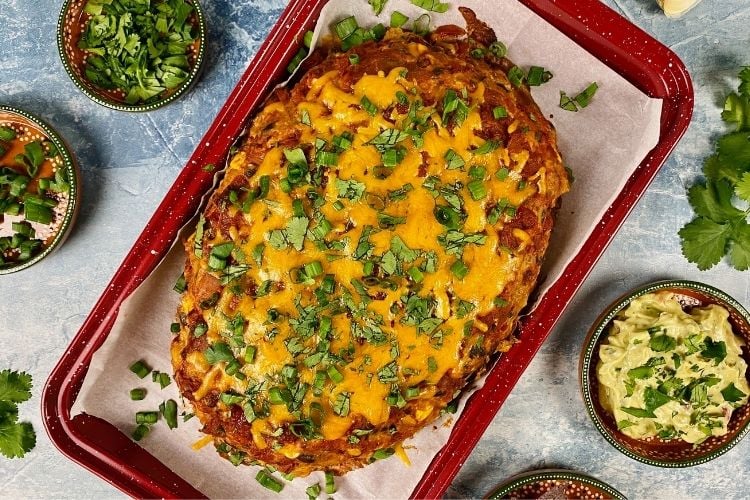 Source: healthyfoodiegirl.com
Speaking of interesting combinations, here's a Mexican meatloaf recipe that packs a real punch! This is a great way to put a bold spin on a family favorite, especially if you serve the right sides.
You can have this meatloaf – and the side dishes – ready in under an hour. It's a great way to enjoy a Sunday roast without spending the whole day toiling over a trussed chicken or pork shoulder.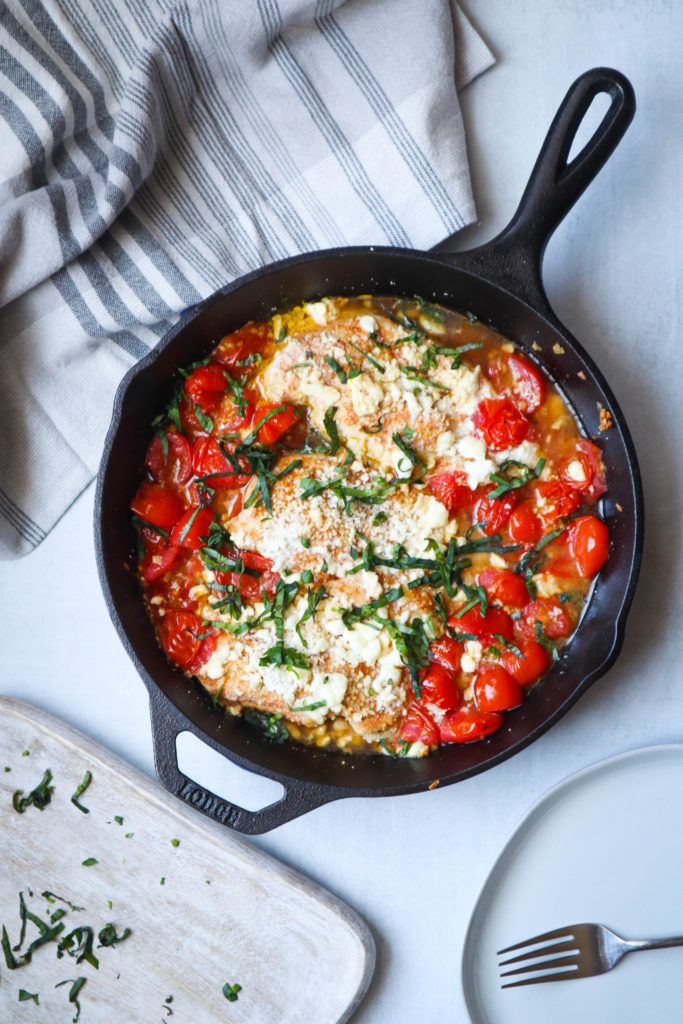 Source: blessthismeal.com
Prepare this delicious, simple, healthy recipe for your family in under thirty minutes. This is extra fun if you serve it with a handful of forks in the middle of the table.
Everyone can dive in and enjoy the dish right out of the pan, saving time on dishes and making dinner a communal affair.
Source: littlesunnykitchen.com
Buffalo sauce quickly turns chicken into one of the best things you can enjoy at dinner, especially when you need to feed a crowd. That's why this buffalo chicken pasta dish is the best!
You can whip up the perfect family-friendly dish in under half an hour in just one pan. Featuring hearty chicken and all the vegetables you like, this is a great way to pack your kids with vegetables.
Source: foxeslovelemons.com
Shrimp tacos are a great family treat that you can enjoy any night of the week. This recipe makes preparing them super easy. Succulent shrimp with a side of fried peppers and onions?
What's not to love? Serve this with your favorite selection of salsas and toppings to let everyone assemble their ideal taco.
Fun Dinner Ideas for Kids
Getting kids to eat their dinner without a fuss can be a bit of a chore! The key is to make it as fun for them as possible, and the Internet has a few ideas on how to make that happen.
These ideas are fun, healthy, and easy for you to make. No sacrifices here, just great flavor and fun that your kids will love.
Source: allnutritious.com
Bring the flavors of Asia into your kitchen with this super simple ground pork stir fry. This dish is fun to prepare because it takes no time or effort.
It's also a fun dish because it's packed with delicious flavors. Served over rice or noodles, your kids can dig in without worrying.
Source: ofbatteranddough.com
Who doesn't love pancakes for dinner? This is a treat your kids will go nuts for! Pancakes are so easy to make and perfect as dinner on special occasions.
This recipe uses buttermilk, so the pancakes are extra fluffy and full of pockets to catch the sauce of your choice. Serve with syrup, cinnamon sugar, peanut butter, or whatever your little ones desire.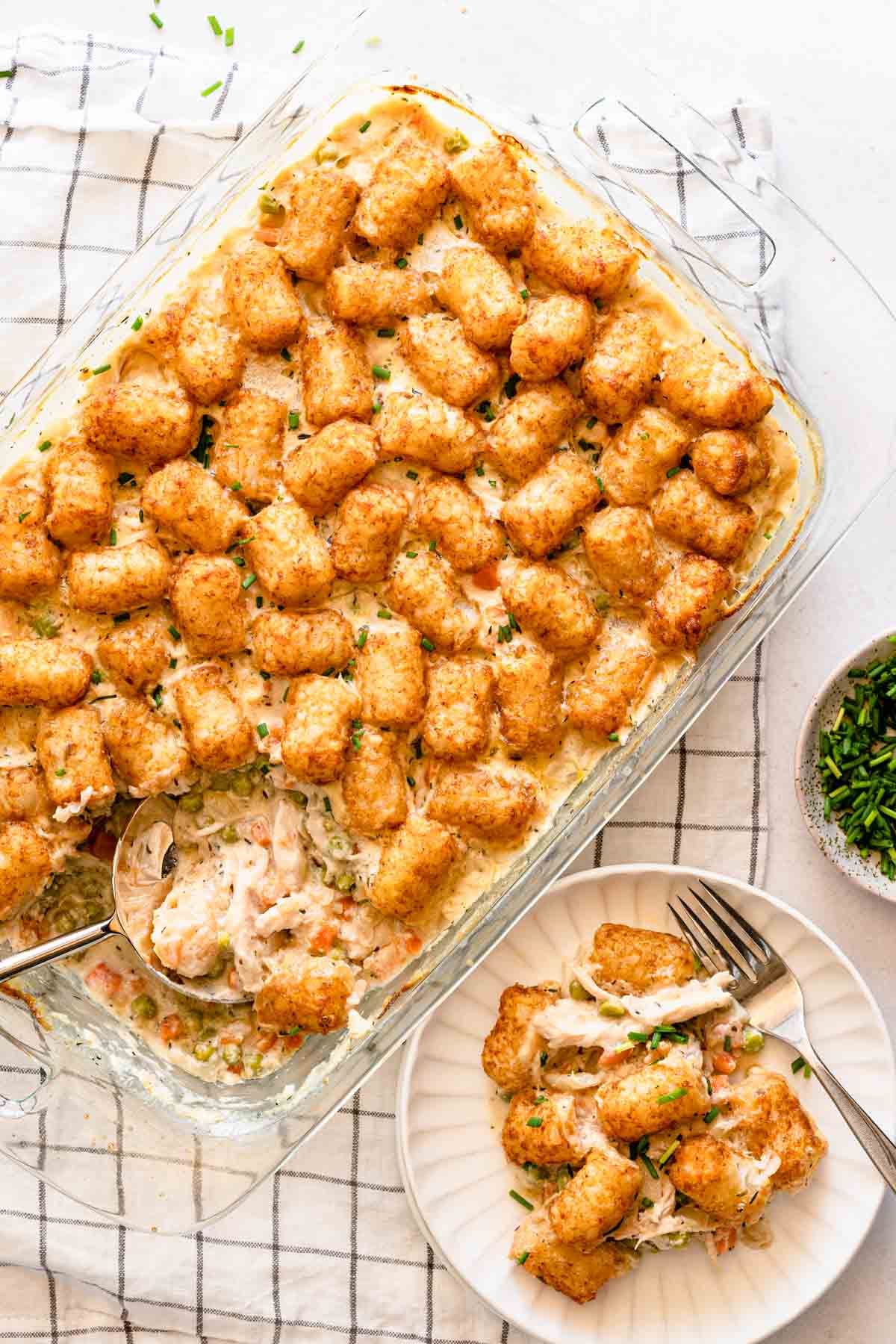 Source: nibbleanddine.com
Casseroles are a great way to lessen your load on a busy weeknight. You can throw them together without stress, but sometimes the kids are reluctant to get on board.
Trust me, that won't be an issue with this recipe. This casserole is packed to the brim with crispy tater tots. Your kids won't believe their luck when you set this before them!
This is one of the best summer casseroles to enjoy with your family!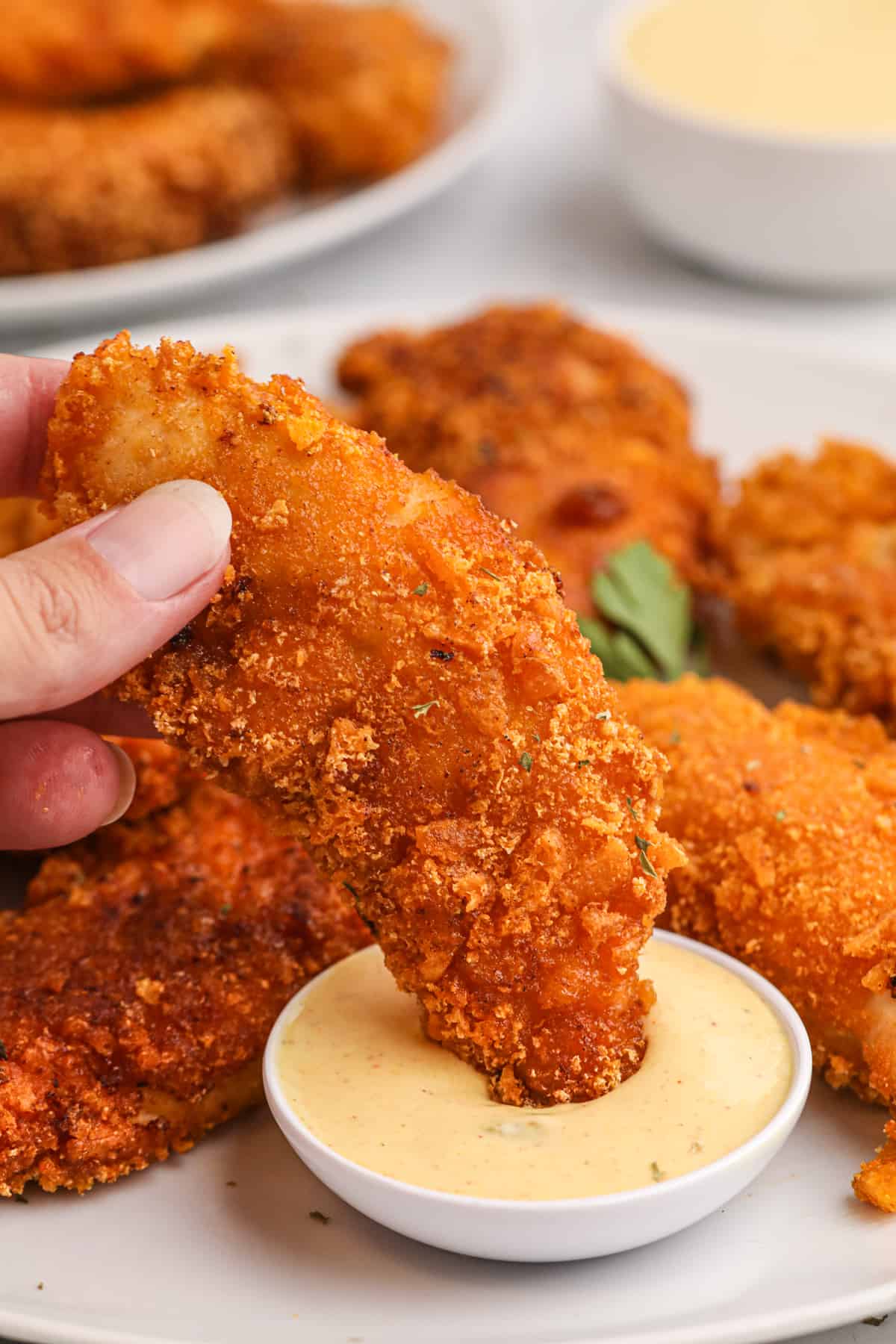 Source: noshingwiththenolands.com
We've all heard of using cornflakes to coat chicken tenders, but this recipe takes that idea to a new level!
These Cap'n Crunch chicken fingers are a little sweet, plenty savory, and live up to their crunchy moniker. They're also super easy to prepare, so you can have these any night of the week.
Source: planted365.com
Making your dinners more colorful is a great way to get your kids on board with many new recipes. That's where these blushing pink hibiscus noodles come into play.
Hibiscus flowers have a slightly tart, floral flavor that enhances any dish they're a part of. That makes these noodles great as a base for any Asian dish.
Source: inthekitch.net
No, these tacos don't get up and walk away, but they might as well, considering how quickly they'll disappear into your kids' stomachs! These walking tacos are so clever and great for picnics!
Using the bottom half of a full Doritos bag, you can make a quick and easy dish that mirrors the taste of a taco without all the mess.
Take these on road trips, picnics, potlucks, or a quick walk around the park.
Source: garlicsaltandlime.com
Sometimes, you want all the pizza flavor without all the effort it takes to make a full crust. That's where this idea is perfect. This is so easy. Your kids could assemble the pizzas themselves.
All you need to do is lay out the tortillas, spread them with some tomato paste, and top them with whatever your heart desires. Assembling these is a great way to spend time together as a family.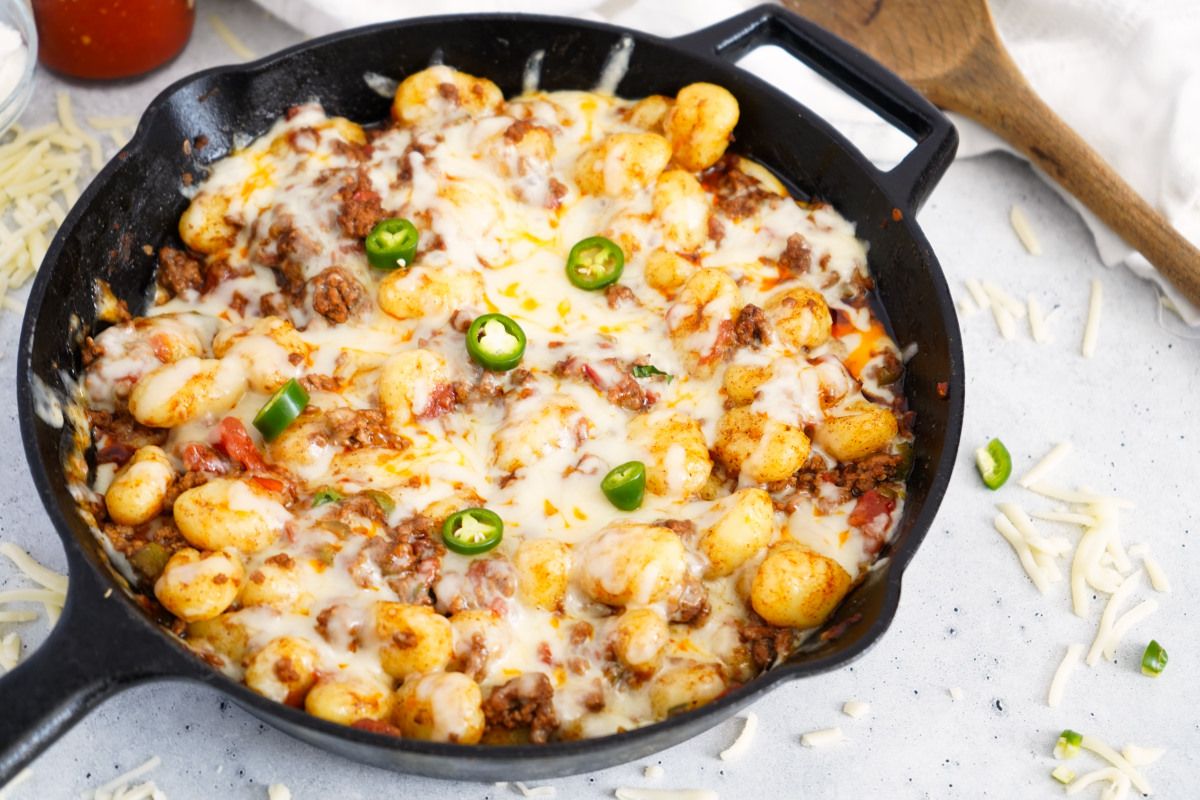 Source: stefseatsandsweets.com
Take just six ingredients to create this ultra-delicious one-skillet recipe. The melted cheese on top of all that flavorful beef makes this dish sing.
What I love about this dish is that you can sneak as many vegetables as you like into the mix. Your kids will never notice, thanks to all the other delicious things they can pay attention to!
Source: strengthandsunshine.com
We all know the temptation to get quick, easy fried chicken for dinner. But did you know you can do the same thing at home simultaneously?
Better yet, did you know it could taste much better than anything you can buy outside? This air fryer popcorn chicken recipe produces crispy, juicy, tender nuggets of perfect chicken.
Source: chocolatemoosey.com
Combine two of the best fun dinner ideas into a single recipe with these amazing taco pizza rolls. It's all the flavors of your favorite tacos on a fluffy, crispy pizza roll base.
These are great for picnics since you can eat them without any cutlery. They're also perfect for meal-prepping school lunches.
Make it even faster by using a roll of Crescent dough to make the bases.
Fun Healthy Dinner Ideas
Walking the line between delicious and healthy is an art form, but thankfully it's easy to learn! These fun and healthy dinner ideas prove you can have it all (without sacrificing your evening).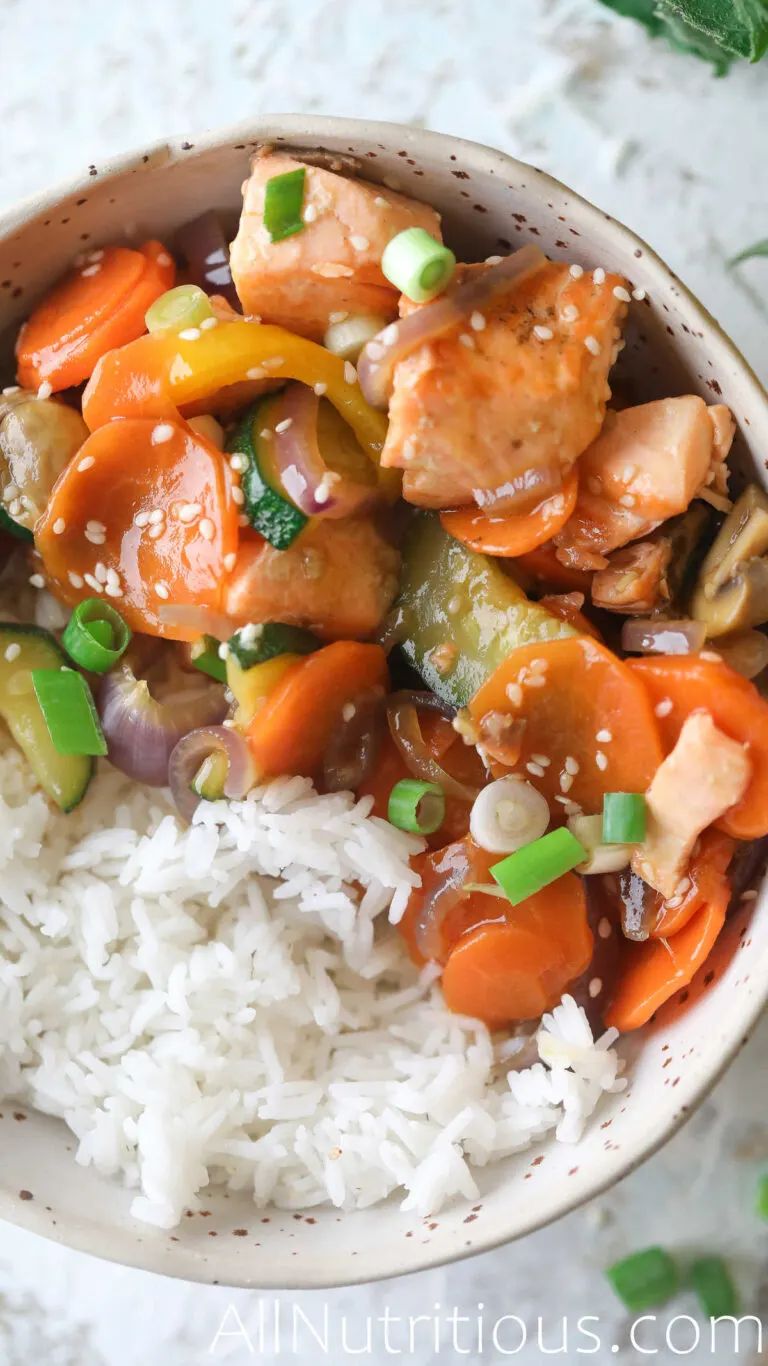 Source: allnutritious.com
Sweetness and umami follow this stir-fry everywhere it goes. It's the perfect healthy dinner because it tastes like it should be bad for you when it's quite good for you.
The sticky sauce is the hero of this dish, coating the tender and flaky salmon to perfection. It comes together in under half an hour, so it's the perfect mid-week meal.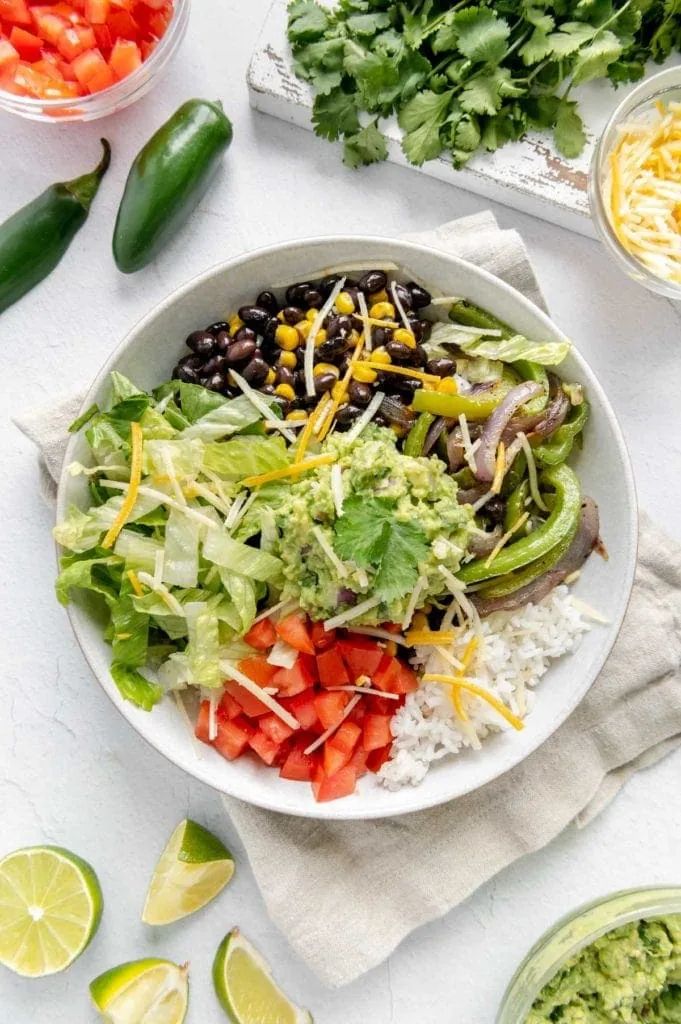 Source: bestservedvegan.com
What's more fun than having food from a takeout joint without needing to go out and get it? This vegan burrito bowl is a Chipotle copycat recipe packed with many fresh and healthy vegetables.
This is tons better for you than anything you could buy at Chipotle. Plus, it's cheaper, tastier, and super fun to prepare.
Source: allnutritious.com
I'm a huge fan of this zucchini stir fry recipe because it uses just six ingredients to make something delicious. If you have excess zucchini and aren't sure how to use it, this is the recipe.
Sprinkle with a generous dusting of white sesame seeds for a little extra crunch, and you're ready to go! This stir fry comes together in just about how long it takes to cook a batch of rice.
In other words: fast!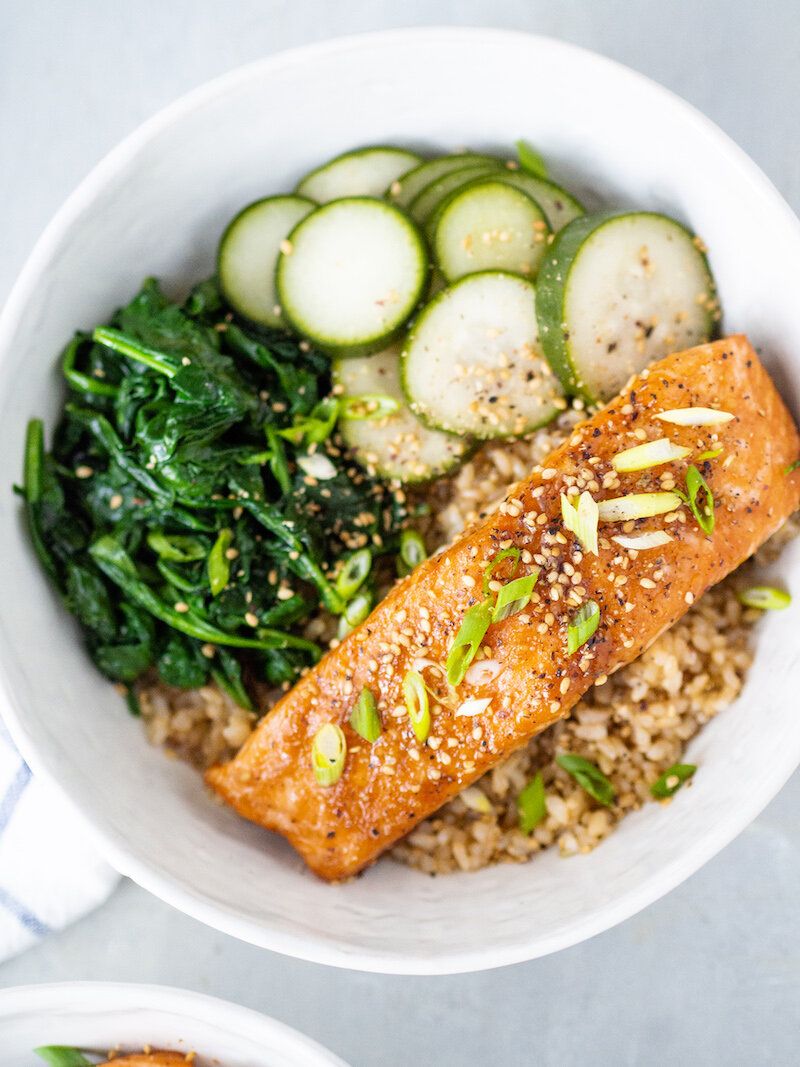 Source: rachaelhartleynutrition.com
Miso is one of my favorite ingredients to cook with. It adds a ton of incredible flavor to any dish without much effort. It's especially good with salmon, which pairs well with oily, rich fish.
You can easily make this dish your own! Serve the miso-glazed salmon over rice with any vegetable sides you like. Fried bok choy, spicy cucumber, and even edamame would be a great fit here.
Source: epicveganeats.com
Looking for a vegetarian burger option that doesn't compromise on protein? This crowd-pleasing recipe is exactly what you need!
You and your family can have these burgers ready in just thirty minutes.
The best part about having burgers for dinner is that you can make each one to suit your unique taste. Offer a variety of toppings and let each person assemble their perfect burger.
Source: tomatoblues.com
Zucchini noodles don't get enough love, in my opinion. You can use them any way you'd use standard spaghetti, so why not get creative?
This herbaceous sauce is slightly similar to Alfredo, considering it's heavy, creamy, and flavorful. However, the hint of lemon and a handful of herbs makes this ideal for a summer dinner.
Source: foodwineandlove.com
Tired of using sandwiches as your go-to quick meal option? Add a fun and interesting spin by making quesadillas instead! These are super crunchy, flavorful, and much healthier than they seem.
The secret to success hiding between the crunchy layers of these quesadillas is a bright, vibrant avocado pesto. It's creamy and punchy, adding heaps of flavor with little effort.
Source: throughthefibrofog.com
A great way to enjoy a healthy dinner while keeping things fun is to use lettuce cups! They're a low-carb alternative to bread that won't take away from the flavor of your favorite fillings.
The lean, spicy turkey filling is an ideal flavor-packed filling to keep you and your tastebuds interested.
Check out more light dinner ideas here.
Source: randaderkson.com
Another great substitute for pasta or bread is to stuff vegetables with your chosen filling. Instead of a buffalo chicken sandwich, why not try stuffed buffalo chicken zucchini boats?
The baked zucchini becomes crispy on the outside but soft and flavorful on the inside. The punchy buffalo filling, along with the creamy sauce on top, means you won't miss the bun at all!
Source: thefamilyfoodkitchen.com
If you've never tried Korean beef before, now is the time! Bulgogi is a Korean ground beef preparation that packs a punch. It's rich, hearty, sticky, and sweet.
Best of all, it's super versatile! This recipe heroes the delicious bulgogi beef, but you can use any sides you like to complete the dish. Serve several options, and let everyone make their bowls!
Find more cheap recipes for families here.
Source: gardeninthekitchen.com
You don't need to leave your kitchen to enjoy restaurant-style orange chicken. You don't even need to spend a ton of time making it! This air fryer recipe makes achieving great results easy.
Take twenty minutes out of your busy weeknight to prepare this fun recipe the whole family will love.
Serve with rice, noodles, or just on its own, and let everyone dig in! This is the power of a great sauce.
Check out more diced chicken recipes here.
Dinner Party Fun Ideas
Dinner parties are a wonderful way to gather with friends and catch up over good food. They're even better when the food is as fun as the company!
These dinner party ideas go above and beyond, offering fun and tasty ways to delight your guests (and yourself).
Source: allnutritious.com
Walk the sunny paths of Italy with this delicious single-skillet recipe. This is perfect for impressing dinner party guests with warm, comforting, rich Italian flavors.
The chicken breasts cook in a rich marinara, so they stay ultra-tender and absorb all the flavor they possibly can. This only uses a single skillet, so you don't have to worry about dishes.
Source: aubreyskitchen.com
If you have a few hours, this smoked pork loin will impress. Wake up your smoker and get it stoked because this pork loin relies on a long, slow cook.
The dry rub plus the smoke lends this loin a distinctly smoky, spicy taste. It's woody, earthy, and so good it will blow your guests away!
Remember, the bigger the loin you choose, the longer it will take to smoke. Make sure you choose your size carefully according to your available time!
Source: fountainavenuekitchen.com
Yakisoba – literally 'fried noodles' – is a simple, delicious dish you can proudly serve to your friends and family. This is great as a main dish with a few extras like edamame or bok choy around it.
The great thing about this dish is that it comes together quickly. With no complicated meal taking all your attention in the kitchen, you can have more time to spend with your guests.
Source: dishedbykate.com
Sushi is delicious, but it can also be complicated to prepare. You can enjoy all those great flavors with a sushi bake without messing around with rolling the actual sushi.
This is a great communal dish since you can serve everyone as much as they'd like from a single dish. Best of all, it's warm and satisfying, perfect for a summer or spring dinner party.
Source: strengthandsunshine.com
Looking for something colorful and unique to blow your guests away? How about some bright purple gnocchi? Instead of standard potato, this gnocchi uses taro, a purple sweet potato.
This lends the gnocchi a unique, earthy flavor. Combined with the bright tahini and parsley sauce, this is an addictive dish you and your guests will love!
Source: theforkedspoon.com
Sometimes, dinner parties call for the ultimate comfort food. And what says 'comfort food' like a massive pan of loaded carne asada fries? These chips aren't messing around!
Every bite is laden with smoky, meaty pulled pork, cheese, guacamole, and healthy dollops of sour cream. The secret to success is letting your chips get crispy before loading them, so be patient!
Source: naturallieplantbased.com
Put a colorful spin on a classic pasta dish thanks to this bright beetroot pasta sauce. This is both creamy and healthy, thanks to a dose of soaked cashews.
The sauce on this pasta is enough to make it addictive, but the toppings push it over the edge. Crunchy walnuts, crumbly feta, and a sprinkling of herbs crank this dish up to a hundred.
Source: cinnamonandsageco.com
Marinating chicken in citrus tenderizes it, making it extra tender and flavorful. It's an easy way to make cheap meat taste much more expensive and a great technique for dinner parties!
This way, you can feed a crowd without spending an arm and a leg. Create a taco bar packed with different toppings so everyone can create their perfect taco.
Source: prettydeliciouslife.com
Make things easy on yourself by creating a fun communal meal for your guests to share! These loaded fajita steak nachos are meaty and hearty, with many different textures to enjoy.
These nachos are easy to customize. That's why they're so great for dinner parties! No one will feel left out, or like they don't have something on the table they'd like to eat.
Source: theveganlarder.com
Bao is like the classic burger buns' fluffier, smoother, steamed-bun cousin. They're a great way to put a spin on your favorite burger fillings, especially if they're Asian-inspired.
Case in point: this vegan hoisin bao! This bao uses seitan – a tasty meat substitute – to create the perfect bao with no meat. Start marinating the day before for the best results.
Source: thelittlestcrumb.com
This simple pizza recipe makes the perfect refined dinner without spending hours in the kitchen. A few of these around the table will make sure everyone has plenty of food to enjoy.
The best part about this recipe is how easy it is. Serving something refined doesn't have to take hours, and it doesn't have to be stressful! This recipe is proof.
Source: littlesunnykitchen.com
Serve something comforting, warm, and simple to make your summer night with your guests a great one! These BBQ chicken sliders are easy to prepare and perfect for feeding a crowd.
With this recipe, you can use any rolls you like, but I highly recommend going with Hawaiian rolls! The extra fluffy sweetness perfectly contrasts the sticky, flaky chicken.
Check out these handy leftover BBQ chicken recipes!
Source: 4theloveoffoodblog.com
This recipe might be one of my favorites on the list. It's just so unique and creative! Your guests will love assembling their own baked potatoes.
Bake the perfect jacket potato – one or two per guest – and offer an array of different toppings. It's like a taco bar but for baked potatoes! Can you think of anything better?
Source: rachaelhartleynutrition.com
Turn a standard gyro sandwich into a dish worthy of a dinner party with this single-skillet recipe. This Greek-inspired dish doesn't mess around, packing a ton of fresh flavors into every mouthful.
Serve at the center of the table with flatbread and olive oil for the perfect dinner party dish.
This is one of the best meat recipes for dinner tonight!
Source: foxeslovelemons.com
Finally, what's better than a big sandwich? A ton of little ones, of course! This lamb sliders recipe is a great way to serve a table full of guests in a fun way. There's nothing better than demolishing a slider.
The hero of this dish is the spiced, roasted lamb. The pesto mayo helps punch up the flavor, while the pickled radishes add a much-need touch of freshness. All in all, it's a great balance of tastes.
51 Easy Fun Dinner Ideas for a Family Night In
Get inspired in the kitchen with these fun dinner ideas that will make mealtime a breeze. Enjoy these easy but fun recipes with the whole family!
Ingredients
1. Baked Chicken Cutlets
2. BBQ Shrimp and Grits
3. Pretzel Crusted Chicken
4. Eggplant Lasagna
5. Loaded Beef Burrito Bowls
6. Gouda Mac and Cheese
7. Ground Turkey Quesadilla
8. Jerk Chicken Rasta Pasta
9. Blackened Salmon Tacos
10. Ground Chicken Stuffed Peppers
11. Taco Gnocchi Skillet
12. Mexican Meatloaf Recipe with Salsa
13. Baked Feta Chicken
14. Buffalo Chicken Pasta
15. Shrimp Fajitas
16. Ground Pork Stir Fry
17. Pancakes
18. Chicken Tater Tot Casserole
19. Cap'n Crunch Chicken Fingers
20. Hibiscus Noodles
21. Walking Tacos
22. Tortilla Pizza
23. Skillet Taco Gnocchi
24. Air Fryer Popcorn Chicken
25. Taco Pizza Rolls
26. Salmon Stir Fry
27. Vegan Burrito Bowl
28. Zucchini Stir Fry
29. Miso Glazed Salmon Bowl
30. Black Bean Lentil Burger
31. Zucchini Spaghetti
32. Vegetarian Guacamole Quesadilla
33. Spicy Turkey Lettuce Wraps
34. Buffalo Chicken Stuffed Zucchini Boats
35. Korean Beef Bowl
36. Air Fryer Orange Chicken
37. Creamy Tomato Chicken Skillet
38. Smoked Pork Loin
39. Yakisoba Noodles
40. Salmon Sushi Bake
41. Purple Sweet Potato Gnocchi with Tahini Parsley Sauce
42. Carne Asada Fries
43. Creamy Beet Pasta Sauce
44. Citrus Marinated Chicken Tacos
45. Loaded Fajita Steak Nachos
46. Vegan Hoisin Seitan Bao
47. Fig, Pear, Walnut, Brie, Honey, and Goat Cheese Pizza
48. BBQ Chicken Sliders
49. Loaded Baked Potato Board
50. Greek Lamb Gyro Skillet
51. Lamb Sliders
Instructions
Scroll up to get a bunch of easy, yummy, and delicious dinner recipes. Don't be afraid to get creative with the ingredients. You might discover a flavor you didn't know you liked.
Get your shopping list going and make sure you've got all the ingredients.
Get cooking and make your next Fun Dinner!
Notes
Which one of these recipes was your favorite? Let me know in the comment section or on Pinterest!