Italian sausage isn't like other sausage. It's packed with flavor! You can buy many varieties; however, you'll often find them full of herbs and garlic, just like these Italian sausage recipes.
Using flavored Italian spicy sausage means you don't need to add much seasoning to your recipe to get an incredible flavor. A little salt and pepper go a long way with Italian sausage links.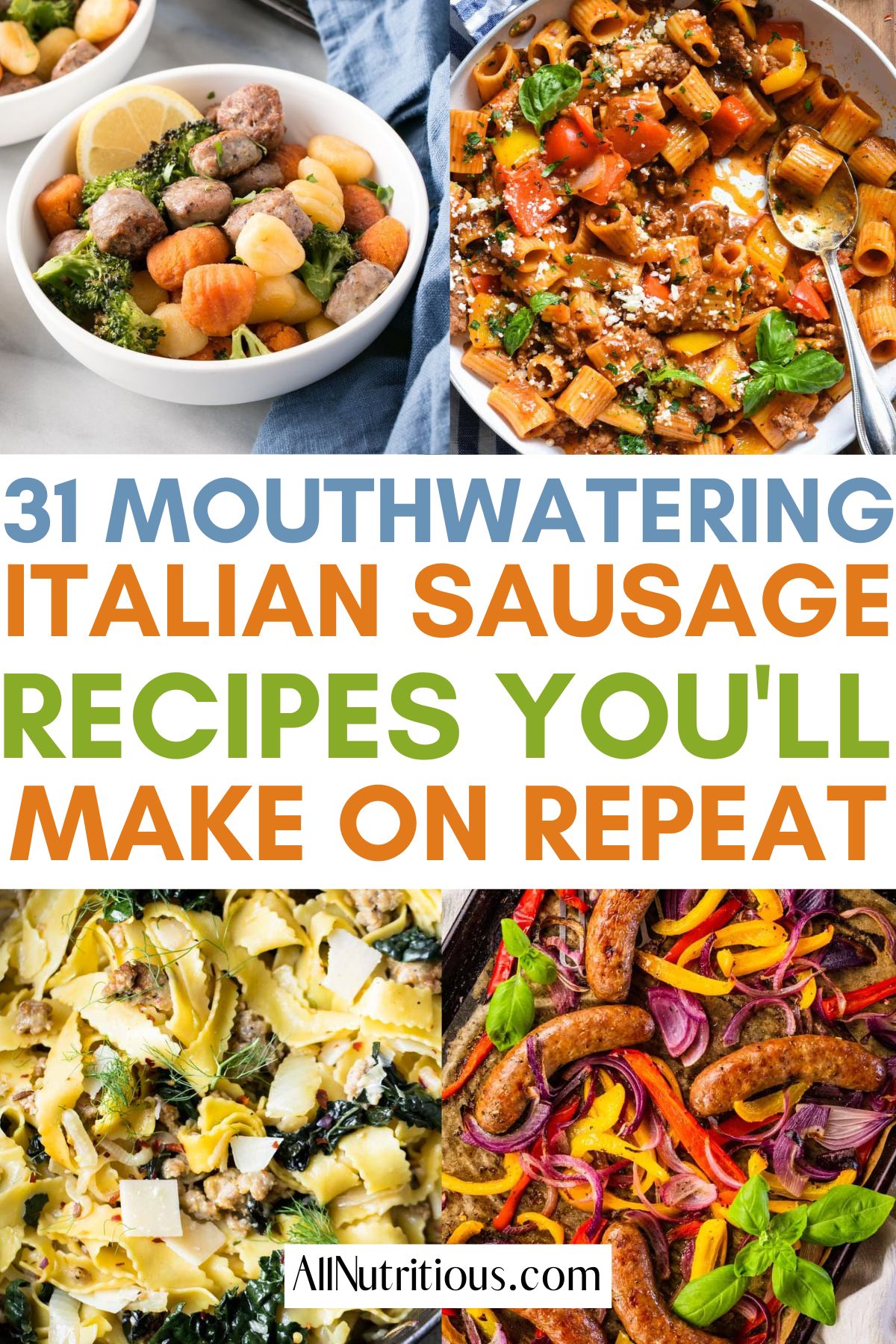 What Goes Good with Italian Sausage?
Just because it's Italian sausage doesn't mean you must stick to pasta recipes. It goes well in soups or with roasted veggies. It even works as a stuffing for mushrooms or peppers!
Best Italian Sausage Recipes
Browse the variety of dishes below for the best Italian sausage recipes you will find!
Source: livingsweetmoments.com
This Instant Pot sausage pasta is quick and easy. This creamy Italian sausage pasta has lots of flavors yet few ingredients!
Sauté your sausage and onions with garlic powder and Italian seasoning. Add spaghetti sauce, dry noodles, and broth when the onions are soft.
Add your spinach when everything else is cooked, and serve this easy pasta recipe with garlic toast for a comforting meal!
Find more cheap healthy recipes here.
Source: practicallyhomemade.com
Tortellini soup is an easy, comforting dish for busy weeknights. You'll find small pockets of pasta with a delicious filling with savory flavors. Everything is coated in a creamy tomato sauce.
Add cooked sausage, garlic, and onions to your pot. Stock, marinara, diced tomatoes, and Italian seasoning form your soup base.
Add your tortellini in the last half an hour of cooking. Add cream cheese too. Stir well and cook until your pasta is warmed. Garnish with parmesan when serving this easy dinner!
Need more soup ideas? Find these authentic Mexican soups!
Source: howewelive.com
This is an easy, satisfying sausage dish. It combines the fragrant taste of fennel with creamy pasta.
Cook your sausage before setting it aside. Sauté onion, fennel, and kale in the same skillet. Add your stock and noodles. Cook until your pasta is tender.
Add your sausage back to the pan and stir in lots of parmesan! This delivers a delicious, creamy sauce.
Find more Friday Night Dinner ideas here!
Source: joyfoodsunshine.com
Make a complete meal with this deliciously cheesy chicken sausage dish.
Take your gnocchi to the next level. Brown it in butter and olive oil when cooked! Cook your sausage and green pepper. Then, add the ingredients to make your sauce.
Diced tomatoes, milk, and cheddar cheese make your creamy sauce. Add garlic salt, pepper, onion, and garlic powder. They add flavor to your cheesy sausage gnocchi!
Source: mykitchenlove.com
Sausage and peaches sound odd, but they go well together! The sweetness of peach is a perfect complement to savory Italian sausage.
This is an easy recipe. Place your ingredients on a baking pan in a single layer. Coat them in a sweet jam and olive glaze, and bake. Sausage, baby potatoes, peaches, and bell peppers are ideal.
Fresh sage leaves and minced garlic deliver flavor to your meal. Drizzle everything with lemon juice when it's cooked!
This is an easy, fun dinner idea that the whole family will enjoy this summer!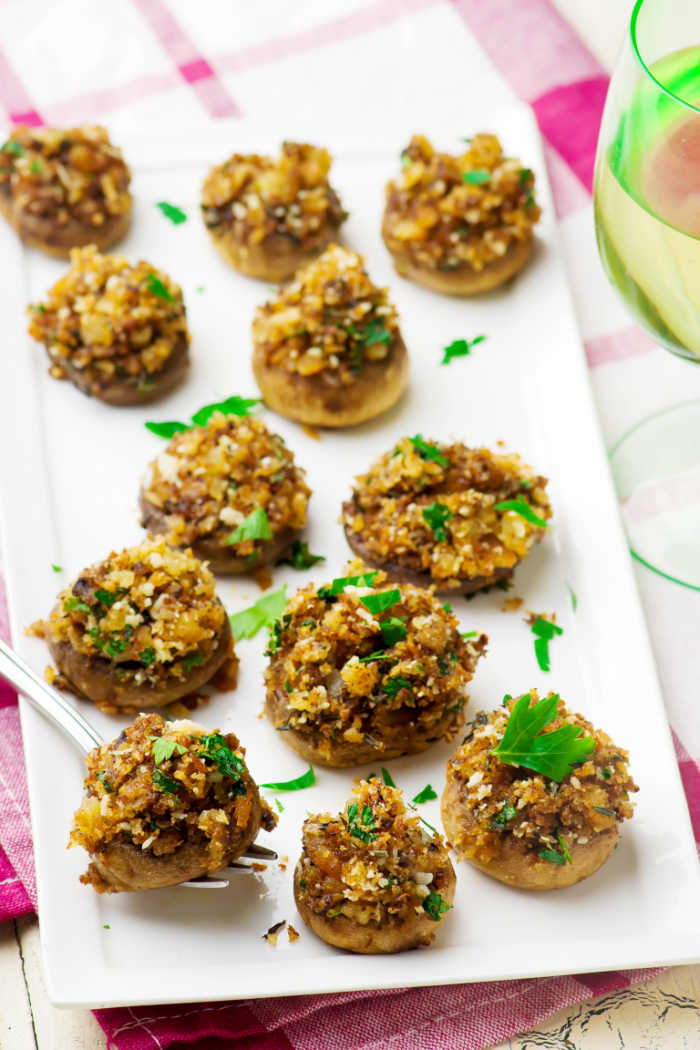 Source: mommyevolution.com
These sausage-stuffed mushrooms make a delicious appetizer. Baby portobello and white mushrooms are perfect for this dish.
To make your filling, cook sausage, mushroom stems, and garlic. Fresh sage and Marsala wine add a beautiful depth of flavor. Add cream cheese and parmesan and stir until they are melted.
Add a crunchy topping to your stuffed mushrooms before baking. Panko and parmesan cheese are perfect!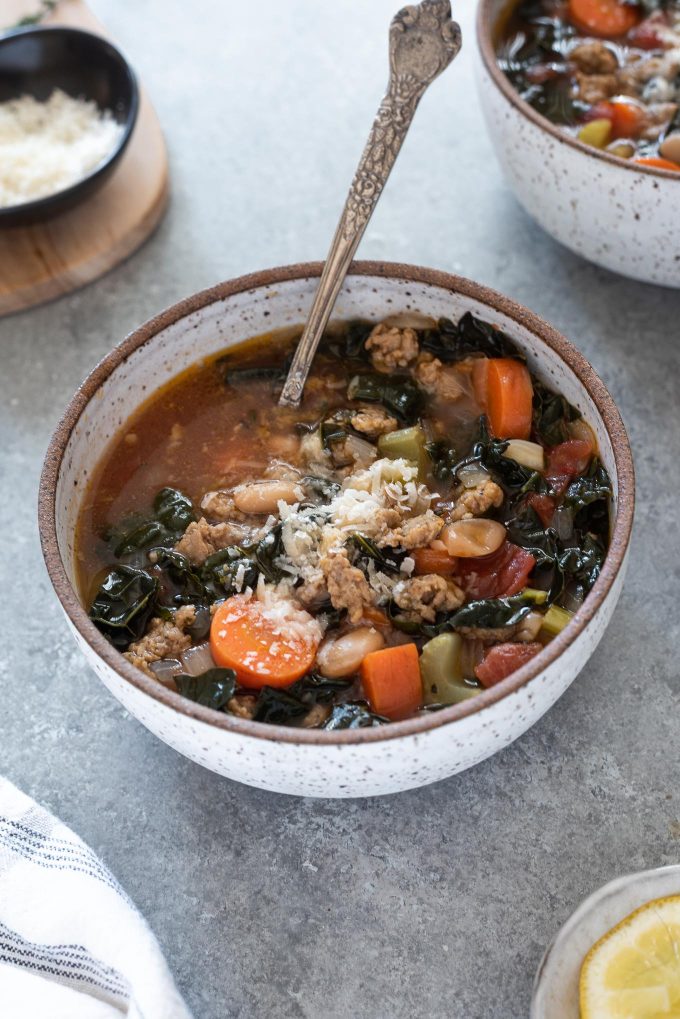 Source: flavorthemoments.com
This flavorful, hearty soup is perfect for colder months. Find Italian sausage, white beans, and chunky veggies.
Canned tomatoes are the base of your soup. Onions, carrots, celery, and kale add nutrition. Creamy cannellini beans add a delicious texture.
Chicken bone broth is the key ingredient that gives your soup the most flavor! You can use plain chicken broth, however. Thyme, rosemary, and lemon add fresh flavors, too.
Source: mommyevolution.com
Stuffed butternut squash is packed with sweet and savory tastes. Sausage, earthy mushrooms, and sweet apples deliver mouthwatering flavor.
Prepare your tasty filling while your butternut squash is baking. Brown your sausage, then add your mushrooms.
Garlic, red onion, sage, and cinnamon add a beautiful taste. Add walnuts for a crunchy texture.
Mix your filling with the flesh of the squash and put it back in the "shell." Add brown sugar, butter, and parmesan for a golden topping.
Source: belleofthekitchen.com
This recipe combines what you love about lasagna with warm, comforting soup!
Brown your sausage, onions, and garlic before adding everything else. Chicken broth, marinara sauce, lasagna noodles, and dried herbs. Basil, oregano, and thyme are the perfect combination.
Stir in heavy cream when cooking is finished. Serve your delicious soup and top with a cheesy mixture. Make this with ricotta, parmesan, mozzarella, and parsley!
Find more dinner ideas for tonight today!
Source: afarmgirlsdabbles.com
This recipe's cheesy, meaty filling goes well with the chili's heat. It makes an excellent appetizer!
To make your filling, cook sausage, bell pepper, onion, and garlic. Combine your tasty sausage filling with cream cheese and parmesan.
Spoon into halved jalapenos and top with mozzarella. Bake until the cheese is golden and bubbling!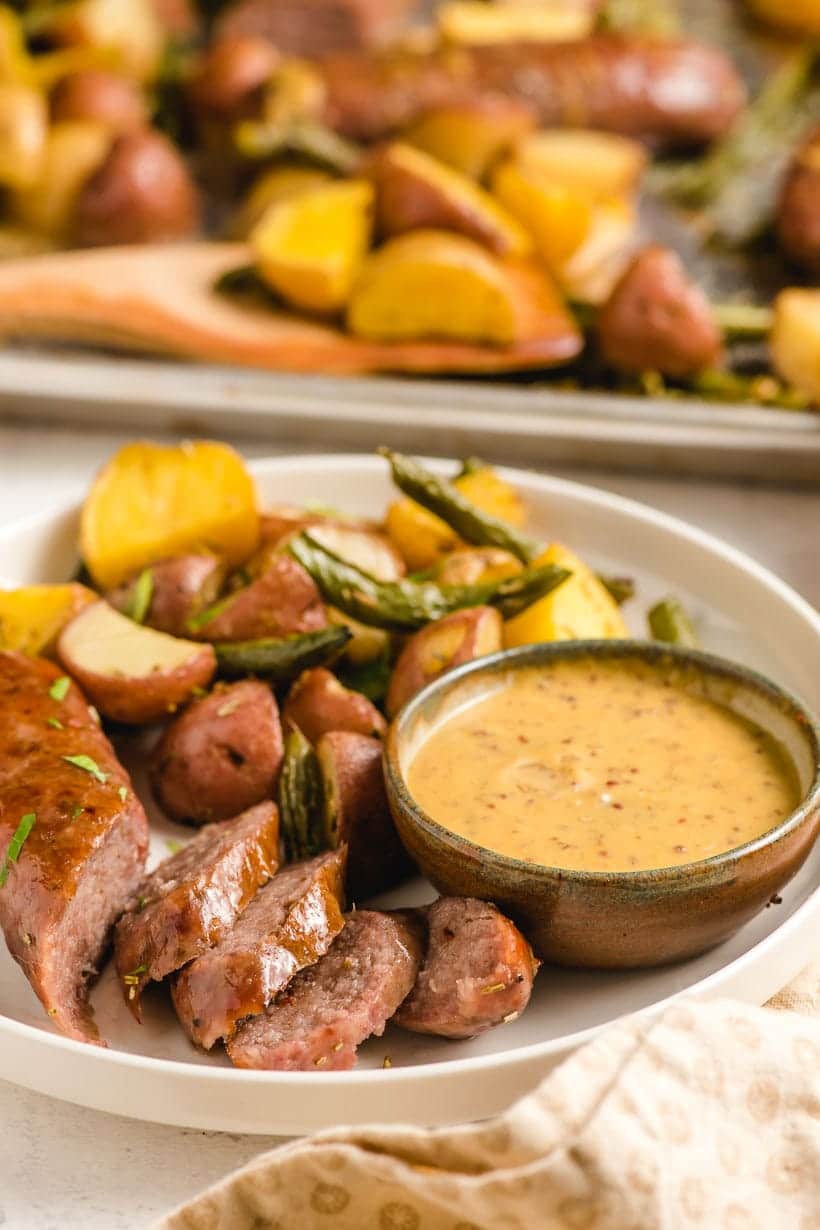 Source: neighborfoodblog.com
This sheet pan meal includes Italian sausage, potatoes, and tender green beans. A homemade seasoning blend is the only extra ingredient!
Mix rosemary, garlic powder, and kosher salt with olive oil. Toss your potatoes and cook briefly. Then, add your sausage and beans.
Bake until your sausages are cooked, and the potatoes are tender. Serve with a tangy Dijon mustard sauce.
Source: cookingwithcarlee.com
This easy recipe is packed with delicious flavors. The addition of farro and kale is a powerhouse of nutrition.
Sauté your sausage until it's nicely browned. Add farro, chicken broth, garlic powder, salt, and black pepper.
Once these are cooked, add white beans and kale and cook again briefly. Stir in fresh parmesan before serving!
Source: alittleandalot.com
Take a classic meatloaf to the next level by adding Italian sausage! Fresh herbs and fine-chopped vegetables add flavor and keep it moist.
The best mix of veggies is carrots, celery, and onion. Add garlic, parsley, and Italian seasoning. Cook these briefly to bring out the flavors.
Your meatloaf will have a strong flavor from the Dijon mustard, ketchup, Worcestershire sauce, and Tabasco. Make a delicious glaze using brown sugar, mustard, and ketchup.
Source: rachaelhartleynutrition.com
A mix of sweet and bitter flavors makes this a tasty meal. Find mustard greens, sweet Italian sausage, and caramelized onion with tender pasta.
Cook your sausage and set aside. Use the same pan for cooking your onion, minced garlic, and mustard greens in a flavorful broth.
Mix everything with your pasta and reserved cooking water. Stir well to make a delicious creamy sauce!
Source: hauteandhealthyliving.com
This white bean and sausage soup is healthy, hearty, and tasty. It's quick and easy to make, great for meal prep.
Add veggie nutrition with spinach, carrots, and onion. Your ground sausage delivers a delicious meaty flavor to a rich tomato base.
Add noodles and cannellini beans, and cook until your pasta is tender. Find more meat dinner recipes here.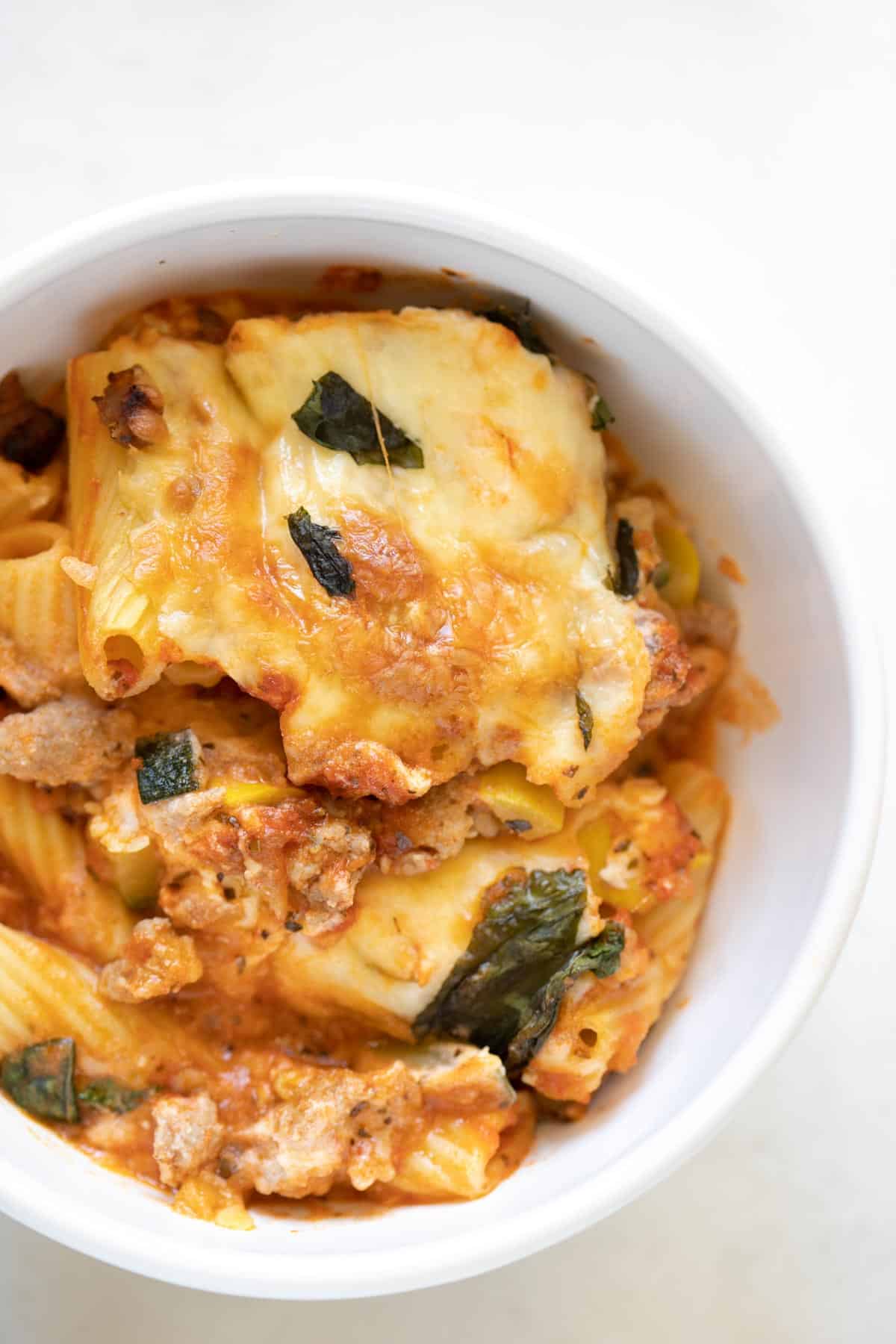 Source: thematbakh.com
Find sweet Italian sausage between tasty cheese, pasta, and sauce layers. Adding squash, zucchini, and onion sneaks veggies in, too.
Cook your pasta first and set it aside. Sauté your sausage, onions, zucchini, and squash in a skillet.
Layer pasta sauce, cooked noodles, and sausage mixture in a baking dish. Add ricotta, mozzarella, and fresh basil, too.
Bake until the mozzarella on top is golden and bubbling!
If you have a garden full of zucchini this year, try this yummy zucchini stir-fry recipe!
Source: theroastedroot.net
Use a handful of simple ingredients to make this meaty, veggie-filled skillet meal. Lots of cabbage, red bell pepper, and carrots add nutrition!
Cook your Italian sausage and set it aside. Onion and garlic add fragrant flavors. Cook these with your cabbage, carrots, and onion. Add your chopped sausage to the skillet, and serve hot.
Source: plattertalk.com
This creamy sausage pasta is made quickly using your Instant Pot. There are more steps than just popping it all in; however, the result is worth it!
You'll sauté mushrooms, shallots, garlic, and sausage. White wine, broth, baby tomatoes, Italian herbs, and parsley go in next. Mix everything well at this stage.
Add your pasta and spinach before cooking for a few minutes. Before serving, stir in cream, artichoke hearts, cream cheese, and parmesan. Let it sit to thicken a little before serving!
Source: homemadeheather.com
A breakfast dish packed with breakfast favorites. Find Italian sausage, eggs, hash browns, and cheese in this casserole!
Cook your sausage in a skillet. Then, add it to a large baking dish with hash browns. Mix eggs, milk, and shredded cheese before pouring over the top. Season with salt, pepper, and your favorite spices!
Bake your casserole until everything is cooked and firm in the middle. Garnish with sliced green onions before serving.
Source: saporitokitchen.com
This baked sausage and peppers need minimal prep and ingredients! It's the perfect busy weeknight meal.
Slice your sweet bell peppers and onions and add them to a baking pan. Place your Italian sausage evenly between your veggies.
Combine red wine vinegar, olive oil, Italian herbs, and red pepper flakes. Drizzle this over your sausage and peppers and toss gently. Bake until everything is cooked and golden.
Have extra bell peppers? Check out these other flavorful green pepper recipes.
Source: mykitchenlove.com
Italian sausage, roasted broccoli, and earthy mushrooms are the stars of this easy dish.
Add a delicate flavor to your broccoli and mushrooms with garlic-infused olive oil. Bake your mushrooms and sausages for a short time before adding broccoli.
While your sausage and veggies are baking, cook your noodles. When everything is cooked, toss it with a bit of pasta water. Add lemon juice, too, for a bright flavor.
Find more cheap recipes for families.
Source: marginmakingmom.com
Wholesome lentils make this Instant Pot soup filling and hearty. Add lots of veggies alongside your sausage for a nutritious meal.
Cook your sausage in the pot. Then, add garlic, onion, celery, carrots, and zucchini. Use canned tomatoes and chicken broth for the liquid element of your soup.
Add your dried brown lentils at this stage. Italian seasoning and oregano go in too. When your soup is cooked, serve it in bowls and sprinkle with parmesan!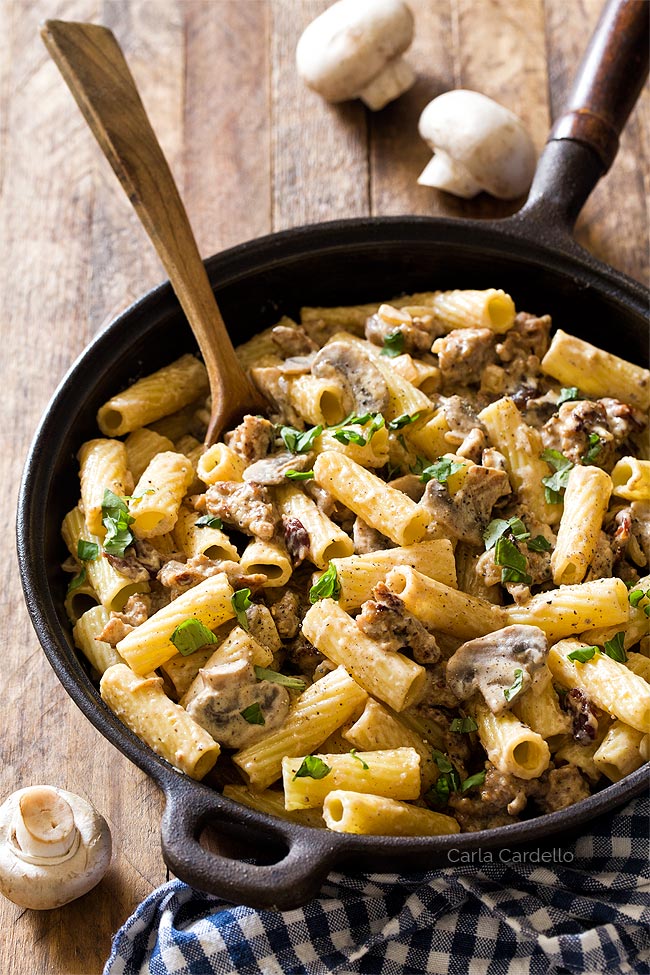 Source: chocolatemoosey.com
A creamy Alfredo sauce coats earthy mushrooms and meaty sausage. Large rigatoni noodles are a perfect vessel for the sauce.
Cook your sausage in a large skillet before setting it aside. Cook onion, mushrooms, and garlic in the same pan. This soaks up the flavor of the sausage too.
Combine heavy cream, parmesan, and fresh basil for your sauce. Dried cherries are an unusual addition to a pasta dish. However, the sweetness works well for this recipe!
Source: insidetherustickitchen.com
Crunchy crostini make the perfect appetizer, snack, or light lunch. Use only two simple ingredients for this delicious topping!
Remove flavorful Italian sausage from its casing. Mash it with stracchino – a tangy soft cheese.
Spread the mixture on thick, crusty bread. Bake until the sausage is cooked and the cheese is golden and melted!
Source: rachaelhartleynutrition.com
This recipe is a delicious, effortless Italian take on classic shrimp and grits.
Cook your sausage in a large skillet and set aside. Onion, garlic, and red pepper flakes flavor your tomato shrimp sauce. Cook this in the same skillet to soak up the taste of the sausage.
Make your "grits" by combining polenta, milk, and flavorsome broth. Serve your tomatoey shrimp and sausage mixture on top of your grits.
Source: foxeslovelemons.com
Delicious sausage, sauce, and noodles are cooked in one skillet for this recipe. It does involve setting aside some ingredients while others cook. It's worth it for fewer dishes and a tasty meal!
Cook bell peppers, onion, and garlic until soft, then set aside. Deglaze the pan with white wine, then add this to your veggies.
Cook your sausage, tomato sauce, stock, and pasta. Add oregano, salt, and pepper for extra flavor. When everything is cooked, add the veggies and mix well. Garnish with basil and parmesan.
Source: wornslapout.com
This soup is a crossover of chicken noodle soup and minestrone. Italian sausage replaces the chicken, and orzo replaces noodles.
Cook your sausage in a Dutch oven, then set aside. Cook your onion, celery, and carrots in the sausage juices. Add chicken broth, cannellini beans, and your cooked sausage.
Thyme and rosemary add a fresh, herby flavor to your soup. Add orzo near the end of your cooking time, and stir in spinach before serving.
Source: flavorthemoments.com
This one-pot pasta dish is on your table in no time. You'll use minimal ingredients as a ton of flavor comes from your Italian sausage.
Cook your sausage briefly before adding mushrooms and cooking a little longer. Add water and your pasta and cook until tender. Add frozen peas during the last few minutes.
Stir in parmesan and fresh basil before serving.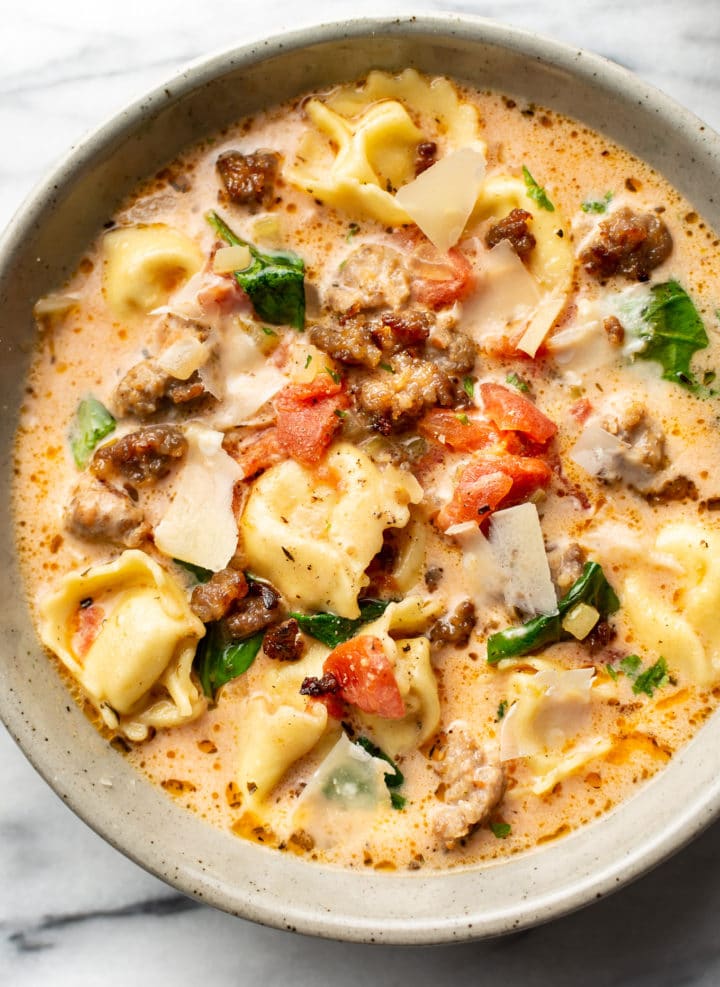 Source: saltandlavender.com
Flavorful sausage and cheesy pasta are the stars of this dish. They're served in a delicious creamy tomato broth.
Cook your sausage in a Dutch oven and set aside. Cook onion and celery in the same pot, then add fragrant garlic.
Add flavorsome chicken broth, tomatoes, and Italian seasoning. Your sausage goes back in at this stage, too.
When your sauce is bubbling, add your pasta and simmer until heated. Stir in heavy cream and spinach before serving.
If you are wondering what to make for dinner tonight, this tasty dinner idea is a great option!
Source: mykitchenlove.com
Another crispy gnocchi recipe. This one is served with roasted lemon broccoli and mild Italian sausage.
Cook your gnocchi and sausage on a sheet pan. This gives the gnocchi time to become crispy from the delicious sausage juices.
Toss your broccoli in slices of lemon before adding to the pan. Bake until the sausage is cooked, and everything is golden!
Source: carriesexperimentalkitchen.com
Add a meaty twist to mac and cheese by adding flavorsome Italian sausage!
Cook your sausage and spinach in a skillet and set aside while you make your sauce. You can cook your pasta at the same time too.
Make your sauce with butter, cream, Fontina, and Pecorino cheese. When it's thickened, combine it with the sausage and pasta.
Transfer to a baking dish and top with buttery breadcrumbs. Bake until the top is golden and the sides are bubbling!
If you loved these sausage recipes, you will also enjoy these tasty kielbasa recipes!
31 Best Italian Sausage Recipes to Make at Home
Fall in love with the sensational flavors of these Italian sausage recipes. Your taste buds will thank you!
Ingredients
1. Instant Pot Pasta with Sausage
2. Crock Pot Tortellini Soup
3. Italian Sausage and Fennel One Pan Pasta Dish
4. Cheesy Sausage Gnocchi
5. One Pan Sausage and Peaches with Potatoes
6. Sausage Stuffed Mushrooms
7. Italian Sausage Kale Soup
8. Stuffed Butternut Squash with Apple and Sausage
9. Instant Pot Lasagna Soup
10. Italian Stuffed Jalapenos
11. Baked Italian Sausage and Potatoes
12. Sausage and Kale Farro
13. Classic Meatloaf with Sausage
14. Pasta with Mustard Greens and Sausage Orecchiette
15. Italian Sausage Soup
16. Ricotta Sausage Ziti
17. 30-Minute Cabbage and Sausage Skillet
18. Instant Pot Creamy Italian Sausage and Shells
19. Breakfast Casserole
20. Baked Sausage and Peppers
21. Roasted Sausage and Broccoli Pasta
22. Instant Pot Sausage Lentil Soup
23. Creamy Sausage Mushroom Pasta
24. Stracchino and Sausage Crostini
25. Italian-Style Shrimp and Grits
26. Sausage Pasta Skillet Dinner
27. Orzo Soup with Sausage and Spinach
28. One Pot Italian Sausage Farfalle Pasta
29. Italian Sausage Tortellini Soup
30. Sheet Pan Gnocchi with Sausage and Broccoli
31. Italian Sausage Macaroni and Cheese
Instructions
Scroll up to get a bunch of easy, yummy, and delicious recipes. Don't be afraid to get creative with the ingredients, you might discover a flavor you didn't know you liked.
Get your shopping list going and make sure you've got all the ingredients.
Get cooking and make your next Italian Sausage Recipe!
Notes
Which one of these recipes was your favorite? Let me know in the comment section or on Pinterest!