You can cook chicken breasts more quickly and evenly by turning them into cutlets. They can be fried, baked, or sauteed to produce a delicious meal like in these best chicken cutlet recipes.
Chicken cutlets cook quicker than thicker chicken breasts. This means you can make busy weeknight meals even more effortless with the best chicken cutlet recipe!
What is a Chicken Cutlet?
A chicken cutlet is a thin piece of chicken breast. This is cut horizontally from a thicker chicken breast and pounded to an even thickness.
The secret to keeping your cutlets juicy is cooking at a high temperature for a shorter time.
What Do You Eat with Chicken Cutlets?
You can produce a well-balanced meal with chicken cutlets. Serve them with your favorite green veggies. Add your choice of potatoes too.
Chicken cutlets also pair excellently with pasta, rice, or a fresh salad. You can even eat them on their own with your favorite dipping sauce!
Thin Chicken Cutlet Recipes
The following recipes all produce tasty, thin chicken cutlets.
Source: tablenutrition.com
Use a few simple ingredients for this chicken recipe. You'll make tender cutlets full of flavor.
Season your chicken before searing it on your stove. Use Trader Joe's onion salt for this. TJ's onion salt contains dried and powdered onion and garlic, green onions, and chives.
Finish cooking your cutlets to perfection in the oven. Use sherry cooking wine and chicken broth for delicious flavor.
This is one of the best light dinner ideas for a hot summer night!
Source: midwesternhomelife.com
These oven-baked chicken cutlets are a healthy alternative to fried chicken. They're crispy outside, thanks to a panko crumb. Plus, they stay juicy on the inside.
Season your flour and panko breadcrumbs for maximum flavor. Use paprika, garlic powder, onion powder, Italian seasoning, and parmesan.
Cook them until golden brown on a baking sheet to have the best chicken cutlets.
Source: foodbanjo.com
This Mediterranean-inspired easy chicken cutlet recipe is perfect for summer. It has a tasty lemon butter sauce.
Coat your thin cutlets in cayenne pepper and paprika for a lightly spiced flavor.
Use a light dusting of flour before frying your chicken in a large skillet for a golden crust.
Serve your chicken with angel hair pasta for a complete meal. Garnish with fresh lemon slices and capers.
Source: healthyrecipes101.com
Chicken cordon bleu is a tasty combination of chicken, ham, and melted cheese. It is rolled and covered in a crispy breadcrumb coating.
Add flavor to your chicken with garlic powder, onion powder, salt, and pepper. Once you've assembled your rolls, fry them in vegetable oil until golden!
Source: artofnaturalliving.com
Blackened chicken is a flavorful, spicy Cajun dish. It takes minutes to prepare and only a little longer to cook!
Season your chicken cutlets before cooking. Use paprika, cayenne pepper, garlic powder, and onion powder. Add thyme and oregano for a mild herb flavor.
This is excellent served with crunchy homemade coleslaw. Try soft cornbread too.
This is one of the best dinner ideas for tonight!
Baked Chicken Cutlet Recipes
The chicken cutlet recipes below are baked in the oven for delicious, moist chicken.
Source: allnutritious.com
These crispy chicken cutlets are covered in a parmesan crust. You won't be able to resist the crunch when they're baked! You'll need your meat mallet for this one!
Prep the egg mixture and add herbs and spices to your breadcrumb mixture for maximum flavor. Use Italian seasoning, garlic powder, oregano, thyme, and paprika.
Source: pinchandswirl.com
This recipe for cutlets makes chicken with a crust with panko bread crumbs and all purpose flour. The tastes from Italy are delicious!
Add flavor to your chicken's coating before cooking. Do this with Italian seasoning and parmesan cheese.
The best way to serve your cutlets is with fresh lemon wedges!
Source: whereismyspoon.co
You don't need to miss out if you have an egg allergy. There are other ingredients you can use to stick breadcrumbs. This recipe uses yogurt, which makes your chicken even juicier.
Your breaded chicken is crispy on the outside from panko crumbs. You'll have moist, tender chicken inside.
Flavor your panko crust with parmesan, oregano, thyme, rosemary, and paprika. Serve your cutlets with your favorite dipping sauce.
Source: theforkedspoon.com
This Santa Fe chicken is covered in delicious ingredients with a taste of the Southwest!
Create a flavorful seasoning for your chicken. Use onion powder, garlic powder, ancho chili powder, salt, and pepper.
Diced tomatoes, sweet corn, creamy black beans, and spicy green chilis form your topping. Add ground cumin and fresh lime juice too.
Top your chicken cutlets with this before adding a generous helping of cheese!
Source: theroastedroot.net
This crispy chicken salad tastes both sweet and savory. It's tossed in a delicious poppy seed dressing. Your salad will have the fresh taste of summer!
Fresh greens, crunchy cabbage, creamy avocado, and edamame are savory tastes. Sweeter tastes come from things like juicy strawberries, crunchy pumpkin seeds, and sliced almonds.
This dish goes well with the tangy feta cheese. Make your dressing with avocado oil, rice vinegar, and maple syrup. Poppy seeds are vital! Dijon mustard adds a robust flavor.
Source: hoteatsandcoolreads.com
For these cutlets to turn out crunchy, garlic butter is a must. You won't be able to resist the garlicky, cheesy taste!
Mix your crumbs with parsley, oregano, pepper, and garlic salt. Parmesan and cheddar make it more cheesy! Before baking, spread the mixture evenly over your cutlets.
Grilled Chicken Cutlet Recipes
The following recipes involve grilling for cooking your chicken cutlets.
Source: allnutritious.com
A cast iron skillet is one of the best ways to cook chicken. You can cook it for a shorter time over high heat, and it stays moist.
Add flavor to your chicken cutlet with onion powder, garlic powder, salt, and pepper. Oregano and lemon zest add a delicious taste too.
Add butter and lemon juice for extra flavor when serving your chicken!
Source: lowcarbsimplified.com
These chicken cutlets come to life with a vibrant homemade sauce.
Create your sauce with olive oil, red pepper flakes, and red wine vinegar. Fresh parsley and oregano provide a vivid green color.
Load your tender chicken cutlets with your flavorful sauce before serving!
This recipe would be perfect for a Friday night dinner with loved ones!
Source: twocloveskitchen.com
For this recipe to work, you need Panko breadcrumbs and Italian seasoning. They give your chicken cutlets a crunchy, tasty coating.
Add garlic powder to your Italian seasoning if it doesn't already have it. It takes your chicken up a level!
Drizzle lemon juice on your chicken to make it taste great!
Source: lifeloveandgoodfood.com
A creamy lemon parmesan sauce is a highlight of this dish. Salty capers and olives perfectly balance the sweetness of the sauce.
Dredge your cutlets in flour to gain a golden crust when cooking them. Add lemon zest to your chicken coating for the ultimate lemony flavor.
Serve your moist chicken and velvety sauce over tender linguine.
Source: ihearteating.com
A creamy sauce makes this chicken delightful to eat. You won't add a coating to your chicken for this recipe. Your sauce has all the flavor you need.
Garlic, shallots, chicken broth, white wine, and lemon juice add delicious flavors to your buttery sauce. Spoon the sauce over your chicken cutlets in the skillet before serving.
Source: lifeloveandgoodfood.com
Try this chicken Dijon for a twist on a classic French dish. Chicken cutlets simmer in a creamy sauce until tender and flavorful.
Adding rosemary to your flour adds herb freshness. Dijon mustard, white wine, and minced garlic create a sharp, tangy sauce for your chicken.
This recipe is versatile if you're teetotal or cooking for kids. Replace the wine with a flavorsome chicken broth.
Source: saltandlavender.com
Don't be put off by the fancy name of this recipe. It's quick and easy to make, leaving you with crispy, golden chicken.
Infuse your cutlets with flavor before adding your crumb. Salt, pepper, and garlic powder are ideal for this.
Use Italian breadcrumbs for your coating. They already have herbs, so you don't have to add anything else. Arugula salad is a tasty addition to chicken Milanese.
Source: littleferrarokitchen.com
Saltimbocca is a traditional Italian recipe. Add a tasty French twist here!
Chicken cutlets are seasoned with French herbs. You'll also add fresh basil leaves for a robust flavor.
A delicious addition to this recipe is a thin layer of smoked prosciutto. It adds an extra layer of flavor to your tender chicken cutlets.
Complete your dish with a flavorful white wine sauce.
Source: easyhomemaderecipes.ca
The dry Marsala wine in this recipe takes your chicken cutlets up a level. A simple seasoning of salt and pepper is all you need for your chicken.
The easy sauce you make has a delicious complementing flavor. Create this with marsala wine, onion, mushrooms, and chicken broth.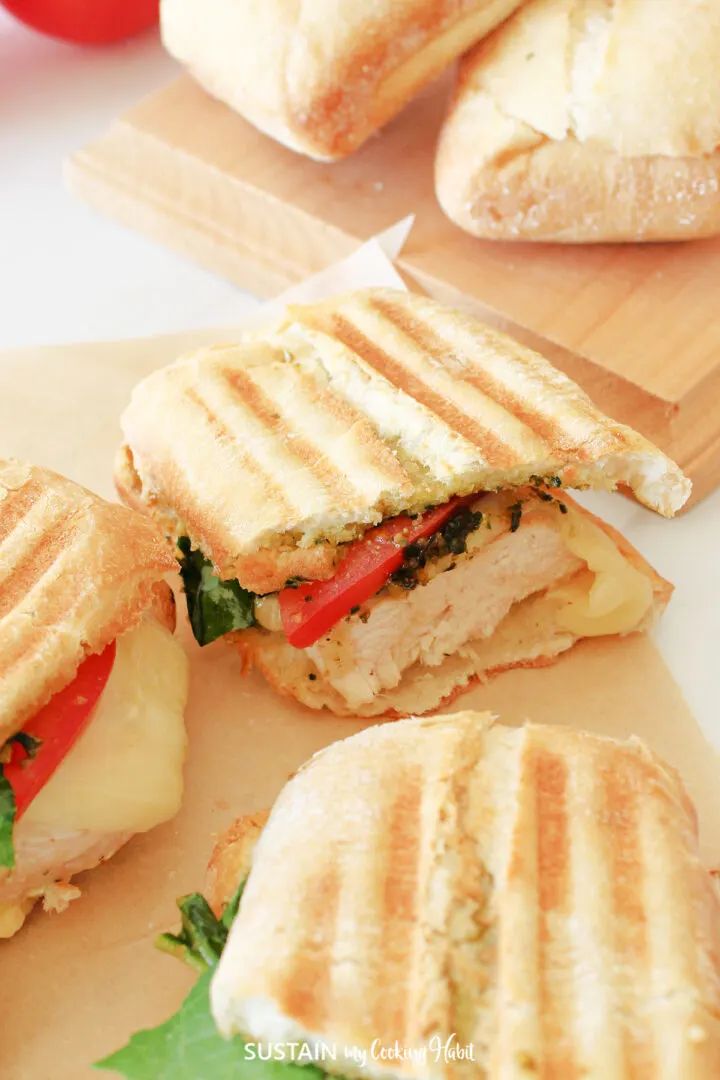 Source: sustainmycookinghabit.com
With this panini, you can make a tasty lunch with chicken cutlets. Pesto gives your food an Italian flavor.
Salt, pepper, and Italian seasoning are good ways to season chicken cutlets. Make your panini with soft ciabatta rolls.
Add mayo, vibrant pesto, and creamy mozzarella. Add crisp lettuce and juicy tomatoes for a fresh taste.
You might also enjoy this lovely mozzarella stuffed chicken breast with pesto!
Source: nibbleanddine.com
Your chicken cutlets in this recipe are coated in a delicious lemon butter sauce. It's easy to make and flavorful to please your whole family.
Your sauce consists of butter, soft onions, and chicken broth. Add lemon zest and lemon juice to your taste preference. Make your sauce more indulgent by adding heavy cream before serving!
Source: theheirloompantry.co
Chicken katsu curry features crispy yet tender chicken. It also has a tasty Japanese sauce. The sweet sauce goes well with the savory chicken.
Add veggies to your curry to make it heartier. Onions, carrots, and bell peppers are ideal. Use Golden Curry Sauce mix for an authentic flavor.
Serve your tasty katsu curry with steamed sticky rice.
Source: dishnthekitchen.com
This chicken cutlet dish has a velvety texture thanks to the addition of heavy cream. Rich flavors also come from earthy mushrooms and dry Marsala wine.
You only need to add a simple garlic powder, salt, and pepper seasoning to your cutlets. Full-bodied flavors come from your sauce. Red pepper flakes give it a mild spicy taste.
Chicken Cutlet Air Fryer Recipes
These chicken cutlet recipes are cooked in your air fryer.
Source: belleofthekitchen.com
Air fryer chicken cutlets turn out perfectly tender. They're much healthier than deep frying but just as tasty.
Add garlic powder, onion powder, salt, and pepper to your flour coating. If you want a spicy kick, use cayenne pepper too.
Source: summeryule.com
This is a classic Austrian dish. For a golden, crispy coating, you'll use pork panko instead of breadcrumbs. This makes it keto-friendly too.
Create a unique taste by adding Dijon mustard to your egg before coating. You'll also garlic powder, dried parsley, and parmesan cheese to your pork panko.
Squeeze fresh lemon juice on your chicken right before eating!
Source: foodbanjo.com
This panko chicken becomes perfectly crispy when cooked in your air fryer. It stays moist and juicy on the inside too.
Season your chicken directly with salt, pepper, and garlic powder. Add Dijon mustard to the egg before coating your chicken. This provides a distinctive flavor to your cooked cutlets.
Cover your chicken in panko breadcrumbs before air frying until golden!
Check out these easy thin-sliced chicken breast recipes for more dinner inspiration!
27 Best Chicken Cutlet Recipes for a Quick Dinner
Looking for healthy and hearty meal? Get your daily dose of protein with these delicious and easy chicken cutlet recipes.
Ingredients
1. Baked Thin Sliced Chicken Breasts
2. Crispy Baked Thin Chicken Breasts
3. Lemon Chicken Piccata
4. Chicken Cordon Bleu
5. Blackened Chicken
6. Baked Chicken Cutlets
7. Italian Chicken Cutlets
8. Breaded Chicken Without Egg
9. Santa Fe Chicken
10. Crispy Chicken Salad with Poppy Seed Dressing
11. Baked Breaded Cheese Garlic Chicken Cutlets
12. Cast Iron Chicken Breast
13. Chimichurri Chicken Cutlets
14. Italian Chicken Cutlets
15. Lemon Chicken Scallopini
16. Lemon Garlic Chicken
17. Chicken Dijon
18. Chicken Milanese
19. Chicken Saltimbocca
20. Chicken Marsala
21. Chicken Pesto Panini
22. Lemon Butter Chicken
23. Chicken Katsu Curry
24. Creamy Chicken Marsala
25. Air Fryer Chicken Cutlets
26. Air Fryer Chicken Schnitzel
27. Air Fryer Panko Chicken
Instructions
Scroll up to get a bunch of easy, yummy, and delicious chicken recipes. Don't be afraid to get creative with the ingredients, you might discover a flavor you didn't know you liked.
Get your shopping list going and make sure you've got all the ingredients.
Get cooking and make your next Chicken Cutlet Recipe!
Notes
Which one of these recipes was your favorite? Let me know in the comment section or on Pinterest!