You're here because you are a family on a tight budget. Your kids are tired of the same meal rotation, and you need some inspiration for an easy meal. These cheap recipes for families will help you!
You've come to the right place for cheap meals! You'll find various tasty, budget-friendly easy dinner ideas to please your whole family.
You don't need to sacrifice taste and quality to save a few dollars on a simple meal. You can still make various healthy, nutritious meals the easy way on a tight budget.
What are the Cheapest Family Meals to Make?
Stretch your budget and meal plan further by choosing seasonal vegetables at the grocery stores. It's also okay to use frozen veggies – these are often more budget-friendly.
Choose cheaper cuts of meat, such as chicken thighs, rather than chicken breasts.
Another bonus of chicken thighs is that they are juicier. So, the best part is you don't need as many extra ingredients for added flavor.
Use dried herbs and spices to add flavor, too. They're cheaper and last longer, so you can use them repeatedly in different easy weeknight dinners.
Pulses and grains are excellent options for cheaper meals too. Use them for bulking out a delicious dinner, so you don't need to add as much expensive protein.
Cheap Recipes for Large Families
These recipes are perfect for larger families on a tight budget with limited time!
Source: allnutritious.com
Start the day for your family with this tasty one-pan breakfast! It's full of color, nutrition, and many delicious flavors.
You'll find salty bacon and tender sweet potato. There's also red bell pepper and sharp red or white onion.
You can't have a cooked breakfast without eggs! Free-range is best if you can get them. Add depth with paprika, cumin, garlic powder, and cinnamon.
Source: beanrecipes.com
This recipe is easy enough for your whole family to help prepare! You need only four ingredients that you probably already have.
Use your favorite jar of chunky salsa for your quesadillas. Your other ingredients are a can of black beans, shredded cheese, and soft tortillas.
Layer your ingredients in the tortillas and fold them in half. Fry briefly until you have melty cheese! Serve your quesadillas with guacamole and sour cream.
Source: allnutritious.com
This breakfast skillet is ideal for grey days or early mornings. It will give your whole family an energy boost with its wholesome nutrition!
You'll add delicious flavors to a rich tomatoey base. Smoked paprika adds a smoky depth of flavor that makes your breakfast come alive.
Sweet potato, onion, and garlic are other great tastes in this dish. Free-range eggs with a golden yolk are essential. They also add a beautiful pop of color!
Source: flavorthemoments.com
One-pot wonders are perfect for large families. What's not to love about less washing up?! This Mexican rice casserole is full of flavor and ready quickly.
You'll find moist chicken buried in tender, flavorful rice. The robust flavor in this recipe comes from fragrant garlic, taco seasoning, and chicken stock.
Add creamy black beans and sweet yellow corn for a taste of Mexico. Top your cooked casserole with lashings of shredded Mexican cheese!
Source: the-pasta-project.com
Your whole family will enjoy this creamy pasta. It's easy to make with a handful of ingredients!
Delicate ribbon pasta is the main element of your meal. You'll cook it al dente before finishing it in the oven.
Mix your pasta with cream, eggs, cooked ham, and Parmigiano cheese. Garnish with fresh parsley before serving.
Source: thehelpfulgf.com
This creamy potato soup is the perfect family comfort food for cold days. It tastes just like cheese and bacon-loaded baked potato!
It's important to use full-fat milk and sour cream for a thick, creamy soup. Use fresh garlic, red onion, and chicken stock for extra flavor.
Garnish your soup with extra shredded cheese and crunchy bacon. Serve it with crusty bread for scooping!
Source: killingthyme.net
Broccoli and cheese are two ingredients that go well together. They taste delicious in this vegetable and rice casserole.
You'll make a tasty rice mixture to top your steamed broccoli. Use Minute Rice, cream of mushroom soup, shredded cheese, and milk to make this extra creamy.
Your casserole has a crunchy golden breadcrumb topping. Add herbes de Provence for extra flavor.
Source: thefastrecipe.com
This indulgent American classic will bring back memories for older family members! You'll create this from scratch using an easy-to-make roux.
Cheddar and Gruyere cheese is perfect for this. Gruyere has an intense flavor that adds depth to your mac and cheese.
Add a kick to this dish with mustard and sweet paprika. Garlic powder adds a nice flavor too. Adding an egg is optional. However, it gives this version of mac and cheese its unique taste and texture.
Source: blessthismeal.com
This one-pot dish is rich, creamy, and flavorful. Delicious Mediterranean and Greek flavors inspire it.
You'll add flavor to juicy chicken breasts with Italian seasoning. This has basil, oregano, thyme, rosemary, and marjoram.
Tender rice is cooked in chicken juices with lemon, herbs, fresh garlic, and turmeric. These add a wealth of flavor to your meal.
Source: clankitchen.com
This flavorsome fried rice dish is easy to sneak veggies into your diet. And your kids too! You'll use a classic carrot and peas combination with green onion.
Jasmine rice is ideal to use for fried rice. It's not too starchy, so it will have a wonderful texture when you fry it. Scramble eggs into your rice for additional texture!
Flavor your fried rice with oyster sauce, soy sauce, and sesame oil.
Cheap Dinner Recipes for Big Families
The following recipes are perfect for dinner with your family.
Source: allnutritious.com
Sheet pan chicken fajitas bring a taste of Mexico to your family table. Colorful veggies and diced chicken are the stars of this dish.
Use red or white onion; whatever you have available. A combination of red, yellow, orange, and green bell peppers looks eye-catching!
Combine garlic powder, chili powder, ground cumin, and smoked paprika for seasoning. Serve with soft tortillas and your favorite toppings.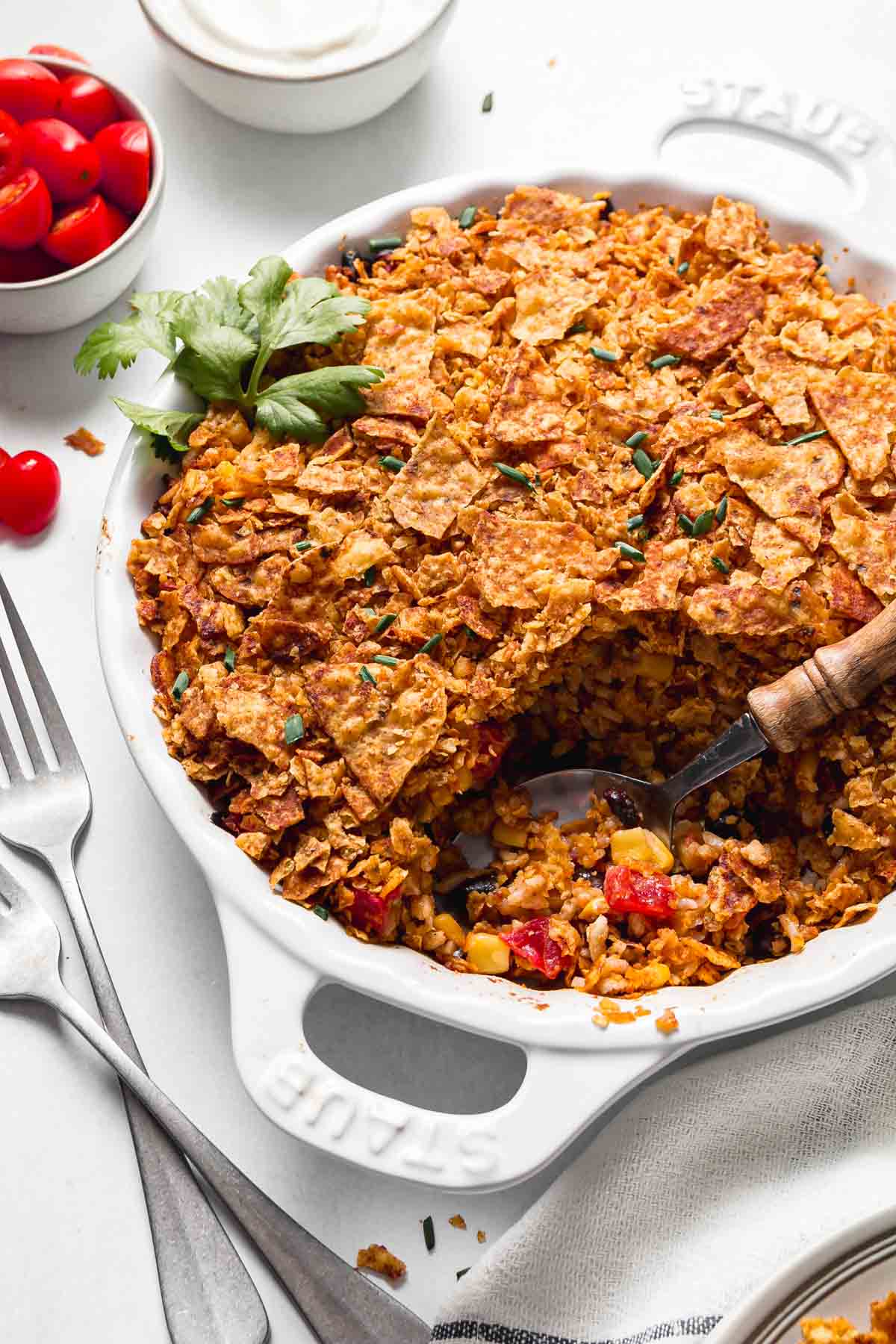 Source: wheatbythewayside.com
Combine two family favorites for this meal – chicken tacos and casserole. It has classic flavors of tacos without the mess!
Minute Rice is ideal for your casserole. It means you don't need extra prep. Taco seasoning and Rotel add a spicy flavor to your chicken.
Canned chicken soup makes the texture of your casserole delicious and creamy. Crushed Doritos on top add a satisfying crunch!
Source: allnutritious.com
Sheet pan pork chops are a healthy, delicious meal for your family. Add a tasty sauce to lift the flavor of your pork.
Make your sauce with onion powder, garlic powder, paprika, and dried oregano. Honey adds a natural sweetness that goes well with pork.
Ideal veggies for this dish are asparagus and bell peppers. A combination of red, yellow, and green adds eye-catching color!
Your family might also enjoy these other thin pork chop recipes!
Source: serenabakessimplyfromscratch.com
The whole family will love this cheeseburger helper. It's as easy to make as a package mix. But it's tastier!
Garlic powder, chili powder, and tomato paste flavor your dish. Dijon mustard adds a unique flavor. Ground beef gives an authentic cheeseburger taste.
Stir in a large helping of cheddar before serving. This gives a cheesy taste that makes your mouth water!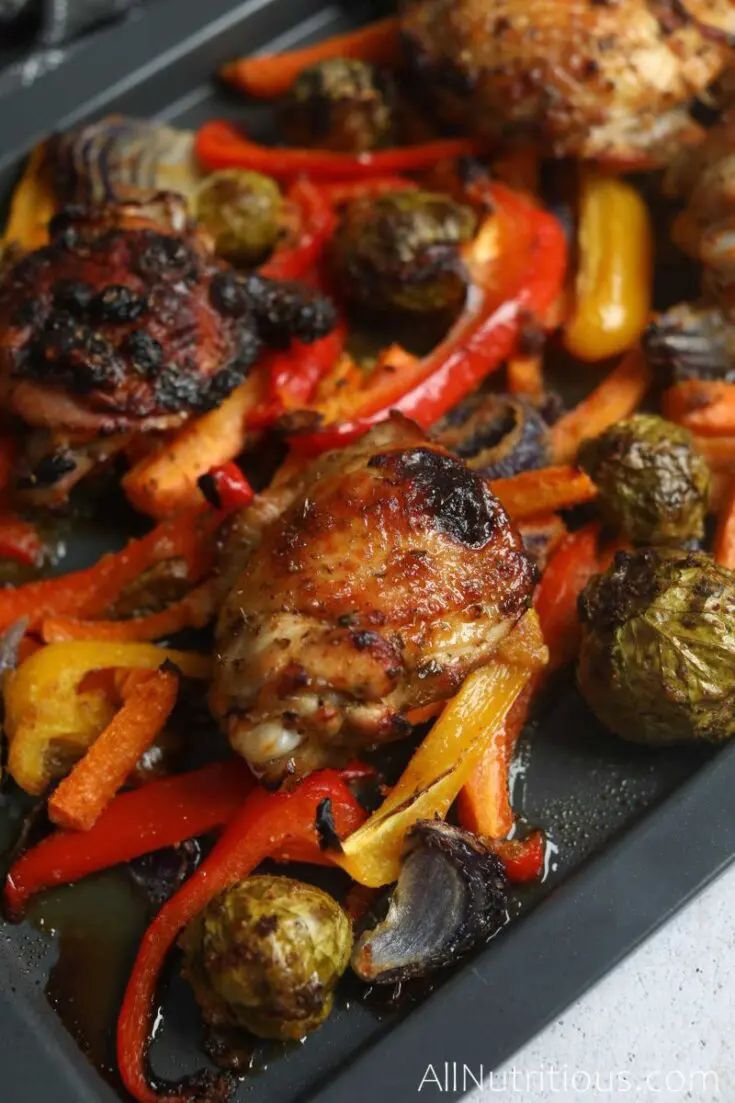 Source: allnutritious.com
You can serve sweet and savory tastes with these garlic honey juicy chicken thighs. To make a complete meal, add some healthy vegetables.
Apple cider vinegar, oregano, and chili powder are essential flavors for your chicken marinade. Fresh garlic and sweet honey pair well with these.
This dish goes well with bell peppers, carrots, Brussels sprouts, and red onion. Onion and garlic powders enhance the flavor of these.
Source: killingthyme.net
Tender chicken meatballs are an excellent alternative to red meatballs. You'll simmer them in an easy, flavorful marinara sauce.
You can use your favorite jar sauce. However, it's super easy to make a tasty sauce from scratch. You only need crushed tomatoes, herbs, and spices.
Flavor your meatballs with onion, fresh thyme, and Worcestershire sauce. Using panko breadcrumbs helps to give a delicious texture.
Source: theforkedspoon.com
This classic comfort food consists of macaroni with cheese in a rich, meaty tomato sauce. It's a real crowd-pleaser!
Ground beef is most important for American goulash. You'll flavor this with Italian seasoning and rich tomato paste. Tangy Worcestershire sauce adds a distinct flavor.
It's a good idea to cook your noodles in your meaty sauce. They absorb the delicious flavors. Plus, there are no extra dishes! Stir in a generous helping of shredded cheese before serving.
Source: butteryourbiscuit.com
This creamy, cheesy beef dish is as tasty as it sounds! Ground beef in a rich tomato sauce meets tender pasta shells and plenty of cheese!
Paprika, Italian seasoning, red pepper flakes, and mustard powder add a robust flavor to your dish. Heavy cream produces a decadent velvety texture.
Stir shredded cheddar into your cooked pasta and sauce for a delicious, cheesy taste!
Source: recipepocket.com
These BBQ chicken sliders are perfect for a game-day family dinner. They're quick to make and super tasty to eat!
Using pre-cooked rotisserie chicken for convenience is okay. Mix this with your favorite BBQ sauce. Use as much as you like! Layer your chicken on mini bread rolls with sliced red onion, fresh parsley, and sliced cheese.
Brush a glaze on your soft rolls before baking them in the oven. Make this with melted butter, Worcestershire sauce, and grated parmesan.
Source: thefeatherednester.com
Make tender green beans a star of the show with this tater-tot casserole. It's a complete meal with ground beef added to the mix.
Fresh onion and garlic are aromatic in this dish. Condensed mushroom soup produces the creamy texture of your casserole.
Add shredded cheddar for a cheesy taste that everybody loves! Crispy, golden tater tots make your casserole complete.
Source: throughthefibrofog.com
This creamy turmeric chicken is packed with flavor and is easy to make. It has a beautiful depth of taste, but it's not too spicy.
Season your chicken thighs with turmeric, ground ginger, and cardamom. These flavors pair beautifully with the fragrant creamy sauce.
Adding curly kale to your sauce provides extra nutrition.
Cheap Slow Cooker Recipes for Families
Slow cooker meals are ideal for busy families. Dump your ingredients in the morning, and dinner is ready when you are!
Source: consumerqueen.com
Lemon and garlic are two flavors that match well. Add them to tender chicken for a delicious meal. Use a handful of simple ingredients for this easy recipe.
Marinate your chicken breasts with lemon juice, olive oil, salt, pepper, and parsley. After marinating, add them to your slow cooker.
Serve with your favorite veggies and fresh lemon slices!
Source: strengthandsunshine.com
This BBQ chicken is super easy for even the most novice to cooking! It makes tasty fall-apart chicken that everyone will love.
Your minimal ingredients include chicken breasts, a jar of BBQ sauce, and a bag of frozen bell peppers. Toss these in your slow cooker and let it do its thing.
Add extra flavor to your sauce with onion powder, garlic powder, black pepper, and dried parsley.
Check out these handy leftover BBQ chicken recipes for the next day!
Source: happykitchen.rocks
This vegan chili is wholesome, delicious, and super easy to make. It's the ideal comfort food for cozy family days.
Instead of ground beef, you'll use a combination of grains. Wheat berries, rye, spelt, millet, and barley are ideal.
You can add regular chili ingredients to your dish, as well as spices. Think of onion, garlic, bell peppers, sweet corn, diced tomatoes, and creamy beans.
Source: cinnamonandkale.co.uk
Beef shin is a budget-friendly cut of beef. It has tons of flavor and a beautiful texture when slowly cooked. It also produces a thick, rich gravy.
Add carrots, onion, and celery to your slow cooker pot for extra nutrition. They also add delicious flavor to your casserole.
Garlic, bay leaf, and a small amount of beef stock add a delicate depth of flavor. A dollop of caramelized onion chutney adds to the deep, rich taste!
This is one of the best meat recipes for dinner with a big family!
Source: makethebestofeverything.com
This dump-and-go casserole is full of nutrition from tender vegetables. You can make it to your family's taste, but it is also delicious as it is!
As the title says, it consists of seven layers. Your first four layers are potatoes, carrots, celery & onions, and rice. Condensed soup, frozen peas, and browned ground beef follow this.
Add flavor to your casserole with your favorite herbs. Herbes de Provence works well with these ingredients.
Before serving, garnish your delicious casserole with fresh tomatoes and shredded cheese.
Source: theroastedroot.net
This crock pot shredded chicken is ideal for a variety of Mexican dishes. Think of tacos, burritos, and enchiladas!
You only need a handful of simple ingredients. Chicken thighs add a ton of juicy flavor to your dish.
Flavorsome enchilada sauce, chunky salsa, and canned green chilis add spice to your shredded chicken.
Adding a touch of sea salt enhances all your ingredients' taste. It also tenderizes your chicken, making the texture even moister.
Source: foodnservice.com
This Cajun-inspired dish is full of mouth-watering tastes and textures. You'll find smoked sausage alongside creamy red beans.
Fresh onion, celery, diced tomatoes, and green bell peppers provide nutrition. Add a smoky, spicy flavor to your red beans with garlic powder, bay leaf, dried thyme, and Cajun seasoning.
Crushing your beans before cooking helps to thicken your whole dish. Use Andouille sausage for a spicier flavor!
Source: homemadeheather.com
This crockpot dish has all the flavors of traditional lasagna. But in the form of a casserole! You'll combine all your ingredients and let your slow cooker do its magic.
Your essential ingredients for lasagna are ground beef, lasagna noodles, and diced tomatoes. Add veggie nutrition with carrots, onion, green bell pepper, and celery.
Parsley, oregano, basil, garlic powder, salt, and pepper provide Italian flavors to your casserole. Stir in shredded mozzarella before serving for a creamy, cheesy texture!
Source: slowcookermeals.com
Chicken and gravy made in a slow cooker is a warming dish that is great for cold winter days. It has few ingredients and takes little time to complete.
Slow cooking works well with chicken breast. It produces a tender, fall-apart texture. The creamy consistency comes from the cream of chicken soup.
Chicken gravy mix makes the chicken taste even better! This is delicious when served with creamy garlic mashed potatoes.
Source: twopinkpeonies.com
These crockpot chicken thighs are smothered in a creamy, oniony sauce. An earthy, fresh mushroom taste adds to the delicious flavor.
Cream of chicken soup provides your creamy texture in this dish. An onion soup mix is the perfect seasoning to add flavor.
Velvety mashed potatoes are the perfect side dish for your juicy chicken thighs.
Cheap Simple Recipes
These cheap chicken recipes are easy to make and taste delicious.
Source: allnutritious.com
Sweet chili sauce adds a ton of sweet and spicy flavor to this sheet pan dish. It's a balanced meal with tender chicken breast and nutritious veggies.
Nutty sesame seeds, juicy lime, and fresh cilantro go great with chicken and red peppers. Broccoli is an excellent addition too.
Create a zesty sauce with sesame oil, lime, ginger, garlic, and sweet chili sauce.
Source: flawlessfood.co.uk
This cheesy pasta bake is delicious comfort food for your whole family. It can be prepped in advance, ready to pop in the oven.
Ground beef and salty pancetta provide an appetizing meaty flavor to your Bolognese. Mushrooms add an earthy taste and texture.
Make your Bolognese sauce with passata, tomato-garlic puree, and Italian seasoning. Add chili puree or flakes if you like a spicy kick!
Add a wonderfully cheesy topping with stringy mozzarella and strong parmesan.
Source: allnutritious.com
Make a unique take on a stir fry by using nutritious zucchini. Sliced onion adds a delicious, robust flavor too.
Sesame oil, soy sauce, and fresh garlic provide an Asian depth of flavor. Sesame seeds add a crunchy texture and protein to your dish.
Serve your tasty stir-fry with tender white rice. You can use cauliflower rice to keep it low-carb.
Source: hezzi-dsbooksandcooks.com
Kielbasa sausage, butter, and garlic provide many flavors to this one-pan dish. Adding rice makes it filling, too, so it's perfect for families on a budget.
Shredded cabbage or fresh coleslaw adds a heap of nutrition and crunchy texture. Garlic salt is perfect for seasoning this dish.
If you love sausage, these Kielbasa recipes are for you!
Source: whereismyspoon.co
Traditional boiled rice and chicken is an easy recipe. You'll use few ingredients but produce a comforting flavor. It's a perfect meal for unwell family members!
Before shredding, boil a whole chicken in a spiced vegetable broth. Celery, onions, carrots, and garlic are ideal. Season this with sea salt and ground black pepper.
Combine your shredded chicken with rice, broth, a flavorsome stock cube, salt, and pepper. When your rice is tender and cooked, stir in butter and squeeze lemon juice.
Source: simplelivingrecipes.com
This pasta made in your Instant Pot is creamy, cheesy, and tastes delicious. Sun-dried tomatoes, Italian seasoning, and parmesan cheese make you feel like you're in Italy.
Cream cheese and chicken broth make a smooth and velvety texture. This is an excellent contrast to the soft noodles and chicken breast chunks.
Add minced garlic, salt, and pepper to season your pasta. Stir in parmesan before serving for a beautiful cheesy flavor!
Source: cookingwithmammac.com
Even vegetable avoiders will love this delicious pasta dish. Tender broccoli breaks down as it cooks into a flavorful, garlicky sauce.
This is a dish that needs looking after and stirring often. However, the result is worth it. You finish with what tastes like a creamy broccoli sauce.
Use olive oil, fresh parmesan, and red pepper flakes to add extra flavor to your pasta.
Source: blessthismeal.com
This comforting tuna pasta dish is easy to make and creamy. It's also packed with delicious flavor.
Sun-dried tomatoes (in oil) and pesto make a creamy pasta dressing. Add some of the pasta water you save to this as well.
Squeeze fresh lemon juice into your pesto pasta. Shredded parmesan adds a solid cheesy taste!
Source: deliciousbydesign.net
A spinach basil pesto sauce brings a taste of Italy to your table with this dish. It has a light, bright flavor and a thick creamy texture that clings to thin, tender noodles.
It's easy to create your creamy pesto. Blend your fresh spinach and basil with lemon juice, parmesan, and olive oil.
Raw baby spinach delivers a lovely sweetness. It's also a great way to get veggie goodness into your family!
Source: throughthefibrofog.com
Pan-fried chicken fillets with rosemary are easy to make and taste delicious. Golden chicken breasts can be used in various meals for your family.
Use turmeric to add a hint of spice to your marinade. It also gives the dish a lovely golden color. Your marinade has apple juice, fresh garlic, olive oil, salt, and pepper.
A fresh garden salad goes great with your juicy chicken breasts. Tender, cooked rice works well too.
Healthy Cheap Recipes for Families
You can be sure your family eats healthy with the following cheap recipes.
Source: allnutritious.com
This sheet pan chicken dinner is perfect for those with a sweet tooth. Red onions, apples, and sweet potatoes deliver natural sweetness.
Season your tender chicken breasts with fresh garlic, sea salt, and black pepper. A little cinnamon adds a lightly spiced taste that matches well with the apple.
Your chicken breasts don't take as long to cook as your veggies. So, you'll add these to the sheet pan later. Before serving your chicken and veggies, garnish with fresh chopped parsley.
Source: epicveganeats.com
This vegan butternut squash looks super eye-catching as well as tasting delicious! Stuff it with creamy coconut rice for a perfect fall meal.
You only need a handful of ingredients for this easy, comforting dish. Season your squash with salt, pepper, and thyme before baking in the oven.
Season wild rice with onion powder, garlic powder, and curry powder before cooking it in vegetable broth. Stir in coconut milk when boiled, then stuff it into your squash.
You'll finish cooking your stuffed squash in the oven until it's golden and tender!
Source: flavorthemoments.com
This sweet potato chickpea curry is wholesome and satisfying. The creamy coconut red curry sauce is packed with delicious flavor.
Full-fat coconut milk provides the richest, creamiest texture. Thai red curry paste delivers plenty of spice. You can easily adjust this to your taste!
Ideal veggies for your curry are celery, zucchini, green beans, and broccoli. Use whatever you have to hand.
Source: epicveganeats.com
This vegan white lasagna has a beautiful nutty flavor from a cashew "cheese" sauce. It's packed with tasty fall veggies that will have your family wanting more!
Button mushrooms, chopped pumpkin, and baby spinach are ideal filling veggies for your lasagna. Add flavor with fresh garlic, chopped onion, dried thyme, salt, and pepper.
Your cashew sauce is super easy to make. Combine cashews, white vinegar, dry white wine, and nutritional yeast in a blender. Top your lasagna with vegan parmesan or mozzarella!
Source: frugalfamilytimes.com
Stretch your budget further with this healthy sausage and veggies. You can make a complete, hearty meal that everyone is satisfied with.
Root vegetables are ideal for this meal. Beets, parsnips, and sweet potatoes deliver a sweet taste alongside chunks of savory sausage.
Add flavor to this dish with garlic powder, dried basil, rosemary, and sea salt.
Source: homemadeandyummy.com
Serve an exciting twist on a traditional tuna pasta dish by replacing noodles with tender quinoa. The extra protein is filling and makes for a nutritious meal.
You'll make a cream sauce from scratch rather than using canned soup. You can do this by creating an easy roux, adding milk, and stirring until it's thick and creamy.
Diced onion, diced bell pepper, and frozen peas provide extra flavor and nutrition. Add shredded cheddar before baking in the oven. You'll have a delicious melted cheesy topping!
This is one of the best summer casseroles for a summer evening!
Source: livingsweetmoments.com
Rice bowls are a versatile option for cheap family dinners. Serve teriyaki chicken with rice for this quick and delicious meal.
Crunchy carrots, edamame, and broccoli are perfect for this recipe. Cook these alongside chunks of tender chicken breast in a flavorsome sauce. Minced garlic and minced ginger add flavor to these.
Make your teriyaki sauce using light brown sugar, soy sauce, and rice wine vinegar. Thoroughly coat your chicken and veggies. Garnish your rice bowls with crunchy sesame seeds for a nutty flavor.
Source: hurrythefoodup.com
This bean and pasta casserole is a simple recipe that you can dump and go. Put everything in your baking dish and let the oven do its magic.
White beans give your meal a lot of protein and fiber. Cherry tomatoes are sweet and juicy, and fresh kale contains vitamins.
This dish has a delicious flavor thanks to the fresh garlic, dried thyme, and chili flakes. Garnish your cooked casserole with fresh parsley and basil before serving.
Source: deliciousbydesign.net
Juicy chicken thighs are the star of this dish. They're coated in a sticky homemade teriyaki sauce that everyone will love. Drizzle this over your tender rice and veggies too!
Soy sauce, brown sugar, fresh ginger, and fresh garlic combine for your delicious teriyaki sauce.
Marinade your chicken thighs before cooking. Do this as long as possible (up to 24 hours) for the best flavor!
Steam your favorite veggies to serve with your chicken and rice. Broccoli, zucchini, and carrots work well with sweet teriyaki flavors.
Source: corriecooks.com
Your Instant Pot makes it easy to create this chicken and broccoli dish. It's full of flavor and produces chicken that is tender and juicy.
Chicken and broccoli are delicious when cooked with caramelized onions, garlic, chicken stock, and soy sauce. Serve this with tender rice and garnish with nutty sesame seeds.
51 Cheap Recipes for Families To Stay Under Budget
Feed your family without going over budget with these delicious and cheap recipes for families. Enjoy these easy recipes!
Ingredients
1. Cast Iron Breakfast Skillet
2. Black Bean Quesadillas
3. Breakfast Skillet with Sweet Potatoes
4. One Pot Mexican Rice Casserole
5. Tagliolini au Gratin with Ham
6. Loaded Baked Potato Soup
7. Broccoli Cheese Casserole
8. Old-Fashioned Baked Mac and Cheese
9. One Pot Lemon Herb Chicken and Rice
10. Veggie Fried Rice
11. Sheet Pan Chicken Fajitas
12. Chicken Taco Casserole with Doritos
13. Sheet Pan Pork Chops
14. One Skillet Cheeseburger Helper
15. Sheet Pan Chicken Thighs with Garlic and Honey
16. Ground Chicken Meatballs in Sauce
17. American Goulash
18. Creamy Cheesy Beef and Shells
19. BBQ Chicken Sliders
20. Tater Tot Green Bean Casserole
21. Turmeric Chicken Thighs Skillet
22. Slow Cooker Garlic Lemon Garlic Chicken
23. Slow Cooker BBQ Chicken
24. Slow Cooker Vegan Chili
25. Slow Cooker Beef Shin
26. Slow Cooker Seven Layer Casserole
27. Crock Pot Mexican Shredded Chicken
28. Crock Pot Red Beans and Rice
29. Crockpot Lasagna
30. 5-Ingredient Crock Pot Chicken and Gravy
31. Crockpot Smothered Chicken Thighs
32. Sweet Chilli Chicken Sheet Pan Dinner
33. Cheesy Bolognese Pasta Bake
34. Zucchini Stir Fry with Garlic and Sesame Seeds
35. Kielbasa and Cabbage Skillet with Buttered Rice
36. Boiled Rice and Chicken
37. Instant Pot Chicken Pasta
38. Pasta with Broccoli
39. Tuna Pesto Pasta
40. Creamy Spinach Pesto Pasta
41. Rosemary Chicken Fillets
42. Sheet Pan Chicken with Sweet Potatoes, Apples, and Brussels Sprouts
43. Vegan Stuffed Butternut Squash with Rice
44. Instant Pot Sweet Potato Chickpea Curry
45. Vegan White Lasagna
46. One Pan Healthy Sausage and Veggies
47. Quinoa Tuna Casserole
48. Quick Chicken Teriyaki Rice Bowls
49. Bean and Pasta Vegetarian Casserole
50. Teriyaki Chicken Bowl with Rice and Steamed Vegetables
51. Instant Pot Chicken and Broccoli
Instructions
Scroll up to get a bunch of easy, yummy, and delicious cheap recipes. Don't be afraid to get creative with the ingredients. You might discover a flavor you didn't know you liked.
Get your shopping list going, and make sure you've got all the ingredients.
Get cooking and make your next Cheap Family Recipe!
Notes
Which one of these recipes was your favorite? Let me know in the comment section or on Pinterest!