Looking for a perfect dinner for this Friday? These Friday night dinner recipes are easy to make, delicious and so yummy.
The arrival of the weekend comes with a wave of laziness as well as the need for easy recipes. Well, you are just the same as we are.
You need to check out these 51 Friday Night Dinner Ideas for an easy meal and lazy weekend cooking.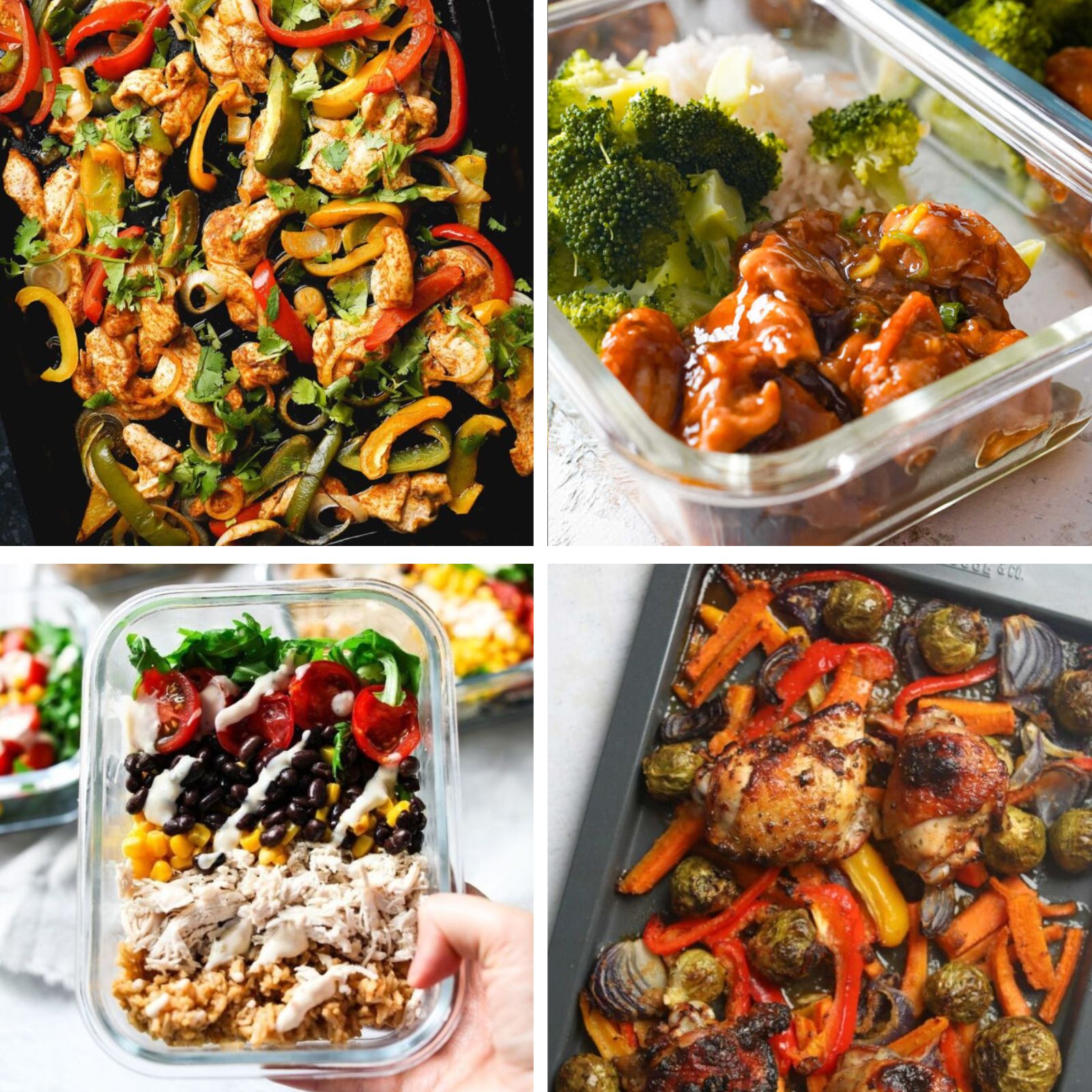 Lazy Friday Night Dinner Ideas
Friday is the start of the weekend, and after working hard the whole week, most people want to relax and watch a movie with the easiest dinners they can cook for the whole family.
Easy Friday night dinner ideas are mostly easy cheap dinner recipes that are filling and effortless to cook. Check out our favorite easy Friday night dinners to enjoy with all your family members after a long week.
Source: allnutritious.com
Let's bring some Asian flavors to your kitchen with this lovely recipe. Salmon, carrots, zucchini, mushrooms, peppers, and onions for a simple, 30-minute dinner.
The salmon and veggies are smothered in a finger-licking garlic and soy sauce mixture. And it gives the dish such umami flavors and fragrances that you will not be able to resist.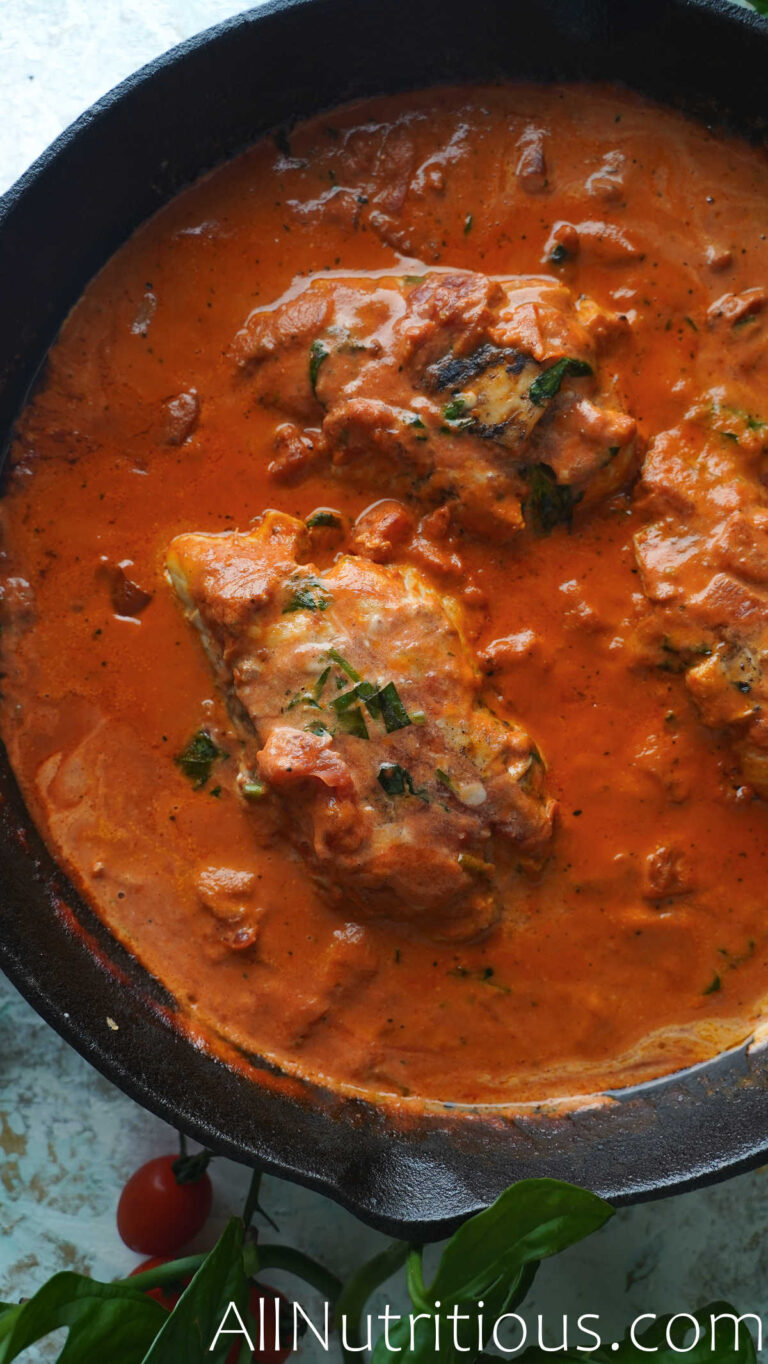 Source: allnutritious.com
Creamy, loaded with herbs, and oh-so-delicious. This simple-to-make chicken in tomato sauce uses only one skillet.
The heavy cream gives it creaminess and silkiness. But it is the garlic and parmesan cheese that gives the sauce such a rich flavor.
This recipe cannot go without any Italian seasoning. But you can use whatever herbs you have on hand.
Source: allnutritious.com
Satisfyingly crispy on the outside. And tender and juicy on the inside. Isn't that the definition of well-cooked cutlets? Well, trust me, these are pure perfection!
Because they are not just crispy. They are super crunchy, too! Coated with chunkier breadcrumbs and parmesan cheese. These cutlets will please everyone.
Source: allnutritious.com
This easy dinner combines pork with broccoli. And it uses a garlicky soy sauce that wraps everything together.
The dish is ready in just 35 minutes. And I promise you it qualifies for the most hassle-free dinner ever.
Most of the work involves chopping up the broccoli florets. And it is a smooth sail from there.
Source: allnutritious.com
Vegan, gluten-free, and hassle-free. And absolutely delicious!
Made in just 20 minutes and with simple ingredients. This is definitely a match for those lazy Friday nights.
The dish is a classic soy sauce and garlic stir-fry. It features zucchini and onions as the main ingredients.
Source: allnutritious.com
Cheesy, gooey, and so delicious! These stuffed chicken breasts will bring you that restaurant-worthy taste straight to your dinner table.
Brushed with some pesto sauce and topped with mozzarella and sliced tomatoes. Then seared and baked until the meat is no longer pink and the cheese is melted.
Source: allnutritious.com
Say goodbye to dry chicken because, with this recipe, you will always have juicy cuts on your table.
The secret to having it perfectly seared? Add the chicken to a piping hot pan. That way, a nice crust will be formed, and the chicken won't stick to the pan.
I love this simple chicken served with some butter on the top.
Source: allnutritious.com
This dish is not only easy and hassle-free, but it is also perfect for meal-prepping, too.
It consists of chicken thighs. And they're coated with a homemade Teriyaki sauce. As a side, you get fluffy rice and steamed broccoli.
So, a full meal in just 35 minutes that you can easily whip up on a lazy Friday night.
Source: allnutritious.com
Sweet and garlicky shrimp combined with white rice and a vegetable stir fry.
The veggies of choice are snow peas, carrots, broccoli, and corn. And everything is tossed in a honey and garlic sauce that will have you licking your plate.
This dish is so nutritious and easy to make, too. It is ready in just over half an hour.
Source: allnutritious.com
If you love adding citrusy flavors to your dishes, this recipe will surely satisfy you.
Chicken breasts are pan-fried and coated in an orange and ginger sauce that also features honey and soy sauce.
The meat is paired with firm broccoli and fluffy rice. And it makes a filling dinner that you can easily whip up in just 35 minutes.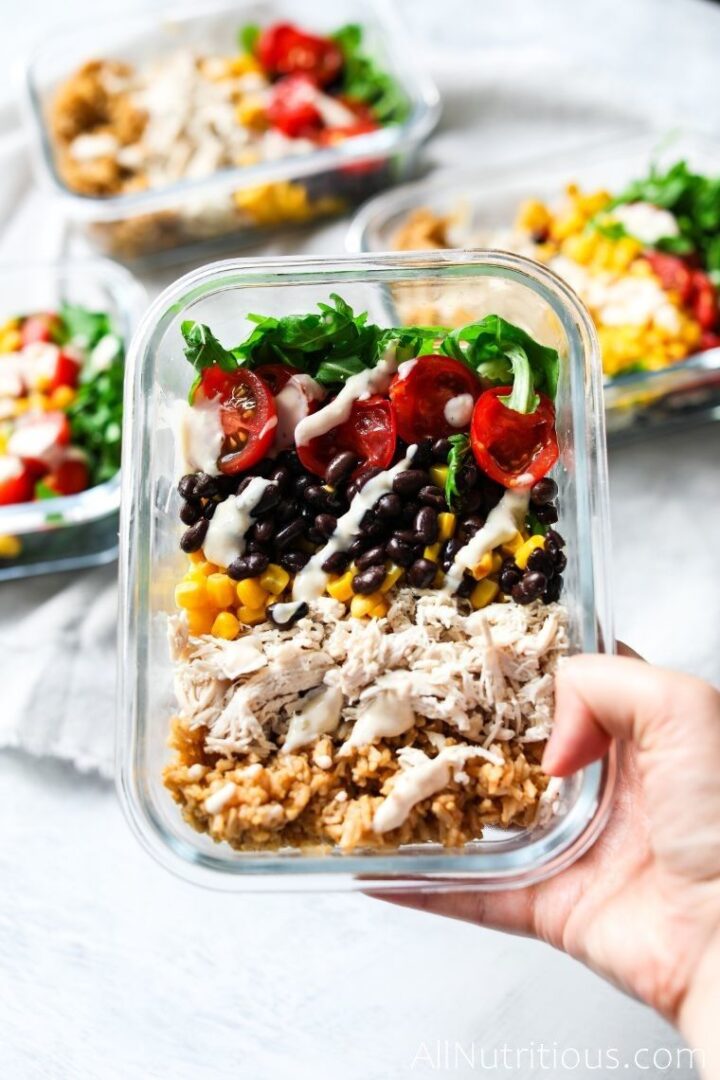 Source: allnutritious.com
Burritos, but in a bowl! These lovely containers consist of shredded chicken, beans, corn, veggies, and a lovely Caesar dressing drizzled on top.
These can be served in a tortilla. But eating them straight from a bowl is much more satisfying, trust me.
To make things even easier? You can also use leftover chicken or turkey for this recipe.
Source: allnutritious.com
What's more convenient than making a sheet pan dinner on a lazy afternoon? All you have to do is season the meat and arrange everything onto the sheet.
We use pork chops, peppers, and asparagus for this recipe. Everything is bursting with flavors, and it takes about 40 minutes to come together.
Source: allnutritious.com
Love a good honey and garlic combo? Then I know you'll love this easy dinner!
Made with chicken thighs, onions, peppers, carrots, and Brussels sprouts. All roasted to perfection in the oven.
The chicken has a sweet and spicy flavor. And for the best taste, I absolutely suggest skin-on chicken. That way, the meat will be crispy on the outside and incredibly juicy on the inside.
Source: allnutritious.com
Another sheet pan dinner. Don't you just love how easy and quick those are? This salmon sheet pan is not only healthy and easy, but it is also very delicious.
Topped with a sweet, garlicky sauce and paired with sweet potatoes and broccoli. This tastes so good that even the kiddos will go crazy for this recipe.
Source: allnutritious.com
These tasty chicken fajitas bring Mexican flavors straight to your dinner table.
Peppers, chicken, tortillas, and loads of irresistible spices. There is nothing but flavor here. And I guarantee that you'll love it.
Don't enjoy spicy food? You can omit the chili powder and use an extra teaspoon of paprika instead.
Source: allnutritious.com
If you like recipes that are full of flavor and that are also slightly spiced, you should try this Chicken Zucchini Pasta.
If you are fed up with making store-bought pasta, it's time you try this tasty recipe for Zucchini pasta; more flavor, fewer calories, and a whole lot of vegetable goodness.
Source: troprockin.com
Air Fryer Chicken Fajitas is an easy weekend dish that is packed with bursting flavor in every bite. This mouth-watering Fajita recipe has the juiciest chicken you will ever taste in your life.
Just serve this chicken fajita with traditional tortillas with a side of rice or beans. You can also go for grocery store corn tortillas or even eat this in a salad bowl.
Source: masalaherb.com
This tasty dinner will help you put down the takeout menus and is great for Friday nights
Egg Fried Rice is not only easy to cook, but you can also add any vegetable you want to it.
Toss your eggs and veggies in a deep wok with spices and olive oil, add your pre-cooked rice, and fold gently.
Source: frugalnutrition.com
How can a yummy, cozy and hearty dish be easy to cook? Well, you need to check out our Mushroom Melt Grilled Cheese to know-how.
This easy sandwich is so effortless to cook and has lots of cheese; you will be making it every weekend for your family.
Source: gardeninthekitchen.com
This Chicken Broccoli Stir Fry is one of the easiest things to cook and a great addition to your weekend; you can also add other veggies to this recipe to customize it to your taste.
If you want a meatless broccoli stir fry, you can also replace the chicken cubes with tofu cubes.
This could also be an amazing Sunday Dinner recipe!
Source: livingsweetmoments.com
Lazy Friday dinners are incomplete without one-pot meals. If you love one-pot meals and good food as much as we do, you are in for a delicious treat.
Chicken and bacon are the perfect combination for a delicious Friday night dinner. This is even a cool recipe to try if you have friends over.
Source: pressurecookrecipes.com
California Roll is one recipe that will earn you the apron of Master Chef in your family.
If you are looking for a great dinner for date night don't go for pizza night make this main course with fresh ingredients and so much flavor.
This Sweet-umami crab with creamy avocado recipe has crunchy cucumber enclosed in nori seaweed and flavored sticky sushi rice.
Source: foodmeanderings.com
Here's a classic Italian recipe that is so easy to cook that it will become a classic recipe in your home.
Baked Chicken Cacciatore is so effortless to make. All you need to do is place your chicken breast at the bottom of the baking dish.
Mix the rest of your ingredients in a bowl and pour it over your chicken.
Source: morewithlesstoday.com
Stir Fry recipes are only excellent lazy Friday dinner ideas, but they are also a delicious treat to your taste buds.
For the Mongolian sauce, you will need olive oil, soy sauce, brown sugar, ginger powder, and minced garlic.
For Mongolian Stir Fry, you will need green peppers, onion, chestnuts, broccoli, rice, chicken breast, and seasoning.
Source: everyday-delicious.com
Now you can make the yummiest Pasta in just 30 minutes or less. This Pasta with Sausage and Peppers has all the goodness of fresh vegetables.
It's packed with the rich taste of crispy sausages, fresh vegetables, and cheesy tomato sauce. Not only that, but you can also cook it before time and reheat it when it's time for dinner!
Source: easyflavorful.com
Here's the lazy Friday recipe for people on a strict low-carb diet. This Air Fryer Eggplant Parmesan has no bread, is Keto-friendly, and it's so yummy you won't be able to stop at just one helping.
On a bed of coated eggplant, you get to enjoy the bursting flavor of baked marinara sauce, mozzarella cheese, and parmesan cheese.
Source: all-thats-jas.com
Here's a Lazy Friday dish packed with color, flavor, and all the goodness of fresh vegetables you can get in one recipe.
To make Sheet pan Chicken and Potatoes, you will need Chicken strips, Potatoes, Lemon, Onion, Za'atar, and Feta cheese.
This recipe combines delicious flavors and brings you the most satisfying meal ever!
Healthy Friday Night Dinner Ideas
Who said weekend means you can go crazy on calories? If you need taste and flavors, you can get them with our lazy Friday healthy dinner ideas.
With our healthy lazy Friday dinner ideas, you don't need to compromise on your diet or the taste of your food.
Source: allnutritious.com
With this Herb Crusted Salmon recipe, you can make restaurant-style fish at home and enjoy a lazy meal on Friday.
Baked Salmon with Garlic and Tomatoes is a simple dish to cook, and the best part is that your Salmon stays moist and juicy.
This is also a perfect healthy college dinner!
Source: livinghealthywithchocolate.com
Shepherds Pie is classic comfort food that most people bake on Holidays or Sundays. It's the perfect Lazy Friday recipe ever.
But ours come with a healthy twist. Instead of using potatoes for the top layer, we will be using mashed cauliflower. Mashed and boiled cauliflower with garlic tastes more or less like boiled potatoes, and it's also low in carbs!
Source: allnutritious.com
Oh, how I love lettuce wraps. You can make the most delicious Teriyaki Chicken with our recipe and wrap it in your healthy greens.
You may have ordered Teriyaki Chicken at many Asian restaurants, but have you ever considered making this delicacy at home? Did you know it's pretty easy to whip up?
Source: healthyrecipes101.com
Why do people love Casseroles so much? Well, the simplest answer to this question is that they are highly customizable. You can make Casserole for the pickiest eater and get an empty dish back.
You can add any type of meat and veggies to your Casserole too. So, it's an ideal choice for weekends. For Salmon Casserole, you will need Salmon, Vegetables, Fusilli, and seasonings.
Source: allnutritious.com
This easy and quick Celery/Carrot soup recipe is ready and on the table in as little as 25 minutes.
This soup recipe is healthy, filling, and nutritious.
All you need for this recipe are some carrots, olive oil, onion, and celery. Add garlic and herbs to add the traditional Italian taste.
Source: lbhealthandlifestyle.com
This dense and creamy mushroom Risotto is ready in 25 minutes, and it's an extremely fulfilling and comforting recipe ever!
There are many benefits of making Risotto without rice. One of the most important is that it's easy on the stomach.
For this recipe, you will need Pumpkin purée, Bone Broth, Spinach, Mushroom, Celery, and onions.
Source: lbhealthandlifestyle.com
Here's a hearty chili recipe that is made without tomatoes and spices to keep it light and gluten-free.
Jackfruit has the texture of pulled meat, so you won't miss the meat in this recipe. To make the Jackfruit Chilli, you will need con Carne, Celery, Pumpkin purée, Ground black pepper, and Jackfruit.
Source: theviewfromgreatisland.com
Let's make Egg Roll Bowls. You don't need to suffer at the hands of commercial egg rolls and Chinese restaurants; you can now make your egg roll in a unique way.
Here's what you need to make your egg roll bowl: ground meat, cabbage, carrots, celery, onion, bean sprouts, peas, ginger, garlic, oil, and wonton wrappers.
Source: hauteandhealthyliving.com
Do you love Chinese take-out? If you do, you must have had orange chicken; it's the best and most flavorful chicken on the Chinese take-out menu.
Now, you can make the same orange chicken at home in just 30 minutes. This sweet, sticky, and tangy chicken doesn't need any fancy ingredients; that's the beauty of this recipe.
Source: rainbownourishments.com
Looking for the best lazy Friday dinner recipe, this Vegan Miso Ramen Noodle Soup is a one-pot recipe that is easy to make, and you will find all the ingredients easily.
This ramen recipe is so creamy and flavorful that you will stop making ramen any other way after this.
Summer Friday Night Dinner Ideas
Balmy summer nights call for light and refreshing dinners that aren't too heavy on the stomach. For such recipes, you should check out our summer weekend favorites.
Source: healthmylifestyle.com
One-pot dishes are lifesavers; just add all the ingredients in a pot, give it a good fold or stir and forget it till it's time to eat. This is how you make hassle-free weekend dinners.
Take a big pot, green beans, red bell pepper, diced rice, saffron, sweet paprika, tomato paste, tomatoes, broth, chickpeas, artichokes, and olives.
Source: baking-ginger.com
This Creamy One-Pot Pasta with Ricotta and Lemon is my favorite dish so far. You can cook it for under 20 minutes with a preparation time of 5 minutes.
This recipe is finger-licking good, and you will only hear praises from your friend and family for making this.
Source: karalydon.com
Healthy and full of vegetable goodness, this Vegetable Pasta is the easiest dish for your busy weekends. If you have friends over and you need a creamy and easy side dish, this is the perfect one.
Light and refreshing, the most easy-to-digest dish for hot summer's night. Moreover, this weekend meal is ready in just 30 minutes.
Source: ottawamommyclub.ca
You love nachos, but yours turn soggy every time you attempt them? Well, here's a pro tip; drain your veggies thoroughly before adding them to your nachos. This keeps the nachos crispy for long.
To make this recipe, you will need Tortilla Chips, Chicken, Black Beans, Corn, Onion, Tomato, Avocado, Cilantro, and cheese.
Source: joyfilledeats.com
To make this greek salad, you need to cook three layers, one dressing, one for the salad mixing, and one is your grilled chicken.
To grill the chicken, you need chicken breast pieces, salt, and pepper. Once all your steps are done, fold the ingredients together and drizzle your dressing over the salad.
Source: joyfilledeats.com
Keto is the latest popular diet. Many people have made Keto their lifestyle. Here's a quick Keto recipe that you can try this weekend.
The Creamy Shrimp Primavera is a light, easy to cook, and fast recipe that you can prepare in less than 30 minutes.
All you need are some shrimp, onion, pepper, broccoli, zucchini, butter, cheese, and heavy cream.
Source: twopinkpeonies.com
Here's some good news for all the busy mamas who hate defrosting chicken. To make your Instant Pot Lemon Chicken Thighs, frozen or fresh, both types of chicken will suffice.
So, let's put together the best weekend recipe of all time. You need the following ingredients, boneless and skinless chicken thighs, cooking oil, garlic powder, red pepper flakes, onion powder, parsley, rosemary, and water.
Source: mangiawithmichele.com
Sometimes, on a hot summer night, all you need is a dish of spicy food and a cold beverage.
To make this super easy recipe, you need Garlic Confit cloves, Garlic Oil, Calabrian chili paste, crushed red pepper, black pepper, raw shrimp, garlic, and lemon juice.
Love this recipe? You might enjoy these low calorie dinner recipes!
Source: hauteandhealthyliving.com
Here's a traditional Mexican dish that is ready in 30 minutes.
Chicken Fajitas is easy to make, and you can eat it in many ways, with rice, tortillas, or even with a fork. No matter how you choose to eat your Chicken Fajitas, you will have the time of your life eating this Mexican delicacy.
Source: littleferrarokitchen.com
As hard as it sounds, the Chicken Tagine with preserved Lemons and Olives is one easy dish to cook. It's so easy that it might become your weekend staple.
This dish cooks for under 35 minutes with 10 minutes of prep time and 25 minutes of cooking time. Moreover, it's a healthy dish that is full of bold flavor, preserved lemons, and olives.
Friday Night Ideas for 2
Are you having a special someone over for dinner at the weekend? Need a little help preparing the perfect weekend meal?
Here are some of the best and yummy Friday Night dinner Ideas for two. This dish will help you make a lasting impression.
Source: delightfulplate.com
When you are cooking for two, the presentation of the dish matters as much as the flavor. So, dish out this Steamed Fish with Ginger Soy Sauce in your best china, and don't forget to place the chopsticks near the bowl for good measure.
This steamed fish recipe is full of rich vegetable flavor, vivid color, and the most delicious aroma of steamed fish and veggies.
Source: allnutritious.com
Sometimes to enjoy your food to the fullest, you need to get your hands dirty. But don't worry, with our Honey Chicken Wings recipe, your date will lick their fingers clean.
These honey-coated wings aren't only mouth-watering, but they are also crispy, sweet, and nutritious. With all the goodness of honey, these wings are the finest you will ever have.
Source: christinascucina.com
These Fish and Chips turn out perfect every time.
The recipe is easy to follow, and it's super delicious too. The recipe comes from a small street shop in Glasgow. Needless to say, it's magical.
Source: eatingglutenanddairyfree.com
Let's make tacos with a healthy, gluten-free twist. Instead of taco shells, use peppers. These Taco Stuffed Peppers are the perfect dinner for two. Moreover, they look highly presentable.
To stuff your peppers, you will need ground beef or turkey, onion, seasoning, black beans, corn, and enchilada sauce. You can even customize this recipe and use any stuffing or topping you, please.
Get more inspiration with these ground turkey recipes!
51 Friday Night Dinner Ideas for Family
Need something for the Friday dinner? Check these Friday night dinner recipes that taste delicious and are easy to make.
Ingredients
1. Easy Salmon Stir Fry
2. Creamy Tomato Chicken Skillet
3. Crispy Baked Chicken Cutlets
4. Ground Pork Stir Fry
5. Garlic and Sesame Zucchini Stir-Fry
6. Mozzarella Stuffed Chicken Breast with Pesto
7. Juicy Cast Iron Skillet Chicken Breast
8. Teriyaki Chicken
9. Honey Garlic Shrimp
10. Easy Orange Chicken
11. Chicken Burrito Bowls
12. Sheet Pan Pork Chops and Vegetables
13. Sheet Pan Chicken Thighs with Garlic and Honey
14. Salmon Sheet Pan Dinner with Veggies
15. Sheet Pan Chicken Fajitas
16. Chicken Zucchini Pasta
17. Air Fryer Chicken Fajitas
18. Egg Fried Rice
19. Mushroom Melt Grilled Cheese
20. Chicken Broccoli Stir Fry
21. Chicken Bacon One Pot Meal
22. California Roll
23. Baked Chicken Cacciatore
24. Mongolian Chicken Stir Fry
25. Pasta with Sausage and Peppers
26. Air Fryer Eggplant Parmesan
27. Sheet pan Chicken and Potatoes
28. Herb Crusted Salmon
29. Shepherds Pie
30. Teriyaki Chicken Lettuce Wraps
31. Salmon Casserole
32. Celery and Carrot Soup
33. Pumpkin Mushroom Spinach Risotto
34. Jackfruit Chilli Con Carne
35. Egg Roll Bowls
36. Orange Chicken
37. Vegan Miso Ramen Noodle Soup
38. Spanish Vegan Paella
39. Creamy One-Pot Pasta with Ricotta and Lemon
40. Vegetable Pasta
41. Sheet Pan Nachos
42. Greek Salad
43. Creamy Shrimp Primavera
44. Instant Pot Lemon Chicken Thighs
45. Spicy Garlic Shrimp
46. Chicken Fajitas
47. Chicken Tagine with preserved Lemons and Olives
48. Steamed Fish with Ginger Soy Sauce
49. Honey Chicken Wings
50. Fish and Chips
51. Taco Stuffed Peppers
Instructions
Scroll up to get a bunch of easy, yummy, and delicious dinner recipes. Don't be afraid to get creative with the ingredients, you might discover a flavor you didn't know you liked.
Get your shopping list going and make sure you've got all the ingredients.
Get cooking and make your next Friday Night Dinner!
Notes
Which one of these recipes was your favorite? Let me know in the comment section or on Pinterest!