In need of a simple recipe that's delicious? This celery and carrot soup is very easy to make, you can get it onto the table in just 25 minutes. The recipe is vegan, dairy-free, gluten-free and low calorie.
This Celery and Carrot soup is a wholesome and nourishing dish that you are going to love!
Whether it's a lunch or brunch dish you want to serve up, it's easy to cook and better than anything from a can!
Full of earthy flavor, this Celery and Carrot soup is still light and refreshing and would make a tasty spring or summer lunch.
And it's an inexpensive recipe to make – perfect!
Ingredients You'll Need
Olive oil – There is no need for an expensive extra-virgin olive oil here as you are using it to cook. Just use a good quality olive oil, or you could switch to coconut oil or avocado oil.
Onion – White onions are best here and provide the best flavor. However, you could use a red variety if you wish.
Carrots – Any variety would be perfect. Keep them stored in the coolest part of your fridge and away from apples (they can spoil carrots quickly).
Celery – This root vegetable keeps for up to 2 weeks in the fridge.
Garlic – You could use the fat, juicy cloves from smoked garlic if you wish – but any normal variety would be great.
Dried oregano – It's worth sourcing a good quality dried oregano as the taste is so much stronger!
Vegetable broth – A low-sodium variety is a good option, but you could use your favorite here. A vegetable bouillon powder is also a delicious alternative!
Water – From the tap is fine.
Salt and black pepper – Sea salt does give a better flavor profile and freshly ground pepper is best!
How to Make Celery and Carrot Soup
In a large pot, add the oil and heat on a medium setting. Add the onion.
Sauté the onion for around 5 minutes, stirring all the time. Add a splash of water if the pan gets too hot as you don't want the onions colored – just soft, tender, and translucent.
Next, add the carrots and celery. Stir well to coat them in the onions and oil.
Sauté for a further 5 minutes to cook.
Add the garlic and dried oregano. If you want some help mincing your garlic, here's a great garlic press that is so easy to use!
Add the vegetable broth, water, salt, and black pepper, and stir.
Bring to boil, and then reduce to simmer and cook for 15 minutes until veggies are tender.
What Can I Serve with Celery and Carrot Soup?
Crusty bread is the perfect combination with this soup. Use a gluten-free variety to keep this dish entirely free of gluten. It would suit a vegan or vegetarian diet too.
Rye bread, nutty and dense, would also be a tasty option.
How about scattering over some fresh herbs? Fresh dill loves celery and carrot so try it! Fresh parsley and chives would also be perfect.
Adding a few caraway seeds to the top of the Celery and Carrot Soup or adding some to homemade bread would be a great addition!
If serving this as part of a brunch or lunch, you could add pickles, roasted fennel, or smoked fish on the side, keeping the meal light and full of flavor.
What Carrots Can I Use?
If you have noticed the increasing range of carrot colors in the shops, you may wish to experiment a little, but what's the difference?
Carrots have varying degrees of sweetness, where it is thought the smaller the carrot, the sweeter it is. This isn't always the case but most of the time it is, so choose wisely to suit the dish.
Carrots can be found in orange, yellow, purple, green, red, white, and golden but do they taste different?
Just like different colored tomatoes, the taste difference between the different colors isn't extreme, but they do look rather fun!
You could choose any color you wish for this soup – but if you want to keep the price down, the usual orange variety would be perfect.
Any wild carrot color won't really be noticed in the soup after simmering, so keep the more expensive, strange colors for roasting and making someone smile!
How Long Does It Take to Boil Celery and Carrots?
Boiling these two vegetables together is super easy and they cook at the same time – just make sure your dice sizes are similar.
On a gentle simmer, they will be soft and sumptuous within 12-15 minutes, but still, have a little texture and loads of flavor!
How to Store Soup?
Soup is a wonderful dish to store after making as the flavor just gets better and better. Once cooked, the ingredients will continue to break down, oozing out taste and after taste.
Once cooled, you can store your soup in the fridge in an airtight container, where it will happily stay for 3-4 days.
If you have a ton of leftovers, you could store in the freezer for 3-4 months. A great tip would be freezing individual portions that you can easily whip out for a single lunch serving.
If you have mugs that you can put into the freezer, you could even freeze a portion of soup ready to go so you just need to remove it the night before and place it in the fridge to defrost. Easy!
Other Dinner Recipes You Might Like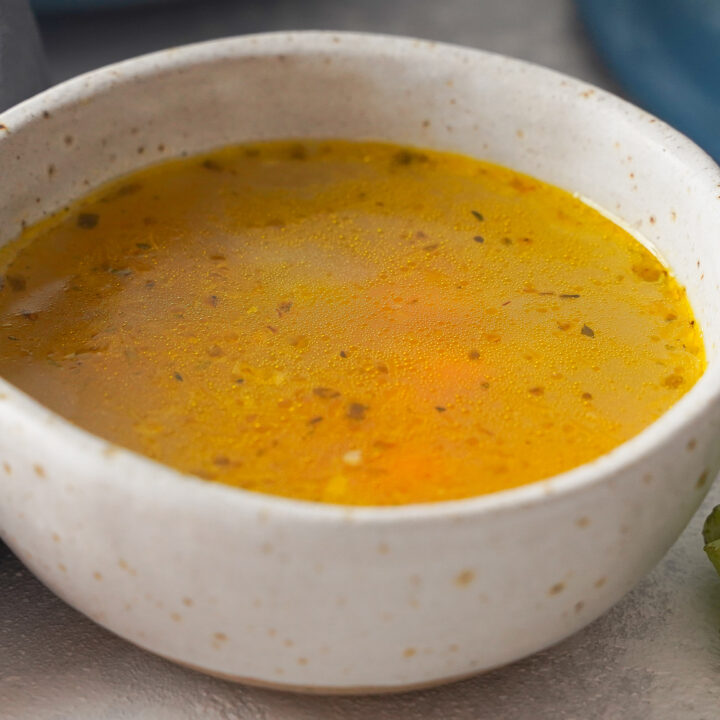 Easy Celery and Carrot Soup
This Celery and Carrot soup is a light, delicious vegan meal great for dinner. It's low calorie, gluten-free, dairy-free, vegan and light.
Ingredients
2 tbsp olive oil
1 small onion (diced)
4 medium carrots (peeled and diced)
4 stalks of celery (diced)
4 cloves garlic (minced)
1 tsp dried oregano
2 cups vegetable broth
6 cups water
salt and black pepper to taste
Instructions
In a large pot, heat olive oil on medium-high heat and add onion. Saute for around 5 minutes until the onions are tender.
Add the carrots and celery. Saute for another 5 minutes.
Add garlic and dried oregano. Cook for 30 seconds.
Add vegetable broth, water, salt, and black pepper. Bring to boil, then reduce to simmer and cook for 15 minutes until veggies are tender.
Serve hot in a bowl.
Nutrition Information:
Yield:

6 bowls
Serving Size:

1 bowl
Amount Per Serving:
Calories:

79
Total Fat:

4.8g
Saturated Fat:

0.7g
Trans Fat:

0g
Unsaturated Fat:

3.9g
Cholesterol:

0mg
Sodium:

395mg
Carbohydrates:

8.6g
Net Carbohydrates:

6.2g
Fiber:

2.4g
Sugar:

3.7g
Protein:

1.2g
Nutritional values were obtained with automatic software using the amounts of products used. To get the most accurate representation of the nutritional values, you should calculate them with the actual ingredients used in your recipe. You are solely responsible for the nutritional information obtained to be accurate.