Take your chicken tenderloin and make these delicious chicken tenderloin recipes. Easy, delicious, and nutritious.
Cooking with a chicken tenderloin is like playing basketball at seven feet tall; you just can't lose. Chicken tenderloin is the most tender part of the bird.
These chicken strips absorb all the flavor of the sauce they are cooked in, making chicken tenderloins a perfect canvas for your next dinner.
What is Chicken Tenderloin Good for?
These easy chicken tenderloin recipes are the perfect contender for an affordable yet gourmet dinner. This ultra-soft and juicy part of the chicken is excellent for elevating a meal, but it won't cost an arm and a leg.
Plus, it's a super lean cut of meat. That's good news for anyone watching their waistline!
Are Chicken Breast and Chicken Tenderloin the Same?
The chicken breast is the entire chest section of the bird, but the tenderloin is just a tiny piece of that breast. It's the most delicate part of the breast, running up the inside edge.
Chicken breast also tends to be slightly more nutritious since it contains more vitamins. But the tenderloin is still an excellent choice in terms of health.
Plus, there's no better choice when it comes to juicy tenderness.
Are Chicken Tenderloins Healthy?
Absolutely. They contain very little fat, no carbs, and require very little oil to cook. Those are all great signs for a healthy chicken tenderloin dinner.
So, without any further ado, let's dive into thirty-one ways you can enjoy this particular cut of meat.
Healthy Chicken Tenderloin Recipes
First and foremost, I've assembled a few healthy recipes to start us on our journey. Each of these recipes embraces a chicken tenderloin's ability to elevate a meal beyond its limitations.
Best of all, combining healthy ingredients and chicken protein means these recipes are both delicious and super simple.
Source: apinchofhealthy.com
We begin with a creamy and hearty dish perfect for winter nights spent indoors. Coat your tender chicken in a rich mushroom-based sauce guaranteed to satisfy your appetite.
This easy chicken dinner uses a few simple ingredients you can get at the grocery store like chicken broth, garlic powder, salt and black pepper. It's great served on rice with a side of vegetables or even on a bed of pasta for an Italian twist.
Source: healthyseasonalrecipes.com
Every home cook I know is in love with sheet pan recipes for an excellent reason! These delightful baking sheet recipes give us the time we need to get on with other things while making a tasty dinner.
The hero of this dish is the incredible honey and hot sriracha sauce. The combination of sticky sweetness with ultra-tender chicken is utterly mouth-watering.
Check out these easy sheet pan dinners for more inspiration.
Source: itsnotcomplicatedrecipes.com
Every home cook I know is in love with sheet pan recipes for an excellent reason! These delightful baking sheet recipes give us the time we need to get on with other things while making a tasty dinner.
The hero of this dish is the incredible honey and hot sriracha sauce with olive oil and lemon juice. The combination of sticky sweetness with ultra-tender chicken is utterly mouth-watering.
Check out more easy low-calorie dinner recipes.
Source: ihatemealprep.com
Chicken tenderloins are fantastic for meal prep. They're easy to portion, and they are a perfect size so you don't have to cut them, so there's minimal risk of them going dry in the fridge.
Best of all, they're super easy to prepare in large quantities. Spend an hour on Sunday making this easy recipe for your entire week using this simple yet tasty recipe with soy sauce.
Source: strengthandsunshine.com
Upgrade your Taco Tuesday with a super simple take on chicken fajitas. Tenderloins are ideal for this dish because you can allocate a single tender to each fajita. Talk about portion control!
Whip up some side dishes with brown rice or your favorite Mexican-style vegetables to complete the dish. I highly recommend grilled peppers and sweet onions to complement the chicken's juicy texture and taste of the seasoning with lime juice, and chili powder.
Source: urbanblisslife.com
Even the name 'grilled pineapple chicken' is making my mouth water. Pineapple contains enzymes that break down the chicken tenderloin even further as it cooks, thus doubling the tenderness!
Plus, this chicken is irresistibly sweet and sticky, thanks to the natural sugars hiding in the pineapple. Serve on a bed of fresh vegetables or chopped into a stir-fry to have the perfect family dinner; it's up to you!
Source: mashupmom.com
Who doesn't love a one-pan wonder? This take on chicken tenders only requires a skillet and half an hour of your time, making it the perfect weeknight dinner.
The artichoke and avocado salsa is the real hero of this dish! Refreshing and earthy flavors battle for dominance, while the chicken tenderloin offers all the meaty flavor, you could want.
Source: twopinkpeonies.com
Whether you serve it as a dip, on a sandwich, or solo is up to you. Regardless of your choice, this lemon basil chicken salad is out of this world.
The creaminess of the dressing is the ideal counter to tender chicken, while lemon and basil lift the richness to perfection.
Baked Chicken Tenderloin Recipes
If you're looking for a quick and easy way to achieve gourmet-quality food, then baked chicken tenderloin is for you.
This cooking method requires barely any effort, but it highlights the tenderness of this cut beautifully. Not to mention, it reduces the number of dishes you have to be content with!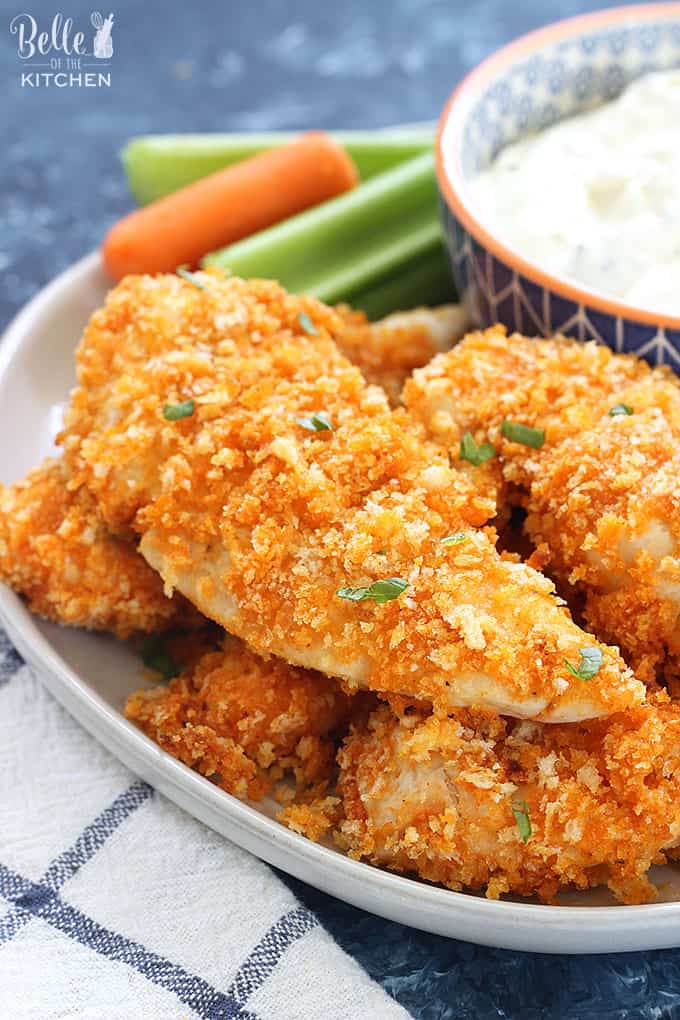 Source: belleofthekitchen.com
Gearing up for game day? These baked buffalo chicken fingers will have all your guests clamoring for more, trust me.
Thanks to the natural shape of the tenderloin, these are super easy to pull together. No cutting is required, just bread the chicken and bake to perfection.
Serve with a light, bright ranch dressing to complete your tasty buffalo dish.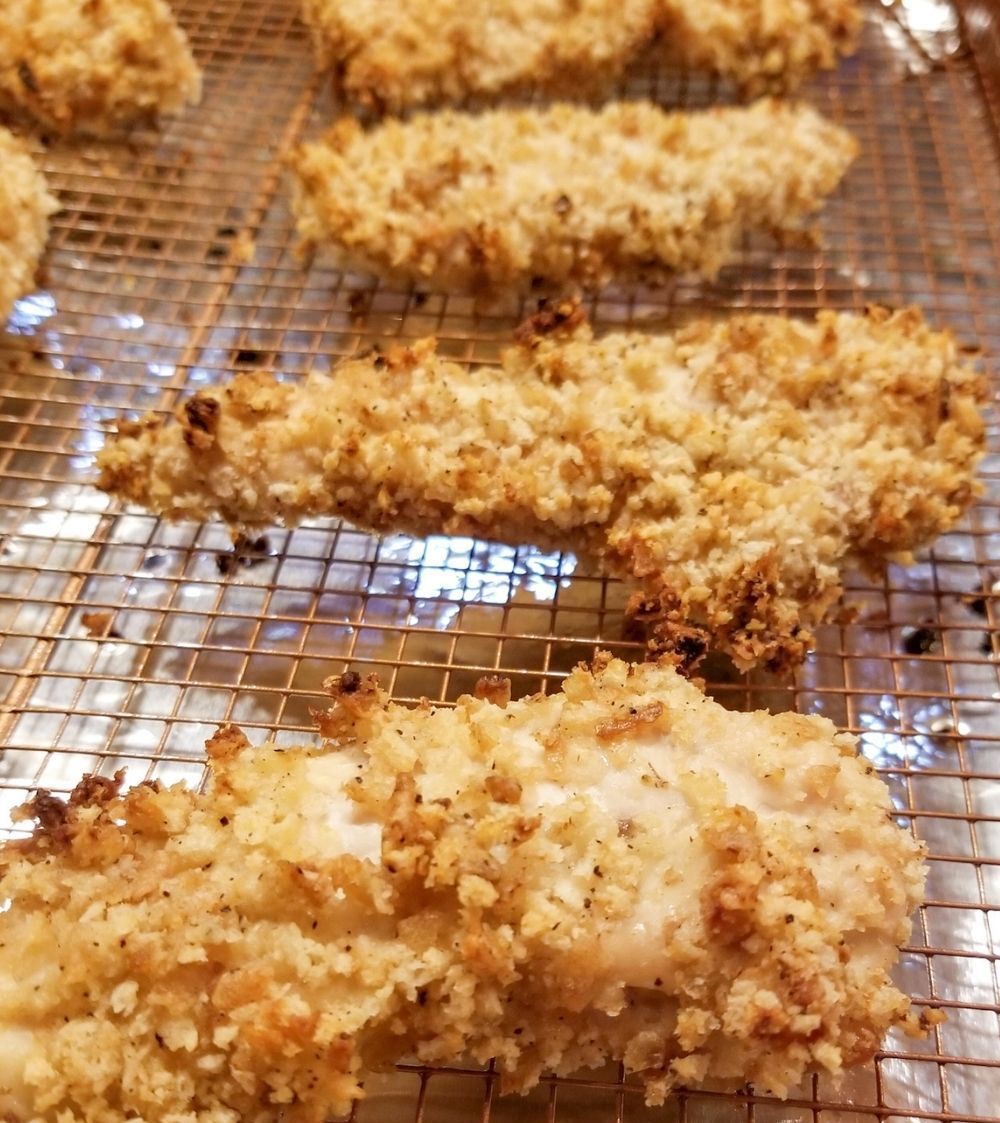 Source: homeatcedarspringsfarm.com
The kids will love these classic crunchy chicken tenders. They're super simple to make but much healthier than baking tenders out of a bag. You can also alter the seasoning with the panko bread crumbs to suit you!
Prefer something a little spicier? Add a dusting of cayenne to the mix. More of a garlic fanatic? Go generously with the powdered garlic. Bake this healthier chicken tender recipe until they are golden brown and enjoy these crispy chicken tenders.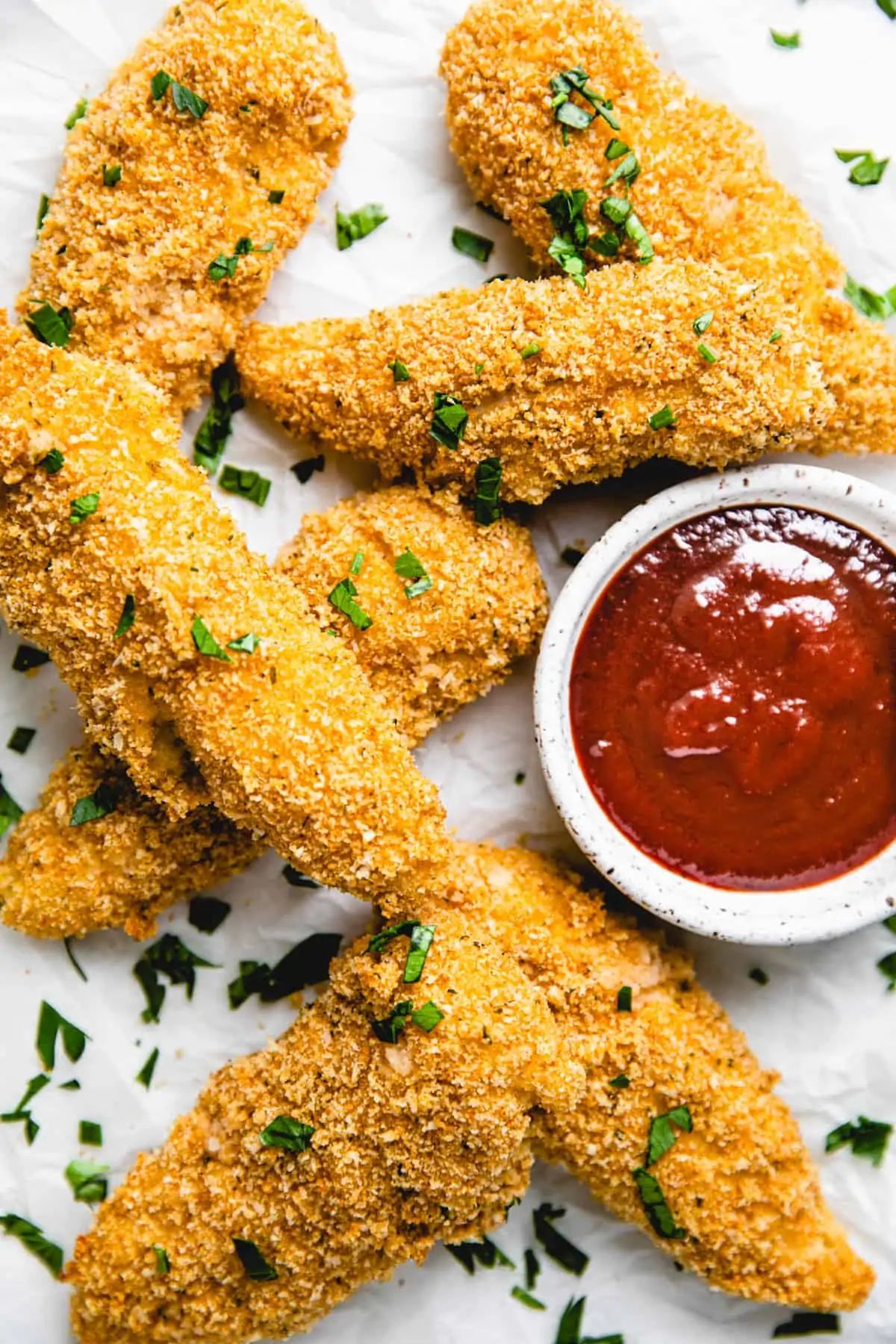 Source: veronikaskitchen.com
Have you ever wondered what the secret to unbeatable chicken is? I'll tell you now: it's buttermilk and parmesan cheese. Marinating your chicken in a buttermilk bath is the best way to tenderize it and add depth of flavor to this easy dinner.
That's why these baked buttermilk chicken tenders are out of this world. The buttermilk keeps them juicy and light, while the crispy coating makes them utterly irresistible. Grab your favorite dipping sauce and enjoy these easy chicken recipes.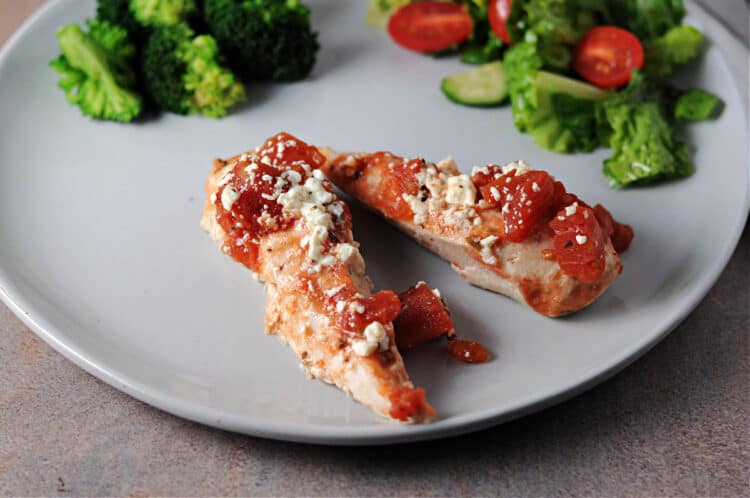 Source: sulaandspice.com
Looking for a chicken tenderloins recipe that is a little more sophisticated? These baked feta tenders are even easier to make than the breaded ones, and they're twice as fancy.
The Greek dressing is the real star of the show here. It adds a punchy flavor that anchors the tenderloins as the dish's hero, so all you need are some simple sides to complete the plate.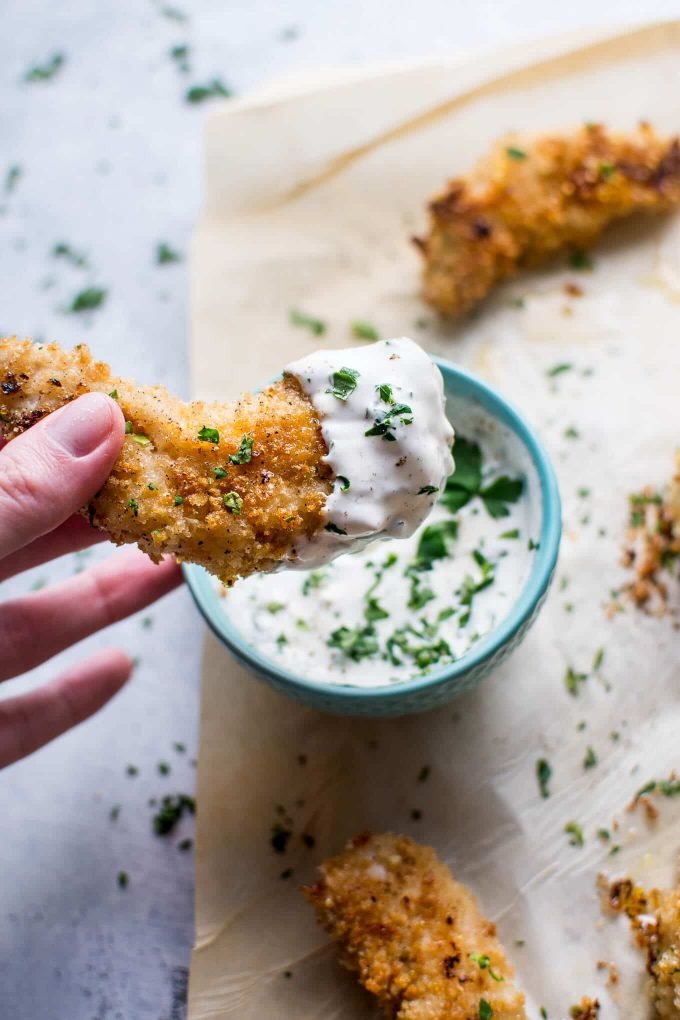 Source: saltandlavender.com
This recipe is for you if you're tired of standard chicken tenders but still need something kid-friendly. The light and delicate honey lemon glaze on these oven-baked tenders are out of this world.
This glaze is an excellent recipe for all chicken dishes in your back pocket. From stir fry to chicken burgers, it offers a light yet sweet kick to elevate any dish.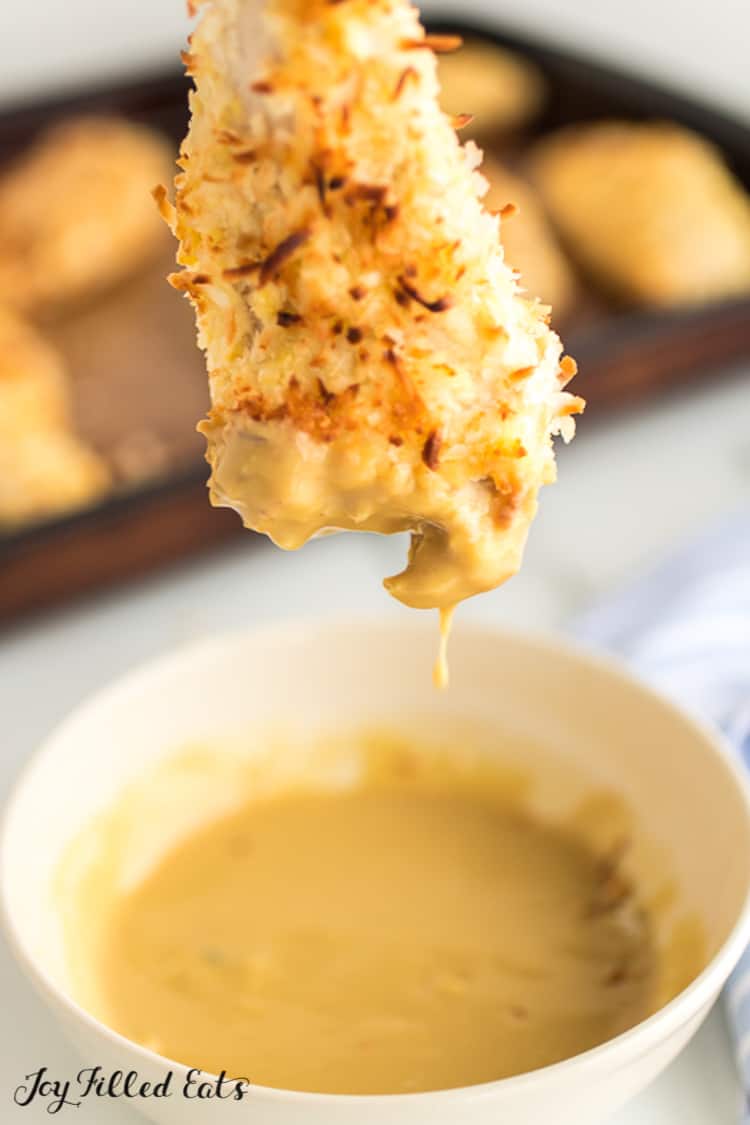 Source: joyfilledeats.com
Coconut and chicken go together like two peas in a pod. So, why not enjoy the combination as finger food? These delightful coconut chicken tenders are great on their own or as part of a dish.
They can be an excellent substitute for coconut shrimp if anyone in the family doesn't like seafood, too!
Source: balancewithjess.com
Here's a one-pan wonder that can effortlessly slot into your weekly meal rotation. This recipe can deliver whether you're meal prepping for the week or just want a quick cheap dinner.
Featuring light citrus flavors in contrast to earthy zucchini and juicy tomatoes, this dish is a rollercoaster ride of texture and flavor. All that done in just under thirty minutes? Sign me up.
Source: strengthandsunshine.com
Here's a unique recipe to try on your next date night! Lemon, mint, and hazelnut flavors all combine to highlight the tender chicken cut.
The crumbed exterior makes each bite more addictive than the last. Serve atop a simple salad, or kick things up a notch with a rich sauce and some root vegetables!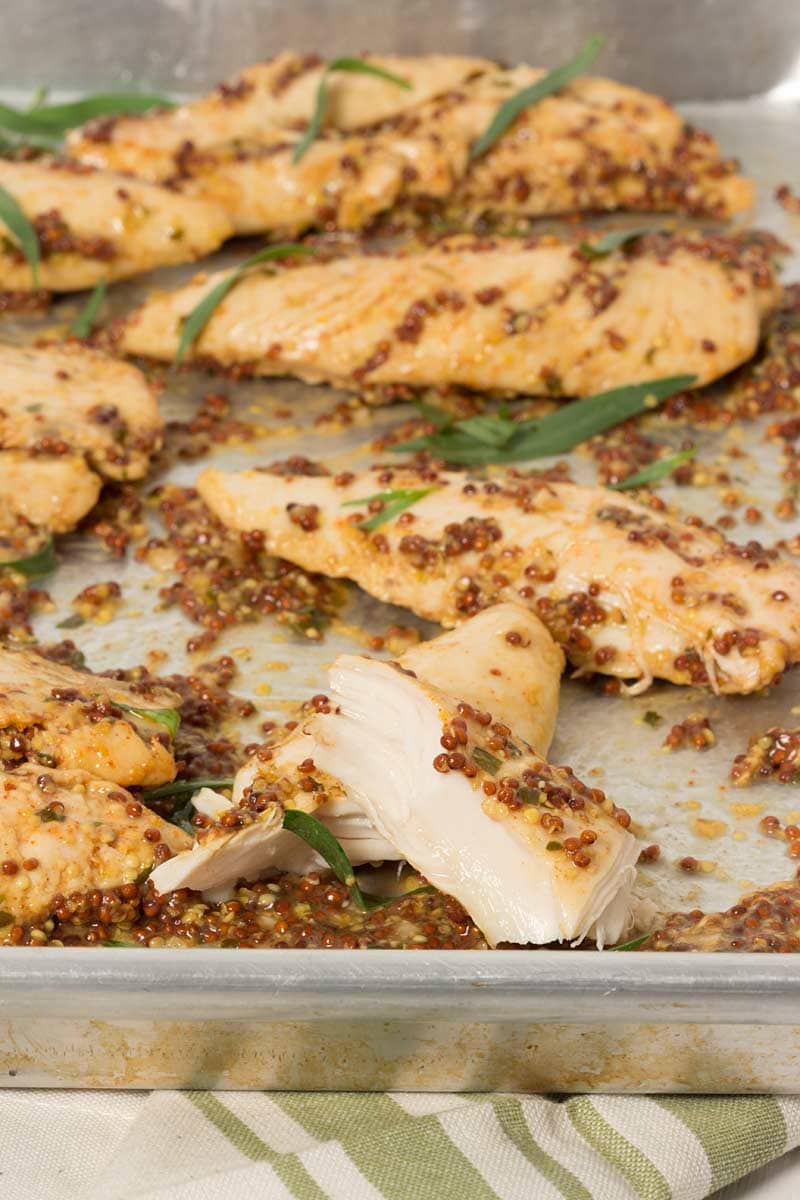 ​​https://diabetesstrong.com/mustard-baked-chicken-tenders/#recipe
Mustard and chicken are ideal partners in crime. The earthiness of the mustard and the tenderness of the chicken play off each other in an addictive cycle that only ends when the plate is empty.
These tenders are super easy to make, so they're ideal for a weeknight dinner. Although, they look and taste gourmet enough to easily find their place on the table at your next dinner party.
Keto Chicken Tenderloin Recipes
For all my keto friends, these recipes are just a tiny portion of the possibilities for keto chicken tenderloin. It's such a fantastic cut of meat for the ketogenic lifestyle.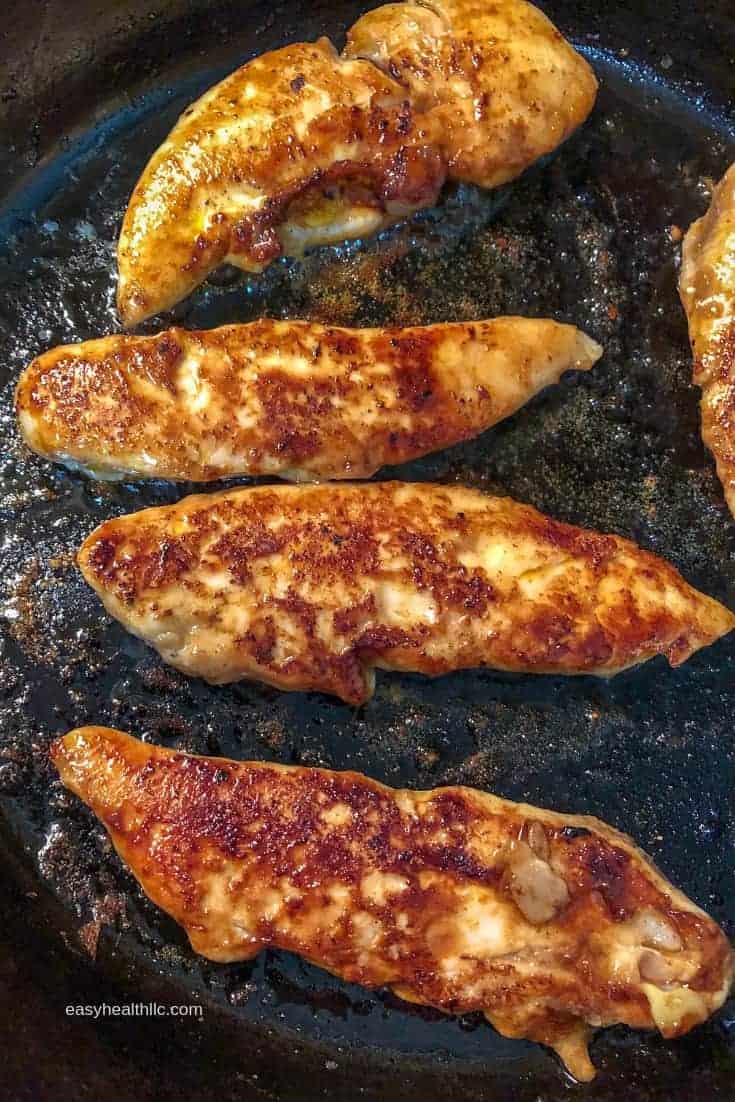 Source: easyhealthllc.com
These skillet chicken tenders can form the basis for any number of keto meals. Try these slightly sweet tenders on your next experimental dish, from a keto Philly cheesesteak to a simple salad.
The secret ingredient is a generous dash of Korean BBQ sauce. The sugar in the sauce allows the chicken to caramelize in the pan, giving it an irresistible crust and sticky sweet flavor.
Source: joyfoodsunshine.com
You only need five ingredients to bring this pistachio chicken to life! Enjoy this fancy-style Sunday dinner on a casual weeknight, thanks to its simplicity.
The pistachio crust holds all the juices inside the tenders, keeping them fresh and scrumptious. Breading tenders is a great way to cook them, keeping the lean meat moist and tender.
Source: recipesfromapantry.com
This next dish is perfect for warmer months when all you want to do is sit outside and enjoy the sunshine. Lemon and garlic vie for attention in a delicious battle; it's essentially sunshine on a plate!
Enjoy these tenders on their own as a starter dish, or whip up some fragrant jasmine rice to complete the meal. Be generous with the sauce as you serve; it's the hero of this dish!
Source: recipesfromapantry.com
I believe everyone is on the hunt for the perfect Instant Pot recipe, and this one might just come close to perfection. These tenders are herbaceous, spicy, and slightly crispy.
They're perfect on their own as a starter or as a component of a larger dish. I highly recommend these for fall dining, as the autumnal flavors pack a punch!
Find more Whole30 dinner recipes.
Source: peaceloveandlowcarb.com
Achieve a sophisticated dinner with minimal effort, thanks to this utterly delicious recipe. The ingredients list celebrates elements of Italian cuisine in the most simplistic ways.
I love this recipe because it only requires one pan, and all the elements are complete simultaneously. No juggling multiple element cooking times; just enjoy the lack of dishes and plenty of flavors.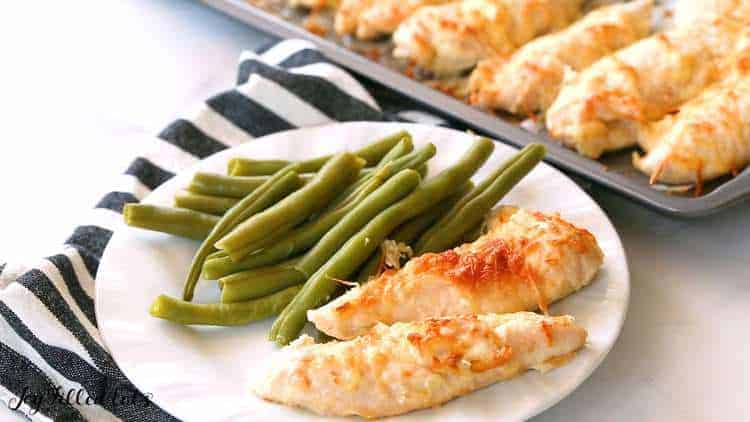 Source: joyfilledeats.com
These baked tenders are the ideal solution for keto home cooks pursuing breaded chicken tenders. Rather than using breadcrumbs, you can use parmesan and garlic!
The result is an ultra-juicy and fragrant chicken tender with a delightful crust on the outside. These are perfect for serving with a side of spring vegetables or even a salad.
Source: fantabulosity.com
If you're lucky enough to have a smoker in your home, you've got to try these smoked chicken tenders. The bold rub and smoky flavors are a gorgeous contrast to the light and juicy chicken.
Customize your rub however you like to suit your ideal taste. You can go more herbaceous with dried rosemary or opt for a rub with a kick and incorporate some cayenne pepper.
Chicken Tenderloin Crock Pot Recipes
Our final category is the ultimate guidebook for a home cook low on time. Minimizing your hands-on preparation time doesn't mean reducing taste, as these tasty recipes demonstrate!
Each one allows you to set and forget your chicken tenderloin. When you return, you'll lift the lid on a juicy, flavorful, restaurant-quality dish the whole family can enjoy.
Source: plattertalk.com
Let's kick off this final category with a crockpot recipe everyone knows and loves: creamy chicken.
This is the perfect choice for a slow cooker chicken tenderloin recipe because it celebrates the core ingredient. Cooked to perfection in a creamy sauce, these tenders have never been softer.
Serve on a bed of pasta and finish with a generous dash of the sauce. This is a quick and easy weeknight meal the whole family will utterly adore.
Find more cheap crockpot meals!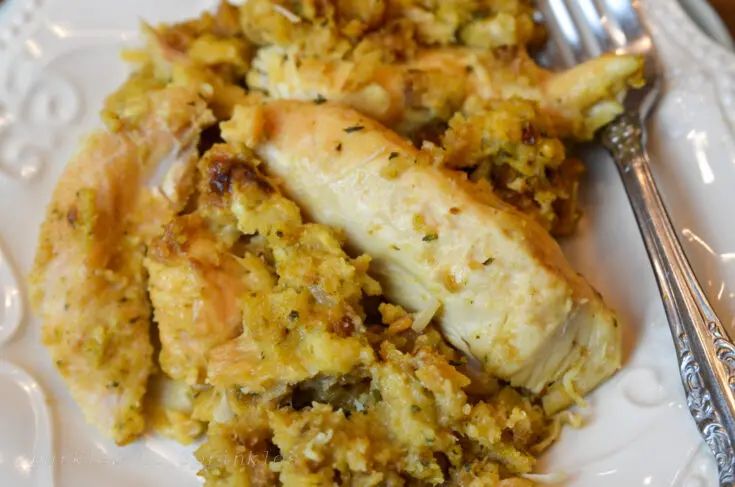 Source: sparklestosprinkles.com
If the holidays are on the horizon, this chicken and stuffing recipe is your new best friend! Don't spend hours in the kitchen battling your oven. Instead, get it all done in a crockpot.
Crockpot chicken and stuffing are tender and flavorful, thanks to the low and slow cooking style. Introduce chicken tenderloins into the mix; you've got an unbeatable combination!
Plus, imagine the leftover sandwich supplies. My mouth is watering already.
Source: twohealthykitchens.com
Achieve stunningly bold and vibrant chicken tacos with just three ingredients! Chicken tenders are perfect for this taco style because they flake apart beautifully in the crockpot.
This recipe is a lifesaver on nights when dinner seems to have taken a backseat. With just five minutes of preparation time, give these a try and watch your family wolf them down.
Source: hellospoonful.com
Similarly, we have salsa verde chicken as our next dish. This healthy option smells just as good as it tastes, and it's versatile too!
Serve it over rice, in a taco, over nachos, or even as a meal prep recipe to kickstart your week.
Source: dinneratthezoo.com
Lean into those cold winter nights with this unbeatable chicken marsala recipe. Slow cooked to perfection, the mushroom cream sauce dressing these chicken tenderloins is to die for.
I'd highly recommend whipping this recipe out for your next dinner party. You can set and forget it while you work on your other courses, then return to a perfect main ready to serve immediately!
Source: dinneratthezoo.com
In my humble opinion, everyone and their mother need to know how to make teriyaki chicken. It's a sweet and sticky treat that promises to elevate any meal it has the privilege of being added to.
Whether you're whipping up a quick stir fry for dinner or just need a meal prep recipe, this is one to reach for.
It's so delightfully simple, yet the depth of flavor feels like you must have spent hours in the kitchen!
Source: suburbansimplicity.com
Our final recipe truly lives up to its name because it is undeniably addictive. No one is quite sure where it got its name, but one thing is for sure: crack chicken is irresistible.
While many recipes for this dish use chicken breast, this chicken tenderloin variation delivers an even more delicate result. Trust me; once you start eating, you won't be able to stop!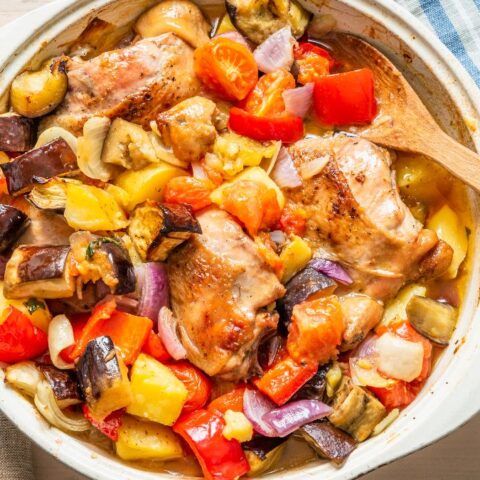 31 Best Chicken Tenderloin Recipes
Got some chicken tenderloin? These Chicken Tenderloin Recipes are easy, flavorful, and absolutely delicious to make.
Ingredients
1. Mushroom Chicken
2. Sheet Pan Chicken and Broccoli
3. Mediterranean Chicken Salad
4. Chicken Tenders Hummus Meal Prep Box
5. Chicken Fajitas
6. Grilled Pineapple Chicken
7. Chicken Tenders with Artichoke Avocado Salsa
8. Lemon Basil Chicken Salad
9. Baked Buffalo Chicken Fingers
10. Oven Baked Chicken Tenders
11. Oven-baked Buttermilk Chicken Tenders
12. Baked Feta Chicken Tenders
13. Baked Honey Lemon Chicken Tenders
14. Coconut Chicken
15. Lemon Chicken with Tomatoes and Zucchini
16. Lemon Mint Hazelnut Chicken
17. Mustard Baked Chicken
18. Skillet Chicken Tenders
19. Pistachio Chicken
20. Lemon Garlic Butter Chicken Tenders
21. Instant Pot Chicken Tenders
22. Prosciutto Chicken and Broccoli Sheet Pan
23. Garlic Parmesan Chicken
24. Smoked Chicken Tenders
25. Creamy Chicken
26. Chicken and Stuffing
27. Chicken Tacos
28. Salsa Verde Chicken
29. Chicken Marsala
30. Teriyaki Chicken
31. Crack Chicken
Instructions
Scroll up to get a bunch of easy, yummy, and delicious recipes. Don't be afraid to get creative with the ingredients, you might discover a flavor you didn't know you liked.
Get your shopping list going and make sure you've got all the ingredients.
Get cooking and make your next Chicken Tenderloin Recipe!
Notes
Which one of these recipes was your favorite? Let me know in the comment section or on Pinterest!