Add a kick of salty sweetness to your week with this unbeatable Teriyaki chicken meal prep recipe! With fluffy white rice and fresh, firm broccoli, this is the ultimate midday pick-me-up. It's dairy-free!
Enjoy this teriyaki chicken meal prep in the middle of a busy workday or as a pre-made dish the whole family will love for dinner!
And look, I get it. Not everyone wants to make a sauce from scratch.
But trust me, this is twice as delicious as anything you'll get out of a bottle. And it's just as simple to make! This dish is packed with all the salty, sweet, nutty, and acidic notes to turn your day around.
I don't mean to brag. But I do think this is one of the best meal prep ideas out there. Especially for busy home cooks who need something healthy.
Every morsel of this juicy chicken is coated in a thick, luscious teriyaki sauce. With crunchy white sesame seeds on top, this is your mid-week trip to Japan on a plate.
Best of all, this super simple recipe means you can make four portions at light speed! Who said meal prepping can't be delicious, easy, and affordable?
Oh, right, did I mention? This dish uses chicken thighs, which are super affordable if you're on a budget.
You might also enjoy this healthy orange chicken meal prep recipe!
Ingredients
This dish is so simple you most likely have all the ingredients in your pantry already.
That's especially true if you're a fan of Japanese flavors!
And the best part about this ingredients list is that it's all affordable. No wild ingredients or expensive elements. Just simple, delicious, home-style comfort food with a convenient twist.
Chicken
Olive oil – Olive oil is rich and adds its own flavor to the dish. It also has a low smoke point, so it won't get too hot and burn your chicken once it hits the frying pan.
If you're not a fan or you don't have any olive oil in the house, sunflower or canola oil will work as well.
Chicken thighs – Chicken thighs are dark meat, which means they carry extra flavor. Plus, they become extra tender once cooked.
Make sure you pick up boneless and skinless chicken thighs if you can. It will make the preparations much quicker and easier for you!
Sauce
Soy sauce – Soy sauce is the core ingredient for teriyaki sauce. It's the base! The deep, dark saltiness is the perfect thing to anchor the sticky sauce and make it so rich.
If you can, use low sodium soy sauce. It's a bit better for you. But if you have regular soy sauce at home, that will work perfectly.
Rice vinegar – A little bit of rice vinegar is just the thing to add a touch of acidity to the sauce. It helps balance out the rich saltiness and sweetness, along with the ginger and garlic.
If you don't have rice vinegar, white vinegar will do in a pinch.
Ginger & Garlic – Ginger and garlic are your aromatic ingredients. These are the beauties adding a rich, natural taste to the sauce, an earthiness you can't deny.
Brown sugar & Honey – These are your sweetening ingredients. Not only do they help balance the salty soy sauce, but they also help thicken the sauce into a deliciously sticky one.
Sesame oil – Sesame oil is one of the big parts of teriyaki sauce. It adds some nuttiness, and it's also a great way to add some gentle fattiness to round out the flavor profile.
Water – Make sure to use cold tap water for the sauce, not boiling water!
Cornstarch – Finally, we have the thickener. If you want a thick sauce, you can either reduce it for a very long time or save yourself some heartache with a dose of cornstarch.
To make sure your cornstarch folds in well, try making a slurry first. A little bit of water to make this cornstarch into a paste that blends well into the sauce.
Broccoli and Rice
White rice – White rice is the ideal meal prep side dish because it's easy to make in large quantities. Whip up a large batch of long-grain or Jasmine rice for this recipe.
However, if you want something with fewer carbs, brown or wild rice will work too.
Water – Make sure to use cold tap water to cook your rice and broccoli. It's also a key component of the sauce to help it stretch further.
Salt and black pepper – Freshly ground black pepper will always give you the best results with your chicken. However, Japanese dishes also often use ground white pepper as a substitute.
Broccoli – The fresher your broccoli, the better your dish will be. Check your broccoli stems as you're shopping to make sure they're firm and fresh.
Garnish
Sesame seeds – White sesame seeds are best to add some crunch and some nuttiness. However, you can always try a little drizzle of sesame oil if you don't have them!
Green onions – Green onions are essential for a touch of freshness on top of the teriyaki sauce. Try slicing your green onions on an angle to make the pieces wider and thinner so they sprinkle well.
How to Make Teriyaki Chicken
Let's start with the chicken.
Grab your favorite frying pan and crank the heat to medium. Put about two tablespoons of light oil in the bottom of the pan to get it nice and hot.
Now, grab your two pounds of chicken thighs. Slice them into one-inch cubes to help them cook nicely and fast. Once you've done that, tip them into your heated pan.
Cook these for around ten minutes. Make sure you get all sides of the chicken for that golden brown color and juicy texture.
This really is one of the best simple meal prep ideas!
Now, onto the sauce. This sauce is super quick and easy to assemble, so you can whip this up while your chicken is on the burner.
Grab a small glass bowl and start by pouring in half a cup of soy sauce. If you have low sodium soy sauce, that's better. But if not, don't worry. Regular will work just fine.
Add your rice vinegar, ginger, garlic, sugar, and honey. If you don't like your sauce as sweet, reduce the sugar and honey by half.
Finish with a teaspoon of quality sesame oil, your water, and the cornstarch to help it thicken. Stir to combine, and you have your sauce ready to add.
Looking for more recipes to prep? Check out these Sunday meal prep ideas!
Once your chicken is cooked, it's time to add the sauce! Remember, your chicken is cooked when it's no longer pink on the inside.
Simply pour the prepared sauce over the chicken in your frying pan. Cook until the sauce thickens naturally. Stir every once in a while to make sure none of it sticks to your pan.
The sauce will take around five to six minutes to thicken up. You'll know it's done when the sauce coats the chicken, even when it's not totally submerged.
You can also try the spoon test. Grab a clean spoon, and dunk the back of it into the sauce. If the sauce clings to the spoon, it's thick enough to enjoy.
Once you're done, finish the chicken by generously dusting it with white sesame seeds and sliced green onions. Slice your green onions on an angle to make them larger and flakier.
You can also try using crispy shallots to add some crunch. That's our chicken done!
Next, go ahead and grab your two small heads of broccoli. To create the meal prep side dish, start by washing the broccoli thoroughly.
Then, use a sharp knife to cut the florets of broccoli away from the stem. Chop those florets in half or quarters again to make sure they'll cook nice and quickly.
Make sure not to make them too small, or they'll turn into mush once we boil! Add the florets to the boiling water and cook for just three to four minutes.
We want the broccoli to gently cook and become green, vibrant, and crunchy. So, once they look ready, go ahead and pour out the broccoli water.
Don't miss these other flavorful summer meal prep ideas!
Now, it's time to assemble your meal prep dishes! This recipe makes four portions, so grab four clean and dry meal prep containers. Glass airtight containers work best if you have them.
Divide your broccoli, rice, and chicken into the four containers. Make sure the chicken goes last so that you can get every drop of that delicious sauce on the other elements too.
And you're done! Now, you're ready to take on the world with this quick and simple easy dinner meal prep recipe.
Why is Teriyaki Chicken so Good?
Teriyaki sauce is so good because it's an example of a super-balanced sauce. It contains salt, fat, acid, and sweetness. That means it hits you in every single one of your flavor centers.
It's versatile, easy to prepare, and keeps well, thanks to the sugar in the sauce. How can you argue with a clean eating meal prep idea like that?
What do You Serve with Chicken Teriyaki?
In Japan, teriyaki chicken is typically part of sushi or a rice bowl. So, its natural companion is rice! Use fragrant Jasmine rice or sticky white rice as the ideal foundation for a chicken teriyaki dish.
To make sure you're getting all your nutrients in, it's great to add a vegetable side dish to your teriyaki chicken meal too.
Is Teriyaki Sweet and Salty?
Teriyaki sauce is the king of the sweet and salty combination. It includes soy sauce and honey (or brown sugar), which makes it taste amazing on chicken.
The key is to add a little bit of nuttiness to it, like sesame, to help bring the two worlds of salt and sweet together.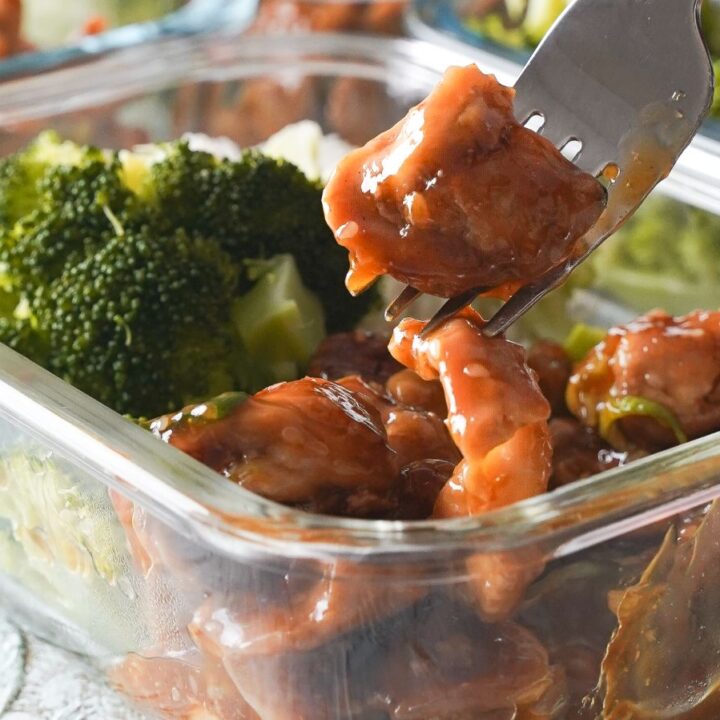 Teriyaki Chicken Meal Prep
Efficiency meets taste with our teriyaki chicken meal prep - because you deserve a hassle-free lunch break!
Ingredients
TERIYAKI CHICKEN
2 tbsp olive oil
2 lbs chicken thighs (skinless, boneless) (cut into 1-inch cubes)
Teriyaki Sauce Ingredients
1/2 cup soy sauce (low sodium)
2 tbsp rice vinegar
1 tbsp ginger (minced)
4 cloves garlic (minced)
2 tbsp brown sugar
4 tbsp honey
1 tsp sesame oil
1/2 cup water
4 tsp cornstarch
Garnish
Sesame Seeds
Green Onions
BROCCOLI AND RICE
1 cup white rice
1.5 cup water
salt and black pepper (to taste)
2 small heads of broccoli
Instructions
Teriyaki Chicken
Add olive oil to the frying pan and heat it to medium-high heat. Add chicken thighs and cook on both sides until it's cooked. It will take around 10 minutes.
Combine all the teriyaki sauce ingredients in a bowl. Pour over the chicken and cook until it thickens, stirring throughout to coat the chicken with the sauce. It will take around 5-6 minutes.
Sprinkle the chicken with sesame seeds and green onion
Broccoli and Rice
While cooking the chicken, cook the rice according to the packaging instructions.
Fluff your rice once finished.
Fill a pot with water and bring it to a boil. Add a pinch of salt.
Now, wash the broccoli. Then, cut the broccoli into florets and slice them up so they boil up faster.
Add florets into the boiling water and cook for 3-4 minutes until they are tender. Remove and drain them before serving.
Assemble Meal Prep Containers
Divide the rice into the containers, do the same with broccoli and then chicken. Your meal prep bowls are ready! Keep in the fridge for 3-4 days, and enjoy! Eat it cold or heated up.

Nutrition Information:
Yield:

4 containers
Serving Size:

1 meal prep container
Amount Per Serving:
Calories:

653
Total Fat:

20g
Saturated Fat:

3.7g
Trans Fat:

0g
Unsaturated Fat:

14.1g
Cholesterol:

197mg
Sodium:

1660mg
Carbohydrates:

68g
Fiber:

2.4g
Sugar:

23g
Protein:

51g