Got picky children? Check out these delicious easy breakfast recipes for kids! They'll love them!
Here's why your kids need a hearty breakfast every morning. It's the most important meal of the day and they need all the energy they can get from their breakfast to learn, play and explore life. Good breakfast foods also ensure that your kid will have the energy to climb mountains if needed. Here are 41 Easy Breakfast Ideas for Kids that you can make even on the busiest mornings.
What Should a Child Eat for Breakfast?
Every morning of your kid's life should be energy-packed, and such a morning needs a big breakfast that is both healthy and delicious.
There are many options for a healthy breakfast. You can add whole grains, porridge, oats, muesli, boiled eggs in any form, toast, fresh fruit, and fruit-flavoured yogurts to your kid's breakfast.
These simple ingredients are high energy and low sugar. These will not only keep your kids active all day long but will also boost a healthy lifestyle and as an added bonus it will help keep them sharp during the school year.
Source: allnutritious.com
If you are running late for school, you need to run the blender and make this heart and tangy Raspberry Smoothie with Ginger for your kids.
This is the best breakfast recipe that isn't only healthy but also filling. Raspberries, almond milk, lemon juice, spinach, and Ginger to the blender and blend away. Add water if it's too thick. This nutritious breakfast is a great option for picky toddlers.
Source: eatingglutenanddairyfree.com
We all love french toast, but have you ever tried crispy French Toast Sticks? Once you have these they will become your favorite recipe for a great start to your day and, you will never go back to plain old french toasts.
If you have a hard time with your french toast and your bread keeps getting soggy, you need this toddler breakfast idea.
To make this easy meal, you will need Gluten-free bread, unsweetened almond milk, Eggs, cinnamon, vanilla extract, sugar, dairy-free butter, and maple syrup to dip your sticks.
Source: allnutritious.com
A breakfast bowl is how you make the perfect school breakfasts for kids of all ages without any hassle. This Sweet Potato Breakfast Bowl is everything your kid needs for a healthy morning.
To make this bowl of healthy goodness, you need whipped cream, mashed sweet potatoes, blueberries, and nutty pumpkin seeds.
Source: simplystacie.net
If you are that fun parent, who loves cooking for their kids, you need to try this Tater Tot Breakfast Casserole.
You need eggs, breakfast sausages, a lot of cheese, bacon, and the key ingredient, tater tots! This is an easy-to-put-together breakfast that will soon become a staple.
Cook and spread your sausages in a baking dish. Next, add your whisked eggs and cheese. Lastly, add your tater tots and bake to perfection.
You can change the ingredients to your liking, it's the most hearty breakfast ever, and all kids love it.
Source: allnutritious.com
Here's another way of starting your kid's morning right and healthy, Banana Peanutbutter Porridge. This porridge will have your kids lick the bowls empty. Mark my words.
The first thing is to make the porridge; cook rolled oats with oatmeal milk and a pinch of salt. Next, fold in your peanut butter and top with sliced bananas. You can add any topping to this if your kids aren't fans of bananas.
Source: razzledazzlelife.com
Make your kid's day by making a pizza for breakfast. Surprising kids is easy if you are a little creative with your breakfast options.
This breakfast Pizza recipe will have your kids squealing with joy. Bake your pizza dough with homemade cheese sauce, Ham, and breakfast sausages, and top with extra cheese to make it extra delicious. This is also an excellent recipe for your kid's lunch box.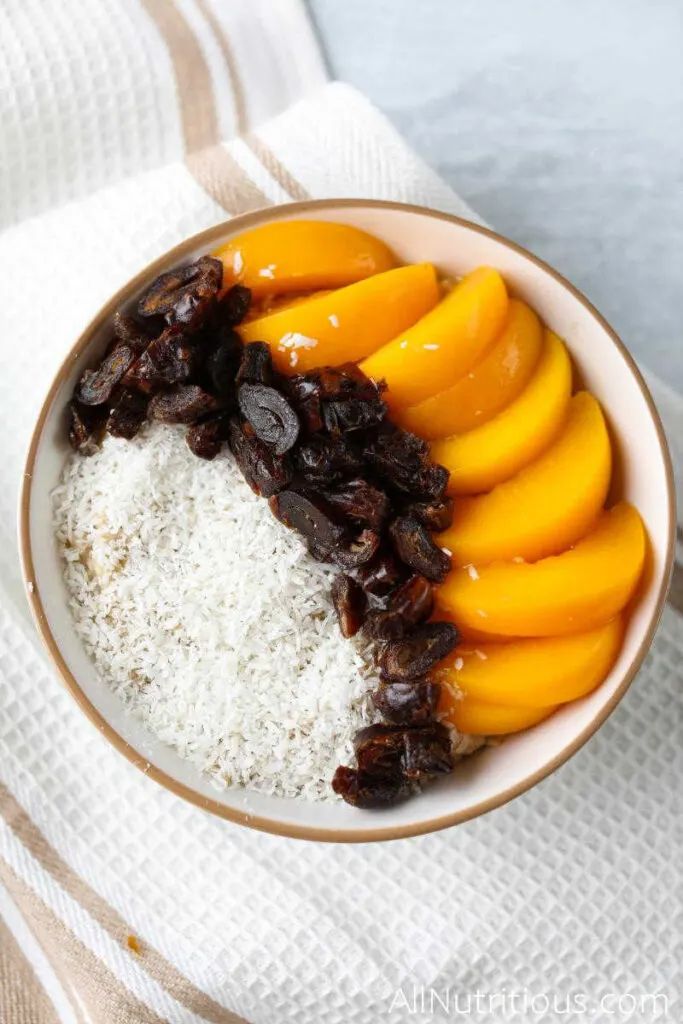 Source: allnutritious.com
Porridge made out of rolled oats is a healthy way of starting your kid's day. You can have your porridge in many ways. We are, however, experimenting with Vanilla Ginger and Peaches with a subtle taste of coconut.
Make your porridge, and while cooking it, add in a dash of vanilla extract and a pinch of ground ginger. Pour in a bowl and top with sliced peaches and dates.
Source: goodiegoodielunchbox.com.au
Here's the perfect and healthy pudding you can add to your kid's lunch box or give them as snacks or for breakfast.
For those who aren't a great fan of chia seed's texture, you can substitute the seeds with rolled oats and top them with nuts or any fruit you like.
To make the chia seed pudding, you will need Chia Seeds, Cacao, Maple Syrup, Vanilla Extract, Cinnamon, Salt, and Coconut Milk.
Source: allnutritious.com
If you want to kick-start your kid's day with a healthy meal, porridge is what you need. To make a flavorful berry and nut porridge, mix in ground cinnamon, honey, raspberries, blackberries, and blueberries in your porridge. Dish out in a bowl and top it with chopped nuts.
Source: raisingwhasians.com
Here's a quick breakfast idea for busy mornings, Yogurt Tarts. You will need Granola, Raisins, Almonds, Honey, Vanilla Yogurt, and Raspberries to top each tart.
Pulse blend your raisins, Granola, and Almonds with honey. Now, press these into tart molds and fill them evenly with your vanilla yogurt. Top each with Raspberries and put them in the fridge to cool down until firm.
You can make them the night before to enjoy an early breakfast. These are also great for after-dinner desserts.
Source: allnutritious.com
A variety of toppings and mix-ins is how you keep your porridge recipe fresh and exciting for kids. Either let them choose the details or surprise them with their favourite fruits as topping for their porridge.
Here's how you can make Cashew Butter and Banana Porridge. Add cashew butter, vanilla extract, and one mashed banana to cook your porridge in almond milk. Top this one with sliced banana, Cashews, blueberries, or chopped walnuts.
Source: aussiehomecook.com
Pikelets are handheld pancakes just thicker and fluffier than the traditional pancakes. To prepare the Pikelets batter, you will need self-raising flour, Milk, Sugar, Eggs, and Baking powder to make the pancakes fluff up.
Drizzle your Pikelets with maple syrup, honey, or chocolate syrup, whichever your kids like.
Source: allnutritious.com
Blueberry Oatmeal Muffins is a healthy twist to your traditional and average oatmeal recipe. These are perfect for rushed mornings when you and the kids are running late. They are also a great way to add excitement to your kid's lunch box.
These muffins are healthy, yummy, and the best gluten-free breakfast your kid needs. Packed with fresh blueberries, these make the best fruit substitute ever.
Gather your dry and wet ingredients in two separate bowls next, fold in the dry and wet ingredients and bake them in muffin molds. Enjoy these yummy treats with a warm glass of milk.
Source: babaganosh.org
An exciting breakfast is a brilliant way to wake up the sleepy kids. If you are looking for a unique breakfast recipe, these Tortilla Breakfast Wraps should be on top of your list.
Mixed slices of cooked bacon, crumbled, shredded cheese, spinach, feta cheese, and bell pepper with your egg and cook it. Next, fold your egg in your tortillas and serve with a dip. You can add any topping you please.
Source: allnutritious.com
If you are a calorie-conscious parent, you need to try these egg muffin cups. These have 81 calories per serving and are yummy as well. Moreover, you can prepare them early and have them with your kids at the breakfast table. Not only that, but you can also give them their school lunch.
Source: babaganosh.org
Here's a healthy pancake recipe that you will love to make for your kids. These Zucchini pancakes are healthy and taste heavenly, so your kids will have a hard time saying no to this delicious breakfast.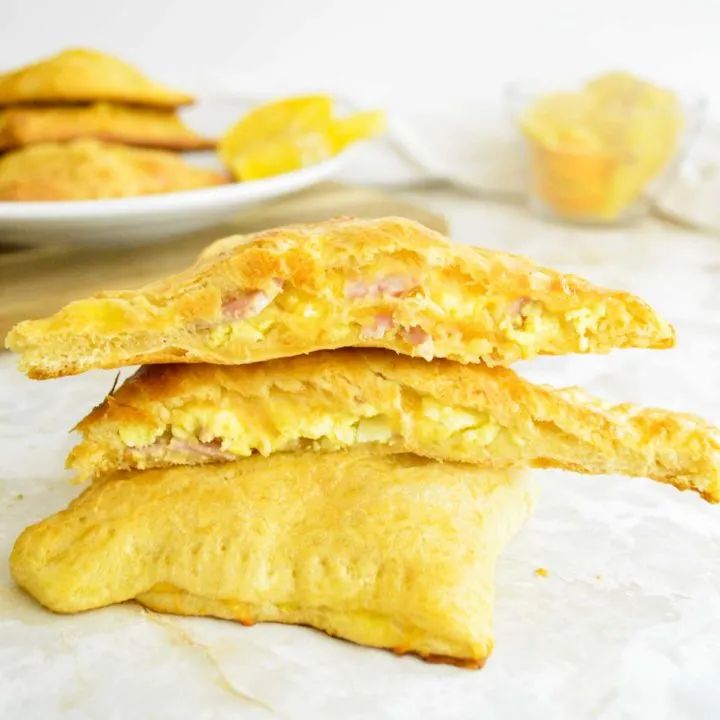 Source: highchairchronicles.com
Most toddlers nowadays are picky eaters; it's hard to find easy recipes for such devils. So we came up with an effortless recipe that your toddler will love. There are two versions; you can omit the Ham and make veggie cheese pockets if your kids aren't fans of Ham.
Here's why we love these pockets. You can take them on the go. So even if you are getting taken for school, you can hand these to your kids to finish on the way. This is the perfect portable lunch for rushed mornings.
Source: dizzybusyandhungry.com
Hardly any kid will say no to pancakes. So here's a special recipe that works for breakfast as well as social occasions. It is loaded with carbs, butter, and syrup. But don't you worry, yogurt and white whole wheat flour add nutritional value!
For enhancing the taste, you can go for Greek yoghurt. Overall, these lemon yoghurt pancakes are simple and delicious, and they make breakfast fun for kids.
Source: goodinthesimple.com
With the goodness of sweet potatoes and the gooeyness of muffins packed into one cool breakfast, try these Sweet Potato Muffins and add some excitement to your mornings.
Mash your boiled or baked potatoes, and mix flour, cinnamon, baking soda, baking powder, and salt in a separate bowl. In another bowl, mix sugar, oil, eggs, and vanilla. Now add your dry ingredients to the wet ingredients and fold till everything is combined nicely.
Lastly, add your mashed sweet potatoes and bake them into muffin trays. These are perfect for school lunches, breakfast, and even school picnics.
Source: daniscookings.com
Life is good when you can have donuts for breakfast. Mix coconut milk, sugar, and yeast and let it rise. Next, mix flour, sugar, cinnamon, and salt in a separate bowl. Add your yeast mixture to your dry ingredients.
Next, add oil as needed to knead the dough for your donuts. Let your dough rest and later shape it with the help of cookie cutters.
Fry your donuts in Air Fryer and enjoy a healthy, sweet treat at home.
Source: daniscookings.com
It's one thing to have a rushed breakfast on weekdays, but when it's the weekend, you need to make a little effort.
Here's a pastry recipe that you will fall in love with, and your kids will immensely enjoy these too. Making the batter and frying these crepes is just too easy. All you have to do is whisk the eggs and mix in flour and salt. Add milk and water to dilute until it's thinner than pancake batter.
Now fry these crepes like you fry pancakes, only a lot thinner.
Source: homebodyeats.com
Nuts, especially almonds, are best for energy and boosting cognitive development. If your kids don't eat almonds, try adding almonds to their breakfast to give them the right energy boost.
These Almond butter balls are ready in 15 minutes and are perfect energy-packed snacks for kids. Blend dates, pitted oats, coconut, almond butter, flaxseed, almond milk, cinnamon, vanilla extract, and sea salt. And roll them into balls. Coat your balls into shredded coconut and enjoy fresh or refrigerate for up to one week.
Source: christinascucina.com
Soft boil eggs are a popular breakfast option in the UK; they are pretty popular in many other countries. Most people are keen on feeding their kids soft-boiled eggs due to salmonella, but if you source your eggs from an organic farm, you can try this recipe.
Soft-boiled eggs are also called dippy eggs, as you can dip your toast or breadstick in your eggs. Kids love Soft Boiled Eggs. Please give them a spoon and let them have a go at their dippy eggs.
Source: deliciousonadime.com
Some mornings are acceptable, while others are pretty rushed. We suggest a simple yet tasty breakfast that will vanish in minutes for your busy and rushed mornings. This Strawberry Banana Smoothie is everything your kids need on a busy morning.
You will need cottage cheese, orange juice, water, yogurt, bananas, and strawberries. First, blend your cottage cheese and add other ingredients gradually until smooth. If the smoothie is too thick, add a dash of water.
Source: callmepmc.com
Some days are just too lazy to make an elaborate breakfast. For such days, you need a yummy and warm Grilled Cheese Breakfast Sandwich to start your morning.
Our grilled cheese may be easy to make, but it's full of unconventional flavors. Our grilled cheese sandwich is full of cream cheese and strawberry; isn't that the coolest?
Source: deliciousonadime.com
This recipe is made for you if you are a working mom who is always on the lookout for on-the-go breakfast and snacks. This Yogurt Breakfast Bowl is healthy, hearty, and has zero added sugar.
Apart from being healthy, this recipe is also customizable. You can change the ingredients and add-ins as per your preference.
Source: raisingwhasians.com
Who eats Sushi for breakfast? You do! Once you taste this yummy Sushi breakfast, you and your kids will want nothing else in the morning.
Dig out your chopsticks and make this fun and colorful banana Sushi recipe for your kids. Peel and roll your banana in greek yogurt; now coat it in colorful cereal and top it with half a berry of your choice. Your fun and healthy banana sushi are ready.
Source: callmepmc.com
At my place, we all love a healthy and protein-packed breakfast. If you are the same, you will also appreciate our overnight oats Brownie for breakfast.
Breakfasts that are easily prepared ahead of time are just perfect for rushed and busy mornings. To make your overnight oats brownie batter, you will need oats, almond milk, almonds, and cocoa powder.
Mix all your ingredients in an air-tight container and refrigerate overnight or for 2 hours at the very least.
Source: cookthisagainmom.com
If you have extra ripe bananas in the house, this is the recipe you need. Bake these yummy healthy muffins without sugar; use honey for a traditional sweet taste.
These chocolate muffins are so gooey inside that you will have a hard time putting these down. Moreover, these chocolate muffins are perfect for breakfast and a school snack.
Source: theroastedroot.net
Here's another grab-and-go breakfast that you need on your busy morning breakfast list. Blueberry Banana Baked Oatmeal Cups may look complex, but they are the easiest to cook.
You can make some beforehand or mix a batch to last you throughout the week. You will need ripe bananas, almond butter, eggs, milk, and rolled oats.
Source: thisolemom.com
All kids love an exciting breakfast; these Cinnamon Roll lollipops are enough to make any morning highly exciting.
Make balls out of your pastry dough and stick skewers in the middle. Brush with butter, sugar, and cinnamon mixture and bake till golden brown. Drizzle icing and serve on cupcake liners.
Source: theviewfromgreatisland.com
Prepare your pancake batter, add in your strawberries, and fold. Now bake this yummy treat, and you have Strawberry Pan Pancakes for the whole family in 15 minutes.
Isn't this just the coolest recipe ever! Try out yourself and fall in love with this easy pancake recipe that doesn't need frying.
Source: masalaandchai.com
I am always on the lookout for the best and easy recipe I can present to my kids in the morning, and this Guava Pop-Tarts takes the cake.
For one, guava has a very unusual taste, and curious kids love to explore new and exciting flavours. For another, even a picky eater will have a hard time saying no to these pop-tarts.
You will need store-bought pie crust and guava paste for this easy and nostalgic recipe.
Source: chocolatemoosey.com
If you are always running late, here's a breakfast recipe you can make and freeze for your mornings. Let your kids have warm and cheese waffles for breakfast without breaking a sweat.
Freeze these ahead of time and warm them up in 10 minutes, and your breakfast will be ready in time.
Source: twohealthykitchens.com
If you want your kids to have more fruitless junk, you need to get creative with your fruit.
Here's a beautiful way to dress your fruit in rainbow style and add a sunny lids egg at the end of the rainbow to represent the pot of gold. You kids will love this presentation until they finish their rainbow in no time.
Source: thekitchenismyplayground.com
Breakfast banana split is easy to make, and your kids love having this sweet surprise in their breakfast.
This banana split is made of vanilla Greek yogurt, berries, Granola for extra crunch, and topped with mini chocolate chips.
Source: thatspicychick.com
Take your simple old bagel and turn it into bagel bombs to amuse your kids with a unique breakfast. Fill up your bagel with Ham and cream cheese bagel or any other filling your kids like, and give your kids a super surprise.
These bagel bombs are also great as a quick snack or portable breakfast.
Source: ahundredaffections.com
Whoever said healthy eating couldn't be yummy has never had homemade Granola. This Homemade Granola recipe is all you need to start your kids' morning in the most beneficial way possible.
Store-bought Granola is expensive, but when you make it at home, it's healthy, clean, and affordable. Make and store this Granola and give it with milk to your kids daily for breakfast to encourage healthy eating habits.
Source: thatspicychick.com
Sliders are easy to make, especially if you are cooking for a houseful. These ham and cheese sliders are all you need for a big family breakfast.
Lay your buns in the baking dish, fill them up with Ham and cheese, and put them in the oven to warm up and let the cheese melt. Cut and serve, easy peasy.
Source: suburbansimplicity.com
Just like ham and cheese bagels, you can make pizza bagels for your family of pizza lovers. Cut your bagels, toast both sides, add your pizza toppings with cheese, and serve with pizza sauce or ketchup.
Source: mexicanmademeatless.com
The best way to have a Mexican-inspired morning is to have tacos for breakfast. To make tacos breakfast-friendly, you need some eggs, jalapenos, and hotdogs. Cook your filling any way you want and add them to your tortillas. Enjoy a Mexican morning, and have a great day ahead.
So, there you are with the easiest and super fun breakfast recipes for your kids. Kids everywhere need a little excitement in the morning to wake them up. A good breakfast will always ensure a great day.
41 Easy Breakfast Ideas for Kids (for picky eaters)
Got some picky eaters at home? These Easy Breakfast Ideas for Kids will make your life a lot easier!
Ingredients
1. Raspberry Ginger Smoothie
2. French Toast Sticks
3. Sweet Potato Breakfast Bowl
4. Tater Tot Breakfast Casserole
5. Banana Peanutbutter Porridge
6. Breakfast Pizza
7. Vanilla Ginger with Peaches and Coconut Porridge
8. Chocolate Chia Pudding
9. Berry and Nut Butter Porridge
10. Yogurt Tarts
11. Cashew Butter and Banana Porridge
12. Pikelets
13. Blueberry Oatmeal Muffins
14. Tortilla Breakfast Wraps
15. Egg Muffin Cup
16. Zucchini Pancakes
17. Ham Egg and Cheese Pockets
18. Lemon Yoghurt Pancakes
19. Sweet Potato Muffins
20. Air Fryer Donuts
21. Crepes
22. Almond Butter Energy Bites
23. Soft Boiled Eggs
24. Strawberry Banana Smoothie
25. Grilled Cheese Breakfast Sandwich
26. Yogurt Breakfast Bowl
27. Breakfast Sushi
28. Brownie
29. Chocolate Banana Muffins
30. Blueberry Banana Baked Oatmeal Cups
31. Cinnamon Roll
32. Strawberry Pan Pancakes
33. Guava Pop-Tarts
34. Ham and Cheese Waffles
35. Fruit Rainbow
36. Breakfast Banana Split
37. Bagel Bombs
38. Homemade Granola
39. Breakfast Sliders
40. Pizza Bagels
41. Breakfast Tacos
Instructions
Scroll up to get a bunch of easy, yummy, and delicious breakfast recipes. Don't be afraid to get creative with the ingredients, you might discover a flavor you didn't know you liked.
Get your shopping list going and make sure you've got all the ingredients.
Get cooking and make your next Breakfast Recipe for Kids!
Notes
Which one of these recipes was your favorite? Let me know in the comment section or on Pinterest!