Everyone needs a mid-week pick-me-up. Who knew that could come in the form of a honey garlic shrimp meal prep dish? This summery shrimp meal prep lunch is perfect for a quick lunch. It's also dairy-free!
Don't get me wrong, it makes a great dinner too! Well-balanced, deliciously seasoned, and packed with enough nutrients to keep you full until your next meal with ease.
Looking to get this beauty better? Let me introduce you.
The first thing you need to know is that the shrimp is the star of the show. Coated in a delicious honey and garlic sauce, the shrimp are punchy and sweet without being too overpowering.
Paired with an assortment of fresh, crunchy vegetables, it tastes like summer leaping off a plate.
This truly is one of the best healthy summer meal prep recipes!
Rice is the perfect grain to add to the mix. It's quick and easy to make in big batches, so it's the ideal carb to add to a run of meal prep portions.
That said, if you're not a rice fan, there are other options! Noodles, a tortilla, or even quinoa would all be a wonderful pairing for my delicious honey garlic shrimp.
Ready to keep meal prepping? Check out these Sunday meal prep recipes!
Ingredients You'll Need
Most of the ingredients in this dish are vegetables. If you're a fan of markets, this is a great excuse to hit up your local farmer's market and source some really fresh vegetables!
Otherwise, your local grocery store will have everything you need. No hassle, just delicious, convenient food.
Garlic Shrimp
Shrimp – You can use either fresh or frozen shrimp for this dish. It's super versatile. Just make sure that you've de-veined your shrimp in preparation.
Salt and pepper – Fresh ground pepper and flaky sea salt will be your ideal companions for this dish. In a pinch (see what I did there), table salt and pre-ground black pepper will work just fine.
Olive oil – Olive oil is the king of oils! Thanks to its low smoke point, it will sear your shrimp to perfection without getting too hot and burning it.
Garlic – Garlic is a critical component of this dish. That's why I've got it in the shrimp and the sauce.
Garlic Honey Sauce
Garlic – Speaking of which, here's the garlic in the garlic honey sauce! The earthiness of the garlic is a wonderful balance for the honey. Make sure to use fresh garlic for best results.
Red chili flakes – A little kick of chili is the perfect thing to add some spice to this summery dish. If you don't have red chili flakes, chili oil or even hot sauce will do.
Honey – That's right, the second critical component! Sweet honey is a necessity for this dish, and make sure it's the pourable kind, not the waxy kind.
Soy sauce – Low-sodium soy sauce is ideal for this dish. But if you only have regular, that will be fine.
Water – Cold tap water will give the best results. Make sure to avoid adding hot water and prematurely cooking the shrimp.
Cornstarch – Finally, cornstarch is your ticket to a thick and delicious sauce. Create a slurry with a little bit of water in the cornstarch to make it easier to mix in.
Vegetable Stir Fry
Carrots – Fresh, peeled carrots are perfect for this dish. Chop them into small pieces to make sure they cook quickly and soak up all that great sauce.
Broccoli – Make sure to check for firm, fresh broccoli while shopping. The stems are the key! Look for firm stems!
Corns – Either baby corn or individual corn kernels will work beautifully here. Grab some canned corn or – for best results – steam it fresh.
Snow peas – Snow peas are essential. They're crispy and crunchy, and they cook in a matter of minutes.
Rice – This dish calls for long-grain rice, but any kind will do in a pinch. Brown rice is a great alternative if you're looking for something with more digestive fiber.
How to Make Honey Garlic Shrimp
All great recipes start with a sauce, so that's where we'll start too. Begin by pressing your garlic gloves into a bowl. Follow those with your red chili flakes, honey, soy sauce, water, and cornstarch.
Mix thoroughly to make sure everything comes together in a smooth sauce.
Next, grab a pound of fresh or defrosted shrimp. Make sure it's de-veined and washed so that each piece of shrimp is clean and ready to eat. Pat dry with a paper towel.
Get your frying pan on medium-high heat, then add a tablespoon of olive oil to let it heat up. Drop in a single clove of minced garlic, the shrimp, and your salt and pepper.
You'll need to sear the shrimp on medium-high heat for one or two minutes on both sides. Make sure the garlic goes golden brown, but the shrimp stays tender even once cooked.
Gently mix the shrimp around every so often to make sure each piece is fully cooked.
You might also be interested in these best meal prep ideas!
Once the shrimp is golden and bouncy to the touch, it's ready! Take it out of the pan and set it to the side. It's time to move on to the vegetables.
First, lower the heat a little bit to give the vegetables a chance to steam. Then, get into preparing your vegetables!
Peel and chop three medium carrots into small pieces, but not so small that they become a paste when cooked.
Add them to the pan and saute for a couple of minutes. Add more olive oil if you'd like to.
Then, grab one head of broccoli and chop it up to a similar size. Saute in the pan with your carrots for a couple more minutes, then add a cup of corn kernels along with your cup of snow peas.
Add salt and black pepper. Now comes the fun part! Remember that delicious sauce we prepared earlier? Pour it all over those delicious vegetables to coat them in honey garlic perfection.
Mix it all together to coat the vegetables and make sure they're all thoroughly cooked. Sauteeing for about five more minutes should do the trick.
Make sure you have your rice cooked per packet instructions. Once you have all the elements, it's time to assemble them!
This recipe makes four delicious portions of honey garlic shrimp. Grab four meal prep containers to work with, clean and dry. Glass containers with an airtight lid work best if you have them on hand.
Portion out your meals, starting with your rice and ending with the vegetables. This will help all that delicious sauce drizzle down to the rest of the elements. Rice soaked in the sauce is the best.
And there you have it! A wonderfully simple meal prep recipe to keep you going, no matter what your week looks like.
What to Pair with Shrimp?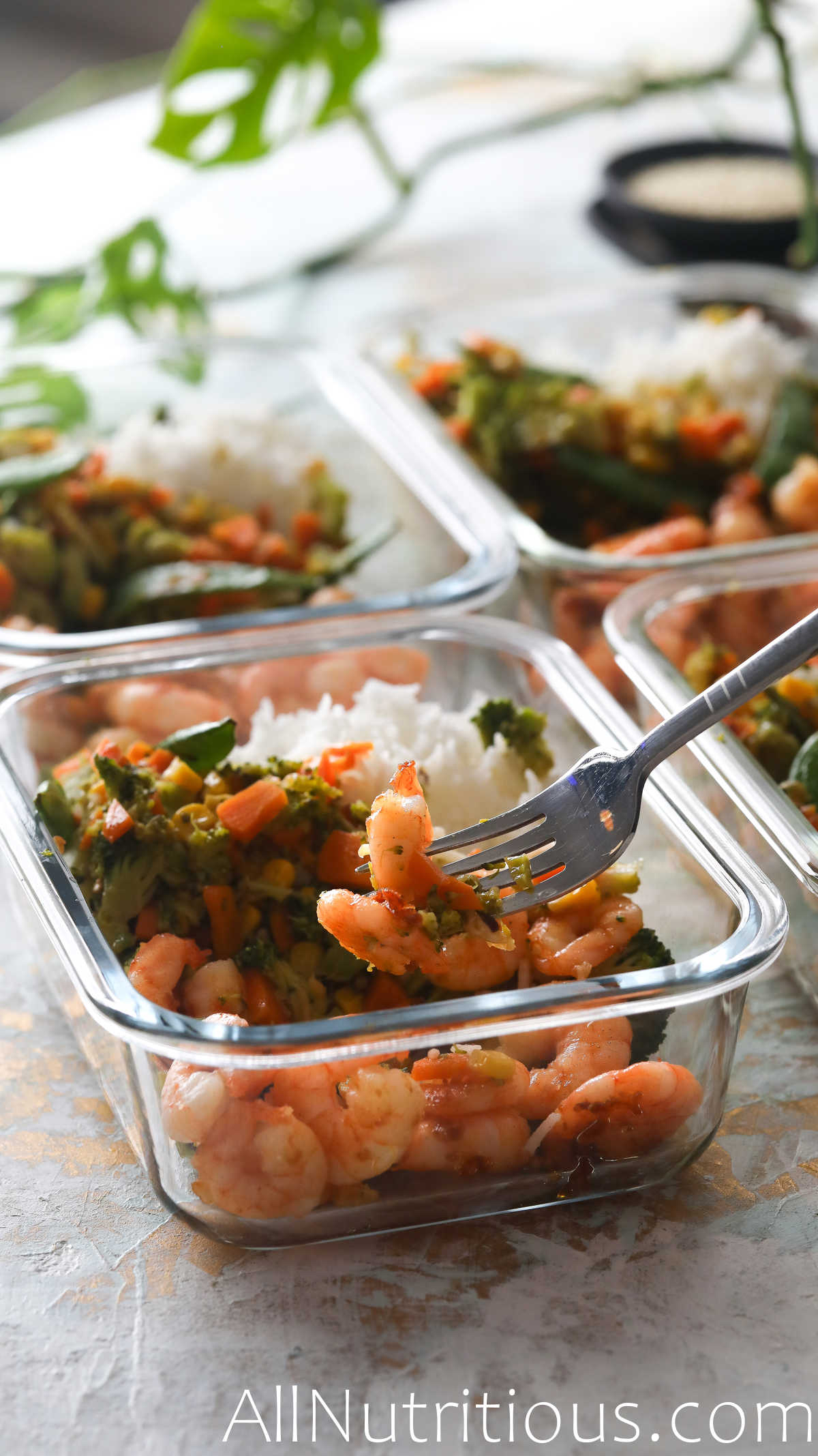 Shrimp is a delicious summer dish, so it's perfect with a side of crisp vegetables. Fresh vegetables like green beans, snow peas, carrots, corn, and broccoli are ideal for shrimp.
Especially spiced, seasoned shrimp like our honey garlic friends here.
Is Garlic Shrimp Good for You?
Absolutely! This dish is super high in essential nutrients thanks to all the vegetables. Pair that with the nutritional benefits of garlic and honey, plus the high protein shrimp, and you've got a winner.
Looking for more delicious meal preps? Check out these easy dinner meal prep ideas!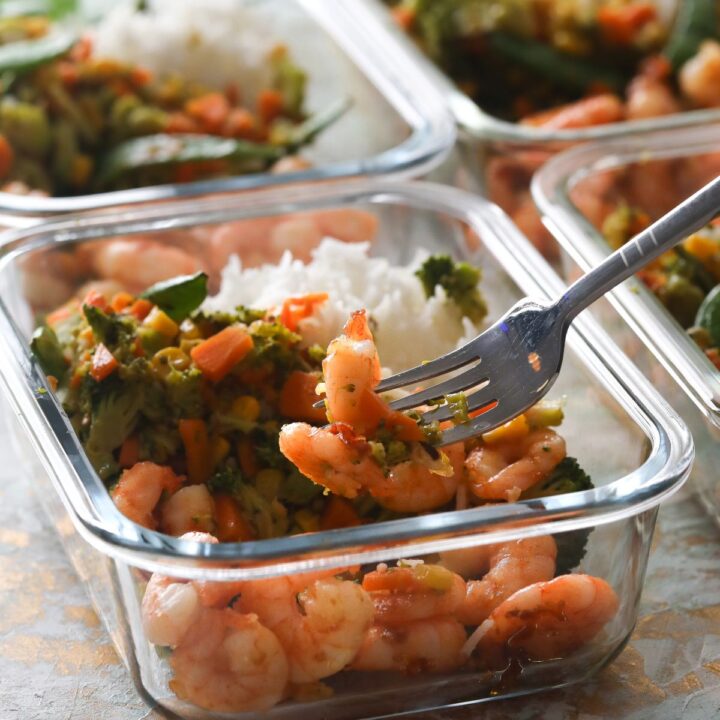 Honey Garlic Shrimp Meal Prep
Yield:
4 meal prep containers
Craving a balance between sweet and savory? Our honey garlic shrimp meal prep has got you covered!
Ingredients
Rice
Garlic Shrimp
1 lb shrimp
salt and pepper
1 tbsp olive oil
1 clove garlic (minced)
Garlic Honey Sauce
4 cloves garlic (minced)
1/2 tbsp red chili flakes
2 tbsp honey
2 tbsp soy sauce (low sodium)
2 tbsp water
1 tsp cornstarch
Vegetable Stir Fry
3 medium carrots (finely chopped)
1 head of broccoli (chopped)
1 cup corns
1 cup snow peas
salt and pepper
Instructions
Cook the rice according to the instructions provided on the packaging.
In a small bowl, mix garlic honey sauce ingredients.
Pat dry the shrimp, season it with salt and pepper. Add 1 tbsp olive oil to the frying pan, heat it up, and add in minced garlic.
Sear shrimp on high heat for 2-3 minutes on one side and then cook for 2-3 minutes on another side. Remove the shrimp and set it aside.
Lower the heat to medium-high, add in the carrots, and sauté them for 2-3 minutes. Add a little bit more olive oil if needed.

Then add in broccoli and let it sauté for another 2-3 minutes. Finally, add in the corn and snow peas, salt, and black pepper and pour in the sauce.

Sauté for 5 minutes until all the veggies are cooked and fully covered with the sauce.
Divide cooked ingredients into 4 different food containers.
Nutrition Information:
Yield:

4 containers
Serving Size:

1 container
Amount Per Serving:
Calories:

436
Total Fat:

6.2g
Saturated Fat:

1.1g
Trans Fat:

0g
Unsaturated Fat:

4.2g
Cholesterol:

143mg
Sodium:

1137mg
Carbohydrates:

72g
Fiber:

7.5g
Sugar:

17g
Protein:

26g