Heave a sigh of relief because the work week is over, and the weekend is here! There's nothing better than crossing the finish line at the end of a tough week with these weekend dinner ideas.
One of the best parts? You have more time to cook!
However, you also want to make sure you're getting plenty of time to relax. The right easy dinner recipes for the weekend balance all of these factors while being absolutely delicious.
However, you also want to make sure you're getting plenty of time to relax. The right weekend dinner balances all of these factors while being absolutely delicious.
If you're stuck for easy dinner ideas or you're just hunting for some inspiration, I have the list for you!
Here are sixty-one delicious weekend dinner ideas and easy recipes for solo cooks, couples, or hungry families.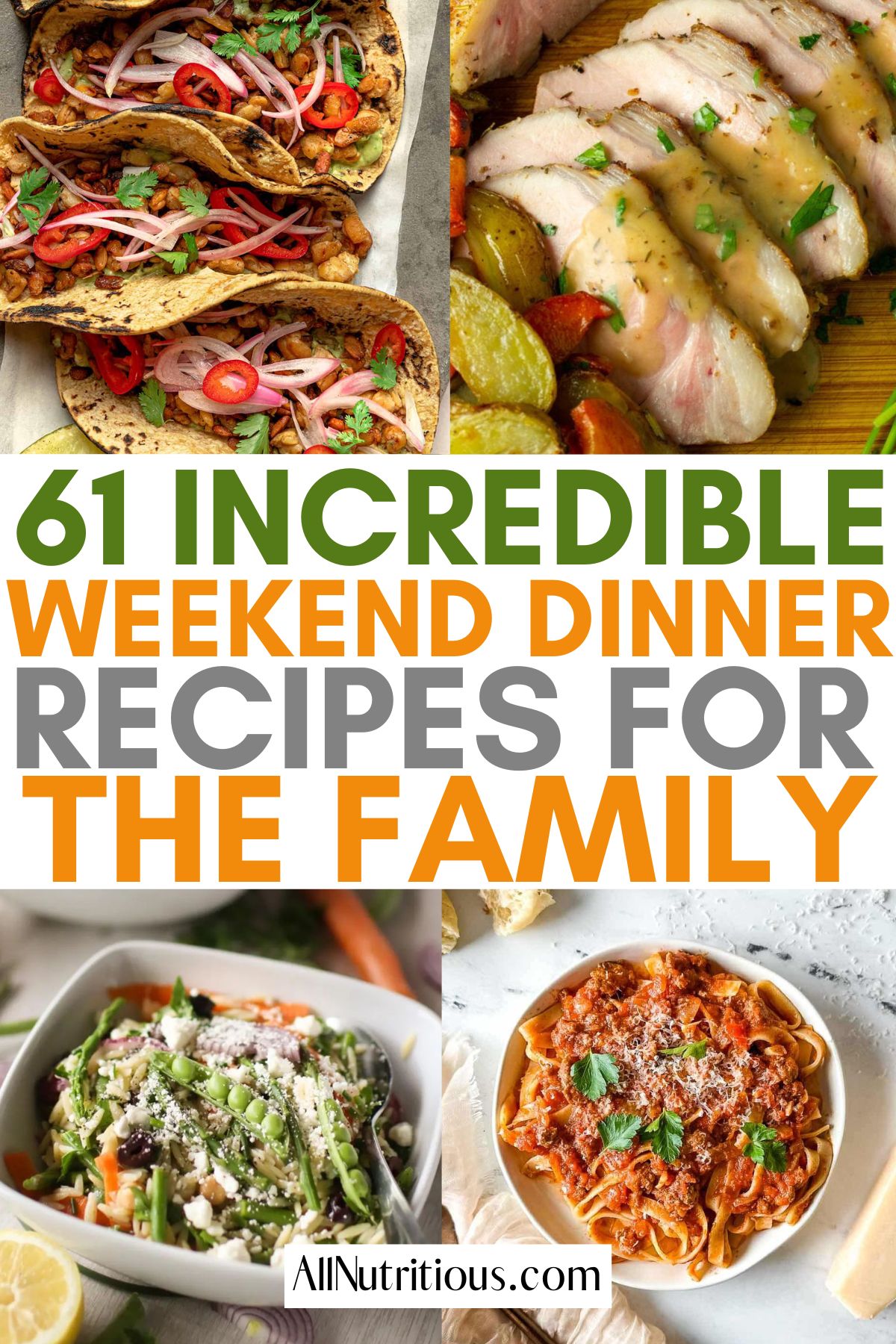 What Should We Cook for the Weekend?
The right healthy recipes to cook for your weekend really depend on what you have planned in those precious two days.
Some families love classic Sunday roasts, while others take to the outdoors with a picnic.
Typically, I'd recommend planning out what you'd like to eat on the weekend before you hit the grocery store next time.
That way, you're working with a full pantry, not the bare bones of the end-of-week haul for your healthy meal.
That way, you're working with a full pantry, not the bare bones of the end-of-week haul.
Saturdays are great for packing with fun family activities, date nights, and days out in the sun. You might also be getting through your errands on a Saturday.
Having easy Saturday night dinner ideas is important.
That's where big, bold, and boisterous meals come in! Whip up something quick and easy that packs a ton of nutrients into every bite, so you can spend every part of your Saturday making the most of it.
Then, we all know that Sundays are for days spent lazing around at home. One of the biggest blessings of being human is the ability to enjoy a lazy Sunday inside, and our meals are no exception.
Opt for low and slow meals that use a slow cooker or a long, gentle roast in the oven. Not only does this play into the classic Sunday roast, but it's also ideal for getting the most flavor out of little effort.
Weekend Dinner Ideas for Family
Let's kick things off with some ideas the whole family will enjoy! Whether you're strapped for time or looking to spend a few hours in the kitchen, one of these recipes will suit you perfectly.
The sweet spot for a family weekend meal is a recipe that makes a lot of tasty food that everyone can enjoy. Casseroles, skillets, sheet pans, and even Mexican staples are all ideal in this area.
Source: allnutritious.com
First things first, what's the number one thing you and your family want in a meal after a long week of busy weeknights?
Comfort food! And this creamy tomato chicken skillet will get you there.
There's nothing better than digging into this dish with creamy tomato sauce for dinner tonight and knowing that there are barely any dishes waiting for you when you're done.
Plus, it takes almost no time to prepare, so you can spend more quality time together.
Source: greatchickenrecipes.com
Nachos are a classic weekend recipe idea because they're so great to share with your family! They are packed with so much flavor and require little time and minimal effort!
Pile on the toppings or leave them to the side and let each family member create their perfect plate.
Regardless, these BBQ chicken nachos promise a quick and easy stint in the kitchen for you.
With minimal clean-up and maximum flavor, this delicious meal is ideal for a quick dinner after a busy Saturday. Make sure to serve your nachos with some sour cream at the dinner table.
Source: allnutritious.com
I will forever be a huge fan of sheet pan dinners; it's why they feature so prominently on my site! This sweet chili chicken sheet pan dinner is just one of many I have sitting in my recipe book.
The sweet chili sauce packs the chicken full of flavor while keeping it tender, and the surrounding vegetables help balance the meal. All in all, this is a super simple Saturday dinner.
Source: ihearteating.com
The macaroni and cheese lovers of the world are often divided on whether baked or stovetop macaroni and cheese is better. I, for one, think they both have their place in the kitchen.
Take, for example, this baked macaroni and cheese.
With a luscious, savory sauce with cheese, a crunchy cheese crust, and tender pasta, there's really nothing more your taste buds could ask for. Plus, it's so easy to make!
Source: allnutritious.com
My sheet pan chicken fajitas are a household favorite in my home. They're bold and spicy enough to give you a kick but not too much for the little ones. So, the whole family can enjoy this one easily.
The best part is that you cook the fajitas with the vegetables already on the pan, so this is an entire dish.
In just half an hour, you can have the whole family fed and ready to spend the rest of the night relaxing.
Source: lifesambrosia.com
Put a comforting, homey spin on an Italian classic with this tasty recipe. This rustic pasta dish has all the hallmarks of great Italian food.
It's generous in portion, ultra-tasty, and uses what you already have.
On a lazy Sunday, there's nothing better than settling onto the couch with a warm bowl of this in your hand.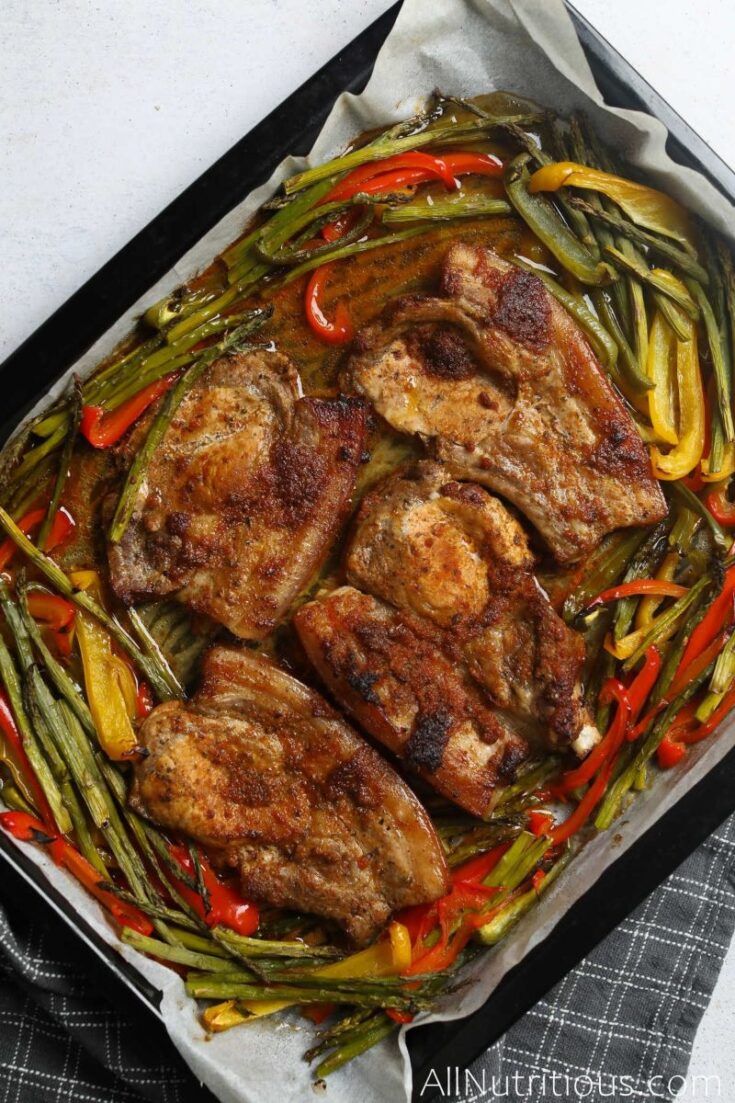 Source: allnutritious.com
These pork chops are tender, juicy, and everything you want them to be. Not to toot my own horn, but this sheet pan pork chop recipe is absolutely perfect for a quick and easy weekend dinner dish.
Swap out the vegetables on the side for whichever ones strike your fancy. These pork chops cook quickly, so make sure to pick vegetables (or sizes) that will match that pace.
Source: throughthefibrofog.com
A creamy chicken dish with punchy, herbaceous notes laced through the sauce? Count me in. This amazing recipe will be calling your name all the way through the week.
The best part about this recipe is that it's a skillet meal! You can whip the whole thing up in a single pan, so you won't have to spend an age doing the dishes.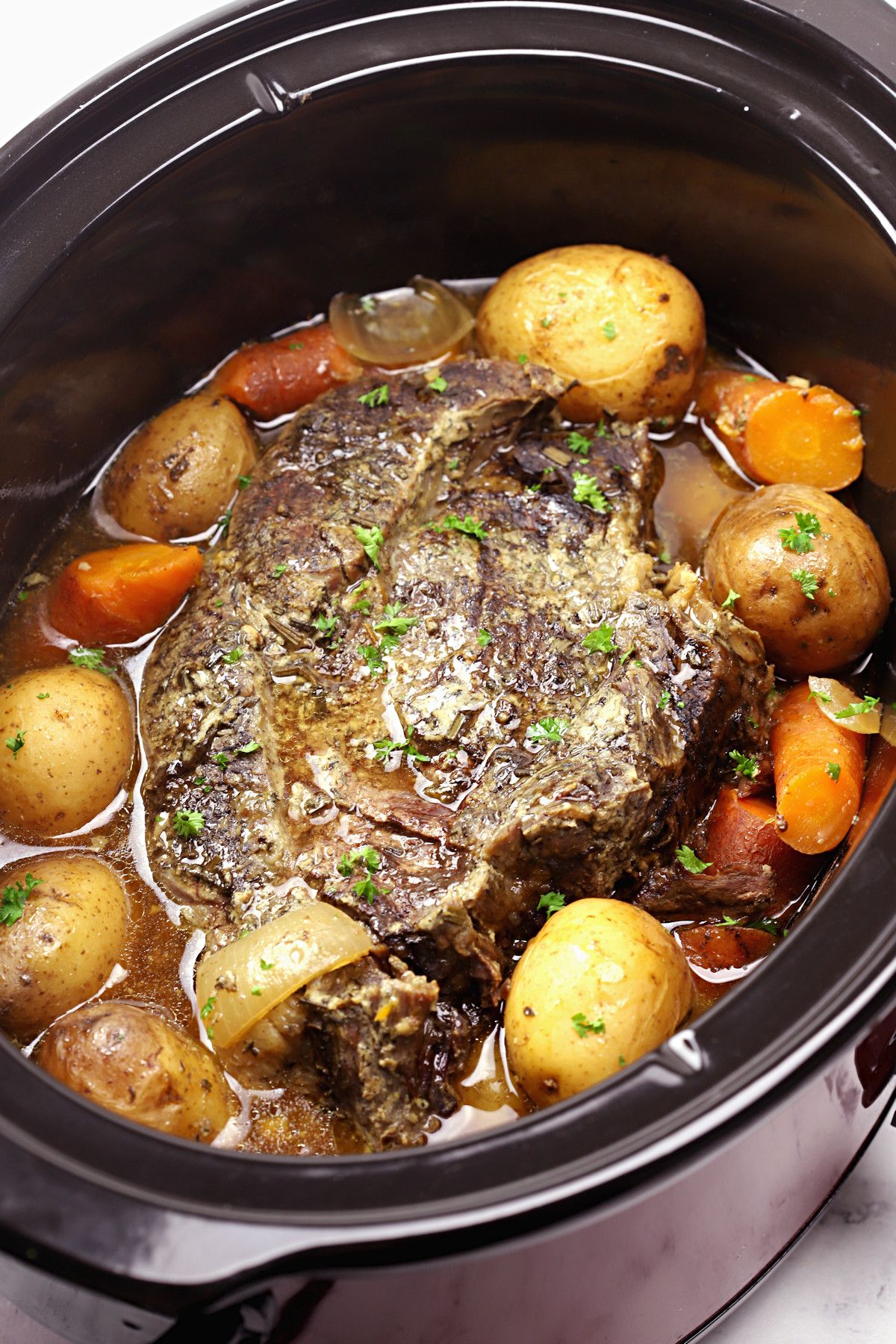 Source: thetoastykitchen.com
Keep Sunday lazy and comforting with this amazing slow cooker beef roast. On a calm Sunday, when you have a few things to get done – or some relaxing to do – your slow cooker is your ally.
Set up this recipe in the morning and let it gently simmer through the whole day. When night falls, you'll lift the lid on perfectly-cooked beef, tender carrots, and fluffy potatoes.
Not to mention, the sauce it produces is out of this world.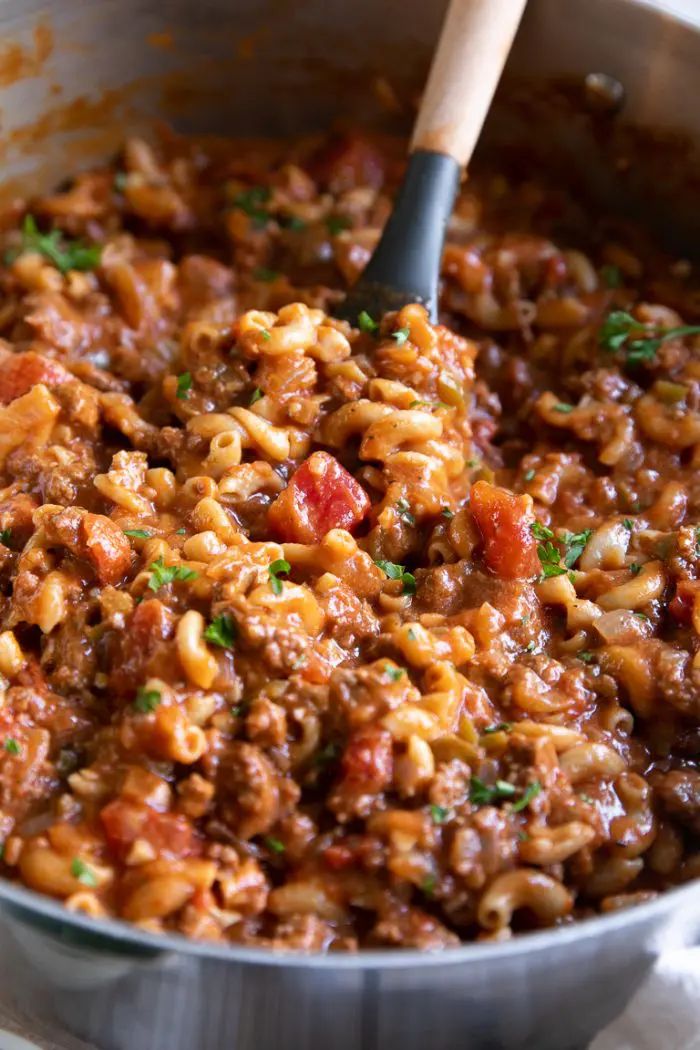 Source: theforkedspoon.com
You might have heard of classic goulash, which is a Hungarian comfort food dish. It's known for chunks of beef and peppers colliding in a spectacular array of flavors.
This American goulash is its ultra-comforting cousin, featuring macaroni pasta and ground beef in a thick sauce.
Using one pot from start to finish, this is the embodiment of the quick and easy weekend meal.
Weekend Dinner Ideas for 2
If there are just two of you in the family, no problem! Whip up something delicious for date night, or keep things quiet and comfortable with one of the recipes on this list.
The secret to success here is to use high-quality ingredients. Let their natural flavors shine through, and you'll have a meal guaranteed to impress your significant other this weekend.
Source: allnutritious.com
Take date night by storm with my delicious mozzarella stuffed chicken breast. This is a keto-friendly recipe with a ton of protein and a few carbs, but you wouldn't know it by the flavor!
Singing with herby flavors from the pesto, this is the kind of special occasion dish perfect for an at-home date night. Impress your significant other with your skills!
Source: cheneetoday.com
Ricotta and lemon are a classic Italian combination, especially when ladled over pasta. This is a delicious, summery dish with citrus notes humming in every mouthful.
The best part about preparing a pasta dish for two is that there are always leftovers, no matter what you do. It's like a law of nature. So, you get to enjoy this dish again the very next day!
Source: allnutritious.com
Keep things simple, healthy, and delicious with this juicy cast iron skillet chicken for two. The cast iron seals in all the amazing flavors and juices, resulting in a super tender chicken breast.
Serve the protein with your favorite spring vegetables for a light and bright meal that will put a smile on your partner's face.
Source: foxandbriar.com
Thai basil is one of those lesser-known ingredients that deserves more love, in my opinion. Compared to normal basil, Thai basil has a stronger, almost peppery taste.
In other words, it's perfect to pair with beef! This is like a more refreshing version of peppered beef. Hailing from Thailand's delicious street food culture, this comes together in just twenty minutes!
Source: allnutritious.com
Baking your chicken cutlets is a great way to save time and pack every morsel full of flavor. However, you can occasionally end up with dry cutlets if you're not careful.
Enter my sure-fire technique for making tender, juicy, crispy baked chicken cutlets every single time. Use these as the center point for any dish you like, it goes with almost anything!
Don't let those cutlets go to waste with these other best chicken cutlet recipes!
Source: servedfromscratch.com
When most people think of lasagna, they think of intensive hours spent in the kitchen painstakingly layering pasta, meat sauce, and bechamel. But it doesn't have to be like that!
This cast iron skillet lasagna comes together in under an hour, and it tastes like a genuine article. Plus, you won't have to deal with the mountain of dishes a regular lasagna can cause!
Source: simplyscrumptiouseats.com
Carbonara is a classic Italian dish that locals reach for when they're low on time, ingredients, and energy. It's simple, comforting, and utterly delicious. In other words, there's no downside!
This chicken carbonara recipe is high in protein and carbs, so you know you'll be full of energy the next day. It's a wonderful dish to cook for two, especially if you like leftovers!
Source: saltandspoon.co
Make more time to spend with your partner thanks to this one-pot spicy sausage pasta. This is quick, easy, and generates barely any dishes. Best of all, this bold and vibrant pasta is absolutely delicious!
Whether you're cooking on a weeknight or a weekend, I guarantee this pasta dish will end up back in your weekly meal roster. In fact, it's also great for meal prepping.
These other Italian sausage recipes are sure to excite you!
Source: twocloveskitchen.com
A good ragu takes hours and hours to cook, allowing all the flavors in the sauce to blend together and the lamb to melt off the bone with sheer tenderness.
This slow cooker lamb ragu will blow your partner away. It tastes as if it came out of a five-star restaurant, but it's actually a dump-and-go meal that will take barely any time to assemble!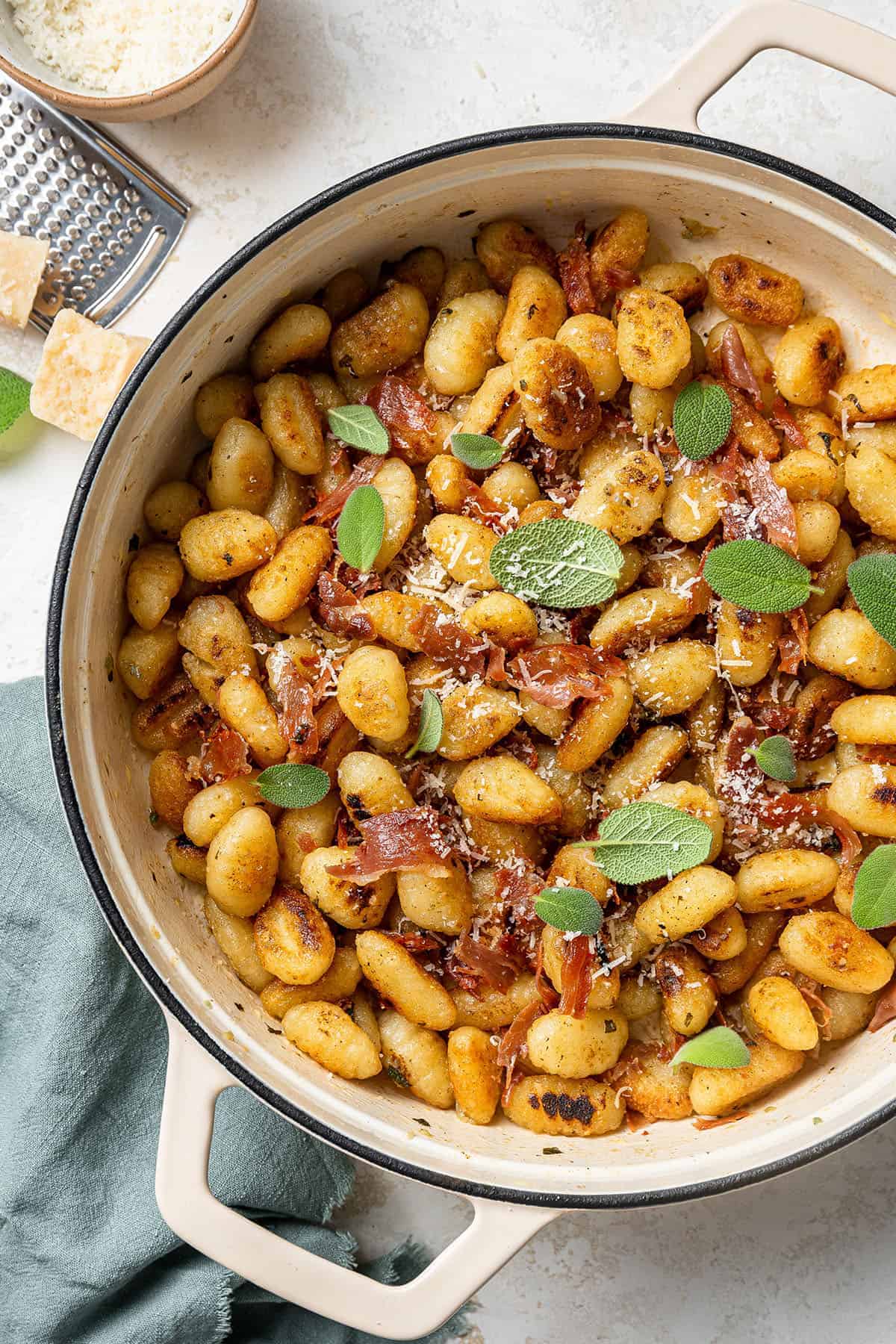 Source: thesavorycipolla.com
Looking for something to impress? Look no further than this amazing lemon butter gnocchi recipe with crispy prosciutto.
While rich, this carefully balanced dish isn't overwhelming, thanks to the lemon.
The crispy prosciutto adds little bursts of saltiness around the plate, helping counteract the rich butter. The sage lifts everything even more, making this a perfect example of Italian cooking.
Source: saltandspoon.co
If you've never had Boursin cheese, then today's the day to give it a try. This cream cheese-like dream is packed with garlic and herbs to add a kick to any dish.
In this recipe, the dish lucky enough to get a boost is a super simple one-pot pink sauce pasta. Featuring tomatoes, garlic, and cheese, this Italian-inspired dish is comfort on a plate.
Easy Weekend Dinner Ideas
At the end of a long, rough week, the last thing many of us want to do is spend a long time cooking. Fight the takeout temptation and opt for one of these easy weekend dinner ideas instead.
Each one comes together in half an hour or less, with accessible ingredients you most likely already have waiting in your pantry.
Best of all, each one doubles as a great meal prep recipe for the week ahead.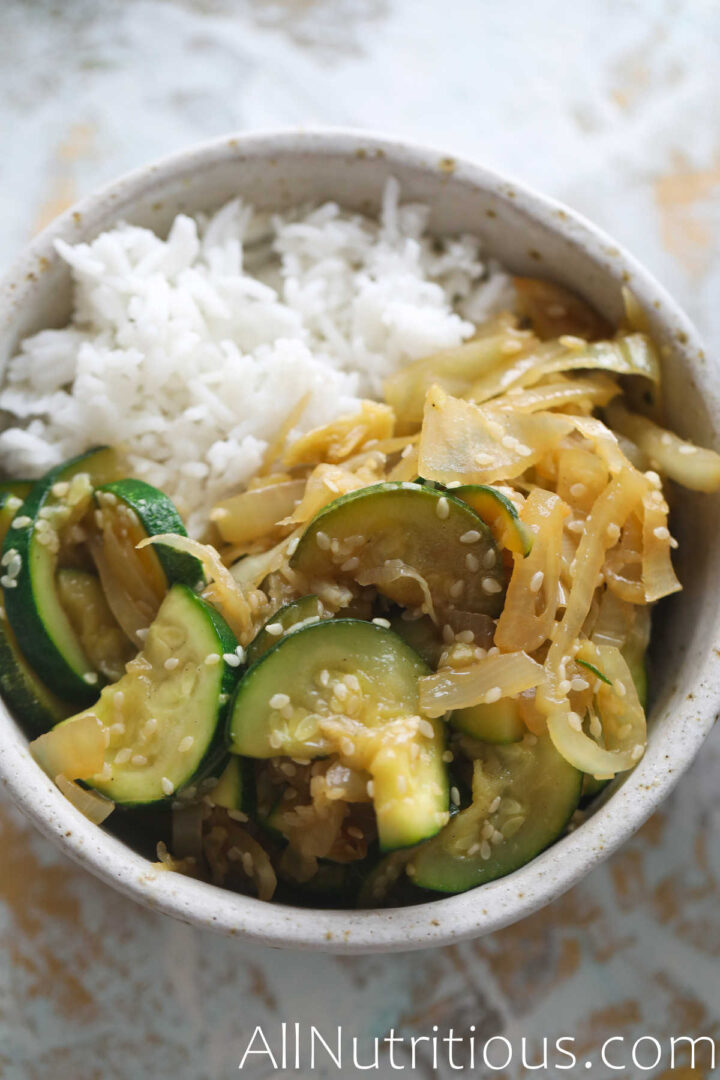 Source: allnutritious.com
When I'm at the end of my rope, and I just need something easy for dinner, this zucchini stir fry is the dish that saves me. Rather than giving in to the takeout cravings, I just whip this up.
The dish comes together in no more than twenty minutes, and the flavors are out of this world. Zucchini is like a sponge that soaks up all this delicious garlic!
Source: inmamamaggieskitchen.com
Shrimp fajitas (a.k.a. Fajitas De Camarón) are ideal for a quick and easy weekend dish. With bright, fresh elements and a protein that cooks in no time, this is the ideal recipe to pick out in summer.
Beyond that, it's packed with healthy vitamins and uses lean protein, so this is a super nutritious choice the whole family can enjoy.
Source: allnutritious.com
Here's another stir fry, and this one has a bit more kick to it! The ground pork acts as the ideal vehicle for all these wonderful Asian flavors, not to mention the crunchy, crispy vegetables in there.
Serve over a dish of noodles or steamed white rice for the full experience. This is also a wonderful meal prep dish because the ground pork holds up very well as the week goes on.
Source: serenabakessimplyfromscratch.com
Whether you need a quick and easy dinner or a simple, bold appetizer, these meatballs have got your back. Stick them on skewers or ladle them over a bowl of steamed rice. It's up to you!
No matter how you choose to enjoy them, these meatballs are wonderfully tender and tasty.
They soak up the sticky sweet, and sour sauce, so they stay tender and juicy for a long time. Great for meal prep.
Source: allnutritious.com
When in doubt, make a lettuce wrap. That's my motto! These teriyaki chicken lettuce wraps are proof that easy dinners can be healthy and delicious, all without breaking the bank.
You can serve these lettuce wraps pre-made or you can get your family in on the fun! Create a 'make your own wrap' station and let everyone dig in to create their perfect version of dinner.
Source: numstheword.com
We've all had delicious teriyaki chicken in restaurants, but did you know you can make chicken that's just as good at home? It's cheaper, healthier, and takes barely any effort.
That's the power of this Instant Pot teriyaki chicken. Soy sauce, water, and a few other key ingredients combine to create the dark, rich, sweet sauce we all know and love.
Source: chefsavvy.com
Here's another example of a great dish you can make at home rather than venturing to your nearest takeout place!
This chicken chow mein will definitely become a regular staple (your family will love it).
For the uninitiated, 'chow mein' stands for 'fried noodles', so this dish is essentially chicken fried noodles. I love this recipe because you can customize it to suit your needs.
Want something healthier? Add more vegetables? Looking for more protein? Crank up the amount of chicken! Plus, it makes wonderful leftovers.
Source: ambitiousfoodie.com
Gear up for a night with friends (or even game day) with this delicious grilled buffalo chicken. This chicken is basted to within an inch of its life by that iconic vibrant Buffalo sauce.
Combined with a few other spices and a stint on the grill, this serves to make the chicken punchy, smoky, and super tender. This is amazing on sandwiches, salads, and even on its own!
Source: corriecooks.com
Beef and broccoli is a great family-friendly recipe, and it's so easy to make! This Instant Pot recipe minimizes dishes while maximizing flavor, allowing you to enjoy a takeout favorite at home.
You can enjoy this however you like since it's keto and paleo-friendly. Serve alone, on a bed of steamed rice, or even atop some fried noodles for an extra kick of energy.
Source: freeyourfork.com
Calling everyone who lives a gluten-free lifestyle: you can still enjoy ramen! This recipe comes together in just fifteen minutes with chewy, springy noodles and an insane broth.
Top with your favorite ramen toppings to really make it sing. I'm a fan of a boiled egg and some sliced green onions, as well as a generous dash of sesame!
Healthy Weekend Dinner Ideas
Blend health and convenience with these healthy weekend dinner ideas. Easy to make, delicious to eat, and simple to clean up, these great recipes will boost your week's nutrition with ease.
Even if you have a couple of picky eaters in the family, each one of these dishes is a guaranteed crowd-pleaser.
The warm comforts of coconut curry or the simple pleasure of lemon chicken thighs guarantee big smiles all around.
Source: allnutritious.com
When you're looking for a healthy dish, salmon is the perfect protein to reach for. It's filling and flavorful but still lean, and it absorbs sauces and spices beautifully.
It also cooks up in a flash, which is why this salmon stir fry is a personal favorite!
Source: heartbeetkitchen.com
Most of the time, you'll see coconut curries that use fish or chicken as their main protein. In this case, we're using turkey. This is super lean meat that still absorbs flavor like the best of them.
Turkey is also gentle on your wallet, meaning this is a healthy and affordable weekend dinner.
Source: allnutritious.com
Chicken and zucchini are a match made in heaven! When cooked together, they keep each other tender and moist, laying the perfect foundation for a delicious sauce.
If you'd like to get some more vegetables in there, they'll fit right alongside these comforting, familiar flavors.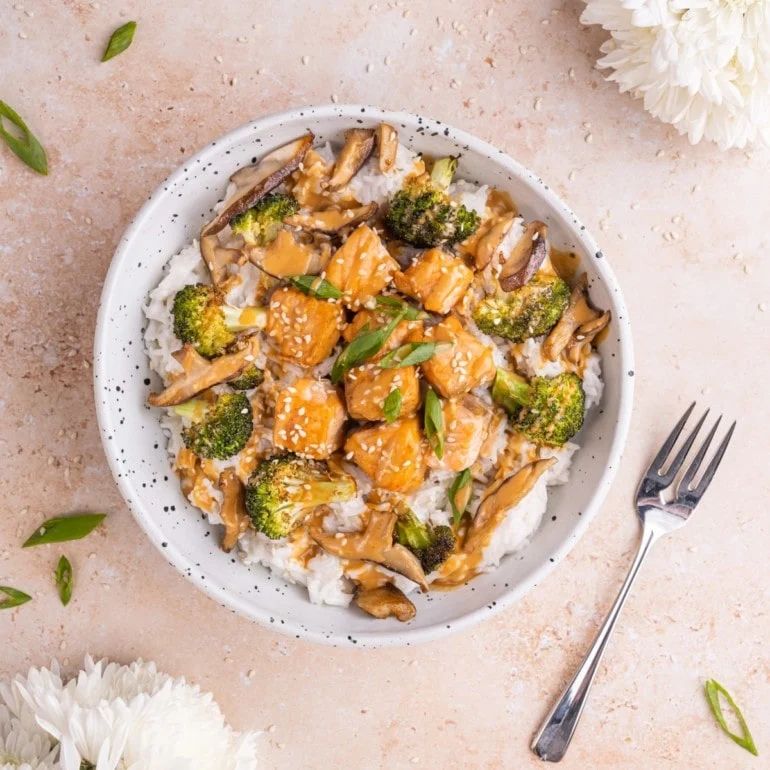 Source: marleysmenu.com
Take just thirty minutes out of your valuable weekend to prepare this delicious spicy salmon bowl. This is absolutely delicious, with a sauce to die for and plenty of extras to get your mouth watering.
In fact, you wouldn't believe it's so good for you, but it is! With lots of vegetables and an omega-3-rich protein as the hero, this dish is great brain food.
Source: allnutritious.com
Keep things simple, healthy, and delicious this weekend with an unforgettable lemon chicken thighs dish. These chicken thighs are simple to prepare and versatile enough to pair with almost anything.
Serve with a side of your favorite fried greens, a bed of mashed potatoes, or simply on a green salad.
Source: suburbansimplicity.com
Get the kids on board the health train with these tasty homemade chicken tenders. Baked chicken tenders are a household staple for busy parents.
But the ones you can buy from the supermarket might contain all kinds of fillers. These are natural, homemade, and taste twice as good. Plus, you can store them in the freezer for easy access!
Source: sprigandspoon.com
I'm a big fan of Orzo. This mini pasta is a great way to add some healthy carbs to a meal, especially when you put it in salad form.
This light, bright lemon orzo salad is the perfect thing for a summer dinner.
Bring this with you to your next potluck, and watch your neighbors descend on it with glee!
Source: lowcarbspark.com
I love cooking Greek food because the recipes place so much emphasis on natural, whole, seasonal ingredients. Greece has a love for organic fruits, vegetables, and proteins you just can't beat.
Not to mention the herbs and spices! All of this love comes through in this Greek sheet pan chicken dish.
This is one of the best chicken sheet pan recipes for busy nights.
Source: sprigandspoon.com
Enjoy everything you love about a good tortilla without all that extra effort. This vegetarian tortilla soup is filling, quick to make, and super healthy. It's the perfect trifecta!
I love this recipe because you can customize it to suit your unique tastes. Tweak the spices to create your signature soup.
Source: rainbowplantlife.com
Lean into protein-heavy vegetarianism with this delicious tempeh tacos recipe.
Tempeh is delicious when you know how to use it, and this healthy dinner guides you through it step by step.
Best of all, it's super easy to make! Keep your weekend chill and easy while feeding the family something they'll love.
Fall Weekend Dinner Ideas
Fall is one of the best seasons because it brings with it so many delicious ingredients. Embrace fall with your chosen weekend dinners! Root vegetables, mushrooms, and floral fruits all feature here.
If you wish it could be Thanksgiving or Christmas every weekend, this is the section of the list for you. These meals feel like holiday recipes, but they're weekend-friendly and simple to prepare.
Source: allnutritious.com
Bring the root vegetables into the spotlight with my celery and carrot soup. There's nothing better than sipping a warm bowl of this fragrant, delicious soup on a cold night.
This soup uses basic ingredients and easy prep making it one of the best things for a busy evening.
This is a light soup, so it's great if you've had an easy, lazy day and you're looking for something to send you off to sleep.
Source: rainbowplantlife.com
Pile on the protein and the flavor with this delicious stroganoff recipe. Hailing from Russia, stroganoff recipes are known for their hardiness, bold flavor, and distinctive color.
This recipe delivers on all counts, even without adding meat to the mix. It's a must-try!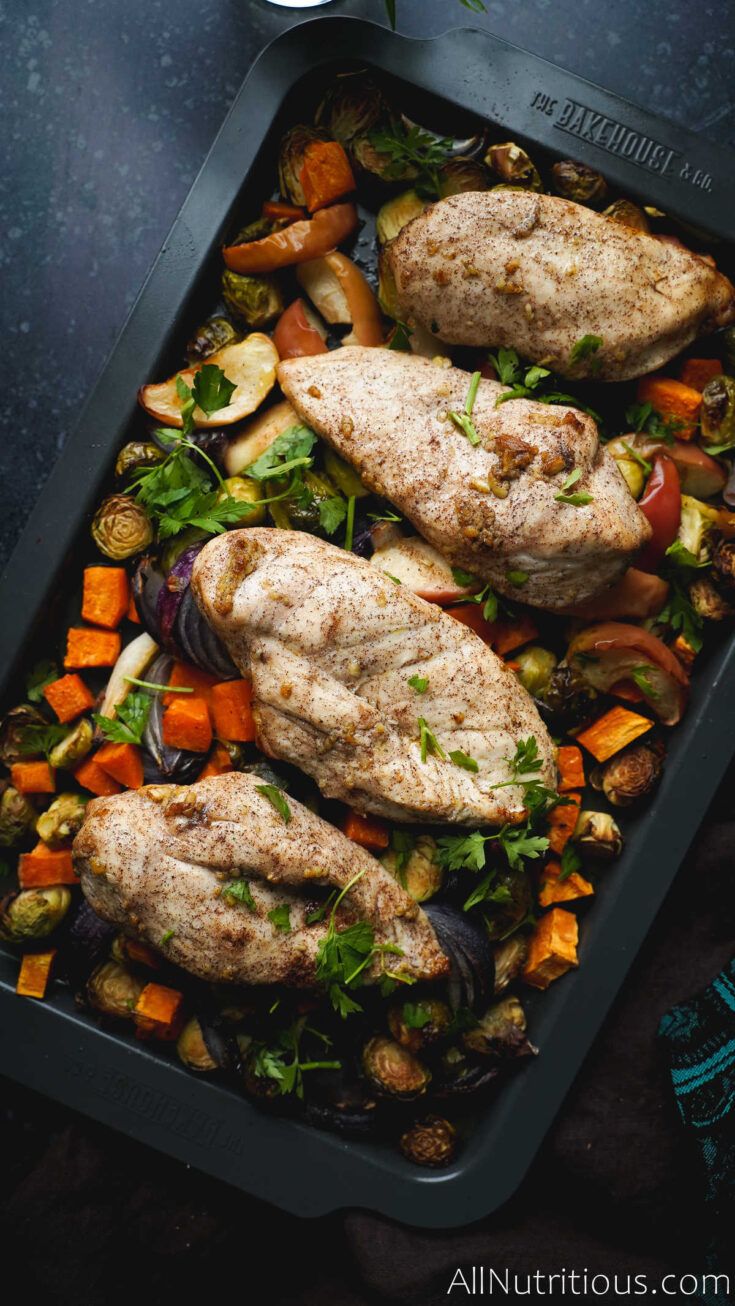 Source: allnutritious.com
We all know I love a sheet pan recipe, and here's one I created just for fall! Featuring sweet potatoes, apples, and Brussels sprouts, this is like a fall market crammed into one dish.
The flavors all play off each other in the best way, and the chicken is super tender.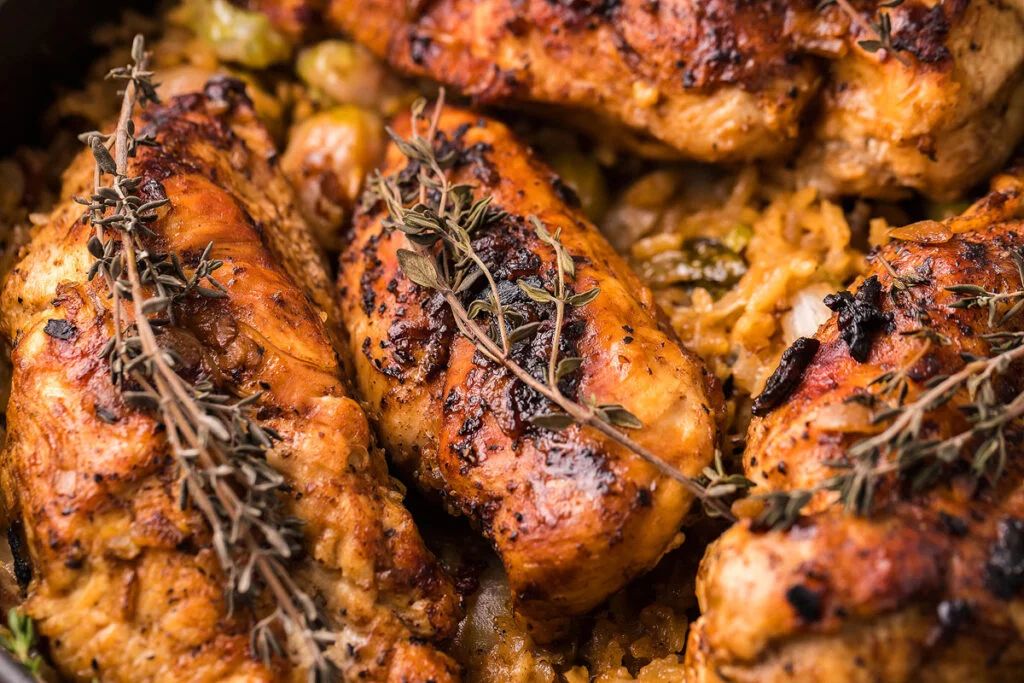 Source: xoxobella.com
Chicken and rice are wonderful ingredients to lean on at the end of the week. They're affordable, reliable, and taste great when you pair them together.
Add a little bacon and Brussels sprouts to the mix, and you simply can't go wrong.
Source: twokooksinthekitchen.com
I absolutely love a good pork roast, but it can be tough to work around the bone when you're eating. Plus, roasting bone-in meat typically takes longer.
If you're after a tender, simple, delicious pork roast, this is the recipe for you. The gravy, in particular, is out of this world.
This is one of the best fun dinner ideas for families.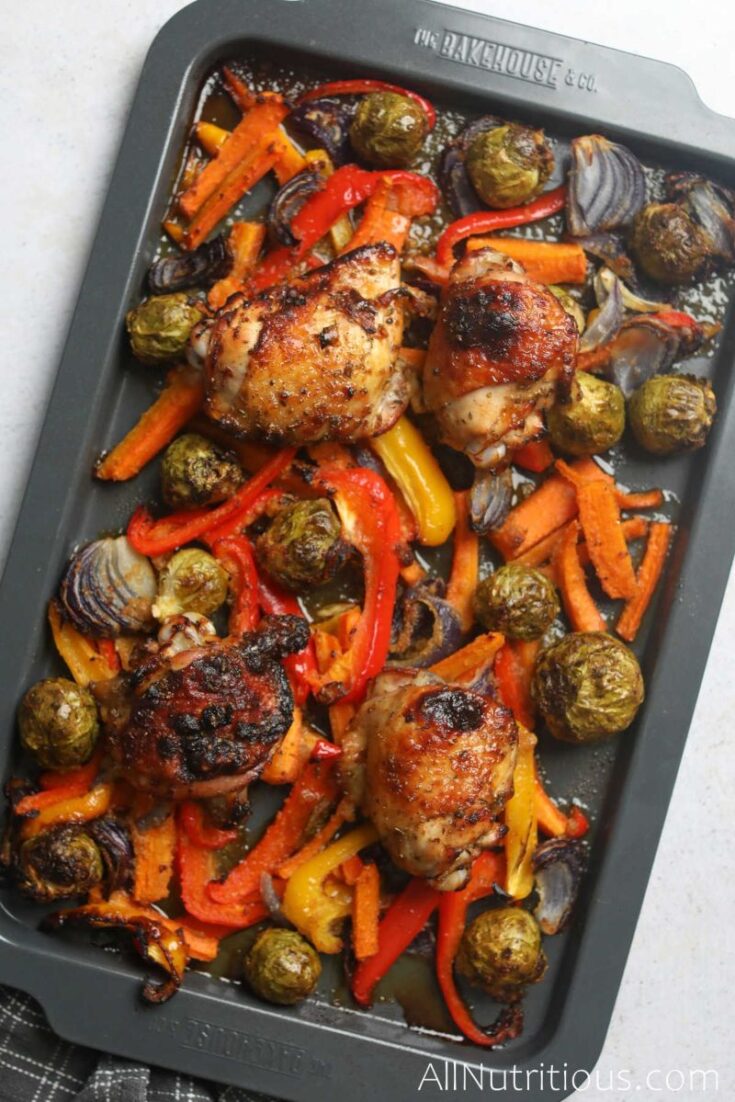 Source: allnutritious.com
These Asian-inspired sheet pan chicken thighs are coated in a healthy mix of garlic and honey. While it might sound a little strange at first, this is a sweet, sticky, earthy, tenderizing marinade.
The result is perfectly-tender chicken thighs roasted to a stick crisp in no time at all. What's not to love?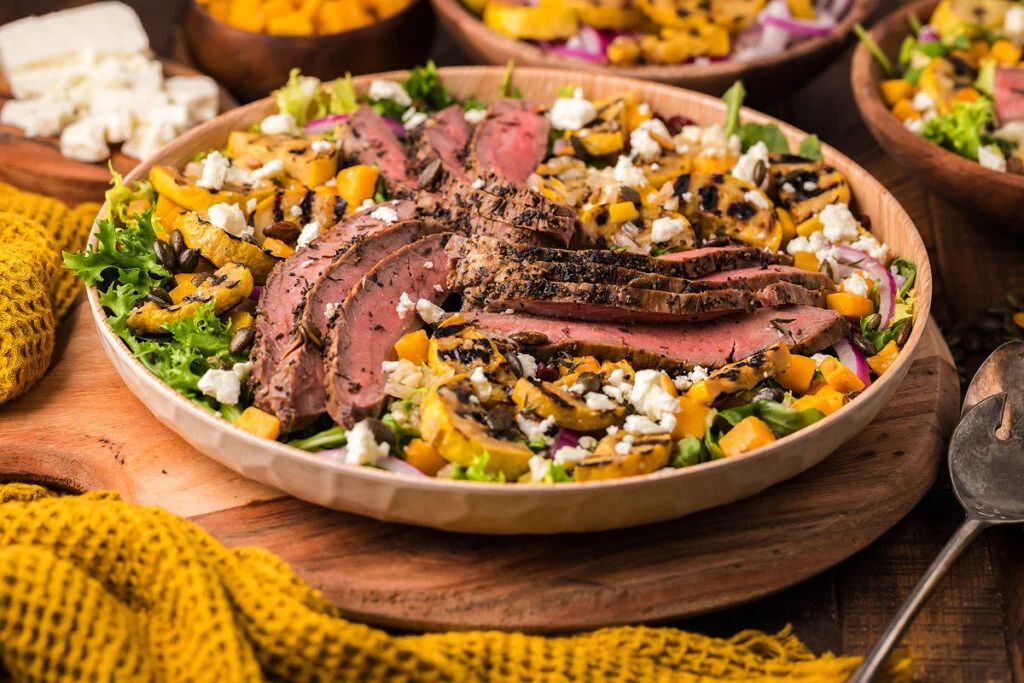 Source: xoxobella.com
Bring the scent and colors of fall indoors with this deliciously on-theme squash salad. Topped with tender medium rare steak, this is a meal you can be proud to serve.
Best of all, this is so simple to prepare! There's nothing like impressing your loved ones without having to spend all day in the kitchen.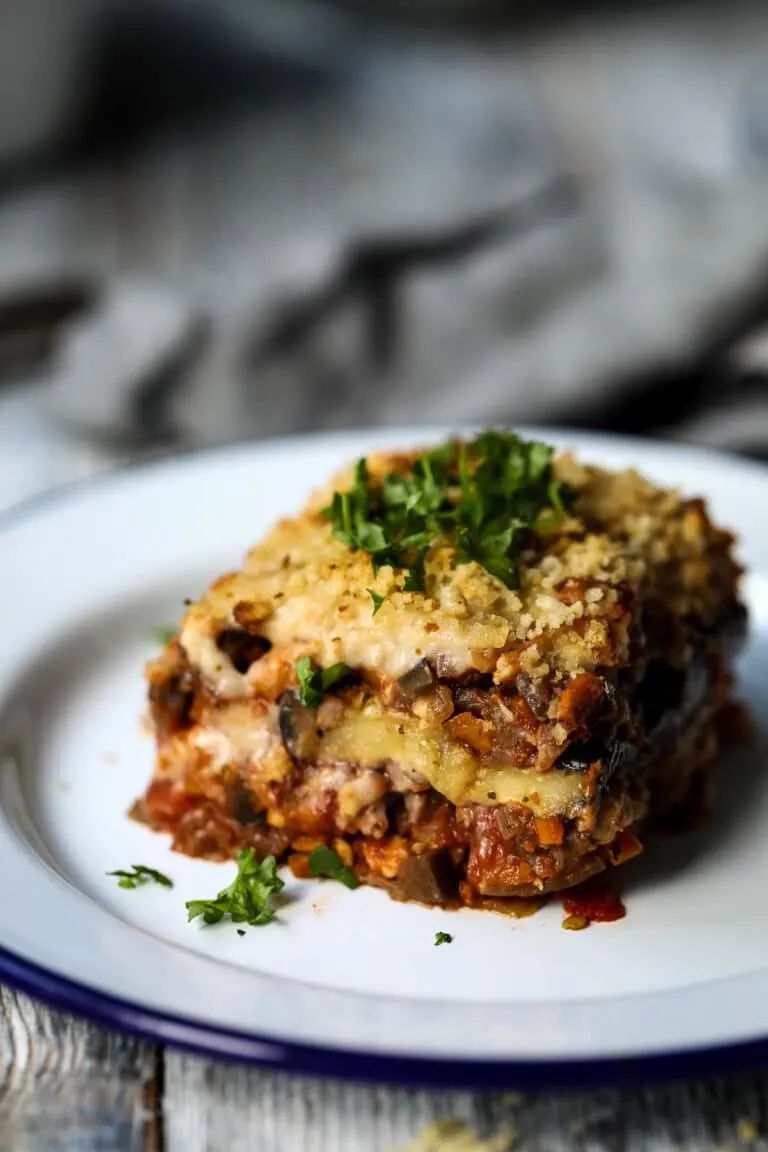 Source: happykitchen.rocks
In Italian cuisine, eggplant is often found in vegetarian dishes like eggplant parmigiana. So, it's an ideal substitute for Italian dishes that usually contain meat!
This is a chewy, ooey, gooey, cheesy eggplant lasagna that just so happens to be gluten-free. In other words, there are no downsides here.
Source: xoxobella.com
If you're struggling to get the perfect cook on your pork loin roast, it's time to try doing it in your instant pot. Using this method, you'll get perfectly tender, fall-apart roast pork every time.
Bonus, this recipe cooks the vegetables at the same time! Take care of your entire Sunday roast with barely any effort (or dishes).
Source: bytheforkful.com
Butterbeans are an underappreciated part of fall cooking, and this recipe is here to fix that. Butterbeans are soft, chewy, and mellow (following their namesake).
In other words, they're the perfect base for a vegetarian stew! This is a hearty and filling recipe that will have you relaxing with the mere aroma.
Summer Weekend Dinner Ideas
Cool things off this summer with any of these delicious summer weekend dinner ideas! Weekends in the summer are all about having your neighborhood friends over for a barbecue and a good meal.
Feed many mouths in no time at all with these delicious recipes. Best of all, each one is designed to take the heat off a blazing summer day, so you can enjoy them anywhere you might end up.
Did someone say neighborhood potluck?
Source: allnutritious.com
When the week has been hectic, people are coming over, and I just need something quick, this recipe is my go-to. You only need three ingredients to create these amazing wings!
Whether you're after a sticky, delicious BBQ option or a potluck offering, these will never fail you.
Source: theorganickitchen.org
Take a page out of Mexico's book by pairing bold spices and fresh, fragrant lime. This spicy lime chicken is the perfect balance of punchy and refreshing, making it ideal for summer.
Not to mention, it comes together in no time, so there's no stressful sweating in the kitchen for you.
Source: allnutritious.com
A classic herb-crusted salmon can open a lot of doors for you. This crowd-pleasing dish is delicious at any time of the year, but it's particularly good in summer.
The refreshing, herbaceous notes and the flaky salmon just scream "summer lunch with friends".
Source: marleysmenu.com
Speaking of salmon, here's another way to enjoy it this coming summer! Make your weekend one to remember with a delicious family picnic featuring these filling salmon tacos.
The Greek yogurt sauce takes the edge off the rich salmon. So you can just keep going and going.
Source: allnutritious.com
Set and forget this wonderfully simple Greek sheet pan chicken dinner. This is the ideal Sunday roast recipe, complete with nutritious vegetables and tender roast chicken.
The Greek flavors in the dish really set it apart, helping transform the roast from a classic winter staple to a summer must-have.
Source: seasonalcravings.com
Turmeric doesn't just have a lot to offer in terms of color. It does so much with its flavor! The earthy turmeric notes coating this salmon bring out its refreshing ocean saltiness.
Paired with a bed of cous cous and some refreshing vegetables, there's nothing better than this on a summer afternoon.
Source: naturallieplantbased.com
Who doesn't love throwing some burgers on the BBQ and enjoying a sunset with the family? These black bean burgers are a great vegetarian option, keeping the meal light and summery.
Best of all, you can prepare the patties ahead of time and have them waiting in the freezer.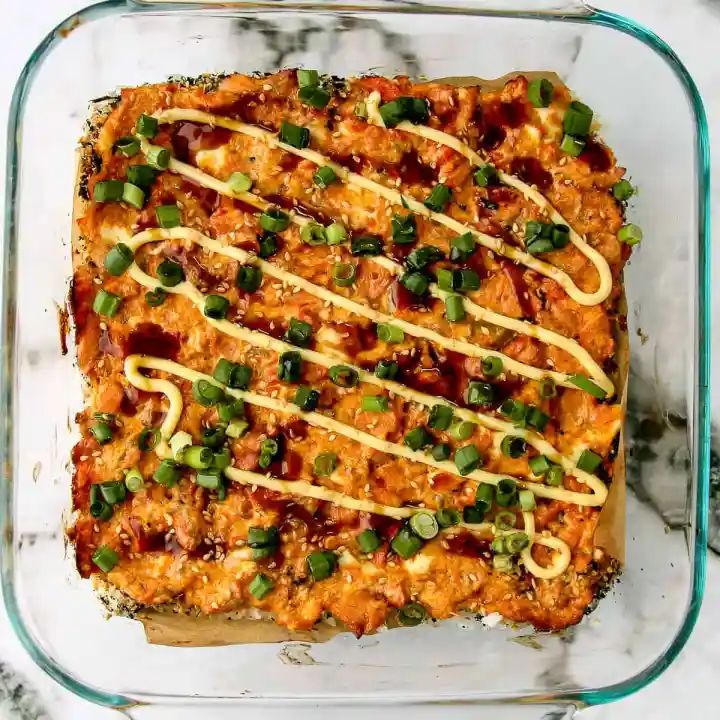 Source: thefoodblog.net
Sushi is a classic summer dish, but what if you don't want to spend all that time rolling the perfect log of sushi? Introducing the spicy salmon sushi bake!
This revolutionary casserole comes packed with all your favorite sushi flavors but none of the careful techniques required to make the perfect roll. Win-win!
Source: cookingschooldropout.com
When peaches are in season, it's almost law that we should use them in every way we can. Enter these amazing peach-glazed chicken breasts.
You might expect these to be overwhelmingly sweet, but the fresh peach flavor is more floral than anything else. This makes the dish feel balanced and perfect for summer.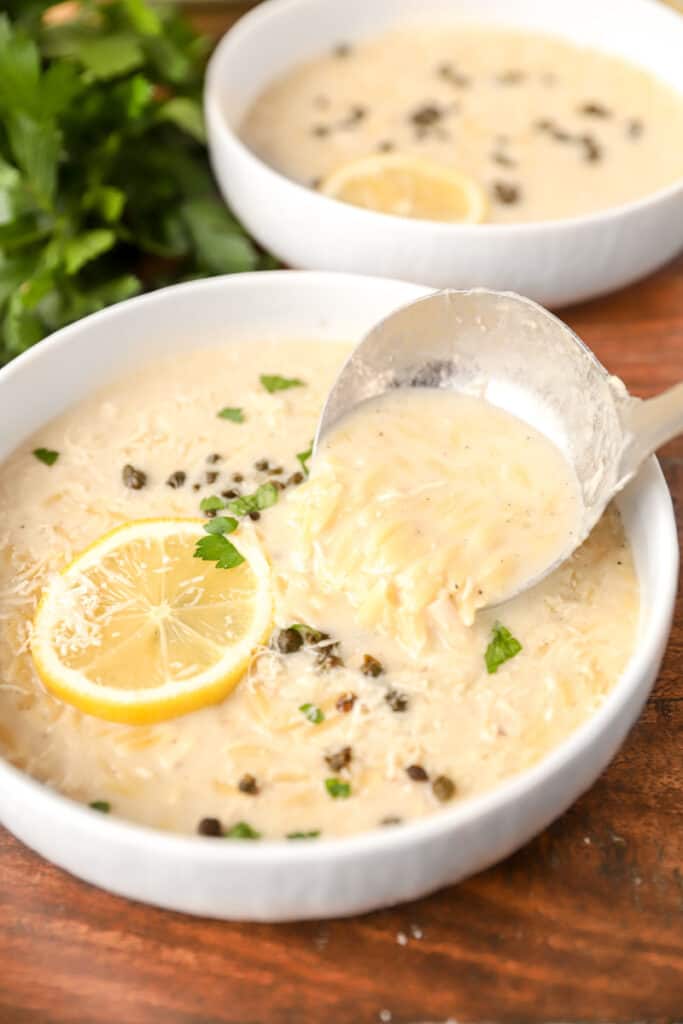 Source: aseasonedgreeting.com
Our final weekend recipe idea is a classic (thank you, Italy!). A creamy soup base, tender chicken, and a hint of lemon all combine to create the perfect summer mouthful.
Not only is this delicious, but it's also easy to make in large batches. Feed a crowd with ease and still have enough time to enjoy the sun for yourself.
61 Fun Weekend Dinner Ideas for Family Night In
Unleash your culinary skills with our curated list of weekend dinner ideas. Loaded with everything from quick-fix meals to elaborate feasts.
Ingredients
1. Creamy Tomato Chicken Skillet
2. BBQ Chicken Nachos
3. Sweet Chilli Chicken Sheet Pan Dinner
4. Baked Macaroni and Cheese
5. Sheet Pan Chicken Fajitas
6. Macaroni and Tomatoes with Sausage and Greens
7. Sheet Pan Pork Chops and Vegetables
8. Creamy Tarragon Chicken
9. Slow Cooker Beef Roast with Potatoes and Carrots
10. American Goulash
11. Mozzarella Stuffed Chicken Breast with Pesto
12. Ricotta Lemon Pasta
13. Juicy Cast Iron Skillet Chicken Breast
14. Thai Basil Beef
15. Crispy Baked Chicken Cutlets
16. Cast Iron Skillet Lasagna
17. Chicken Carbonara
18. One Pot Spicy Sausage Pasta
19. Slow Cooker Lamb Ragu
20. Lemon Butter Gnocchi with Crispy Prosciutto
21. One Pot Pink Sauce Pasta with Boursin Cheese
22. Zucchini Stir Fry with Garlic and Sesame Seeds
23. Shrimp Fajitas
24. Ground Pork Stir Fry
25. Sweet and Sour Meatballs
26. Teriyaki Chicken Lettuce Wraps
27. Instant Pot Teriyaki Chicken
28. Chicken Chow Mein
29. Grilled Buffalo Chicken
30. Instant Pot Beef and Broccoli
31. Gluten-Free Ramen
32. Salmon Stir Fry
33. Coconut Turkey Curry
34. Chicken Zucchini Pasta
35. 30-Minute Spicy Salmon Bowl
36. Lemon Chicken Thighs
37. Healthy Baked Chicken Tenders
38. Lemon Orzo Salad with Asparagus and Feta
39. Healthy Greek Sheet Pan Chicken
40. Vegetarian Tortilla Soup
41. Tempeh Tacos
42. Celery and Carrot Soup
43. Creamy Vegan Mushroom Stroganoff
44. Sheet Pan Chicken with Sweet Potatoes, Apples, and Brussels Sprouts
45. One Pot Chicken and Rice with Brussels Sprouts and Bacon
46. Boneless Pork Roast with Gravy
47. Sheet Pan Chicken Thighs with Garlic and Honey
48. Savoury Steak and Squash Salad
49. Gluten-Free Vegan Eggplant Lasagna
50. Instant Pot Pork Loin Roast with Vegetables
51. Butterbean Stew
52. 3-Ingredient Honey Chicken Wings
53. Spicy Lime Chicken
54. Herb-Crusted Salmon
55. Salmon Tacos with Greek Yogurt Sauce
56. Greek Sheet Pan Chicken Dinner
57. Turmeric Salmon and Couscous
58. Southwest Black Bean Burger with Burger Sauce
59. Spicy Salmon Sushi Bake
60. Peach Glazed Chicken Breasts
61. Creamy Lemon Chicken Orzo Soup
Instructions
Scroll up to get a bunch of easy, yummy, and delicious recipes. Don't be afraid to get creative with the ingredients. You might discover a flavor you didn't know you liked.
Get your shopping list going, and make sure you've got all the ingredients.
Get cooking and make your next Weekend Dinner!
Notes
Which one of these recipes was your favorite? Let me know in the comment section or on Pinterest!